BtoBet Confirms the Success of Its Expansion in Romania and Proceeds with New Partnerships in Central-Eastern Europe
Reading Time:
2
minutes
After the Bucharest roadshow, the multinational iGaming and sportsbook software provider BtoBet is now ready to bring its technological platform in Budapest and Cyprus,
meeting the major farsighted local operators.
Commenting BtoBet's team participation to the Central-Eastern Europe show, CMO Sabrina Solda' stated:
"I address my congratulations to our team in Bucharest, for the great job done during the Entertainment Arena Expo. They tightened the link with authorities and relevant components of the gambling industry – such as the Association of Gambling Organisers ROMBET – and also had great feedback from companies willing to develop their business in Central-Eastern Europe with BtoBet s sportsbook and iGaming platform tech tools."
Solda' anticipated the next moves of the company: "Now, we are looking forward to continuing our fruitful partnership process and new operations development moving also in Budapest and Cyprus."
In fact, in the next weeks BtoBet will be committed in two additional roadshows, in Hungary and in Cyprus. The company's experts will meet local licensees wishing to discover how the farsighted technology can help them to increase their gaming business in the regulated markets.
To have an insight about how technology can boost the gambling and gaming industry in Cyprus, download the Industry Report "Focus on Cyprus Gambling Market".
At CEEGC 2017 in Budapest between the 19th-20th September, the company will meet the major local operators and the 19th September CEO Zafirovska will be speaker at the Innovation Talks Panel, discussing about the full potential of the Artificial Intelligence for the best player's experience.
After Budapest, BtoBet's presence will proceed towards Cyprus where, the chairman Alessandro Fried will be panelist on the 20th September at the Cyprus Gaming show, sharing his vision about Technology, Innovation, and Disruption. He will explain why delivering a totally one-to-one customized experience has become crucial and how operators equipped with the adequate technology can succeed in the regulated and evolving local markets.
About BtoBet
BtoBet is a pioneer in new technologies for iGaming operators and the betting industry by using technological intelligence as its main base for its products. It offers unique, customisable, secure and flexible cloud based systems delivering unprecedented capabilities to drive sportsbook and iGaming business. BtoBet has offices in Macedonia, Italy and Malta. The Technical team of the company is in Skopje and has an ever-growing team of developers. BtoBet's dynamic Sportsbook team operates from Rome, whilst Malta hosts the commercial and marketing center.
BtoBet Partners With Playrobinhood.com As It Expands In LatAm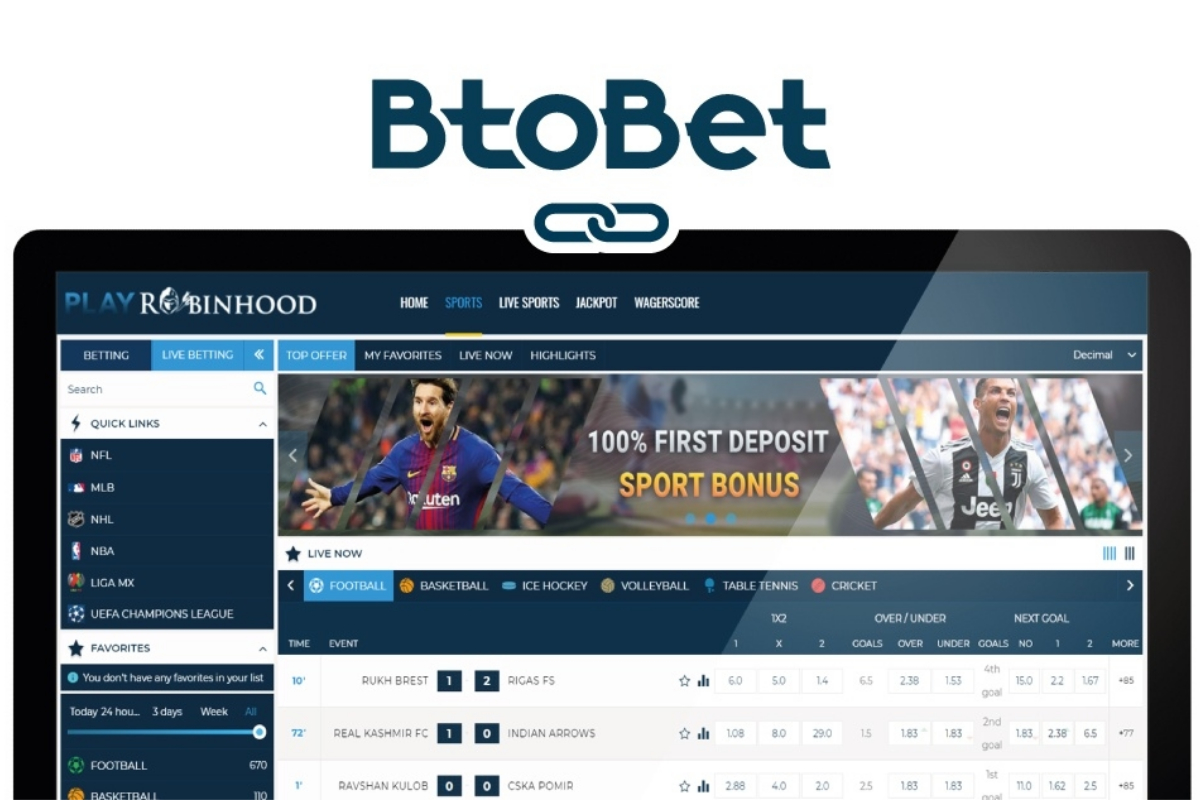 Reading Time:
< 1
minute
Leading iGaming platform provider BtoBet is bolstering its Latin American partnership portfolio announcing a strategic partnership agreement with betting site "PlayRobinHood.com". The socially responsible gaming platform donates 50% of players' losses to social causes. Through the agreement PlayRobinHood.com will be integrating
BtoBet's Neuron 3 platform, making use of highly flexible and adaptable technology, enabling the operator to deliver a differentiated, tailored and player-centric betting experience to its players.
Focusing entirely on the sportsbook vertical, PlayRobinHood.com will be delivering a wide range of bet offerings to its target punters based on local and international sports events, varying from pre-match to live bets, and also the highly sought-after Jackpot betting.
BtoBet's Chief Executive Officer Alessandro Fried has expressed his satisfaction regarding the newly penned deal, stating that throughout recent years BtoBet has progressively expanded its presence in the Latin American region through strategic partnerships. "LatAm is a region that is constantly evolving, closing the technological gap to the more mature European market. All in all it provides the ideal set of circumstances for business growth for operators," stated Fried.
Fried commented that he looks forward to share BtoBet's same passion for sports betting with the PlayRobinHood.com's team, and seek to achieve excellence through technological innovation.
Bo Grujicic, PlayRobinHood.com's founder, stated that "BtoBet has built up a solid reputation in the region, with their technological solutions providing us with innovative back-office tools that allows us to not only facilitate our operations, but more importantly to better analyse and understand our target players. Most importantly their technology is tried and tested in the region's various markets. This will help us deliver a betting experience on a micro-level, whilst paving the way in the best possible way for brand differentiation."
BtoBet announces LatAm technifying tour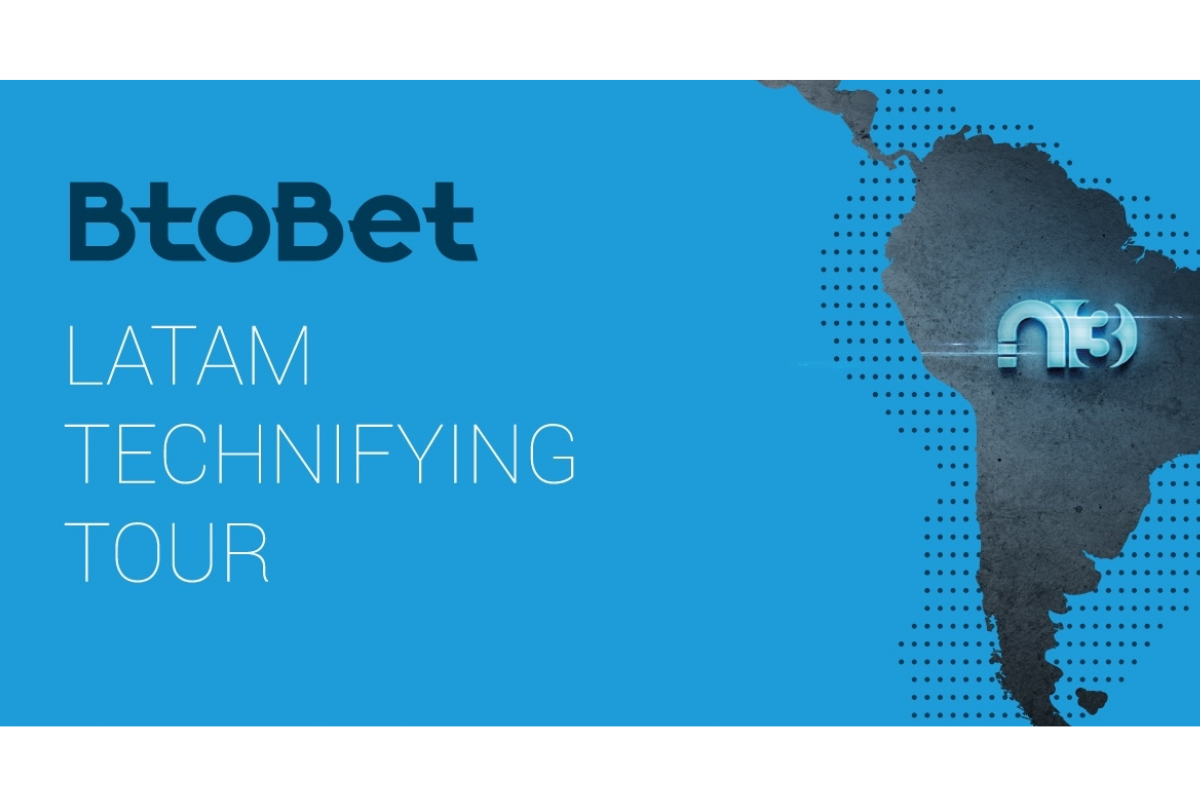 Reading Time:
< 1
minute
BtoBet has announced a Latin American technifying tour that will take the leading platform provider across multiple countries in the region. Attending the region's most influencing conferences and iGaming events throughout the year the company will showcase its Neuron 3 platform, especially its new retail solution, and other innovative features that are set to be introduced periodically.
"Latin America is emerging as a strong market for operators to diversify their business strategies, as the more mature European market is increasingly showing signs of diminished growth," states BtoBet's Chief Executive Officer, Alessandro Fried. "The market is still predominantly brick and mortar, and with this in mind we have developed a new retail solution allowing operators to streamline their operations, target anonymous customers and transform them into registered players, and eventually augmenting the user experience at the retail stage. All this whilst ensuring that all channels are seamlessly interconnected for a holistic betting experience."
Fried added that BtoBet's LatAm portfolio speaks for itself. "We are undoubtedly very well placed to maximise all current and future opportunities in the region, already having in place a series of strategic partnerships. Through this technifying tour we seek to further cement our position as regional leaders, with our technological solutions' adaptability, flexibility and versatility already tried and tested throughout the years we have been present in the territory."
Amongst other events BtoBet is set to attend Colombia's GAT Expo (formerly known as Fadja), the Peru Gaming Show (PGS), the Brazil Gaming Congress (BGC), and Argentina's SAGSE. All those operators interested in receiving a deeper insight how BtoBet's technologies could help their business strategies in LatAm could ask for a demo, or sending an email on [email protected]
Neuron 3 redefines today's Omnichannel boundaries
Reading Time:
2
minutes
BtoBet has unveiled its 3rd generation betting platform, which will deliver a player-centric betting ecosystem that perfectly adapts to today's player demands, throughout all the stages of the player lifecycle, as they seek a wider betting experience.
Alessandro Fried, BtoBet's Chief Executive Officer, has explained that the development of the new platform stems from an analysis of the requirements of today's players, and the capabilities of the operators to meet these requirements in the minimal time-tomarket, and thus making the most in terms of player life-time value.
Fried stated that Neuron 3 allows operators to develop their player journey and betting experience no matter the medium or communicative platform involved. He added that to successfully achieve this result Neuron 3 had to redefine the limits of what is today's Omnichannel approach, seamlessly interconnecting the betting experience through a wider spectrum of channels.
He expressed that amongst the main features at the core of Neuron 3's technology is the new retail solution that allows for the retail agents to transform their anonymous customers into registered players through a rapid registration process, allowing players to not only benefit through targeted bonuses and free bets, but also from a betting environment where all channels are interconnected for an augmented betting experience.
Underlining the fact that Neuron 3 will redefine the boundaries for an Omnichannel approach, Fried also highlighted another core innovation, the Social Media Betting feature. He stated that operators will be able to address today's players' strong tendencies to make use of the most popular social communicative platforms, such as Twitter, Facebook, Viber, and Telegram, for a simpler way to search and place their bets. He said this feature will not only allow operators to target digital native customers, and thus as a result increasing the interaction and engagement with millennials, but will also simplify the whole betting process for the players themselves who will now be able to place bets – even multiples – without the need to navigate to third party apps.
Fried concluded that this technological innovation towards a more player-centric approach will allow operators to address the current voids characterising the player's lifetime, putting him at the centre of the entire betting experience, without the need to be restricted by time, place and mediums, maintaining intact the emotions involved in the whole betting experience.
About BtoBet:
BtoBet is a multinational company and is part of a group with 20 years of experience in software development in IT, telecommunication, e-commerce and banking, strongly committed to technology and widely investing in technology research and development. The experience gained at the forefront in these advanced environments, compared with the more recent gambling industry, allows BtoBet to be visionary with a deep understanding of the requirements of the market, catching changing trends and anticipating bookmakers' and operators' needs. BtoBet is a true partner in technology, offering a standalone platform and services for the iGaming and Sports Betting industry. It counts on a very talented, continuously trained development team and day to day management support to clients. BtoBet allows licensees to be unique in the market, by giving them the opportunity to completely personalise their offers for Sports betting and iGaming business, online mobile and retail.