Maryland casinos may consider eSports
Reading Time:
< 1
minute
Maryland is continuously growing its gambling market and to do so the state tries to discuss the modalities that aren't already legalised. Maryland casinos might be looking to get competitive with eSports and skill-based gaming. The state's committee on gaming oversight met last week to discuss the subjects with representatives of gaming corporations and they could soon be in the state's six casinos.
This meeting was the first one since the committee discussed daily fantasy sports (DFS) in 2016. Maryland then became one of the first states to legalise DFS in the United States. According to information from the Maryland Lottery and Gaming Control Agency, whilst casino gaming keeps growing in the state, mainly because of the opening of MGM National Harbor in December 2016, certain types of games played in casinos are beginning to shift, local media reported.
"As Maryland's casino market matures, each of the six casinos is fine-tuning and adjusting its gaming floor to meet customer trends and demands." – said Carole Bober, Managing Director of Communications for the Maryland State Lottery and Gaming Control Agency.
Blaine Graboyes, co-founder and CEO of GameCo Inc, claimed that adding skill-based games and eSports in casinos could further boost revenues in the state: "Slot playing has been stagnant, and skill-based games address these challenges with a differentiated experience on the floor, and will bring in a younger audience."
ITP enters partnership with Playtech to deliver expansive F2P and DFS portfolio to its customers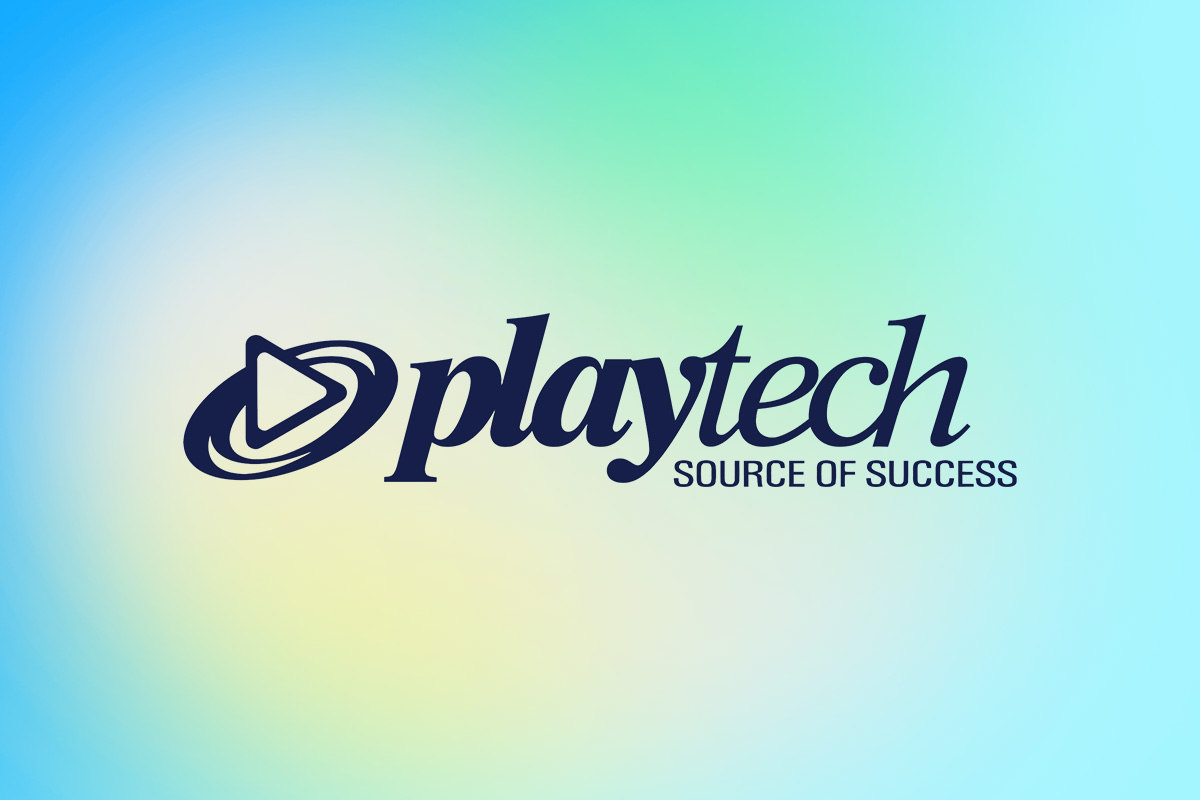 Reading Time:
3
minutes
Deal allows free-to-play and daily fantasy sports specialist to offer its wide selection of content to bolster the offering of the gambling industry's leading technology company
Inside The Pocket (ITP), the world's biggest free-to-play (F2P) and daily fantasy sports (DFS) aggregation platform, has entered into a strategic partnership with Playtech, the world's largest online gaming technology supplier, to bring the sector's most comprehensive suite of F2P and DFS games to its array of international operator partners.
Accordingly, this attractive bespoke agreement with Playtech offers access to a technology platform that supports a significant number of regulated online global gambling operators, granting ITP broader scope with which to deliver more than 100 F2P and DFS games and execute territory-by-territory in localized fashion.
This platform-to-platform (P2P) integration also sees ITP enhance its status as the largest, most agile, turnkey solution for F2P and DFS across the planet. The relationship allows ITP to serve as a key tool for Playtech customers to leverage the ecosystem with powerful acquisition and retention tools, which neatly complement Playtech's suite of other B2B services.
ITP's platform provides an industry-first aggregation model focused on F2P and paid DFS for the gaming industry – a literal game-changing marketplace that harnesses a range of established and emerging suppliers with one simple route to market. In turn, this offers ITP clients a wealth of value-creation opportunities across a spectrum of content from a single, seamless integration, positioning DFS alongside F2P and P2P verticals to maximize customer acquisition and consumer insights.
Across the market in the Americas, DFS companies typically enjoy engaged audiences in many U.S. states or Canadian provinces before they open up to sports betting. This creative collaboration now allows ITP clients to see F2P working in tandem with peer-to-peer DFS and wider igaming in an innovative, socially responsible way.
Importantly – in South America, for example, but also worldwide – Playtech's global business already generates significant cashflows and crossover synergies around both sports betting and igaming. This also ensures clear differentiation from nearly all other U.S. sports betting and igaming ventures for ITP, which will benefit from Playtech's strong brand awareness and cross-vertical igaming spread amongst the growing and underserved Hispanic populations.
ITP clients can target specific recreational player-groups and fulfil nuanced acquisition and retention goals. This partnership presents a way of entertaining and educating players without the need to push them towards more questionable introductory offers that have already proven unsustainable for a mutually beneficial and socially-responsible ecosystem.
Anthony Evans, VP of Product Strategy at Playtech, said: "The international scope provided by Inside The Pocket's content aggregation platform represents an exciting opportunity for Playtech. With open access to some of the best Free-to-Play, peer-to-peer DFS products and other agile content solutions, Playtech's clients will have more versatile options than ever to drive diversified player engagement. ITP's content aggregation platform also provides the requisite flexibility for newly regulated and maturing markets. We're looking forward to how these games perform for the end user across this diverse range of markets."
Hussain Naqi, Founder and CEO of Inside The Pocket, said: "Obviously, we're thrilled to announce this partnership with a powerhouse provider whose reputation for excellence continues undimmed. This key integration allows ITP to serve as a tool for Playtech to offer their customers a responsive acquisition tool, amid an already revered B2B toolkit. Consequently, we can offer different sportsbooks something that is positively delineated from existing versions of F2P/DFS to help them supersede and surpass their local rivals.
"As the only F2P and DFS-focused aggregation platform, we offer a unique way for our clients and prospects to acquire and retain repeat-customers at a low cost, but also to stay fully compliant in non-regulated states or provinces and around the world. ITP's all-consuming range of content and data tools helps to drive engagement for sportsbook and DFS audiences, by virtue of a series of game formats that have player-education and augmented activity at their core. Increasingly, though, we are adding a range of new products and game types to our ever-expanding portfolio – from pay-to-play products to pools-based fantasy games."
Inside The Pocket launches WonderWins brand in India, as the exclusive Daily Fantasy partner of ESPNcricinfo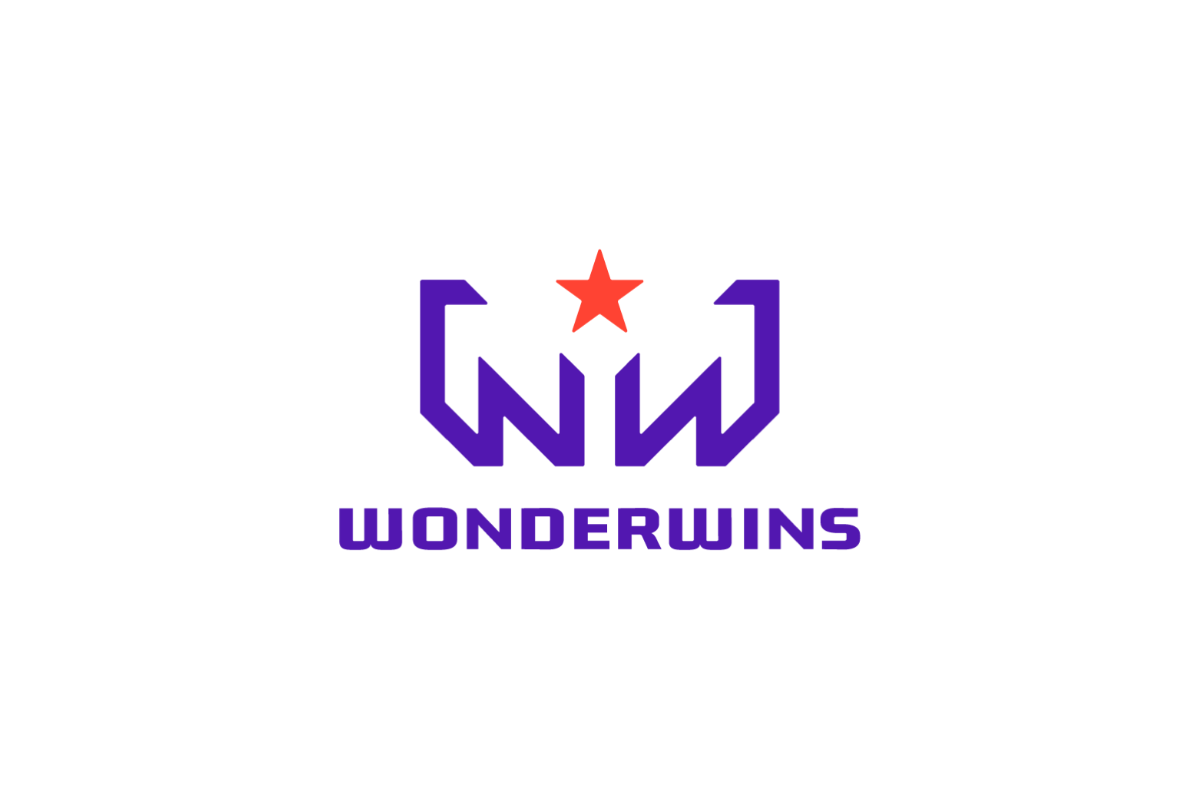 Reading Time:
3
minutes
Inside The Pocket (ITP), the leading free-to-play (F2P) aggregation platform, has teamed up with the premier digital cricket platform ESPNcricinfo for an exclusive Free Daily Fantasy offering for users via its new WonderWins brand.
WonderWins is primed to debut ahead of this season's IPL 2022, which begins on 26 March. This milestone collaboration between the two brands offers cricket fans a compelling and unique opportunity to engage with fantasy gaming as well as accessing match coverage, news, information, and analysis, and being part of the large community of cricket fans in India and the subcontinent to have this complete and well-rounded experience.
ESPNcricinfo is ESPN's dedicated cricket site and app and the world's largest source of cricketing information, match coverage, news and analysis. It is the go-to digital destination for international news, live scores, statistics and analysis for cricket fans worldwide and a pioneer in the digital sports media with a 29-year-old rich legacy.
By becoming the exclusive Daily Fantasy provider for ESPNcricinfo in India and the subcontinent, WonderWins brand will be able to connect with over 85 million discerning cricket fans on the ESPNcricinfo platform and further drive conversations with over 15 million highly engaged fans across its social media channels. WonderWins brand is live on android, iOS, and as a web-based platform.
Through this breakthrough agreement, WonderWins will be able to engage with fans through exciting fantasy gameplay, intelligent statistics, data analysis and customized content, offering fantasy gamers a robust experience and allowing them to understand the finer nuances of game-play to further drive significant marketing and enterprise value as WonderWins' DFS and hyper-casual games evolve in the months and years to come.
ESPNcricinfo has already begun cascading bespoke content and communication, allowing players to discover the WonderWins platform and understanding of the product via intuitive light-touch education, and gameplay. In that sense, WonderWins can claim to have an unparalleled product portfolio that offers unrivaled opportunities to drive content and create lasting fan engagement levels.
Hussain Naqi, Founder of both WonderWins and Inside The Pocket, said: "We're understandably delighted to have become ESPNcricinfo's exclusive Daily Fantasy partner in India and subcontinent. It's a genuine honor to have been chosen to roll out fantasy games for such a trusted and revered international partner, whose very name brings instant authenticity and credibility with the end user. The WonderWins app is ready to play!
"ESPN have been a brilliant and agile collaborator, organically wrapping WonderWins around their fantasy programming – from new article links to bespoke video programming and other product levers as we look forward to the much-anticipated IPL 2022 season ahead. It's an exciting time and I'm thrilled to be over in India myself to witness the roll-out first hand.
"Our underlying platform is uniquely well-positioned to leverage this opportunity because we can diversify content, leverage consumer data and partition it for partners as the market's shifting sands coalesce. Our multiple data partnerships deliver us unique consumer insights that will allow us to hyper-segment our audience communication over time, including for other sporting events like the World Cup 2022 football."
Ramesh Kumar, VP & Head of ESPN Digital Media India, stated: "This is an exciting announcement, as now with this collaboration with WonderWins, ESPNcricinfo fans in India and the subcontinent region will be able to play and enjoy free fantasy on our platform, building a deeper engagement on ESPNcricinfo not just with the game-play but also with the enormous content that we will power to help users play intelligently. The timing is perfect with the exciting new season coming up and we are delighted to offer our new age cricket fans the right mix of information and entertainment for them to follow their favorite sport and teams. Consequently, we are now able to wrap an array of complementary programming and editorial content in the fantasy space around WonderWins, significantly boosting fan engagement around the game, as the new IPL season comes into sharp focus.
"It's been fantastic to work with such like-minded, fan-first partners. The ESPNcricinfo and WonderWins Team have collaborated closely at every stage of the development and deployment process, making the integration as rapid and seamless as possible."
With the broader F2P framework, Inside The Pocket intends to target both mature and emerging markets over the long-term, as the company bids to expand its progressive footprint into untapped territories. There, its proven international scope and flair for localization, promises to drive diversified fan engagement around targeted free-to-play sports games. Inside The Pocket's open-aggregation approach offers the broadest and best-curated collection of games available from developers around the world, utilizing a single platform integration as a gateway to virtually unlimited content.
As the leading free-to-play aggregation platform for the gaming industry, Inside The Pocket is dedicated to being a top-of-the-funnel customer acquisition tool driving engagement through a range of content and games whose formats responsibly acquire and retain customers at low cost but also remain fully compliant as regulation continues to coalesce across regions from the U.S. to Asia, Africa and LATAM. Its agnostic platform offers a strategic solution which works territory-by-territory, educating uninitiated audiences with fully-integrated games.
World Championship of Online Fantasy Football Finals on the Scout Network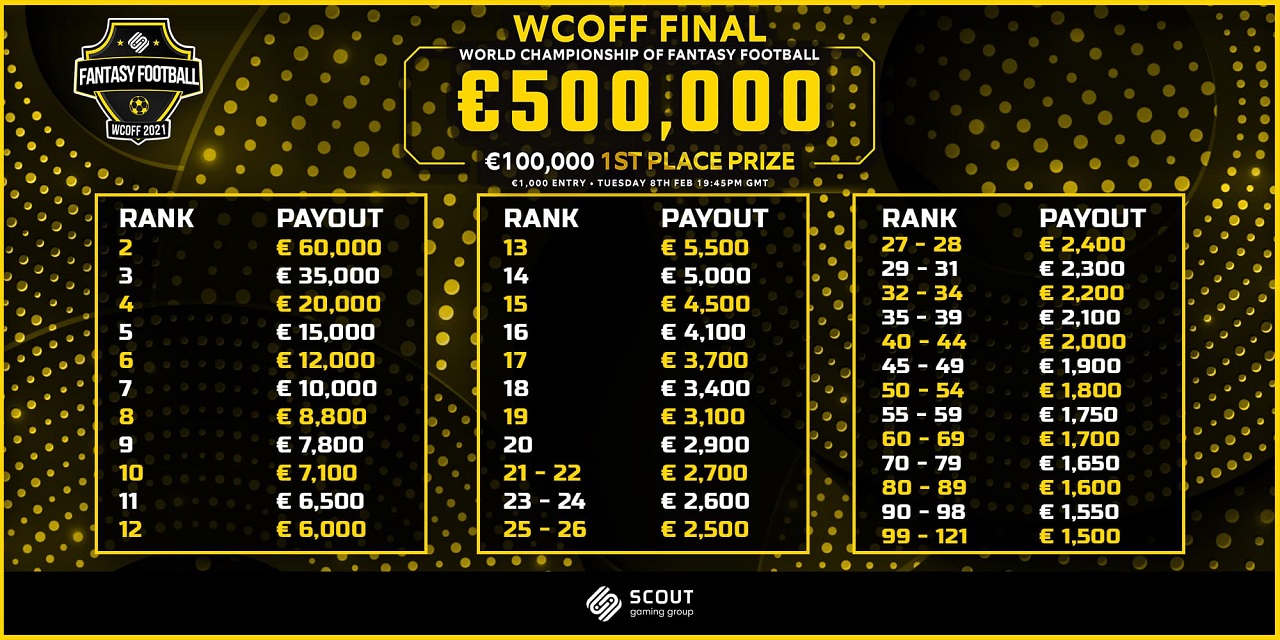 Reading Time:
< 1
minute
Participants are being promised a daily fantasy sports experience like no other with a €500,000 prize pot to play for
Scout Gaming, the world's leading provider of B2B daily fantasy sports, sportsbook and fantasy sports betting products, is thrilled to announce the start of the World Championship of Online Fantasy Football (WCOFF) Finals tournament.
The WCOFF Finals tournament is the biggest daily fantasy sports (DFS) event in Europe and promises participants a DFS experience like no other.
The tournament runs over two consecutive English Premier League game weeks starting from today (8 February) at 19:45 GMT. The first game week is separate from the second which means finalists will be able to create a brand-new team in week two without incurring any penalties.
The engaging and highly intense DFS experience is taken to the next level thanks to the €500,000 prize pot to play for with first place receiving a massive €100,000, second €60,000 and third €35,000.
More than 500 teams will compete for the title of World Champion. The vast majority of tournament participants played their way to the event through a series of satellites that ran throughout 4Q21. Scout has developed an optimal satellite structure with entry from as little as €2 giving everyone the chance to compete in the top-tier tournament.
Andreas Ternström, Chief Executive Officer at Scout Gaming, said: "We are incredibly thrilled about the World Championship of Online Fantasy Football on the Scout Network.
"Our network is the best place to host such a prestigious event with life-changing prize money for the winners. All B2B clients connected to the Scout Network have access to our big guarantee tournaments and we will continue to grow the Scout Network and prize pools in 2022."