Win Systems impress with improved product range at ICE 2018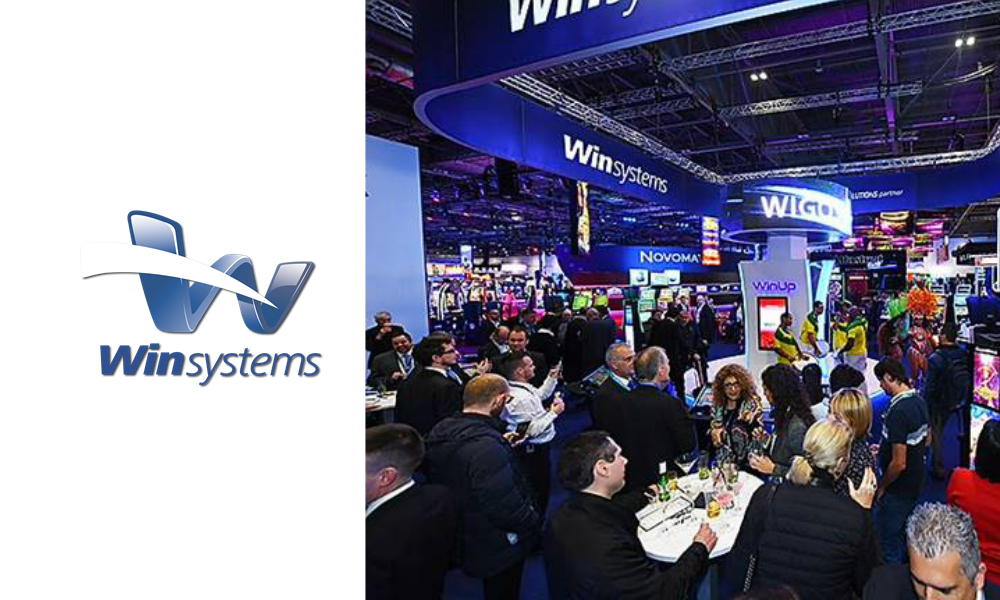 Reading Time:
2
minutes
Malta, 12 February, 2018 – Win Systems, a leading technology suppliers for the gaming and entertainment industry, has seen a triumphant ICE Totally Gaming 2018 secure various new business opportunities.
An impressive number delegates visited the supplier's stand across the three days, with feedback to its wide-ranging casino product range exceeding expectations and various business leads both developed and confirmed.
Stand S6-150 saw show debuts for Gold Club's Chinese roulette and 6-position Ventura roulette, various new slot titles, an AWP specifically designed for the Spanish market, GameStarArcadia, and the latest complement to its WIGOS casino management system, the Winstats app.
Remarks on Win Systems' expansive offering revolved around how the Gold Club roulette range and GameStar gaming machines can seamlessly fit into the requirements of any casino type and location. Visitors were also very interested in understanding the delivery of real-time data from the WIGOS casino management system to casino managers via the mobile Winstats tool.
The second day culminated with a team of professionally trained flair bartenders delivering delicious cocktails as a backdrop to a Brazilian party with accompanying dancers and a drum trio. Many attendees commented on how impactful the performance and enjoyable the event was.
Eric Benchimol, CEO of Win Systems, said: "Our new products have received feedback beyond expectations, particularly our innovative Gold Club Chinese roulette and compact 6 position roulette, AWP for the Spanish market Arcadia, and mobile app Winstats.
"On the back of this, new business opportunities have presented themselves to us, while we've also gone a long way to confirming deals already in motion, and we hope to announce some of these soon.
"We're proud to have generated various business leads in both our gaming and systems divisions from the show, with many operators seeing the global appeal of our range. These leads, and our wider demonstration at the show, confirmed that we are on the right track to success.
"I'd like to thank and congratulate everyone in the amazing Win Systems family for their outstanding work, not only the ones attending the trade show, but also the numerous professionals behind the scenes (whose number continues to grow) working hard day after day."
Win Systems will continue to exhibit its wide-ranging casino solutions at various trade shows around the world later this year.
About Win Systems
WIN SYSTEMS is a provider of casino solutions for the global gaming industry. The company specializes in management systems and gaming machines for all varieties of casinos and lotteries.
It offers a full range of dedicated technology services, including design, programming, installation, operation and maintenance of its systems, with local teams based around the world able to assist partners around the clock.
Win Systems has an extensive track-record of offering the best in class information management systems, recognized throughout the world for providing superior real-time control, stability and reliability for land-based casinos, lotteries, and route operations.
The integration of Gold Club has further cemented Win Systems' position as a global gaming solutions supplier. All Gold Club machines, including slot machines and various versions of electronic roulette, are developed with design quality at the forefront and are popular with players across various jurisdictions.
Incorporating Gold Club has resulted in Win Systems position as an emerging leader in the global gaming industry, with significant and expanding footprints in Europe, the Americas and Africa.
The company is continuously evolving, refining and expanding its product line ahead of market demands, setting trends and creating tools that are becoming essential for its customers' successful operations.
For more information: www.winsysgroup.com
Skin-Gambling Streamer Sues Twitch For Banning Him Two Years Ago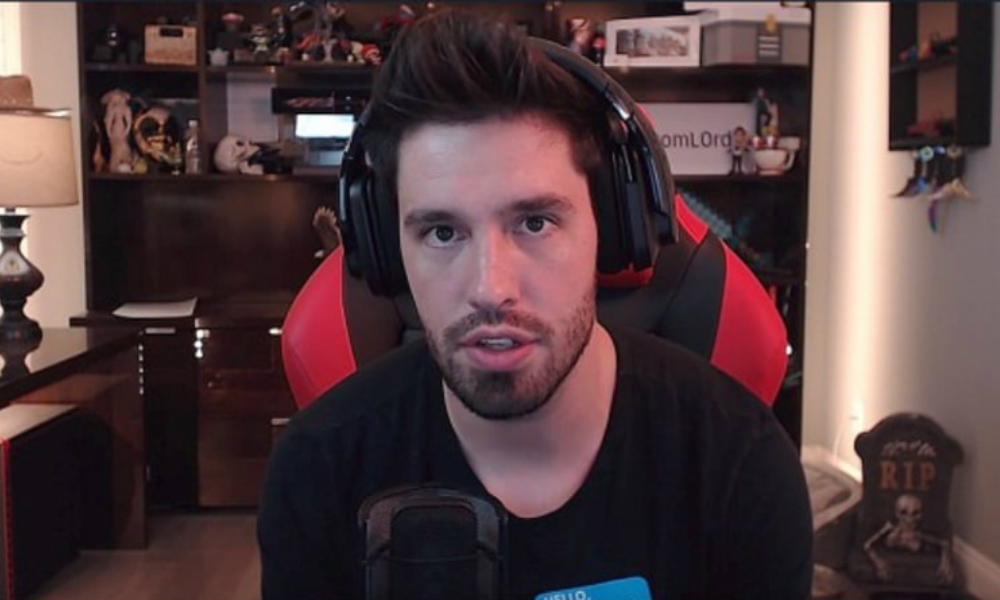 Reading Time:
2
minutes
Counter-Strike: Global Offensive skin gambling streamer James "Phantoml0rd" Varga has filed a lawsuit against streaming platform Twitch for banning him two years ago, saying Twitch breached its contract by improperly suspending him.
Varga had amassed over a million followers on Twitch before the goliath streaming company kicked him off in July, 2016. He was one of the top ten streamers on the site, where fans viewed his content more than 88 million times.
Varga earned followers streaming League of Legends, but in 2014, pivoted to something shadier: CS:GO skin gambling. In YouTube videos and on Twitch, Varga recorded himself winning anywhere from $600 to several thousand dollars in skin lotteries on sites like CSGOShuffle. An exposé by journalist Richard Lewis reported that Varga was affiliated with CSGOShuffle and potentially owned it without disclosing that in his content.
After the exposé, in July, 2016, Twitch slammed the ban hammer down on Varga. Now, Varga is fighting to get his Twitch channel back and win compensation for financial damages due to his ban.
The reason for Varga's ban was threefold, although in the suit, Varga complains that he wasn't provided with a solid reason until after his ban. Varga allegedly violated the site's content guidelines by claiming fake bot subscribers and broadcasting non-gaming content. (At the time, Twitch did not allow streamers to venture outside of gaming.) He was allegedly streaming too much of this skin gambling and not enough good ol' games. (The new lawsuit quotes Varga's manager asking him to stream skin gambling in spurts of thirty minutes or less, or he'd get flagged for a suspension).
Perhaps more importantly, Twitch says Varga's skin-gambling stream violated the company's Terms of Service. Promoting your CS:GO gambling site without disclosing it's yours violates both Valve's ToS and FTC rules, therefore also violating Twitch's ToS. In the meantime, Varga has been streaming on YouTube, which is known to be a little more hands-off about its streamers' content.
The lawsuit, filed on February 14th in the Superior Court of California, claims that Varga was banned in an improper manner and, perhaps, should not have been banned at all. Varga did not violate the site's Terms of Service, the suit argues, citing Lewis's "unsubstantiated allegations" against him in his expose. If Lewis was wrong that Varga owned or was affiliated with CSGOShuffle, there wasn't a good reason to ban him, the lawsuit suggests.
The lawsuit reads, "Twitch apparently accepted as true false allegations published by an unscrupulous commentator," adding, "As a result of Twitch's improper suspension of Varga's Twitch.tv account, and also as a result of Twitch's misrepresentation as to what content Varga was permitted to broadcast, Varga has incurred significant monetary damages." In a YouTube video posted yesterday, Lewis denies that his report was unsubstantiated. The lawsuit also does not specifically say that Varga had no connection with CSGOShuffle.
The suit goes on to accuse Twitch of using Varga to "deflect negative press" over the CS:GO gambling scandal and "divert attention from the fact that Twitch continued to knowingly allow such conduct to continue on other Twitch channels." Twitch declined a request for comment, explaining that it does not talk about pending litigation. Varga has not responded to a request for comment.
Even though Twitch's guidelines have expanded to include an IRL section, where streamers can do whatever they want, Varga couldn't come back and skin-gamble, even if he was unbanned. CS:GO skin-gambling still violates Valve's Terms of Service.
Source: kotaku.com
Dunedin City Council hears both sides of gambling story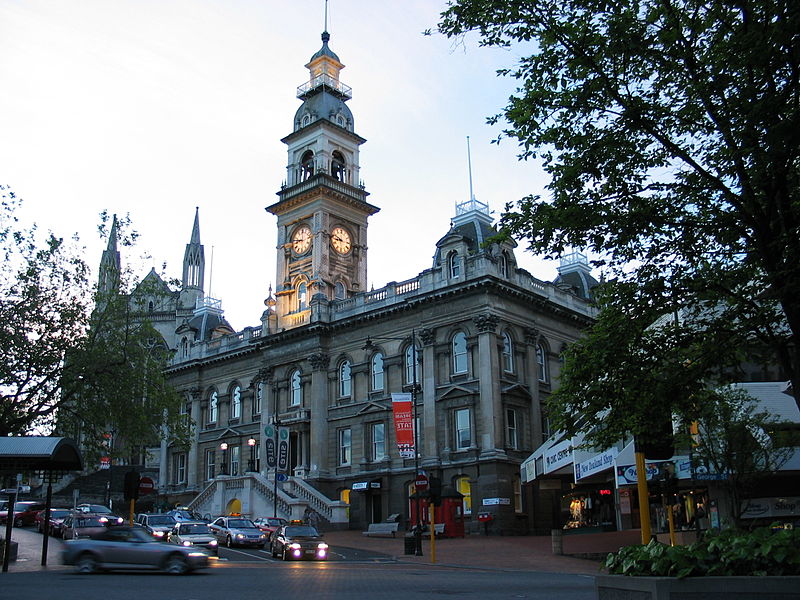 Reading Time:
2
minutes
Pleas to focus on community harm mixed with warnings of funding cuts for community sports during  the debate yesterday on the Dunedin City Council's (New Zeeland) proposal to gradually reduce the number of gambling venues in the city.
Proposed changes to the council's  gambling and TAB venue policy would extend South Dunedin's sinking lid policy on poker machines to the rest of the city.
It would also ban new gambling venues and not allow existing ones to relocate.
The new approach attracted 56 submissions,  35 of which supported the change, but yesterday's  hearing was dominated by organisations arguing against the move.
They included gaming trusts and the Class 4 Working Party, which represented 85% of gaming association venues, and  also Dunedin sports organisations worried about losing grants. Dunedin Netball volunteer and former general manager Lee-Anne Anderson said her organisation relied on such funding to cover costs, from competitions and equipment to court hire.
Without it, more costs would have to be passed on to  members, which "would definitely see a drop in participation numbers", she said.
Sports organisations themselves could also be under threat, as $40,000 received by Dunedin Netball last year amounted to 15% of its annual income.
"That's the difference between breaking even and a loss," she said.
Duane Donovan, the volunteer chairman of ParaFed Otago, which supported members with physical disabilities to take part in sport, also opposed the change.
ParaFed depended on such funding for its very existence, and that was "not an exaggeration".
The effects  of the proposed policy would be felt by sporting and welfare groups across Dunedin, he said.
Karen Shea, of the Southern Trust, said her organisation distributed just over $220,000 in  84 grants to Dunedin groups last year.
About half  went to sports groups and the rest to a mix of community organisations, but it was just a slice of the $5.8million in total gaming machine income distributed in the city last year.
Committee chairman Cr Aaron Hawkins questioned dire warnings of the effects on sports groups,  pointing out the sinking lid policy would take effect only if a venue closed and did not reopen within six months.
Putting an end to poker machines and community funding was not being proposed, and suggesting otherwise was "a bit of stretch", he said.
Jarrod True, of the Class 4 Working Party, disagreed, saying a sinking lid policy implied a target of zero, and "that's where you are heading".
Nothing had happened since Dunedin's policy was last reviewed in 2015 to justify the change, Mr True said.
Instead, while gaming machine numbers nationally had dropped in the last 15 years, problem gambling rates had remained static, he said.
Extra restrictions would push more people into online gambling, where "you can lose your home without leaving it" and money was not returned to communities, he said.
Others disagreed, including Eru Loach, of the Problem Gambling Foundation, who said the amount of money spent on poker machines was climbing.
The social problems that resulted — from crime and lost jobs to depression and suicide — meant his organisation was "flat out".
"We are not talking about something that's financial harm alone. It's everything else which comes with it."
He supported the council's new approach and said the search for more sustainable sources of income "is the way forward" for community groups.
The hearing was adjourned and  will  resume for public deliberations on March 6.
'No pokies' Nick Xenophon goes for 'some pokies', but does his gambling policy go far enough?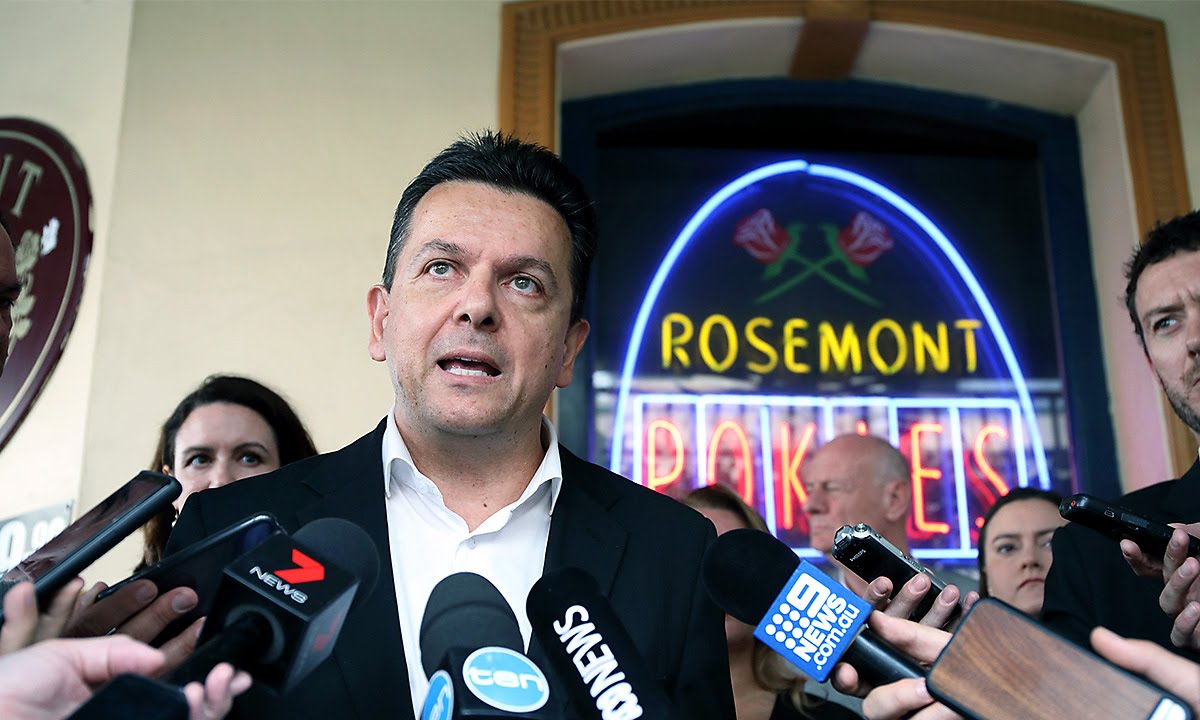 Reading Time:
3
minutes
SA-Best, led by high-profile former senator Nick Xenophon, has announced its gambling policy ahead of next month's South Australian election. Xenophon has backed away from the "no pokies" policy that characterised his earlier approach to gambling reform. However, the evidence behind his party's proposed suite of measures is reasonably strong.
What's in the policy?
Key aspects of SA-Best's proposal are:
a five-year plan to cut poker machines numbers in South Australia from 12,100 to 8,100;
a reduction in maximum bets to A$1, from the current $5;

a reduction in maximum prizes from $10,000 to $500;

removing particularly addictive features such as "losses disguised as wins";

prohibition of political donations from gambling businesses; and

the removal of EFTPOS facilities from gambling venues.
The policy would also empower the state's Independent Gambling Authority to implement and evaluate these proposals.
The policy is targeted at commercial hotel operators; clubs, "community hotels" and the casino are exempt from the reduction provisions.
There are also proposals to cut trading hours from 18 to 16 per day, with the introduction of a seven-year pokie licence for venues, from January 1, 2019. Increased resources would go to counselling and support for those with gambling problems.
Notably absent from the policy is the introduction of a pre-commitmentsystem, which would enable pokie users to decide in advance how much they want to spend. Along with $1 maximum bets, this was a key recommendation of a Productivity Commission inquiry in 2010.
The policy has attracted the expected response from the gambling industry. The Australian Hotels Association argued the changes would "rip the guts" out of the gambling industry and attack the "26,000 jobs" it claims the industry directly creates.
Does evidence support SA Best's policies?
We've known for some time that reducing maximum bets is likely to reduce the amount wagered by people experiencing severe gambling problems. This in turn reduces the harm they suffer.
Reducing maximum prizes reduces "volatility", meaning pokies may have more consistent loss rates.
Reducing access to pokies is also an important intervention, since easy access is a key risk factor for developing a gambling problem. Reducing the number of machines, and the hours they are accessible, support this.
However, very substantial cuts in pokie numbers are needed to meaningfully reduce harm. A cut of the magnitude SA-Best proposes may not be sufficient to prevent those with serious gambling habits from readily accessing pokies. This is because pokies are rarely fully utilised at all times of the week.
Removing easy access to cash has also been identified as an important harm-reduction intervention. This had a positive initial effect in Victoria (especially among high-risk gamblers), when ATMs were removed from pokie venues in 2012.
The harms associated with gambling generally affect far more peoplethan just the gambler. The most recent study, from 2012 indicates that 0.6% of the SA adult population is classified as at high risk of gambling harm, 2.5% are classified as at moderate risk, and another 7.1% at low risk.
Based on census data, this equates to about 8,000 South Australians experiencing severe harm from gambling. Another 33,100 are experiencing significant harm, and about 94,000 are experiencing some harm.
However, each high-risk gambler affects six others; each moderate-risk gambler affects three others; and each low-risk gambler one other. So, the problems of each high-risk gambler affect another 47,660 South Australians. These are children, spouses, other relatives, friends, employers, the general community via the costs of crime, and so on.
Another 99,300 are affected by moderate-risk gambling, and another 94,000 by low-risk gambling. All up, this amounts to 241,000 people.
Of these, 190,000 are affected at high or significant levels. These harms include financial disaster and bankruptcy, divorce or separation, neglect of children, intimate partner violence and other violent crime, crimes against property, mental and physical ill-health, and in some cases, suicide.
Most gambling problems (around 75%) are related to pokies, and by far the greatest expenditure goes through them. Nothing has changed in this regard since the Productivity Commission identified this in 2010.
In this context, SA-Best's policy has substantial justification.
Does it go far enough?
The South Australian Greens, like their counterparts in Tasmania and the Tasmanian Labor Party, want to get all pokies out of pubs and clubs. They argue gambling's social and economic costs are far in excess of the benefits.
For Tasmania, the costs of gambling can be estimated at about $342 million per year. This is more than three times as much as the total tax take from all gambling in the state.
A similar calculation for South Australia suggests its overall costs of problem gambling are more than $1.6 billion per year. This is more than four times the total taxes from gambling the South Australian government derived in 2015-16 ($380.3 million).
With a cost-benefit ratio like that, some strong measures could well be called for. Xenophon says the proposals encapsulated in his party's policy are the start. However, Tasmanian Labor has set the new benchmark for pokie regulation – removing them entirely from pubs and clubs.
It is remarkable that a party traditionally in lockstep with – and substantially supported by – the gambling industry has adopted such a position. Perhaps the harms have become too much to ignore?
How these policies might be implemented, amid the resistance they will face from a well-heeled and often-influential gambling industry, presents an intriguing prospect over coming months.
Source: theconversation.com