InComm Partners with Xsolla to Enable Online Game Account Funding with Cash at GameStop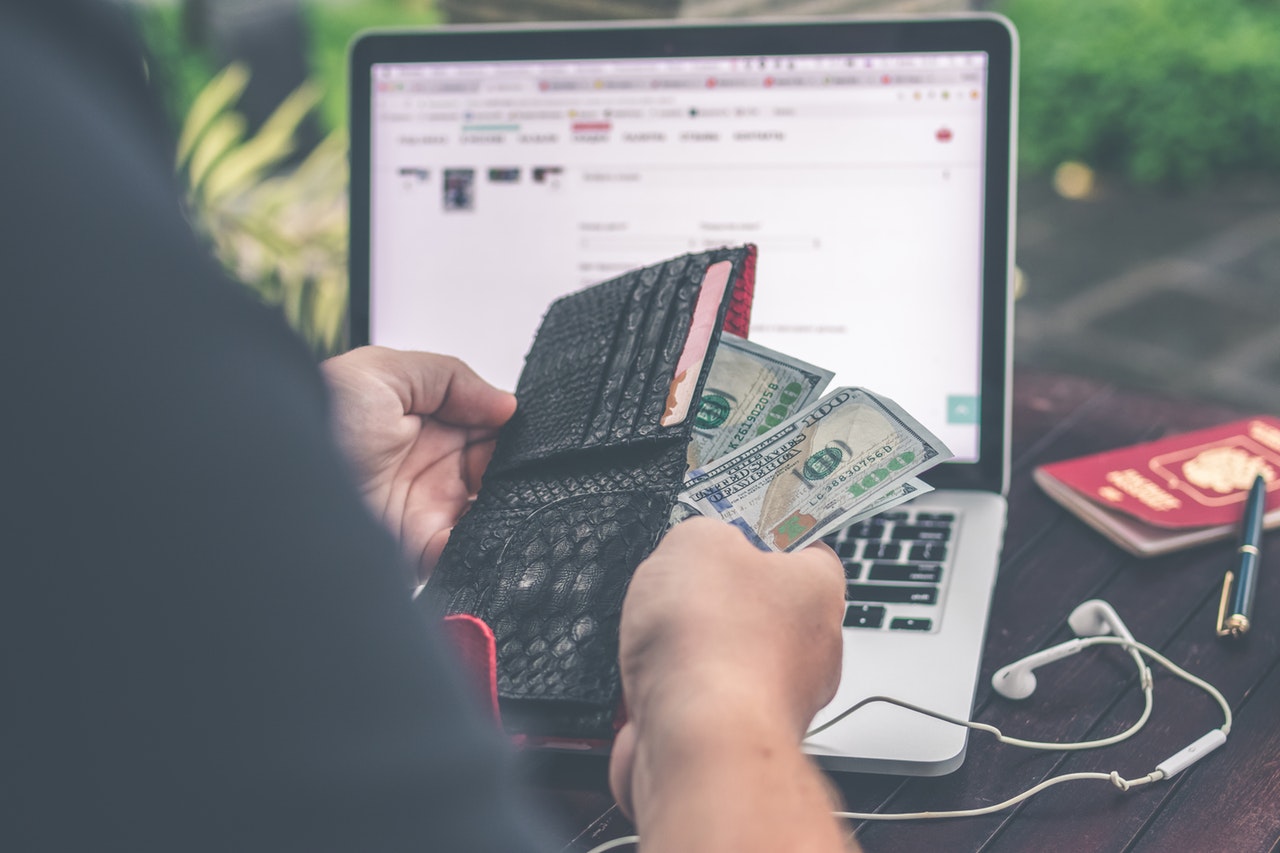 Reading Time:
3
minutes
InComm, a leading prepaid product and payments technology company, announced today that it has partnered with Xsolla, the one-stop-shop for game developers to launch, monetize and scale their games globally, providing a unique solution for cash-preferred gaming consumers.
GameStop will be the first video game retailer to leverage InComm's cash-based payment technology platform, VanillaDirect™ Pay, to allow Xsolla's customers to use cash to load their gaming accounts at any of GameStop's more than 3,800 locations across the U.S.
This will allow gamers to buy online game subscriptions or in-game currency without needing a credit card or traditional banking account. Leveraging the VanillaDirect Pay solution will help Xsolla fill a significant market need in which 52 percent of their end users prefer to pay with cash.
"The growth of online and mobile gaming has presented retailers with a new and attractive way to reach consumers," said Matt Lanford, Senior Vice President and General Manager, Financial Services at InComm. "Allowing consumers to fund their gaming accounts in-store using cash gives them the options they need to keep playing. Video game consumers are fully devoted to their game of choice and will be loyal to the retailers that help them play. Now, retailers can capture that loyalty, drive foot traffic and encourage additional purchases. It is a win-win for both sides of the register."
Xsolla offers game developers a suite of tools and services that enables them to self-publish and monetize their games globally. It provides payment and billing solutions to some of the most popular online and mobile games in the world including Smite, Phoenix Point and PUBG. Xsolla's partners' games are played by over 50 million active monthly users. If those users want to fund their gaming account with cash, they only need to bring a barcode supplied to them through the game's website or app to one of GameStop's locations across the country. After the barcode is scanned and the payment is collected, the customers' accounts will be updated.
"This partnership with InComm and their VanillaDirect Pay technology, allows us to give cash-preferred players the ability to quickly and conveniently fund their accounts, and get back to playing the games they love," said Aleksandr Agapitov, CEO of Xsolla. "Our goal is to develop the tools and services that level the playing field by giving all of our game developers, from indie to enterprise, the ability to monetize their games to all gamers, at all GameStop stores. In turn, GameStop will have access to the hundreds of indie games we serve. Everyone wins."
VanillaDirect is InComm's proprietary suite of cash-based payment solutions, and VanillaDirect Pay is the latest solution launched under its banner enabling consumers to digitize cash at retail such as GameStop.
For more information about VanillaDirect, please visit www.VanillaDirect.com.
About InComm

By building more value into every transaction through innovative payment technologies, InComm creates seamless and valuable commerce experiences. InComm's unique products and services – which range from gift card malls to enhanced payment platforms – connect companies across a wide range of industries including retail, healthcare, tolling & transit, incentives and financial services to an ever-expanding consumer base. With more than 25 years of experience, over 500,000 points of distribution, 366 global patents and a presence in more than 30 countries, InComm leads the prepaid and payments industry from its headquarters in Atlanta, Ga. Learn more at www.InComm.com.
About Xsolla

Xsolla delivers a comprehensive suite of tools and services that make it easy to launch and monetize games and products globally. Serving only the video game industry, the Xsolla product suite caters to businesses from indie to enterprise, with: Pay Station and its #1 Anti-fraud solution, Partner Network, Site Builder, Store, Login, and Launcher. These Xsolla tools work seamlessly to eliminate the friction in distribution, promotion, sales and payments so developers, publishers, and platform partners can increase their audience, sales and revenue. Headquartered in Los Angeles, with offices worldwide, Xsolla operates as a merchant and seller of record for major gaming entities like Valve, Twitch, Ubisoft, Epic Games, and PUBG Corporation. For more information, visit www.xsolla.com.
Digitain boosts gaming catalogue with ReelNRG integration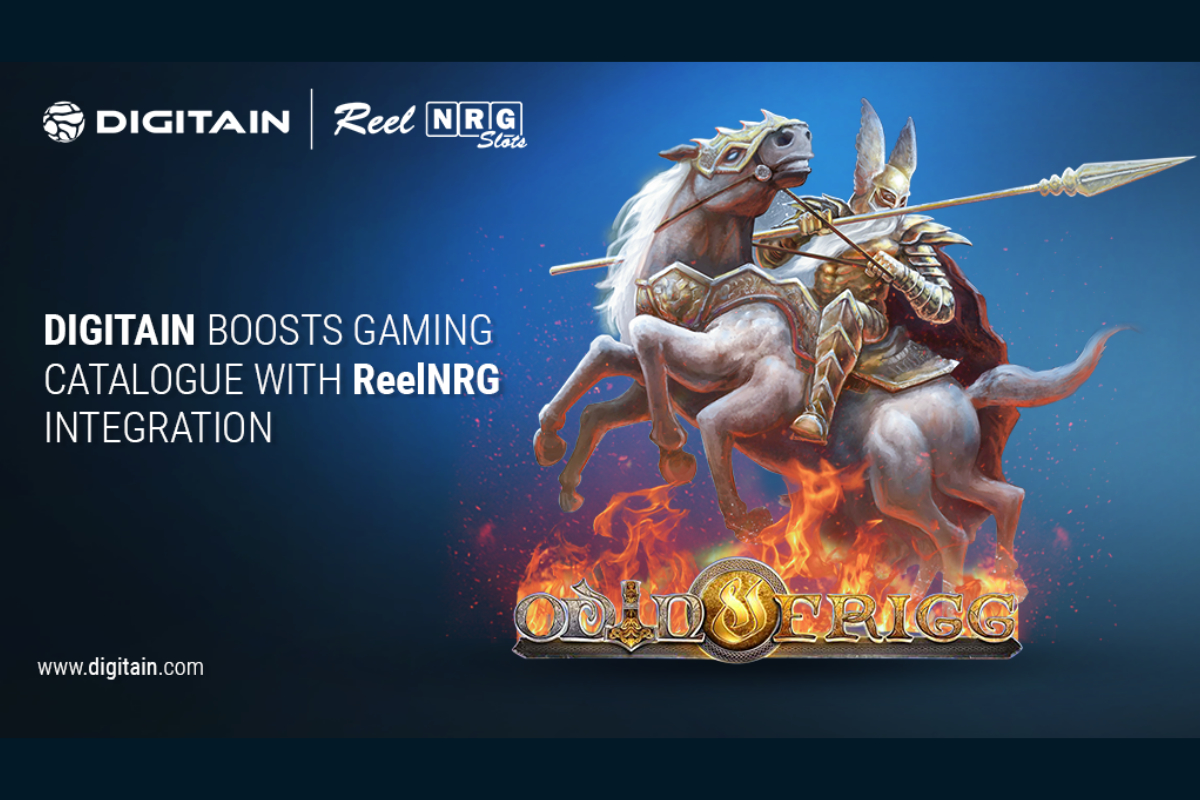 Reading Time:
< 1
minute
Global platform provider adds to award-winning casino offering
Leading sportsbook and casino platform provider Digitain has partnered with dynamic slot supplier ReelNRG.
The integration of ReelNRG's UKGC and MGA-licenced portfolio of premium slots, jackpots and promotional tools reinforces Digitain's track-record of providing its 70+ operator network with a diverse variety of revenue streams.
Famous for its pitch-perfect sounds, flawless graphics and innovative features, ReelNRG's action-packed portfolio has been making significant waves in the industry following its launch in 2016.
The deal will see popular ReelNRG releases including Wild Karaoke, Reel Hunters and Riches of Moscow added to Digitain's market-leading casino platform, comprised of an immersive in-house game collection along with over 3,000 titles from leading industry suppliers.
Delivered alongside its diverse selection of sports betting markets, Digitain's award-winning casino suite can be easily integrated via its modular and flexible APIs.
Commenting on the deal, Samvel Mrktumyan, Head of External Communications at Digitain said: "ReelNRG's multi-lingual, multi-currency and stunningly animated portfolio is a must-have for any operator, and this agreement yet again demonstrates Digitain's commitment to equipping its partners with content of the highest calibre.
"ReelNRG is one of the industry's most exciting suppliers, and we look forward to cultivating a fruitful and long-term commercial relationship."
Harsharan Gill, Head of Product at ReelNRG added: "Digitain's widely-acclaimed package of ground-breaking casino and sportsbook solutions powers a diverse and extensive international operator portfolio, so we are immensely proud to sign with the company.
"With advanced graphics, innovative gamification features and immersive sound-effects, our product offering is sure to be a hit with Digitain's partners and their players." 
Fully customised for the varied challenges of diverse legislative environments, Digitain's comprehensive package of sports betting and casino solutions received multiple awards for excellence in 2019, including the EGR, RGW, CEEGC and BEGE Awards.
Ever more people 60 years and older are gaming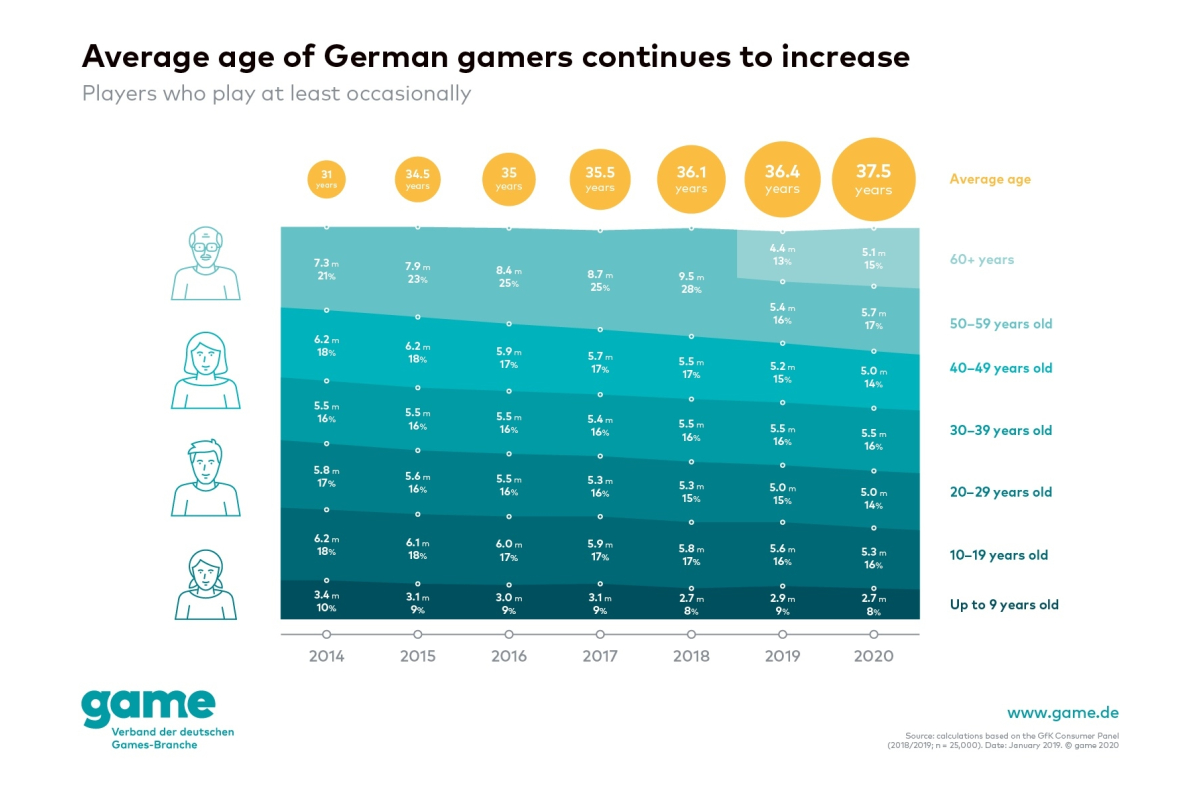 Reading Time:
2
minutes
More than 34 million Germans play computer and video games
Over 5 million seniors are gamers
Average age of gamers increases to 37.5 years
Ever more seniors are discovering an affinity for games. Over 5 million people 60 years or older in Germany currently play computer and video games – an increase of around 700,000 players compared to the figure of about 4.4 million in 2019. A total of more than 34 million people play computer and video games in Germany. These are the numbers released today by game – the German Games Industry Association, based on data collected by the market research company GfK. As in all other age groups, players over 60 are equally divided between women and men. Seniors most often reach for their smartphone or tablet to play; around 50 per cent of players in this age group make use of these devices for gaming.
'For many people 60 years and older, a virtual round of skat, a construction simulation or a crossword puzzle is just as much a part of everyday life as reading the newspaper or watching the news,' says game Managing Director Felix Falk. 'Games often open the door to the digital world for older people. They don't merely entertain; they make possible digital participation. The ongoing corona crisis brings into even sharper focus just how important access to the digital world is for older people too.'
The average age of gamers in Germany continues to increase
Currently, around 34 million people play computer and video games in Germany. Half of these players are women (about 48 per cent). The average age of gamers in Germany has increased compared to last year, from 36.4 years in 2019 to 37.5 years currently. This is in part a result of the continual increase in the numbers of gamers in the 50–59 and 60-plus age groups in Germany. In part, it is due to the fact that many long-time players have remained true to the medium and are now in these age categories.
About the market data
Please note: for the first time, the current market data includes analyses for the 60-plus age group. This data is visualised in the corresponding market data graphic.
The market data is based on statistics compiled by the GfK Consumer Panel and App Annie. The methods used by GfK to collect data on Germany's digital games market are unique in terms of both their quality and their global use. They include an ongoing survey of 25,000 consumers who are representative of the German population as a whole regarding their digital game purchasing and usage habits, as well as a retail panel. The data collection methods provide a unique insight into the German market for computer and video games.
game – the German Games Industry Association:
We are the association of the German games industry. Our members include developers, publishers and many other games industry actors such as esports event organisers, educational establishments and service providers. As a joint organiser of gamescom, we are responsible for the world's biggest event for computer and video games. We are an expert partner for media and for political and social institutions, and answer questions relating to market development, games culture and media literacy. Our mission is to make Germany the best games location.
Arrow&Square offers COVID 19 advice for iGaming B2B comms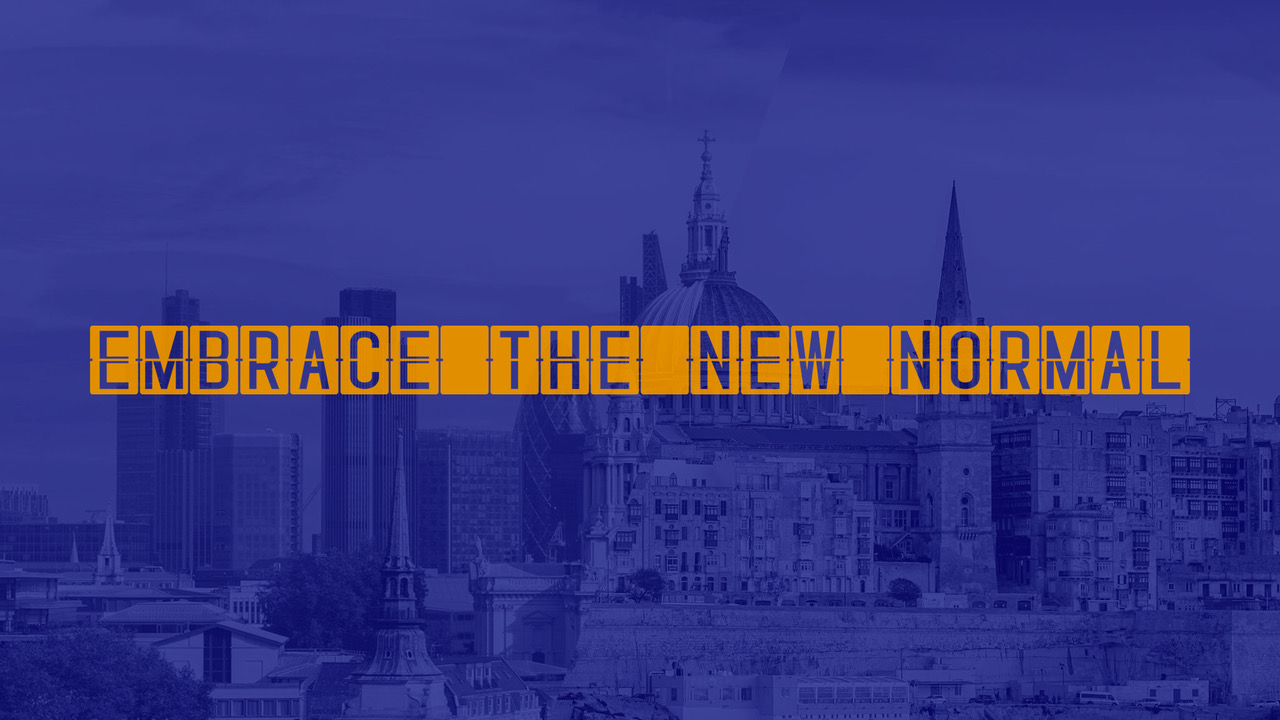 Reading Time:
2
minutes
PR & content consultancy launches in Malta for iGaming sector
Arrow&Square, a B2B comms and content consultancy with a footprint in Malta and London, is offering free advice for iGaming companies whose marketing communications activity for 2020-2021 has been disrupted by the Coronavirus outbreak.
Jools Moore, director at Arrow&Square, commented, "Notwithstanding the global health crisis, this is a tricky time for businesses everywhere, but the show must go on.  We're keen to support the iGaming community, and offering some free advice is a great way to introduce ourselves, no strings attached. In the short term we all have to adapt marketing strategies to this 'new normal', with no end in sight for the current disruption."
Any companies interested in discussing their marketing communications in 2020 should visit www.arrowandsquare.com to get in touch with the team for a complimentary review.
With COVID-19 disrupting various marketing activities in the iGaming sector, the events calendar has been particularly hard hit. Both marketing and commercial teams now need to adjust their approach to communications to offset the loss of the global events roster.
Industry events have traditionally provided a platform for networking, sharing new products and services, key messaging, thought leadership, branding and more.  With the postponement of these staples in the industry calendar, marketers will need to refocus their efforts with comms and content activity to take on more heavy lifting when it comes to B2B marketing.
Moore has provided comms and content services for the iGaming sector since 2004, most recently as Comms and Publishing director for SiGMA Group, the Malta-based events company.
He added, "During this testing period, Arrow&Square will offer free counsel to iGaming companies concerned about losing share of voice while the world locks down to prevent further spread.   We'll audit your social media presence, suggest new ways to use content marketing to connect new leads and business connections, and advise on how to approach B2B communications with trade media."