GLMS Tracks Suspicious Activity on 33 Events in Q1 2019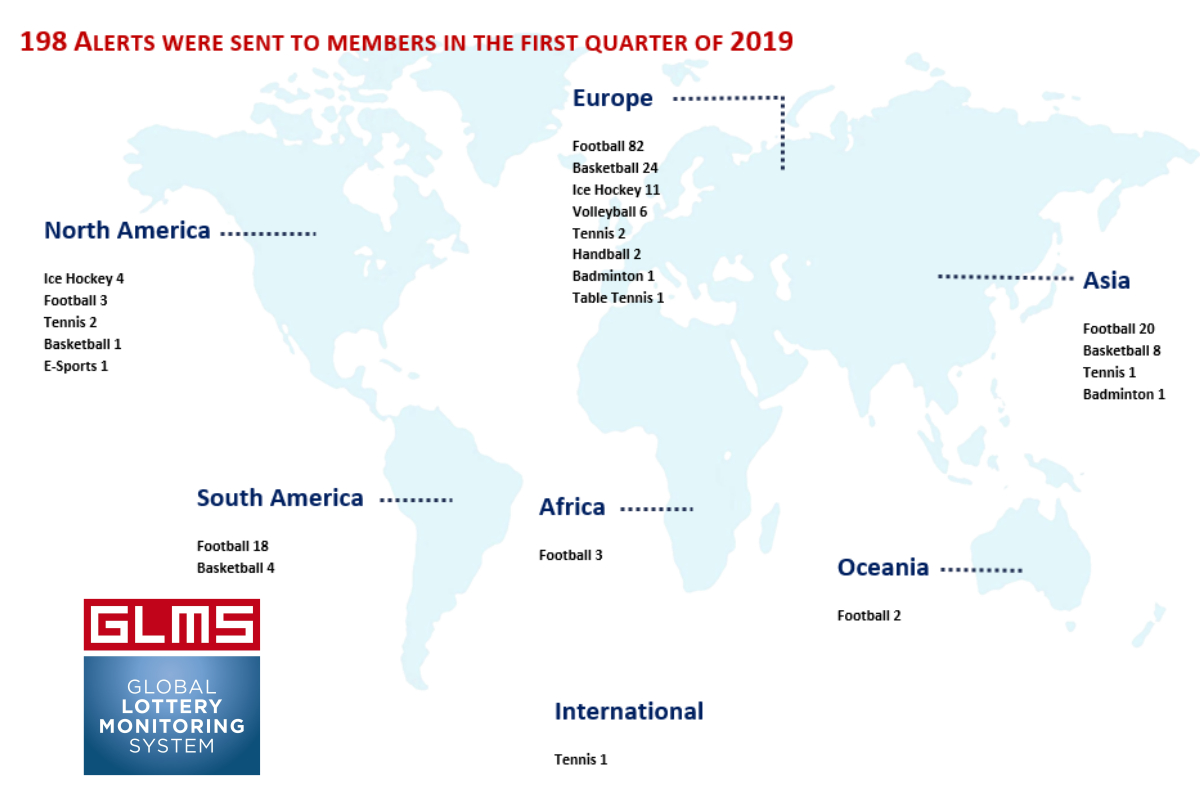 Reading Time:
2
minutes
The Global Lottery Monitoring System (GLMS), which tracks the suspicious betting activity for state lottery operators, has flagged 33 sporting events as suspicious activity in the first quarter of 2019. GLMS has issued 198 alerts as well during the period.
Alerts were issued for a number of events over the three months ended March 31, 2019 Football events received the most number of alerts: 128 of the 198 alerts. Basketball events received 37 alerts, while ice hockey events received 15.
Continent-wise, Europe accounted for the majority of suspicious activity, followed by Asia with 30, then Latin America with 22.
Accordingly, European football's governing body UEFA was informed of suspicious betting patterns on 12 occasions, with football's world governing body FIFA, receiving eight alerts.
The International Olympic Committee received a further three, and three were flagged to Spanish football administrator La Liga – which is currently investigating match-fixing in the country's football leagues – also with three.
Tennis, which has traditionally attracted the majority of suspicious alerts for the recently rebranded International Betting Integrity Association, generated six alerts on the GLMS platform.
Most alerts (63) resulted from significant odds changes, with 42 generated following the publication of team news, 27 stemming from requests from GLMS partners, and 24 were issued following information from GLMS members. Just one alert resulted from rumours of match-fixing.
Of the 198 alerts, 11 were considered "code red" meaning they warranted urgent investigation, with 66 "code yellow" and 86 "code green" unusual activity that can easily be explained.
The vast majority of alerts (149) came pre-match, with a further 43 generated after a sporting event had ended. Just 6 were based on in-play odds fluctuations.
"GLMS is a Global Integrity association and, therefore, it is of the utmost importance for us to be fully transparent regarding the results of our monitoring and intelligence activities," GLMS president Ludovico Calvi commented.
"[2019] started very dynamically for GLMS, having reported a significant number of suspicious matches to all our members and partners," Calvi explained. "GLMS shall go on making its best efforts to further enhance the quality of our integrity operations, in the highest interest of sport ethics and the credibility of sport."