Spain: A new bull market?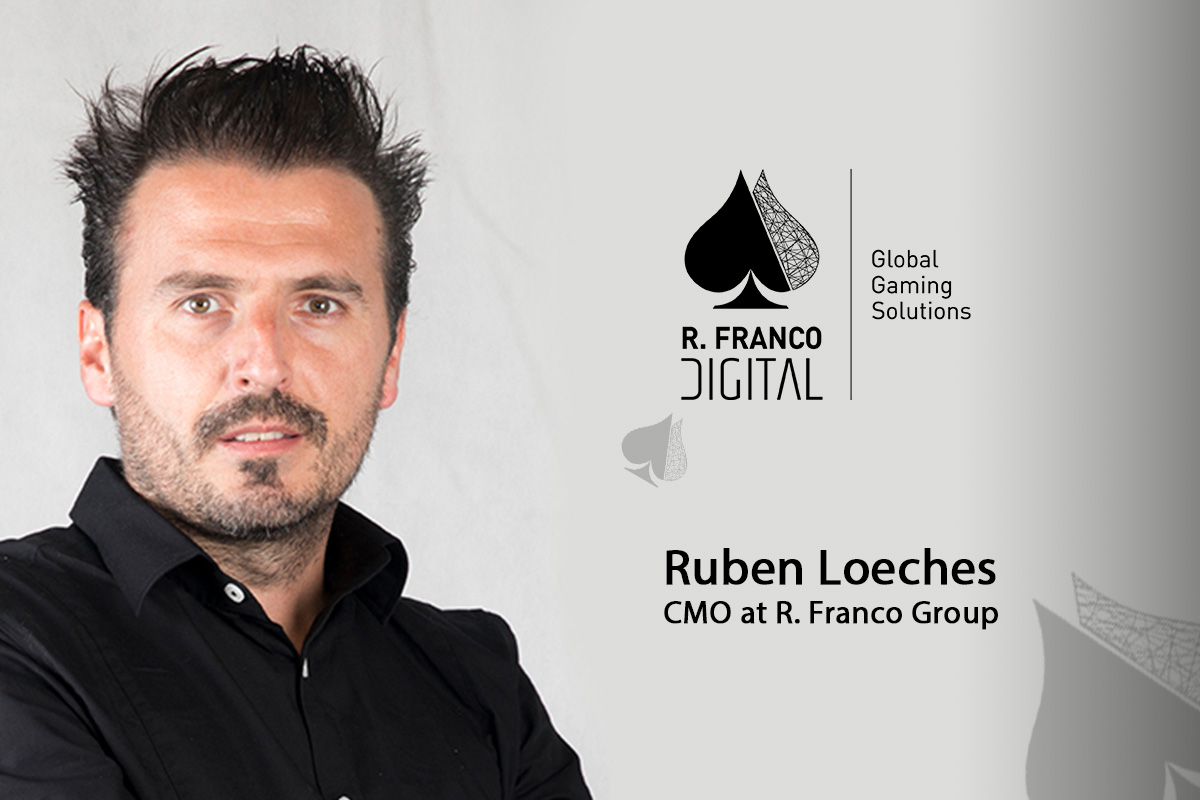 Reading Time:
3
minutes
Spain is an increasingly attractive market for operators and suppliers alike; with bright forecasts for the market's future following its regulation in 2012. We sit down with Ruben Loeches, CMO at R. Franco Group, Spain's most established gaming company, to get the lowdown on the market they dominate.
Spain is touted by some as the industry's latest bull market – as Spain's most established gaming company, what's your take on the market's development so far?
Spain's current expansion is unprecedented; we're seeing a 20.10% increase in terms of GGR, mostly due to the ever-growing popularity of sports betting online, which is currently above 25% in GGR.
Of course, there's an increase in new customers, but we're also seeing an exponential trend of players becoming ambassadors for the transition to online, which is in turn the catalyst for a very interesting multiplier effect within their own social circles, with more of their friends signing up to the digital world as a consequence. This is definitely indicative of the new generation of players getting involved in iGaming – and represents fantastic potential beyond the traditional bastion of sports betting.
Plenty of supports suggest that there is room for further growth here, where do the opportunities lie in Spain for operators?
In my view – the future of gaming is all about omnichannel. None more so than in Spain, The ability to bridge the retail and digital environment is by far the greatest opportunity in regulated markets, and one that every operator should be focusing on.
Companies that already have an established retail presence hold a great advantage here as it gives the proposition of choice to the player in whether they interact with their brand of choice online or offline, and ensures they are always present as part of the customer journey. Tie this in the with the opportunity to promote your brand through the activation of sponsorships, more and more potential customers will be open to getting involved in sports betting.
How will the ban on advertising affect the way the Spanish gaming sector does business? how do you expect to overcome these regulatory tailwinds? Do measures need to be put in place to mitigate this risk?
Given the Spanish passion for sport and gaming, and everything that comes with it, there will always be opportunity. Of course, these regulatory tailwinds will certainly necessitate operators and suppliers to rethink their strategies.
For us, we would suggest a measured approach, think much more where you invest your money, be much more strict with the monitoring of your metrics and in the analysis of your traffic sources, and above all, give much more value of the leads that you can get or have achieved in the different phases of a client's life (acquisition, conversion, retention and reactivation).
Of course, the government's regulatory obstacles will stifle growth, but with every challenge comes opportunity, and as long as resources are shifted to place more emphasis on acquisition – then risks can be easily mitigated.
R. Franco was one of the first platform suppliers to go live in Colombia once the market opened, what other opportunities do you see for LatAm, and how does being Spain's most famous gaming company help?
The Latino world lives and breathes sport like no other. Our habits in Spain are very similar and this is represented in the way we both bet, and for us – Latin America will always be our secondary region to operate. The learning curve we've acquired in all these years allows us to implement processes, methodologies and strategies that fit the market perfectly. The cost saving benefits here for us over nearly any competitor from outside of this world are immense, as we avoid the loss of budget in unnecessary marketing campaigns that others would have to do to reach a market where there is little knowledge or experience.
Exclusive Q&A with Tim Grice, CEO of Connective3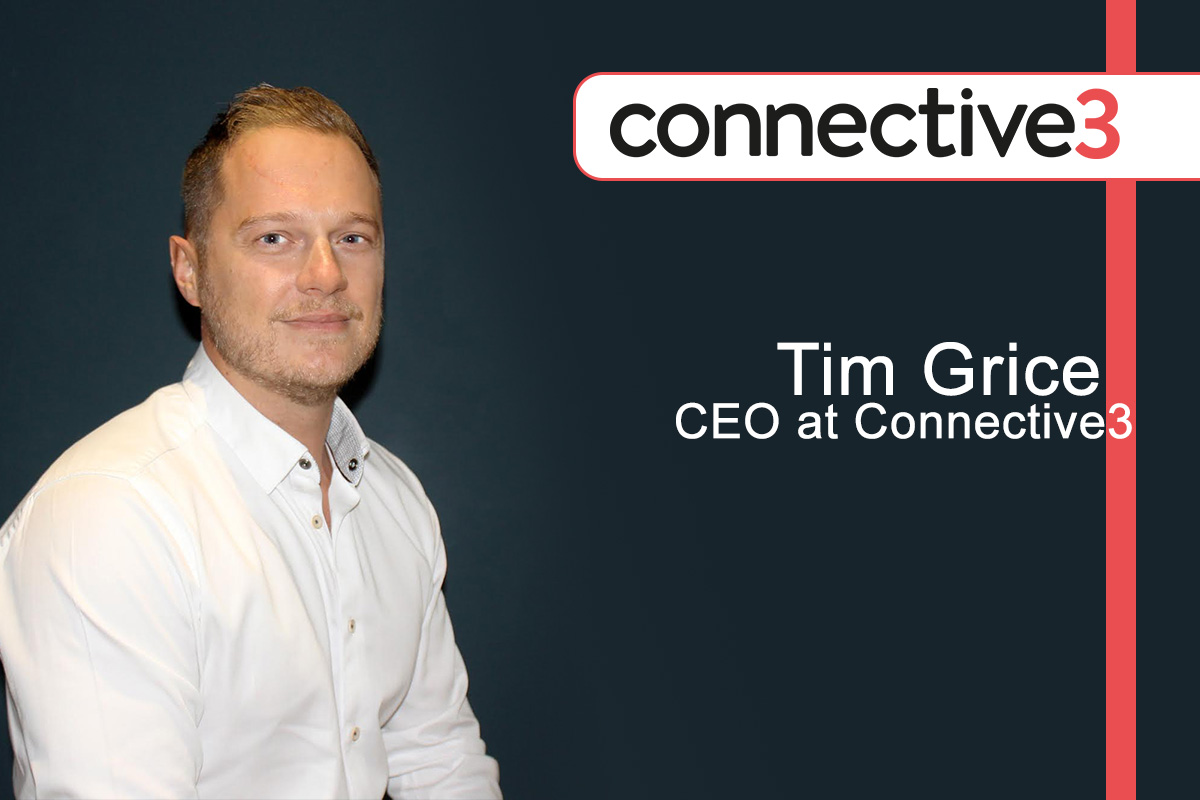 Reading Time:
5
minutes
We are going through one of the most difficult times in human history. The Corona virus pandemic has affected all spheres of human lives. The gaming industry is no exception.
How do the best minds of the industry analyze this rapidly evolving situation?
That's what we want to find out with this exclusive interview with Tim Grice, the chief executive officer of Connective3, a top-notch digital marketing agency in the gaming industry based in the UK.
Here he talks about himself, his company, quick impacts of the COVID-19 outbreak in the industry and, best of all, some insightful advice on how to proceed during these tough times.
Here we go!
Q. First up, an introductory question. Tell us about yourself. Our readers love to hear top entrepreneurs talking about themselves.
A. I've been working in digital marketing for 13 years. I started out as a consultant in 2007, mainly working across SEO and PPC. In 2010 I joined Branded3 as Head of Search; there were no more than three people in the digital marketing team when I joined, but in 3 years we managed to grow the business to over £4m in revenue and 60 people.
Branded3 was acquired in 2013 and I took over the role of CEO in 2015, generating revenues of £7.2m and nearly 100 people in the business.
In 2019 I decided to collaborate with the founders of Branded3 and introduce a new agency brand to the mix, connective3. We have gathered together the most talented people I have worked with over a decade and have created a £1m / 20 person business in 6 months. We have huge ambitions and want to grow the business in the UK and internationally over the next 5 years.
Q. How is your business going at this time of Corona-induced turmoil?
A. Like everybody else things have slowed down. No businesses are willing to commit at such an uncertain time. However, we are working remotely very well and are even seeing some growth from our igaming and other online-only clients.
Q. What about affiliate marketing industry performance as a whole in these times? Some sectors in the affiliate world of gaming and gambling industry must be hit hard, right?
A. Any affiliates linked to travel, retail and hospitality are going to struggle immensely as no one is buying. However, we have seen an increased amount of traffic and conversions across igaming (casino/poker/bingo) as well as certain financial products and services. So very mixed, but there is no doubt some serious pain across multiple sectors.
Q. What do you think affiliate marketers in the struggling sectors should do at this stage? Any advice based on your experience?
A. It's very hard to react as this is such a freak even; however, if possible I would recommend reviewing all content on your site, ensuring it caters to those using 'online' in their search queries. We have seen huge growth in 'online + keyword' searches across the board, and are reacting with our clients.
I think the whole crisis really spells out the need for businesses to invest in content aimed at the awareness stage of the customer journey, aspirational content to cater to customers who are browsing and wanting information before they make a purchase. Everyone is at home, no one is buying, but people are still looking in preparation for the end of this crisis. Investing in this area will put you in a stronger position when conversions dry up.
Q. Was the affiliate industry prepared to face such a crisis? What kind of course correction do the affiliate companies in the gaming and gambling sector require both in operation and strategies for tackling such a potentially long emergency period?
A. As above, I don't think there is much that can be done to avoid the declines, only ease the pain. Investing in information-rich content, diversifying products and having international websites is probably going to be the best way to minimise the impact of a pandemic like this.
Q. What are your quick insights into the situation as we go through an ongoing crisis caused by the Corona outbreak? What are the lessons that you learned from this episode? This could be important as many warn us about similar outbreaks in the future.
A. The best piece of advice I can give is to keep your business cash rich. Have enough in the bank to see your business through six months of no revenue. It will still hurt when something like this happens, but it will allow you to navigate through it and give you the funds to invest when the world wakes up. We're anticipating a huge wave of growth when normality returns and as a business, we want to be in position to take full advantage. Our strategy is very simple, give world class service and support to our clients and use this time to invest in our inbound marketing output.
Q. Which of the sectors in the gambling industry gained as a result of the recent crisis? It would be great if you can provide figures and stats to support your answers.
A. I can't go into specific details about clients or numbers; however, on a whole we're seeing quite stable numbers across the businesses we work with. Across casino, poker and bingo we're seeing on an average a 20% increase in traffic in the UK, and even though sports betting has collapsed, we've seen a sharp rise in e-sports. People still want to be able to gamble even though certain products are unavailable.
Q. There is of course a reported surge in customer interest on the igaming betting front. Do you think it is sustainable during the post-crisis stage as well, when the traditional sports will be back in action?
A. I think the current surge is temporary and will stabilise when things settle down and events are allowed to continue. However, this may not be for a while looking at the current situation, so this could be a truly unprecedented summer for online casino/online poker/online bingo products. My advice would be to invest hard now in content marketing and make the most of what looks to be double digit growth in this area. We work with igaming brands getting quality links and coverage which are having a huge impact on rankings. This is where I would invest to take advantage.
Q. What would be your advices and suggestions regarding content marketing strategy for the gaming and gambling industry during this outbreak and after it? Should the old practices hold up or new ones should surface?
A. I have no doubt that buying links, link networks and other manipulative techniques still work to deliver rankings. However, we don't advocate or practice this; our content marketing and digital PR team are one of the best in the industry and are actively working with multiple igaming businesses delivering hundreds of top tier links every month.
I would invest in informational content on your website, answering all the questions your customers could possibly have about your products and services. However, the main part of my strategy would go into digital PR and delivering high quality trusted links that deliver trust and authority in the long term, as opposed to quick fix strategies that last 3- 6 months. Decent link building can be done at scale now and deliver quantity as well as quality.
Exclusive Q&A with Dejan Orlac, Head of Design at Royce&Bach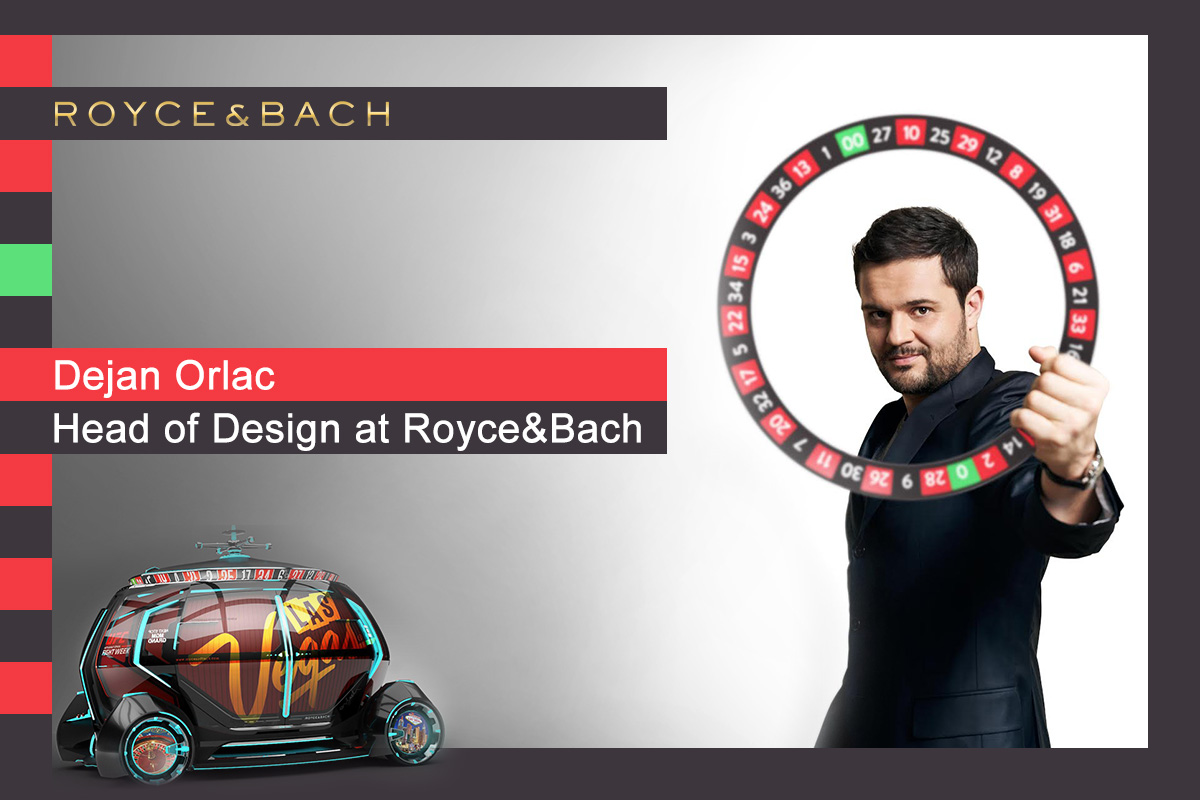 Reading Time:
6
minutes
Let's start from the beginning. Your beginnings, that is. Our readers love to learn more about top professionals and their life. Tell us more about yourself.
I was one of those kids that knew what he wanted to do from early on. That is to turn problems into elegant solutions through design. I loved drawing anything that moved, either on wheels, through the air or, underwater. My passion led me to the Academy of Arts and Design in Ljubljana, where I studied Industrial Design. After a successful study, I moved to London to pursue my appetite for design at the Royal College of Art, studying MA in product design. I never finished the course as I found myself in front of a new challenge in the gaming industry. It was an opportunity I couldn't refuse. I became a partner and head of design at the original Royce&Bach company. One thing led to another, and soon I was playing a part in launching the online casino platform called Oryx Gaming. We planned, developed, and designed a complete library of over 40 slot games, online roulette games, and poker games. We also designed all interfaces and the whole front end that enabled the launch of the product.
It was enough. I needed a break from the gaming environment and embarked on a new adventure. I was designing different products in various industries, from toys to phones and anything in between. I worked on projects for many high-end brands like Burberry, Coway, Panasonic, LG, and many others. It was a valuable learning experience that allowed me to reflect on the gaming industry that gave me the start. It is funny how I came back full circle and decided to focus on the gaming industry again with more specific goals.
Perhaps the first time you made your mark in the industry was by launching Archipelago 8 electronic roulette. Tell us about that experience.
Before starting the journey with Royce&Bach, I was already designing online casino lobby's and games for Playtech, and other casino providers. It gave me significant knowledge and confidence for my next adventure. Royce&Bach was an incredible opportunity for a 22-year-old boy. I worked and learned from some of the most intelligent people in the industry. The company had a clear goal and product vision; to disrupt the gaming industry with a better approach to a customer and user experience. The design was our first bet. Our first presentation of the Archipelago roulette was in 2007 at ICE in London, and the interest was overwhelming. However, it came with its fair share of challenges. After the show, we realized we need to go back to the drawing board and make changes to the design, construction, and implement additional feedback from potential buyers. And we did. The plan hit home with the Asian demographic, and shortly after, we started shipping our first products. Soon we proudly installed our roulette in the MGM Grand Macau.
You were involved with gaming product designs when you were working in Orlach Design? Could you tell us about some of the designs that you were associated with?
Orlach design is my own design company. Through Orlach design, I designed products, concepts, user interfaces, and other innovative solutions for many well-known international companies. I also worked directly with leading design studios helping them with their projects. Together we worked on products for beverage brand Budweiser, JSP and Keeler. I also designed the new UI for the ROXI home music entertainment system and worked on many projects at Burberry. It was interesting to be part of the TV brand campaign for Peugeot or cooperate on developing sets for Garnier TV commercials. Through Orlach design, I worked on many projects in healthcare tech, scientific, industrial, high spec and toy industry, interiors, and furniture design. It enabled me to receive international recognition and win the awards such as Red Dot Design award Concepts and Core77 Best Of Design.
You were also part of some innovations like a digital market place of 3Dprintable industrial designs. How did it go?
The 3Defied project is a digital platform with a professionally created consumer level 3d product content. Through 3Defied, designers, design companies, and prominent brands can connect and sell their work. The end customer is the owner of a 3d printer or a regular customer who prints the content through outside vendors. It is my "pet" project. I strongly believe in it, and it is something I am very passionate about. Unfortunately, due to ongoing gaming projects, 3Defied is currently on the backburner.
What about your present company Royce&Bach? Tell us about your areas of expertise, ongoing projects and clients.
Our passion is to create innovative gaming products that add value to players, operators, and casino vendors. Through strategic, industry-informed, and innovation-driven design, Royce&Bach strives to enhance players' experience and maximize operators' return on investment. We design all kinds of online and land-based casino-relevant experiences and equipment. Electronic roulettes, slot machine cabinets, player terminals, user interfaces, and casino games are just a few of many products we designed for our clients. Ultimately Royce&Bach uncovers hidden potential and delivers innovative products that exceed our client's expectations.
We are currently working on several fascinating products. My team is designing a new slot machine and a new automated roulette for a renowned retail casino gaming company. A well-known international brand hired us to design real room interiors for their live virtual games. For them, we are also conceptualizing new games that are either more immersive or integrate the brand on a different level. Demand for digital products is rising, and we are looking forward to developing that side of the business as well.
Could you explain the design process and its various stages from concept to manufacturing?
We must maximize the ROI for investors as well as enhance the entertainment experience for our players.
I want to think that I am in the process of developing our "patented" approach to the challenges of designing for the gaming industry. We based our approach around understanding specific players' psychologies. We want to know what triggers their senses, what gets them into "the zone," how they associate themselves with the product and, how they perceive a machine design as their winning tool.
First, we dive deep into research to uncover and identify the specific opportunities associated with the client and focus on solving those through product design. Through fieldwork, we talk to all parties involved in the product lifecycle. We also learn from previous research in our industry. Works from Natasha Dow Schüll, Roger Thomas, and Bill Friedman are an essential base for further actions. After we gather all relevant information, we create a design brief which we use throughout the development process.
Next, we move to the "concept design phase," where we propose a variety of ideas for product design. We review them with our clients and together select the winning horse. Sometimes we choose several concepts and develop them further. I like to say that those are our horses in the race, competing against each other. After the race is over, we end up with a winning horse, which becomes our winning concept.
Now it is time to optimize our design. Together with our clients, we review the ergonomics, add further technical input from the engineering team, and, overall, create a winning proposal. What follows is finalizing colors, materials, and finishes (CMF), preparing renderings, models, and mock-ups for presentations. The result is a product that makes our clients proud and excited about the future.
You have worked with a lot of start-ups and helped them get ahead. What are your views about start-ups in the gaming industry in general. Pros, cons and general advice, if any?
In my view, many companies developing gaming solutions, underestimate the financial investment, and the time needed to create a successful product. Due to gaming-related legislation and strict certification processes which differ from country to country, the process is more complicated in comparison to the mainstream entertainment business. Also, the industry is small, everybody knows each other, and the competition is ruthless. That creates a unique set of challenges for any start-up that wants to thrive in our industry.
Collaborate with someone who can think and work outside perceived limitations. It can uncover hidden potential you never knew was there. Do your research, look deep to avoid surprises later. Design to attract, impress, and satisfy. Be different. It will help you stay on track and continuously evolve in the ever-changing gaming environment. Design is the best tool to explore new opportunities, adapt, and plan for the future. Design is also your best bet in the product development journey to success. It's an investment that pays back double, at least.
What are the challenges and opportunities that you find in the gaming industry in terms of design?
Planning design for any gambling solution creates challenges on many levels. First, the product design must be fit for the manufacturer and easy-to-operate for the vendor. The vendor is the actual buyer who has to service and maintain the product. Second, players require much understanding. They expect to receive a completely different user experience than the vendor. Both use the same product but on different levels and have different requirements. Satisfying both is very challenging. That generally makes products complicated to design and produce because they're often required to do too much at once.
The gambling market is also continually changing. It needs to adapt to new generations of players through technology, better research, and innovation. That presents a multitude of design pathways that can open up opportunities to create innovative designs that amuse existing players or attract new ones.
Final question. With a number of gaming product manufacturers employing in-house designers, what value additions can an external designing firm provide?
If you want to stay ahead, you need to collaborate with someone who can work outside perceived limitations. The in-house design team usually has plenty of work supporting ongoing business demands. That is why it's essential to include outside professionals who are well informed overall and have cross-industry experiences to come up with fresh ideas. Flexibility, free-thinking, insight, and the quality of specialized people enables our clients to offer products that exceed expectations. Most everyday consumer products that we use were conceived and designed by external design studios. Big corporations rely on smaller companies. A lot of talented and skilled people will instead work for a smaller studio than a corporation.
Exclusive Q&A with Marinos Shiapanis, CEO of Campeón Gaming Partners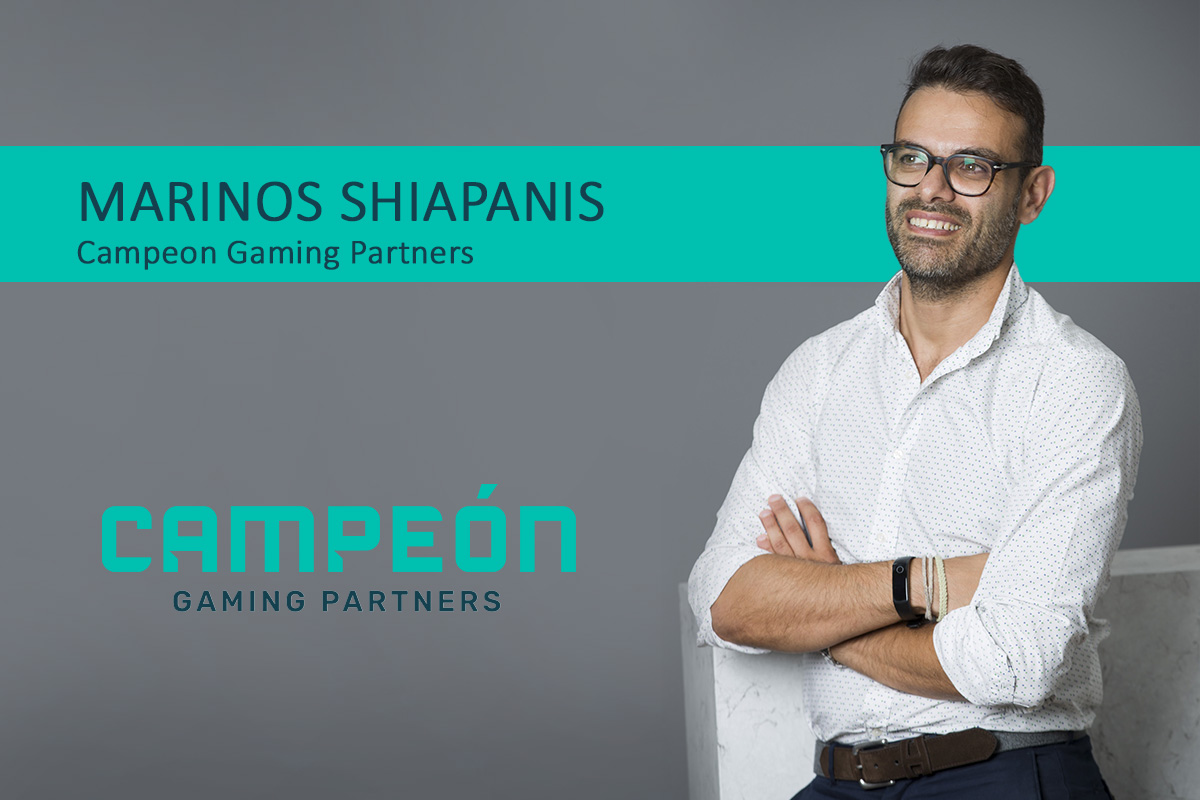 Reading Time:
5
minutes
We shall begin with the iGB award. How do you feel after winning this award? Had you expected this award?
We really didn't. This was our very first time being nominated at the iGB Affiliate Awards and, given the fact that the competition was really high, we were not expecting to hear our name. Needless to say, we were – and we still are – overwhelmed and very excited. It was a team effort, and this is why we celebrated as a team after receiving the award in London.
This is the first time Campeon has been nominated for iGB Awards. And you hit the bull's eye in the first instance itself. How do you see this honour: as a reward of your hard work or as a stepping stone for future innovation?
I think it is a little bit of both: it is definitely a reward and a recognition of the whole Campeón Gaming Partners team's hard work and effort, but, at the same time, this is a stepping stone for us to do more, invest more in innovation, expand and further develop across all sectors. The whole team, and especially the Affiliate & Partnerships team, really devoted themselves to the company and they are the reason we have managed to win this award. Such an award is extremely important for us, as it shows how far we have gone in such a short period of time; we have managed to slowly establish ourselves in the iGaming industry, become a familiar face for affiliates in the market, expand our network and grow as a team and a brand. However, winning this award doesn't mean we stop here; this is not just a motivation for us, but an obligation as well to work harder, focus more and deliver even better results. I think you will hear more of us the coming months.
The award recognises how Campeon stood out in terms of "transparency, inclusiveness and continuous support". What are the things unique to the affiliate program of Campeon Gaming Partners?
Since the beginning, our vision was to create an affiliate program that would not only attract affiliates, but it would also keep them engaged. We started off with a small network and as we were building it up, we were also improving our program. Today, our network is comprised of over 1,000 affiliates and our affiliate team has managed to establish personal relationship with each and every one of them. To us, it's crucial to put a face to the name; it's not just about numbers, it's about having a person who you know will listen to you and deal with your issues no matter how big or small. This is our way of thinking: we treat each affiliate's request as equal, and I believe that our affiliates appreciate this.
In early 2019, our team dedicated themselves into redesigning the program's strategy, aiming at building stronger, more interpersonal relationships with our partners, and providing them with better models in order to maximize their profits. At the same time, we optimized the affiliate experience, from the registration of the player, all the way to the affiliate statics' analysis we have successfully merged, integrated, and incorporated all of the Campeón Gaming Partners' brands into new platforms, ensuring that no affiliate activity was ever disrupted.
The award also mentions how Campeon offered tailor-made program to the affiliates. Could you shed more light into the deeply customizable affiliate programs of Campeon Gaming Partners?
Each affiliate has his or her own needs that looks into serving through a program. At Campeón Gaming Partners, we understand that, and every time we onboard an affiliate, we go into deep discussions with him or her to understand what they are looking for in our program. I think the most important fact for our affiliates is that we assign them their very personal point of contact, who is there for them whenever they are in need. So, when we onboard a new affiliate, we first assign him or her their point of contact, who makes sure to talk to him or her, understand his or her needs and goals and together they create a program tailor-made to the affiliate's needs.
What are the qualities that you look forward to in an affiliate? Not all affiliates are likely to become successful, right? Based on your experience, what separates the successful affiliates from the rest?
We want our affiliates to treat us the same way we treat them: with respect and transparency. We always do our best to accommodate our affiliates' needs, so we are looking into building partnerships based on trust. I think this is the most important part for us.
Regarding the second part of your question, I believe that definitely industry knowledge and audience play a significant part in separating successful affiliates from the rest. But besides these, I think that players are looking for affiliates who will be honest with them, affiliates they can trust; I believe it is the only way to build up a players' audience.
New new social media platforms are increasingly micro-targetting the end customers and automated CRM tools are getting more and more advanced. In this scenario, how do see the future of affiliate marketing evolving?
I believe that affiliate marketing is already changing and with these new tools it will change even more in the future. We are now entering a new era: the digital and customized era. Customers are increasingly becoming more and more demanding; they now know they don't have to compromise anymore with mass solutions, so they are asking for customized ones. They demonstrate their needs and preferences and demand for an experience tailor-made to them. I believe this is where affiliate marketing will focus in the future, and all the new or upcoming tools available, will give us the advantage of analysing the customers' behaviours and providing the best solutions to them. Affiliate marketing of the future will evolve around customized player's experience, in my opinion.
Finally, tell us about any big announcement in the near future. Expanding to more countries? Launching or integrating new products? Or a new marketing campaign? Our readers will be eager to read something first here.
A couple of weeks ago, we launched our first Pay N Play platform for the Scandinavian market, SvenPlay. In a few days, we will be launching our brand new, themed platform, Sons of Slots. This is a challenge for us, as it will be the first time we are introducing such a themed platform to our players. The Sons of Slots story goes back to the motor gangs of the US and it all evolves around that; rough street battles, leather jackets and ripped jeans, long hair, and endless road trips on their Harleys. This is what inspired us and we wanted to bring something very exciting to our players. Entering the Sons of Slots platform, our players will be transferred to a new world, the world of American motor gangs; they will play their favorite games in a new, adventurous environment, with exciting features, which will take their gaming experience to a whole new level. To bring this project to life, we have invested heavily in technology and this is why we partnered with a major agency, MaxCreate, specialized in bespoke front-end design, in order to be able to offer more flexible and versatile platforms to our players and to our affiliates.
I think 2020 is our year, and people will hear more of us: exhibitions, PR, awards… We will make it happen.