Spanish and Portuguese gambling industry in focus at EGC Milan 2019 experts from Grupo R. FRANCO and Rato, Ling, Lei & Cortés Law Firm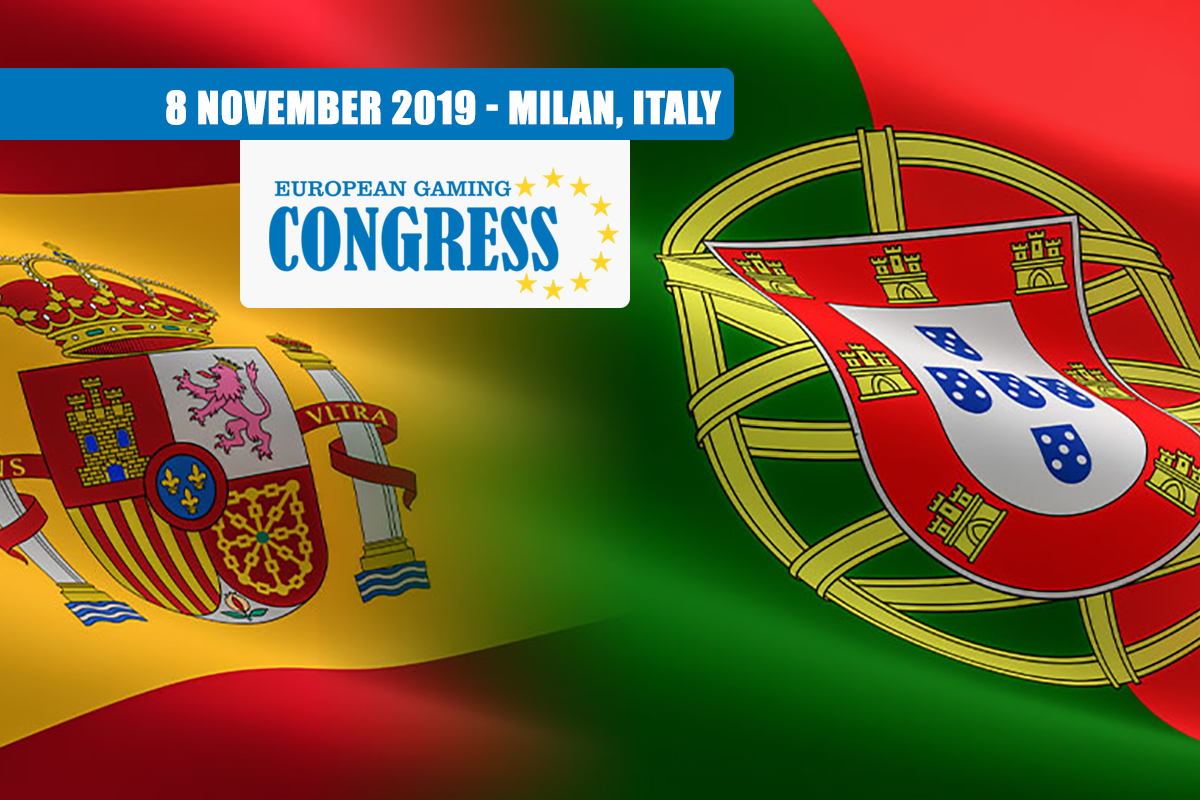 Reading Time:
5
minutes
Major gambling industry markets such as Spain and Portugal to be analyzed by leading experts at EGC Milan 2019!
News about the gambling industry in Spain and Portugal has been trending on all gaming media outlets and in the past 4 years, the industry has been booming in these two jurisdictions.
A study, conducted by The Portuguese Association of Gambling and Online Games (APAJO), has revealed that there are between 400 and 600 thousand individual bettors online in Portugal, which represents between 4.6% and 6.9 % of the adult population in the country.
The study titled "Online Gambling in Portugal – The Best Bet for the National Regulatory System" prepared at the request of APAJO by Winning Scientific Management has shown that the Portuguese market had grown in a balanced way and in line with the European markets analyzed. It cautions, however, that licensed operators need more protection at the level of unlicensed game combat mechanisms and the information provided on the sector would be more detailed and comprehensive.
Online gambling has only been available in the country for a few years, but it has quickly grown to become very popular.
The statistics from the Serviço Regulação e Inspeção de Jogos do Turismo de Portugal have revealed that the country's online gambling market enjoyed its best-ever quarterly performance at the start of this year, generating revenues of more than €47 million in the three-month period which ended on March 31st.
The online gambling market appears to be thriving in Europe at the moment and these new figures concerning Portugal only seem to reinforce that fact. Revenues in the country have seen a significant jump in the past 12 months and all eyes will be on whether it can ultimately keep up this pace in the months and years ahead. It is undoubtedly an intriguing time for the industry and it will be interesting to see just what comes next.
More than half of the revenue was specifically generated by betting, with football accounting for almost 75 percent of online wagering. This put the sport well ahead of its nearest rivals including basketball and tennis. In terms of gaming, revenues were up to €22.6 million with gaming machines – or slots – accounting for more than 63 percent of that. Trailing behind were other games such as online roulette and blackjack.
The gambling industry in Spain is also an increasingly attractive market for operators and suppliers alike; with bright forecasts for the market's future following its regulation in 2012.
Spain's current expansion is unprecedented and records show a 20.10% increase in terms of GGR, mostly due to the ever-growing popularity of sports betting online, which is currently above 25% in GGR.
Of course, there's an increase in new customers, but we're also seeing an exponential trend of players becoming ambassadors for the transition to online, which is, in turn, the catalyst for a very interesting multiplier effect within their own social circles, with more of their friends signing up to the digital world as a consequence. This is definitely indicative of the new generation of players getting involved in iGaming – and represents fantastic potential beyond the traditional bastion of sports betting.
Read: Spain: A new bull market? Exclusive interview with Ruben Loeches, CMO at R. Franco Group
At European Gaming Congress (EGC) we are bringing together key industry experts from Spain and Portugal in order to have a quality discussion about what operators need to know when entering the market or if they are already active in the region, what they should do in order to improve their presence.
The discussion will take place in Milan on the 8th of November at Radisson Blu Hotel Milan.
You can register here or view the agenda here!
The Spanish and Portuguese gambling industry will be discussed during the "Highlights from South West Europe" compliance panel discussion which is moderated by Andrius Gabnys (Attorney At Law – Gabnys Law Firm)
The Spanish gambling industry update will be presented from two angles by leading local experts Javier Sacristán (Digital & Operations Director at Grupo R. FRANCO) and the already announced Willem van Oort (Founder of Gaming in Holland / Gaming in Spain)
The Portuguese gambling industry update will be presented by Óscar Madureira (Senior Associate at Rato, Ling, Lei & Cortés).
Make sure you take advantage of this unique opportunity of learning and networking with the gambling industry in Europe via the EGC platform every year.
About Andrius Gabnys – Attorney At Law – Gabnys Law Firm (panel moderator)
Andrius Gabnys is an attorney-at-law and a managing partner at Gabnys Law Firm, a legal boutique based in Vilnius, Lithuania, and Tallinn, Estonia. The Firm specializes in entertainment (gambling, media, arts) and technology (IT, cybersecurity) legal aspects. Andrius Gabnys has been working in the online gambling sector for over 10 years and focuses on the multijurisdictional licensing, IP and related matters. He has extensive experience dealing with the gambling authorities in Europe, CIS countries, Africa and South America.
About Óscar Madureira – Senior Associate at Rato, Ling, Lei & Cortés
Óscar is a Senior Associate at Rato, Ling, Lei & Cortés in charge of the Portuguese office, and is a member of the Macau Lawyers Association, the Portuguese Bar Association and the Hong Kong Institute of Arbitrators (HKIA).
Before joining the firm, he was a Senior Legal Counsel for Melco Resorts and other law firms in Macau.  He was also a Legal Consultant for Porto City Hall, for the Portuguese National Traffic and Transportation Department and for the Honorary Consulate of the Republic of Guinea-Bissau in Portugal.
He is a member of the Scientific Council of the Rui Cunha Foundation, a lecturer and consultant at the Centre for Reflection, Study and Dissemination of Macau SAR Law (CRED-MD) and a guest lecturer at the University of Saint Joseph, Macau.
About Javier Sacristán – Digital & Operations Director at Grupo R. FRANCO
Javier Sacristán has a bachelor's degree in Business Administration and Management from the University of Southern California. Throughout his career he has held different key positions in the start-up arena and in consolidated gaming companies, contributing his digital expertise. At present, he is Digital & Operations Director at R. Franco Group.
For more details browse the official event website here:  www.europeangamingcongress.com
UltraPlay is the Esports Service Provider in the Nordics from BSG Awards 2020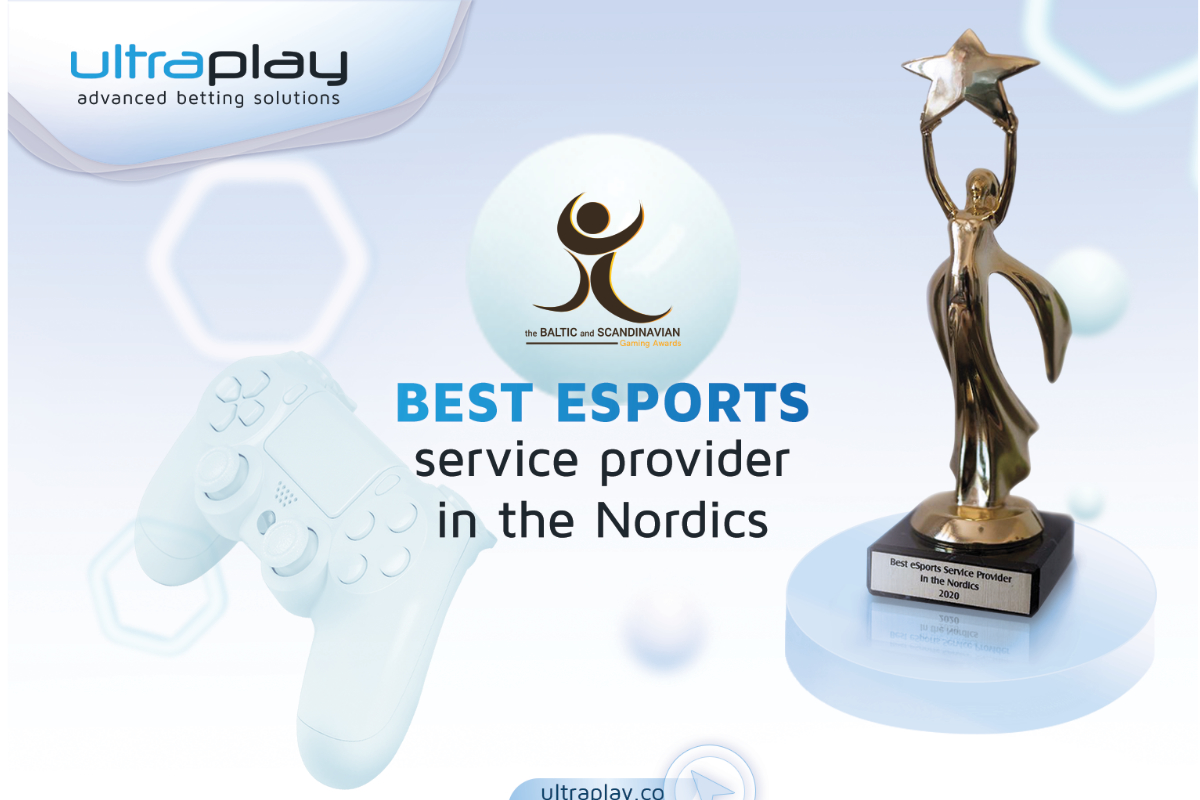 Reading Time:
< 1
minute
Bulgarian-based company UltraPlay has been recognized by the Baltic and Scandinavian Gaming Awards as the Best Esports Service Provider in the Nordics 2020. The awards ceremony was held last week in Tallinn, during the first live conference since March this year. The winners have been decided by a final vote, which was submitted by the attending participants.
BSG Awards are continuing its mission of creating an independent, fair and representative awards event that recognizes significant achievements within the Baltic and Scandinavian gaming industry.
Lyubomira Petrova, CMO at UltraPlay said: "We are honored to be acknowledged as the Best Esports Service Provider in the Nordics – a region that is particularly strong when it comes to eSports. It's the second time in a row to be highly recognized by the BSG Awards and its attending delegates, which confirms we are on the right track – developing and enhancing this very specific betting vertical."
Last year, UltraPlay has won the Best Esports Service Provider in the Baltics. With the company's efforts in expanding its presence in the Scandinavian region, UltraPlay has achieved to add the latest accolade to its portfolio of 18 awards.
BetGames.TV secures latest accolade at Baltic Gaming Summit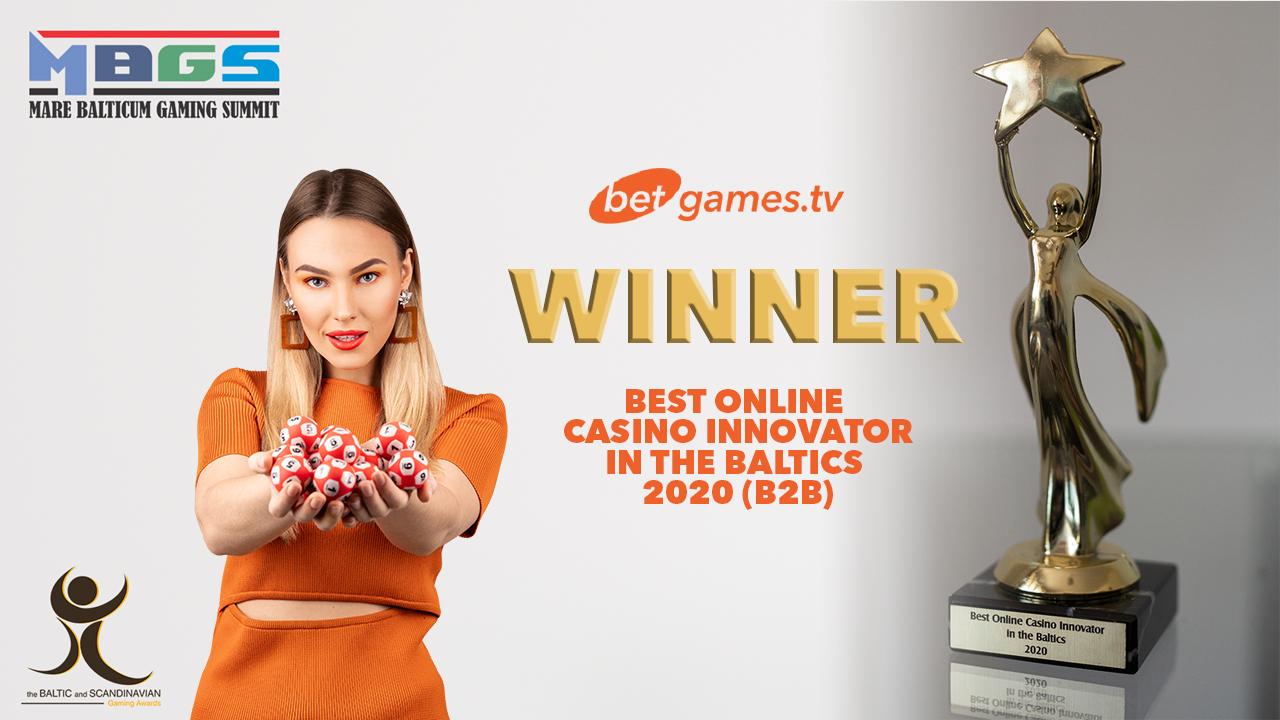 Reading Time:
2
minutes
Content provider recognised as Best Online Casino Innovator in the Baltics for 2020
BetGames.TV, the leading live dealer betting games supplier, has claimed the title of Best Online Casino Innovator in the Baltics 2020 at the Baltic and Scandinavian Gaming Awards (BSG Awards).
Held as part of the MARE BALTICUM Gaming Summit, this year saw the first iteration of the event's awards, focused towards honouring the industry's high-flyers across the Baltics and Nordic regions.
This year has seen BetGames.TV go from strength to strength, with its games ease-of-use, low spend and extended entertainment sessions proving a winning fixture during the cancellation of live sport.
As well as signing numerous strategic agreements in recent months with the likes of Amelco and SBTech, BetGames.TV's products have consistently stood out as one 2020's highest performers.
During the judging period alone, the company's total average daily bets surged by 37% globally, with bet counts tripling in LatAm and up by almost 40% in Europe.
The votes were cast by the event's attendees which further demonstrates the respect the company has from its industry peers and highlights its popularity throughout its home region.
Commenting on the win, Aistė Garnevičienė, Chief Operating Officer, at BetGames.TV said: "We're absolutely delighted to have scooped the award for Best Online Casino Innovator at the first ever BSG Awards.
"The win is a true testament to the dedication and attention to detail of our team and is a great reward for the hard work we put in to stay at the forefront of technical development.
"This year has been one of rapid growth here at BetGames.TV, and with good reason. We use our expertise to design cutting-edge games which push the envelope and become instant favourites with both our players and partners. We're absolutely delighted to see it recognised by our industry peers."
Singular Wins Rising Star in Baltic Sports Betting Technology at BSG Awards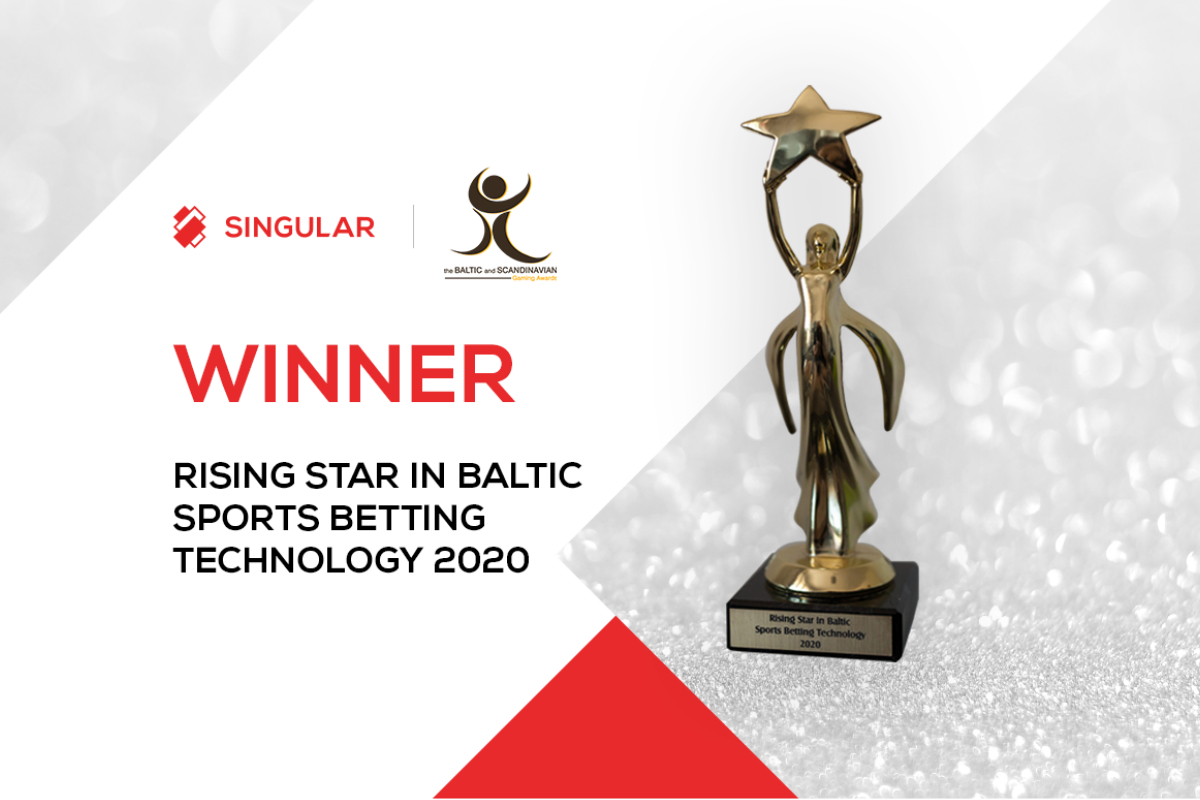 Reading Time:
< 1
minute
Singular has been awarded "Rising Star in Baltic Sports Betting Technology" at the Baltic and Scandinavian (BSG) Awards 2020 in Tallinn, Estonia.
Traditionally, the MARE Balticum Gaming Summit features the BSG Awards with the gala night moved online this year. Professionals from the sports betting field attending the Gaming Summit casted their vote for the companies that have made a substantial contribution to the industry in the passing year.
"We take particular pride in winning an award that highlights the technology of our Sports Betting Solution. Deep in its DNA, Singular has always been and continues to be a tech company working with gifted people and stellar technology to deliver an outstanding experience." says Darko Gacov, Singular's co-founder.
At the end of 2019, Singular released the 4th generation of their Sports Betting Platform that has given player personalization a new flavour. Accompanied by a pro-trading functionality and powerful risk management, the solution has positioned Singular as innovation leader within sports betting. The new upgraded solution has facilitated entry into three newly regulated markets for Singular. Details to be announced after the brands go live later this autumn.
The MARE Balticum Gaming Summit was the first live conference since lockdown measures and travel restrictions were lifted for the majority of the European countries. Adapting to the circumstances the event took a hybrid approach giving the community in the Baltic region an opportunity to meet in person, but also connect with the rest of the iGaming community online.