Totalizator Sportowy Wins Forbes Award in "Change of the Year" Category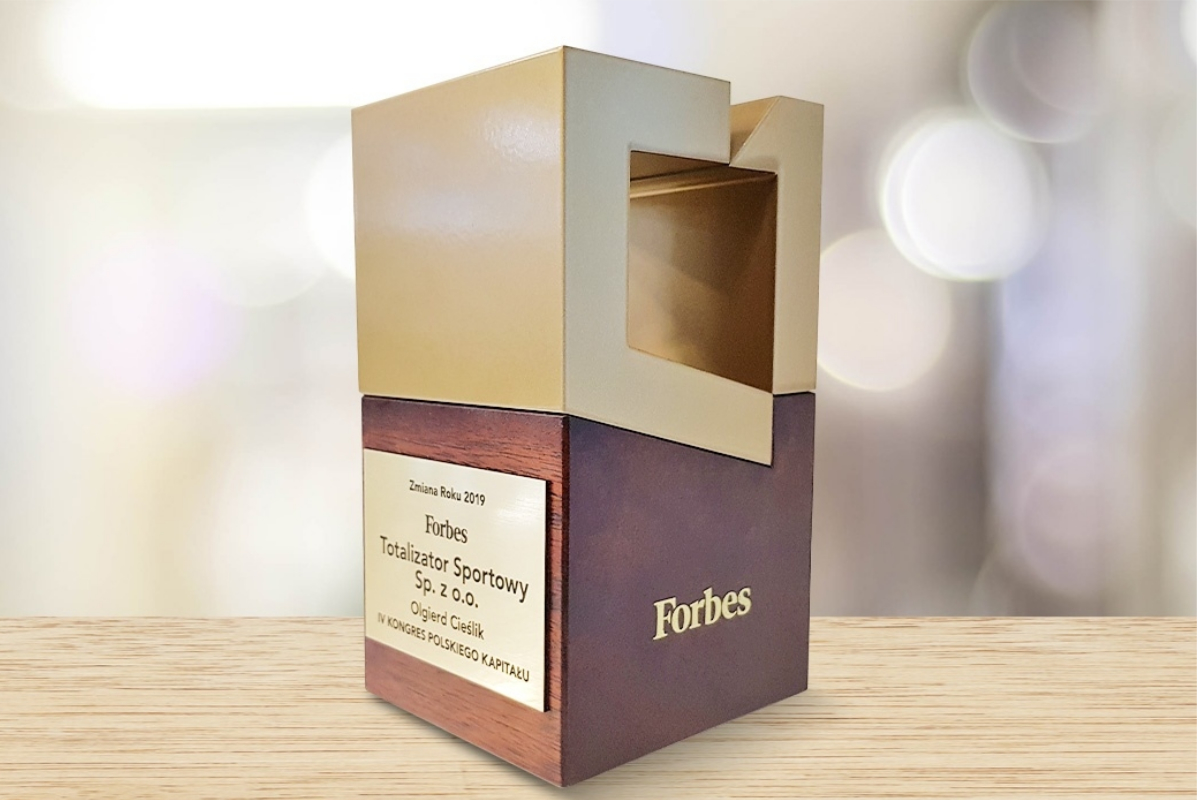 Reading Time:
< 1
minute
Totalizator Sportowy has won Forbes Award in "Change of the Year" category. The awarding ceremony took place on December 12 during the 4th Congress of Polish Capital.
On behalf of Totalizator Sportowy, the award was received by the President of the Management Board, Olgierd Cieślik, who emphasised that the distinction is an expression of recognition for all employees of the company, thanks to which entering the e-commerce market was a great success.
"We have a great team, great product and great industry, but above all a great team. It is their merit that they created a product that aroused such mass interest," Olgierd Cieślik said.
The company entered the e-commerce market on December 5, 2018, enabling players to purchase the most popular number games online. In accordance with the provisions of the Gambling Act, Totalizator Sportowy has also launched Total Casino, the only legal and secure internet casino in Poland.
"I, the Inquisitor" new fantasy title from The Dust polish game developer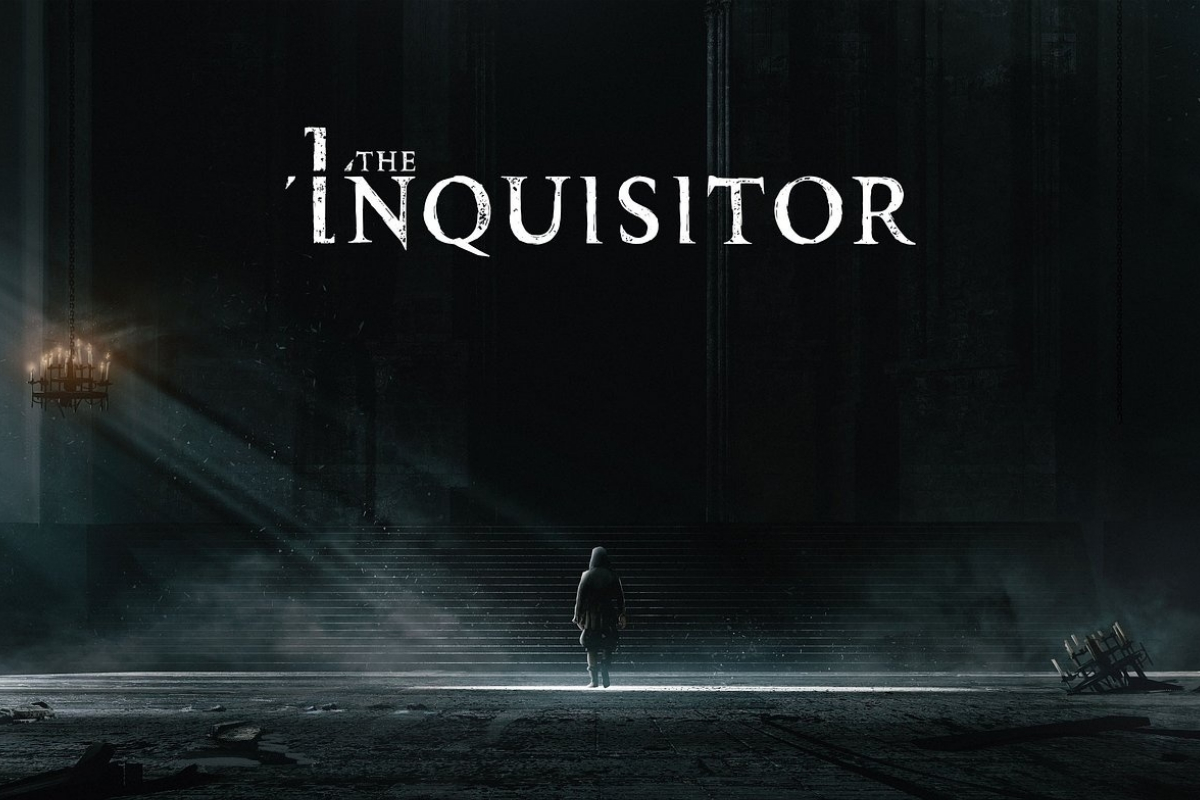 Reading Time:
3
minutes
It's been a year of silence since the September 2019 press conference, now the gaming studio based in Wrocław, Poland, is releasing a bit more information on its flagship game "I, the Inquisitor." Among other things, the Dust is sharing details on the game's main protagonist.
"I, the Inquisitor" has been talked about within the gaming industry for over two years, since The Dust bought the rights to the popular Inquisitor Cycle book series by the famous Polish fantasy author Jacek Piekara. Up until now, little has been known about the project aside from the bits and pieces presented at a 2019 press conference.
At that time the gaming Studio announced that the game would be story-driven with an emphasis on an outstanding emotions-based dialogue system. Another important aspect of the production will be an elaborate closed world. Up to now, the studio has kept most of the details under lock and key because the game was still in early production and there are plans for a long-term marketing blitz. The main character, the city, and supporting characters were all kept secret.
The main character of the game will be Mordimer Madderdin.
The Studio has confirmed that the main character will be Mordimer Madderdin, who will be well-known to readers of the series as the Inquisitor of His Excellency Bishop Hez-Hezron. Mordimer works for the holy official who is responsible for the new world order after Jesus Christ came down from the Cross and punished the unfaithful. However, Mordimer's appearance remains a secret.
"One of our key tasks is to ensure that the character of Mordimer is received well by both readers of the Inquisitor Cycle series and those who don't know him at all. We need to properly balance the external and internal characteristics of the presentation so that he is recognizable for readers of Piekara's series and enticing for newcomers. We want to thoroughly examine this element to meet players' expectations." – President of The Dust, Jakub Wolff
Story.
The Studio also confirmed that it is still working on supporting the dialogues through a unique emotions system. The Dust still hasn't published detailed information about the plot, only saying that the main storyline was completed a few months ago. At this stage, the story design is mainly working on developing dialogue.
The Dust is satisfied with the current state of the game's graphics.
The game's designers have also published the first screenshots from the game's current build. In these four screenshots, the Wrocław Studio shows off the diversity of the game's world they are creating. It is gloomy, but sometimes strangely familiar. In these few images we can see the high level of detail and the way they are playing with light. The Dust points out that these graphics are not yet finished, and they'll continue to work on them.
"From the very beginning, the graphics were an extremely important element of the game's development. We looked for inspiration in the Flemish masters of the Renaissance. As a result of many trials and experiments we found that we have amazing graphic possibilities and started to get closer to realism. I think that we are at a stage where we can share the first images with the public." – Art Director for "I, the Inquisitor," Kacper Szwajka
A small team with big ambitions
The project is being coordinated by game producer Jakub Karólewski, who was formerly with Wrocław's Techland.
We currently have around 25 people involved in the game's development, as needed we can add more specialists to the team. This will allow us to efficiently coordinate tasks and focus on the most important elements of particular benchmarks. In this work system, we can make decisions relatively quickly and move towards their implementation without delay, which can be an issue with larger teams.
Jakub Karólewski, Producer
Recently, the studio has undergone fundamental personnel changes in two positions as Kacper Szwajka took over as Art Director and Damian Pawlak – formerly of CD Projekt RED (Cyberpunk 2077) and Techland – became the Lead Game Designer.
What's next?
The Studio did not provide information about when it wants to start a wider communication campaign with players, what their collaboration with Juice looks like, when we'll meet Mordimer, or when they'll finally show us some gameplay.
"We are working hard and we're very happy with how things are turning out after a year of development. That's all I can say at the moment. All the rest will come out with time. We certainly won't just be keeping it to ourselves on our own computers." – said CEO of The Dust, Jakub Wolff.
Austrian Association for Betting and Gambling Calls for New Online Gambling Licensing System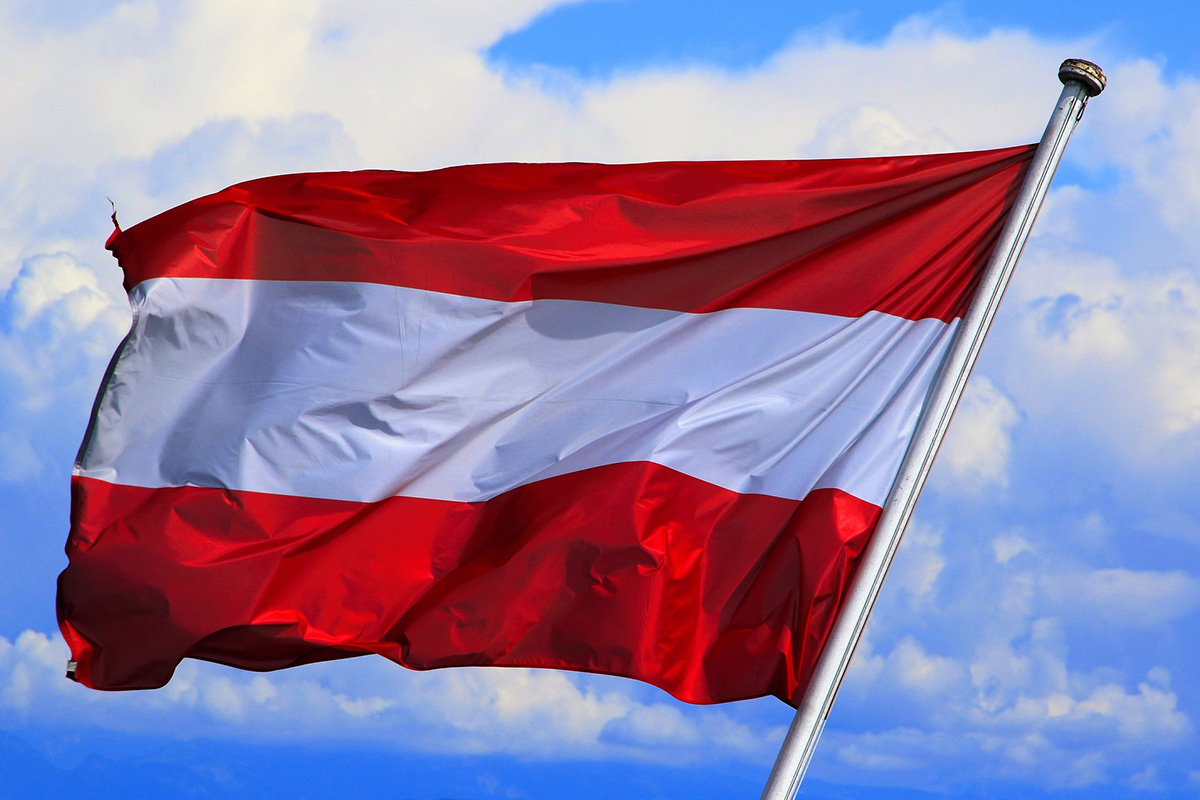 Reading Time:
< 1
minute
The Austrian Association for Betting and Gambling (OVWG) is calling for the creation of a new online gambling licensing system. OVWG says a modernised national licensing system for sports betting and online gambling could generate up to €50m in revenue for sports clubs.
Claus Retschitzegger, president of the OVWG, said: "Austrian sport is one of those areas of society and the economy that have been hardest hit by the Corona crisis.
"The current infection figures in Austria and the resulting tightening of restrictions give cause for concern that the economic situation for Austrian sport will continue to deteriorate in the coming months.
"Austrian sport and the gaming and betting providers have always been important business partners, which is why we want to support them in this difficult situation.
"A permanent way to make more money for sport is to introduce a contemporary online gambling licensing system.
"With additional taxes and license fees, €30m to €50m can be earned and dedicated to Austrian sport.
"This would help them – in addition to the existing sports funding and sponsorship services – without further burdening the state budget which is already strained by COVID-19.
"The idea of ​​the OVWG is to replace the long outdated monopoly in the online area with a licensing system.
"In the future, licences should no longer be limited in terms of quantity but should be linked to compliance with high player and youth protection standards. Only those companies that meet these high standards and submit to state control should receive a licence."
"A modern licensing system, as almost all EU countries already have, would bring further added value to Austria and ensure the attractiveness of the business location," Retschitzegger added.
German games market grows by 27 per cent in the first six months of 2020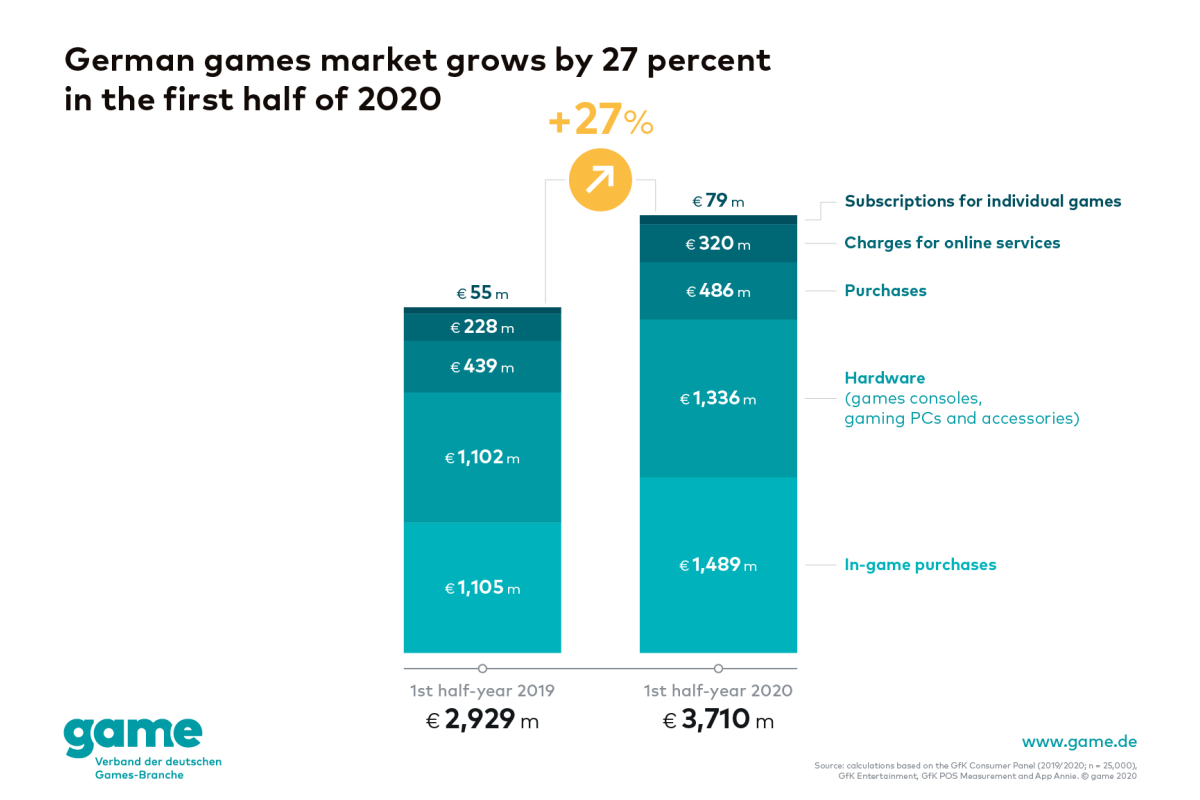 Reading Time:
3
minutes
As a result of the COVID-19 pandemic, the first few months of this year not only broke records in terms of player numbers on many platforms; the games market also grew significantly during this period. Games and games hardware generated 3.7 billion euros in total revenue during the first half of 2020 in Germany: a 27 per cent increase, as announced today by game – the German Games Industry Association based on data collected by GfK and App Annie. Revenue from in-game purchases rose particularly sharply. In the first half of 2019, these purchases accounted for approximately 1.1 billion euros in revenue, whilst in the first six months of this year, that figure grew to nearly 1.5 billion euros – a 35 per cent increase. In-game purchases include both small charges – to better equip one's game character, for example – and more expensive content like whole additional campaigns and season passes.
'Particularly at the height of the COVID-19 pandemic, when countless contact restrictions were in place, games helped millions of people by keeping them entertained, allowing them to travel through virtual worlds when holidays were cancelled and keeping them in touch with friends and family,' says Felix Falk, Managing Director of game. 'This strong interest in games is now reflected in a spike in revenue – an exceptionally sharp spike, even for the German games market, which has already been experiencing rapid growth in recent years. It's also notable that many people have opted to purchase gaming hardware, although revenue in this area typically tends to decline before the launch of a new generation of consoles. All these factors highlight just how important games really are – and not just during the COVID-19 pandemic.'
Games hardware in high demand
As part of the strong growth in the overall market, revenue from games hardware also increased drastically during the first six months of the year. Whilst in the first half of 2019 gaming PCs, games consoles and peripherals generated approximately 1.1 billion euros of revenue, that figure rose to 1.3 billion euros during the same period of this year. This equates to an increase of 21 per cent. And all four sectors of the market grew. Revenue from peripherals for gaming PCs increased particularly significantly; this includes input devices for gaming such as special mice and keyboards, monitors and graphics cards specially tailored to gamers, and virtual reality headsets.
Games help people get through the coronavirus crisis
In the lead-up to this year's gamescom, game published representative survey data on the playing behaviour of Germans during the coronavirus crisis. The data showed that around one third (35 per cent) of players said they had played more than usual during the COVID-19 pandemic; about one quarter (27 per cent) had played more frequently than usual with family or friends. Overall, more than one quarter (28 per cent) of players said that games have helped them to get through the pandemic better.
About the market data
The market data is based on statistics compiled by the GfK Consumer Panel and App Annie. The methods used by GfK to collect data on Germany's digital games market are unique in terms of both their quality and their global use. They include an ongoing survey of 25,000 consumers who are representative of the German population as a whole regarding their digital game purchasing and usage habits, as well as a retail panel. The data collection methods provide a unique insight into the German market for computer and video games.
The survey data used is based on an online survey by YouGov Deutschland GmbH in which 2,027 persons participated between 27 July and 1 August 2020. The results were weighted and are representative of the German population aged 16 and older.
game – the German Games Industry Association
We are the association of the German games industry. Our members include developers, publishers and many other games industry actors such as esports event organisers, educational establishments and service providers. As a joint organiser of gamescom, we are responsible for the world's biggest event for computer and video games. We are an expert partner for media and for political and social institutions, and answer questions relating to market development, games culture and media literacy. Our mission is to make Germany the best games location.