Exclusive Q&A with Colin Steil, Co-Founder and COO of Cartesi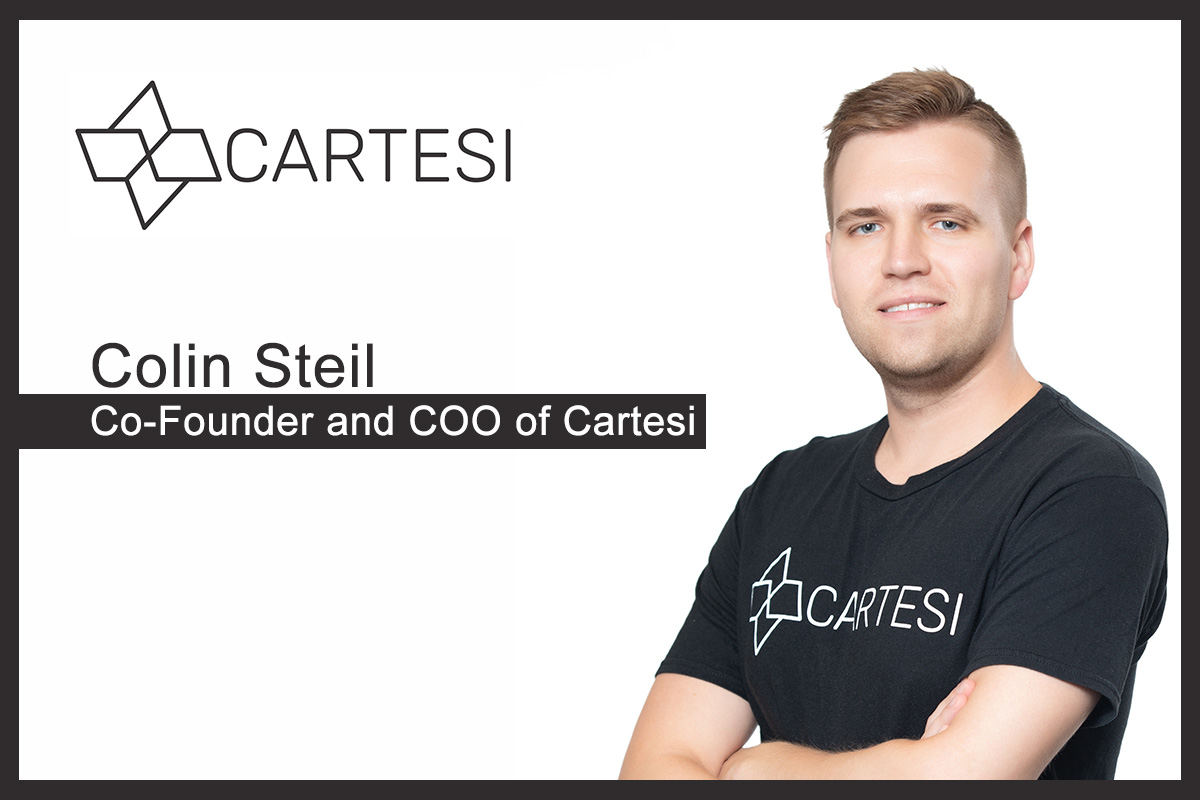 Reading Time:
6
minutes
We usually start with an introductory question. Tell us about yourself. How have you become a blockchain entrepreneur?
I'm Colin, Co-Founder and COO of Cartesi. I am a previous venture capitalist and start-up founder with a passion to make blockchain a reality. I have an expertise in execution and years of experience in community building and business operations across the globe.
I originally got into blockchain while working for my previous venture capital firm, SOSV. We were actively investing in companies in a wide variety of verticals that were always trying to push the boundaries of technology. Some of these companies had discovered blockchain technology early on and were integrating into their existing products, or starting exchanges (such as Bitmex). I got to learn about blockchain through assisting our portfolio companies and fell in love with the technology and the possibilities it brang. From here, I eventually met my current business partners and Cartesi was born.
What is the story of Cartesi? What is special about Cartesi in the blockchain universe?
The Cartesi founding team initially got into blockchain as a result of Augusto Teixeira (our Chief Scientific Officer) being friends with Serguei Popov (Founder of IOTA and inventor of the Tangle).
Serguei Popov, one of our Advisors, initiated Augusto into the crypto scene through the Bitcoin whitepaper and sparked his interest in the technology, knowing that Augusto is a leading expert in cryptography and game theory.
Augusto had the original idea of creating a trustless marketplace for data scientists. Basically, it would allow specialists and companies to engage in a service agreement without the need to know each other or a reputation system. In order to implement that, he invited Diego Nehab (our CTO) to design and implement a reproducible VM capable of running Linux. With this architecture and the protocols Augusto had envisioned, we would be able to make generic computation verifiable by the blockchain. More specifically, the blockchain would be able to initiate routines in the emulator to verify the results sent by the specialists after they completed their jobs. The system would protect the two parties involved, only releasing the funds if the results were proven to be correct.
Later on, after engaging in long discussions, we realized we were tapping into a broader scope. Before Cartesi even had that name, we understood we could actually create a versatile layer-2 Linux infrastructure to overcome the problems of scalability of computation and infrastructure for blockchain applications.
Cartesi is special in the blockchain universe in the sense that it allows decentralized applications to be run within a Linux environment in a way that's verifiable by the blockchain. Complex processing can be executed off-chain free from blockchains' computational limits and corresponding fees.
By offering a Linux runtime environment, Cartesi is the only software-based verifiable off-chain compute system that gives developers a vast array of software that evolved in the last 30 years and that enable the applications we use on the Internet today.                                                                   
You have talked about the twin major objectives of Cartesi in other interviews as well: increasing network efficiency and reducing programming difficult over blockchain? Could you share details about real life projects that actually achieved the objectives?
For sure! No software application is built in isolation. Mainstream mobile/desktop/web Applications today depend on multiple software dependencies that took decades to mature on operating systems like Linux. Cartesi brings all this software infrastructure to blockchain applications. Whereas without Cartesi, blockchain applications cannot use mainstream software, libraries and services, unless they sacrifice decentralization in some way.
Then, there's the second problem. Besides being hampered by insufficient software infrastructure, decentralized applications also suffer tight on-chain processing limits. So, they can hardly offer a compelling alternative to mainstream centralized applications. They are often hard to build, being clunky and limited for developers and DApp users.
Cartesi solves these three problems by
1) offering developers the software and tools supported by a full Linux OS
2) moving off-chain all the heavy computation over large amounts of data, that blockchains cannot do
3) offering services and a token economy that allows users to securely rely on the network and remain free from inconveniences of blockchain tech (e.g. slow confirmation times, requirement to remain online to resolve disputes, and others).
We have only just recently open-sourced and launched our decentralized tournament infrastructure with Cartesi. With this, we have recently released our first DApp, Creepts – a tournament on a tower defense game. This game showcases a fully decentralized game that was developed using conventional software stocks on Linux and also requiring billions of microprocessor instructions (and thus impossible to run on-chain): https://creepts.cartesi.io
The most significant product from Cartesi for the gaming industry must be Creepts, the blockchain-based game. Tell us more about it.
Creepts is the world's first fully decentralized tower defense tournament game built with and running on Linux. It is built on top of Cartesi's Layer-2 Linux solution for blockchains, which is available as an open-source software stack that is under active development.
Currently, Creepts is playable on the Rinkeby Ethereum testnet. In Creepts, players compete against each other to see who can claim the highest score in a fully-featured, real-time, browser-based Tower Defense game map. Players join a tournament by committing their high-scores and game moves to the blockchain, at a negligible cost. The game's smart contracts then decide who the winner of the tournament is.
In order to play Creepts, players will currently have to go through a rigorous setup experience, downloading docker, setting up Infura, and installing the Cartesi Node. To simplify this in the future, we are now working on a read-write version of Creepts, which will present users with a similar experience to running a normal app without having to deal with any idiosyncracies of blockchain technology.
Is Creepts publically available now? If not, when can we expect to have its public release? 
Yes! Creepts is publicly available now on the Creepts website: https://creepts.cartesi.io. We are currently offering both a read-only version which is playable immediately (although centralized) as well as instructions on how to setup the fully decentralize version on Ethereum's Rinkeby testnet.                                                                   
What are the values and features that do you think Creepts add to the existing crowded world of games? 
Cartesi frees blockchain Layer 2 development from restrictive programming environments. The Creepts game logic that determines player's scores is implemented in Typescript and runs over a Linux OS. The blockchain components of Cartesi do not care what the software used to write the Creepts DApp is. All it cares about is that Creepts can run inside of the Cartesi RISC-V machine emulator to produce verifiable and disputable game logs and player scores to the tournament contracts.
Cartesi also allows Creepts to be the first blockchain-based multiplayer game that is able to mathematically prevent one of the most impacting cheating vectors in decentralized and competitive virtual worlds from being exploited, which is the injection of arbitrary content into the persisted game state. Creepts can do so while accepting arbitrary off-chain (Layer 2) game logic, written for a Linux OS, incurring massively reduced computational costs for the Layer 1 components of the DApp.
What are the things do you think blockchain technology can bring changes to (let's say 'revolutionize') the gaming and gambling industry?
Blockchain technology brings a lot of advantages and fixes a lot of problems we face in games and development today, largely due to having to trust people. Blockchain can make games self-hosting, so if players love it and are there to pay the transactions, it will never go away or be changed unless mutually agreed upon.
Full decentralization will also make game systems transparent and traceable, with provably fair game-play. This can potentially allow for much higher stakes and bids in tournaments, gambling, or games involving money.
Another big factor is in-game asset ownership. This is something that has already evolved and is quite popular. Blockchain brings the potential for players to truly own their in-game assets, and would even allow them to bring them into other games – this opens up a whole new class of gaming possibilities.
Cartesi is not an exclusive programming platform for the gaming sector. Still, what are the ways in which the existing gaming and gambling software and technologies can make use of Cartesi?
Correct, Cartesi is a general-purpose infrastructure that will enable a new wave of DApps that were not possible before. We are not limited to gaming, but it is a great showcase given the market for DApps and for Cartesi's technology.
Now that we've released our decentralized tournament infrastructure, gaming companies can easily create never before seen tournament DApps without having to know about blockchain development, they can even create these complex games with any software of their choice. In addition, we'll be launching our SDK and documentation next quarter, which will guide developers to build with Cartesi and venture into different kinds of game development.
We're looking forward to see what people can come up with in terms of games on Cartesi!
The ongoing Corona outbreak is really in the process of crippling the world economy. Hope your company's operations are going smoothly. Some experts say this would be like pressing a reset button on all fronts. How do you estimate the future of blockchain technology in a reset world? We would love to hear your views on this.
Our thoughts are with all those who are affected by the current outbreak that is going on. We hope it gets better soon.
It is very hard to predict or understand the effect coronavirus will have in how the world works, but one thing that has become clear is how decentralization is important in times like this. For instance, governments may be acting in haste by printing loads of money to cover up for lack of preparation, which is basically another way to tax the poor. Blockchain, DeFi and cryptocurrencies could be used to protect yourself against government actions such as these depending on where you live in the world. Individuals are growing increasingly scared of authoritarian methods that are employed by governments, and it may be used as an excuse to escalate this authoritarianism around the world, where blockchain would be another good defence.
We are of course hoping things become stable soon and the world carries on. Wishing everyone safety and good health!
If you have some important topic you would like to discuss, we are ready to talk to you! Please contact me on [email protected] and we can set up an interview.
Exclusive Q&A with Iustin Cojocaru owner of Eyenovation (Gunnar representative for Romania and Hungary)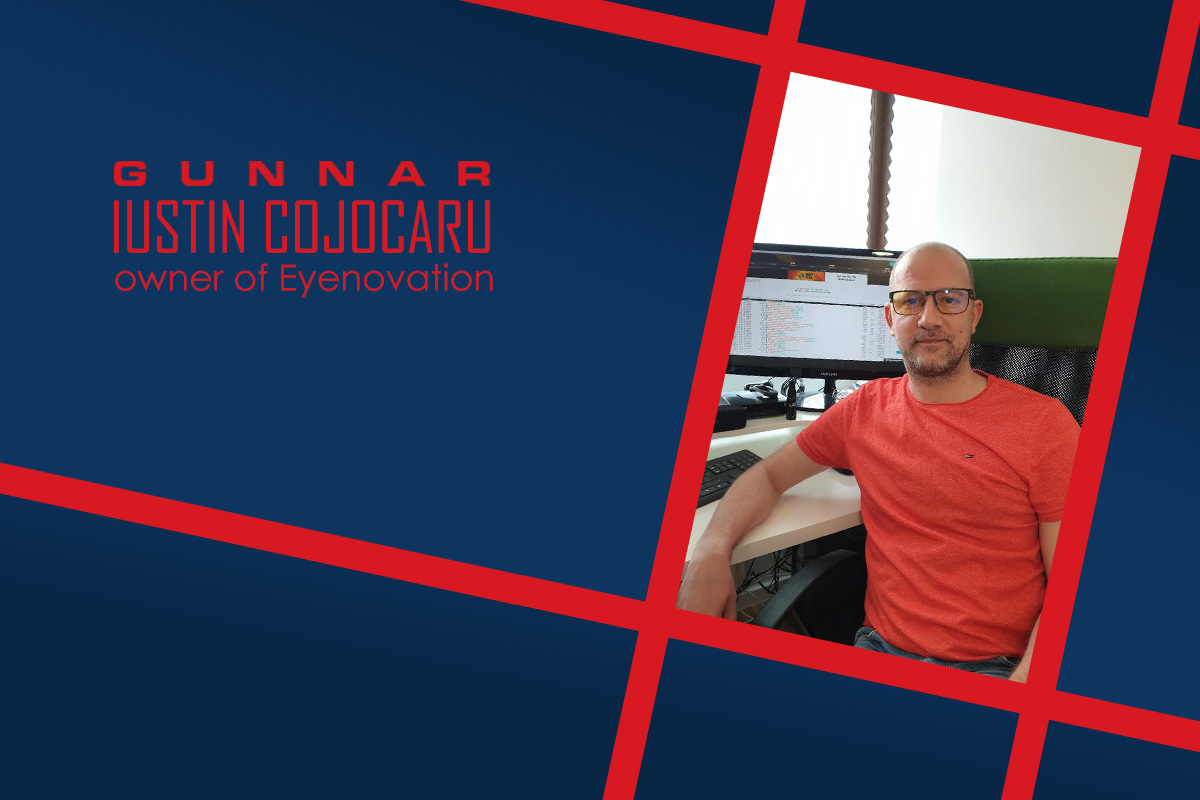 Reading Time:
5
minutes
Tell us about the history and current status of Gunnars Glasses.
Iustin: The idea for the glasses was born out of one woman's frustration with her husband's digitally induced migraines and worry about the eyes of her child who was fascinated by technology. Jenny Michelsen's husband, Matt, was suffering from headaches after hours sitting in front of six computer screens. The headaches were a symptom of Computer Vision Syndrome, a collection of minor ailments that build up over time.
As the Rancho Santa Fe woman urged her husband to see a doctor, she wondered whether her 3-year-old son, Gunnar, was getting a jump-start on similar problems.  If she and her husband believed the computers were getting to their eyes – and they didn't start using electronics until they were in their 20s – what would happen to Gunnar's generation?  Matt and Jenny Michelsen reached out to their close friend, Joe Croft, a former Oakley engineer, about the issues surrounding CVS.  They wanted to learn more about the effects of focusing on a digital image projected on a screen just inches from one's face for hours at a time and years on end.  The Crofts and the Michelsens began their five-year road to launch by talking to medical experts.  One of those experts was Dr. Jeffrey Anschel, a Carlsbad, California, optometrist who has become an expert in Computer Vision Syndrome and Visual Ergonomics.  He noticed the problem about 17 years ago when employees of a nearby computer company began complaining about dry and tired eyes and difficulty focusing.
They were problems that people generally didn't experience until they were in their 40s, but these patients were in their early 30s.  It didn't take him long to make the connection between their work and the required time spent in front of a computer screen.  "You can work, shop, communicate and do just about everything from your computer now, and people just don't realize how much time they're spending looking at the screen.  The digital images that computers project are one factor contributing to Computer Vision Syndrome.  The eye focuses on the hard edge of an image, but digital images don't have a clean edge.  As a result, the focus drifts forward and back, causing eye fatigue." Anschel also noted, "that when people spend long periods focusing on something close to their face, eye muscles tend to lock into a singular position, which is tiring and can push the eye down the path to becoming farsighted.  Meanwhile, the eye has to deal with light from conflicting sources, such as sunlight, that are much brighter than the computer screen.  There's also glare from the light shining into the eyes.  And the angle of view for the computer screen, which is straight ahead, isn't desirable.  People tend to focus better at objects when looking down, such as reading a book."
Croft and Michelsen set out to create a product that addresses the issues associated with digital eye-strain.  They completed their first prototype in 2006.  In early 2007, they founded the company and in October of 2008 they launched their first product.   Investors included Carl Zeiss Vision, 50 Cent, Peter Thiel and Monster, Inc. Retail customers include Amazon, Best Buy, Fry's, GameStop and Staples. Corporate customers include Facebook, Google, Microsoft.
Gunnar is present in Romania since 2015, when I began experiencing Computer Vision Syndrome symptoms after spending hours in front of two screens as a Poker player and began to look for a solution. This is how I've learned about Gunnar glasses being the no.1 brand among computer glasses brands and the next step was to become Gunnar representative in Romania and now also in Hungary.
Let us talk about the gaming glasses now. Do we really need customized special glasses for gaming?
Iustin: Yes, if we tend to be passionate gamers, we end up spending extended hours in front of our screens and we experience blurred vision, eye strain, and headaches – symptoms of Digital Eye Strain and Computer Vision Syndrome. Some compensate for their blurred vision by leaning forward, or by tipping their head to look through the bottom portion of their glasses. Both actions can result in a sore neck, sore shoulders and a sore back. GUNNAR gaming eyewear can help because is engineered to reduce digital eye strain while increasing contrast, comfort, and focus. And what is different for the gaming styles, compared to the computer styles produced by Gunnar is the shape of the temples that comfortably accommodates headsets.
What about gaming developers and others who work in gaming companies. How will they benefit from the gaming glasses?
Iustin: They can benefit too, because Gunnar glasses are made for anyone who works and plays on a digital screen for extended periods of time.  Gunnar also makes glasses without the yellow tint – with CLEAR lenses, for those who work in "true colour", such as gaming developers, graphic designers, digital artists.
What make gaming glasses special? What are the differences, for example, these glasses have with normal common-use glasses?
Iustin: Gaming glasses and computer glasses developed by Gunnar, with their amber-tinted lenses, make images appear clearer and sharper by adding contrast and, very important, filter out blue light. The lenses have an anti-glare filter that allows light from the computer in but keeps out distracting reflected light from other sources.  The lenses are also designed to be fitted close to the face, creating a "micro-climate" that keeps away the dry air currents and prevents dryness of the eyes. GUNNAR GAMING glasses, compared to GUNNAR COMPUTER glasses, have a more ergonomic shape and thin temples that are compatible with wearing headsets.
How do you ensure lower weighing frames for these glasses? Does the lower weight affect the durability of the glasses?
Iustin: GUNNAR has many styles to choose from. Some frames are lighter than others. GAMING frames are usually lighter and therefore more comfortable during long gaming sessions. These light frames are good quality ad durable frames – such as RAZER FPS, RAZER RPG, Torpedo, Trooper, Vayper, Heroes of the Storm.
I have seen some articles about using wide-angled lenses for gaming glasses. Could you elaborate on this point?
Iustin: Yes, especially for gaming, a wide-angled lens provides a panoramic view, as the frame does not interfere with the viewing field of the gamer "caught in action".
Now on to the business front. How has been the business going during this period of lock down. Some reports suggest that an increasing number of people playing games online. Does it reflect on your business?
Iustin: Yes, this has been a quite good period for our business and as our business is mainly online, we are running at full speed right now as work from home extended the hours we work in front of a digital screen and gamers play more while staying home. People became more conscious of spending long hours in front of digital screens and reached out to us to protect their eyes.
What are the best ways to buy the gaming glasses of Gunnars Glasses during the lock down?
Iustin: The best way to buy Gunnar glasses is definitely online. For Romania and Hungary our online shop is www.gunnars.ro. We are offering online advice on our chat and we implemented the "virtual try-on" feature on our site that enables anyone to try-on most of our styles.
Finally, what are the new innovations and offers that you have in store for post-COVID-19 situation? The gaming community is eager to hear any such announcements.
Iustin: Gunnar releases new frames each year and this year is no exception. At the beginning there was only the Amber lens that has a 65 BLUE LIGHT PROTECTION FACTOR – BLPF (filters out 65% of the blue light). Then Gunnar added the Clear lens with a 35 BLPF, the Sun lens that has a 90 BLPF and also Amber Max lens with a 98 BLPF, designed to be used before going to sleep or for extremely sensitive eyes. In July, Gunnar will be launching CRUZ for kids from 4 to 8 Year Olds and for kids from 8 to 12 Year Olds, as this was a concern from the beginning: children spend more and more time in front of screens and the parents want to protect their kids as much as they can. Right now, in May a new style was launched: Pendleton. Four new exciting gaming styles will be launched this summer – Lightning Bolt 360, Lightning Bolt 360 RAZER Edition, Assassin's Creed Valhalla and a new design in partnership with Razer: MOBA. For those who are more on the hip and "vintage look" side, there will be a new style called Berkely, in September.
Pre-conference interview, Vladimir Malakchi, CBDO at Evoplay Entertainment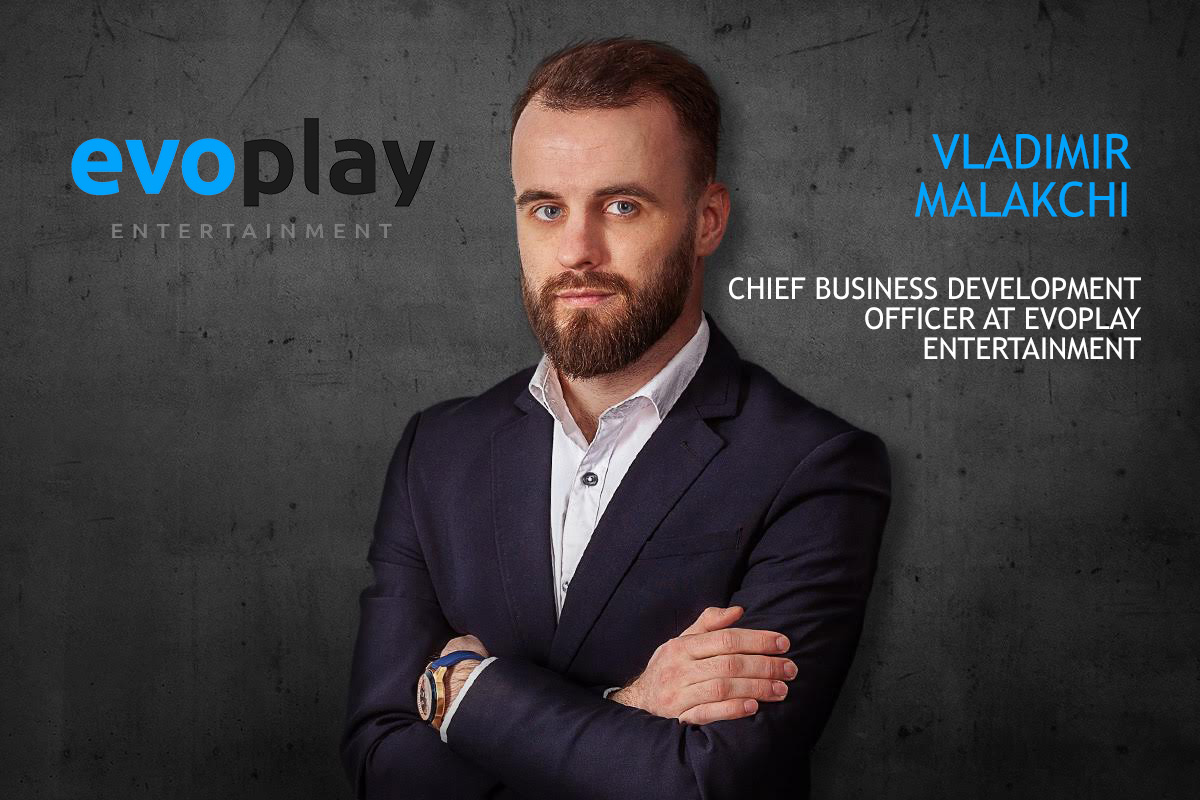 Reading Time:
3
minutes
How much of an impact has the COVID-19 pandemic had on your business plans?
As an agile young company, Evoplay Entertainment has been able to adjust its commercial plans quickly and react to the ongoing situation. While the pandemic may have blunted the industry's schedule, we're not letting that dampen our spirit.
With resources freed from a number of ongoing projects, we're able to embrace the challenge by going all in on our R&D process and continuing to work on pioneering new technologies. Instant games are a particularly interesting area right now; with the current downturn meaning that players are looking for a far more engaging proposition than the usual offering.
How has it affected your potential partners? Has it helped focus their mind?
It certainly should. The unwanted change in circumstances gives companies a chance to widen their appeal by reaching a new generation of players looking for entertainment. With a plethora of new products flooding the market, operators are reporting a marked change in player preferences. As gamblers become increasingly tech-savvy and hungry for innovation, traditional 'spin and win' slot games no longer have the draw they once did.
However, in order to pioneer the gateway from sportsbook to slots in light of the recent cancellations, it's essential to develop a tailored cross-channel portfolio that truly stands out for those who want something different. A new generation of player demands an immersive, detailed and aesthetically stunning entertainment experience which can be enjoyed on any device.
Here at Evoplay Entertainment, we're proud to provide exactly that.  From VR to 3D and every piece of immersive tech in between, now is the time for gaming suppliers to go bold and get creative. The market share is there for the taking for operators who offer a fresh approach.
What strategies have you put in place for business development following the cancellation of industry conferences?
Naturally, we're disappointed to see the cancellation of in-person conferences, such as the MARE BALTICUM Gaming Summit, which no doubt would have been a key regional event. Health and safety, however, have to take priority and we fully support the decision taken by organisers.
We certainly haven't let the cancellation put a dent in our plans. We're a tech first company and it's all about adapting and innovating. As well as making use of our global network for business development – we're ready to embrace the latest methods available for networking and insight, with virtual conferences such as these likely to prove invaluable during the current downturn. We're very much looking forward to sharing our experiences as well as hearing from expert voices through the industry.
How important do you believe virtual conferences to be? Do you believe online events such as these will become the new normal?
Virtual conferences are a great way to keep abreast of the latest industry trends and exciting new developments in technology. Events such as these also allow us to continue networking with colleagues and sharing our insights amid unprecedented global circumstances.
I think we're definitely at a point where new technology (i.e. virtual conferencing tools) are certainly coming into the mainstream – however the 'use case' for such an approach will remain to be seen once we return to normality.
As an industry innovator looking to bring new technology into the gaming space – whether it be 3D or VR – we welcome the addition of virtual conferencing as a new, fresh approach. However, despite its advantages, especially when it comes to reduced costs and convenience, there's also no substitution for the face-to-face meeting element. I personally predict that over the longer-term, rather than these events becoming the new normal, I would envision that we'll see them emerge as a mainstay niche to complement on-the-ground events throughout the calendar year.
Maxima Compliance's Antonio Zanghi on the impact of COVID-19 on compliance
Reading Time:
2
minutes
Maxima Compliance managing director Antonio Zanghi spoke with European Gaming to discuss how the ongoing global crisis is creating new challenges across the field of compliance, and what both operators and suppliers must do to adapt.
What does the gaming industry need to consider from a compliance perspective during the global lockdown?
We need to remember that the additional scrutiny that our sector has been under over the past couple of years has not disappeared because of this crisis. If anything, we are being watched even more closely than before.
In the UK, Labour MP Carolyn Harris has already been vocal about the additional dangers isolation will place upon those at risk of problem gambling in the UK.
And in France, regulator ARJEL has warned its licensees not to aggressively target new players with bonuses during the lockdown.
Concerns about player safety are top of the agenda right now, and a single slip up could prove costly.
The temptation for operators concerned about the financial impact of COVID-19 will be to loosen player, AML and responsible gambling checks.
In fact, the opposite is required. We are being watched closely, and a slip up by one operator will impact us all. Do not expect regulators to be forgiving of anyone seen to be exploiting the current situation.
What new compliance challenges is the COVID-19 crisis creating?
One interesting area has been the impact on the way suppliers approach technical compliance.These suppliers are under pressure to quickly deliver new content that can thrive in the current environment.
We've seen operators looking to immediately roll out new virtual sports and esports products, or change the way existing products and platforms operate.
But of course, all these products must meet the same strict technical compliance requirements as ever.
The companies that are rising best to this challenge are those which have already optimised their technical compliance processes.
It means they can be more flexible from a product perspective right now, and that has never been more important.
What longer term impacts will this crisis have on the future of compliance within the online gaming industry?
I think it will accelerate the trends we have observed over the past few years. The lockdown provides an opportunity for both operators and suppliers to evaluate and rethink approaches to compliance.
We have been advocates for a new approach to compliance for a long time now. Even before this pandemic, the move towards a dot country model of regulation has made both regulatory and technical compliance more important than ever.
Speed and a comprehensive understanding of requirements are critical. The operators and suppliers who have grown quickest have been those who best execute on this.
This crisis lays bare why we talk about how speed, flexibility and agility within compliance are so important. You need to be able to adapt to sudden shifts in the market.
The operators and suppliers who had not yet taken this lesson on board are now finally facing up to this reality.