Graphic of the day – Top online casinos in Sweden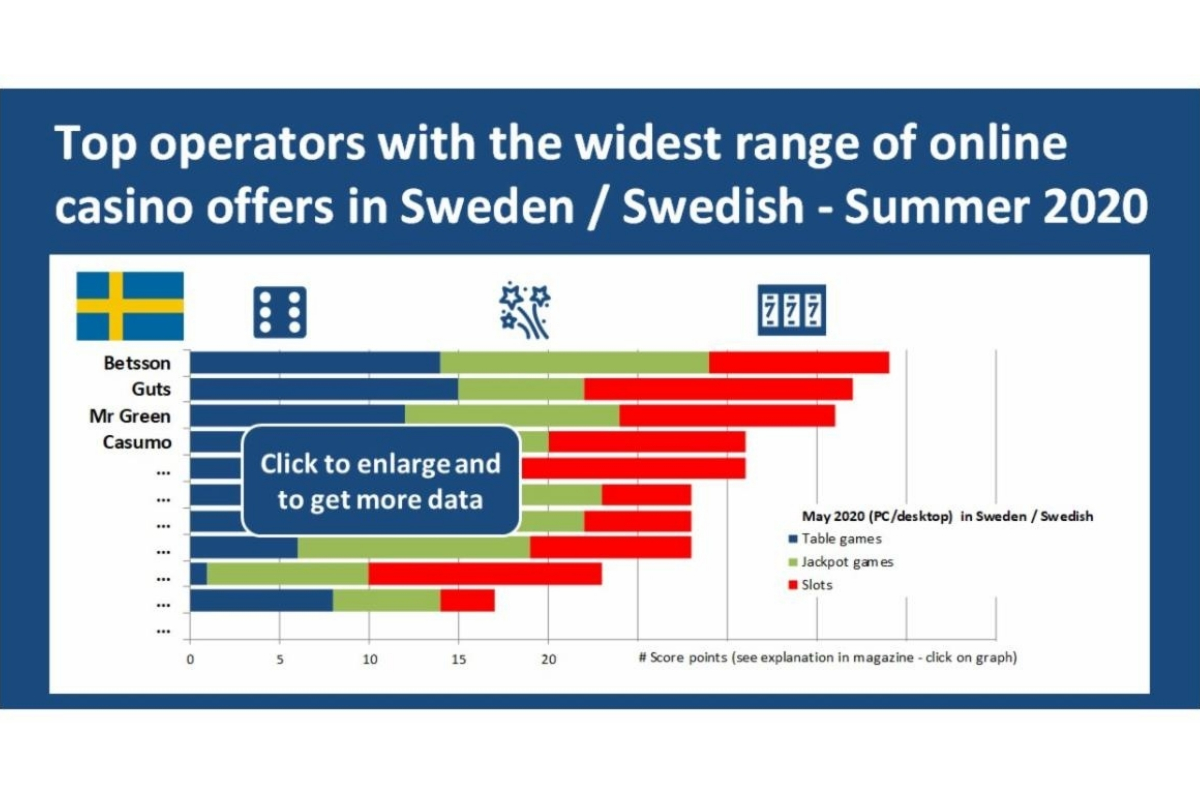 Reading Time:
2
minutes
The online casino landscape varies wildly from one jurisdiction to the next. For regulatory reasons, operators can't offer every game in their portfolio to each individual country. So, to properly benchmark casino games, Online gambling Quarterly's research teams analyse a different jurisdiction with each issue. This quarter, we chose Sweden / Swedish.
Sweden / Swedish casino benchmarking
First, it's helpful to quantify the games offered on Sweden / Swedish casino sites per category.
Slot games dominate the casino segment of Sweden / Swedish operators, with an average of 1004 slots per operator. By far, slots appear most of any game category across all Sweden / Swedish operators.
Operators in Sweden / Swedish offer an average of 32 table games. The highest number of table games offered by an operator (Guts) is 148.
Jackpot games are relatively common: on average, operators feature 49 jackpot titles. The maximum is 191 (Betsson).
Operators with the widest range of casino games in Sweden / Swedish
For overall casino game benchmarking, Online Gambling Quarterly ranks brands based on the number of casino games offered across all categories: slots, jackpot games, and table games. Each ranking operator receives a reciprocal score, so the number one operator receives 15 points, number two receives 14 points, and so on, with the operator in spot 15 receiving 1 point.
Betsson and Guts earn the first and second spots in the overall casino game ranking. Both companies ranked near the top in each individual game category, bringing them to the forefront of the overall list while Mr Green places third.
Slots benchmarking
In the slots category, Online Gambling Quarterly leaves it to the operators to decide what counts as a slot game. Anything an operator classifies as a slot game (excluding jackpot or progressive games) counts toward operator benchmarking.
Operators in Sweden / Swedish offer an average of 1004 slots. The leader, with 1747 games in its library, is Guts.
Speedy Casino follows with the second-most slot games: 1657. Videoslots places third in the ranking with 1551 slots.
Source: Online Gambling Quarterly 
New Gaming Providers Put a Great Emphasis on VR Slot Games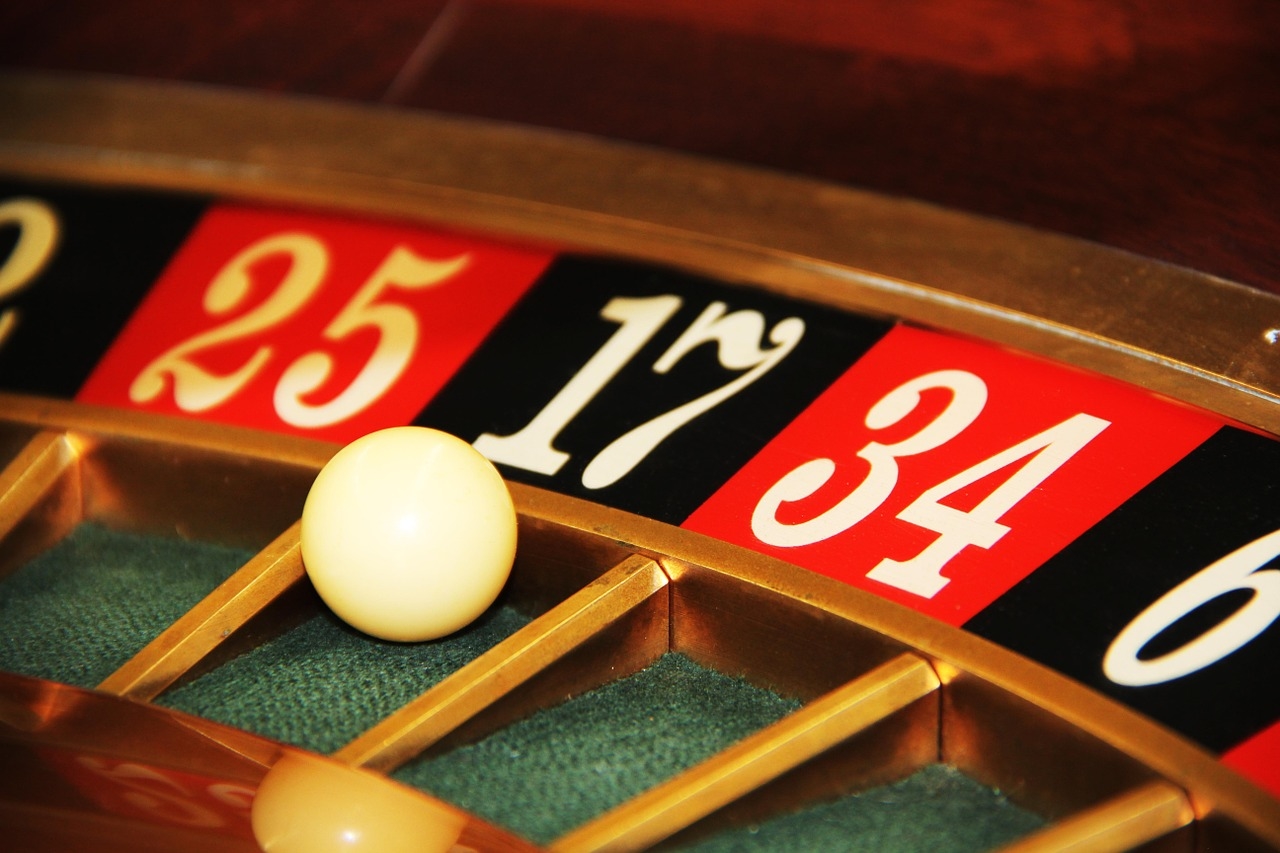 Reading Time:
3
minutes
The iGaming industry has taken some huge leaps forward in the last few years, with many developers seeking to create the next big thing. We've moved from basic three and five-reel video slots to complex grid-based titles loaded with colourful features and unique game mechanics.
But the industry is still evolving, the improvements are still coming, and now, iGaming developers are looking to the exciting worlds of Virtual Reality and Augmented Reality to create the next big thing.
Virtual Reality in Gambling: How Will it Work?
Imagine walking into a casino. You can hear the relentless and welcoming noise of slot machines, the calls of dealers, and the conversations of happy punters. You find your favourite slot, saddle up, and prepare for a session.
But instead of pushing coins into the machine, you just press a few buttons and your account balance appears before your eyes, reducing slightly every time you hit that glowing "Spin" button.
It's the future of online casino gambling because while you're enjoying the lively atmosphere of a real-life casino, you just happen to be sitting in the comfort of your own home, wearing your pyjamas, and connecting to this amazing world via a VR headset and a pair of motion controllers.
VR technology has created endless possibilities for developers and while most of these have revolved around immersive video games and virtual tours, creators are now turning their attention to the online gambling industry, and slots is a huge part of it.
A fully immersive casino environment may be a few years away yet, but the world's biggest iGaming developers are currently focusing on VR slots, with innovative creators like NetEnt and Betsoft leading the way.
In fact, these games are already out there, but they have been developed by indie creators, use very basic slot setups, and don't allow real money gambling.
Virtual Reality in Gambling: What are the Challenges?
Surprisingly, the technology is not the biggest challenge that developers face. The tech is there, and while it can be expensive, the amount of money that goes into creating slots is already pretty high and developers are more than happy to pay it.
The biggest issue is that while everyone has a phone and/or a computer, not everyone has a VR headset, which means VR slots appeal to a small minority of players.
Furthermore, there could be some regulatory issues, especially in strict regions like the UK and Sweden. The regulators in this region are investing huge sums of money into responsible gambling programs and clamping down on anyone who breaches their strict rules.
Imagine how they will react when slots become infinitely more immersive. It may be great news for responsible gamblers, but what about problem gamblers? These games have the potential to lock them into a world they may struggle to escape from, and that could raise a number of red flags for the regulators.
The developers will need to find and show proof that these games are not harmful before they can be launched. And even then, they may be subject to stricter responsible gambling requirements, such as regular warnings that flash onto the player's headset, telling them how long they have been playing and what the risks of irresponsible gambling are.
The good news is that these things are relatively minor when compared to the challenges that developers were facing just a couple of years ago, and those challenges may be even less in a few months or a year.
Conclusion: How Long Do We Have to Wait?
Virtual reality is here and has been for several years. Systems created by Sony (PS VR) Oculus, and HTC draw you into an exciting and immersive world. For the most part, games have been limited to novelties, but a greater number of big-name creators have been developing exclusive titles for these systems and that has helped to put them in the spotlight.
In 2020, for instance, we saw the release of a brand-new, eagerly awaited Half-Life title that was a VR exclusive, and developers are also working on exclusive RPG and adventure games that will change the way these systems are seen.
This is ultimately the thing that will make VR bigger. We have the capability to make grand, glorious, VR slots and table games, to combine Live Dealer creations with VR, and even to give players a fully immersive casino they can explore.
However, all of this comes at a cost and it's a price that might not be worth paying until more VR headsets are sold and they become more common. Once that happens, the process of creating VR slots and table games will become cheaper and more cost-effective, and that's when they will become the norm.
It might take a year, it might take half a decade, but it will almost certainly happen and we personally can't wait!
Playtech Poker and Casino content now live with Enlabs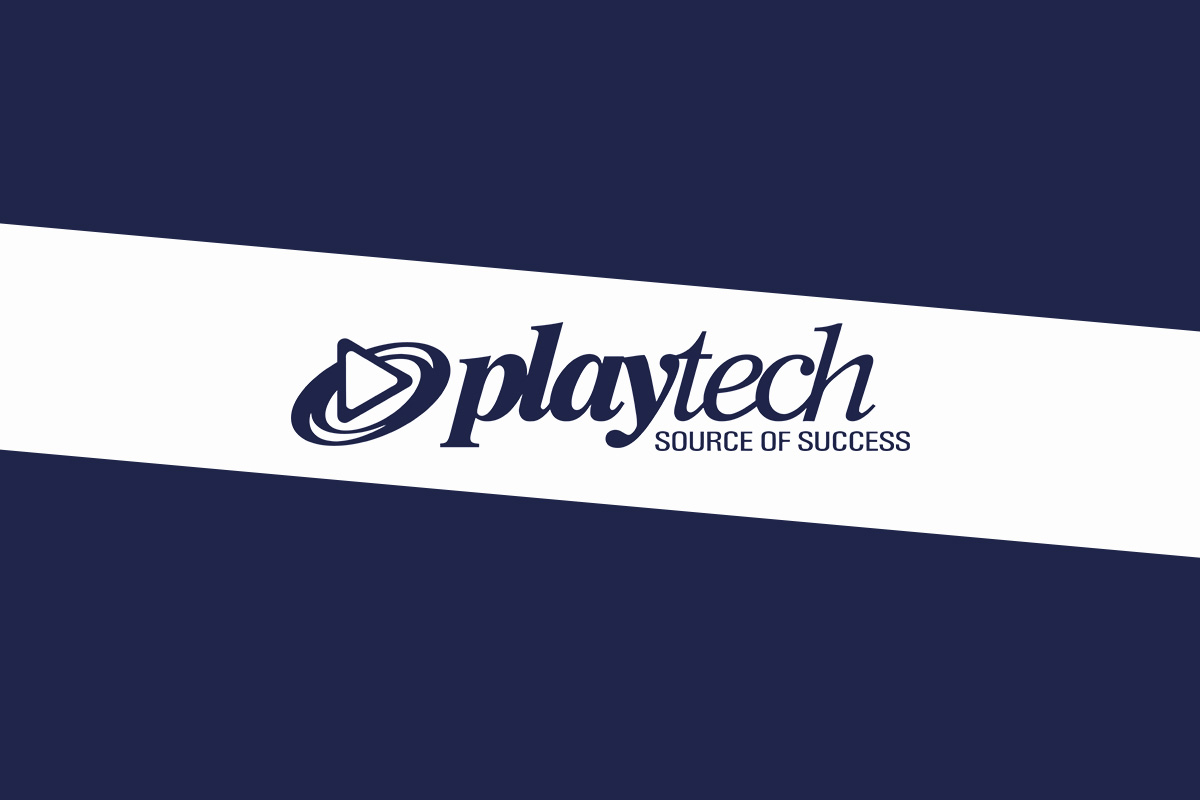 Reading Time:
2
minutes
Playtech, the world's leading gambling technology company, has welcomed Enlabs brands Optibet.lv and BestPoker.com to the Playtech iPoker network – the leading poker network in the world.
At a time where Poker as a vertical is evolving in line with market challenges, Playtech is continuing to develop and expand the iPoker network. This new partnership sees Playtech enter the Latvian poker market, in line with Playtech's wider strategy to focus on growth in regulated markets worldwide. The iPoker network offers an excellent liquidity pool, backed by premium software and services developed to comply with regulatory requirements in multiple jurisdictions.
The new partnership will bring not only Playtech's award winning Poker product to Enlabs customers, but also Playtech's industry leading Casino content including access to Playtech's extensive offering of branded titles such as Justice League and the Sporting Legends Suite.
Maksims Gorbacs, Head of Poker at Enlabs said: "We're delighted to expand our Poker and Casino offering with Playtech and bring its industry leading content to our customers. Playtech's scale and innovation are powerful tools when looking to deliver the best player experience in growing and established markets alike. We look forward to developing this partnership further as we continue to grow our content offering."
Marat Koss, Head of Poker at Playtech said: "We're truly excited to partner with Enlabs and welcome Optibet and BestPoker to the iPoker network. The Poker market is facing undeniable challenges, but at Playtech, we're continuing to invest in expanding and evolving our software and network to address the future head-on. Our active development of new products and expansion into new markets demonstrates Playtech's commitment to the Poker vertical. We are joining forces with a very professional and experienced Poker team led by Maksims Gorbacs and I have no doubt that this partnership will be fruitful and productive".
i3 Interactive Commences Trading on Frankfurt Stock Exchange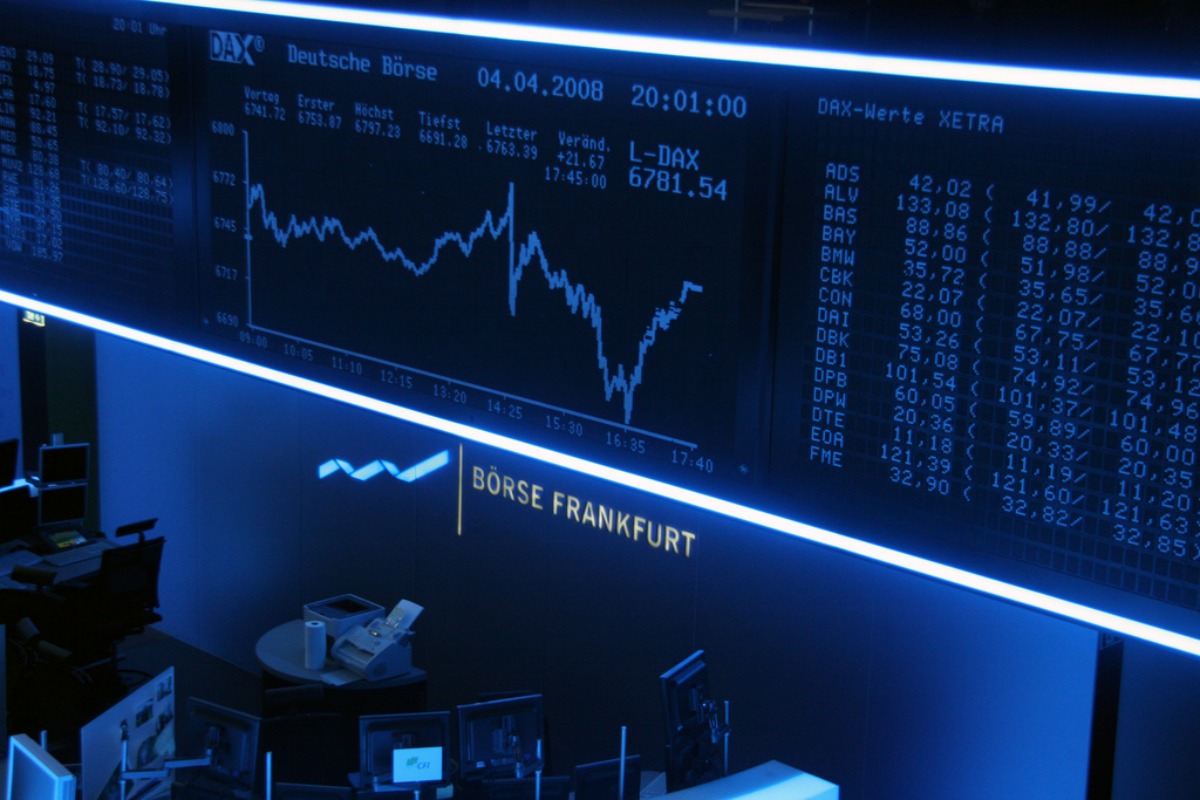 Reading Time:
2
minutes
i3 Interactive Inc. is pleased to report after Dan Bilzerian's first marketing initiative this past Friday resulted in over 100,000 customers for a blackjack tournament with $40,000 in prizes. Chris Neville the CEO of i3 Interactive was quoted as saying "I've been in the online gambling sector for close to 20 years and in my time, I have never seen a marketing initiative with such an immediate impact which in the long term will potentially drive a large revenue stream to i3 Interactive. Some of the largest brands in North America have databases with only 1 million active registrations and currently have multibillion-dollar market caps. These results from one Instagram marketing activation were a surprise to our very seasoned management team and prove we have the ability to acquire customers at a rate our competition cannot compete long term."
The company has stated they have plans to enter many International countries with both their casino product and sportsbook in the coming year. CEO Chris Neville said "Mr. Bilzerian has an attractive global following of more than 50 million followers with the perfect demographic of online gambling customers and we have the ability to gain customers with such a low cost of acquisition that we will have a much higher return on our marketing investment than our competition.   We have a built-in database through Dan of 50 million people and it's growing at double digits year over year and we are poised to work diligently to monetize this large following for years to come."
Mr. Neville confirmed with their International expansion into new markets will be with the tier one sportsbook and casino product from Amelco UK limited.  Amelco is the supplier of choice for a number of the industry's multi-territory tier-one operators, including Flutter, GVC and Stars Group. In gaming, Blitzbet has access to over 1,000 games from leading games providers including Evolution Gaming's Live Casino.
The Company also has plans to offer more contests that will allow their customers to win exclusive experiences with Dan Bilzerian and build their already growing customer base. Neville also said "Dan has a top brand world-wide and a loyal following so when people have the chance to win trips to meet Dan, attend sporting events with him, or spend a day in the life of Mr. Bilzerian to see how he lives, customers will feel an engagement to our brand that they do not get anywhere else.
ABOUT I3 INTERACTIVE INC. 
The Company is in the business of developing an online and mobile gaming platform in order to provide sports fans worldwide with a unique and highly-engaging social gaming product, and sports betting and casino product offering. In an effort to break into the various emerging global markets, the Company has secured partnerships with key industry contacts, including Dan Bilzerian, an internationally renowned and widely respected social media celebrity with over 50 million social media followers.