Next Step in World Domination for Fruitkings.com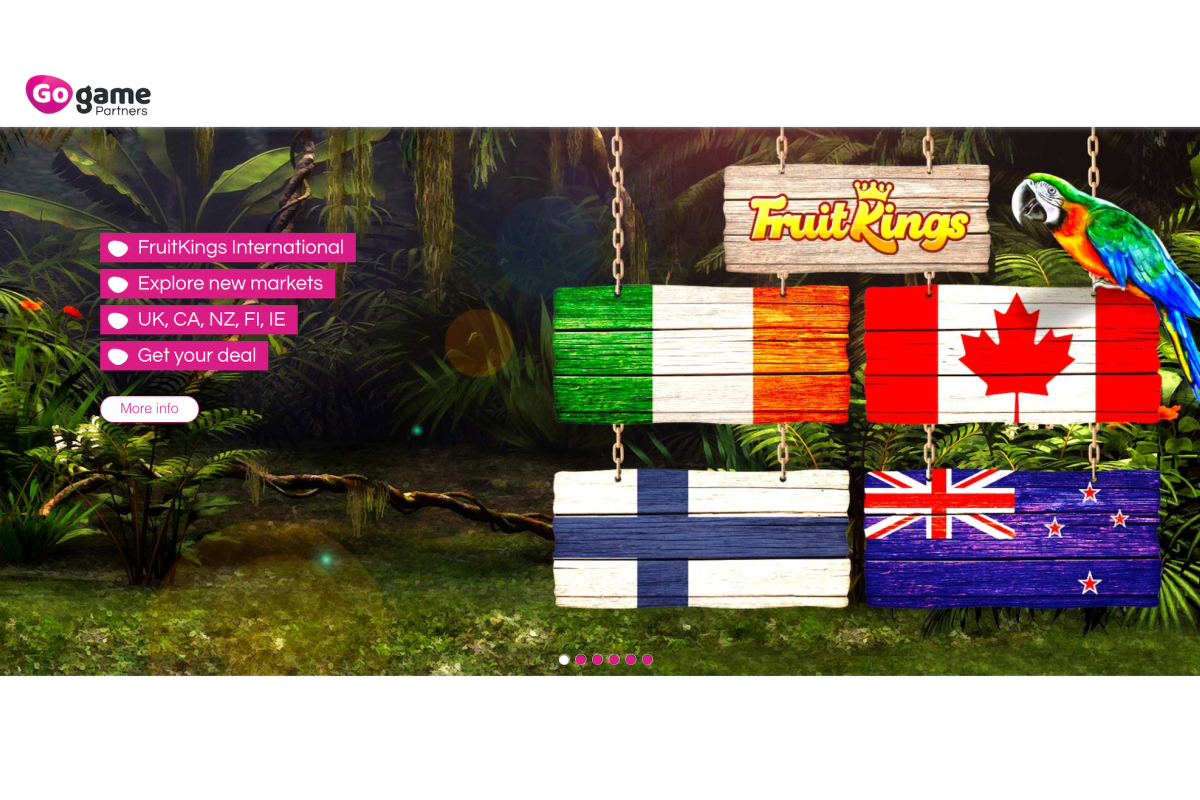 Reading Time:
2
minutes
Dazzletag's jungle-themed brand FruitKings.com launches in Canada, Finland and New Zealand following recent successful market expansion into Ireland in 2020
Seeking new markets further afield from their UK roots, Dazzletag has opened its doors to excite online casino-loving audiences in Canada, New Zealand and Finland.
"International expansion has always been our intention. After careful research and planning, we're pleased to be open for business to offer our overseas friends the FruitKings experience," says Ollie Wilson, Commercial Director for Dazzletag Entertainment.
Following the casino's success in UK and Ireland, Dazzletag are hoping to further build FruitKing's brand presence in other MGA licenced territories, using targeted and creative marketing promotions.

Start your Adventure
FruitKings.com – launched in the UK in 2019 – has proved to be a hit with players due to its fun and rewarding loyalty program, extensive game choice, mobile-first UX and its 'cash-drop centric' retention scheme.
The loyalty program invites players to explore the FruitKings jungle where Monkey Coins can be collected and traded for bonuses and free spins on the way to become the ultimate Fruit King. This combined with a retention scheme full of cash drops and deposit bonuses has hugely supported the brand's popularity.
Further expansion is planned into Dazzletag's roadmap for 2021.
Roadmap 2021
Dazzletag made its iGaming industry debut in 2010 with the revolutionary brand, BingoCams.co.uk, which still holds its position as the only bingo provider that has integrated the webcam and has the patented 'Live Win Moment'. The new next level version of Bingocams 2.0 is planned for end Q1 2021. The company's other popular UK casinos Casushi.com and PeachyGames.com will be launched in Canada, New Zealand, Ireland and Finland in 2021.
More information about Dazzletag's expansion to these new markets and all their brands can be found at GogamePartners.com. For all other info please contact Mick de Winter at [email protected].

Horse Club™ characters from Schleich® get first video game of their own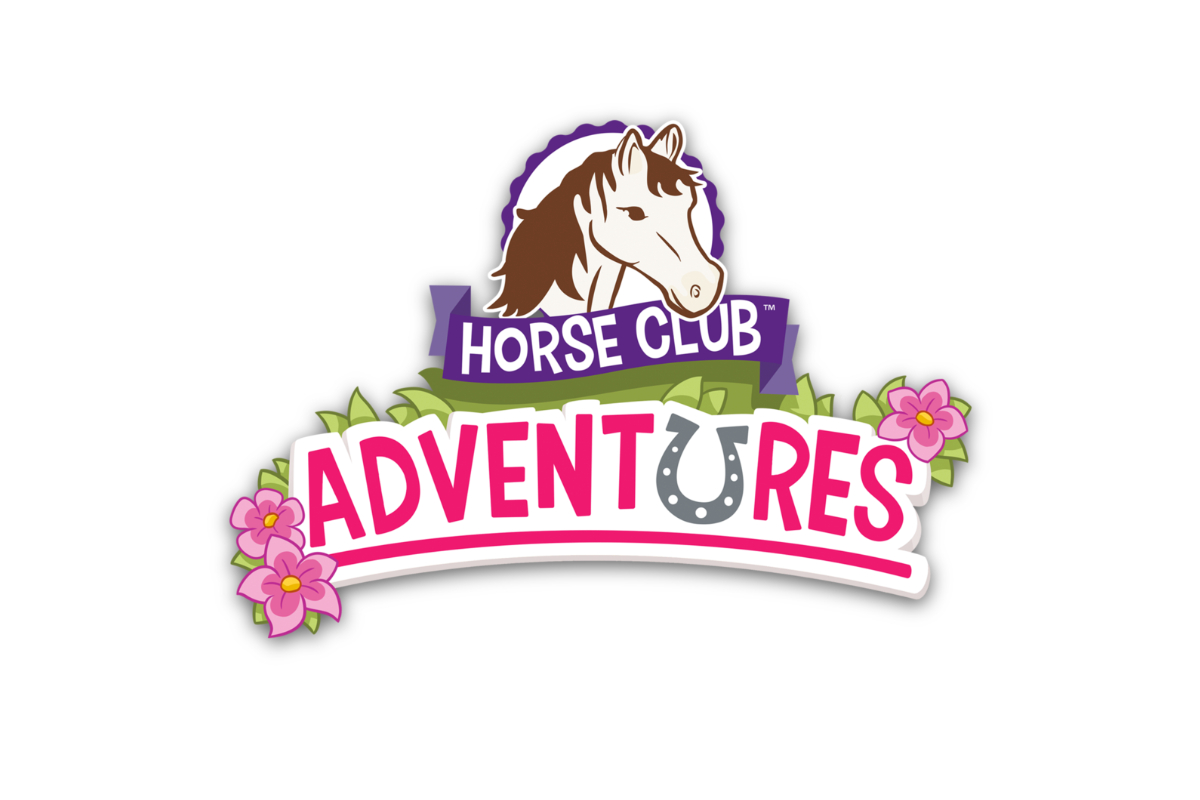 Reading Time:
2
minutes
Exciting adventure game packed with suspense for Horse Club™ fans to be released on May 27, 2021
A gripping adventure at the Lakeside Riding Stable full of challenging mystery-solving fun, spirited gallop racing and lots of other thrilling quests for horse and rider awaits horse fans both big and small. The popular horses from Schleich® and the environment they live in come alive in the video game "Horse Club™ Adventures". Children from the ages of 6 to 12 can romp and roam freely and creatively in this open-world game. In turn, the electrifying story inspires imaginative playing with the characters.
With release for "Horse Club™ Adventures" scheduled for May 2021, video game publisher Wild River Games from Munich is bringing out the first video game based on the popular theme world created by Schleich, the world-renowned toy manufacturer. The lovingly designed open-world game provides a multifaceted blend of adventure, role-playing and racing elements coupled with all sorts of mystery-solving fun.
Eventful vacation at the Lakeside Riding Stable
In the video game the children spend their vacation at Lakeside and become part of the Horse Club™ clique revolving around Hannah, Sarah, Sofia and Lisa. Together they reveal long-guarded secrets, complete exciting quests, and collect objects such as photos and stickers. It goes without saying that the appearance of the player avatars and their horses can be individually customized. While doing so, even the clothing for brand-new game characters is provided that won't become available at toy retailers until July 2021.
Carrying out quests in a targeted fashion or exploring the open-world game
The single-player game can be played optionally in the storyline or the freestyle mode. The storyline mode is split up into 16 days and has over 40 quests ready and waiting to be completed. They range from getting acquainted with Lakeside to being accepted into the Horse Club™ clique, all the way to participating in the big Lakeside Tournament.
In the freestyle game mode the player explores the extensive terrain on their own. Optional sidequests enable kids to immerse themselves even deeper in the story and, among other activities, attend to daily chores such as grooming horses and scraping hooves, or galloping on one of the numerous race courses while competing with others for high scores and medals. The developers have placed a special focus on the collecting of stickers, photos and new items with which players can individually change their game character and horse.
Long-lasting gaming fun, virtually and physically
Figures from Schleich have stood for quality and educationally worthwhile playing for more than 85 years. The video game from Wild River Games equally orients itself in alignment with these values. The highly diversified virtual world including numerous different quests still has surprises in store, even after playing repeated games. This ensures long-lasting gaming fun for children in a variety of age groups and with different levels of experience. What arises due to the symbiosis of video game and the original Schleich figures is a balance comprised of a digital and tactile game.
"Horse Club™ Adventures" is available as of May 27, 2021 for Nintendo Switch and Playstation 4, and is additionally available as digital download for Xbox One and PC.
Horse Club™ Adventures
for one player
PEGI : 6 years old and older
At retailers & as download: Nintendo Switch, Playstation 4, Download: Xbox One, PC
Available starting May 27, 2021
EXPLORE SEA OF SOLITUDE: THE DIRECTOR'S CUT, AVAILABLE NOW ON NINTENDO SWITCH™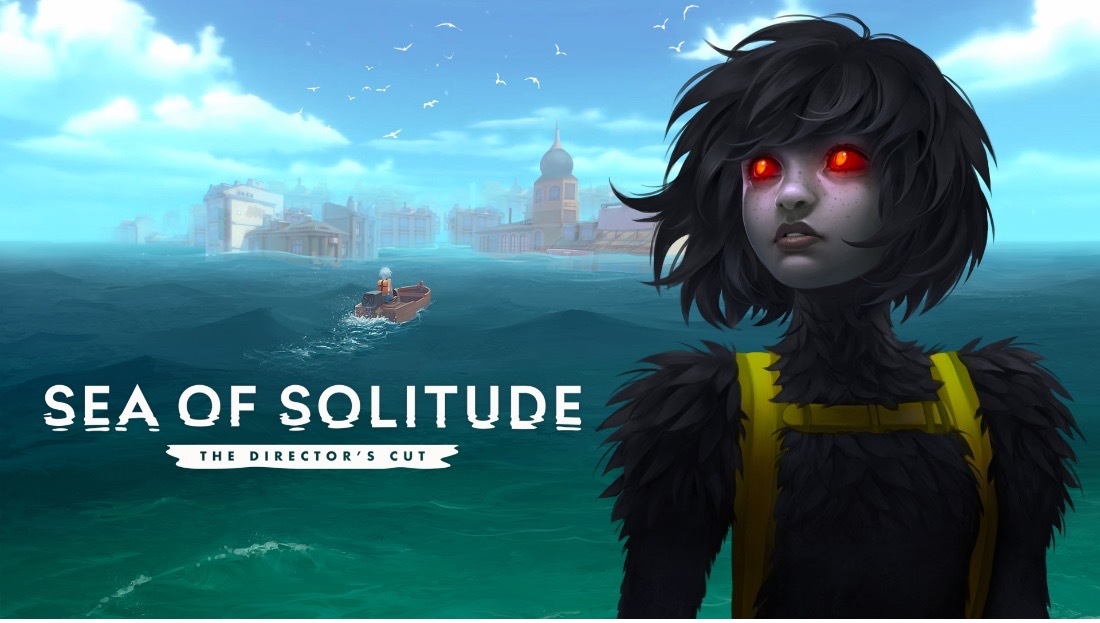 Reading Time:
2
minutes
Winner of the "Most Significant Impact" at the Games for Change Awards 2020 is now available in an enhanced version with extra features, exclusively on the Nintendo Switch.
Quantic Dream and the Berlin-based studio Jo-Mei are proud to launch the definitive edition of Sea of Solitude: The Director's Cut only on Nintendo Switch. The Director's Cut brings exclusive features and additional content not offered in the original release.
Sea of Solitude: The Director's Cut follows the journey of Kay, a woman turned into a monster by her own loneliness and despair, traveling a beautiful flooded world on a quest for inner serenity and peace. On this journey, she will confront metaphorical beings evoked by her own personal emotions, which she will have to overcome in order to learn more about herself and the world around her.
"I couldn't be happier to launch our game for the first time on Nintendo Switch with the support from our partners at Quantic Dream," said Cornelia Geppert, Founder and Creative Director of Jo-Mei. "This partnership and release of the Director's Cut will allow more people to experience Kay's journey the way we intended, whether that's on-the-go or in the comfort of their own home."
This reworked version of the indie title, developed by Jo-Mei Studios and published by Quantic Dream, offers a lot of new features to players, in order to maximize the immersion proposed by the original title. Through dialogues rewritten in collaboration with the multi-award winning author Stephen Bell, a new cast of actors and reworked cinematics, the game benefits from a more advanced narrative experience, taking the player on a singular and moving adventure.
Sea of Solitude: The Director's Cut also takes advantage of the Nintendo Switch's unique features; players can now control the flair with the gyroscope and use a brand new photo mode, which allows them to change the set up and weather. The game is also fully dubbed in English, French, Spanish, German and Japanese.*
"Quantic Dream is proud to release a game that corresponds with our signature brand of storytelling and narrative experiences, bringing difficult subjects to light ," said co-CEO and Head of Publishing Guillaume de Fondaumière. "We have been thrilled to work with Connie Geppert and her talented team at Jo-Mei and are excited to share their enhanced version of Sea of Solitude, exclusively on Nintendo Switch."
Nintendo Switch streamers will also have access to The Director's Cut-dedicated Twitch extension called "Bottle Of Hope" that allows viewers and streamers to share positive messages together during a live stream. Written in partnership with Take This, a mental health nonprofit decreasing stigma and increasing support for mental health in games, the extension encourages players to talk about self-acceptance, mindfulness, resilience, motivation and compassion on Twitch.
Sea of Solitude: Director's Cut is available for Nintendo Switch for $19.99/€19,99 digitally via the Nintendo eShop LINK TBA. A free demo is also available for download, immersing the player in the first chapter of the game. A limited and exclusive physical edition of the game is available on the Quantic Dream official eshop for $29.99/€29,99, which contains the game cartridge and an exclusive sticker.
*The game is also available with subtitles in the following languages: Russian, Korean, Traditional Chinese, Simplified Chinese, Portuguese, Spanish of America, Dutch and Italian.
SoftSwiss updates Pay N Play by Trustly for online casino projects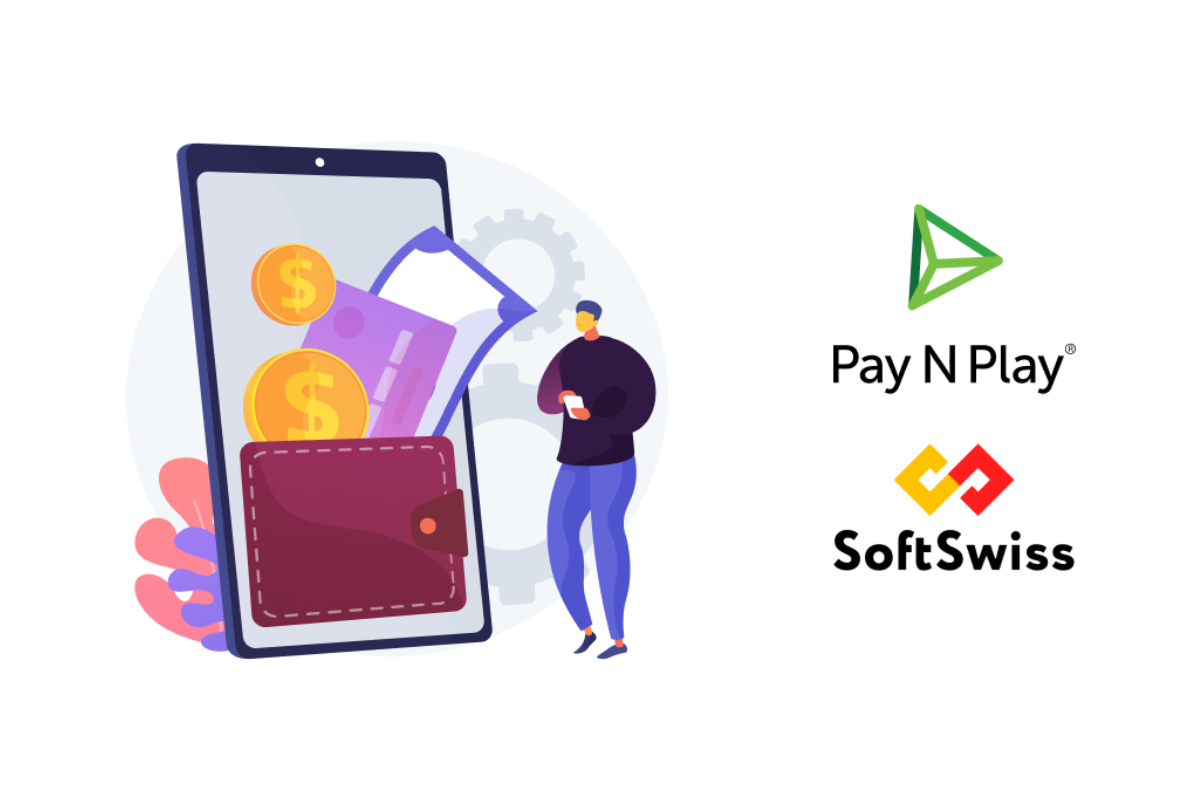 Reading Time:
2
minutes
SoftSwiss has recently introduced new technical updates for the Pay N Play payment method by payments service provider Trustly. 
The new developments will enable SoftSwiss online casino clients to activate all currently available markets seamlessly and hassle-free at once.
SoftSwiss Online Casino Platform future and prospective clients can now activate all available payment markets. The new add-ons will boost the productivity of the Platform as well as increase its player retention and conversion rates. The Pay N Play by Trustly is being offered to the operators running brands on the SoftSwiss Online Casino Platform since the beginning of 2020. Since then, it has proved itself to be a major time-saving tool, eliminating time-consuming player verification procedures.
Pay N Play is a technology developed by the payments service provider Trustly that allows players to deposit almost immediately after arriving at your online casino. In short, everything the player has to do is log in to the casino by securely using their own bank ID. The game starts instantly and effortlessly.
Vadim Drozd, PSP Team Lead at SoftSwiss noted: "SoftSwiss's motto is to always strive to provide our clients with up-to-date technological solutions that will help them to have a positive impact on their business development. The new Pay N Play update will help our clients to save precious time as well as build and increase player loyalty".
About SoftSwiss
SoftSwiss is an international tech brand supplying widely acclaimed, certified software solutions for managing iGaming operations. SoftSwiss holds a number of gaming licenses, providing a "one-stop-shop" white label solution by taking care of all technical, legal, and financial processes on behalf of its customers. The company has a vast product portfolio, which includes an Online Casino Platform, Game Aggregator with thousands of casino games, an affiliate platform, and a recently launched sportsbook platform. In 2013 SoftSwiss was the first in the world to introduce a bitcoin-optimized online casino solution. The company has thus been regarded as the leading technical expert when it comes to the use of cryptocurrencies in online gaming.