Sportsbet.io redefine matchday activations at-home, with new virtual VIP experiences for Southampton FC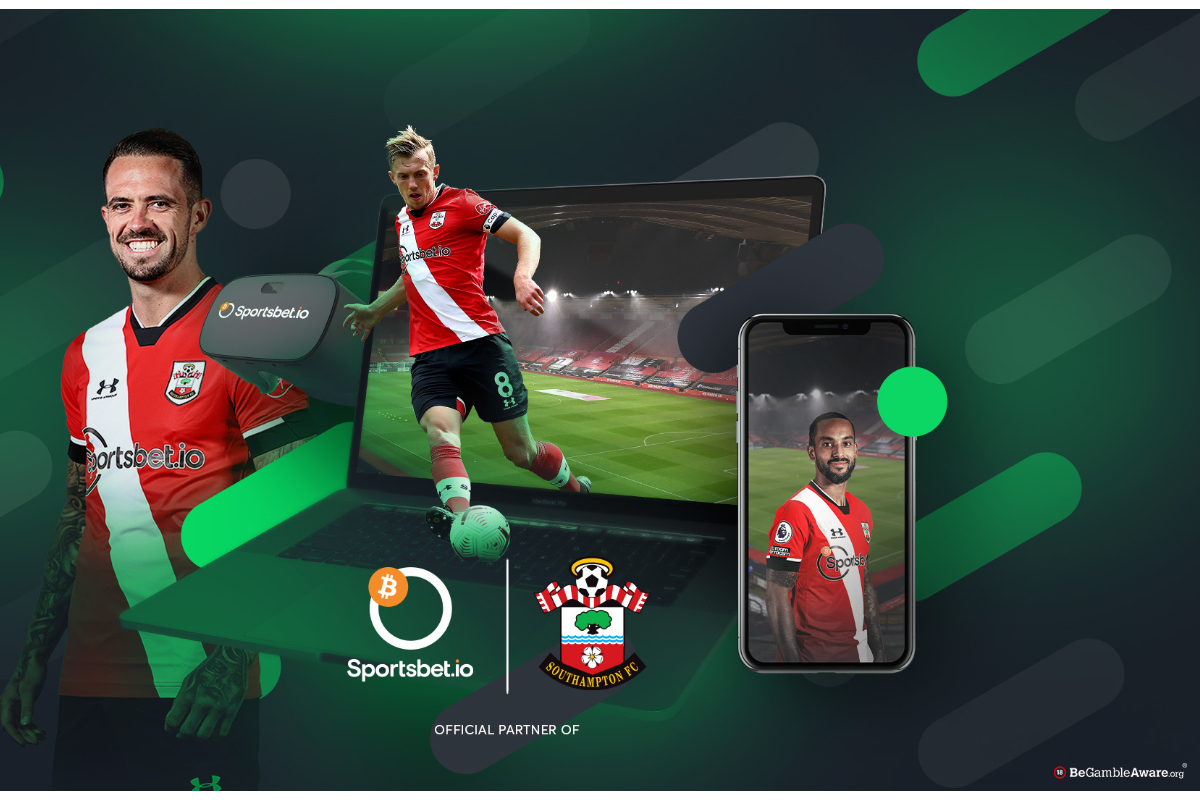 Reading Time:
2
minutes
As part of their club partnerships with Southampton FC, cryptocurrency sportsbook Sportsbet.io have created a new VIP experience that uses virtual reality (VR) technology to recreate the magic of matchday, at home.
The creative concept aims to leverage Sportsbet.io's matchday rights with the Saints to educate and engage football fans on cryptocurrency. As part of the initiative, participating influencers are provided with a Bitcoin value which they can use to build their own unique VIP experience, from a stadium tour with a club legend to a front-row seat at the training ground.
Sportsbet.io are using their football partnerships to redefine the fan experience by combining cutting-edge technology with their cryptocurrency expertise, delivering exclusive experiences that reward Southampton's large global fanbase and Sportsbet.io customers. The initiative is a demonstration of Sportsbet.io's constant drive to innovate and the sportsbook believe that the role of cryptocurrency in sport is only going to increase.
The first Virtual Reality experience was delivered in December 2020 ahead of Southampton FC's home fixture against Manchester City, and featured a tour of St Mary's stadium with Saints legends Franny Benali and Matthew Le Tisser, as well as a penalty masterclass with Le Tissier. More activity is due throughout 2021, with the potential to further expand the experiences on offer across their club sponsorships.
Tim Heath, Founder of the Coingaming Group, said: "We think cryptocurrency has a big future in football and we're right behind it. Alongside fan experiences like this, we've just seen the first Bitcoin transfer take place where a footballer was purchased using cryptocurrency and signed for DUX Internacional de Madrid, and earlier this year NFL pro footballer Russell Okung said he's getting his salary in Bitcoin. We're likely to see more of the same – from clubs finding new ways to engage with fans on a match day to the way business is done at the top of the game."
The initiative was developed by Sportsbet.io's creative and PR agency Fuse in response to the Covid-19 pandemic, working as a digital solution to activating matchday rights in a behind-closed-doors environment. Production of the 360 live content and immersive storytelling was delivered by award winning VR & AR agency East City Films. The content is delivered to influencers using the Pico neo2 headset by Pico Interactive, who specialise in providing VR solutions for business in the USA, Canada, Europe, Africa, and Asia.
Southampton Football Club's Chief Commercial Officer, David Thomas, commented: "As a club our digital approach has always looked to redefine the content status-quo and we were excited at the shared values between ourselves and the Sportsbet.io team. The work that is currently ongoing is a pleasure to be involved with and we want to ensure as many of our fans are experiencing that St Mary's nostalgia as possible. We cannot wait for the full return of our fans but in the meantime, Sportsbet.io have found an innovative way to ensure our club and fans can stay connected."

TRON and APENFT partner with Decentral Games to take GameFi to the next level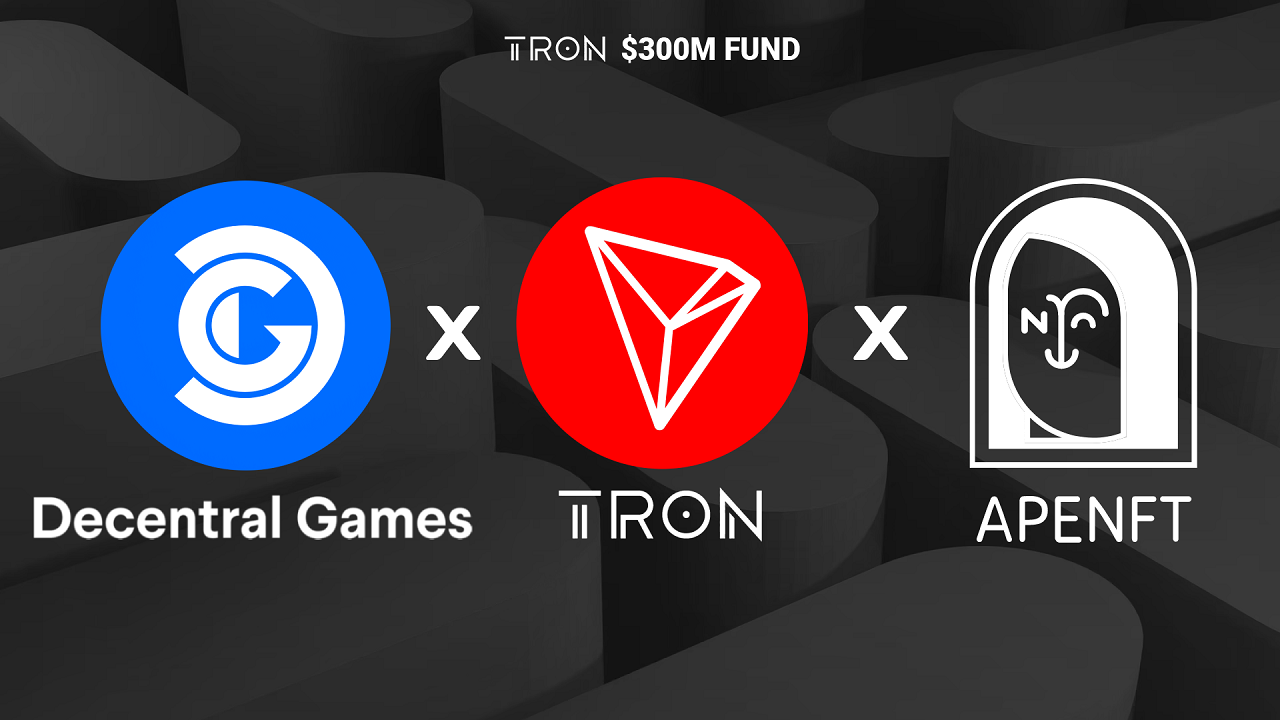 Reading Time:
2
minutes
TRON, one of the leading cryptocurrency projects by market cap with a valuation of over $6B, has partnered with Decentral Games to unlock GameFi's potential to help more ordinary people as it currently has in many regions worldwide.
"I believe that the partnership with Decentral Games will unlock more potential for GameFi," said TRON CEO and Founder Justin Sun. "It's fascinating to see how GameFi facilitates a player-owned economy with ownership transfer and additional revenue generation. That has already benefited many ordinary people, especially in South Asia."
TRON's investment in $DG represents a strong endorsement of Decentral Games' cutting-edge play-to-earn innovations. It also follows several high-profile partnerships and collaborations with Binance Smart Chain, Polygon, Theta, Grayscale, Decentraland, and Hashkey, among several others.
TRON launched a $300-million investment pool together with APENFT in August dedicated to advancing GameFi related technology, a space in which Decentral Games has become a prominent player. "GameFi is going to be the next big thing that makes the DeFi, NFT, and larger crypto space easy to understand and be involved in," Sun said recently.
"The Decentral Games and TRON teams share the belief that play-to-earn will play an outsized role in shaping the broader gaming sector and the future of entertainment and work," Decentral Games CEO and Founder Miles Anthony said.
"We are excited to work with TRON to accelerate the adoption of NFT and EV-positive gaming technologies for the long-term," Mr. Anthony added.
GameFi has taken the blockchain game industry by storm as it combines decentralized finance (DeFi), bringing new dimensions to crypto games. For example, players may use and delegate assets to generate yield.
Decentral Games recently launched ICE Poker, an unrivaled play-to-earn (P2E) ecosystem that financially rewards users for their participation. DG's gameplay mode boosts daily and monthly recurring players on the $DG platform and creates an EV-positive (expected value positive) environment for all players.
As a result of DG's P2E success, a growing, loyal community of players have collectively provided the project with a formidable moat and dependable cash flows to the platform's DAO. Year to date, the DG DAO treasury's total assets have increased exponentially from $500,000 to over $12 million.
Announcing The Crypto Gaming United Public Token Sale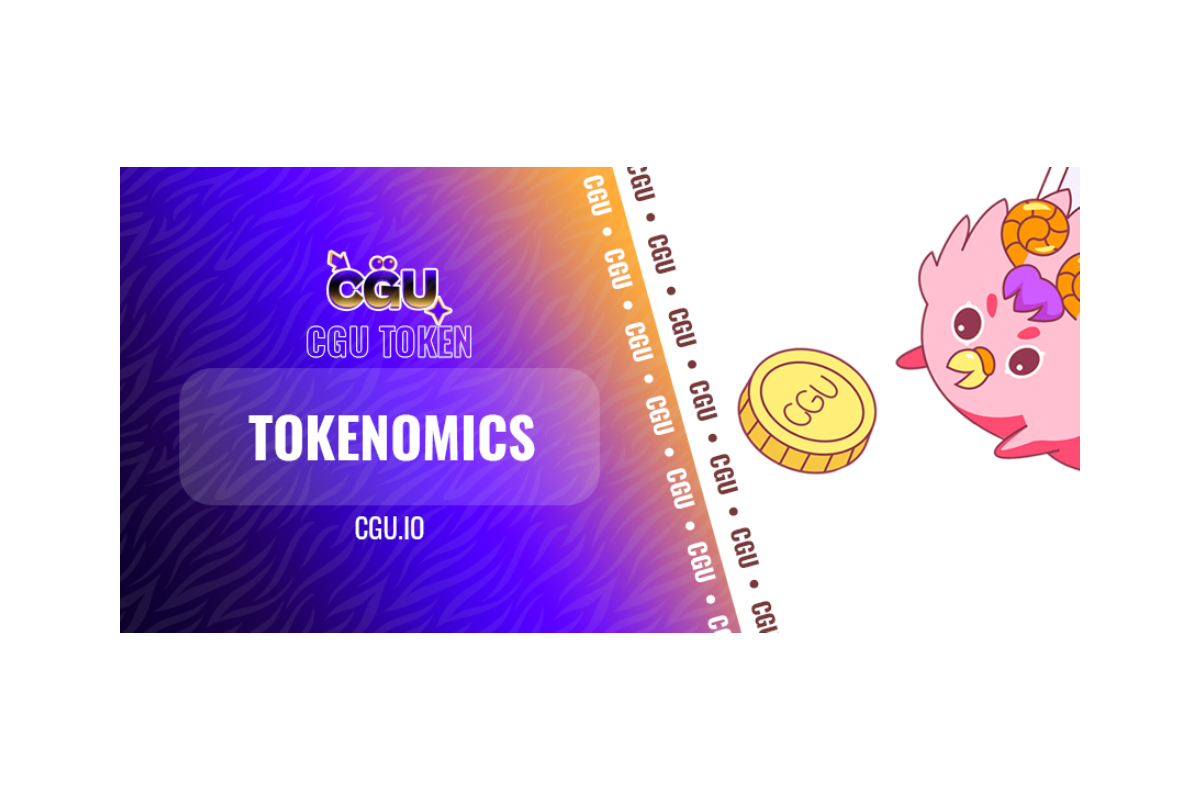 Reading Time:
2
minutes
The Crypto Gaming United (CGU) token sale will open on TimeX at 2:00 PM UTC on 18 October 2021. (5:00PM Moscow MSW / 10:00PM China Standard Time CST / 1:00AM Sydney AEDT Oct 19)
The emergence of play-to-earn blockchain games has created many opportunities for gamers and crypto investors alike. Crypto Gaming United (CGU) seeks to both leverage and drive the growth of the sector over the coming years through a series of initiatives that will increase access and earnings for players.
CGU tokenomic model
The main source of revenues for CGU is rental of valuable DAO-owned NFTs (like Axies) in return for a proportion of daily income, enabling players to participate in the most lucrative gaming opportunities and NFT owners to monetise their assets. As CGU scales, the influx of new users into play-to-earn games will also have a meaningful impact on the market price of these NFTs.
The CGU token will be distributed to DAO members in return for undertaking a range of activities that promote the initiative and grow the community, including referring friends, creating educational resources, streaming gameplay, and exceeding earnings targets, as well as staking. Demand for CGU is driven by its utility as the native token of the DAO and the means of purchasing different services and upgrades, and by the flow of revenues from gamers into the currency.
Public token sale details
CGU has a total supply of 1 billion tokens, with 26% allocated to investors. A further 40% are allocated to the community, 18% to the project treasury, and 16% to CGU's founders and advisors. 

A $5 million seed round and $10 million pre-IDO round have already been completed, both with locking periods and 3-year vesting schedules.

The sale will take place on TimeX, starting at 2:00 PM (UTC) on 18 October 2021.
25% of the funds collected will be used for developing and bootstrapping the CGU community and DAO, with the remaining 75% being allocated to a Treasury of digital assets, collectively owned by the DAO.
Kinguin partners with Bitcoin Vault bringing NFTs to its global marketplace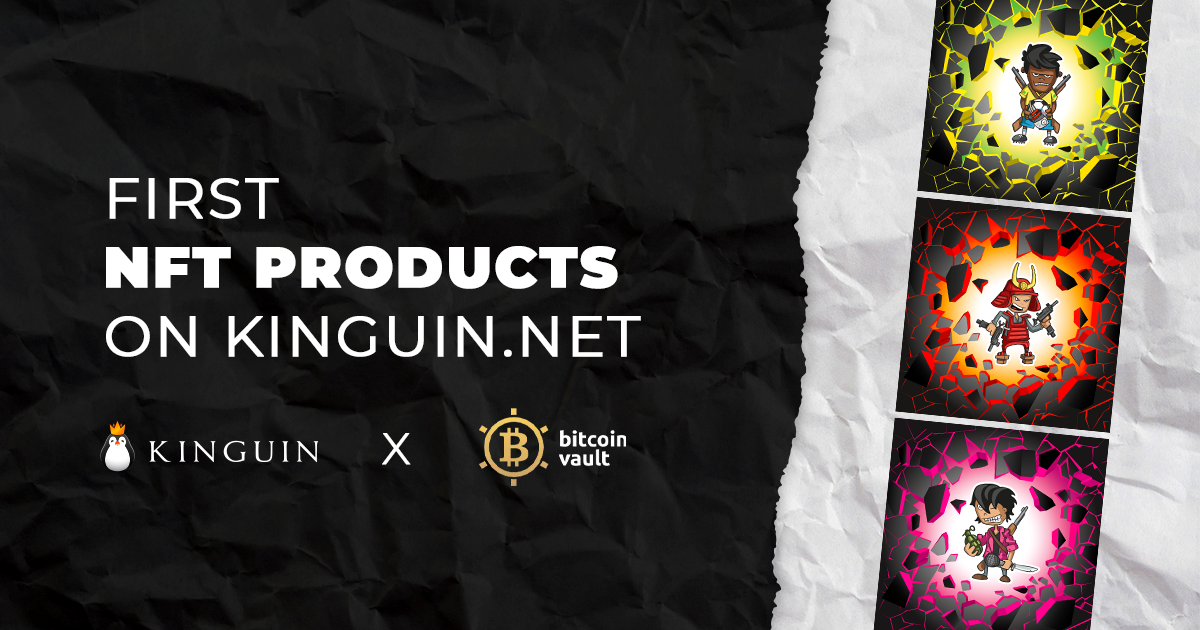 Reading Time:
2
minutes
Kinguin, the world's first digital marketplace for gamers, has announced that it is bringing Non-Fungible Tokens (NFTs) to its marketplace for the very first time through a partnership with Bitcoin Vault (BTCV), a cryptocurrency trading platform. The partnership will see a selection of SkillzVault Ethereum NFTs available to purchase on Kinguin marketplace.
Bitcoin Vault is a cryptocurrency trading platform that provides an extra level of security based on a three-private-key security software – mobile GoldWallet, desktop Electrum Vault and the Key Generator app. As well as featuring all the standard Bitcoin aspects, the extra layer of features provides users with extra transparency and freedom to purchase products using cryptocurrency.
SkillzVault is a gaming talent show created in partnership between Bitcoin Vault (BTCV) and ESE Entertainment. The gaming talent show is running from July 28 to November 21 in five countries: Brazil, China, Japan, South Korea and Vietnam, with gamers taking part in one of the two fastest growing games in the industry – Peacekeepers Elite and PlayersUnknown Battleground Mobile (PUBGM). Viewers can also experience the excitement through SkillVaults' Twitch profile and game.tv.
Kinguin users will be able to purchase three different types of static SkillzVault competition card NFTs exclusively through the Kinguin website using both cryptocurrency and fiat payment options. Each NFT represents one of the three heroes who feature in the SkillzVault gaming talent show, which includes a Japanese Samurai, a Brazilian footballer and a South Korean K-Pop star. Both Kinguin and Bitcoin Vault ensure each NFT sold is unchangeable and tamperproof.
Mateusz Mach, Director of NFT marketplace at Kinguin said: 'We're really excited to partner with Bitcoin Vault, bringing our customers the opportunity to purchase an exclusive set of NFTs for the first time in our history. We've progressively been introducing more cryptocurrency payment solutions to our platform and for some time now, we've been working towards providing our customers with NFT offerings. We're looking forward to continuing our roll out of NFTs on Kinguin marketplace and will soon be revealing even more exciting, exclusive NFT partnerships.'
Piotr Kozłowski, Chief Growth Officer at Bitcoin Vault said: 'Kinguin is a global marketplace that's leading the way in its industry when it comes to integrating blockchain based solutions onto its platform, services that are becoming increasingly popular amongst the digitally native gaming community. Partnering with Kinguin's marketplace will also provide gaming fans with the easiest, most convenient and safest way to purchase our SkillzVault NFTs.'
NFTs are verifiably unique (non-fungible), digital assets. The data of an NFT is stored on a digital ledger called a blockchain, meaning that the digital asset can be certified as unique and therefore, not interchangeable. NFTs have risen in popularity in the past year, with a range of types of NFTs being sold including digital art, videos and trading cards.