"At MGA Games we are also 5", campaign launch for the new Spanish Celebrities Casino Slots series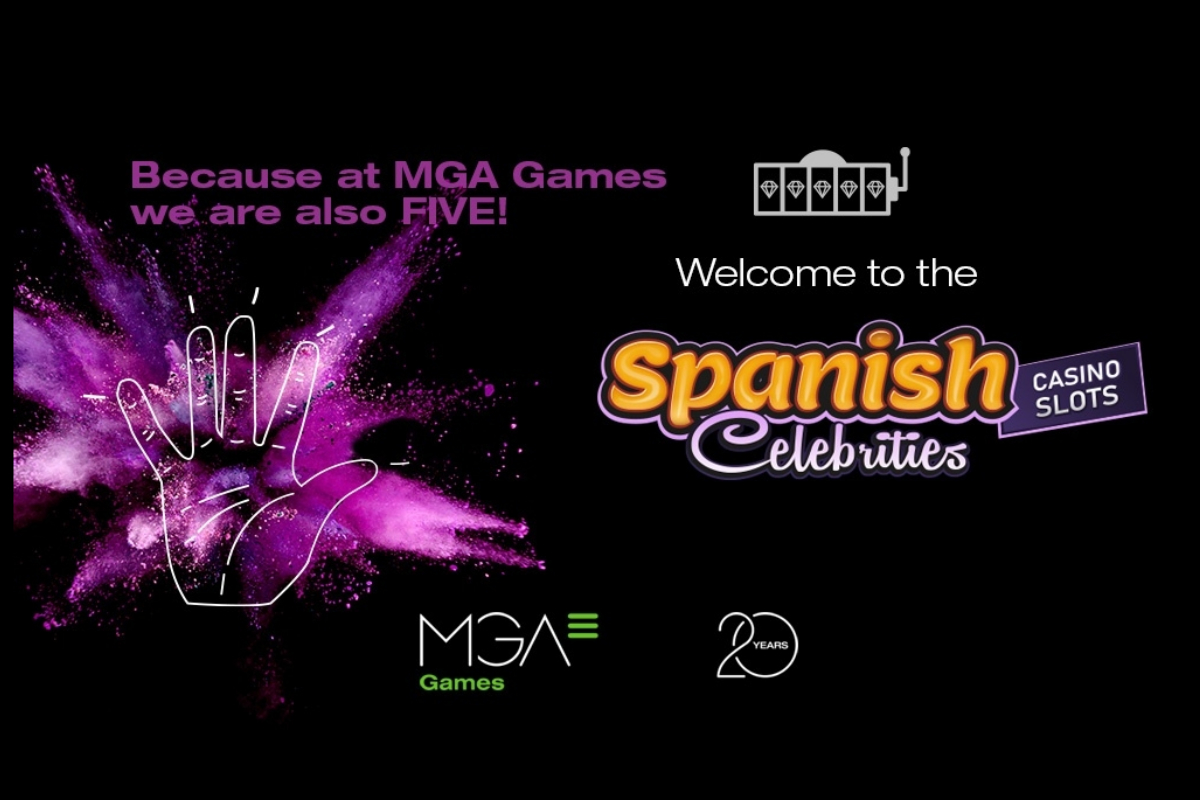 Reading Time:
2
minutes
· The new range of 5×3 slots from MGA Games incorporates new graphic styles, better math, innovations in the sequence of games and unique audio and music.
· Spanish Celebrities Casino Slots uses the successful combination of a localised product with famous characters and creates great interest among the public.
The Spanish company MGA Games, specialist developers of localised slot games for global operators, has just presented its new range of 5-reel slots games, the Spanish Celebrities Casino Slots, to the Spanish operators. With the slogan "Because at MGA Games we are also 5" the company has sent its customers various materials focused on the innovations and improvements incorporated in its 5×3 products. A safe bet with which MGA Games expects to succeed in the 5×3 slot market and become the reference content provider for casino slot games.
A winning formula, the new Spanish Celebrities Casino Slots saga plays on the success of the 3-reel Spanish Celebrities games, combining a localised product with celebrity characters well known to the public and achieving incomparable results in the Spanish market.
Whatsmore and as explained in the campaign, the MGA Games productions incorporate more innovation with new graphic styles, exclusive music by producer Quique Tejada and updated visual effects. Spanish Celebrities Casino Slots also stand out for their improvements in the game sequence and their new mathematics with low, medium and high volatility, adapted to each type of player.
For the founder and CEO of MGA Games, Joan Sanahuja: "At MGA Games we are also '5 slots'. For 20 years, we have been devising new products that entertain and excite players with their great content and prizes, but we also care about achieving maximum profitability for the operator. We have proven that our Spanish Celebrities on 3-reel Spanish slots are unrivalled when it comes to the income they generate. Now, and as we always do, we have gone one step further to offer Spanish Celebrities Casino Slots a fun, light-hearted 5-reel product and guaranteed to be profitable and successful for operators."
Spanish operators' customers can now experience first-hand, the innovations offered by the Spanish Celebrities Casino Slots series, with the first game, Yola Berrocal Wild West, which launched only a few days ago.

CBBC announces new esports show: Game on Grandparents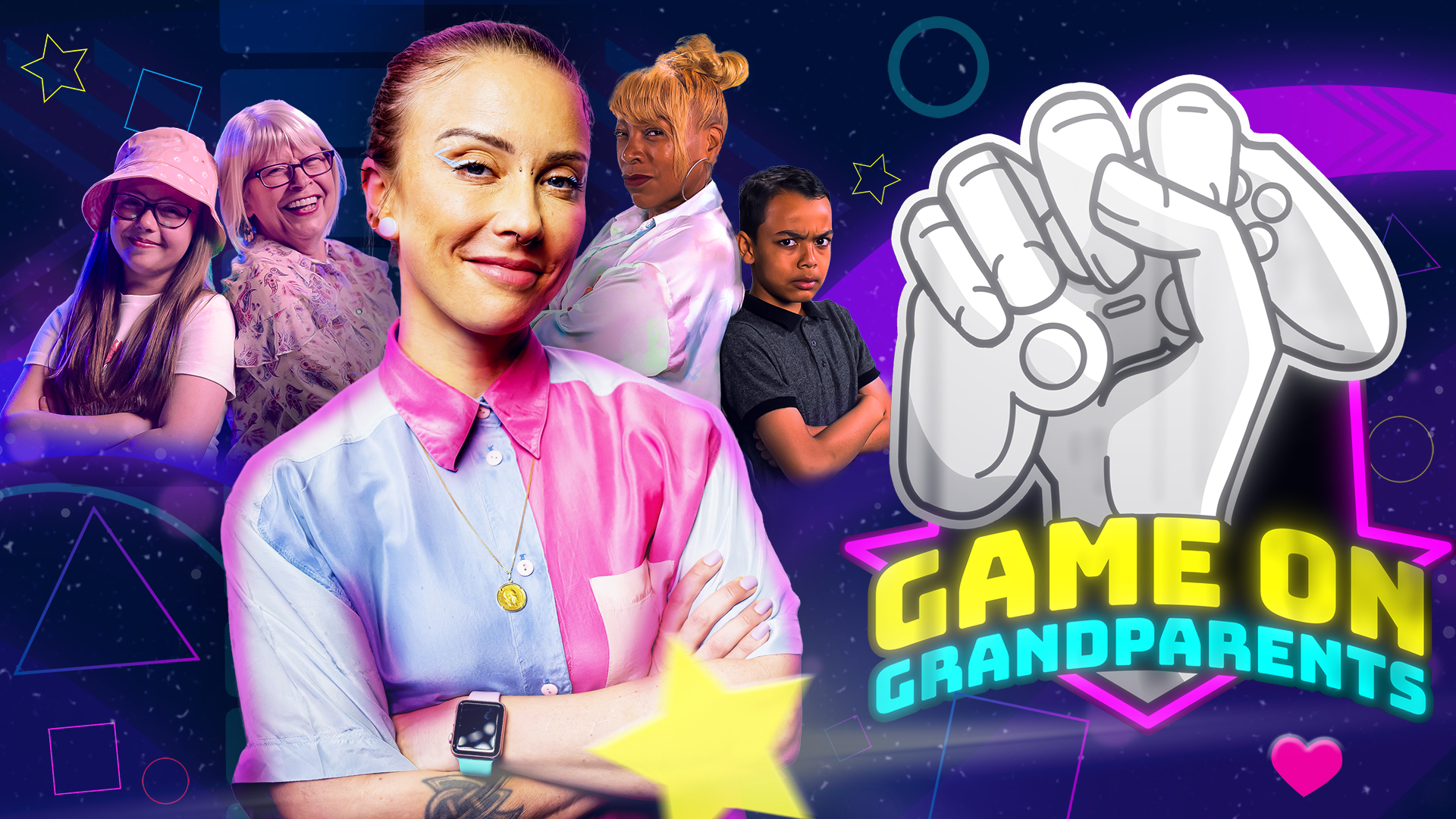 Reading Time:
2
minutes
GAME ON GRANDPARENTS – ELECTRIC ROBIN BRINGS A NEW ESPORTS SERIES TO CBBC  THIS AUGUST
CBBC's Game on Grandparents, is a gaming competition series like no other. Produced by Electric Robin [part of Banijay group], young gamers and their grandparents will step into each other's lives like never before. The first episode airs today Monday 15th August at 09:15 on CBBC and BBC iPlayer.
Girls and boys who dream of playing at an esports tournament are about to get the chance BUT there's a twist, they won't be playing themselves, they'll be training up their gaming rookie grandparents to take part!
And while their grandparents are busy practising, the children have to take on their roles about the house from washing up to walking the dog, to entertaining Grandma's friends for the afternoon – what could possibly go wrong?!
Throughout the series we see 18 sets of teams battle it out to be named Game on Grandparents champions. They compete with some of the biggest gaming titles in the world including Minecraft, Just Dance, Wii Ski, Mario Golf, Mario Kart, Wipeout, Gran Turismo, Super Smash Bros and Splatoon.
Along the way they are given a little bit of help from world-renowned gaming celebrities including, Ali-A, Yammy, Sanna, Jelly, Blackpanthaa, Adam Savage, Vikkstar, Ruby Rube and more, who have a combined reach of over 85million on YouTube alone.
Joining this star studded line up is Game on Grandparents host, Julia Hardy, known for the Top Gear Gaming Show and the BBC Sounds podcast, This Game Changed My Life, and esports royalty Miles Ross offering energetic and exciting commentary throughout.
Julia Hardy, Game on Grandparents Host said: "It's been such a pleasure to see all of our families spend time together and learn from each other, all whilst creating a memory that they'll never forget. I mean who would forget playing on an esports stage in front of a live studio audience just like the pros?
Premiering on CBBC and BBC iPlayer Monday the 15th August at 9:10am every weekday morning for two weeks. All episodes will be available to watch again on BBC iPlayer.
Grandparents and Gaming, what's not to love?
Indian Olympic Association felicitates Bronze Medallist contingent of Dota 2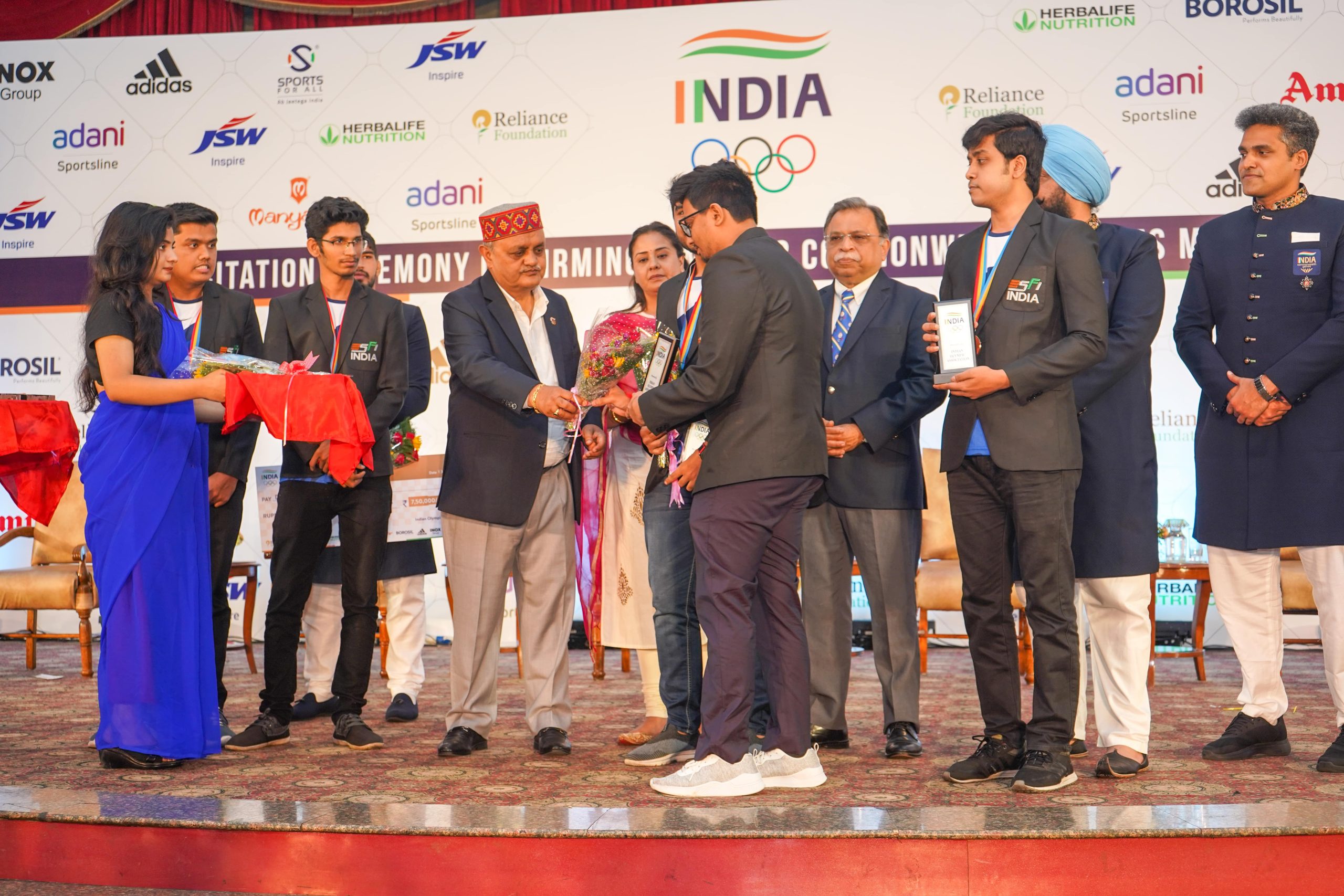 Reading Time:
2
minutes
The Indian Esports contingent was in attendance with the mainstream sports athletes that were rewarded for bringing laurels to the country at Commonwealth Games
The Indian Olympic Association (IOA) felicitated Team India's Birmingham 2022 Commonwealth Games medal winners at The Ashok Hotel, Chanakyapuri, New Delhi, on the evening of August 13. All bronze medallists of the Indian DOTA 2 team – Moin Ejaz (captain), Ketan Goyal, Abhishek Yadav, Shubham Goli, and Vishal Vernekar were presented with the appreciation memento in a felicitation ceremony for their exceptional accomplishment at the recently concluded Commonwealth Esports Championship.
Several dignitaries, including IOA Acting President Mr. Anil Khanna, General Secretary Mr. Rajeev Mehta, Treasurer Mr. Anandeshwar Pandey, Team India's Birmingham 2022 Commonwealth Games Chef de Mission Mr. Rajesh Bhandari, General Team Manager Mr. Maninder Pal Singh, and former IOA president Mr N. Ramachandran, graced the occasion and felicitated the medallists.
This was the very first time that an Indian Esports contingent had been invited to the felicitation ceremony along with the other mainstream sports medallists.
"It is an unforgettable day for the rest of the team and me. To have the opportunity to be here with the other medallists from various sports and get awarded by the Indian Olympic Association for a medal in Esports is a very special achievement. All of the efforts that we took throughout our journey have finally started to bear fruits, with this being just the beginning. We are going to go with twice the energy and motivation into the Asian Games to do even better for the country." said a proud Moin Ejaz, captain of the Indian DOTA 2 Team.
The Indian contingent met with renowned sports personalities such as Harmanpreet Kaur (Indian Women's Cricket Team captain), Bhavina Patel & Sonalben Manubhai Patel (Para TT Player) and Deepak Punia (Indian wrestler) and enlightened them about Esports as well as the basics of DOTA 2, the video game in which they clinched the bronze medal. The contingent also conveyed that Esports will be a proper medal event at the upcoming Asian Games 2022.
"Finally, Indian Esports has found a place on par with the other sports in the country. To be recognised by the IOA for the DOTA 2 contingent's achievement amongst the country's finest athletes feels like a cherry on top of the cake of winning the bronze medal. The trajectory of Esports in India has seen its fair share of highs and lows, but with the Asian Games coming up, the only way seems to be upwards from here. The expectations are undoubtedly high now because of the bar that has been set, but we have complete faith in our Esports athletes to transition this form in the upcoming international competitions and make the country proud.", said Lokesh Suji, Director of Esports Federation of India and Vice President of the Asian Esports Federation.
The IOA officials congratulated the DOTA 2 team on their historic bronze medal, which the ESFI believes is a testament to the relevance of the Commonwealth Games given the rise in popularity esports in India is expected to witness following the national team's medal-winning feat in the inaugural edition of the Commonwealth Esports Championship.
One of the country's top sports and Esports specialised communication firms, Artsmith – Concepts & Visions, India's Leading Multiplex chain INOX and Leading sports psychologist org Mandeha continue their support as the communication, multiplex & sports psychologist  partners of ESFI, respectively.
Live 5's Gem of a Joker InstaPots™ launches exclusively with William Hill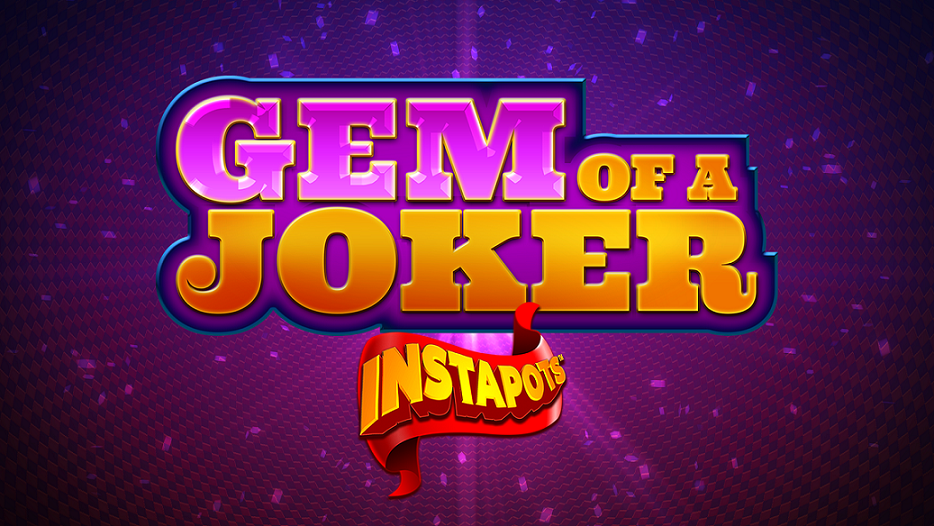 Reading Time:
2
minutes
Studio's latest blockbuster slot features new jackpot bonus that awards Multipliers of between x5 and x2,5000 the player's stake
Live 5 is taking players deep into a Jester's dream in the latest slot to leave its production line, Gem of a Joker InstaPots™, which will launch exclusively with William Hill before going on global release in September.
As the name suggests, Gem of a Joker has been hooked up to Live 5's InstaPots™ feature which offers the chance for players to trigger one of five Multiplier jackpots – Mini, Minor, Major, Mega and Ultra on every spin.
These jackpots are no laughing matter; a jackpot is unlocked when between three and five InstaPots™ Scatter symbols land anywhere on the reels to award stake Multipliers of x5, x25, x50, x250 and x2,500 respectively.
InstaPots™ are not progressive so do not require a stake contribution to increment nor do they require a re-seed value once triggered. Instead, they simply pay a fixed amount each time they are hit.
The Joker action does not stop there. The Jester acts as the Mystery symbol and when they land, they animate and transform into one of the five top paying symbols including Wilds.
Gem of a Joker InstaPots™ sits at the higher end of the volatility scale and has a return to player of 94.00%. The max win potential is 2,500x the player's stake.
As with all Live 5 slots, it is available in 30+ languages and has been certified for launch in key markets including the UK, Spain, Sweden, Italy, Denmark and all Malta Jurisdictions.
Lloyd Butler, CEO of Live 5, said: "Gem of a Joker is the first game to include our InstaPots™ feature, which delivers unrivaled excitement and big win potential with each spin. That it is not progressive, nor requires a stake contribution or re-seeding, adds tremendous anticipation to the game.
"When combined with Mystery symbols, and the game's high volatility, the gameplay is fast-paced and fun. We are thrilled to be launching Gem of a Joker exclusively with William Hill and for it then to go on global release next month.
"The team really is on a roll at the moment and Gem of a Joker InstaPots™ will further establish Live 5 as a leading provider of player-favourite online casino content."