BetGames.TV Combo Bet sees South African player net huge win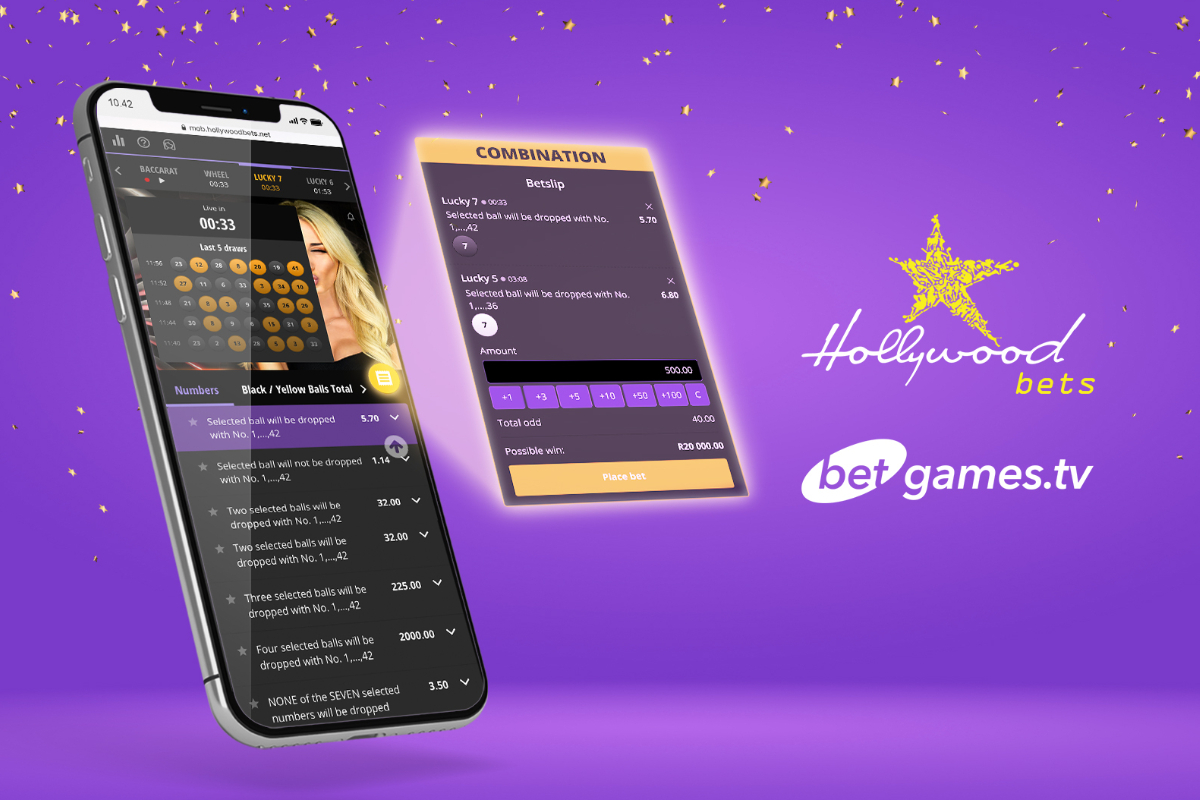 Reading Time:
2
minutes
Promotional campaign ends with €22,000 haul for lucky bettor
BetGames.TV, the leading live dealer and betting games supplier, has seen one of its successfully introduced features award a massive jackpot to a player on Hollywoodbets.net.
As part of a drive to promote its Combinations feature (aka Combo Bet) with the South African online sportsbook, one lucky player landed a win of R416,790 (€22,882) from a R9,000 (€493) stake.
The feature is one of two, launched to market by BetGames and Hollywoodbets to drive engagement.
Subscription Bets allow players to subscribe to their favorite chosen outcome in future games, meaning if 7 is a preferred number to wager on, a player can place bets on that number in 3, 5, or 10 draws in advance.
Its companion feature and the one which provided the windfall is Combinations. Players can combine two outcomes of different games in order to increase the win value, similar to an accumulator option available in sports betting.
The major win came during a promotional campaign run by BetGames and its operator partner aimed at driving player engagement, highlighting the hugely popular experiences BetGames content delivers to its end users across Africa.
BetGames appointed Hollywoodbets as its initial agent/partner in Southern Africa and the exceptional relationship between the companies has resulted in impressive growth across all Betgames products in recent years.
Commenting on the win, Aiste Garneviciene, COO at BetGames.TV said: "A huge congratulations goes to the lucky player who not only enjoyed their gaming experience but walked away with a significant amount of winnings!
"Having bettors reap the rewards of our marketing tools and games is always fantastic to see. All the hard work we put into devising the content and promotions that go with it, is all made worthwhile when we see such happy players."
BetGames.TV holds licences issued by multiple jurisdictions including the UKGC, MGA, Italy, and various South African gambling authorities, with Swedish and Colombian licences expected shortly.
The studio is the 'go to' supplier of choice for live dealer products across global regulated markets.

SuperSport scores FIFA World Cup 2022™ Pay TV rights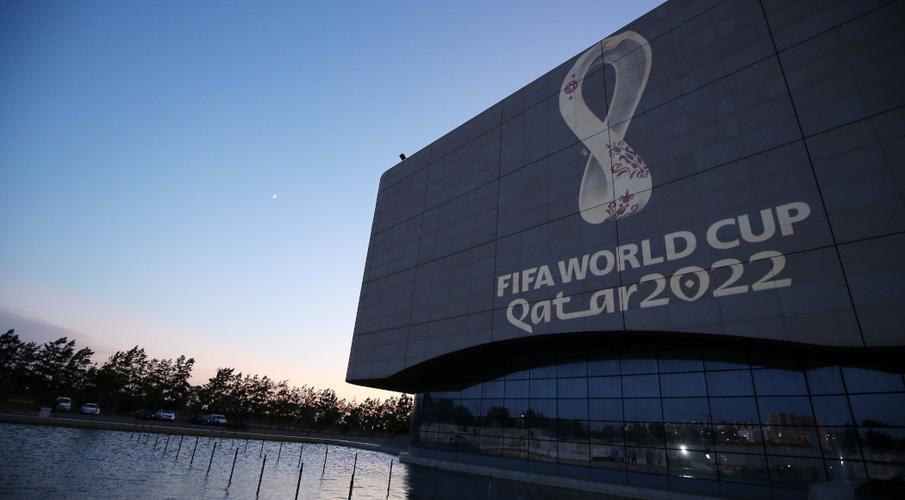 Reading Time:
< 1
minute
All 64 matches of the FIFA World Cup 2022™, to be held in Qatar, will be broadcast live on SuperSport
JOHANNESBURG, South Africa – All 64 matches of the FIFA World Cup 2022™, to be held in Qatar, will be broadcast live on SuperSport (www.SuperSport.com) after the World of Champions concluded a broadcast deal with FIFA.
This continues SuperSport's long-standing association with football's governing body and reaffirms SuperSport as Africa's home of world football. SuperSport's pay-TV broadcast rights extend to all platforms across sub-Saharan Africa and represent even more opportunities to provide fans with compelling live content.
High Definition coverage will be across multiple channels with expert analysis, in-depth digital offerings, supplementary programming, and much more in keeping with the grand scale of the event.
To be contested by 32 teams, including champions France, the World Cup will be held for the first time from November 21 to December 18, and the first to be held in one city.
The FIFA acquisition sits alongside SuperSport's already substantial offering that includes all the major football leagues from around the world.
"This is fantastic news, especially after the success of the 2018 tournament, a fitting celebration of the beautiful game," said Marc Jury, Chief Executive of SuperSport. "The FIFA World Cup™ always excites fans and the kick-off times will be most convenient for our viewers, given friendly broadcast time zones."
Get DStv Premium to watch all the local and international football action: https://bit.ly/3dJbGDc.
SOURCE: SuperSport
MoU for African schools football competition signed in Congo DR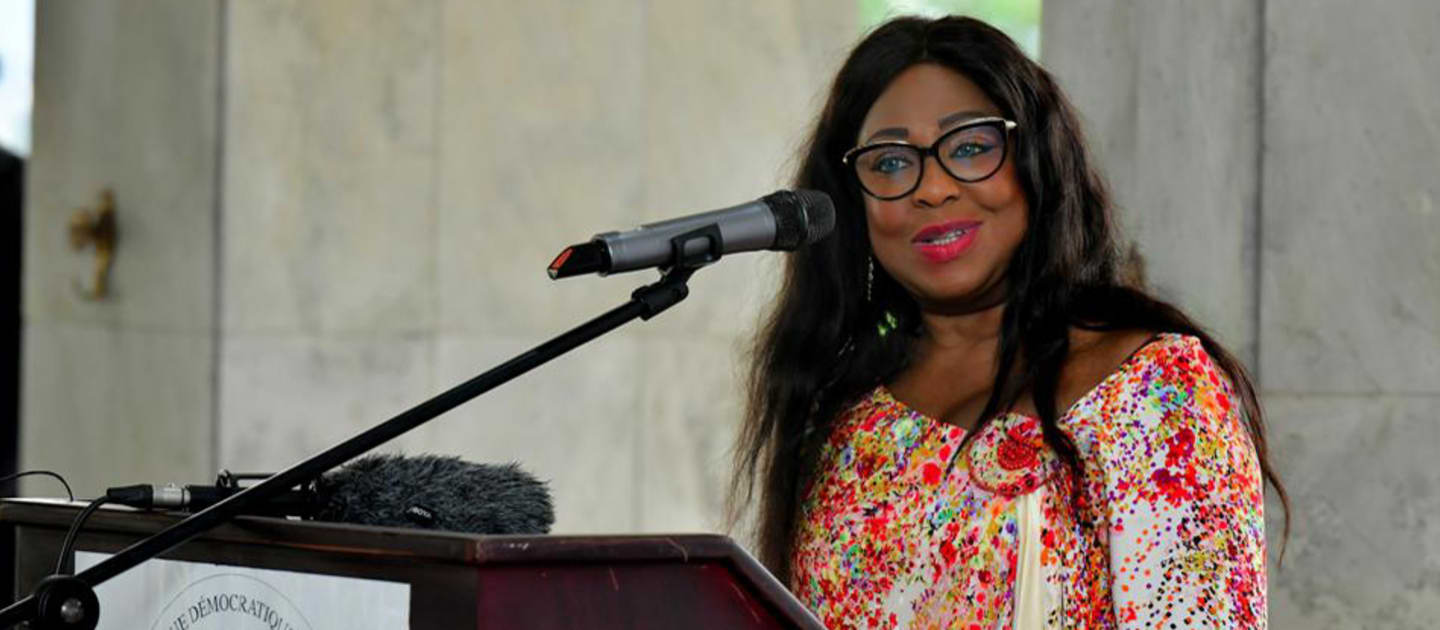 Reading Time:
2
minutes
The initiative will allow FECOFA, FIFA, and the government of the DRC to promote health and support social cohesion by integrating football training into the school curriculum
Today in Kinshasa, FIFA (www.FIFA.com), the Congo DR Football Association (FECOFA) and the government of the Democratic Republic of Congo (DRC) signed a historic MoU that will see the creation of a schools football championship.
At a signing ceremony in the iconic Palais des Nations Hall, FECOFA President Constant Omari, FIFA Secretary General Fatma Samoura, and DRC Minister for Sport and Leisure Marcel Amos Mbayo Kitenge signed an MoU that outlined the terms of the school's football competition and how it will use the power of the game to improve lives and instil positive values in young people.
The event, attended by CAF President Patrice Motsepe and CAF Secretary General Veron Mosengo-Omba, builds upon meetings between FIFA President Gianni Infantino and President of the DRC and current African Union Chairperson Félix Tshisekedi (https://fifa.fans/3dOoCHM) earlier this year. In collaboration with the FECOFA, FIFA and the government of the DRC will organize football tournaments in schools throughout the country, which has a population of almost 90 million people, before being scaled up in several other countries in Africa with the support of CAF.
The initiative will allow FECOFA, FIFA and the government of the DRC to promote health and support social cohesion by integrating football training into the school curriculum to teach children the importance of teamwork, self-confidence, strategy, respecting rules, how to be a good winner and how to deal with losing.
It will also see young people being recruited and trained in referring, the provision of football facilities and infrastructures in schools and more girls and boys being physically active and strengthening their links with each other through youth competitions on a pan-African level.
Speaking at the signing of the MoU FIFA Secretary General Fatma Samoura said: "FIFA is committed to working with the African Union and CAF to play its part in not only raising the levels of African football but in providing opportunities through football to the many children throughout our continent who have none. We believe in the power of football as more than just a game but as a means of learning life skills and the school's football championship provides the perfect environment to put these skills into action and the perfect opportunity for Africa's young people to become inspired and empowered by the beautiful game."
The CAF President Patrice Motespe commended both FIFA and the DRC leadership on the initiative and the unique opportunity it provides to invest in African youth through the values of football, as well as its potential to inspire African girls and boys to become better citizens.
Following the signing of the MoU, DRC's Minister for Sport and Leisure Marcel Amos Mbayo Kitenge reinforced his government's full commitment to supporting the project and outlined some of the measures it will put in place to make it a success including:
Allocating a number of hours in each school week to playing football
Putting financial, structural, and operational means in place for the successful completion of the competitions and training of school supervisors
Establishment of a local organizing committee specific to the final phase of the competition
Ensuring that the school's championship sees two women's and two men's teams qualify for future youth competitions on a pan-African level
SOURCE: Fédération Internationale de Football Association (FIFA)
Rugby Africa's North African Regional Development Officer, Mostafa Jelti, Speaks About International Day of Sport for Development and Peace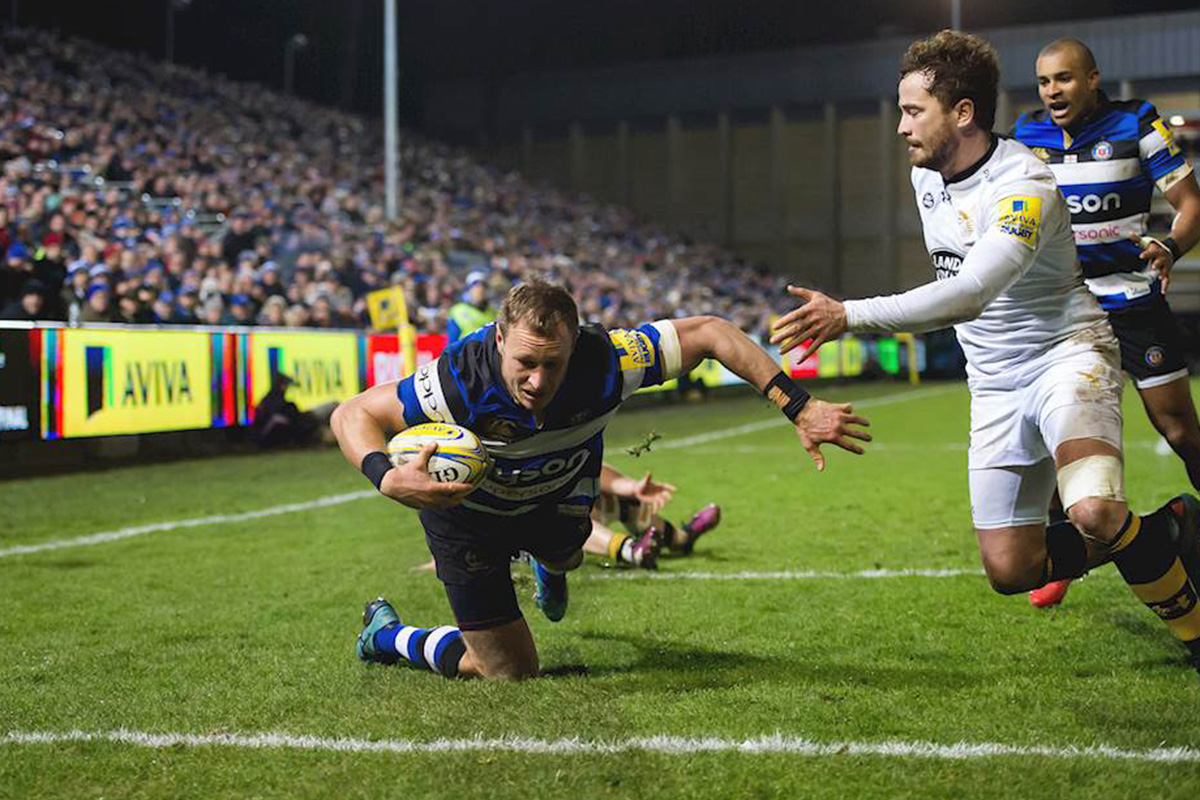 Reading Time:
3
minutes
At the request of the Moroccan NOC, this day was created in 2013 by the United Nations General Assembly
Globally, sport has reached a stage of development that no other human activity can boast of. Its impact on societies and unifying power gives it the responsibility of putting itself at the service of peace
To start off, what does international day of sports for development and peace mean to you?
At the request of the Moroccan NOC, this day was created in 2013 by the United Nations General Assembly. It reflects the importance of sports, which is present in every household with its economic, political, social and above all educational functions.
What is Rugby Ready training? Please feel free to use any images and statistics as well.
The Rugby Ready program is a support and educational training tool, with its objective being to promote enjoyable and fun playing rugby while minimizing the risk of injury.
Player health is the priority at all levels of the game.
Rugby Ready is also a perfect complement to the programs set up by some World Rugby member unions, with Rugby Africa having very satisfactory numbers of participants – second World Rugby region.
You deliver conferences on the theme of Sports and Peace. Please elaborate on the connection between sport and peace? Can you share examples where sport or more particularly rugby has been used to foster peace?
Globally, sport has reached a stage of development that no other human activity can boast of. Its impact on societies gives it an incomparable mobilization potential. This unifying power gives it the responsibility of putting itself at the service of peace.
For concrete examples, I will cite the following cases:
Fist Ping-pong diplomacy initiated in 1971 between China and the USA
The attribution of the 1988 Olympic Games to China (global symbolism)
The joint organization of the football world cup in Japan and South Korea (despite the historical disputes and the poisoned relations)
The (unsuccessful) joint candidacy of Turkey and Greece for the organization of the European Football Championship (UEFA 2008)
In rugby:
The organization of the 3rd Rugby World Cup in South Africa which has contributed to bringing together the entire population of the country.
The participation of the Libyan National Rugby Team in the Arab 7'S Championship (February 2021) where the team was made up of the 2 "war" regions East and West.
You put a lot of emphasis on the values of rugby. May you please list them and explain why they matter and how they define rugby?
The values ​​of rugby are solidarity, integrity, respect, passion and discipline. These are ethical and moral benchmarks to which athletes and public opinion must refer; they guide people in their daily lives with a taste for effort and perseverance. It is also a philosophy that transcends all borders in sport, at school, at home and at work. If I had to classify these values, I would put RESPECT first.
The conferences are targeting teachers, unions administrators, students. Does your approach and message differ depending on the targeted groups?
As a former teacher – the content of the message remains the same, the form differs a little. The 'speaker' approach is used with students, players, and administrators. Whilst the 'moderator' approach is used with teachers and coaches.
What do you expect your audience to take out of these conferences? If there is one key learning point to remember, what would it be?
I am trying to convey the following message to my audience:
Every day, around the world, millions of sports competitions ("conflicts") are organized and supervised at school, university, sports federations, regional confederations, international federations, Olympic committees, etc.
These "conflicts" are instituted by the rule and its respect; they serve, in filigree, to:
Bringing competitors closer together rather than dividing them
Promote team spirit
Solidarity in difficulty
Establish equal opportunities
Push towards excellence
Celebrate merit
Convert the rugby player into a good citizen of his country or even of the world.
Please share any other initiatives you have in the pipeline to commemorate such occasions.
I consider schools and universities to be a breeding ground for the development of rugby and I keep close contact with the universities.
Also, I am trying to set up a continental cooperation with the African University Sports Federation (FASU) which will be relayed at the national level by the various federations affiliated to Rugby Africa. In this sense, I host several conferences, each year, on the occasion of the International Day of Sport.