TVBET teams up with the Polish bookmaker Fuksiarz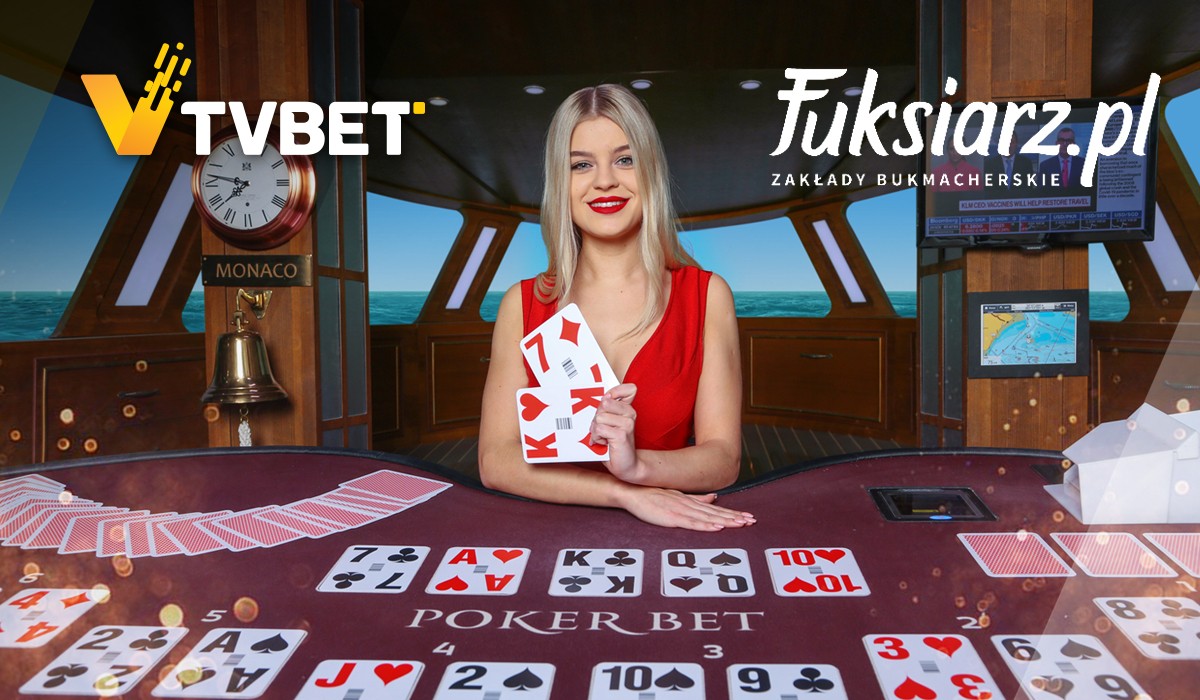 Reading Time:
2
minutes
The B2B provider of live games TVBET expands its presence in Poland. The innovative supplier has now merged with Polish bookmaker Fuksiarz and two of their popular live games are already available on the bookmaker's website for players to enjoy.
TVBET is committed to its strategy of expanding into the global iGaming market. The provider has entered into a mutually beneficial partnership with well-known Polish firm Fuksiarz, whose main offer is live sports betting. But as a result of the new partnership, clients of Fuksiarz may now indulge in the lottery and card games offered by TVBET.
Two games, namely PokerBet and 21Bet, are currently live and operational for Fuksiarz's clients.
● PokerBet: A popular online game for bookmakers based on the well-known rules of Texas Hold'em Poker. During the game there are five rounds on which players may place bets: Initial Bet, Pre-flop, Flop, Turn and River.
● 21Bet (or Black Jack): One of the most popular card games in the world. The attraction of this game is the simplicity of the rules. Two conditional players must score closest to 21, just like in regular Blackjack.
Traditionally, all TVBET content is broadcast around the world from a single location, the modern TVBET studio located in Warsaw, Poland. It is worth noting that the overwhelming majority of employees, namely TV presenters or technical staff, are Polish. As a result, TVBET believes that Fuksiarz customers will be even more loyal to the product.
Radosław Baran, COO at Fuksiarz.pl : "We are very excited to team up with TVBET. Their products are well recognized in the industry. TVBET is acknowledged for delivering high quality live-streamed content that has proven to be very popular with players. At Fuksiarz.pl we focus on providing the users the best possible offer and adding TVBET's products to our platform diversifies our portfolio and improves the user experience."
VBET CEO Peter Korpusenko stated, "The Polish iGaming market is familiar to us and we already have many partnerships in the region. And we are happy to enter into more and more partnerships here and strengthen our positions in the region. We believe that cooperation with Fuksiarz will help us achieve our goals, and will be productive and fruitful for both sides."
The partnership with TVBET will allow the bookmaker to diversify its portfolio and attract a stream of new clients interested in betting on live games. While for TVBET, this is another step towards expanding its boundaries.

The Right RTP for the German 5.3% Turnover-taxation?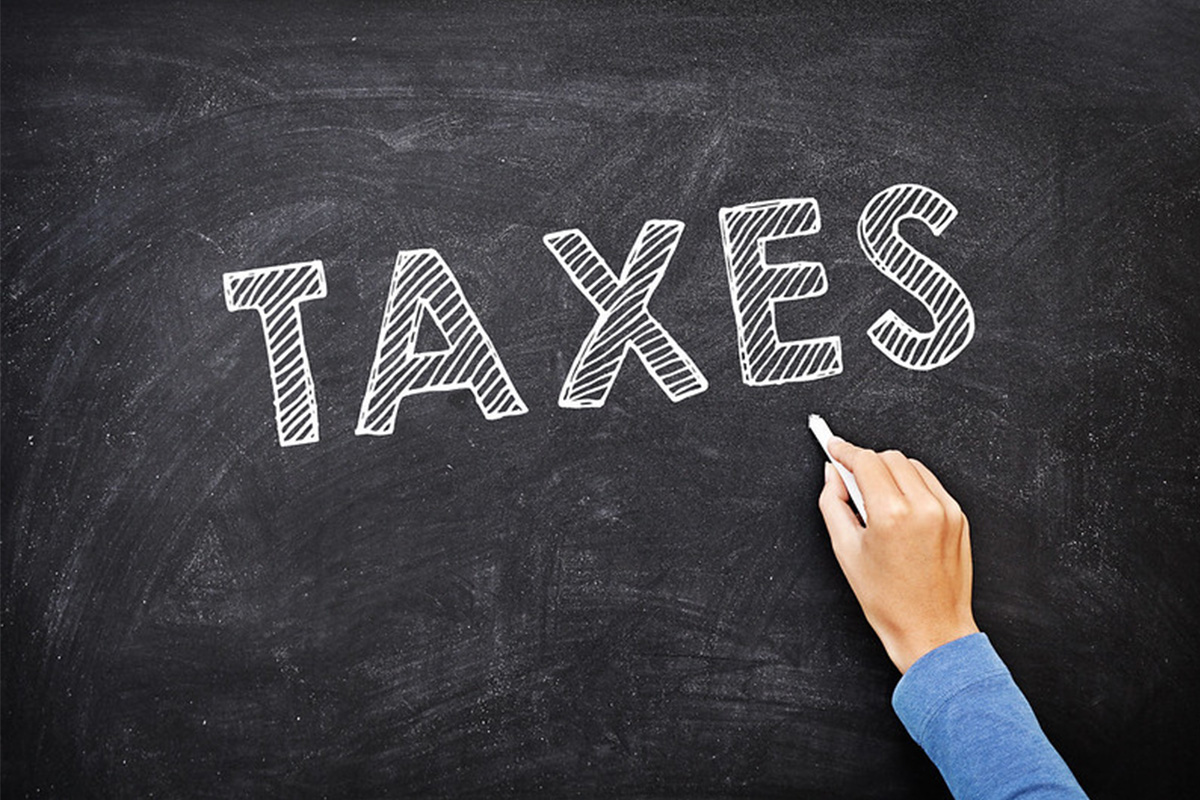 Reading Time:
4
minutes
By: Robert Lenzhofer, CEO & Co-Founder at Hölle Games
So, you may have seen a poll I have published recently with the title: "If/when Germany introduces the 5.3% turnover tax, what RTP rate is best suited considering both game-play and effective tax-paid?" If you haven't seen it, here is the poll again for reference:
https://www.linkedin.com/feed/update/urn:li:activity:6790660730564825088/
There are a few ways of looking at this, but I think the key take-away is that the industry this poll represents is fairly evenly split between above 90% RTP and below 90% RTP.
The tax explained
 First, to ensure we are on the same page, a quick explanation of the tax proposed:
Currently a 5.3% tax on turnover has been proposed and a draft-legislation does exist. I won't go into the politics and the thinking behind this, but rather try to analyze the numbers.
A 5.3% tax on every bet being placed on an online slot means an operator can not offer an RTP over 94.7%. At 94.7% RTP, the operator would break even exactly on a bet-level, but obviously would lose money as marketing, employees and general operation have to be financed somehow. Considering financial overhead in any operation, that means the maximum RTP a casino is technically able to offer while avoiding bankruptcy is probably around 93% or more likely at 92%. This is the top ceiling and at the same time too high to be profitable.
Now, there is a bit of uncertainty and I'm also not entirely sure if the number to calculate against is 5.3% or rather 5.033%. The tax is 5.3% on turnover, meaning a 1 EUR bet causes a tax of 5.3 cents, which totals to 1.053 EUR. The tax-portion of 1.053 EUR is less than 5.3%. 100*5.3/(100+5.3) = 5.033 resp. 5.033%. I do calculations here in this document based on 5.3%.
How to balance RTP and profitability
We've established above that 93% or 92% is the top ceiling, but where is the bottom?
The table below shows how a Slots-operator will be taxed, calculated into the GGR-equivalent %-age number and cross-referenced with RTP. For reference, many other jurisdictions in Europe offer a GGR-based tax-rate of around 20%. As you can see from the table below, the 5.3% tax-rate on turnover wouldn't be so bad, if players would accept 80% RTP. At 80% RTP, the GGR-equivalent tax-rate is 26.50% and thus a competitive tax-rate.
The coloring I have done here may be slightly biased, especially in terms of RTP so please take with a grain of salt. But if you roughly accept that the red-area you want to avoid on the RTP and on the GGR-% side, then you end up with an RTP-bandwidth between 84% and 91% to play with.
Further, and again granted you accept the coloring, an operator obviously wants to find an RTP in the green and a GGR-% in the green. Here we arrive at 88% and 89% RTP.
Now, a lot has been written that players will not accept such low RTP's as say 84%. There are counter-arguments made that in land-based slots the RTP is exactly at that level and actually 88% is on the higher-end in land-based casinos.
On the other hand, for many market-participants the number "9" is a psychological blocker. Players, Affiliates and a couple of Slots-Studios I speak to feel very anxious offering product below 90% as this number still feels somewhat close to the industry-average of 94 to 97%. 89% sounds very different than 90%, although it is "just" 1% in RTP dropped.
Sportsbook vs. Casinos
It will be interesting to watch if Sportsbook or Sports-led brands will choose a differing RTP-rate than Pure-Play Casinos. A Sportsbook can more easily stay on a higher RTP and just pause all short-term expenses (bonus, marketing, etc.) and focus on cross-sell. A pure-play Casino will have to look a lot more closely on bottom-line and in my opinion will have a hard time offering e.g. 90% RTP-Slots as the GGR-equivalent tax-rate is 53%.
Game-Mechanics?
 Will there be new Game-Mechanics invented to combat this problem? Looking at the table above again, the second column states how many spins a player on average can make until 1 EUR is spent depending on the RTP-Level. At 95% RTP this is 20 spins. Now, if a Game-Mechanic can be invented that provides a low mathematical RTP while at the same time provides a similar amount of real spins, then this could be a solution to the problem.
Conclusion & in my opinion
The above explanation is in no way complete – there are actually interesting studies which analyze how much an RTP is "felt" by the player and there is probably very good data the land-based industry has to offer.
But, to move away from being neutral, here's what I personally think: The reality will be that everyone will push the RTP down and experiment with the lowest acceptable RTP as this maximizes their income. As such, come 1st of July, we'll see a lot of RTP's experimented with. Imagine you are a pure-play casino and you can provide a Game-Mechanic that feels good to the player and has a nice session length, while staying at or below 40% GGR-equivalent-tax. I believe things start to fall apart financially for an operator at 40% tax-rate. If you own your own media-assets and have good deals with your suppliers and run a tight operation then a 40% tax is possible to do really well in Germany. That means, the average-RTP across the portfolio will have to be around 87–88%. I think you can mix in 91% games into the portfolio just so that is part of the portfolio too, but the majority of revenue of the white-market in Germany will in my opinion come from Slots around 88% RTP. And since some games will be mixed in at 90/91% you can expected some slots to be mixed in at 84/85% rate as well.
Update 07/05/2021:
I didn't mention in this article two other potential solutions. One is directly taxing the customer on the bet and the other is directly taxing the customer on a win (paying the tax-authorities on a bet-level, but collecting funds/tax from players on a win) like currently most sportsbetting companies do in Germany. These solutions also lower the effective-RTP-rate to the customer (just charged at a differing touch-point).
The main issue with those solutions is that an operator ends up with an equivalent-GGR taxation of around 57% which isn't sustainable. Here are some calculations of these alternative solutions: DE 5.3% Taxation Calculations
6 in 10 Germans play video games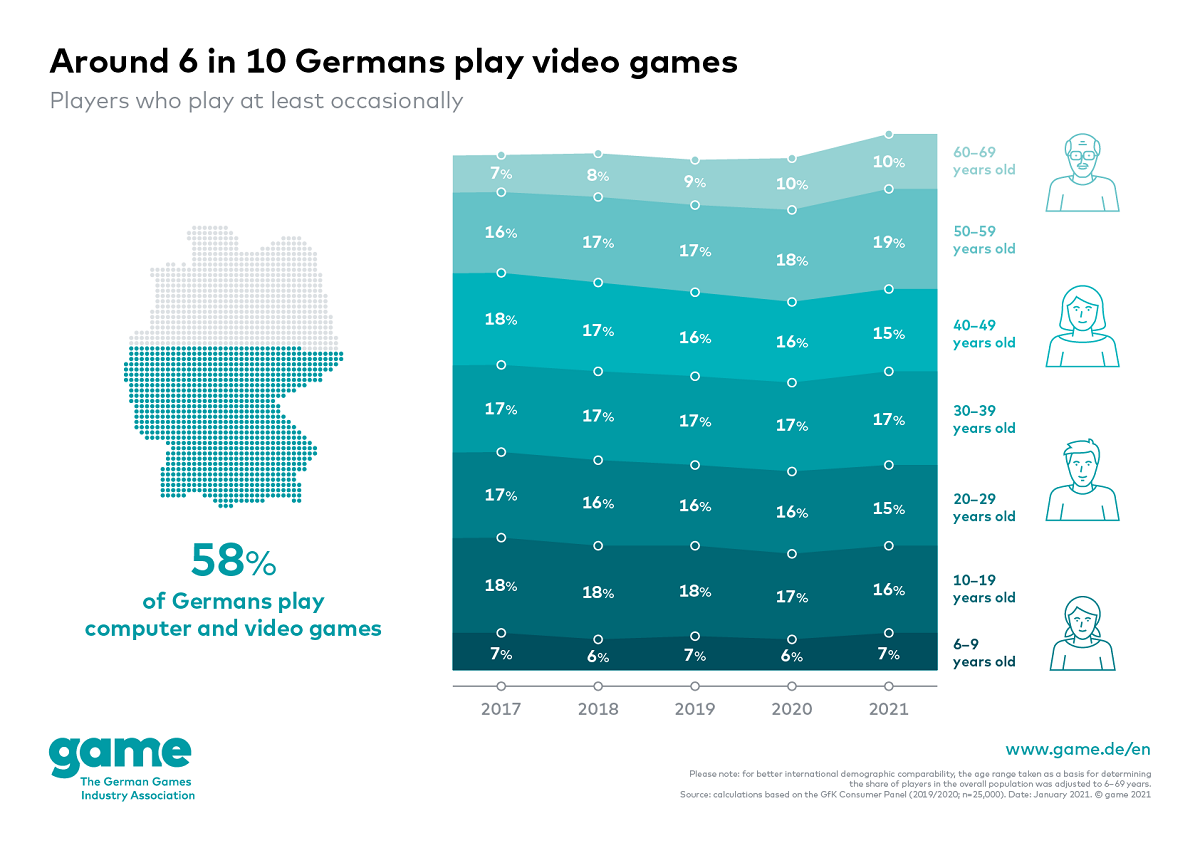 Reading Time:
2
minutes
More than half of Germans play computer and video games. Overall, 58 per cent of the population between the ages of 6 and 69 reach for the console, PC or smartphone to plunge into digital worlds. In the Covid-19 year of 2020 alone, around 5 per cent more people in Germany took up playing computer and video games. These are the numbers released today by game – the German Games Industry Association, based on data collected by the market research company GfK. Participation is high across all age classes and genders. However, the 50- to 59-year-old segment is the largest group of players, in which about 1 in 5 currently plays computer and video games. This group and players in the 60–69 age class together make up one third of all German video game players. These 'silver gamers' are in part responsible for the continually rising average age of players in Germany – currently 37.4 – over the last several years.
'The video game phenomenon has long been embraced by society as a whole,' says Felix Falk, Managing Director of game. 'But never before have so many Germans played as do today. In the last twelve months, the total number of video game players in Germany has grown by 5 per cent, a significant jump. During the shutdown phases in particular, games provided millions of people with great entertainment, a welcome diversion and also a way to stay in contact and have fun with family and friends. In this way, computer and video games made an important social contribution while also winning over millions of enthusiastic new players.'
About the market data
Please note: for purposes of better international demographic comparability, for the first time, only people between 6 and 69 years of age were taken into account in the analysis. This adjustment was made for data up to and including 2017.
The market data is based on statistics compiled by the GfK Consumer Panel. The methods used by GfK to collect data on Germany's video games market are unique in terms of both their quality and their global use. They include an ongoing survey of 25,000 consumers who are representative of the German population as a whole regarding their video game purchasing and usage habits, as well as a retail panel. The data collection methods provide a unique insight into the German market for computer and video games.
game – the German Games Industry Association
We are the association of the German games industry. Our members include developers, publishers and many other games industry actors such as esports event organisers, educational establishments and service providers. As a joint organiser of gamescom, we are responsible for the world's biggest event for computer and video games. We are an expert partner for media and for political and social institutions, and answer questions relating to market development, games culture and media literacy. Our mission is to make Germany the best games location.
Century Casinos Extends Closure of its Polish Casinos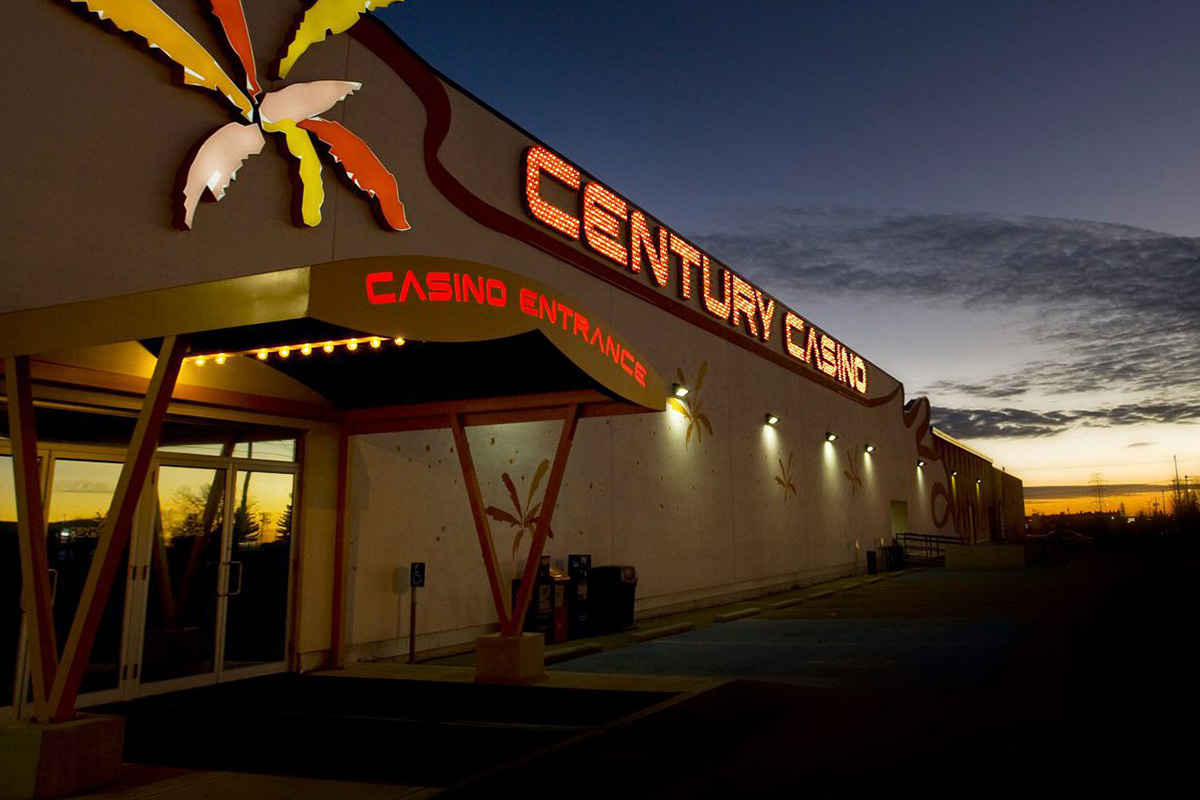 Reading Time:
< 1
minute
Century Casinos Inc. has announced that its Polish casinos would remain closed through June 6, 2021, subject to potential extensions, to comply with extended quarantines issued by the Polish government to contain the spread of COVID-19. The Company previously expected the Polish casinos would reopen on May 8, 2021.
The COVID-19 situation continues to evolve rapidly, and it currently appears that due to the pandemic's current scope it will adversely impact the Company at least through the first half of 2021.