Betway announces partnership with G2 Esports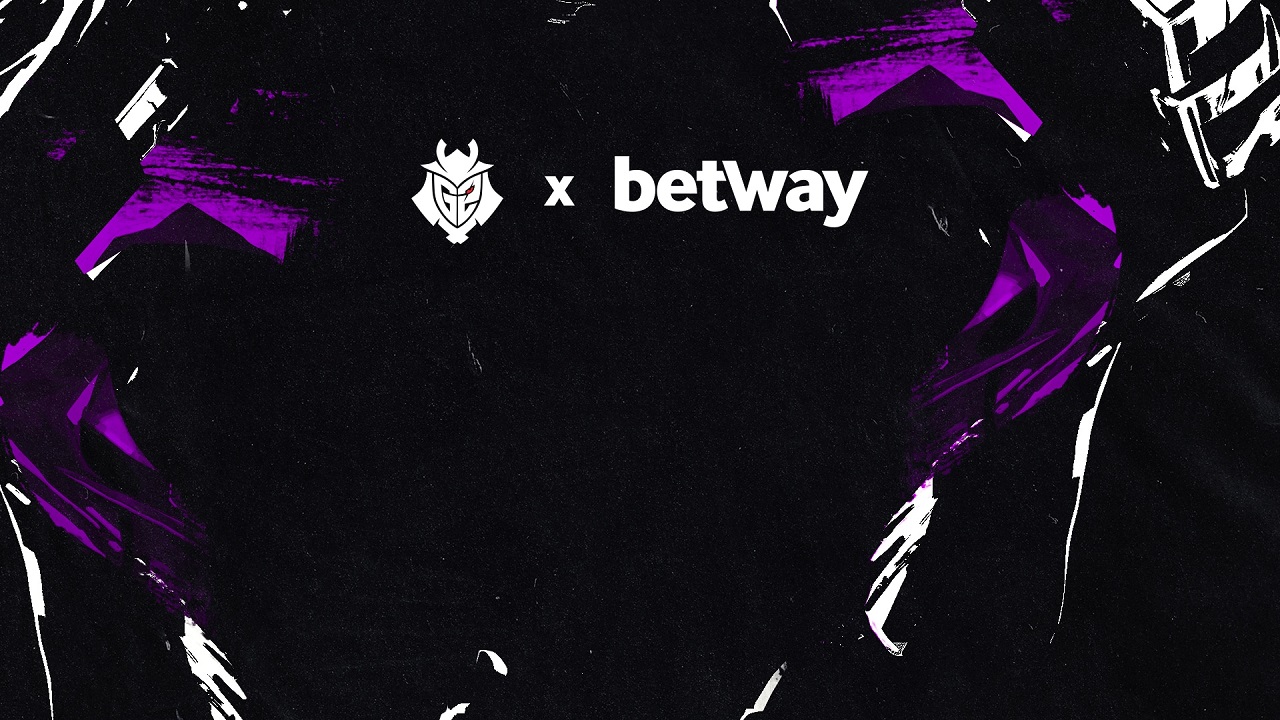 Reading Time:
< 1
minute
Leading online bookmaker Betway is proud to announce their latest global esports partnership with the industry leading organisation, G2 Esports.
The partnership will see Betway and G2 Esports work together to co-create a variety of different unique experiences and exciting opportunities for loyal fans and the wider esports community.
Since its launch in 2015, G2 has grown to be one of the leading entertainment assets in esports, bringing together some of the best competitive players in the world. As well as collaborating on new and innovative social media promotions, which will encourage growth across multiple channels, the two pioneering brands will bring loyal fans exciting show matches, engaging live streams, video content, fan activations and multiple giveaway opportunities.
Carlos 'Ocelote' Rodriguez, founder of G2 Esports, said: "2021 is full of good news for the G2 army already. Betway has been around for a long while and has managed to stay relevant through great content and collaborations with key players. They've been nothing but great at ensuring we are able to showcase all G2 brand attributes in everything we do together, and I can guarantee we'll have a lot of fun in these next few years."
Adam Savinson, on behalf of Esports at Betway, said: "Betway is very proud to be bringing one of the world's largest and most iconic esports organisations into its market leading sponsorship portfolio. Joining forces with the G2 team is a landmark partnership for us and will allow us to bring millions of loyal fans closer to the action through the collaborative content and activations planned across the year."

Oddin.gg poised to significantly scale and add new product verticals after recent $4.5m Series A fundraising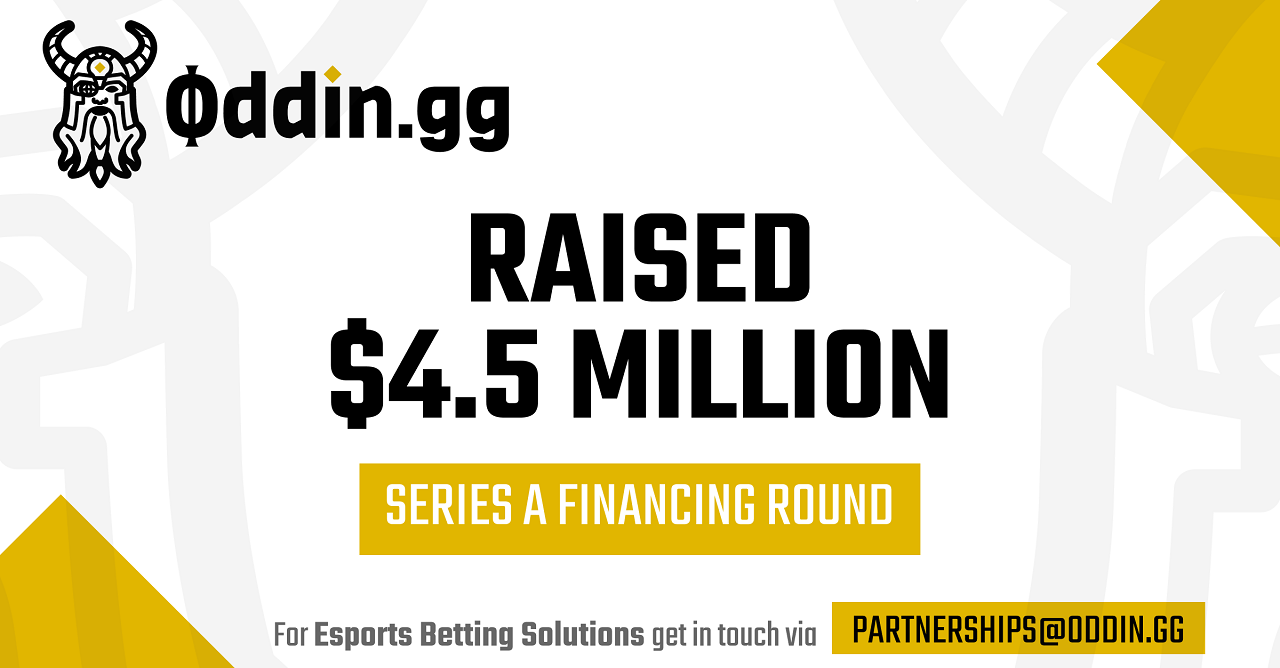 Reading Time:
2
minutes
Oddin.gg, the world-leading B2B esports odds feed, risk management and iFrame provider, is extremely proud to announce a Series A financing round, during which the company raised $4.5m from current investors, as well as from Velo Partners and Genting Ventures.
The round comes after ongoing business momentum, during which the company has not lost a single client in the last 3 years while signing landmark B2C deals with Betway, Yolo group (sportsbet.io and bitcasino.io brands) and Loot.bet, among others, plus major B2B deals, including OpenBet, Aspire Global and Altenar, to name a few. Oddin.gg operates on all continents, and recently started offering its services in New Jersey, US. They have current applications for licences in other US states as well as Ontario, Canada. With an almost 9-digit monthly USD handle under management, the company delivered a 6.7% average margin to its clients in 1H 2022. As one of the very few in the esports ecosystem, the company broke even in July 2022.
The funds will be used to strengthen Oddin.gg's position as a global esports B2B betting leader and to expand to new verticals. Oddin.gg offers a 360° approach towards esports betting, providing betting operators everything they need to set up successful business operations. This includes data visualisations, marketing, odds feed, risk management, and iFrame.
The Series A round comes after a successful seed round in early 2020, in which Oddin.gg raised $1.2m.
Oddin.gg Co-Founder and CEO Vlastimil Venclik said: "On behalf of the entire Oddin.gg team and myself, I am proud of everyone involved. First of all, we want to thank our clients and partners who share our vision and who have made our growth possible. At the same time, we feel fortunate to work with our investors and to see this investment helping us to scale. This round will help us to continue enjoying our exponential growth and development of new services that will cement our position as a leader in the industry. I want to thank all our partners for their trust, and we will work tirelessly on our vision to justify it!"
Genting Ventures said: "We are impressed by Oddin.gg's technology with class-leading metrics for esports betting. From an industry standpoint, we see the dynamic potential of esports, and identify Oddin.gg as a key player offering top-tier data and service for its partners in the competitive gaming space."
Velo Partners said: "We were immediately impressed with Oddin's best-in-market esports odds products, as well as their broader strategy of building an esports ecosystem to service all of their customers' esports needs. We look forward to being a part of this compelling growth story in the coming years"
Quadrant reveals new controller with SCUF Gaming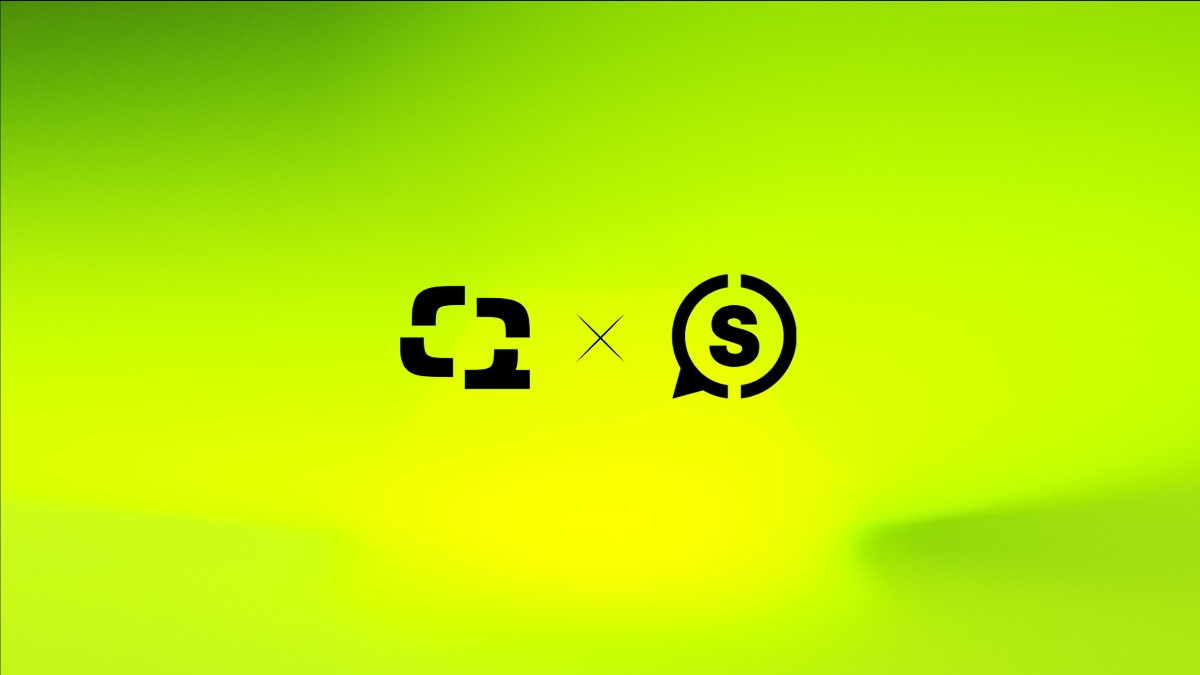 Reading Time:
2
minutes
Gaming, lifestyle, and esports organisation Quadrant reveals controller range with premier performance gaming controller manufacturer SCUF Gaming.
Quadrant, a gaming, lifestyle, content and apparel brand founded by Lando Norris, has today (16 August) announced a new controller range.
Produced with partner SCUF Gaming, a leader in the design and manufacturing of high-performance gaming controllers, the Quadrant range will be available for all platforms with unique Quadrant colours and design available on scuf.co/Quadrant with an additional –5% discount on all orders with coupon code "Quadrant".
This latest project pushes the partnership to the next level, as Quadrant continues to enjoy unprecedented success in the gaming and esports worlds.
Since embarking on a journey into competitive Esports in late 2021, Quadrant has become one of Europe's leading Halo rosters. Quadrant's Halo Team secured its best result to date last month, finishing second after a close-fought final in the Halo Championship Series event in Valencia.
Up next for Quadrant's Halo Team is the Orlando Major in September, culminating with the all-important Halo World Championship 2022 event (20-23 October) as the team looks to build on its exceptional form to secure a first-place finish before the season end.
As Official Controller Partner, SCUF Gaming will continue to play a crucial role in Quadrant's success. A global innovator in its own right, SCUF Gaming create industry-leading custom gaming controllers and premium accessories for console and PC that are used by both professional Esports competitors and casual gamers.
Following the release of the eye-catching Quadrant controller range, the two organisations are already working on exciting future content for both Quadrant and SCUF Gaming audiences, with new releases set for the coming months as the partnership continues to develop.
Jamie MacLauren, Chief Sporting Officer at Quadrant, said: "We're extremely proud to announce the launch of our Quadrant x SCUF Gaming controller.
"This project has been in the works for a while, and we're delighted to see it come to life and provide our community with a high-quality and high-performance Quadrant controller for their gaming sessions."
Diego Nunez, VP of Marketing Corsair Gaming, said: "We're excited to take this exciting partnership to the next level by combining Quadrant's distinctive fluro brand with our high performance controllers!
"As Quadrant grows as one of the most versatile and exciting Esports brands in the world and our PS5 Reflex and Xbox Instinct cement their place as the top performance controllers, we're delighted to launch this new design combining racing, lifestyle and gaming.
"The time has come for Quadrant's Halo team and content creators to get their hands on a unique controller, while ensuring that fans can get their hands on it as well and not only join the #sQUAD, but #TeamSCUF too!"
The bronze at the CEC 2022 opens up new horizons for Indian esports internationally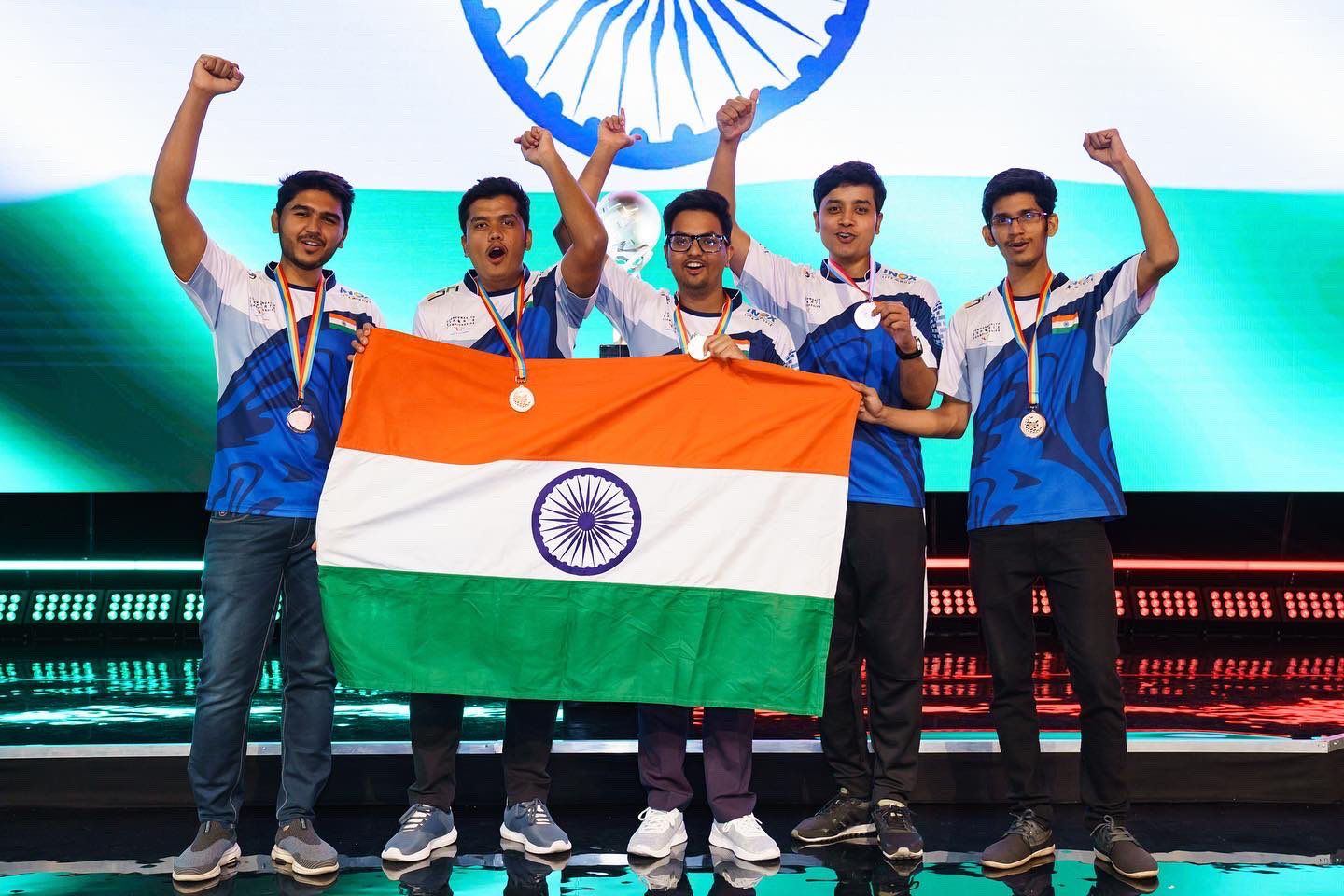 Reading Time:
3
minutes
India's DOTA 2 esports team's victory at the CEC 2022 is a significant milestone in the history of the Indian esports and gaming ecosystem. It will open up new horizons for aspiring athletes who dream to compete in international tournaments in the future, thereby encouraging young gamers to pursue full-time careers as athletes. The win will open floodgates for subsequent industries to rise, birthing new-gen pro-gamers, careers, tournaments, brand associations and sponsorship opportunities among others. As the country celebrates 75 years of Independence, this victory marks a historical achievement for India in the international gaming arena.
The Indian DOTA 2 esports team displayed a smacking performance and won the bronze at the inaugural Commonwealth Esports Championships 2022 (CEC) held recently in Birmingham, England. The winners of the Indian DOTA 2 team, consisting of Moin Ejaz (captain), Ketan Goyal, Abhishek Yadav, Shubhnam Goli, and Vishal Vernekar, defeated New Zealand by 2-0 in an unsurpassed format.
Up until 2010, esports as a concept was relatively obscure in India and rather non-existent, with low public awareness, lack of infrastructure, and little involvement in the development of this sector. However, 2010 saw an enormous surge in the user base due to the popularity of smartphones, affordable high-speed internet, and notable investments in the space.
According to a report by the Federation of Indian Chambers of Commerce and Industry (FICCI) and EY India, the Indian esports industry rose to INR 3 billion in FY2021 and is expected to reach INR 11 billion by FY2025. This only confirms that the growth opportunity for esports in India is exponential and expansive.
Bharat Patel, Co-Founder, and Director, of Yudiz Solutions Limited, said, "A big congratulations to team India for claiming the bronze medal at the Commonwealth Esports Championship for DOTA 2. A remarkable achievement, considering the countless scrims, lengthy LAN games, and complex strategies involved." With reference to esports athletes, he further shares, "the intelligence, mettle, and enthusiasm DOTA players display is utterly amazing. This win will boost the morale of the younger generation to become more active participants, encouraging the industry and the gaming community going forward."
Anurag Khurana who is the CEO & Founder of Penta Esports said, "Congratulations to team India on winning the bronze medal at CEC for DOTA 2. This win will surely bring esports more recognition in India and inspire more aspiring esports athletes at the grassroots level in the country."
Talking about the win Abhishek Aggarwal, Co-Founder, and CEO, of Trinity Gaming India, said, "These are exciting times for the esports industry and a very proud moment for the country and the gaming community. This win by the DOTA 2 team at the Commonwealth Esports Championship has earned a spot for India on the global gaming map and the future of esports looks very bright. This will encourage a new breed of gamers to build their careers leading to a larger pool of talent in the country. This is also an opportunity for brands to step forward in supporting the industry and encouraging the new athletes who aspire to have a career in this arena. We, as industry players, are confident that the government will support this form of the sport by providing adequate support to the esports athletes."
The Indian esports ecosystem witnessed its first international representation (demonstration) at the Asian Games in 2018. Tirth Mehta, who won a bronze at the time, drew the attention of many developers and investors and their interest in Indian esports grew. Coverage and promotional campaigns on various online social media platforms like YouTube, Facebook, and Instagram increased public awareness and further stimulated the popularity of esports in India.
As esports is declared as a medal event at the next Asian Games and Commonwealth Games, India's performance and win at  CEC 2022 have upped the ante for Indian esports in the international arena.