AskGamblers Celebrates $40 Million of Unfairly Confiscated Money Returned to Players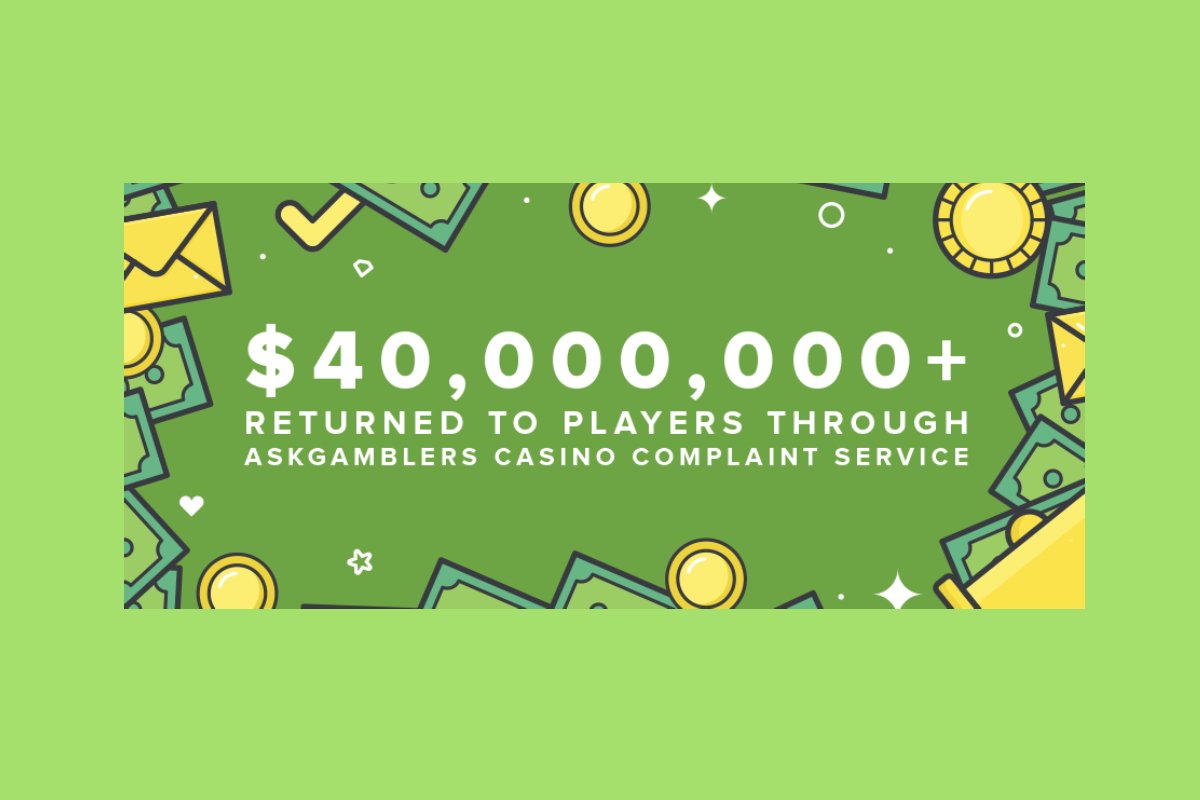 Reading Time:
2
minutes
AskGamblers marks an incredible milestone by returning $40 million to AskGamblers players. Only last year, AskGamblers Casino Complaint Service hit over $30 million in recovered money, once again proving itself worthy of player trust. Today, the number is $10 million higher.
AskGamblers Casino Complaint Service has just recovered $40 million in unfairly confiscated money to players, marking an incredible milestone. Just recently, the AGCCS released its official, annual report for 2020, announcing it helped over $6,084,575.42 go back to players in 2020! Other than the staggering $40,000,000, this number was yet another occasion to celebrate.
Year after year, AskGamblers Casino Complaint Service team keeps outdoing itself with phenomenal results. While unfair player treatment is not too uncommon in the online gambling industry, the AGCCS always shows up to deliver solutions and fix potential injustice. As the money gets returned to players, the Complaint Service's balance grows. Only last year at the beginning of 2020, AskGamblers Casino Complaint Service hit over
$30 million in recovered money, once again proving itself worthy of player trust. Today, the number is $10 million higher, rounding at the total of $40 million of unpaid, delayed or unfairly confiscated money returned to players!
With such an incredible achievement now officially confirmed, we would love to thank all of the players who have been trusting us for years and using our AskGamblers Casino Complaint Service. If it weren't for our players' undivided confidence in getting what they had asked us to do, the AGCCS team wouldn't be as effective, and successful as it is – for years on end. We encourage even more iGaming enthusiasts to turn to us whenever they feel wronged by an online casino.
Whoever is interested in acquiring more information on the Casino Complaint Service team accomplishments for 2020, they can do so on our website by reading a detailed AGCCS 2020 stats report. Until then, we celebrate the astonishing success – the total of
$40,039,875 returned to 14,347 players!

ONLINE GAMING VETERAN MORTEN TONNESEN JOINS SHAPE GAMES AS DANISH B2B PLATFORM AIMS TO ACCELERATE GROWTH IN THE US SPORTSBETTING & CASINO MARKET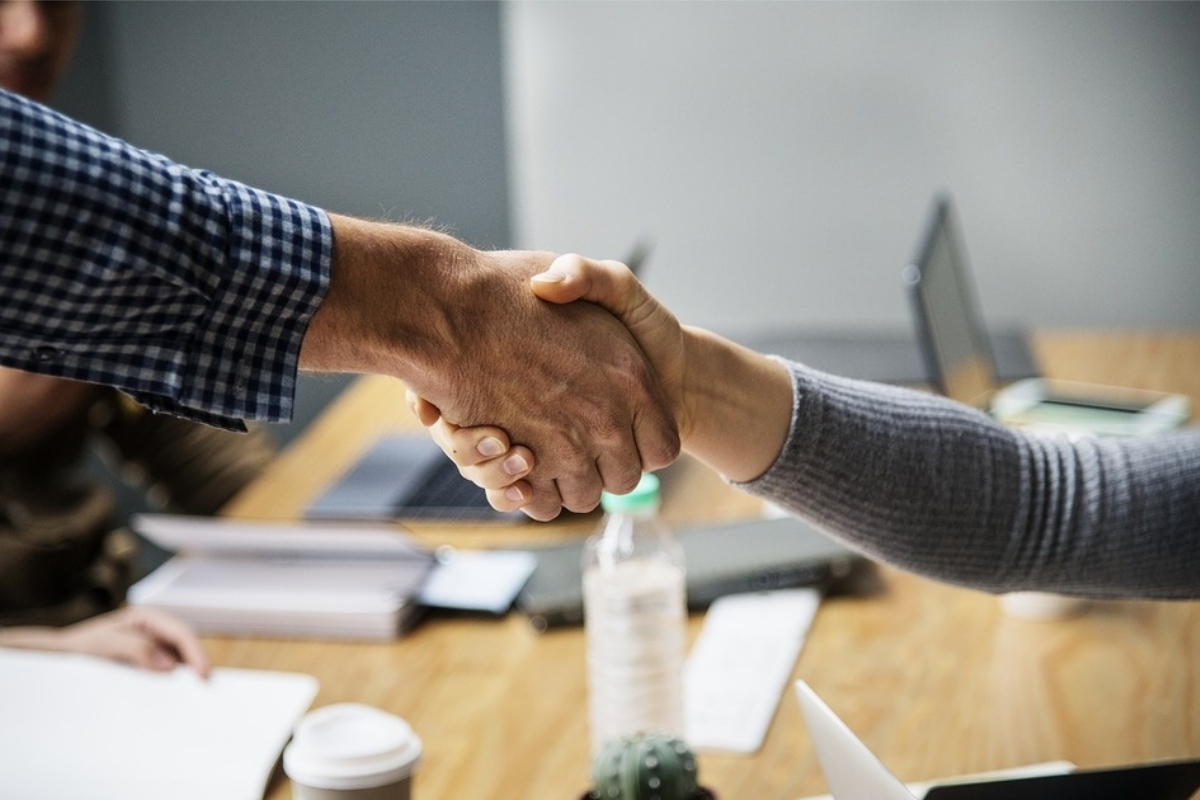 Reading Time:
2
minutes
onnesen brings a wealth of online gaming experience from PokerStars, BetWarrior
Online gaming industry veteran Morten Tonnesen has joined Shape Games as Chief Commercial Officer and also joins the Board bringing more than a decade of industry experience to the company as it aims to grow significantly in the U.S. online gambling market and across the world, Shape founder & CEO Christian Risom announced. Tonnesen was a long time marketing executive with gaming giant PokerStars and was most recently founder and CEO of sportsbetting operator BetWarrior.
Shape is a leading consumer app developer for major global brands and recently created Shape Games to address the specific needs of the online gambling industry. Risom and co-founders CPO Nicolas Linde, CIO Ole Gammelgaard and CTO Philip Bruce have created consumer apps for leading global brands including Apple, ebay, IKEA and Red Bull. Shape also has a long history with Danske Spil, Denmark's state-run gambling operator of Oddset, the leading Danish online sportsbook.
Shape recently renewed a long-term agreement with Danske Spil and is accelerating growth in the burgeoning US sports betting market having launched with ballybet.com in Colorado and Iowa powering 'Bally Friends' with more US clients to come. The company is working in Latin America with BetWarrior.
Shape's innovative and proprietary gaming software platform leverages best practices in consumer apps with first-class native customer engagement platform using predictive analytics and machine learning to inform back-end data and insights. This platform gives gaming operators the ability to improve customer experience and gain competitive advantage in the increasingly crowded marketplace.
Shape's work with Danske Spil has been recognised with numerous industry awards for innovation, while the company has been named an industry rising star by respected industry media outlet EGR for each of the past two years.
"We are excited to bring Morten onboard and our clients will benefit from his deep management and marketing expertise in the online gaming sector," Risom said. "We can deliver a full suite of products and services to local market land-based casino operators who are looking for a one-stop-shop consumer product partner to bring their business and their customers online. Morten's deep experience will help us accelerate our growth and lead the way in the U.S. and European markets."
Tonnesen said: "Shape Games has distinguished itself as a nimble, dynamic and innovative technology leader and I'm excited to help lead the company into its next stage of global growth. Shape's consumer technology domain experience ensures that their modern, customer-focused apps stand above the traditional, clunky gaming apps from the first generation of online operators. This next generation must compete with not only other betting and casino companies, but with other entertainment choices including streaming and social games."
Tonnesen points to Shape's highly customisable native frontend as a unique innovation in the gambling industry and distinguishes the company as a sought-after B-to-B platform and service provider.
Celebrate Fast Times! Sonic Dash Surpasses 500 Million Milestone as Fans Honour 30th Anniversary of Sonic the Hedgehog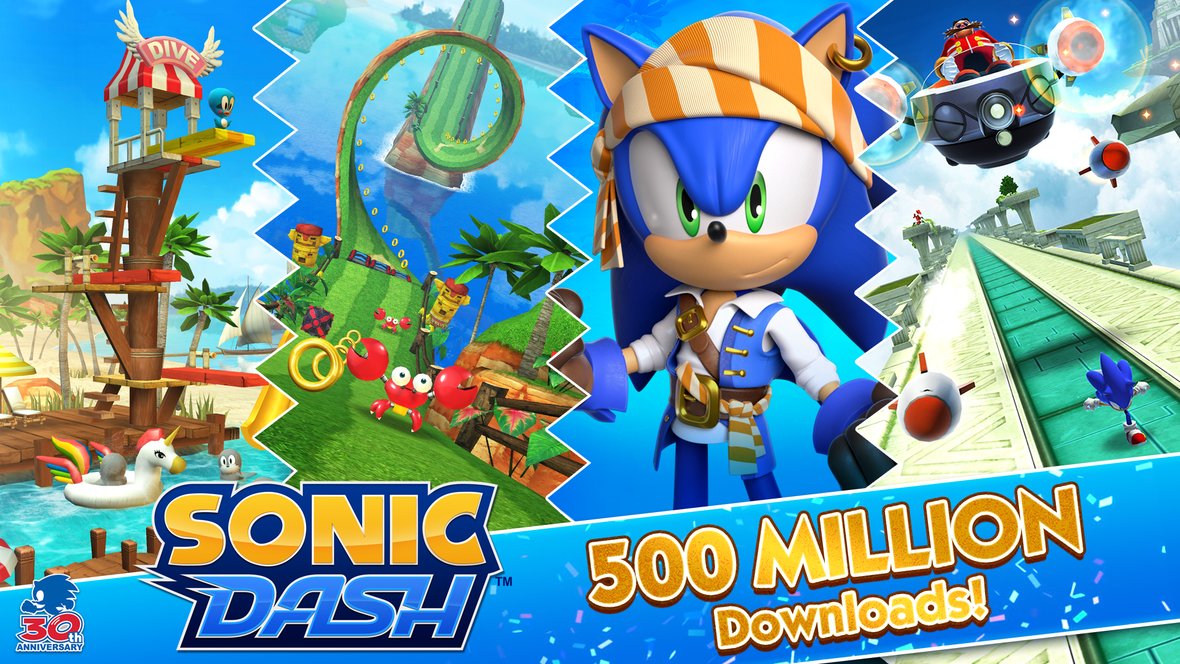 Reading Time:
2
minutes
Beloved IP continues to drive mobile game download growth from loyal global fan base
SEGA of America, Inc. today announced that its hit mobile game Sonic Dash has surpassed a major milestone on mobile devices. Since initially launching in 2013, the game has achieved more than 500 million downloads worldwide. The endless runner game, which stars the famous blue hedgehog running, dashing, jumping, and spinning across stunning 3D environments, is the most played Sonic mobile game ever!
Sonic Dash's major milestone also falls during the 30th Anniversary of Sonic the Hedgehog, which SEGA is celebrating with fans around the world! From the small mobile screen to the silver screen, the Blue Blur is still capturing the hearts of audiences. Last year saw the first live-action movie release of Sonic the Hedgehog, and now the next chapter of Sonic the Hedgehog 2 is hotly anticipated to release next year in 2022.
Sonic Team's Takashi Iizuka: "Achieving over 500 million downloads is a huge testament to the endurance of the Sonic brand and the truly fun, timeless gameplay of Sonic Dash. We appreciate our loyal fans as well as our partnership with both Apple and Google for their enduring support in showcasing Sonic Dash in the App Stores. This milestone could not have been achieved at a better time!"
SEGA HARDlight's Studio Director, Neall Jones: "We continue to be amazed at Sonic Dash's loyal fans and how the game is still driving millions of new downloads every month. A massive thank you to all Sonic Dash fans. We look forward to continuing to provide you with new and innovative in-game events built around the ever-expanding Sonic universe, for years to come."
Sonic Dash was developed by HARDlight, a SEGA of Europe studio. The studio is also behind another wildly popular mobile multiplayer runner: Sonic Forces. HARDlight produces regular events in Sonic Dash, featuring collaborations with highly recognized IP. Starting Friday, September 17, fans can also join a special event in Sonic Dash, honoring this 500 million milestone.
SKS365 WITH KIRON AND HIGHLIGHT GAMES PLANETWIN365'S VIRTUAL SPORTS OFFER BECOMES "REAL"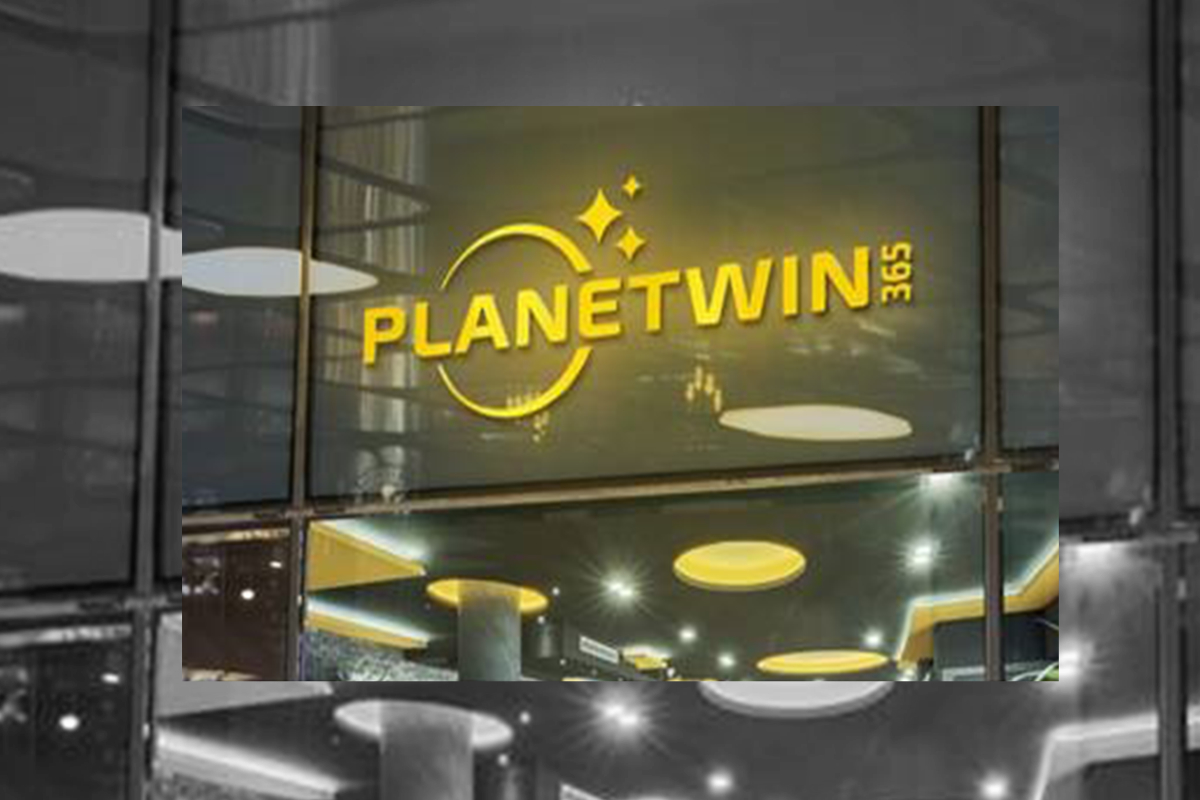 Reading Time:
2
minutes
The offer of virtual sports by SKS365 continues to be enriched with prestigious contents. The international betting and gaming company has signed an agreement with Highlight Games and Kiron, two of the major international providers of Virtual Sports, for the launch – starting today – of two new virtual channels, each dedicated to a supplier. An important and expected novelty that arrives a few days from the Enada Fair, scheduled from 21 to 23 September in Rimini, at which the company will be present in hall C3 at stand 91. For SKS365 and its flagship brand Planetwin365 the partnership will be a further opportunity for growth on the Italian market with a complete offer, after the reopening of the retail network and the complete resumption of activities.
Virtual football with real Serie A images will find space on Planetwin365 with "Highlight Match" and "Highlight League", two of the most popular Highlight Games by users. Through the synergy with SKS365, the British company that revolutionized the sector by offering the opportunity to bet on authentic archival footage with real comments, it aims to grow further in Italy and increase its market share. The agreement with Highlight Games will also allow Planetwin365 to offer – among the first operators in Italy – the new "NBA Last 60" product, which combines virtual basketball events with real images of the great stars and stripes basketball stars.
Further, Dogs and Horses will be the protagonists available on the channel dedicated to Kiron. This is a further milestone for the company who were the first to launch Virtuals in Italy, in 2013. Kiron has the most reliable platform, with the widest range of games and game mathematics on the market. Their racing products are the supplier's flagship titles, thanks to realist visualization, rich contents and award-winning betting algorithms. Planetwin365 users will be able to choose the results in a simple and immediate way and live a virtual experience closer to reality, maximizing involvement.
"We are happy to present ourselves at the most important trade fair in the sector alongside two prestigious partners, Kiron and Highlight Games. Thanks to the synergy with both suppliers, we are now able to offer our customers, online and retail, a first-class Virtual Sports portfolio – commented Troy Cox, Chief Commercial Officer SKS365 -. Our offer is complete, immersive and increasingly realistic, and fully satisfies the tastes and desire for entertainment of our customers ".
Nick Gardiner, Co-CEO, Highlight Games, said: "Highlight Games is delighted to be partnering with SKS365 to bring its premium SOCCERBET products to a wider audience in Italy. SOCCERBET's unique combination of archive Serie A footage coupled with real match commentary has already transformed the virtual sports space in Europe and proven that there is an increasing appetite for video-highlights based virtual sports games. We look forward to launching additional products in the near-future with our valued partners."
Steven Spartinos, co-CEO, of Kiron said: "We are excited to be partnering with Planetwin365, a long established and respected brand in Italy, the country where we first introduced virtual content back in 2013. Our games have established themselves as top performers in the local market and we look forward to them being available to Platnetwin365 customers.