How iQOO's Hunt For India's Next Big Gaming Streamer became the biggest platform to spotlight upcoming streamers across 2.5k+ participating YouTube channels and 2M+ live audiences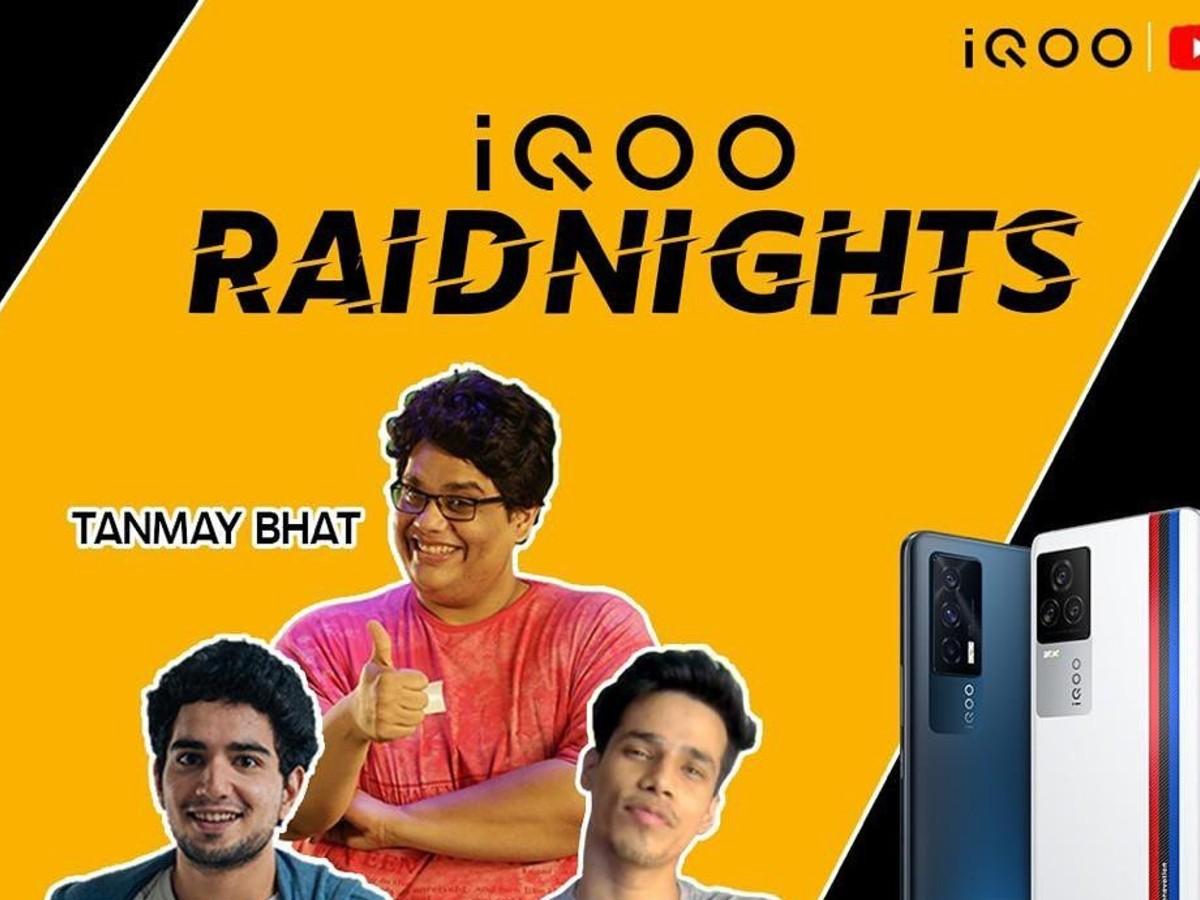 Reading Time:
4
minutes
Gamers and streamers are burgeoning in the country and the numbers are increasing exponentially. This new behavioural change is a trend watched closely by platforms and brands since the audience for these streamers are the most coveted – youth. Engagement rates are unique to just this medium.
There are stories of gamers and streamers from modest backgrounds who have made it big by being good at two things – esports and entertainment. So what is a "raid?" A raid is when a YouTuber/ Streamer with a significant following, asks his/ her viewers to go and watch another creator's live stream. Case in point –  GamerFleet. A young man from Haldwani, Uttarakhand who was streaming to double digit audiences when he was 'raided' by Samay Raina. After the raid, he continued to grow organically not just because of his personality and collaboration with Samay Raina and Tanmay Bhat. Cut to a few months later and GamerFleet has over a million subscribers. This is the beauty of a 'raid'.
So Raid Nights was born. This is the brainchild of Tanmay Bhat in partnership with iQOO – a phone company that puts the gamer before the game. The idea was executed by OML Entertainment with technical partners – Sky eSports. This property was only possible by the power of the platform that is YouTube. Tanmay Bhat, Samay Raina and GamerFleet have been online every Friday evening for the last one month with their new live-streaming property,  iQOO Raid Nights. The three content creators (Also known as raid bosses) presented a once in a lifetime opportunity to aspiring gaming streamers where they would raid the YouTube channels of upcoming streamers asking their subscribers to tune in and watch the live-stream of the channel they would raid, resulting in the aspiring creators seeing increase in live-streaming numbers like never before.
Here's how iQOO Raid Nights happened.
Every Friday from 25th June to 23rd July there were 4 rounds of qualifiers and a grand finale. Participants would stream live on their YouTube channel using the hashtag #iQOORaidNights and the raid bosses would randomly pick and choose which channel they wanted to raid. 2.4k YouTube channels garnered over 8.9k user-generated videos in this time, hoping they would get "raided."  The winners were chosen via a YouTube poll where the audience voted for their favourite performers. Two winners from each qualifier episode won a cash prize of Rs. 20,000 and an iQOO 7 Legend phone. There were super interesting performances and channels that the viewers came across. Some channels that captured people's imagination were Gamer Mummy – A mother of two young adults who streams Minecraft everyday, kukZy Gaming – a gamer who also raps and beatboxes while playing the piano at the same time, Matata QHouse – who did hybrid dance performances with a mix of pre-recorded footage, visual effects and live webcam.
The winner of the first edition of iQOO Raid Nights was Mechanical Pandey – an entertainer who did a rap and dance performance. He also performed a short sketch of him doing random things and being beaten up by his mother which got huge laughs from the audience. The winner got a gaming setup worth Rs. 2,50,000 as the grand prize. The runner-ups were Shiny Kash – A gamer + rapper and The He Man Show – A streamer who lives in his shop and streams every night. He had created special art pieces for iQOO Raid Nights featuring the faces of the raid bosses.
iQOO Raid Nights was hosted by Tanmay Bhat, Samay Raina and GamerFleet on their respective YouTube Channels and was coordinated and executed by OML Entertainment.
Quotes:
Tanmay Bhat – Raid Nights is something that I've always wanted to do at scale. It was great to see that brands like iQOO and YouTube supported this property. The creativity that some streamers bring to the table is something that the audience must discover. One of my favourite channels from this edition was Matata QHouse. Their creativity and performance in the qualifiers just blew my mind
Samay Raina – Live Streaming suddenly grew during Covid quarenatines and many creators tried to showcase their characters and personas on stream although they couldn't reach out to more people.  I'm glad iQOO Raid Nights helped these creators gain a massive amount of reach and an opportunity to showcase their talent. It was a great feeling watching people showcase their unique, unrecognised talent everytime we would raid them. Much love to iQOO for supporting us with this property
GamerFleet – One day I was just randomly streaming with about 500 views and suddenly it shot up to 5,000. That was when Tanmay Bhat raided me as a part of the initial stages of Raid Nights a few months ago. That particular raid helped me garner a lot more reach than usual and then a lot of people started following my content and started tuning in live while I stream. This is exactly what iQOO Raid Nights did with all the streamers who were a part of it. When you have a small channel and your watching increases, the YouTube algorithm sees that the channel is performing better and it recommends the channel more often. I really loved all the channels we raided, but Matata QHouse was my favourite one
Mechanical Pandey (Winner) – iQOO Raid Nights helped me quite a lot in terms of expanding my reach and discovering my creative abilities. I'm glad to have been a part of this wonderful event and I also believe Tanmay-bhai and Samay-bhai would want to stream with me in the future which I'm really looking forward to. My YouTube numbers increased tremendously and I'm glad a lot of people have now discovered me and my craziness. I'd really like to thank all the people who voted for me, and primarily Tanmay-bhai, Samay-bhai and Fleet-bhai for tuning in to my channel in the middle of all the 1500 channels that were streaming in the week I had participated, and giving me an opportunity to entertain and bring smiles on about 1 lakh people's faces across 2 streams. I'm super excited to get my hands on the new gaming setup that I've won.
Gunjan Arya (CEO, OML Entertainment Pvt. Ltd.) – We are always on the lookout for upcoming talent that we can support, and have been bullish on online gaming for some time now. We're super thrilled to have partnered with iQOO and YouTube in a way that is not only rewarding for the brand and the platform but for the online gaming space as a whole. The power of Creators + Brand + Platform really came together for a proper OP moment. Tanmay's guidance and the super Samay and GamerFleet to boot have been invaluable collaborators. We came across a lot of new streamers including the incredible Gamer Mummy through the campaign and we will continue to do a lot more of this.

'Penta Amateur League' December to feature BGMI, November results announced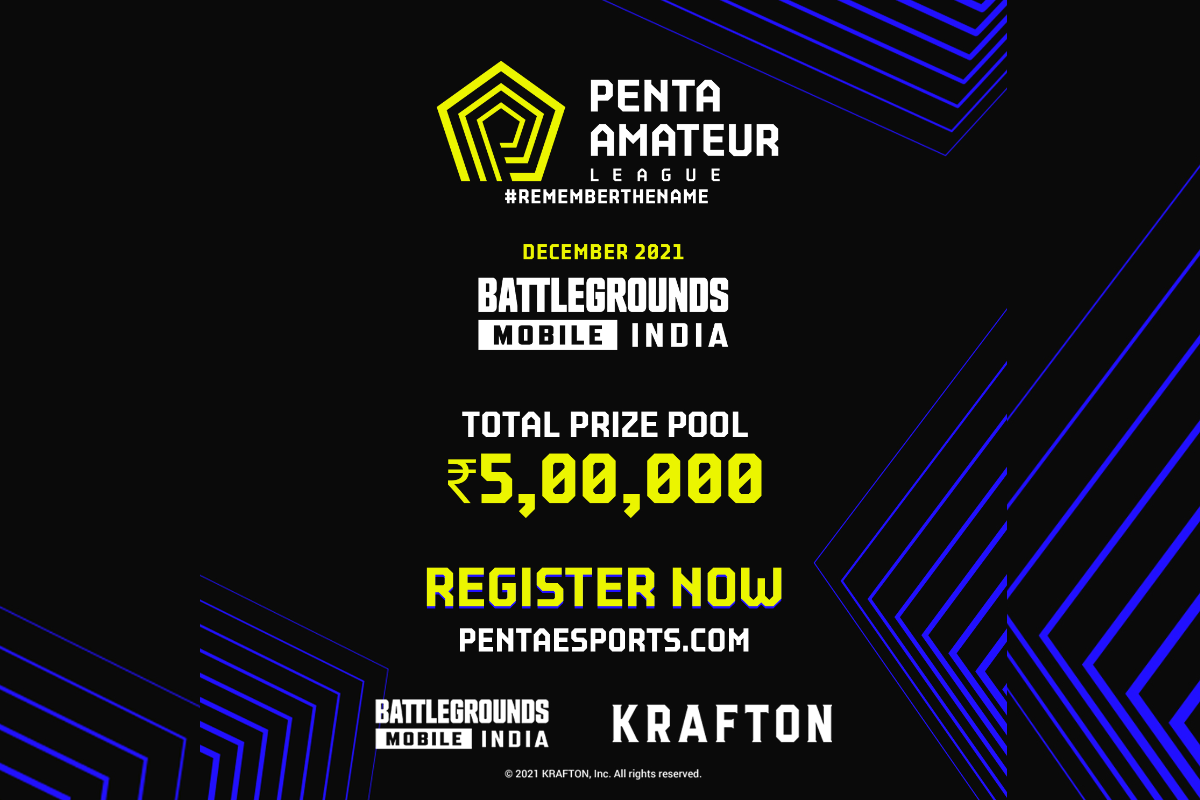 Reading Time:
2
minutes
Gaming and esports company, Penta Esports, has announced that 'Battlegrounds Mobile India' (BGMI) will be the esports title of 'Penta Amateur League' December 2021 edition with a prize pool of ₹5,00,000. Registrations have started and squads can enter the tournament on Penta Esports' platform.
The qualifiers of the tournament will run from 13th to 21st December. The finals will be broadcast live on Penta's Facebook page and YouTube channel from 28th to 30th December. The broadcast will be preluded by the 'Penta Talk Show' on 25th December.
The 'Penta Amateur League' is exclusively for amateurs and semi-professional esports athletes and teams. The games chosen for the tournament throughout the league will be platform agnostic and will include PC, console and mobile titles. Season 1 of the league will run for six months, October 2021 to March 2022, with a monthly prize pool of ₹5,00,000, adding up to a total prize pool of ₹30,00,000.
The November 2021 edition of the league featured Valorant. The playoffs took place from from 26th to 28th November with team God Particles winning the tournament 3 – 1 in a best of 5 match finals against Nogas Esports.
The broadcast of the playoffs were preluded by the Penta Talk Show, with the caster and host discussing the qualifiers, team journeys and discussing possibilities for the playoffs. The final day of the playoffs also saw an opening music performance by singer and songwriter, Sushant Satija prior to the matches.
Said Penta Esports co-founder and head of esports Kiran Noojibail "Our aim is to provide aspiring esports athletes of the country with a platform to showcase their skills and earn recognition. BGMI is a popular title in India and this tournament will be a stepping stone for budding esports athletes of this game to come to the limelight ."
The complete details of the league are available on Penta Esports' platform, pentaesports. com. The platform is a one stop destination for all things Penta, including match schedules, match results, VODs of tournaments and leagues, content, news, announcements and much more.
Founded by industry veterans Anurag Khurana, Kiran Noojibail and Akshay Paul, Penta Esports aims to disrupt the ecosystem in India with a holistic approach towards the sector, including leagues, tournaments, content and much more.
Microgravity to host MGL Free Fire Battle Royale this December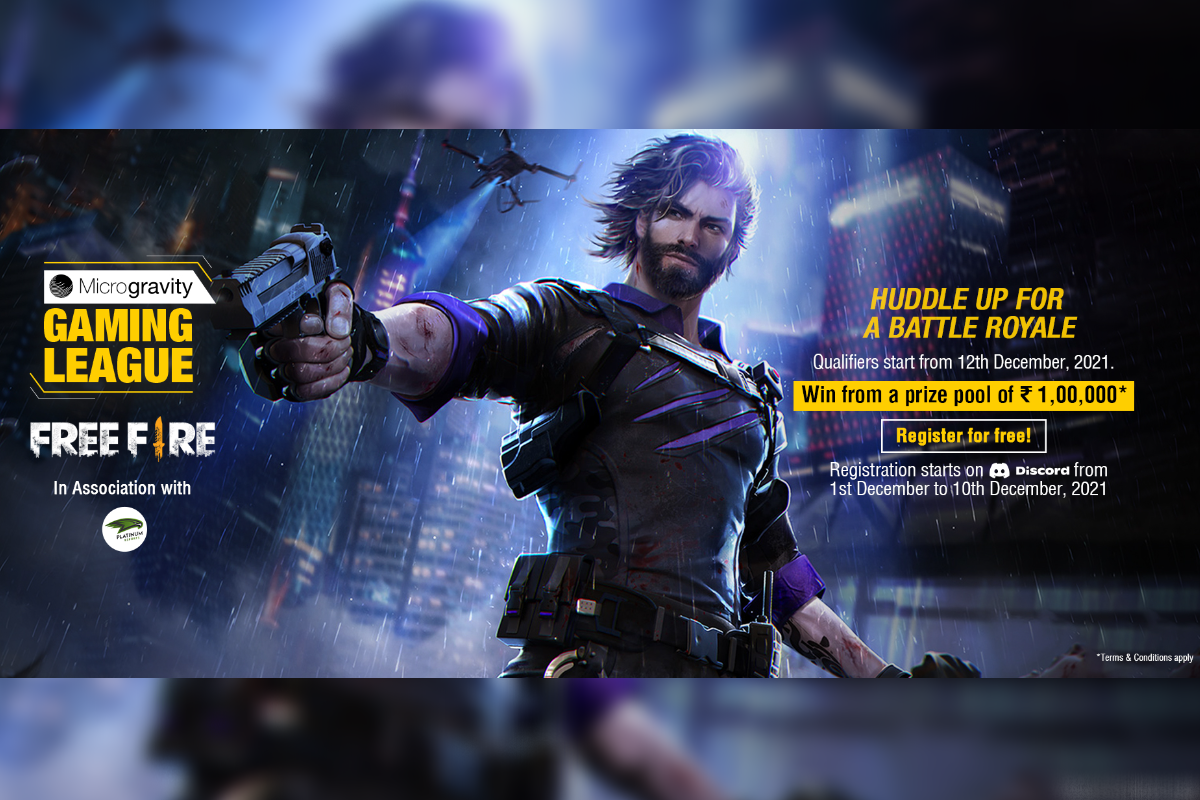 Reading Time:
2
minutes
Microgravity Ventures Private Limited, a facilitator of world-class gaming hubs and e-sports tournaments in India, today announced the 5th edition of Microgravity Gaming League (MGL) – Free Fire Battle Royale. The company will be hosting this e-sports tournament in partnership with Platinum eSports between 11th and 22nd December. The format of the tournament will be qualifier and invitation based, spread out in 5 phases – qualifiers, phase 1, phase 2, semi-finals and grand finals. Microgravity has announced a total prize pool of Rs. 1 Lakh for the top three teams and exciting gaming vouchers redeemable at their world-class gaming facility in Gurugram for top 5 viewers of the live broadcast. Teams can register from 1st till 10th December and participate in this competitive all-India tournament.
Speaking about the announcement, Mr. Rahul Bhattacharya, Co-Founder and MD, Microgravity said, "We are thrilled to have partnered with Platinum eSports for the 5th edition of MGL  – a Free Fire tournament. This year, we have witnessed immense enthusiasm and curiosity among Indian games for e-sports tournaments. We strongly believe that MGL Free Fire will be a great success and will serve as a platform for gaming enthusiasts to hone their skills. Through these tournaments, we aim to support and promote gamers in India who are exceptionally talented and need support to further enhance their skills. We are also planning to host several such tournaments with new titles going forward that will help players become more polished in their skills."
A total of 1000 teams can participate in this tournament with 4 players per team along with one substitute. The qualifiers stage will be held in the 'Bermuda' map in two phases with 100 groups participating in phase 1 and 30 groups participating in phase 2. Each group will have 10 teams taking part in the tournament. Top 3 teams from Phase 1 and Top 4 teams from Phase 2 of the qualifiers stage will take part in the quarter finals match. A total of 120 teams can take part in the quarter finals match spread in 12 groups of 10/11 players taking part in each group. Top 4 teams will be shortlisted based on the best of 2 matches in 'Bermuda' and 'Purgatory' map for the semi-finals. During the semi-finals stage, 8 teams were invited to take part in this challenge and a total of 60 teams battled for the finals. Top 2 teams will qualify for finals based on the best of 4 from maps- Bermuda (2), Purgatory, Kalahari. Two additional teams will be invited to take part in the finals and will have a total of 12 teams in this stage. This stage will have only one group with 6 matches happening across maps – Bermuda, Purgatory and Kalahari.
This year, Microgravity has successfully organized two online gaming tournaments which gained significant traction amongst gamers. These tournaments were the MGL FIFA 21 tournament and the MGL Call of Duty: Mobile tournament.
Everton Announces Partnership With i8.BET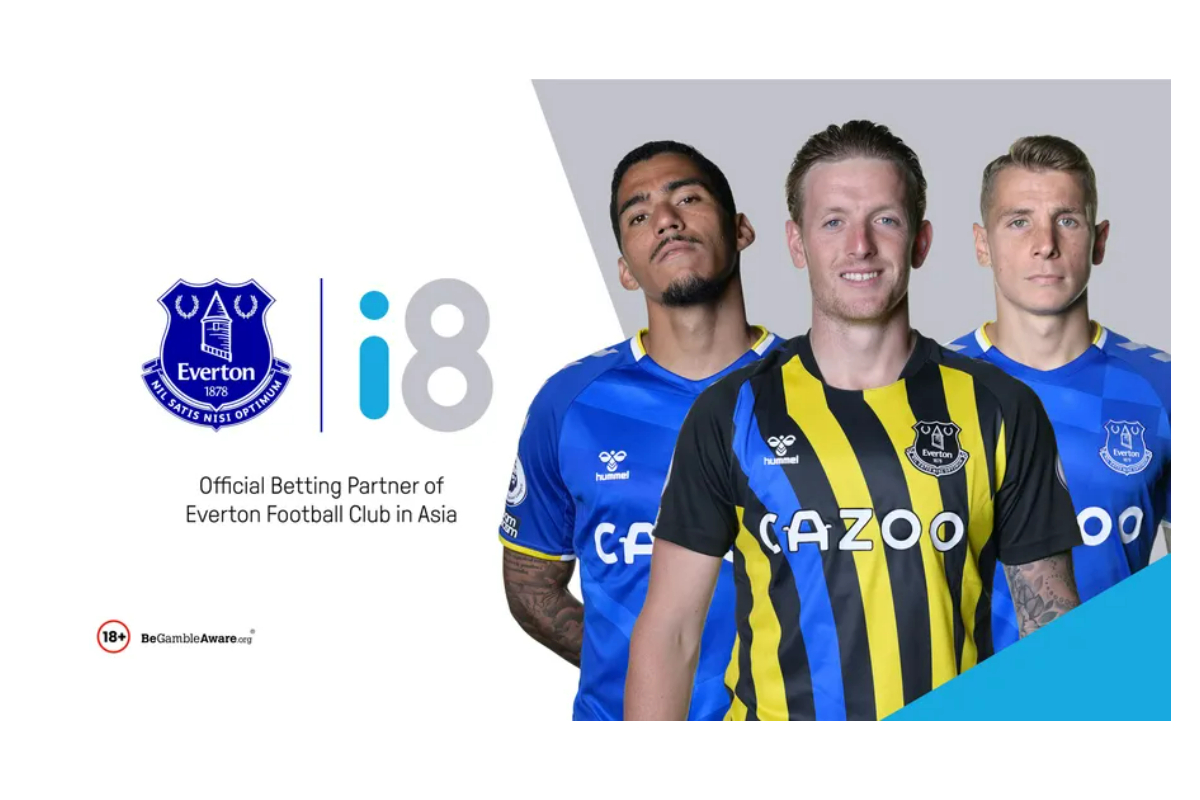 Reading Time:
< 1
minute
Everton Football Club has further expanded its international partnership portfolio by signing up i8.BET as a new commercial partner.
The deal will see i8.BET become the Club's exclusive Official Betting Partner in Asia, as the gaming brand continues to expand its trusted and innovative platform in the online betting market across Asia and beyond.
As part of the partnership, i8.BET branding will be visible on matchdays across Goodison Park and on the Club's online platforms in Asia, in line with age and territory restrictions. The company will also have access to imagery of the Everton squad for their commercial activities.
The regional agreement supports Everton's international growth strategy with the partnership offering the Club a chance to further extend its reach into commercial markets in Asia.
Darren Wang, CMO at i8.BET, said "In line with our global tagline of "Choose The Best", we are excited to exclusively partner with such an iconic Premier League team as Everton Football Club; a partnership that will see us working with the club on a number of exciting and innovative initiatives and promotions in key brand territories in support of our ongoing brand expansion and trust building efforts."
i8.BET will use Everton's name and brand extensively in marketing activity across Asia, where they have a presence in several important and largely populated territories.