BETER brought new exciting feature to efootball streams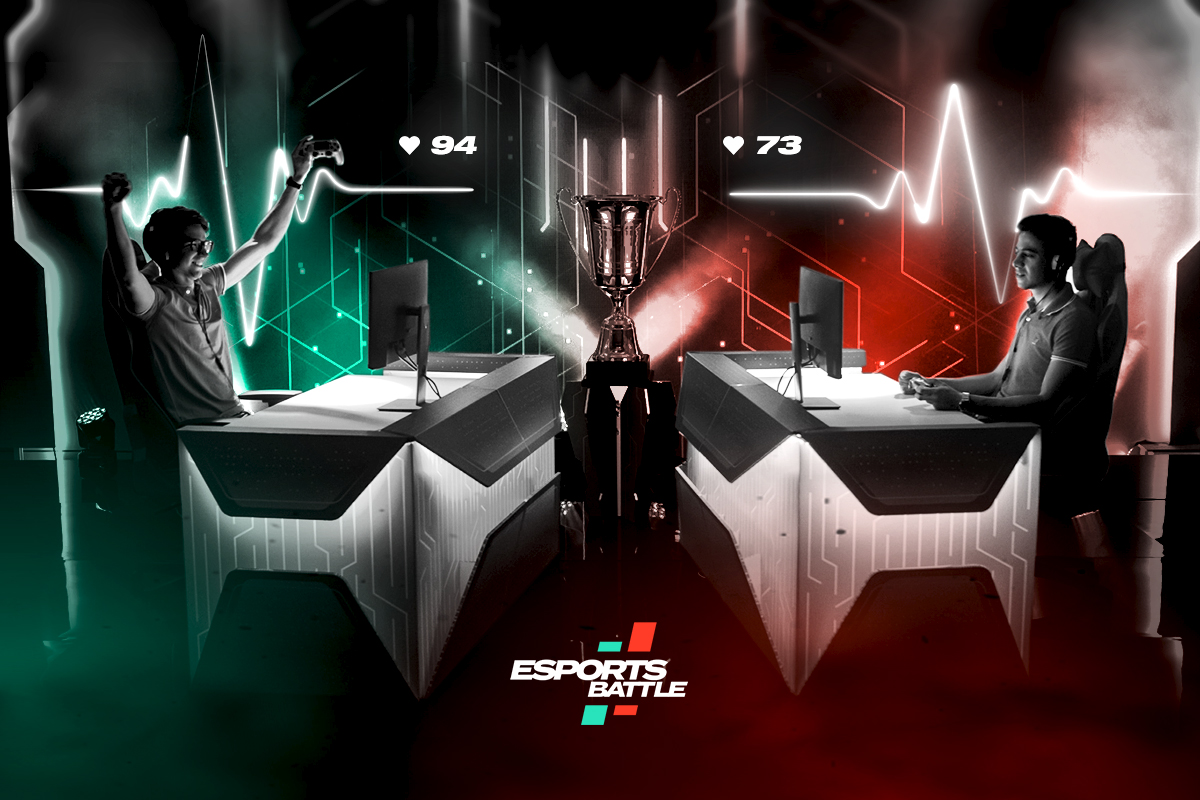 Reading Time:
2
minutes
Leading provider of sports and esports content, BETER, have enhanced efootball live streams of ESportsBattle Tournaments with the addition of heart monitors. This innovative feature is set to become one of the key drivers of revenue growth and customer acquisition for sportsbooks.
"As we've enhanced efootball live streams with the addition of heart rate monitors, сustomers can now count on an even more immersive betting experience and sportsbooks get cutting-edge solutions, which meet the needs of the betting industry. What's more, the addition of heart monitors will clearly have the desired effect as we expect to see a 15% increase in views of ESportsBattle live streams and a 5% increase in customer's average stakes.
Here at BETER, we are committed to delivering an unparalleled user experience and creating high-quality content, which is both appealing to viewers and profitable for our clients", said Alex Lobov, BETER's Chief Product Officer.
Now, with the addition of heart monitor data, both players and bettors can make more accurate decisions. The monitors utilise BETER's proprietary data collection software, which guarantees that all the information is correct and up-to-date.
BETER company believes that ESportsBattle Tournaments events can help sportsbooks harness their full potential via the provision of fast, profitable esports content. In addition to live streams, BETER provides accurate odds and a lightning-quick, high-precision incident and data feed.
ESportsBattle is an esports platform which features commercial efootball, ebasketball, eice hockey and CS:GO 24/7 tournaments, which are popular in 150+ countries, as well as a non-commercial efootball league, an educational project and media channels featuring match highlights which are popular with players, fans and bettors alike.
BETER is a leading provider of fast sports & esports content, live streaming, live data, and odds for the betting industry. In addition to powering the Setka Cup and ESportsBattle tournaments, BETER also offers trading of global esports events.

Luno Join Forces with Monstax Guild to Launch Blockchain Gaming Tournament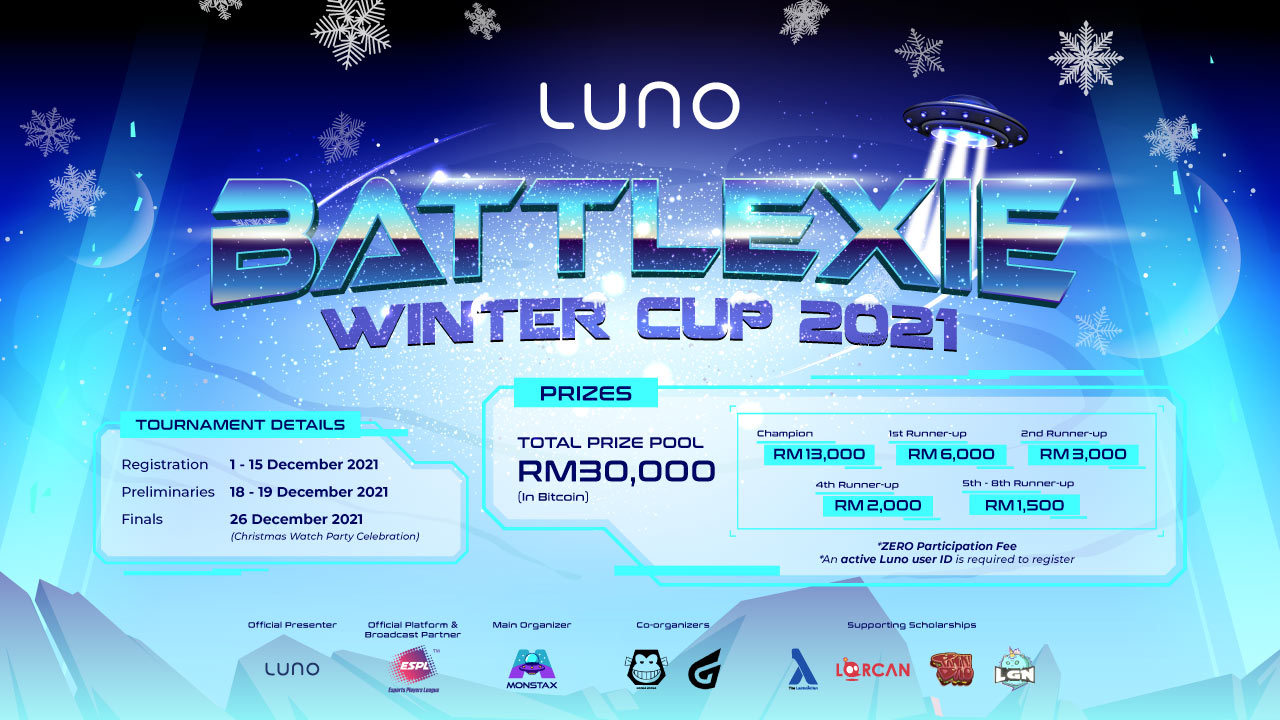 Reading Time:
3
minutes
Luno, the leading regulated digital asset exchange in Malaysia, announced its partnership with Monstax Guild as the main sponsor for the Luno Battlexie: Winter Cup 2021, a blockchain gaming tournament featuring the popular non-fungible token (NFT) game, Axie Infinity.
Luno Battlexie: Winter Cup 2021 is part of Luno's commitment in supporting Malaysia's growing blockchain gaming community. The rise of NFT games has revolutionized the gaming industry by highlighting the potential of play-to-earn (P2E) games in building a new digital economy and creating a new competitive esports ecosystem. Most notably, Axie Infinity has garnered two million daily active players globally where they collect, battle, and breed NFT creatures to earn Ethereum-based digital assets, which players can choose to convert to regular currency.
Aaron Tang, Country Manager of Luno Malaysia shared, "Investing and trading are no longer the only ways to profit from digital assets as consumer trends continue to evolve. In particular, NFT games have become increasingly popular among consumers interested in earning cryptocurrency through gaming. As such, it is no surprise that NFT games like Axie Infinity saw major growth over the past year and bridged the gap between the gaming and cryptocurrency worlds."
"Thus, we are proud to partner with Monstax Guild to support the local gaming community and help grow the blockchain gaming scene in Malaysia. Luno provides a safe and convenient platform for users to buy, store and learn about cryptocurrencies. Through our platform, we hope it will give curious Malaysian gamers the necessary tools to start their cryptocurrency journey", added Aaron.
With the rise of blockchain gaming, Monstax Guild has established a fair community platform that empowers players with the opportunity to experience P2E games. In addition, the platform aims to build a competitive, ever-learning, growth-driven, equal and lucrative ecosystem for the blockchain gaming community.
Shas Fung, Co-founder of Monstax Guild said, "We are delighted to partner with Luno for a tournament that provides a competitive stage for a new generation of gamers in Malaysia. Our goal is to support P2E gamers by creating a conducive environment for players to thrive through scholarships and training within a strong community. As the local blockchain gaming community grows in Malaysia, we will continue to organize future tournaments and strengthen the local NFT e-sports scene."
Build your dream team
From 1 to 15 December, players can register their participation on the tournament's Discord channel and stand a chance to win a share of the prize pool worth up to RM30,000 in Bitcoin. Preliminary rounds will commence from 18 to 19 December, where top 8 players will be selected for the semi-finals, and top 5 players will be shortlisted for the grand finals that will be held on 26 December.
The Luno Battlexie: Winter Cup 2021 tournament is free to enter and open to all verified and active Luno users in Malaysia aged 18 years and above. The grand finals will also be streamed live on Esports Players League (ESPL) tournament platform, the official broadcast partner for the tournament.
Jeffrey Patrick, Head of Tournaments at ESPL commented, "As a leading esports tournament platform that provides immersive mobile experiences to amateur gaming communities globally, this collaboration with Luno and Monstax Guild allows ESPL to bring an exciting new generation of P2E games to our regional gamers, starting with Malaysia. Through our ESPL.GG platform and proprietary technology, we aim to bridge the gap between esports and cryptocurrency arenas. By working with the best NFT games globally, this partnership marks our entry into the GameFi metaverse, alongside up-and-coming local studios and the largest game publishers globally. We look forward to and welcome future collaboration with brands, publishers and partners who aspire to be part of this mega-growth."
THE FUTURE FORECAST 2022: ESPORT IS THE NEW FAMILY SPORT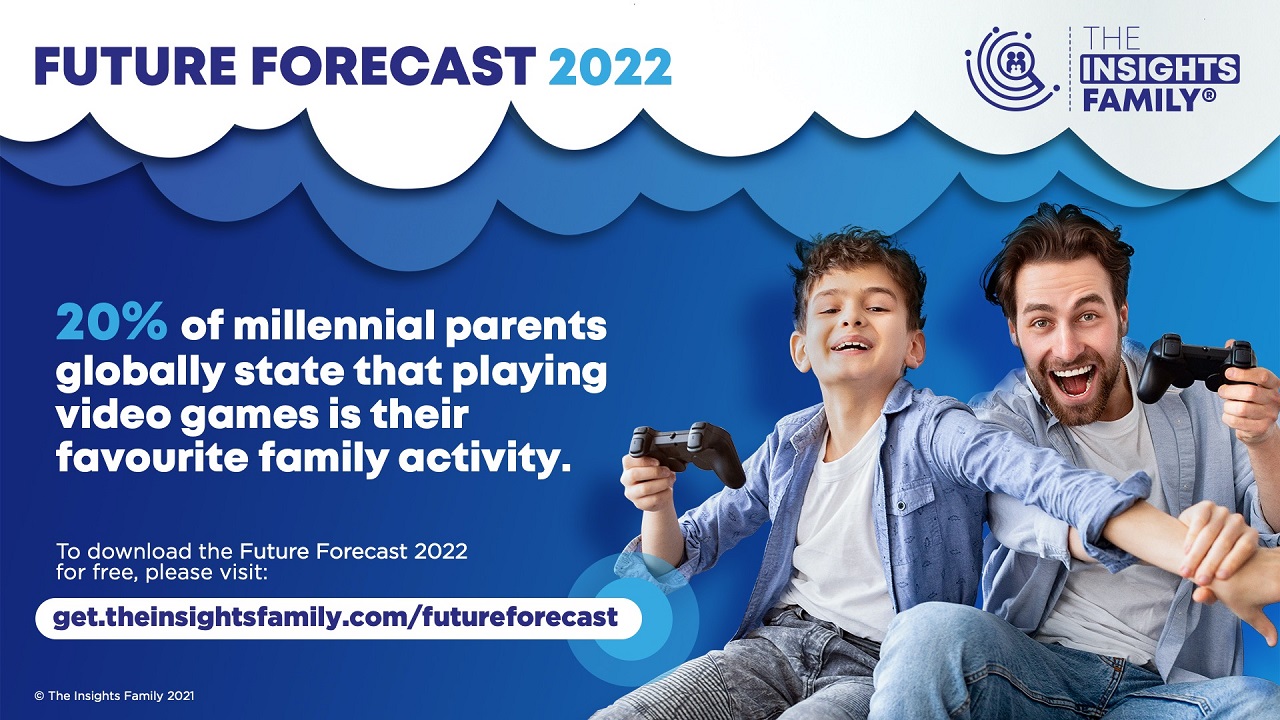 Reading Time:
2
minutes
The Insights Family, the global leader in kids, parents, and family market intelligence, launches their annual Future Forecast 2022 report, which predicts some of the key trends in the kids, parents and family universe to watch out for next year.
Predictions include:
The impact of the "flexible family" will see new opportunities in terms of the times of the week families can share experiences which is likely to further fuel the experience economy as the influence of kids is expected to grow across all family purchasing decisions.
Education to be reinvented and for the creation of school for the family, based on the growth of family-focused edutainment and education experiences.
Esport becomes the new family sport with more and more parents exploring this activity with kids.
According to the report, 20% of millennial parents globally state that playing video games is one of their favourite family activities – ranking as the number one hobby amongst families in the US. As parents are interacting more with the gaming industry, the study suggests that it is only a matter of time before esports becomes a family viewing experience also. In the same way that Traditional sports viewership unites the family unit, so too will esports in time.
When it comes to playing sports, parents are 70% more likely than kids to have influence over this activity. The same is true of attending live sporting events, although in this case the asymmetry in influence is even more pronounced towards parents, who are 93% more likely to influence this family activity. In the sporting world, parents are the key decision makers in the family unit.
But esport trend will be accelerated through kids' influence in the household. We are even likely to see esports be handed up the generations, in contrast to traditional sports. The Insights Family's previous data has shown that parents have significant influence over sports events, but recently we have seen that 74% of kids globally hold a lot of influence over video games in the household, according to parents. More parents are being exposed to the world of esports than ever before, and as such the industry must be prepared for an influx of new audiences to cater for.
More parents are being exposed to the world of esports than ever before, and as such the industry must be prepared for an influx of new audiences to cater for. As a result, we are likely to see the esports industry pivot in order to make their branding, marketing and partnerships reflect more of a family focus in the coming years.
Sarah Riding, Senior Research & Trend Director at The Insights Family comments,
"Increasingly, parents will recognise the appeal and legitimacy of esports as an activity worth spending time on, particularly as it moves increasingly into the family space. Whether this is passively through watching competitions or encouraging kids to spend more time pursuing their esports related talents"
Future Forecast 2022 is the fourth iteration of the coveted report, which has previously predicted the rise of Direct to Consumer (2017), Generation Speak (2018) and Co-Creation (2020).
The report which is inspired by the company's extensive knowledge and insight of surveying more than 500,000 family members across 18 countries every year, has continued to track and monitor the impact of a number of key factors such as Covid, technology and the environment and how they are transforming the attitudes, behaviour and consumption of kids, parents and families around the world.
The complimentary 26 page Future Forecast report is available to download by visiting: get.theinsightsfamily.com/futureforecast
Allied Esports and Cyberathlete Championship Series teams up with Challengermode to host SI2022 Open Qualifiers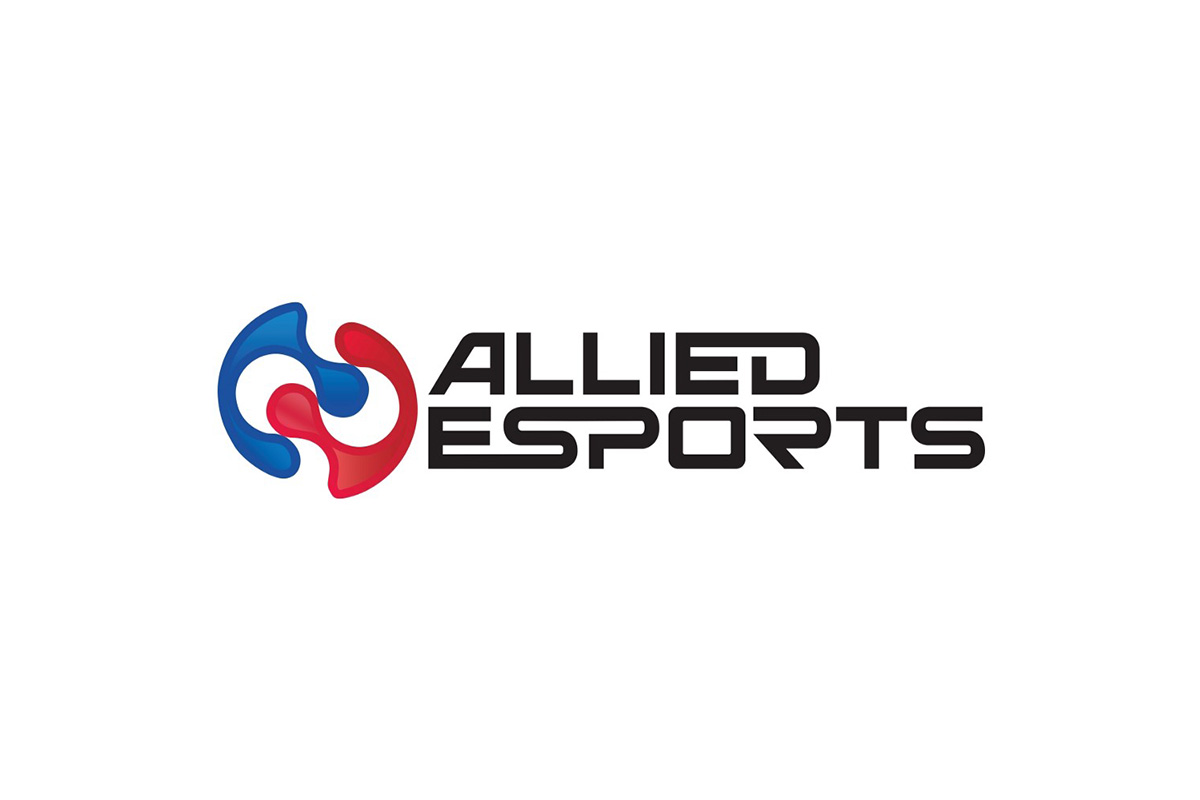 Reading Time:
2
minutes
Leading global esports platform Challengermode has teamed up with Allied Esports and Cyberathlete Championship Series to host the European and North American open qualifiers for the 2022 Six Invitational – the last chance for competitors to make it to the Rainbow 6 World Championships in Montreal.
The winner of the open qualifiers for each region will win a spot at the SI2022 finals being held in Montreal, Canada next February. There they will have a chance to compete against the best professional teams in the world for a prize pool of $3million. The Group Stage will take place from February 8th-12th, playoffs from February 14th-20th, with the Grand Final happening on February 20th 2022.
Organised by Allied Esports and the Cyberathlete Championship Series (CCS), the first Qualifier starts 4th December, with tournament sign-up now available for any hopeful teams across Europe or North America. Only one slot is up for grabs from each regional qualifier of North America, Europe, Latin America and Asia Pacific, so expect competition to be fierce.
Philip Hubner, CBDO at Challengermode said: "Having Allied Esports and the Cyberathlete Championship Series choose Challengermode as the platform to host open qualifiers for the SI2022 competition is a wonderful endorsement of our ability to make the highest levels of esport competition open to anyone. CCS is a pillar of the community tournament scene for Rainbow 6 in North America, and Allied has been instrumental in elevating the level of competition across Europe. We couldn't be more excited to be working with such impressive organisers, and hope that players will enjoy competing using the Challengermode platform to play on the biggest stage in the Siege year, and even potentially become World Champions."
Rob Walker, founder of the Cyberathlete Championship Series said: "The support Challengermode has been able to offer through its automated tournament platform has made scaling the open qualifiers to any size we may need exceptionally easy. We've been extremely happy with the usability and versatility of the tools they've been able to provide, and we look forward to working closely with Challengermode to offer as many teams as possible the chance to compete at the highest level of competition for Rainbow 6 Siege."
Leon Groenewoud, CEO Europe and VP Gaming & Esports at Allied Esports added: "We're incredibly excited to be producing the European qualifiers for the SI2022 in our Hamburg studio. Being able to rely on Challengermode to once again provide the best platform to administrate the tournaments frees us up to focus on providing the best possible production services to elevate creators, competitions and content across the esports industry."
Interested teams can sign-up for the chance to qualify for the World Championship in R6 with SI2021 through the Challengermode website here. Open qualifiers will run from 4th-18th December, with North American Qualifiers viewable via the official CCS Twitch channel and European Qualifiers via the official Rainbow 6 Twitch Channel.