Veloce Racing bow out of Island X Prix after pacey Sardinia outing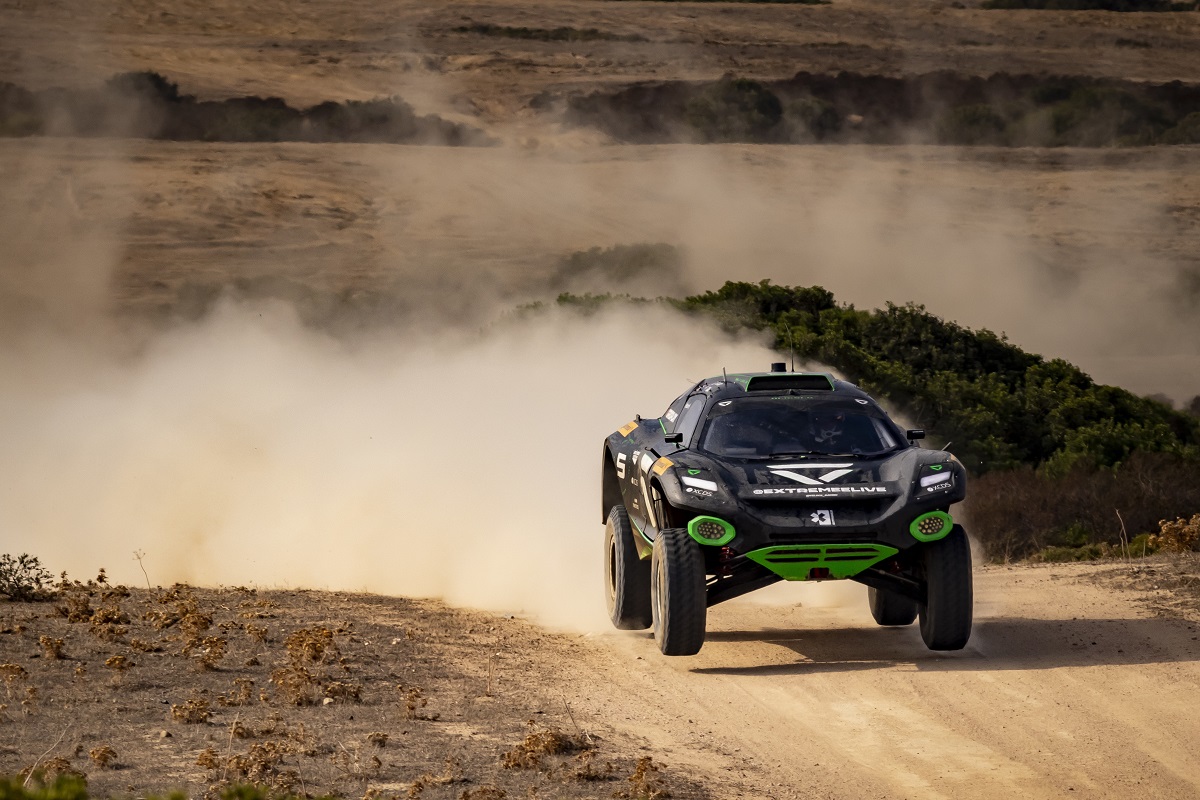 Reading Time:
3
minutes
Extreme E team show strong speed in penultimate round of the season but ultimately fail to reach the final following spectacular crash for Sarrazin 
Veloce Racing's hopes of a second Extreme E podium were extinguished at the Island X Prix in Sardinia following a dramatic barrel roll in the aptly named 'Crazy Race'.
The London-based squad arrived in Italy with high hopes following the team's efforts to the reach the final in Greenland, which ultimately fell short during Stéphane Sarrazin's spirited excursion through the infamous 'Rock Garden'.
Veloce got off to a strong start in Sardinia when Sarrazin and team-mate Emma Gilmour topped the timesheets in the initial practice runs and eventually finished third in the session.
Qualifying
Qualifying 1 in Sardinia was arguably the team's most competitive outing of the inaugural Extreme E season. Calm and committed runs from both Gilmour and Sarrazin saw the duo finish an impressive third just 18 seconds adrift of pacesetters X44.
The team carried this momentum into the second qualifying session of the day and looked on course for another promising result as Sarrazin kept pace with X44 during the early stages of his run.
It was not to be, however, with the ODYSSEY 21's front suspension failing during the course's unforgiving second sector, forcing Sarrazin to grind to a halt and slip out of contention.
The disastrous Qualifying 2 run meant that Veloce Racing was eighth overall – just three points shy of second place, highlighting the volatility of the Island X Prix – and would take part in the Crazy Race on Sunday.
The Crazy Race
As the lights went out for the Crazy Race, Gilmour's lightning-quick reactions weren't enough to withstand the advances of Kevin Hansen in the JBXE car who capitalised taking the optimum route.
The New Zealander seized the initiative and switched lanes, trying an alternate line to gain the advantage into the first gate. Unfortunately, it didn't pay off and the Veloce Racing car slipped into third position.
Gilmour handed the reigns over to Sarrazin hot on the heels of Christine GZ. The Frenchman immediately began applying the pressure to the Italian, and it paid off as the second-place car pulled over with mechanical gremlins releasing Sarrazin to hunt down JBXE.
The attack was short-lived, however, as Sarrazin hit a dip and fired the back of the car up into the air, pitching the ODYSSEY 21 into a spectacular barrel roll. Mercifully, Sarrazin emerged from the wreckage unscathed, but the team's aims of a second Extreme E podium were over.
As a result of the crash, the Veloce Racing ODYSSEY 21's chassis was compromised and subsequently, the team are unable to take part in next week's Extreme E damper test and rookie test.
Stéphane Sarrazin, Extreme E Driver, Veloce Racing said: "It was a crazy race. I did my best to catch the JBXE car, the team were keeping me updated on the time difference and I was catching.
We knew we had to win to get to the final so we had to push. I attacked one of the compressions straight instead of side on and unfortunately the car rolled. I'm disappointed for the whole team as we really had the pace to be at the front this weekend.
Emma Gilmour, Extreme E Driver, Veloce Racing said: "Absolutely gutted. Stéphane and I had such good pace this weekend and to end up in the Crazy Race was really disappointing to start with.
"Personally, I'm disappointed I didn't get a better start, from then on we were struggling with the dust and I handed over to Stéphane in P3. He did a great job to get past Christine GZ but got caught out in the rough stuff so glad he's OK but just really sad for the team as we had good pace this weekend and it started so positively."
Daniel Bailey, CEO, Veloce Racing added: "Despite the setbacks we faced at the Island X Prix, I think there are a lot of positives that Veloce Racing can take away from Sardinia. Pace-wise, this was our most competitive outing so far.
"We were fast in practice setting the pace early on and ending up P3 and we followed that up with another P3 in Qualifying 1. We got unlucky in Qualifying 2 and in the Crazy Race but this is motorsport and these things happen. I think we'll come away from this weekend as a stronger team and we'll aim to finish on a high note in Dorset in December."
Jean-Eric Vergne, Co-Founder, Veloce Racing commented: "The most important thing was to see that Stéphane [Sarrazin] is out of the car and seems OK. It's a shame because Emma [Gilmour] did a great job to hand the car over within the 25-second range that we wanted. Stéphane knew he had to push very hard to get it done at the end of the race so it's unfortunate."
Now, the St. Helena – Extreme E's floating paddock – makes the trip to Dorset, England (18-19 December) where the inaugural Extreme E season will reach its dramatic conclusion.

Bidstack onboard Highbrow Interactive with 4 exclusive new partnerships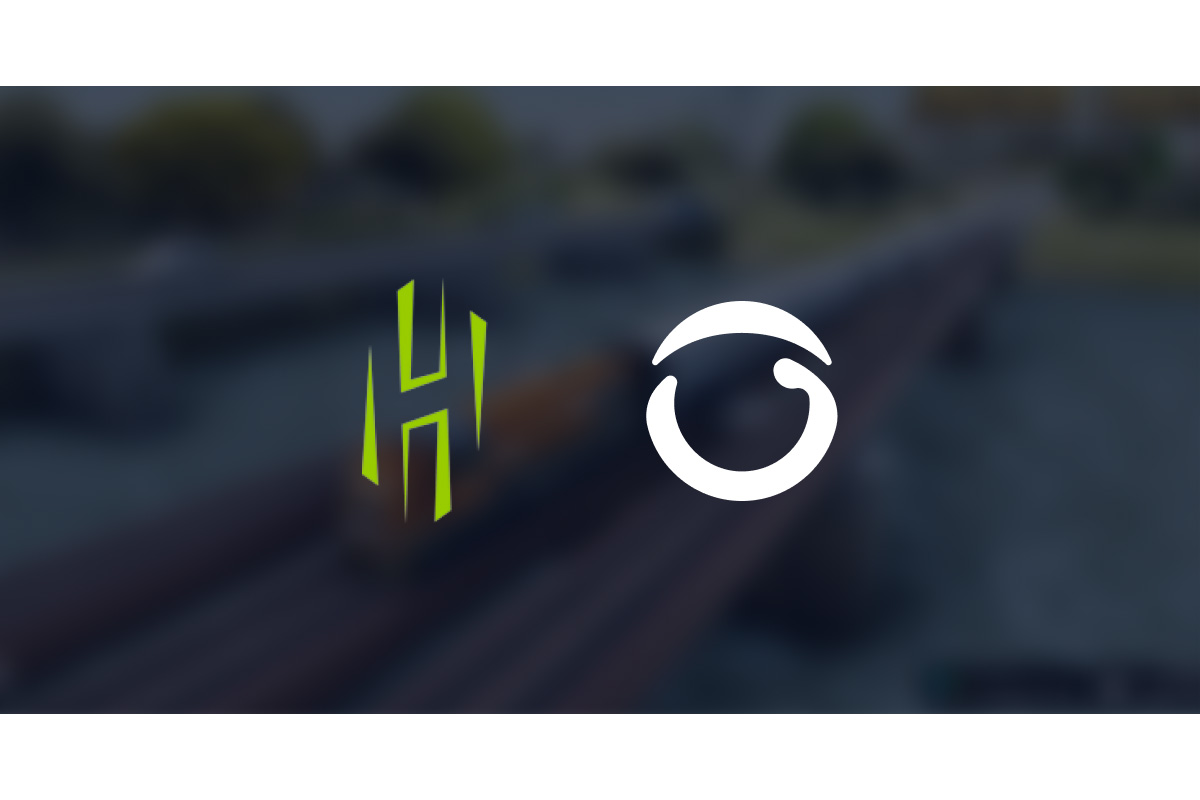 Reading Time:
2
minutes
Bidstack, the leading in-game advertising platform, is pleased to announce an exclusive new partnership with Highbrow Interactive which will see four exceptional simulation games added to their portfolio. Founded in 2013, Highbrow Interactive specialises in game production, virtual reality and augmented reality and has seen over 80 million installs across its library of games.
The first two new titles to be added to Bidstack's portfolio are Euro Train Simulator alongside its successor Euro Train Simulator 2. Boasting over ten million and five million downloads respectively, both games have provided train aficionados with first-class gameplay faithful to real-life experiences, with Euro Train Simulator 2 being the first mobile train simulator to feature officially-licensed trains from Germany's largest railway company Deutsche Bahn.
Indian Train Simulator also joins the Bidstack portfolio. A game with stunning attention to detail, it has seen over ten million lifetime installs and has enabled access to a more diverse player base through translations. Indonesian Train Simulator is the final game to be added. With high-quality graphics and sophisticated AI trains contributing to a comprehensively authentic railroad environment, it is no wonder the game has garnered over ten million installs.
Through Bidstack, Highbrow Interactive will be able to take advantage of their in-game, in-menu and rewarded video products creating a new revenue stream whilst also contributing to the accuracy of its games without compromising on the player's experience.
The addition of these four games to their portfolio will see Bidstack's simulation vertical continue to grow, allowing them to provide brands with a greater selection of high-quality inventory for them to reach and engage diverse audiences.
Of the partnership, CEO and Co Founder at Highbrow Interactive Jeno Manickam Durairaj said, "We're excited to be taking this step forward with Bidstack in enhancing our players' experience through the use of non-intrusive advertising. Bidstack's revolutionary technology that makes advertising seamless and organic in open-world games perfectly fits our catalogue of simulation titles. We believe that this partnership will help our games grow closer to the thrill and reality of trains and railways whilst also diversifying our revenue streams. The Bidstack team has been consistently attentive making onboarding and integration simple and hassle-free."
Bidstack's VP of Gaming Antoine Jullemier added, "We're delighted to be partnering exclusively with renowned game developer Highbrow Interactive. The addition of four of their high-quality games to our growing mobile vertical stands testament to the quality of our technology and gives our brand partners access to a rich global audience of gamers.
The highly detailed gaming environments provide optimal housing for seamless in-game ads, accurately simulating true train travel without detracting from the gaming experience. We look forward to a future of delivering first-class campaigns for our new partner."
Flexion Mobile Signs Agreement with FunPlus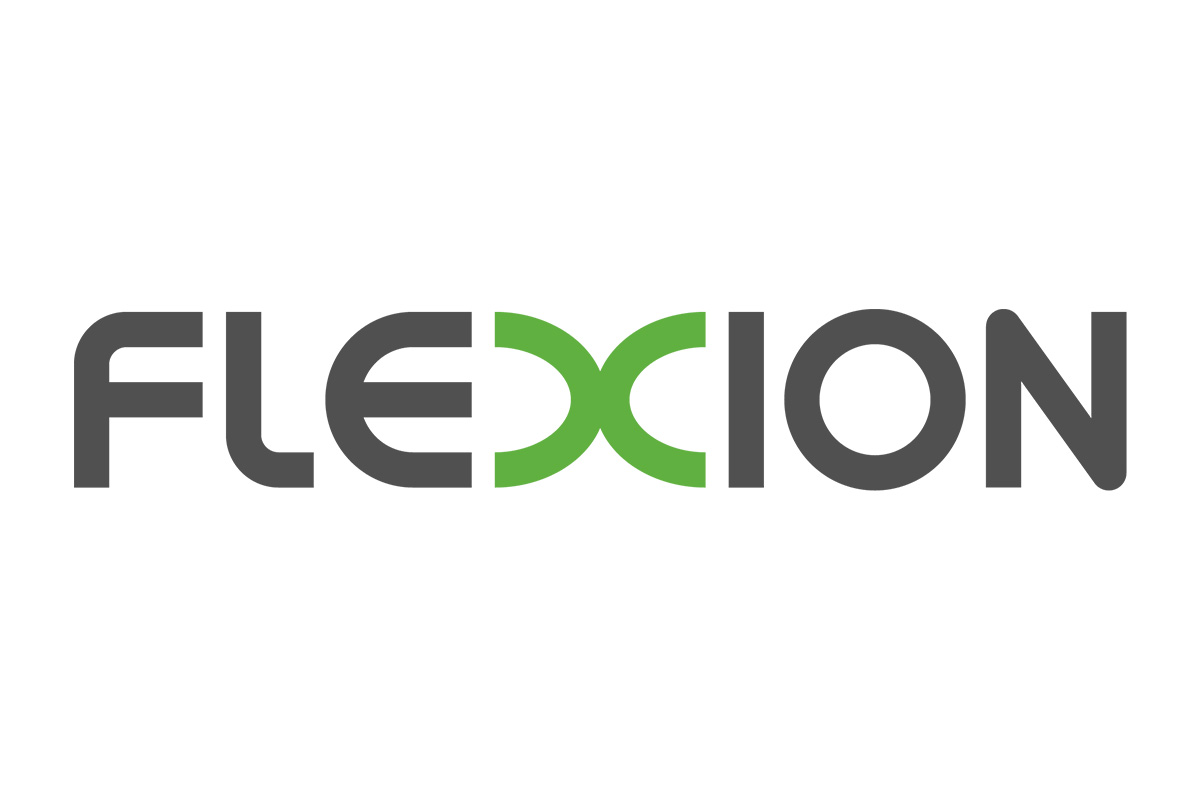 Reading Time:
< 1
minute
Free-to-play Android games distribution company Flexion Mobile has signed an agreement with FunPlus to publish King of Avalon on the alternative app stores. Flexion will distribute the hit game on the Huawei App Gallery and Samsung Galaxy App Store in Q2 2022.
King of Avalon already earns $6 million in monthly gross revenue on Google Play according to AppMagic data. Flexion's distribution services will add revenue and new players from the alternative app stores with little upfront cost or work being required of FunPlus. Flexion is currently averaging around 10% extra revenue for Android games it distributes.
"FunPlus is one of the world's top game developers so being chosen by them is a real feather in our cap. King of Avalon has been downloaded more than 100 million times by players from nearly 150 countries. We're delighted to add it to the Flexion portfolio," Jens Lauritzson, CEO of Flexion, said.
FunPlus and Flexion have been partners since 2019. Flexion has successfully launched FunPlus' games Guns of Glory and Z Day on alternative app stores such as the Samsung Galaxy Store, Huawei AppGallery, Amazon App Store and ONEStore.
Red Bull Wololo: Legacy celebrates 25 years of Age of Empires with a tournament for the ages in historic Castle Heidelberg!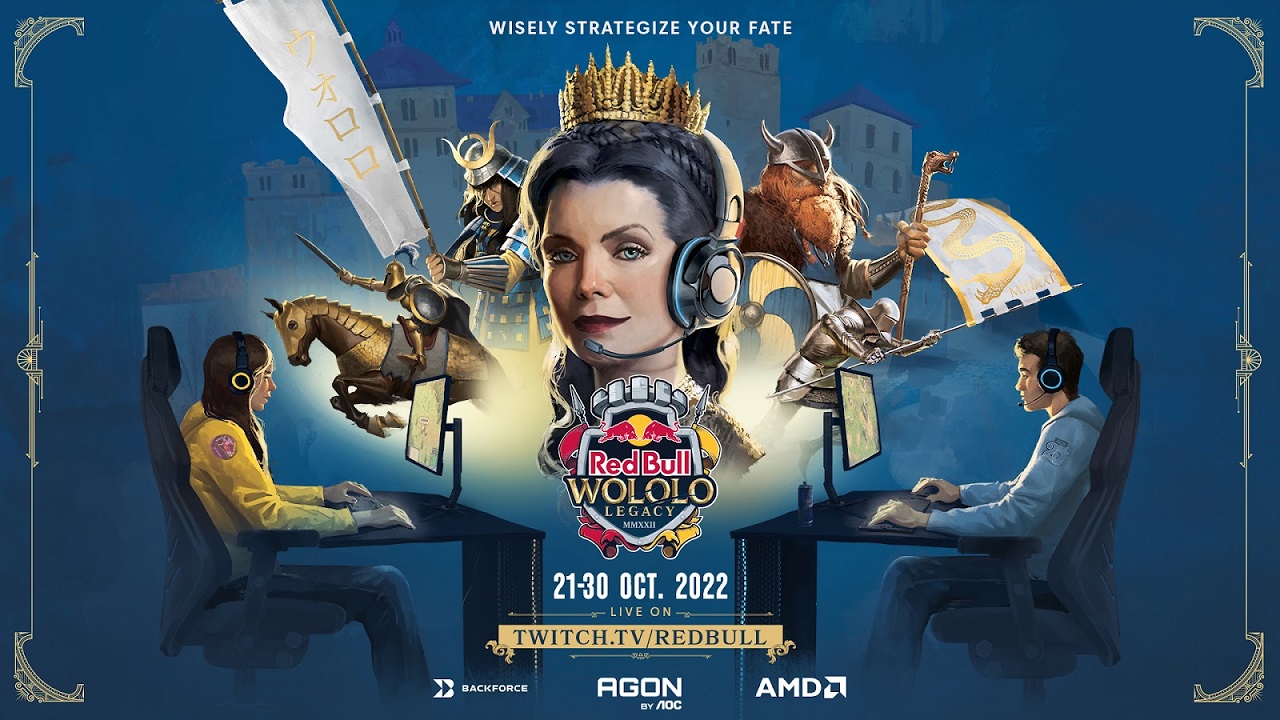 Reading Time:
2
minutes
Unpack your trebuchets – Red Bull Wololo, the iconic global Age of Empires tournament, is back for 2022. Red Bull Wololo: Legacy will see players compete in 1v1 battles for the ages, with competitions unfolding across Age of Empires I: Definitive Edition (AOE I DE), Age of Empires II: Definitive Edition (AOE II DE), and Age of Empires IV (AOE IV). The next chapter of the competition will form part of a global celebration to mark the 25th anniversary of the legendary real time strategy franchise. Players and fans can look forward to the most beloved faces of the community on-site and an unparalleled AOE esports experience at the immersive LAN in historic Castle Heidelberg from October 21st-30th.
There are many routes to qualify for the Castle Heidelberg tournaments, spanning open qualifiers, community events, progression through official Microsoft and partner circuits, and direct invitations. Open Qualifiers for AOE II DE and AOE IV are open for registration, to determine the most talented conquerors and queens who will take on invited AOE legends in Castle Heidelberg.
The first chapter of Red Bull Wololo began in 2020, and viewership and participation has continued to increase as epic rivalries and storylines emerged throughout the years. The electrifying Red Bull Wololo V: Enthrone Final saw AOE icon Ørjan "TheViper" Larsen take home his first victory against two-time Red Bull Wololo Champion Kai "Liereyy" Kallinger. Breaking down the epic battle on broadcast, TheViper said "It got really messy but in the end I was able to pull it off. It was so intense and I couldn't afford any mistakes. Wild Game!" Red Bull Wololo V: Enthrone came to a spectacular close in September 2021 with the first Castle Heidelberg LAN Final, which saw over 77,000 peak concurrent viewers. Each tournament is a fierce battle of wits as only the top players rise to the ultimate challenge and compete for the strongest civilisation.
Red Bull Wololo: Legacy has teamed up with industry leaders to produce an unforgettable sixth chapter in the unique event series. AGON by AOC, the global leader in gaming monitors, returns as the Official Monitor Partner for the event, bringing exceptional visual clarity and ultra-high refresh rates to competitors. AMD rejoins as Technology Provider, ensuring the high-performance computing that will take the sixth chapter of Red Bull Wololo to new heights. BACKFORCE partners up with the event to keep competitors in comfort and style with cutting-edge pro level gaming chairs.