George Boughey, Tom Bellamy join SBK stable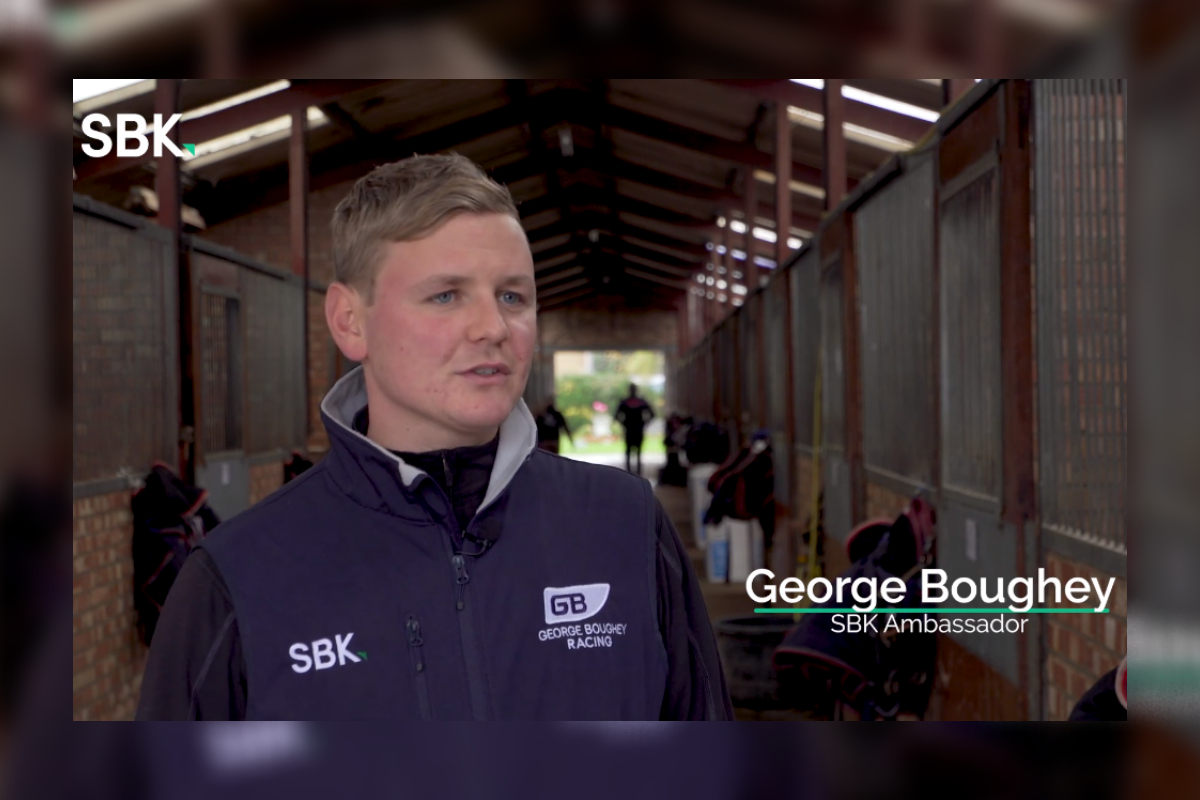 Reading Time:
< 1
minute
SBK – the sportsbook app powered by Smarkets – is delighted to announce that trainer George Boughey and jockey Tom Bellamy have become brand ambassadors.
As part of the agreement, SBK will sponsor Boughey and his growing Newmarket yard for two years, while jump jockey Bellamy has become an ambassador for 12 months initially.
Boughey – the first trainer SBK has sponsored – is just 29 years old and one of the most exciting training talents around. In 2021 so far, he has sent out 81 winners in Europe at an eye-catching 19% strike rate.
He has made a name for himself as a leading trainer of two-year-olds with the fifth-most juvenile winners in the country – only established names Karl Burke, Charlie Appleby, Mark Johnston and Richard Hannon have trained more in the same period.
Bellamy, who earlier this year became stable jockey for Emma Lavelle, is enjoying a fine season in the saddle with 22 winners already after he won 37 races in the 2020/21 campaign, a personal record.
The pair join jockeys Richard Kingscote, Nicole Currie, Sean Levey, and Page Fuller in a growing SBK stable of racing stars.
Boughey, speaking to SBK, said:
"I'm delighted to be teaming up with SBK for the next two years. It is a really exciting partnership for all of us at Saffron House Stables and hopefully we can continue to progress as a yard in 2022 and beyond."
SBK spokesperson Adam Baylis added:
"The opportunity to sponsor George Boughey and his yard is an incredibly exciting one for SBK. We are thrilled to be teaming up with one of the most promising stables in the country and we can't wait to see what George and his team will achieve in the coming years."
EGT is the "Best Equipment Supplier of the Year" according to BEGE Awards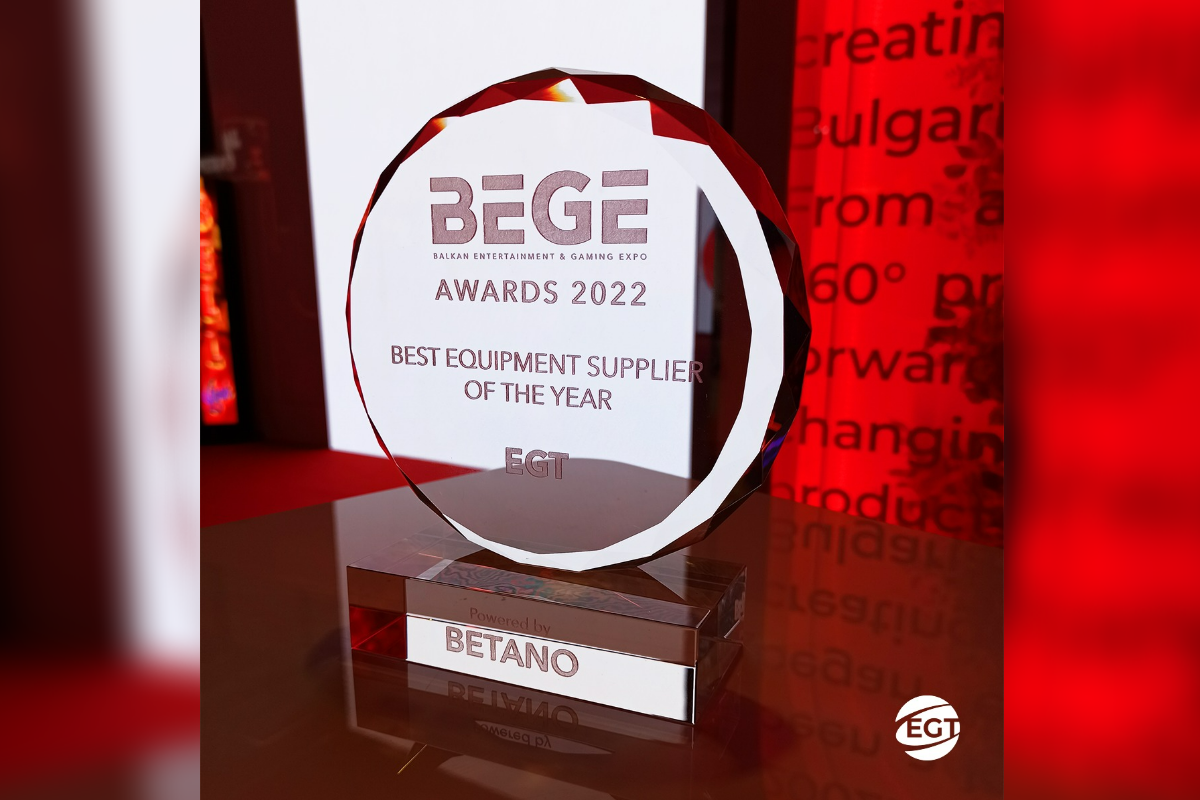 Reading Time:
< 1
minute
For another year in a row, EGT received an accolade from the BEGE Awards competition. In this edition of the awards, the company was acknowledged as "Best Equipment Supplier of the Year" because of the large number of installations of its products and the overall contribution to the development of the gaming industry. The ceremony was held on 23 November: the evening after the first day of the BEGE Expo, in Marinela Hotel Sofia.
"For us at EGT, giving the best quality to our customers has always been the top priority and I believe that this is the main reason why we have so many friends who choose to work with us again and again for so many years," said Biserka Draganova, sales manager for the Balkans and Egypt at the company, when accepting the award. She continued: "It is a great honor for us to receive this distinction, as it reflects precisely this pursuit of continuous improvement of ours, which is of crucial significance for the good performance of our partners' business as well."
The BEGE Awards competition has been held since 2008 and honors individuals and companies, which offer new and innovative gaming solutions and contribute to the industry development.
A unique World Cup – on and off the pitch!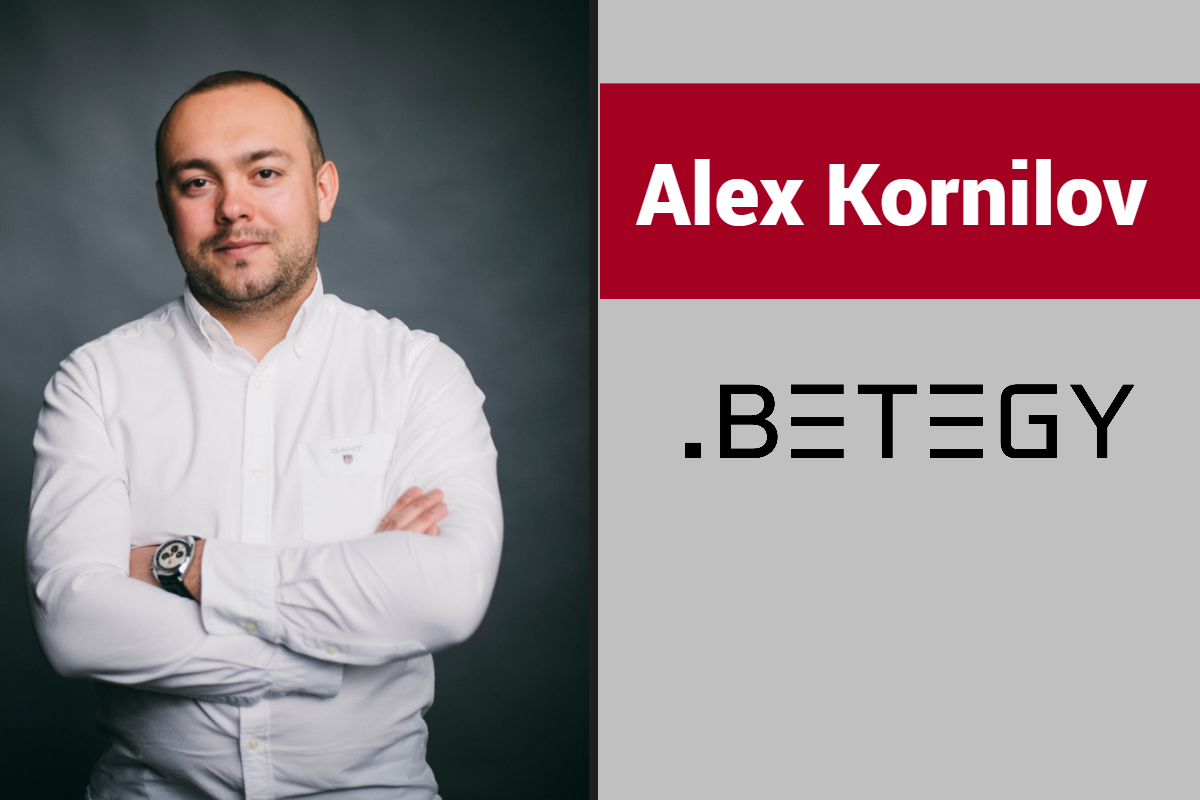 Reading Time:
4
minutes
The World Cup is held every four years and this edition of the most famous football tournament on the planet is unique given the venue and the fact it sits right in the middle of the domestic season.
With that in mind, how does this affect user engagement and betting patterns over the course of this prestigious competition? We spoke to BETEGY CEO, Alex Kornilov who gives his insights into how successful engagement with players could be.
With football already Europe's most popular sport, what new ways of user engagement have you put together for the World Cup?
This football season brought many ways to explore user engagement into the industry. The World Cup in Qatar is the real test to show the best approaches to customers' experience. At BETEGY, we knew that online betting would thrive during the tournament, and we have managed to deliver creative visuals with live data from all the matches, which can be used in various formats and presented on different platforms.
The World Cup is being hosted right in the middle of the domestic football season across Europe. Does this make the World Cup more or less popular from a betting perspective?
The World Cup has always been one of the most significant events in the betting industry –  and I see no reason for this iteration to be less popular than before. In addition, the tournament duration has been decreased to 28 days, meaning more matches squeezed into a shorter space of time. This is definitely going to help keep the audience's excitement and engagement at their highest.
The only competitor for the attention of sports punters will be the upcoming holiday hustle when people will be getting all set for the festive season. However, I don't see that as a big risk. With football fans watching the biggest football event of the year from the comfort of their own homes, it's an excellent opportunity to attract a new audience to the betting market.
A Middle Eastern country is hosting the World Cup for the first time. How is this unique environment playing to BETEGY's strengths, given the majority of fans are watching from home?
With more fans watching football from home, keeping them entertained with the most high-quality offering and products is very important. Players in the industry will compete for the fans' attention and will do their best to build a scalable relationship with them beyond the World Cup. Live scores, statistics, and betting prices in various markets must be delivered to the users' screens with no delay and with the best look and feel. This is one of the aspects BETEGY is the best at – and we have thoroughly prepared to help our clients solve the pain points related to it.
With Europe not due to host another World Cup until 2030 at the earliest, is it a positive for technology and engagement that the tournament is being held in nations where football popularity is on the rise? 
The next World Cup will take place in 16 different cities across North America. This tournament is probably the most important in the context of how "soccer" has been promoted in the United States recently. On one side, the USSF and the MLS clubs have been working a lot to promote soccer locally by bringing top-class players into the league. On the other hand, the US has rarely stuck to the traditional European perception of sport and football in particular. Sport in the US serves its goal – to entertain the audience. Strategists at NBA or NFL would do almost anything to keep fans engaged and ensure all the remote viewers are enjoying the show.
Also, this new, next-gen audience is highly discerning  – which pushes the market to deliver innovative solutions and ideas to engage, excite and entertain. For sports tech and entertainment companies, it's a huge opportunity and a challenge at the same time to find a key to the hearts and minds of potential new football fans. Some best practices for the US market are already known, so bringing football to new horizons is a certain path to making this game even more beautiful.
How can companies capture this new wave of interest?
US sports fans are already used to high standards of the content delivered to them. Everyone who wants to surf this wave of delight should definitely focus on innovation and quality. I've noticed that people love to know what's happening on the pitch and, at the same time, are always willing to guess what's going to happen next. The rise of technology helps to understand the game better, it gives birth to new betting markets, but it also helps companies enhance the users' involvement in the game.
With the US online betting market opening, many players from the industry are seeking an opportunity to test their best offering on new audiences. Since soccer is undoubtedly on the rise, a chance to attract American bettors became a significant pull factor for most industry members – and we're very excited with what we're doing at BETEGY.
It has been 20 years since a non-European country won the World Cup. Do you think a European nation will win this prestigious tournament this year given the first round of results?
The first round has shown that football has advanced at all levels, especially geographically. For example, some national teams from Asia have had tremendous results against supposedly much stronger rivals from South America and Europe. And it's not only about the result – those teams' performance and style of play are a delight to watch. At this stage, almost any underdog has the chance to proceed to the knockout stages and refute the odds.
In my opinion, some Latin American national teams have a high chance of winning the World Cup. Still, they'll need to deliver their best performance against the highly-experienced European contenders. It will be fascinating to watch it all happening. And may the best team win!
QTech Games recruits Martin Trang for the role of Global CMO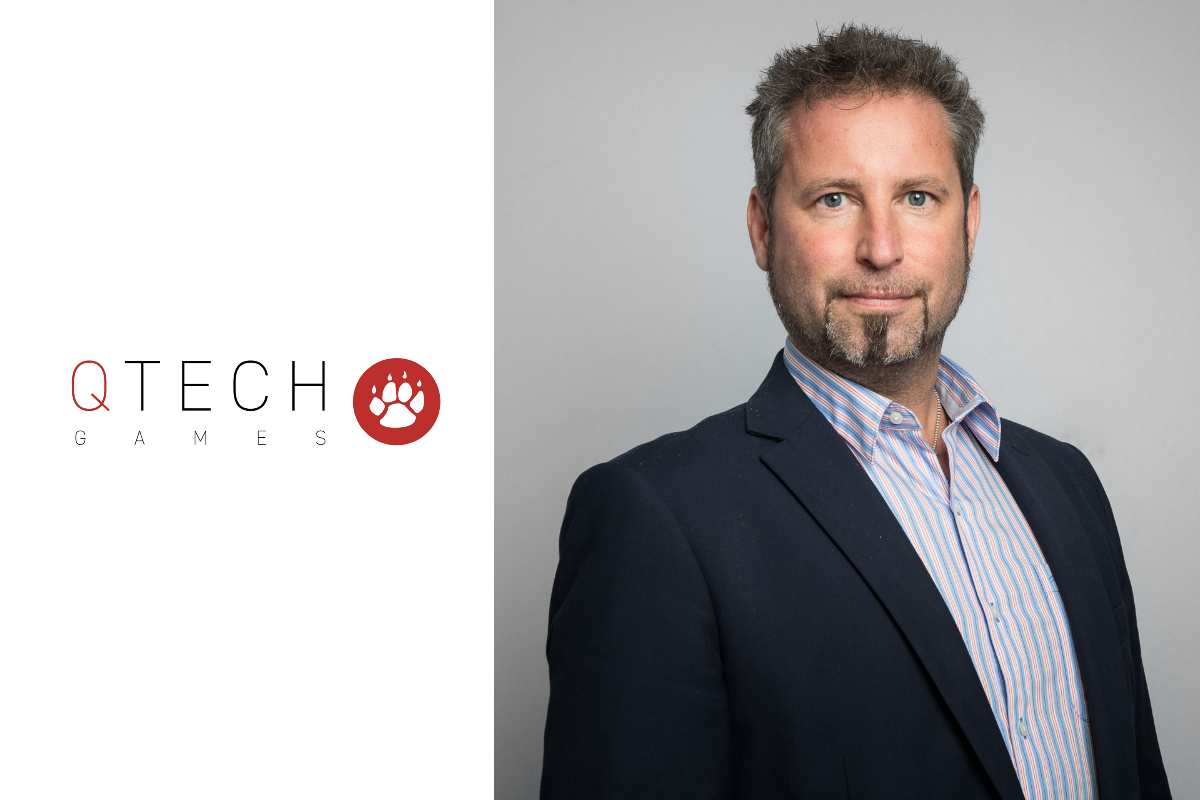 Reading Time:
3
minutes
Leading distributor for emerging markets secures respected marketing head to continue expansion of its brand and global footprint
QTech Games, the number-one games distributor across Asia and all emerging markets, has appointed Martin Trang to the full-time position of Chief Marketing Officer (CMO).
Trang possesses a wealth of international experience within marketing and sales, product management and business development, having served with success across similar roles at respected event organisers (CMO at M&SE), front-end developers (Regional Director for Southeast Asia at Frosmo), FMCG (Country Manager, Norway at British American Tobacco) and Pharmaceuticals (Vice President and Global Brand Manager at Orion Pharma). This eclectic body of work affords Trang unique bird's-eye view and insight into stewarding the immediate future of the QTech Games brand and its varied digital assets.
Trang's academic background also speaks to a strong command of business acumen and analytical rigour, having completed marketing and business courses with honours in California, alongside a Master of Science (M.Sc.) degree in Materials Technology at the Royal Institute of Technology. Trang additionally holds an Executive MBA in Finance from Hanken School of Economics.
More broadly, Trang brings over 20 years' experience in marketing and sales across varied sectors, including igaming, to bear at QTech Games, bolstering and diversifying its C-Suite's core competencies. Leveraging deep experience alongside an extensive network of long-standing relationships, Trang is well-versed to lead on commercial and marketing strategies at a time when acceleration in the digital-entertainment sphere is at its pinnacle.
The Board of QTech Games commented: "Following on from Daniel Long's recent appointment at CCO, we're thrilled that Martin has agreed to now join us in a permanent, full-time capacity at CMO. It means we can really hit the ground running next year, and refine our commercial pathway and brand strategy ahead of ICE London and numerous other consequential trade shows from Asia to Africa and Eastern Europe to LatAm over the coming 12 months. His background also advances a keen analytical eye, sound commercial judgement and savvy stewardship of our burgeoning QTech Games marketing team.
"Together with Daniel, their array of multifaceted knowledge, coupled to staff leadership and flair for bottom-line accountability, make these guys the perfect partnership to oversee the next phase of our worldwide expansion into new territories. In short, it's a timely hiring move that helps consolidate and re-ignite the QTech platform's position in the vanguard of the industry for taking the best online games to market across emerging territories. We're confident these appointments will assist us in achieving our goals, chiefly powered by clear tactical focus around the customer experience, innovation tech and, of course, our own brand and its resilient values.
"To have a proven performer take the reins in one of the most important domains of discourse for any distributor is a mark of how far we've come as a company and indicative of our established status in the market as the number-one distributor for all developing markets."
Trang added: "I'm delighted to be joining such an established and progressive company full-time. Implementing the correct strategy for its 'two keystones' model has been pivotal to QTech Games' sustained success. Firstly, beyond the great games, fully owning the technology sets QTech Games apart, enabling us to offer a number of flexible features which no competitor can rival. And secondly, outside of Asia, we've secured strongholds in all the important "margin" markets, demonstrating organic growth across channel and border. It grants us a unique position and status in the space.
"Ultimately, QTech Games is not a mere Asian aggregator but a true international distributor of digital entertainment that's continuing to attract clients from all over the world. From LatAm to the CIS-facing countries and even the Indian market, we're stealing a march on the competition. I'm sure that we can now build on this success and gain even more market traction and brand recognition, as one of the largest providers of digital entertainment on the market."