BACARDÍ NH7 WEEKENDER IS BACK THIS FEBRUARY IN PUNE, DELHI AND KOLKATA WITH THE COUNTRY'S MOST UNIQUE INDIE ARTIST LINE-UP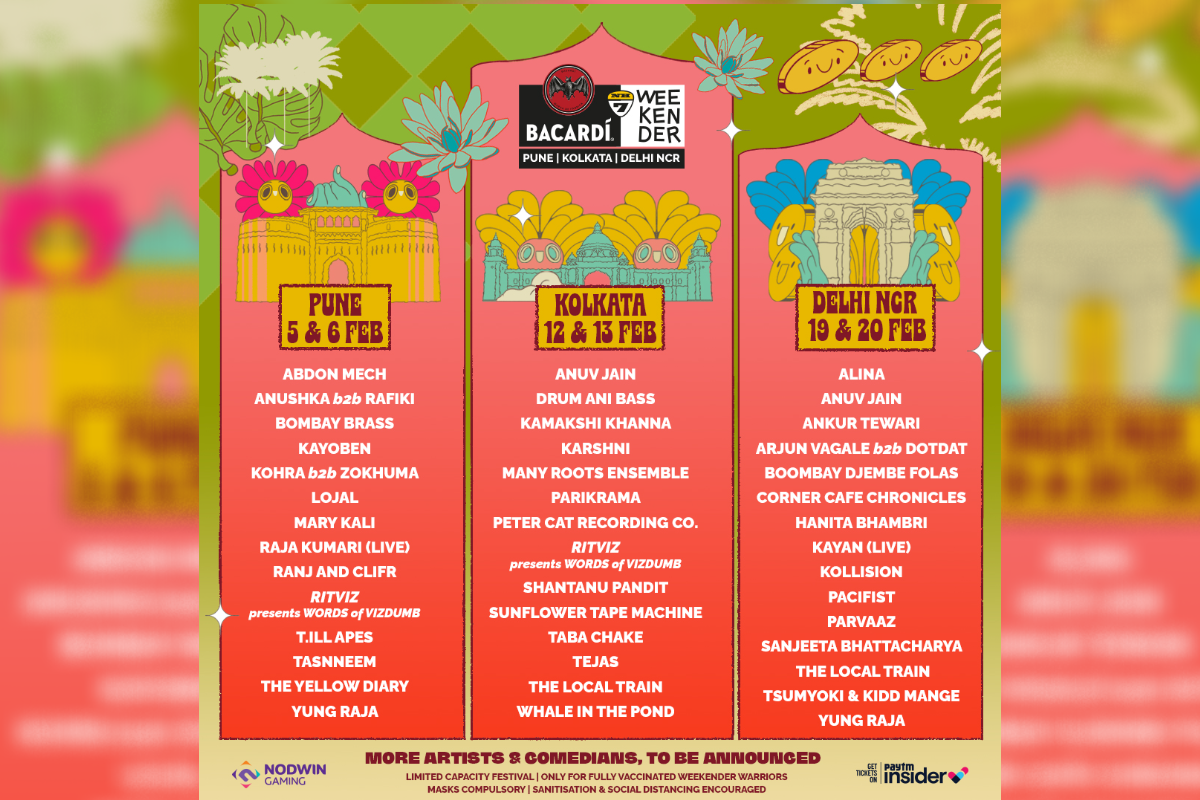 Reading Time:
4
minutes
Experience an all-star Indian line-up with Anuv Jain, Kayan, Kayoben, Raja Kumari, Ritviz, The Local Train, and Taba Chake along with top comics performing at the happiest festival.
BACARDÍ and NODWIN Gaming are bringing back the 12th edition of  BACARDÍ NH7 Weekender, India's Happiest Music Festival, to its fans across Pune, Delhi and Kolkata in February 2022. The festival has announced its much-awaited line-up of top Indian artists who will perform live across multiple stages set up at the festival grounds. This year, the multi-genre festival will include comedy, art and for the first time, esports and gaming.
The festival will kick-off in Pune with artists like Anuv Jain, Bombay Brass, Raja Kumari, The Yellow Diary, and Ritviz, to name a few, who will take the stage on February 5 & 6, 2022. The festival then travels to Kolkata – 'The City of Joy' on February 12 & 13, 2022, with another stellar lineup of artists that includes Peter Cat Recording Co., Karshini, Kamakshi Khanna, Taba Chake and Tejas.  BACARDÍ NH7 Weekender wraps up in Delhi NCR giving fans a chance to enjoy electrifying performances by Ankur Tiwari, Kayan, Kamakshi Khanna, Arjun Vagale & Hanita Bhambri amongst others. The audience in Pune, Delhi and Kolkata will be privy to some never seen before performances by artists created specially for the BACARDÍ NH7 Weekender.
For over a decade now, India's Happiest Music Festival along with BACARDÍ have brought together some of the best and most diverse performances by regional and global artists. This year, the festival will have a predominantly Indian line-up because of the current global travel situation, and homegrown indie artists will feature at the forefront of the festival. Upcoming as well as established artists from different parts of the country will bring their unique sounds and culture to this mega platform.
Right from ferris wheels & photo opportunities to the food & drinks available at the venues, BACARDÍ NH7 Weekender has something for everyone! Grab your tickets for the festival now. Tickets go live in all three cities today (December 21,2021) on Insider.in. Get a sneak peek into the festival here: @nh7dotin (Instagram).
The festival will prioritize all necessary safety and hygiene protocols and checks. Social distancing, entry for only fully vaccinated fans, mandatory use of masks and sanitizers, thermal scanning check points, temperature checks, etc., will ensure a safe and secure atmosphere where fans can enjoy the festival.
The event is subject to permissions being procured which will only be known closer to the event date based on the regulations at the time. However, NODWIN Gaming will refund all ticket money in case of any cancellations due to regulations on account of the pandemic.
Here is a quick glimpse into what's in store this year:
Indian performers:
Ankur Tewari: A man of many talents – best known as a singer – songwriter, he is also a composer, music supervisor & a poet. He has made music as an independent artist since 1998. His debut album, Jannat, was released in 2008 and ruled the charts. His work ranges from a double album Side A/ Side B, a children's album with Sony Music and many other singles.
Bombay Brass: India's top-horn players perform their reinvention of classic Indian and western hits. Their music is styled around wind instruments as the lead element that unites nostalgia with a vibrant and energetic performance.
The Yellow Diary: The Mumbai-based alternative rock outfit has made a name for itself in the Indie music scene in less than half a decade. The band has released six songs in two EPs in addition to performing hundreds of live shows across the country.
The Local Train – They are a Hindi Rock Band from New Delhi that makes use of Hindi and Urdu lyrics delivering an amalgamation of ideas that they wish to express through their music.
Ritviz : He is an Indian singer songwriter, electronic musician and record producer from Pune known for his song 'Udd Gaye'. The hit featured on A.I.B.'s official YouTube channel after becoming the winner of the 2017 BACARDÍ House Party Sessions — a talent hunt competition organized by A.I.B.
Lojal: Shillong bred and Bengaluru-based musician Lojal's creations are an ever-growing world of emotions and music created in and around the spaces of the artist himself.
Parikrama:One of India's iconic rock 'n' roll bands, Parikrama, still active after 30 years is known for their highly energised and infectious performances. Probably one of the few Indian bands who are also known for their artworks and pyro works. The band will be performing a special set that will be a tribute to the late member of the band – Sonam Sherpa.
Parvaaz: The four membered band comprising Khalid Ahamed (Vocals & Guitar), Mir Kashif Iqbal (Guitars & Vocals), Sachin Banandur (Drums & Percussion) and Fidel Dsouza (Bass Guitar) have assimilated several international progressive/psychedelic rock influences but their own expression has a rootedness that makes their sound unique. Parvaaz's sound has often been described as one that transcends musical genres taking the listener into spaces that traverse folk, blues and psychedelia, wrapped in an ambient sound that is familiar yet elusive
Raja Kumari: Indian-American rapper, singer, songwriter, and dancer Raja Kumari is a force of nature. She's a fearless, charismatic personality and natural-born storyteller whose mission is to create art that blends her Indian roots with her American upbringing.
Taba Chake: A Nyishi finger-style guitarist and singer-songwriter based in Mumbai. His debut EP titled 'Bond with Nature' was released in 2016 followed by a 10-track album 'Bombay Dreams' in 2019.
Sunflower Tape Machine: Is the pseudonym and experimental solo project of full-time indie/psychedelic rock, bedroom pop, and shoe-gaze musician, Aryaman Singh.
Drum Ani Bass: The brainchild of bass player Nathan Thomas and drummer Dhir Mody, Drum Ani Bass evolved out of improvised jungle/drum n bass jams at 1403.
Kamakshi Khanna: She is a Delhi-based singer/songwriter who gained recognition with the release of her EP, Much Mellow (2014), and her full-length album, Cakewalk (2017). Having established herself in the Indie music scene with numerous live performances across the country and collaborations, in 2020 Kamakshi released her first Hindi single, Qareeb, a song about a girl who grows and learns to love herself.
International performers:
Yung Raja: Singaporean breakthrough artiste Yung Raja has been dubbed as Southeast Asia's next avant-garde bilingual hip hop artiste, known for his tasteful unification of Western and Tamil culture in his lyrics.f

Spectacular growth helps Pronet Gaming pivot towards Asia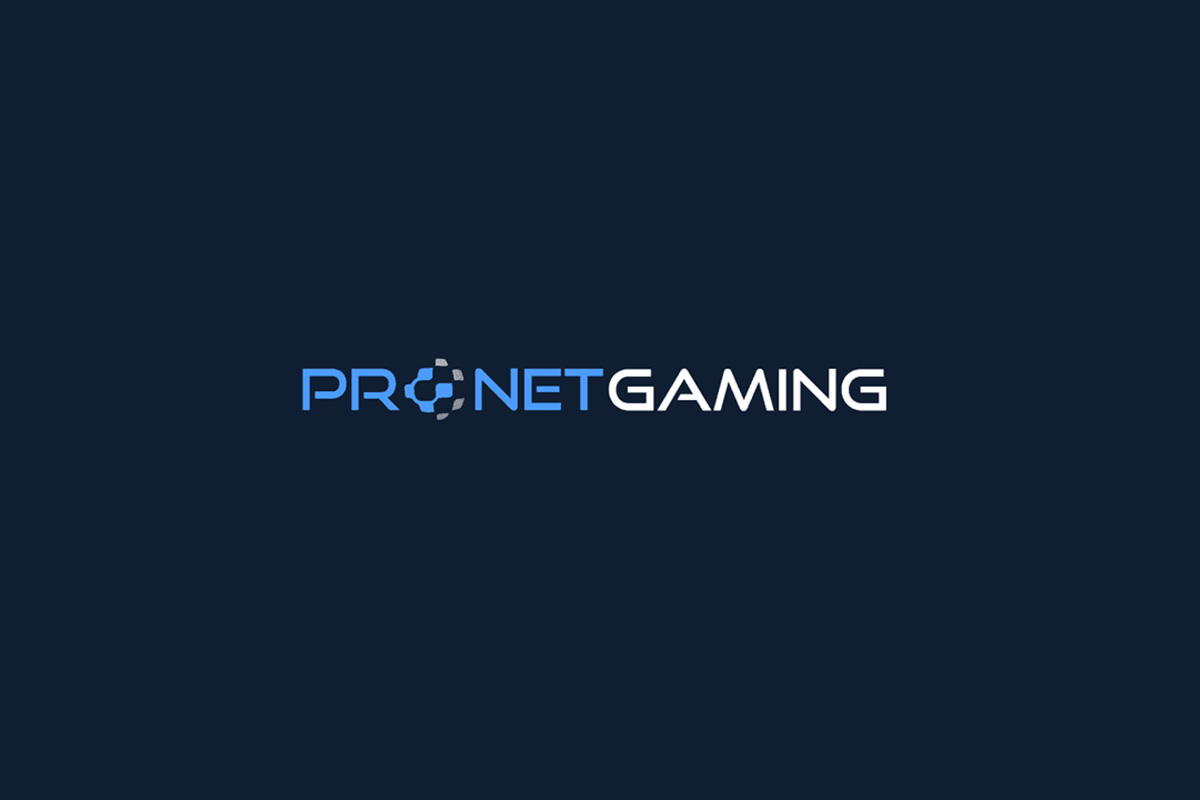 Reading Time:
2
minutes
Pronet Gaming is to turn its attention to emerging markets in Asia following the unprecedented success that has allowed it to expedite its ambitious plans ahead of schedule.
The full turnkey platform specialist has expanded rapidly in the last 18 months after providing a range of operators with sportsbook and casino platform solutions, as well as a range of retail options, in a variety of jurisdictions around the world.
This growth has funded a massive investment in IT and new offices which has allowed it to perfect it's offering for markets in Asia, where its services will allow brands to offer localised products to their customers and a genuine point of difference among competitors.
The supplier will also embark on a recruitment campaign to bolster its ranks in one of the region's most important gaming hubs, across all disciplines including sales, marketing, account management and IT Support and Development
Pronet Gaming CEO Alex Leese said: "An Asian market entry was always in the plan and required a real focus on ensuring that we had the right product to compete. I'm obviously really pleased that we are now able to do that sooner rather than later.
"The tremendous commercial success we have enjoyed is not only testament to the hard work of the team and the universal appeal of our offering, but it bodes well for new customers looking for an affordable, yet tailored solution.
"Needless to say, we will have to expand our team with Asian market specialists in the coming months to ensure we offer a truly localised service, but I'm confident we will have a compelling proposition moving forward."
Pronet Gaming has introduced a number industry-firsts such as FastBet, which has helped optimise the player experience. This solution enables users to wager multiple single bets across all sports at the touch of a button without creating a betslip.
The provider's Popular Bets and Popular Events widgets automatically display the wagers and sports that are most popular in a jurisdiction, refreshing every five minutes.
Pronet Gaming's clients are also able to customise the sports betting features that suit their unique needs in regulated markets, creating fine-tuned experiences for audiences that increase revenues as well as engage and retain players.
PAGCOR releases P30.09 million aid to three beneficiaries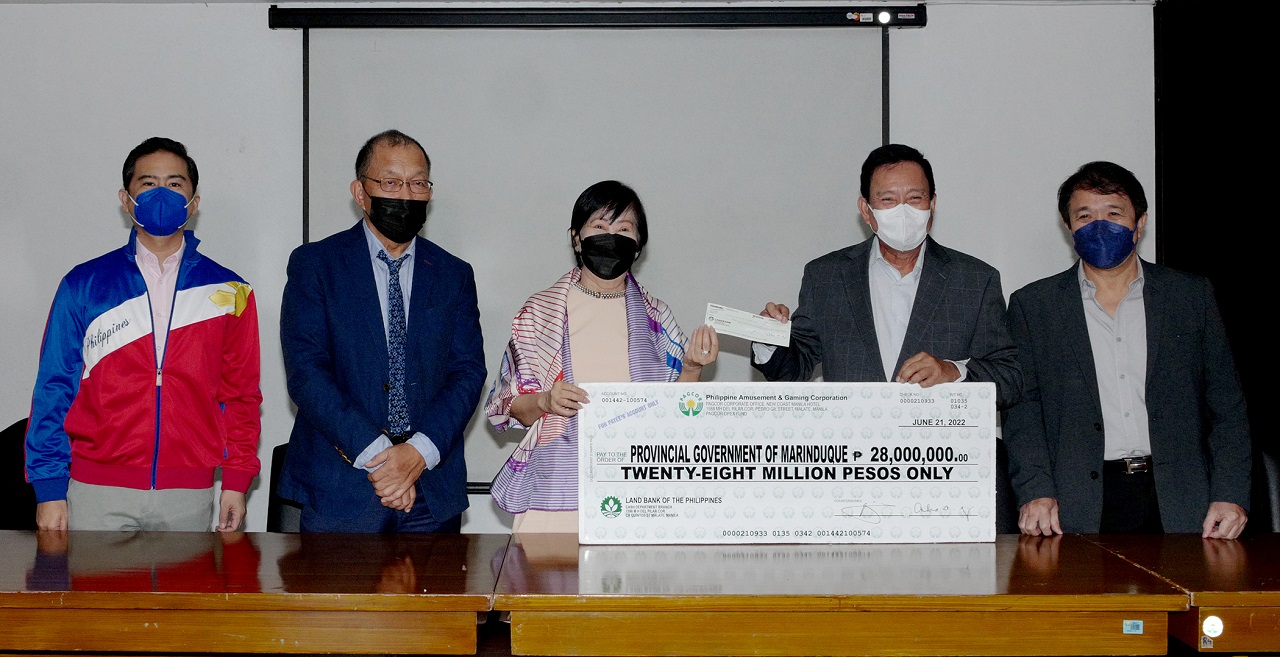 Reading Time:
< 1
minute
THREE new beneficiaries received funding for their respective community development projects after the Philippine Amusement and Gaming Corporation (PAGCOR) released a total of P30.09 million in financial grants on June 21, 2022 at the agency's Executive Office in Manila.
The provincial governments of Marinduque and Ilocos Sur as well as the Nueva Vizcaya Police Provincial Office received their cash grants from PAGCOR Chairman and CEO Andrea Domingo, who was joined in the distribution of checks by President and COO Alfredo Lim and Directors Gabriel Claudio and James Patrick Bondoc.
Marinduque was granted P28 million, which Provincial Governor Presbitero Jose Velasco. Jr. said will be used for the construction of four covered courts in different barangays.
"Napakalaking bagay nitong donasyon sa amin ng PAGCOR dahil maraming tao ang makikinabang sa itatayong covered courts sa apat na barangay sa Marinduque," he explained. Said structures, Velasco added, can be used as evacuation centers during calamities and venues for various sports and livelihood programs.
Ilocos Sur, meanwhile, received P1.89 million for the procurement of 55 computer sets that will be distributed to ten municipalities and one city in the first legislative district of the province. Acting Provincial Treasurer Ronnette Victa, who represented Governor Ryan Luis Singson received the donation.
The state-run gaming firm also turned over P199,833 to the Nueva Vizcaya Police Provincial Office Director Police Colonel Ranser Evasco to finance the purchase of a laptop with printer and a TV set.
"Napakahalaga po ng mga kagamitang aming bibilhin sapagkat halos lahat ng aming conference ngayon eh virtual na. Kaya't lubos po kaming nagpapasalamat sa PAGCOR sa tulong-pinansyal na kanilang ipinagkaloob sa amin," Evasco noted.
Jump.trade the largest NFT marketplace in India touches 100,000 sign ups, in the last 60 days; to soon launch the P2E Game "Meta Cricket League"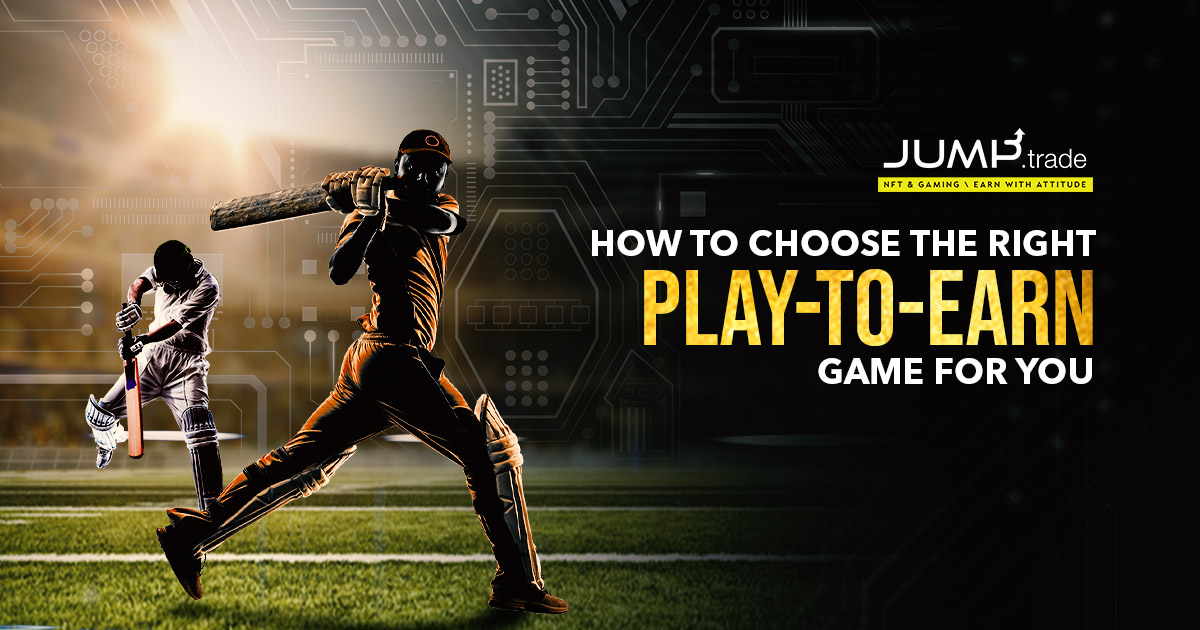 Reading Time:
2
minutes
Witnesses 10,000 daily new visitors joining
Jump.trade, a thriving NFT marketplace and D2C platform that focuses on gaming NFTs and International brands are all set to launch its maiden gaming venture – Meta Cricket League at the end of June. This is a new Play-To-Earn game that is driven by NFTs and allows players to earn cash prizes and other rewards by climbing leaderboards or challenging other players. The game is set to instill the excitement of real-world cricket into the experiential Web3 format.
The Meta Cricket League will be available on all Mobile and Web Platforms to provide easy access to gamers everywhere. This will enable seamless and easy onboarding as Gamers will have the chance to play-on-the-go and from anywhere. Interestingly, the Game's initial 55,000 NFTs were sold-out for $25 but with its value multiplying in a very short time, a substantial pool of those NFTs are now being traded in values exceeding 10x and 200x.
With cricket constituting an integral part of the national fabric, a whopping 93% of Indians were found to be devout fans of the sport. It is evident from the fact that cricket games in the Google Play Store account for the highest number of downloads grossing well over 250 million.
Speaking on the occasion, Kameshwaran Elangovan co-founder and COO, who lead the execution and launch of MCL on Jump.trade, said," We are extremely delighted to have emerged as the flag bearers of the NFT bandwagon in the country. With NFTs not being restricted to just mere digital indulgences and entering the mainstream with their numerous applications, the launch of The Meta Cricket League (MCL), a cricket-based NFT game that allows players to earn while they play is certainly a dream come true for gamers across the country. Cricket as a sport already rules the hearts of countless Indians and we are confident that the MCL will be a sensational success story with NFT enthusiasts and gaming lovers everywhere. "
Highlighting Jump.trade's user base in just the last 60 days, the number of sign-ups on the platform has touched 100,000 now. Also, being 100,000 wallets filled, with around 10,000 new visitors joining the ecosystem daily. The average trade volume of the marketplace in a day is around $10,000 to $25000 worth of trades, of which 85% of men and 15% of women are represented as NFT holders in the ecosystem.
With such exponential demand and hundreds of millions of potential players within the Play-to-earn revolution, Cricket will be one of the largest gaming segments in the space. Just as Cricket unites people of all ages, regions, and languages in India and across cricket-playing nations, the P2E Cricket game MCL aspires to prove to be instrumental in breaking through Web3 adoption in India.