M88 Mansion, Maria Ozawa Officially Launch Maria's Room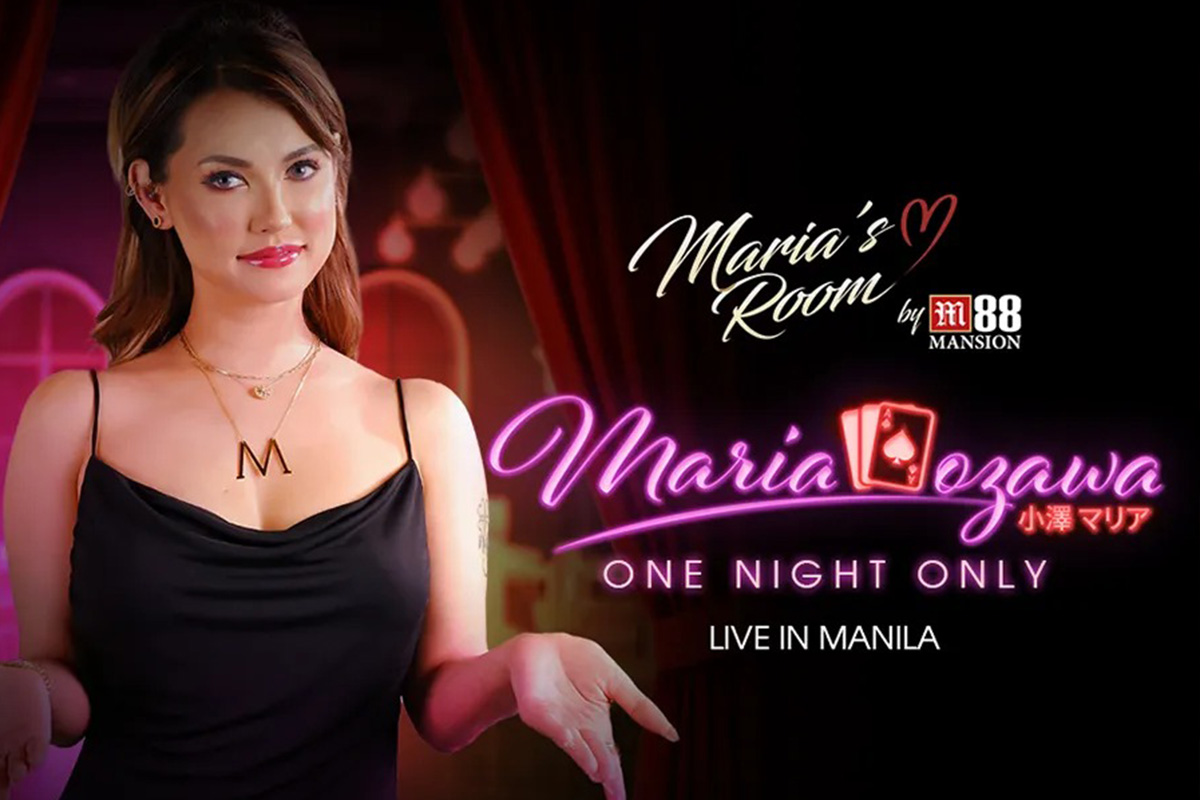 Reading Time:
2
minutes
International celebrity entrepreneur Maria Ozawa, in partnership with M88 Mansion, the number one gaming destination in Asia, has officially launched Maria's Room last Friday, April 22, 2022 at Okada Manila.
Maria's Room is a dedicated online gaming portal designed exclusively for Maria Ozawa by M88 Mansion. It offers exciting online casino games recommended by Maria Ozawa herself from top gaming providers such as Pragmatic Play, Microgaming, Sexy Gaming, CQ9 and more.
Ozawa talked about the exciting partnership during a media launch entitled "One Night Only: Live in Manila".
"As we officially launch Maria's Room to the public, I want to express how grateful I am for the continuous support, confidence, and trust I receive from one of Asia's most recognizable and most established online casinos– M88 Mansion. It was my first time partnering with a gaming company, and I am truly thrilled with Maria's Room as it presents my personality in a new light. It definitely mirrors my fun side," Ozawa said.
According to M88 Mansion Creative Director Carlos Lopez, Maria's Room has displayed significant success since its soft launch in February and continues to grow in all the target markets of M88 Mansion in the Southeast Asian region.
"On behalf of M88 Mansion and together with our celebrity partner, Maria Ozawa, we would like to thank our dear audience for the good reception and overwhelming support. May they continuously be with us as we grow the business and do more projects with Maria," Lopez said.
Maria's Room guarantees excellent and engaging games for players, including "Bikini Party" with sexy ladies playing beach volleyball, "Football Baby", where they can play soccer and "Ladies Nite 2 Turn Wild", a video slot where they can party the night away.
In addition, the platform also features exclusive videos and a photo gallery of Ozawa. Players can also receive a shoutout from the Japanese model and film actress herself.
Apart from the official launch of Maria's Room, M88 Mansion also introduced the Maria's Room exclusive workout kits for its followers, which were inspired by Ozawa being a health and fitness enthusiast, as seen in her special segment called "Monday Mornings with Maria" on Facebook and her Youtube channel.
Spintec and APE to renew their exclusive distribution agreement for Southeast Asia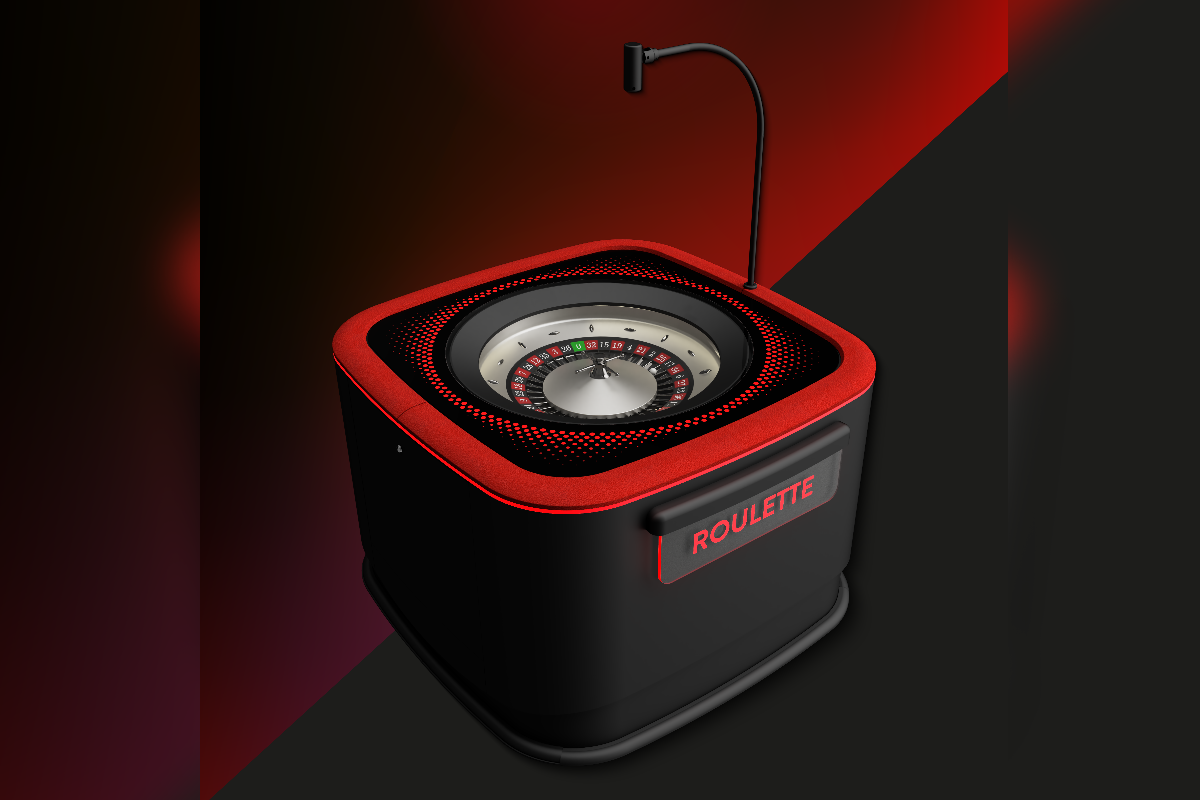 Reading Time:
2
minutes
The cooperation between Spintec Gaming Technology and Asia Pioneer Entertainment Limited (APE), which has started more than 10 years ago, has proven beneficial for both parties and has yielded important business success in the region. APE as the largest electronic table game distributor in Asia has now become the exclusive distributor for Spintec products beside Macau also in Singapore, Philippines, and Malaysia, while also remaining their trusted partner in Vietnam and Cambodia.
The 3-year exclusive distribution agreement covering the large part of Southeast Asia is providing both partners with a valuable gambit to tackle the demands of the fast-growing market in the post-pandemic era. As the market is opening and growing, both partners will be taking advantage of their strong market positions and superior products to enhance their presence in the region even further.
Their previous cooperation has brought exceptional results in all the markets of the region, but especially in Macau. With its sheer size and tight regulation, but especially with the introduction of the EGM 2.0 standard, the Macau market is becoming one of the most demanding gaming markets in the world. Spintec products are of extremely high quality and have been hugely popular in Macau, not least because of the excellent services provided by APE. Spintec products are also fully compliant with all the regulations in Macau, including the EGM 2.0, so the partners are confident that their presence in this highly demanding market will continue to flourish.
Maria Garcia, Sales Director at APE for Macau & Southeast Asia, says of the cooperation: "It is truly an honor to be working with a producer of electronic table games of such high quality and a partner that is fully committed to growing in this important region." Mitja Dornik, Regional Sales Manager at Spintec, agrees: "Our performance in Southeast Asia is growing day by day and we are thrilled to see that APE is helping us extremely on this path."
Herman Ng Man Ho, CEO at Asia Pioneer Entertainment Limited, emphasises the importance of the high product quality in their partnership: "As the largest electronic table game distributor in Asia, it is our company policy to work with the best producers in every segment and Spintec is definitely a part of the ETG elite." Spintec's CEO Goran Miskulin is also extremely proud with their cooperation with APE: "Asia Pacific is one of the most important regions for us and we are thrilled to be cooperating with a partner that recognises our advantages and is able to translate them into a strong market presence." Goran Sovilj, Spintec's Global Sales Director, recognises the challenges of the Southeast Asian markets: "These markets are very lucrative, but only if the commitment to quality and service diligence is paramount. We realize that we need a strong and reliable partner to deliver in this region and with APE we have found just that."
Made-in-India Battle Royale Indus Gameplay Trailer Revealed via London Takeover, Pre-Registrations Live Now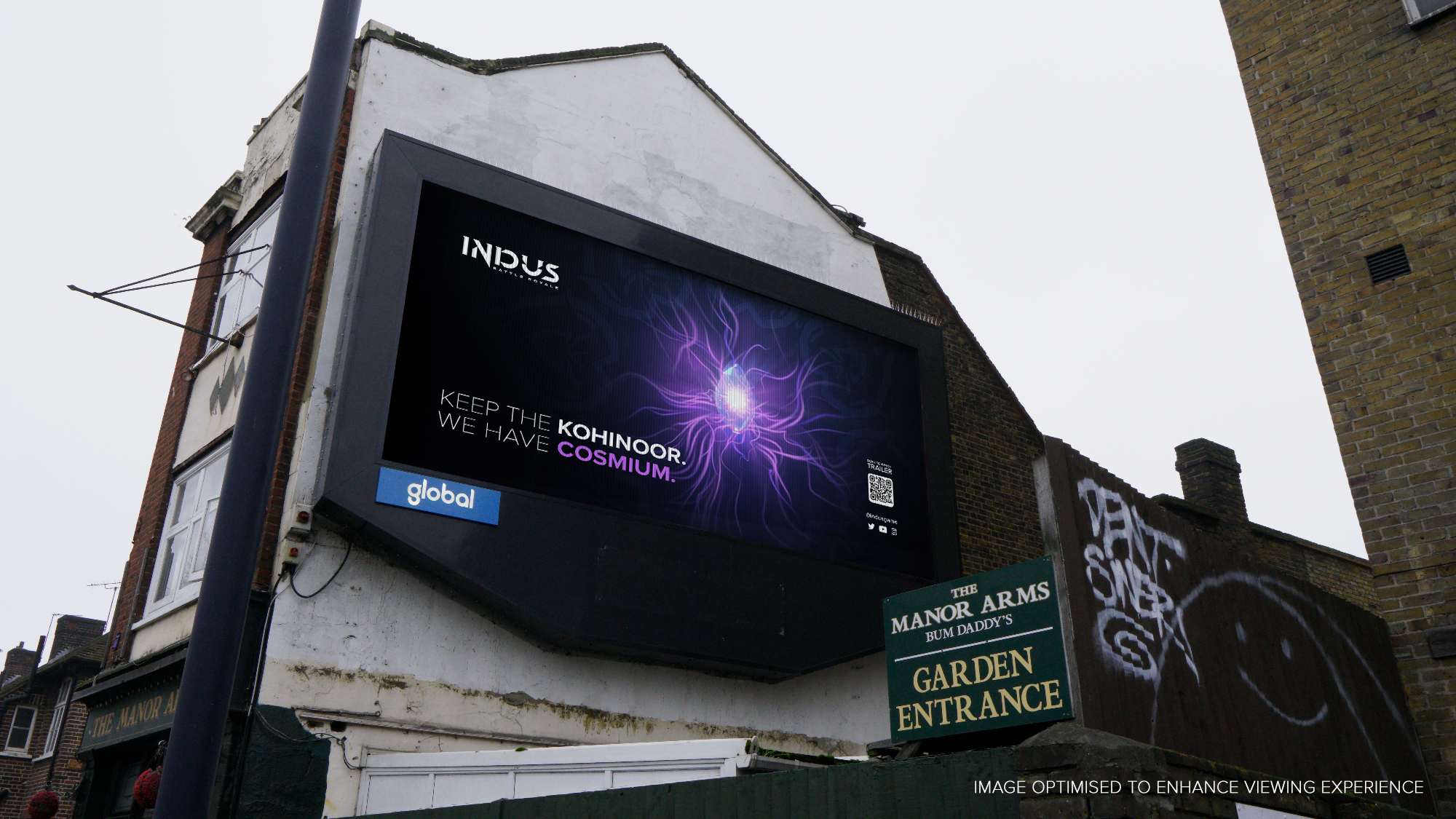 Reading Time:
2
minutes
Leading Indian game developer SuperGaming has revealed the first gameplay trailer for its upcoming Indo-Futuristic battle royale Indus to celebrate India's Republic Day of January 26, 2023.
To launch the gameplay trailer, the company released a series of high-impact takeovers across the biggest locations in London. This is in line with SuperGaming's vision of putting India on the global gaming map much like its previous Indus trailer launch at New York's Times Square to mark India's Independence Day of August 15, 2022.
"As we've been making Indus and seeing its gameplay evolve over the year, we wanted to share it with the rest of the world," says SuperGaming co-founder and CEO Roby John. "This gameplay trailer is for the Indus community the world over that may not have been able to play it with us and to show off the true scale of battle royale that we want you to have when the game is out."
The trailer entices players to discover, loot, and win on Virlok — the game's island map, all while showcasing Indus' weapons, Paragons (the game's character skins), and traversal. It also highlights multiple locations and firefights with an intent of showing the scope and size of the battle royale experience SuperGaming aims to provide.
You can check out the trailer right here:

Indus Pre-Registration Details
Pre-registrations for Indus are now live on the Google Play Store for Android with pre-registrations on the App Store for iOS and iPadOS to follow soon. Pre-registering early will get you exclusive surprises that will make your experience of Indus truly your own.
You can pre-register now for Indus via the Google Play Store.
In the run up to Indus' release date, SuperGaming will have multiple community playtests through the year. The last community playtest was held at Comic Con Bengaluru which was met with a tremendous response from the community, on an average being overbooked by 50 percent for each playtest slot. Players will be able to share their thoughts on various aspects of the game and impact the direction of how SuperGaming crafts its most ambitious title yet.
The first Indus Community Playtest for 2023 will be revealed soon.
For more on Indus, check out the developer blog as YouTube, Discord, Twitter, and
Instagram for the latest behind-the-scenes updates.
SCCG Management Unveils SCCG ASIA – A Regional Campaign Led by Kent Jenkins from SCCG's New Office in Bangkok, Thailand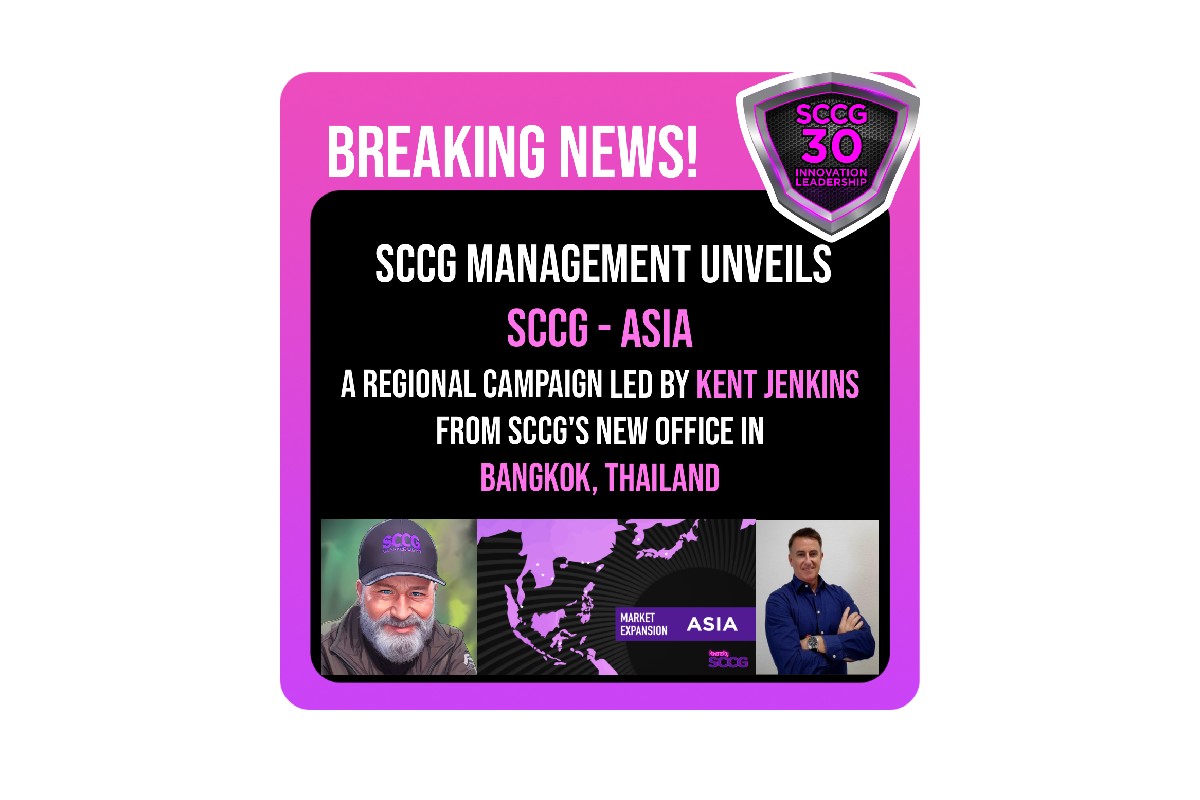 Reading Time:
2
minutes
SCCG Management, a leading management advisory firm specializing in the gaming industry, is proud to announce the launch of its new regional campaign, SCCG – ASIA. The campaign aims to provide management advisory services to Casino, iGaming, Sports Betting, and Esports companies in Asia, as well as provide solutions and resources for existing SCCG client partners looking to enter Asia's gambling market.
SCCG – ASIA will be led by Kent Jenkins, who has been appointed as the Director of the campaign. With decades of experience in international management throughout Asia, Kent brings to SCCG Management a very high level of knowledge and expertise and is well-positioned to lead the campaign from the new SCCG office located in Bangkok, Thailand.
"We are excited to announce the launch of SCCG – ASIA and to have Kent Jenkins at the helm," said Stephen Crystal, Founder and CEO of SCCG Management. "We believe that the Asian market for the gambling industry is poised for significant growth and we are confident that this regional campaign will help our client partners navigate this dynamic market and achieve success."
Kent Jenkins said, "I am thrilled to join SCCG and take on the role of leading the regional campaign for SCCG – ASIA. I am eager to work with Stephen and his talented team of industry leaders boasting over 30 years of experience in the gambling industry. I'm excited to utilize my resources and experience to drive growth and success for SCCG in the region."
SCCG – ASIA will provide a full range of management advisory services, including strategic planning, market analysis, business development and operational support. With a team of experienced leaders from the gaming industry, SCCG – ASIA will empower companies to reach new heights in the Asian market.
The Asian market presents a significant growth potential for companies in the gambling industry as it offers a large customer base due to the continent's high population, as well as a growing middle class with disposable income. Additionally, the online and mobile gambling market is rapidly growing in Asia, providing opportunities for companies to reach customers through digital channels. Furthermore, some Asian governments are actively encouraging foreign gambling companies by offering tax breaks and other incentives, and some countries are looking to legalize gambling which could open up new opportunities. Overall, the Asian market presents a significant growth potential for companies in the gambling industry.