Galaxy Racer invests US$25 million in revolutionary cryptocurrency ecosystem, QUINT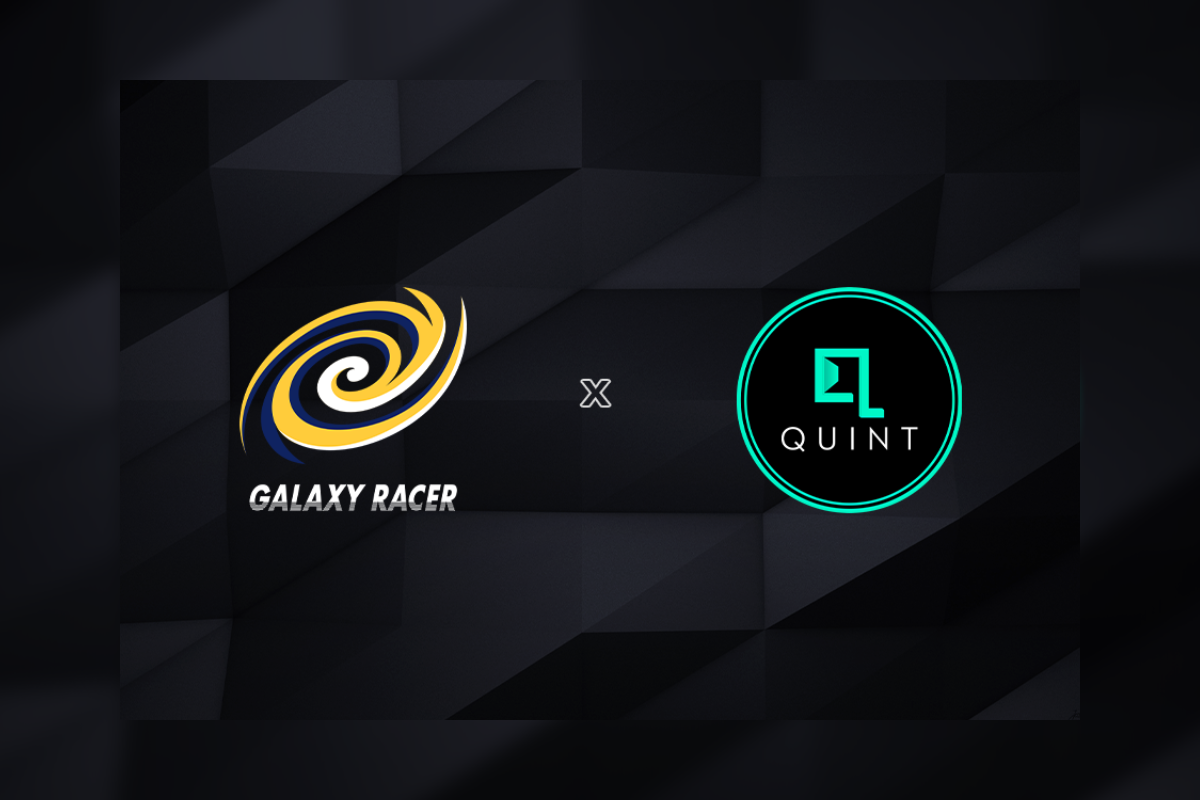 Reading Time:
3
minutes
Galaxy Racer (GXR), a transmedia powerhouse focused on esports, content creators, music and sports, headquartered in Dubai, is excited to reveal its partnership with, and investment in, the Quint ecosystem's flagship token, QUINT. Galaxy Racer has invested US$25 million into QUINT, making it the first esports and lifestyle organisation to invest a significant sum into a cryptocurrency ecosystem, as opposed to using it to raise funds. The partnership will also see the cryptocurrency company become the esports organisation's 'Native Ecosystem Token Partner'.
The esports industry has recently seen a considerable rise in cryptocurrency partnerships, the majority of which only include category exclusivity, branded segments, and media placements. In an industry first, Galaxy Racer's pioneering investment in QUINT will see the token incorporated into the esports and lifestyle organisation's existing ecosystem by utilising its technology to support future initiatives and infrastructure development. The partnership will also see Galaxy Racer amplify and support QUINT in furthering its cryptocurrency ecosystem.
Galaxy Racer will integrate QUINT into its website's payment system and explore ways the token can be used across the organisation's esports tournaments, events and merchandising divisions. Looking ahead, the companies will work together to create an educational content series for Galaxy Racer's global fanbase and the wider esports community around cryptocurrency and web3.
Quint is the first of its kind ecosystem that bridges the metaverse with the real world, developing a real-world utility to accelerate adoption and investor uptake. Investors are rewarded with real-world benefits through innovative super-staking pools that offer in-life perks, luxury raffle awards including Bored Ape NFTs and limited-edition Hublot Big Bang timepieces, and fractional ownership of high-yield real-world assets — along with class-leading crypto returns accelerated through built-in auto-compounding.
Commissioned by a team of investors who wanted to overcome the limitations of traditional crypto ventures while furthering the mass-adoption aims of the UAE Blockchain Strategy 2050, Quint is headed by industry veteran entrepreneurs, businesspeople, and investors. Quint's CEO & Managing Partner Rahul Chaudhary is the Managing Director of CG Corp Global, Nepal's only multi-billion-dollar multinational conglomerate comprising over 160 companies and 123 brands in over 35 countries. The Chief Operating Officer of Etihad Aviation, Mohammed Al Bulooki, has recently joined as the Chairman of Quint's Board of Directors.
Apart from super-staking pools, the Quint ecosystem comprises a Boutique NFT Marketplace that connects creators with collectors, a Merchandise Shop for Quint-branded apparel and accessories, and an esports element accelerated by the GXR partnership.  $Quint, the BSC token underpinning the ecosystem, will also be bridging onto other networks like ETH, FTM, Solana and Avalanche in the near future.
Founded in 2019, Galaxy Racer has five separate business offerings; content creators, esports teams, tournament management, merchandising, lifestyle and its own record label, GXR Records. The organisation has an existing global footprint of over 500+ million followers worldwide, and more than 100+ content creators generating over 2.5 billion monthly views.
Founder and CEO of Galaxy Racer, Paul Roy commented: "We are thrilled to announce our investment and partnership with The Quint Ecosystem's revolutionary token, QUINT. For years we have been approached by many cryptocurrency companies, coins and projects all hoping to partner with us as we continue to grow and expand globally. However, it was our main priority to make sure we took our time to study the ecosystem to ensure we partnered with the best project for our community and investors. We wanted to invest and partner with a company that had an industry-leading team and technology behind them – which we strongly believe is The Quint Ecosystem.
"The opportunity to offer our global fanbase to learn about the cryptocurrency ecosystem and interact with the technology in a way that has never been done before within the esports industry, is something we are very excited about. We look forward to sharing some exciting announcements soon!"
The Quint Ecosystem CEO & Managing Partner, Rahul Chaudhary comments: "Quint is thrilled to partner with Transmedia powerhouse and Middle Eastern esports pioneer Galaxy Racer. Our entire roadmap is predicated on linking the virtual and real worlds while creating value for diverse communities, including the global esports audience. Since launch, the QUINT token has posted exceptional returns powered by real-world conviction from investors, global community interest and uptake, rigorous audits, full transparency, and a utility framework bolstered by exceptional partnerships, including the one with transmedia powerhouse GXR. We look forward to this partnership creating incredible value for both parties, and our global communities."
BGaming creates exclusive slots and games for Winz.io crypto casino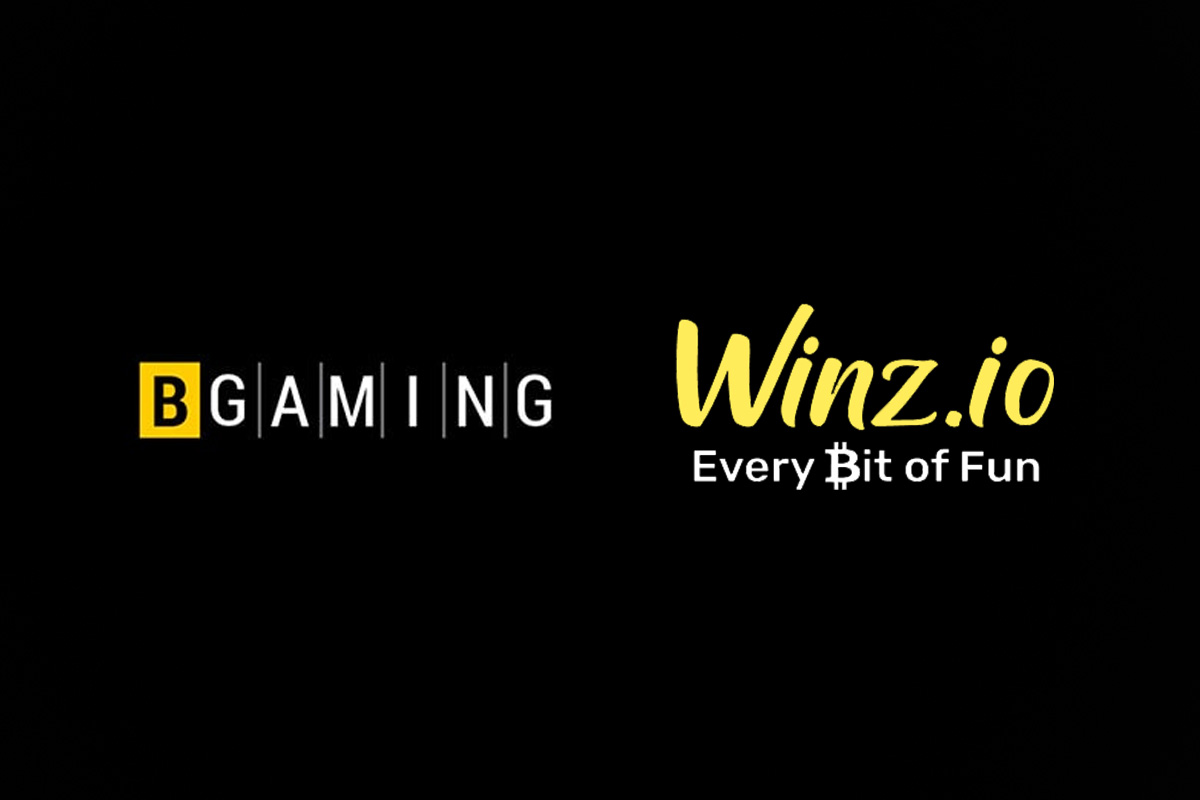 Reading Time:
2
minutes
Traditional online casinos continue to refuse to accept cryptocurrency assets as payment options for their accounts, claiming that they are inherently unstable. There is some truth to these words because we can see for ourselves how the overall market is falling as a result of the Terra ecosystem hacks. But you have to give cryptocurrencies credit for some ambitious casino projects that are still operational simply because they accept cryptocurrency deposits and withdrawals. Today, we will look at how virtual money has impacted the entire gaming industry.
BGaming and Winz.io casino
If you are an experienced online casino player, then you also know about the most popular software developers like BGaming. They have released exclusively exclusive games for Winz.io casino online such as Multihand Blackjack and Winz to the Moon.
Winz to the Moon is a fascinating and very addictive slot game that is built to evolve and reward players with unpredictable results and large prizes. There, users may study the payoff tables to learn how the game works and how much they can win. It allows you to go on adventures in deep space, and by spinning the symbols on the screen, you may win prizes that are out of this planet.
Multihand Blackjack is an extremely popular game that has drawn participants from all over the world since it was launched and made available. It is simple to learn and enjoy, whether you are a seasoned professional or a novice who has never played a game like this before. The purpose stays the same as in any other blackjack version. Players must obtain a total number that does not exceed "21," but should be as near to it as possible because they are playing against the dealer, who also has a hand. Six decks are employed here, allowing for 312 playing cards every round. In addition, the dealer will deal with three hands.
Cryptocurrencies in gambling
At a time when traditional gambling sites were under state scrutiny, each crypto casino saw unprecedented gains as a result of a sense of freedom. Traditional representatives of this type of gambling began to feel constant pressure from regulators, who were required to enforce anti-money laundering laws and implement mandatory KYC verification. Later, traditional online casinos began to suffer from financial institutions that required individual verification of each new player and withdrawal approval under the same law.
All of that has changed with the advent of cryptocurrencies. Because it does not apply to any known financial institution, it cannot be regulated. The very nature of cryptocurrencies is decentralized and transparent. As a result, states and regulators have relaxed their grip on traditional casinos because frequent checks have become a minor inconvenience for users. Even where there was no direct support for cryptocurrencies, casino gaming has become more open.
These are the most Googled Cryptocurrencies in every European Country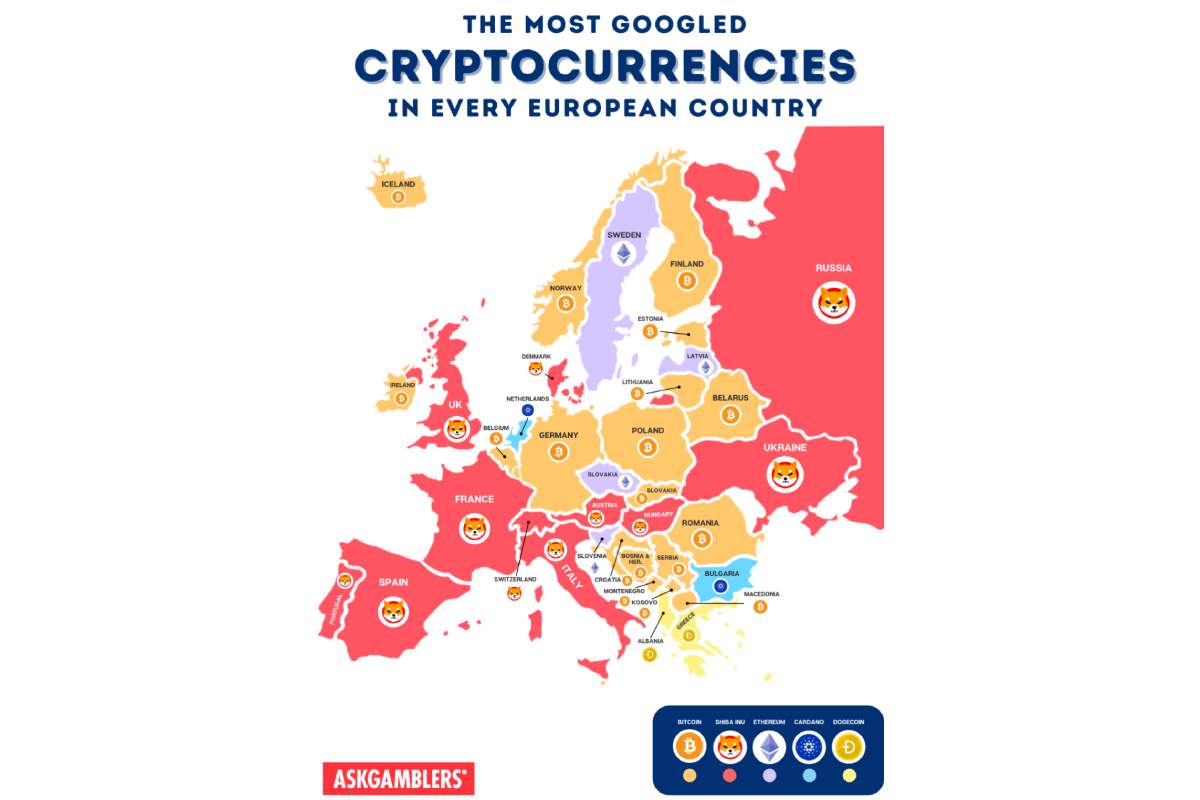 Reading Time:
2
minutes
New research has revealed the cryptocurrency each European country wants to invest in the most, with Bitcoin taking the top spot.
The research, conducted by online casino experts AskGamblers, analysed Google Trends data over the past 12 months to establish the cryptocurrency that each country across Europe wants to invest in, based on searches.
The analysis revealed that Bitcoin is the most searched cryptocurrency in Europe, with twenty-one countries searching for Bitcoin more than any of its competitors, including Germany, Poland, Romania, and Belgium.
Seven countries were searching to invest in Shiba Inu more than any other cryptocurrency, including the UK, Russia, France, and Italy. This makes Shiba Inu the second most popular cryptocurrency in Europe.
Ethereum is the third most popular cryptocurrency, according to the research. The countries seeking to invest in Ethereum the most are Sweden, Czechia, Latvia, and Slovenia.
A total of three countries – the Netherlands, Bulgaria, and Andorra, were searching for Cardano more than any other cryptocurrency. This placed Cardano in the fourth spot in Europe overall.
In fifth place is Dogecoin, which was the most popular cryptocurrency in Greece and Albania.
Commenting on the findings, a spokesperson for AskGamblers said: "There is an abundance of free information available online to educate people on crypto, especially on platforms such as TikTok and YouTube. This has opened the opportunity for people of all different backgrounds to start investing, who might not have had the knowledge or confidence to enter the world of crypto before."
"With 38 million crypto users in Europe and thousands of cryptocurrencies on the market to choose from, it is fascinating to see which one people are the most interested in investing in. Although Bitcoin is the most popular overall, the interest in Shiba Inu has grown to surpass Bitcoin in major countries such as Russia and the UK."
Most Googled Cryptocurrency in Europe
| | |
| --- | --- |
| Cryptocurrency | No. Countries Searching for it the Most |
| Bitcoin | 21 |
| Shiba Inu | 7 |
| Ethereum | 4 |
| Cardano | 3 |
| Dogecoin | 2 |
What Will Be the Next for Crypto Gaming? SOFTSWISS H1 Overview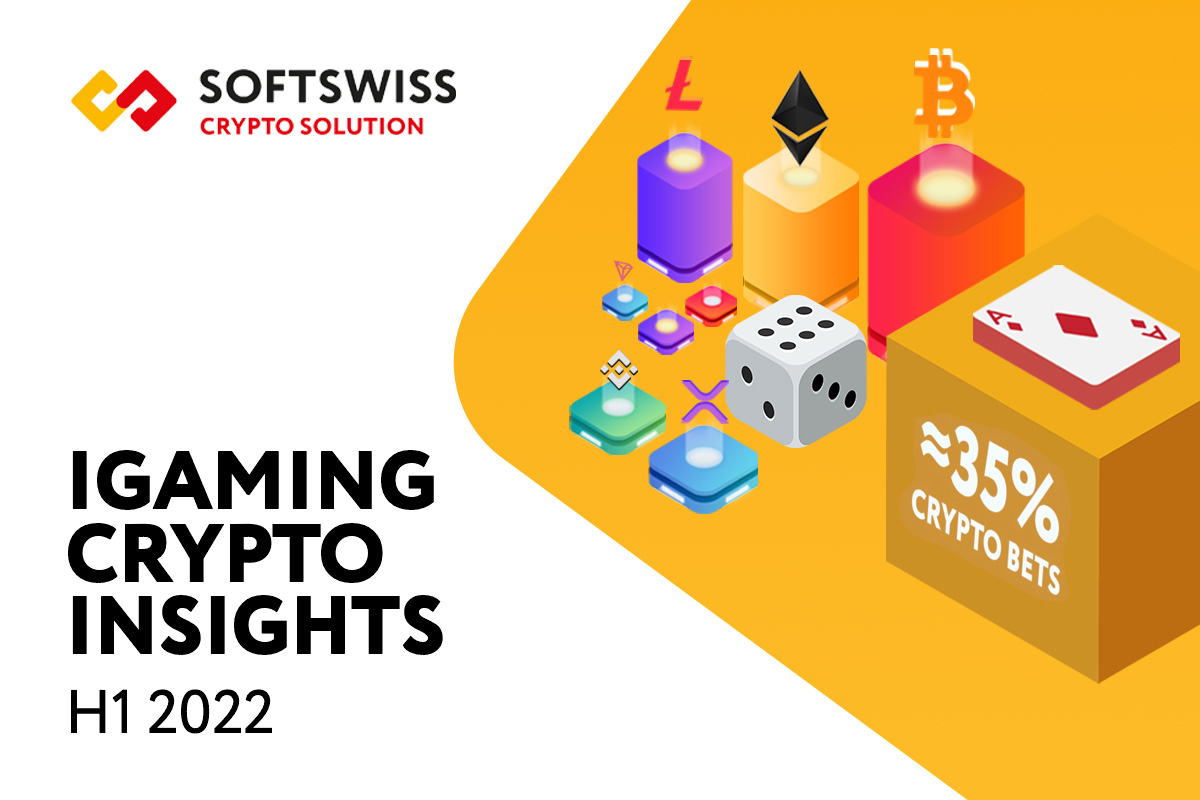 Reading Time:
3
minutes
Crypto expansion continues to cover all areas of entertainment including the dynamic iGaming industry. Being sensitive to hi-tech trends, online gambling is experiencing a new stage, one where a crypto community of players and operators is forming. SOFTSWISS, the leading software provider offering quality software solutions for iGaming projects, unveils the latest look at its cryptocurrencies data for the first half of 2022. 
The SOFTSWISS team is constantly monitoring changes in crypto in order to provide the iGaming industry with a forecast for further developments. The data presented in the company report reflects the state of crypto in H1 2022 compared to the same period last year. It is based on the results of the company's most demanded products: the SOFTSWISS Casino Platform and the SOFTSWISS Game Aggregator.
Total Bets: How is the Market Growing`?
Before observing the crypto trends, it is important to overview the general state of the iGaming market first. Such indicators as the Total Bet Sum clearly demonstrate the industry's development. The SOFTSWISS data confirms that interest in iGaming is steadily increasing year by year. The sum of all bets shows a 46.4% surge compared to the first half of 2021. Compared to the same period in 2020, this number increased by almost 247%.
When Will Crypto Bets Beat Fiat?
It becomes a logical question when looking at the dynamic growth of crypto when looking at fiat and cryptocurrencies for betting. Holding 34.8% of the total bets volume in the first half of the current year, digital coins continue to capture the share of all bets made. It has increased by 5 p.p. compared to the data gathered one year ago.
At the same time, analysing the ratio of different currencies in the first two quarters of 2022, crypto has lost 2.37 p.p. in its share. It seems to be a short-term tendency, despite overall growth.
"This slight decline during the second quarter should not affect the overall trend towards an increase in the share of cryptocurrencies in the total volume of bets. We have been seeing stable growth for several years, which contributes to the further development of crypto gambling. A crypto community is growing among players. The interests of this audience now largely influence the growth of the whole industry. Operators that meet the needs of this community gain a competitive advantage and become market leaders," сommented Vitali Matsukevich, COO at SOFTSWISS.
What Digital Coins Are Catching Up to Bitcoin?
It is not a surprise that Bitcoin still remains the most popular digital currency in the iGaming industry – 71,2% in H1 2022. However, there is an apparent trend in the growth of Etherium, with its 7 p.p. rise during H1 2022. Now Etherium holds almost 15% of the share. The top three ranking is still closed by Litecoin which also demonstrates growth of 2.15 p.p.
Bitcoin (BTC) 71.2%
Ethereum (ETC) 14.7%
Litecoin (LTH) 6.15%
The full list of top cryptocurrencies in H1 2022 and H1 2021 is available in the detailed SOFTSWISS report.
The Next Move of Crypto Gambling. What will it be?
Despite a slight decline in crypto bets within the second quarter of 2022, the overall picture demonstrates that cryptocurrencies are still penetrating deeper into the iGaming industry as well as other areas of entertainment. Nevertheless, the regulation of the markets worldwide and the diversification of cryptocurrencies will likely have a significant impact on the development of iGaming in the upcoming years.
"Stricter regulation of crypto operations, of course, will have an impact on the development speed of this business area. However, the huge potential of crypto projects and, accordingly, interest from leading industry representatives will play a decisive role. We will see further growth in this niche combined with a new non-standard approach to the gamification of the playing process with novelties such as NFT and tokens," concluded Vitali Matsukevich, COO at SOFTSWISS.
About SOFTSWISS
SOFTSWISS is an international iGaming company supplying certified software solutions for managing gambling operations. The expert team, which counts 1,400+ employees, is based in Malta, Poland, Georgia, and Belarus.  SOFTSWISS holds a number of gaming licences and provides one-stop-shop iGaming software solutions. The company has a vast product portfolio, including the Online Casino Platform, the Game Aggregator with thousands of casino games, the Affilka affiliate platform, the Sportsbook Platform and the Jackpot Aggregator. In 2013 SOFTSWISS was the first in the world to introduce a bitcoin-optimised online casino solution.