At Least $50M In Prizes Up For Grabs In GGPoker's Bounty Hunters Series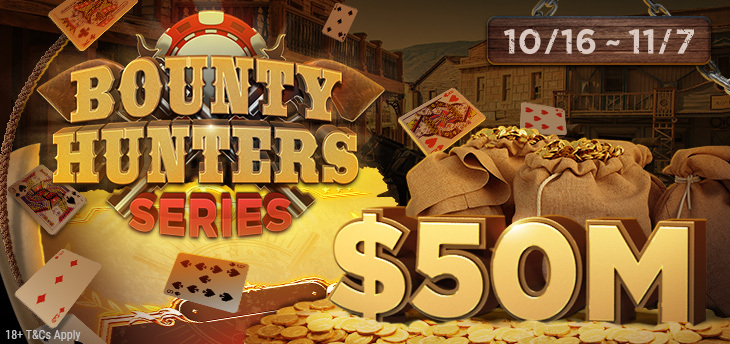 Reading Time:
2
minutes
GGPoker today launches its Bounty Hunters Series, which runs from October 16 through November 7. At least $50,000,000 in prizes will be won across the series, which consists of progressive bounty poker tournaments with buy-ins starting from $5.25.
The Bounty Hunters Series is headlined by a flagship event:
$210 MYSTERY BOUNTY Main Event – Final Stage on November 7 – $5,000,000 GTD, $500K Top Bounty
Other highlights include:
Global MILLION$ Bounty Edition, $1M GTD – Final Stage on October 23 – $1,000,000 GTD

Special Edition GGMasters $25 Bounty Freezeouts – Three chances to win big each day

Bounty Hunters Daily Main

Sunday Special Editions – Sunday High Rollers Main, Sunday Big Game and more
All series events, apart from the $210 MYSTERY Bounty Main Event, will feature GGPoker's new Bounty Jackpot mechanic, with prizes of up to $1,000,000 available to players that knock out an opponent and win a jackpot prize.
Satellite tournaments into various events will run throughout the series.
In bounty tournaments, players win prizes each time they eliminate another participant from the event; these bounty prizes are paid in addition to any standard prizes won. The more opponents knocked out, the more prizes a player will claim.
In GGPoker's progressive bounty tournament format, the bounty prizes also grow bigger as players knock each other out; by eliminating a player that has previously knocked out multiple opponents, you will claim a much bigger bounty prize than available at the start of an event.
In a mystery bounty poker tournament, some exciting format changes are added to the mix; firstly, the buy-in is split 50/50, with half going into the standard prize pool and the other half going into the bounty prize pool. The play is split up into phases, with Phase 1 proceeding like a standard tournament and no bounties paid out as players are eliminated.
In the Final Stage, knock outs are now infused with excitement as each player that eliminates another will receive a random mystery bounty, with the biggest prize as likely to be claimed when the Final Stage's first knockout occurs as on the final hand of the event!
"Everyone loves bounty tournaments, and it's easy to see why; all players have targets on their back and it's hunt or be hunted at the tables," said Sarne Lightman, Global Head of GGPoker. "This is our second Bounty Hunters Series of the year, and there's so much player interest that we've increased the total prize pool guarantee from $30 million to $50 million – let the hunt begin!"
New GGPoker players are eligible to claim the poker room's Welcome Bonus, earn even more rewards with the Honeymoon for Newcomers promotion and automatically join GGPoker's Fish Buffet loyalty program, with regular cash prizes on offer.
Bidstack Revs Up In-Game Advertising With Leading Mobile Racing Studios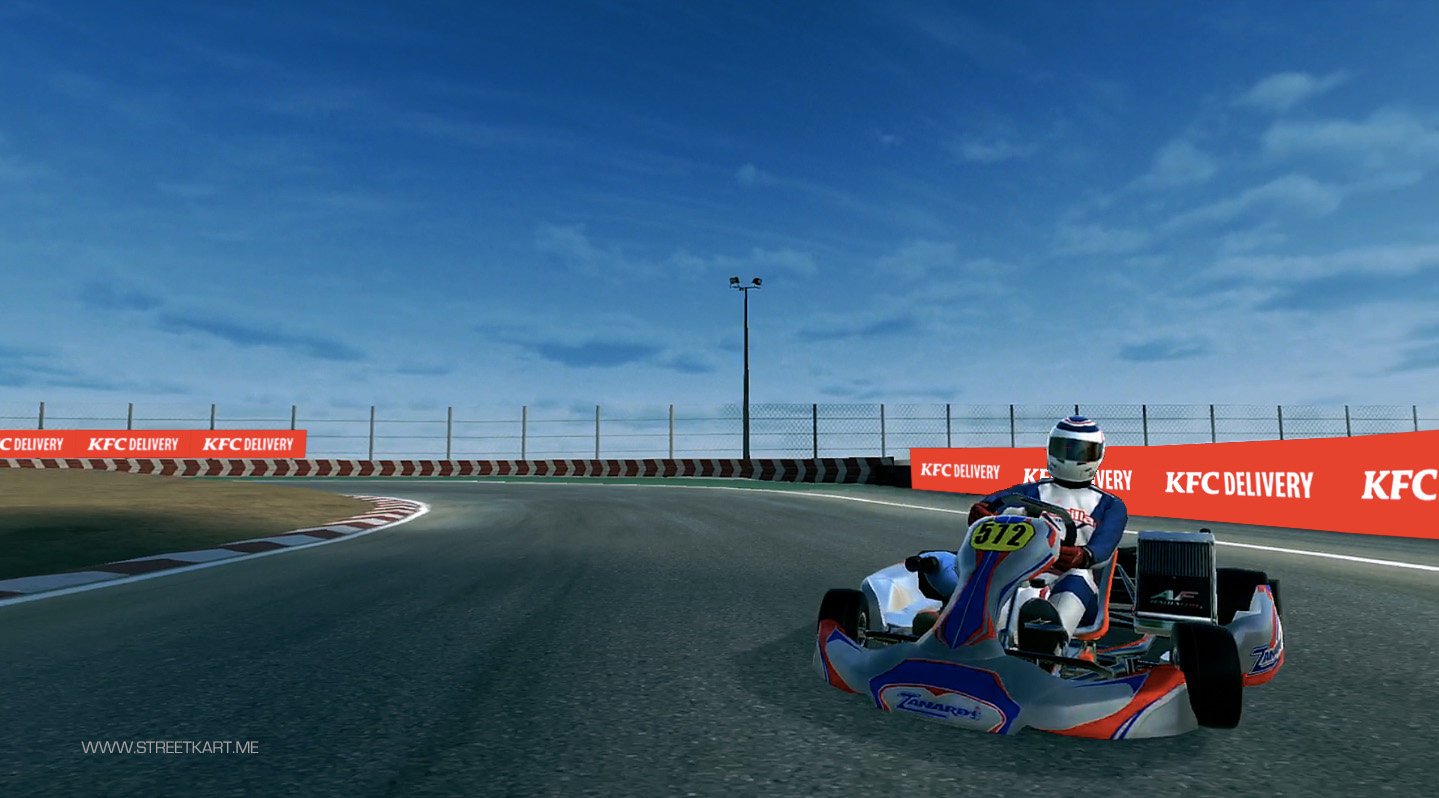 Reading Time:
3
minutes
Bidstack, the technology company pioneering Intrinsic In-Game advertising, today celebrates the one-year anniversary of its partnership with publisher Fingersoft and announces new partnerships with leading driving and racing mobile game studios The Tiny Digital Factory and Fat Cigar Productions Ltd.
Bidstack's technology has become increasingly popular among mobile titles of all genres due to its ability to increase revenue through authentic and immersive in-game ads – without impacting gameplay or the player experience. Racing and sports games can be some of the most effective environments for in-game ads, enhancing realism and better mirroring real-world sporting environments.
Antoine Jullemier, VP, Gaming at Bidstack, said:
"I'm so pleased to be working with these three incredible racing studios. Brands are a huge part of racing and mobile games; therefore, they tend to have a lot of spaces suitable for in-game ad content, which can enhance the realism of those spaces. Our lightweight SDK means that game performance is unaffected, which is a critical consideration when it comes to players' on-track performance. We're super excited to further develop our relationship with Fingersoft and to add The Tiny Digital Factory  and Fat Cigar Productions Ltd to the Bidstack paddock. As in-game advertising continues to gain traction with brands, we expect to see the channel generate record revenues in the year ahead."
Bidstack's technology was first integrated into Fingersoft's Boom Karts Multiplayer Racing in May 2022. Over the past year, the online go-kart racer, which has had more than 3.5 million downloads to date, has generated almost half a billion in-game ad requests. One of the largest game developers and publishers in Finland, Fingersoft is best known for Hill Climb Racing and Hill Climb Racing 2, which have more than 2 billion installs between them.
Otto Simola, Head of Game Economy from Fingersoft, said:
"We're always interested in providing players with a seamless and enjoyable experience while driving incremental revenue for the business. In-game advertising is a natural fit for both of these priorities and our partnership with Bidstack over the past year has proved to us that ads can indeed increase authenticity and immersion in games. We're eager to see how the obvious possibilities of in-game advertising can crystallise further for players and studios alike."
The duo of newly-signed partnerships injects yet more high-octane racing content into Bidstack's portfolio of racing games. The Tiny Digital Factory is a world-class publisher of racing and motorsport games based in Lyon and Montreal. Its popular racing simulation, GT Manager, harnesses Bidstack's technology to authentically bring real-world brands into its immersive on and off-track environments.  Independent British Studio Fat Cigar Productions is utilising Bidstack's technology in Street Kart Racing, a competitive mobile racer which has been the number 1 paid game on iOS in over 100 countries, to increase realism for users while adding an additional revenue stream.
Stéphane Baudet, CEO & Founder of The Tiny Digital Factory, commented:
"GT Manager is a simulation game that aims to recreate the thrill of running a racing team. Brands are part of the lifeblood of racing and Bidstack's brand partnerships are contributing to making GT Manager as authentic as possible and supporting our business goals."
Ross Jones, Co-Founder at Fat Cigar Productions, said:
"As a competitive racing title with a fantastic motorsport-savvy community, we don't want to integrate any content that impacts on the performance of our game or user immersion. In-game advertising with Bidstack felt like an obvious choice to drive revenue and introduce authentic branded content without harming the user experience."
Bidstack's existing cross-platform sports and racing portfolio features Football Manager, Mad Skills Motocross 3, SimWin, Top Eleven and many more, enabling brands to reach an ever-growing and diverse gaming audience.
With new momentum into the second esport season: Ski Challenge plans Nations Cup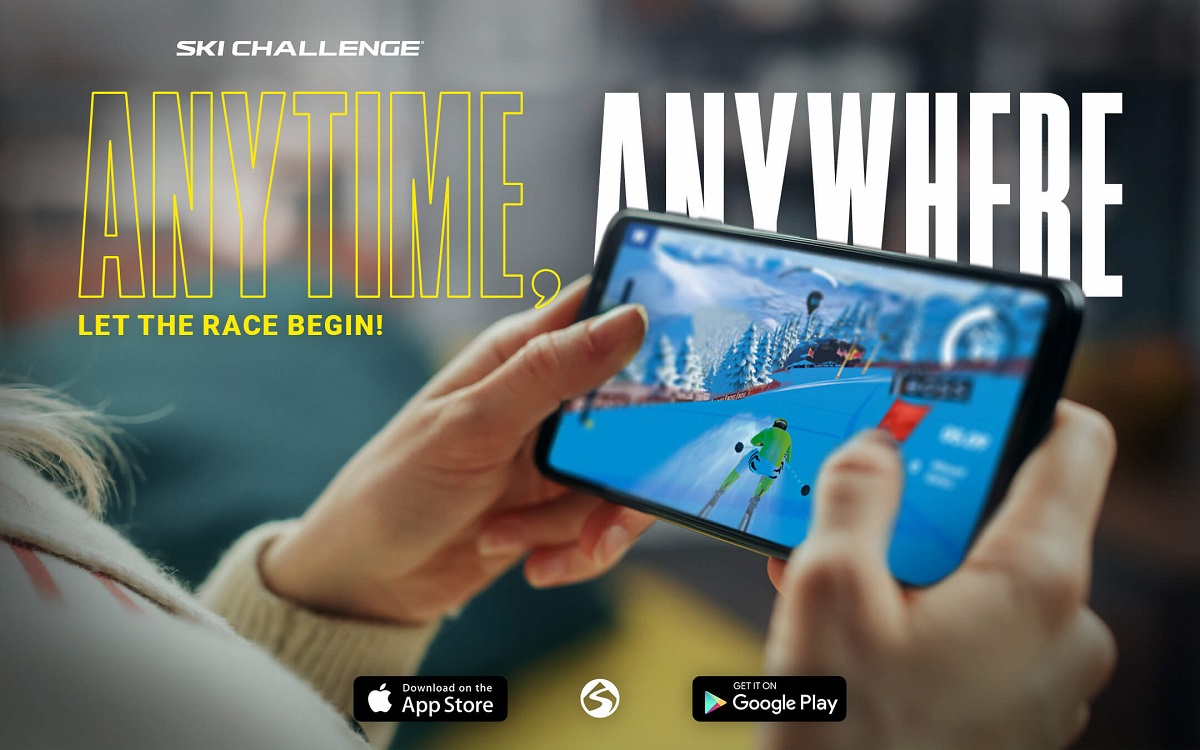 Reading Time:
2
minutes
Ski Challenge, the fast-paced esports game by Greentube, has become one of the most popular sports games just a few months after its official launch. For the second season, the developers of NOVOMATIC Digital Gaming and Entertainment Division, in close cooperation with ski associations and co-shareholders from Austria (ÖSV), Switzerland (Swiss-Ski), and Germany (DSV), are planning an attractive innovation for all ski and game enthusiasts: the Nations Cup, starting in autumn 2023.
Developed as a tribute to Greentube's first published game, Ski Challenge has had an extremely successful first season with over half a million downloads on iOS and Android since its release in October 2022. The game is not only popular among players but has also established itself as an attractive platform for high-profile global brand partnerships.
Thanks to continuous and extensive updates that enhance the competitive nature of Ski Challenge, Greentube and the three successful ski associations, ÖSV, Swiss-Ski, and DSV, have now joined forces as shareholders to create an exciting new tournament series: the Ski Challenge Nations Cup.
This thrilling competition invites players to represent their countries and compete for honor, glory, and attractive prizes in multiple qualifying rounds and the tournament phase. But that's not all. Ski Challenge players who qualify for Germany, Austria, and Switzerland will now compete as official national teams for their respective ski associations.
The tournament events will take place parallel to the actual Ski World Cup events. With this expansion, Ski Challenge aims to further strengthen its esports concept and transfer the enthusiasm of skiing into the virtual world.
Michael Bauer, Greentube's CFO/CGO, said: "We are thrilled to be able to add a number of new teams to the game as part of our Ski Challenge Nations Cup update. These federations are staples of the sport and give the game another level of legitimacy. We firmly believe our highly dedicated and loyal player base will be delighted with these upcoming additions as Ski Challenge continues to grow as a premier esports title."
Diego Züger, CEO Commercial Swiss-Ski: "This is a great opportunity for skiing. With the establishment of the Nations Cup and the entry into esports, we will inspire new target groups and further develop skiing as a whole. The successful cooperation with Ski Austria and the German Ski Association, as well as Greentube, shows that a lot is possible with good collaboration."
Stefan Schwarzbach, Board of Communication, German Ski Association: "With the Nations Cup, we as associations want to establish a direct connection to real skiing and our top athletes. Ski Challenge is increasingly becoming an attractive communication platform to inspire children and young people for skiing. In the medium term, our clubs and ski clubs should also benefit from this."
Christian Scherer, Secretary General, Austrian Ski Association: "We are incredibly excited to launch a virtual tournament series that will revolutionize the world of skiing and bring nations together. This initiative expands the reach and ignites the competitive spirit of skiers worldwide. It is undoubtedly one of the most exciting announcements of 2023 as we embark on this exciting journey to shape the future of skiing and create an unforgettable experience for all involved."
Three Areas Which Could Be Emerging Bingo Markets of the Future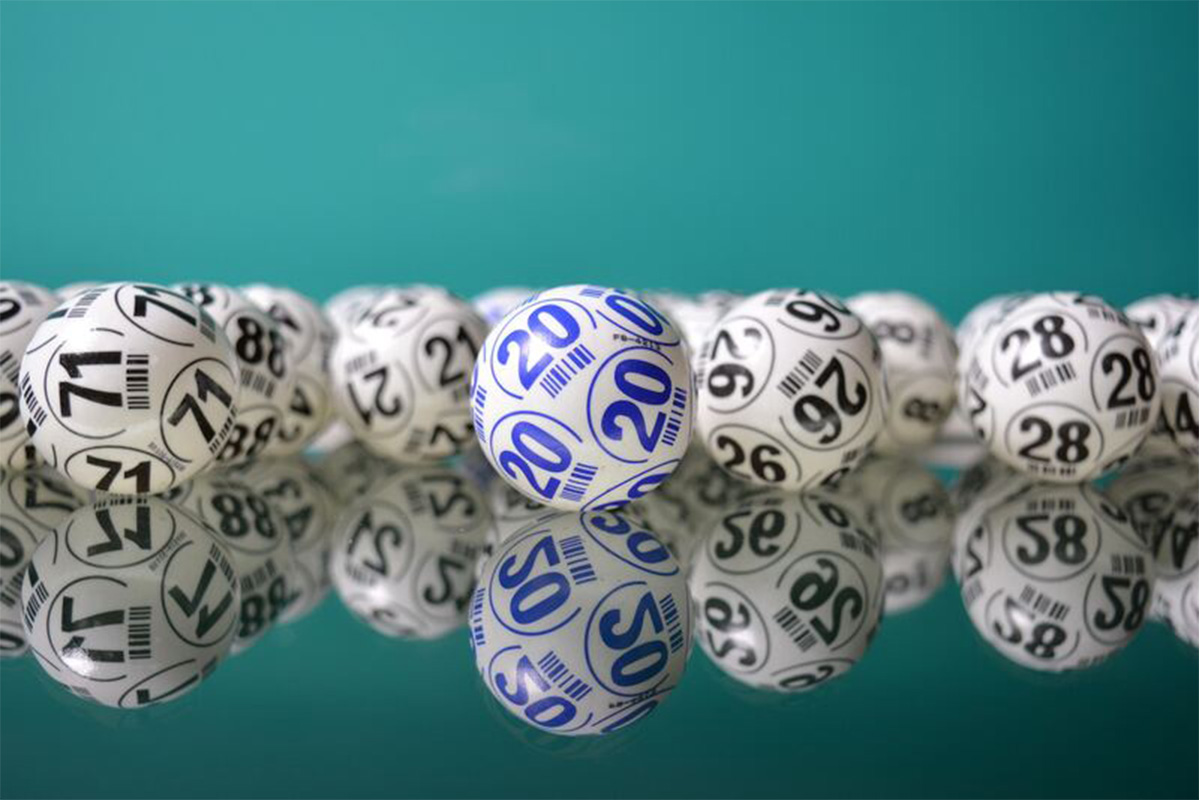 Reading Time:
2
minutes
Casinos are in many countries around the world. Spurred on by online offerings, it is an industry that is more popular than ever. Bingo, a similar concept, has a different perspective. It is growing in popularity online, and certain countries are filled with bustling halls and vibrant venues. Others have few physical spaces at all. Below, we look at areas which could be the emerging bingo markets of the future.
Eastern Europe
The United Kingdom has around 350 bingo clubs, with the US deeming them equally as popular. Yet in other countries and provinces, bingo halls are less prevalent, despite the games following online. Add to this that most countries have at least one variation of bingo, and it seems like halls should be a lucrative attraction.
The best tactic when entering these markets would be to combine online sites with physical establishments. Online sites offer convenience, while physical halls make going out to bingo an event. Bingo companies in the UK have been doing this for some time. While many countries have physical locations, they often lack the investment and attraction that the halls of the UK and the US do.
One particular area they could be developed in is Eastern Europe. Southern states such as Romania already have a thriving scene, though even here clubs are small affairs, void of the comfort, glitz and glamour you may find in ones elsewhere. Bingo Chez Gabi, found in the capital Bucharest, epitomises bingo in the country: Home-grown affairs, with a restaurant and pub attached.
Other countries like Hungary show promise due to their developing economies in capitals such as Budapest. However, there are strict regulations for physical establishments and even very few casinos. Any halls would have to be carefully placed and have local backing.
South America
Bingo is huge in South America, and you can find major operators across the biggest countries. Argentina has over 45 bingo halls with other large countries like Brazil having over 600. Even in countries such as Columbia, there's a bingo hall in most major shopping centres.
Where the true emerging markets are in the smaller states. This popularity is always bound to spill over, into growing economies like Chile, Peru and even smaller states like Ecuador. In Mexico, the game is also wildly popular so it makes sense that states situated between them, like Panama and Costa Rica, would be targets for companies already operating close by.
Japan
Japan itself has a large following for bingo, which is almost exclusively played online. This is because no bingo halls exist in the country, meaning the only way to play is through a mobile device.
Japan does have its fabled pachinko parlours, where tokens are won, and exchanged offsite for prizes. His could be a model that any prospective bingo companies making inroads into the country could use. However, they have to compete with the popularity of the much-loved parlours.
There are plenty of other countries and markets that will come and go. With so many different bingo variations, even without large halls, you should be able to find a game in most parts of the world.