BGaming levels up classic book experience in Book of Cats MEGAWAYS™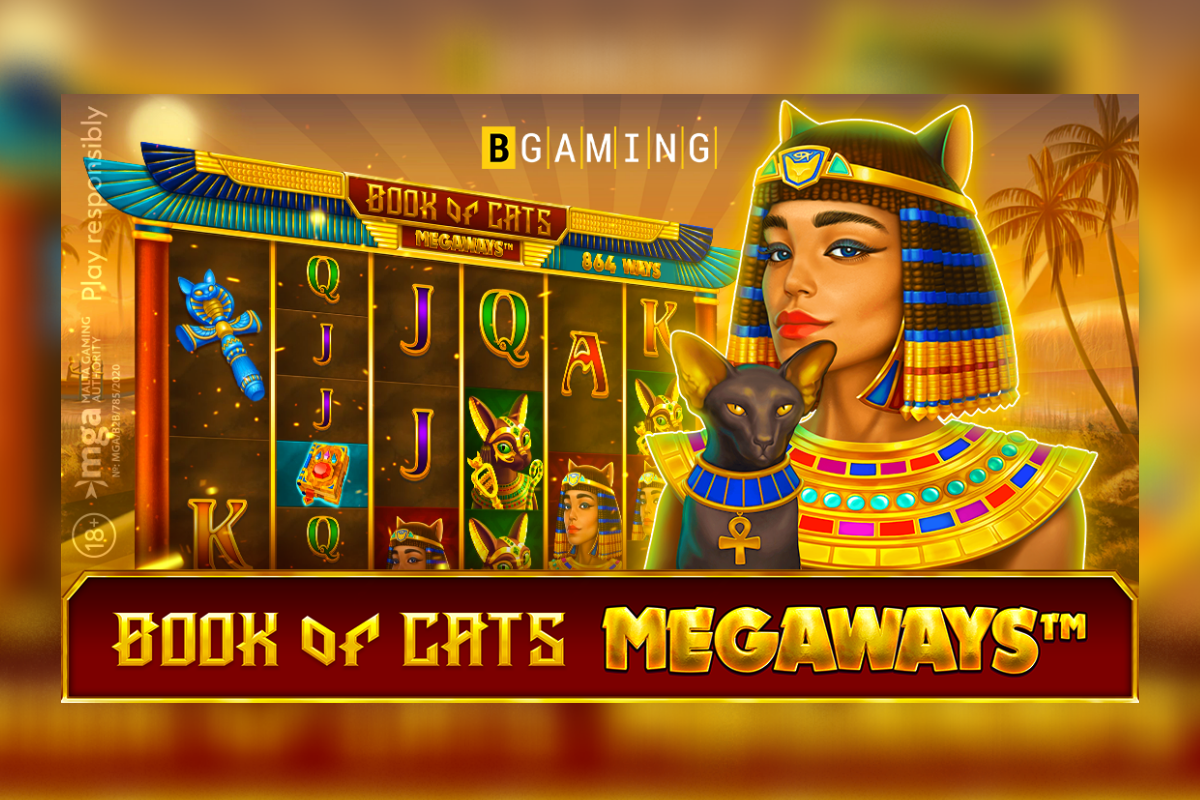 Reading Time:
2
minutes
BGaming, a fast-growing iGaming provider, has added the edge to the entertainment value of its famous Book of Cats slot by enhancing it with MEGAWAYS™ mechanics and new thrilling features, including generous multipliers.
The game's central theme remained the same: the new title is centered around the holy Egyptian cat goddess Bastet, bringing cheer and luck. In addition to exciting MEGAWAYS™ mechanics, the 6х3 scheme slot Book of Cats MEGAWAYS™ hides a set of remarkable features: free spins that can be retriggered, expanding symbols in the bonus game and a special Book symbol, which multiplies wins in free spins round. The Buy Bonus feature allows players to buy a bonus game round at any time during the base game. The maximum number of possible ways to win in this dynamic release is 117 649. 
The bonus round, which consists of 12 spins and triggers organically when a player lands 3 scatters in the base game, can also be retriggered, rewarding a player with 12 additional Free Spins. During Free Spins, wins can be boosted by a random x2, x3, x5, or x10 multiplier applied to the total win of a spin. If more than one Wild symbol appears in one spin, their multipliers are summarized, providing generous rewards.
"The game is a must-try for all the book slot fans!" Yulia Aliakseyeva, the Game Producer at BGaming, commented. "MEGAWAYS™ mechanics adds a thrill to the already exciting concept, and a collection of generous multipliers is a unique gem that sticks this game out from the others."
Book of Cats MEGAWAYS™ precedes another big release – the game Soccermania, devoted to the FIFA World Cup. The slot, which unites familiar to players characters like Elvis the Frog, cactus cowboy Johnny Cash, Penny Pelican, and a crazy archeologist in the contest celebration, goes live on November 15th.
BGaming is a fast-growing iGaming content provider converting gambling into gaming. Thanks to an expert team and a player-driven approach, the studio creates innovative and engaging products featured on reputable platforms and 700+ online casinos worldwide. BGaming is the world's first to support cryptocurrencies and offer Provably Fair games. Today the brand's portfolio includes 90+ products with HD graphics and a clear user interface for every device.
Roundtable: The future of cryptocurrency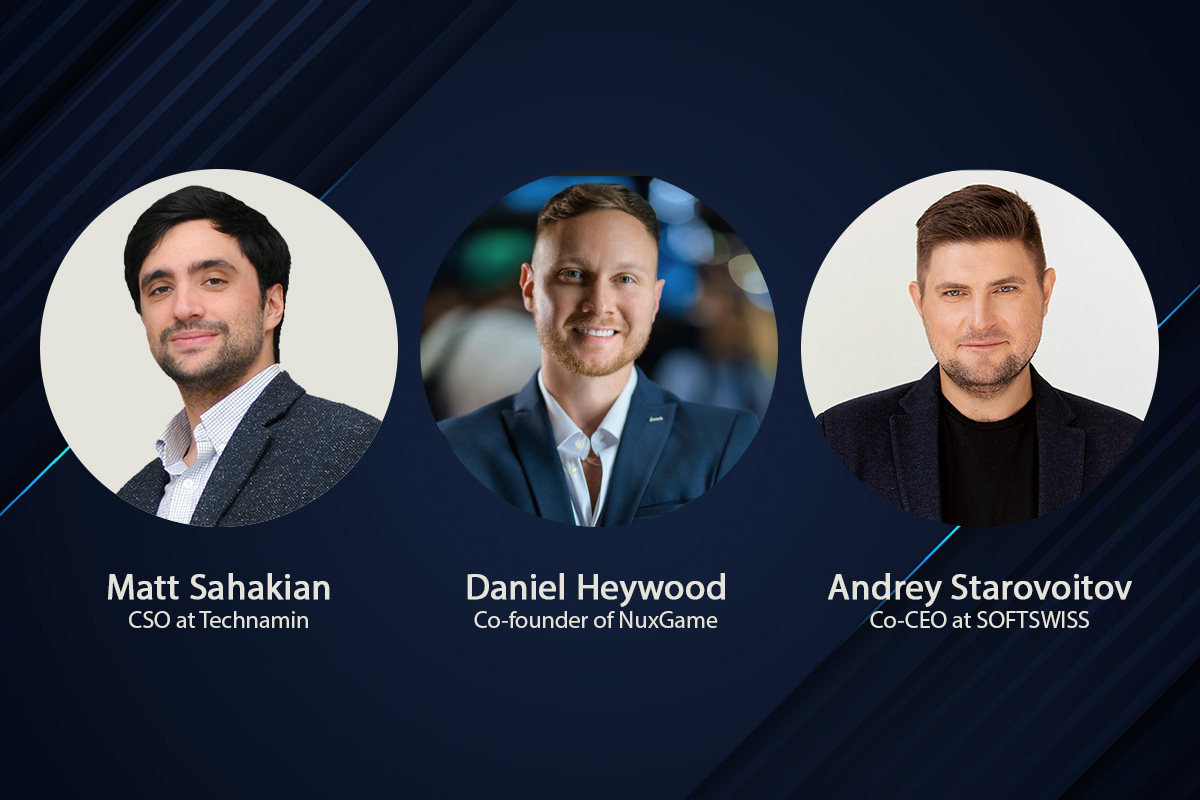 Reading Time:
5
minutes
Cryptocurrency has really taken off over the past few years within the iGaming industry and has established an important foothold in the world of online casinos.
We spoke to Andrey Starovoitov – Co-CEO at SOFTSWISS, Daniel Heywood – Co-founder of NuxGame, and Matt Sahakian – CSO at Technamin, to talk about what the future holds for cryptocurrency and why it is now a hugely vital part of the industry.
How widespread is the use of cryptocurrency in online casino and sportsbook and does it have mass appeal?
Andrey Starovoitov (AS): The use of cryptocurrencies in gambling is a sustained trend that is only getting stronger from year to year. Today, we can see a certain segment of crypto casinos getting a strong foothold and taking over a considerable market share. Crypto casinos are certainly a flagship of our client portfolio along with major fiat casinos. In terms of figures, cryptocurrencies have grown 10% year-on-year to make around 35% of the SOFTSWISS turnover. This is an evident growth indicator on the back of the major coin price volatility, which shows a gradual progressive increase of player interest in this type of deposits.
Daniel Heywood (DH): There has been significant uptake in cryptocurrency adoption in various industries in recent times, including finance, IT, e-commerce and more. Additionally, outside of its use in the corporate world, it has been championed by thousands of private citizens who regularly use cryptocurrencies. This is a far cry from the image crypto had only a few years ago and serves as a testament to its growth.
Matt Sahakian (MS): I think that at this point, crypto is inseparable from our industry. Most reputable online casinos are now offering crypto payment methods and the ones that are not doing so, surely have it in their short-term roadmaps. Online sportsbooks jumped in on the trend a bit later than online casinos, but are certainly catching up as we see the rise of crypto sports betting in the industry.
What are the biggest advantages of using crypto for operators and players when placing wagers online?
AS: First of all, operators gain access to a whole new younger audience which generally does not overlap with the traditional fiat casino segment. The use of cryptocurrencies often gives a certain level of anonymity, which, in turn, attracts VIP players and high rollers.
On the level of operations, all crypto casino metrics such as acceptance rate, conversion rate and others are much higher compared to those of fiat casinos. For instance, the SOFTSWISS acceptance rate (successful to attempted deposits ratio) is 99% for cryptocurrencies.
All of the above is just a smidgen of the benefits from using crypto in iGaming. The main advantage is that crypto is an ever-growing trend we've been observing over the last five years.
DH: There are lots of benefits for both players and operators, with the speed of transaction being the most obvious. Because there is no intermediary involved in the transaction process things can be completed far quicker and with fewer steps involved, in comparison to traditional payment methods. The added – and significant – spin-off from the removal of that intermediary is the subsequent lowering of fees, making the process more streamlined and cost-effective.
MS: The foremost advantage is the added layer of security that these currencies bring, thanks to the blockchain technology they are based on. Security is always of paramount concern to both operators and players, and crypto puts both minds at ease. The decentralised nature of these currencies also amounts to higher degrees of anonymity which players prefer when it comes to their information and transaction history.
In which markets are a cryptocurrency solution particularly relevant?
AS: In fact, when asked which is the most popular market for cryptocurrencies in gambling, at SOFTSWISS we highlight that crypto falls into a separate new market. And it makes sense, as the differences between the crypto and fiat audiences are quite significant – the demand for transaction processing speed, availability of provably fair technology games, high game limits and even top game lists are totally different in these two segments. In general, the geography of crypto gamblers is pretty vast – Canada, Germany, LatAm (Brazil, Mexico, Argentina), and Asia.
DH: Cryptocurrencies are relevant across the world. There is no market in which they're not playing an increasingly important role. However, they are aiding in the expansion of the iGaming industry in developing countries in particular. This is mostly due to the strict banking rules and restrictions within these jurisdictions that cryptocurrencies remedy.
MS: We're seeing the Asian market as well as certain areas of the LatAm market embracing crypto, along with Africa and the USA. Mexico is also big on blockchain, being included in the top 50 countries where crypto is most popular. Countries like Greece, Denmark, Sweden, Romania, and the UK are also joining in on the trend.
Is it all about Bitcoin, or are other cryptocurrencies commercially viable?
AS: Indeed, we are observing new coins ascending against a gradual Bitcoin decline in the crypto basket, but this does not mean that it is the Bitcoin that is losing its appeal but rather that other cryptocurrencies are gaining momentum as a gambling deposit method. According to our partners' research, customer interests are shifting towards "stable coins". Facing the crypto winter, most crypto traders have already sold the most volatile cryptocurrency as we are living in the "cash is king" times. USDT is the leader amongst stable coins, followed by BUSD. As a result, in 2022 we saw that Bitcoin was not the ultimate GO-TO choice for payments. But don't get me wrong, it is still huge as only Bitcoin offers indisputable decentralisation and freedom of payment. It fell from 65% to 49% in transaction count on average, but marks much lower levels for new casinos with a younger player base.
DH: Bitcoin is of course the obvious leader within cryptocurrency, but there are an increasing number of options for both players and operators. Clients are using an increasingly diverse range, featuring projects such as Ethereum, Solana and Tether and others in order to offer the widest range of payment choices available.
MS: There was a time when Bitcoin was stealing the thunder in the world of crypto. However, that's not the case today. There are nearly 10,000 active cryptocurrencies out there. Granted that not all of them are as popular or even used, many of them like Ethereum, Binance USD, Dogecoin, Tether and XRP are just as popular with bettors as Bitcoin. That's the thing with these currencies. You never know which one is going to take the lead.
What does the future hold for using сrypto in online gaming? Is it a passing trend or here to stay?
AS: Overall, despite the volatility we are observing, the crypto gambling segment and its audience will continue to grow, as it is the speed, simplicity, and a certain level of anonymity that players value most in cryptocurrencies. We can clearly see an increasing interest in this niche, and a growing number of operators, including top tier ones, are adding crypto to their payment methods.
DH: Cryptocurrencies are categorically here to stay; by now I'm certain most can agree on that. As the crypto industry evolves, new and more innovative solutions are emerging and are competing for their "15 minutes of fame." This in turn drives more innovation. A few of these are no doubt just a passing trend, yet some will stay with us long-term and become part of the furniture in the industry.
MS: When Bitcoin was released as the first open-source software and blockchain currency back in 2009, many people thought it would be a passing trend. It has been more than a decade now, and look where we are with these currencies today. Much like any other phenomenon, it is impossible to tell where crypto is going, but a decade-long popularity and expansion are clear indicators that this is a journey which we must follow closely.
BGaming Shares The Recipe For Success In Potion Spells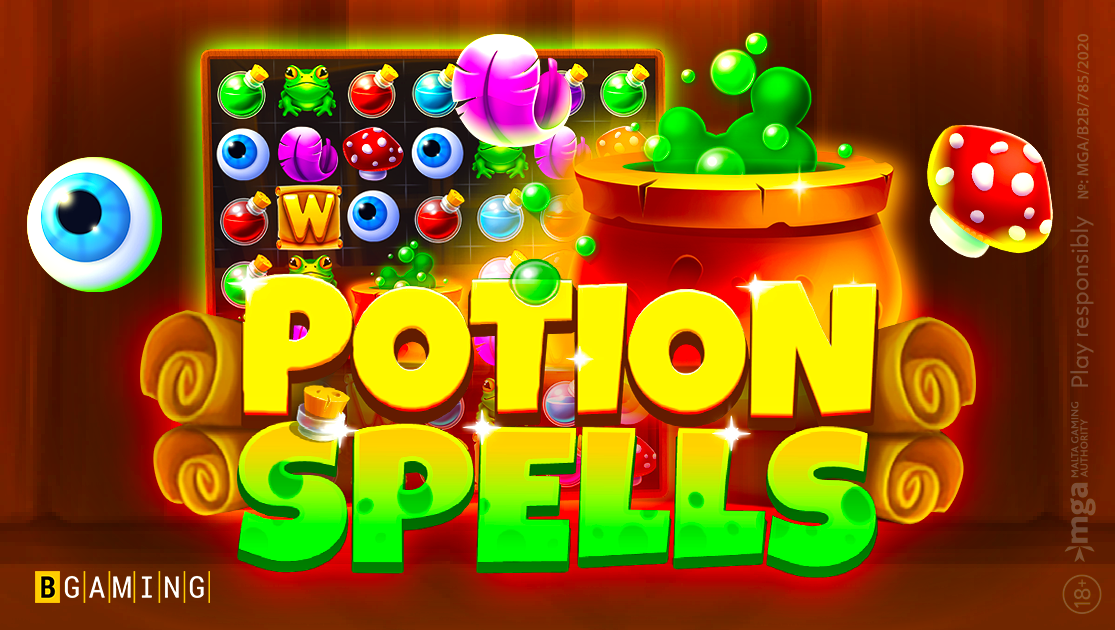 Reading Time:
2
minutes
BGaming, a fast-growing iGaming provider, has announced the launch of its latest online slot Potion Spells with elements of Match-3 games. The magic-infused 7×7 slot offers players high volatility and 96.24% RTP, along with a variety of features including refilling reels, Spin and Match-3 elements. 
The gameplay in Potion Spells is filled with a variety of unique features, providing players with plentiful opportunities to win up to x12,000. Players will assemble exploding clusters, juiced up by the Big symbol, which doubles the payoff if it becomes a part of a win. The Backlit symbol adds to the high level of dynamism by adding two Wilds to winning combinations, keeping the fun game going. The Second Chance feature keeps players on the edge of their seats by triggering additional Wilds and randomly turning a failed attempt into a triumph.
All wins per spin serve as the ingredients for the spellful potion, which rewards players with the Detonation, Promotion, Reduction or Separation features for every 25 points removed out of 100 on the progress bar. When the pot falls to zero, an explosive amount of Wilds is triggered, inspiring players to catch a lucky break. To give players even more control over their gameplay, the slot also offers the Bonus Buy feature, allowing players to devastate the pot immediately and gain prompt access to their winnings.
"As one of the leading slots providers, our priority is to promote a diverse gaming experience through constant dynamics, feature-packed gameplay, and eye-catching design," commented Yulia Aliakseyeva, BGaming's co-CPO. "The BGaming portfolio has expanded to include over 90 vibrant titles with the addition of Potion Spells, and we are excited to bring this game to players worldwide, offering a new level of excitement and engagement."
Previously, only players at the Bitstarz online casino had exclusive access to the entertaining Potion Spells. Starting from January 27th, the BGaming slot will be available to all operators, providing pure enjoyment with its visually appealing design and exciting features.
BGaming is a fast-growing iGaming content provider converting gambling into gaming. Thanks to an expert team and a player-driven approach, the studio creates innovative and engaging products featured on reputable platforms and 800+ online casinos worldwide. BGaming is the world's first to support cryptocurrencies and offer Provably Fair games. Today the brand's portfolio includes 90+ products with HD graphics and a clear user interface for every device. The studio is also known for its brand exclusives created in partnerships with leading operators in the industry.
Wazdan set to return to ICE London with a Mystery Box Giveaway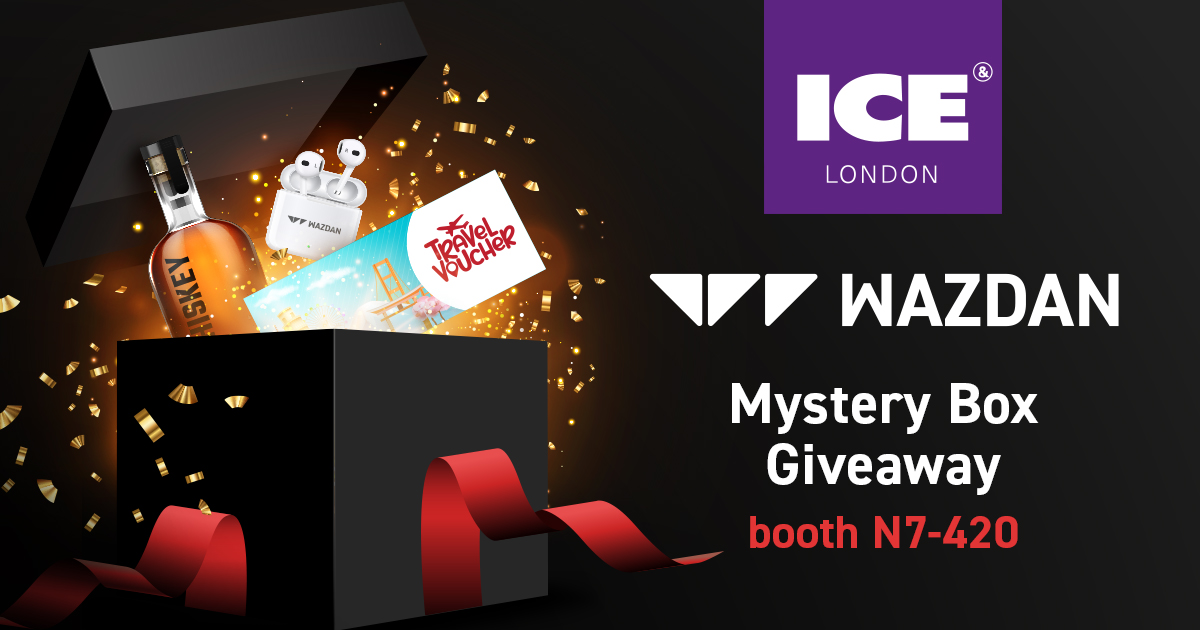 Reading Time:
2
minutes
Wazdan, the innovative games provider, will be exhibiting at ICE London 2023 at booth N7-420, where it is set to showcase its premium offering and surprise delegates with a Mystery Box Giveaway.
At the booth, operators can expect to learn more about the developer's engagement-boosting features, promotional tools, and Mystery Drop network promotions with a whopping prize pool of €1,000,000.
To give its partners a sneak peek of how exciting Mystery Drop promotions are for players, Wazdan will be running a Mystery Box Giveaway during the event, giving delegates a chance to win some exciting prizes which include exclusive merchandise, Apple AirPods, fine spirits, such as Glengoyne 30 Year Old Highland Single Malt Scotch Whisky, and even a chance to take part in a luxury trip.
Wazdan will be exhibiting a considerable collection of both new and upcoming games, with its stand also offering a bar for a more casual business setting.
Among the plethora of games on display is Power of Sun™: Svarog. The slot, released in early January, is the first instalment in the new Power of Sun™ series. Proving an early success, it was nominated for the One to Watch category at the SlotsWise Awards 2022.
Various titles from the beloved Hot Slot™ series will be exhibited, including Hot Slot™: 777 Stars, Hot Slot™: 777 Rubies, Hot Slot™: Great Book of Magic, Hot Slot™: 777 Cash Out, and Hot Slot™: 777 Coins. Rounding off the display will be Mystery Kingdom™: Mystery Bells and 12 Coins™, both featuring Wazdan's top-performing Cash Infinity™ and Hold the Jackpot features.
Coinciding with ICE London, Wazdan will also have a substantial presence at the Global Gaming Awards, taking place on the 6th of February. Top-performing slot 9 Coins™ has been shortlisted in the Game of the Year category. Wazdan will also be sponsoring the Online Sports Betting Operator award, with its CEO, Michał Imiołek, set to be one of the judges to mark the occasion.
Also taking place during the week of the event will be the International Gaming Awards. Wazdan has managed to pick up two nominations: the US Gaming Company of the Year, as well as a further accolade for 9 Coins™ in the Game of the Year category. The winners will be announced at a prestigious ceremony on the 6th of February.
In what is set to be one of the most important weeks of the iGaming calendar, Wazdan will be at booth N7-420 and its team looks forward to welcoming attendees to discuss its state-of-the-art collection.
Andrzej Hyla, Chief Commercial Officer at Wazdan said: "Wazdan is thrilled to announce its return to ICE London 2023. With preparations well underway we have no doubt operators will be spoiled for choice at our stand. ICE London provides an excellent opportunity for us to welcome both current and potential partners as well as shed some light on unreleased titles that are sure to go down a storm. With the Mystery Box Giveaway, we'll be celebrating the launch of our biggest yet network promotion with a prize pool of €1,000,000.
"Alongside the exhibition, we look forward to receiving the outcome of both the Global Gaming Awards and International Gaming Awards on what promises to be an unmissable night for the iGaming industry."