7 Hottest Swedish Streamers on Twitch in 2023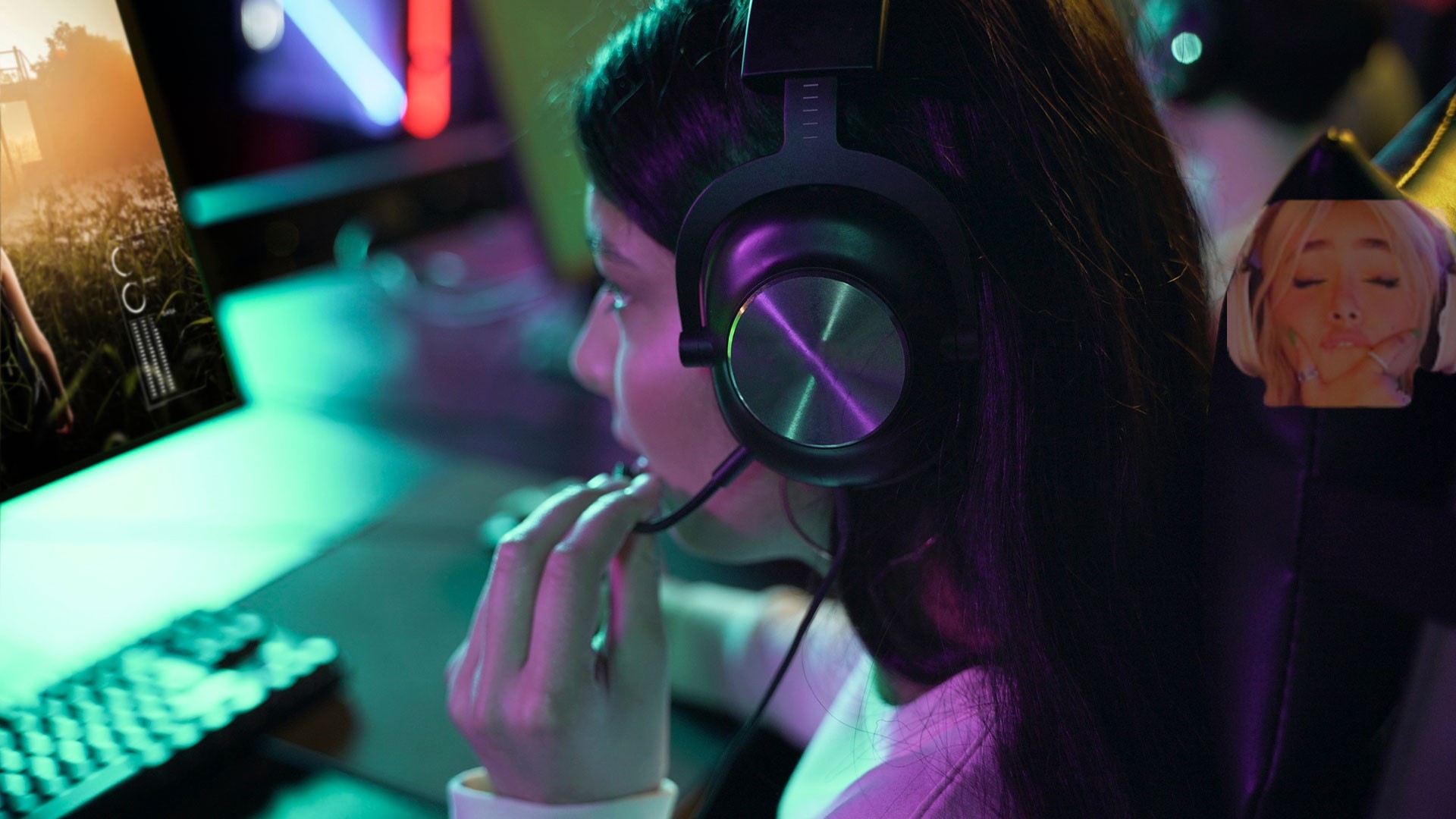 Reading Time:
4
minutes
Sweden is home to some of the world's most talented gamers and streamers, and the streaming community in this Nordic country is only growing.
In this article, we'll be introducing you to the seven hottest Swedish streamers on Twitch in 2023, with a short overview of each one. With their unique personalities and gaming styles, these streamers are sure to make an impression in the streaming world.
Demisux
Demisux is one of the top Swedish streamers on Twitch, but she's not your average pro gamer. She is easily the hottest Streamer among the bunch. Her giggles and funny interactions with the chat makes her even more appealing. She's like a full-blown badass model who chose to stream full-time on Twitch.
She's known for being an entertaining commentator and providing humorous insight into the games she plays, even though she isn't always the best at them. Despite that, she's still able to draw in viewers and have fun playing with them. Demisux promises that her gaming skills aren't the greatest, but that doesn't stop her from having a good time. Her commentary and unique style are what sets her apart from other streamers, and it's why his viewers keep coming back for more.
DoggieStreamerFI
As the name suggest, we've found a streamer who adopts a doggie persona. DoggieStreamerFI is a rising Swedish streamer on Twitch who specializes in playing Slots. Having been streaming for quite some time now, DoggieStreamerFI has earned a steady following of fans and loyal viewers due to their friendly and engaging manner.
From their energetic reactions to whatever is happening on the new casinos, to their occasional cosplay, DoggieStreamerFI has shown that they can engage a wide audience. Their stream is quite unique and is always a fun time.
swedenstrong
According to his Twitch bio, Swedenstrong is another Swedish Twitch livestream who plays Dota 2 and gets high. He is the kind of guy who streams incredible gameplay of his Dota 2 skills in the hopes of astound his audience. The majority of the time, he remains hidden behind the camera and takes on the persona of an anime character. However, when he streams with his cam turned on, his presence and vibes endear themselves to the viewers, and on top of that, the Dota 2 gameplay is something else entirely. Since he does not keep a regular streaming schedule, there is a chance that you will be able to watch one of his live streams at some point.
swedengirl98
Meet Swedengirl98, a spontaneous girl who loves to stream a little bit of good and mixed content! She's been streaming for a few years now and has quite a following. Her streams are known for their randomness, filled with anything from gaming, singing, and just generally having a good time. She's also known for her helpful advice, always giving out useful tips for those wanting to get into streaming.  Her physical appearance is an intriguing part of his viewership, which makes her more entertaining and pleasing to the eye.
If you're looking to join her community, feel free to join her Discord where you can get information on when she'll be streaming and even write with her in the chat. Whether you're new to streaming or a veteran in the game, Swedengirl98 is sure to make your experience an enjoyable one!
swedendg
David, better known as swedendg, is a 22-year-old Twitch streamer from Sweden. He is known for his positive and educational attitude which he loves to share with his viewers. When it comes to his hobbies, David loves to build sound cars and fix cars in general. Additionally, David works as a machinist and engineer.
On his Twitch channel, swedendg streams the popular video game Grand Theft Auto V. He loves to show off his skills in the game while also providing helpful tips and advice to those who are newer to the game. David's stream is full of excitement and humour, making it an enjoyable watch for anyone who tunes in.
SwedeBadass
SwedeBadass is one of the hottest Swedish streamers on Twitch in 2023. He has not streamed for the past three years due to his military service but is now ready to jump back into streaming. SwedeBadass will not be able to maintain a solid streaming schedule due to his military service, but he will still be streaming as much as possible.
His streams will focus on gameplay instead of discussing the military too much, which is something many viewers appreciate. SwedeBadass plays a variety of games, including first-person shooters, battle royale games, and other popular titles.
He is always looking for new friends and viewers to join his streams and help him create the best content possible. He has a nice beard and overall looks like a model to be streaming on Twitch, his physical appeal and chill music in the background has what attracted the viewers and are eagerly waiting for his comeback on Twitch.
Sweden
One of the most renowned and hottest streamers in Sweden is Andreas Svensson Åkerman, also known as Svenne. He was awarded The Hero of the Year in Swedish Gaming 2018/2019 for his tireless efforts in helping promote eSports in the country. He is a founder and leader of several organizations including Svenska E-Sportförbundet, Team Sweden, Speedrun International, and European Speedrunner Assembly.
Svenne is also an avid gamer and streamer, who has dedicated much of his time to helping others achieve their gaming goals. On Twitch, he streams a wide variety of games such as VALORANT, and Hearthstone. Svenne has a funky look and always entertains his streamers with the banters and the personality he has adopted for his streaming. He always wears funky-looking glasses that appeal to and attract his viewers.
DreamHack Announces Massive Return of "DreamHack Open Feat. Fortnite" With $750,000 Zero Build Circuit Stretching Three DreamHack Festivals– Qualifying Duos To Gamers8 Feat. Fortnite With A $2,000,000 Prize Pool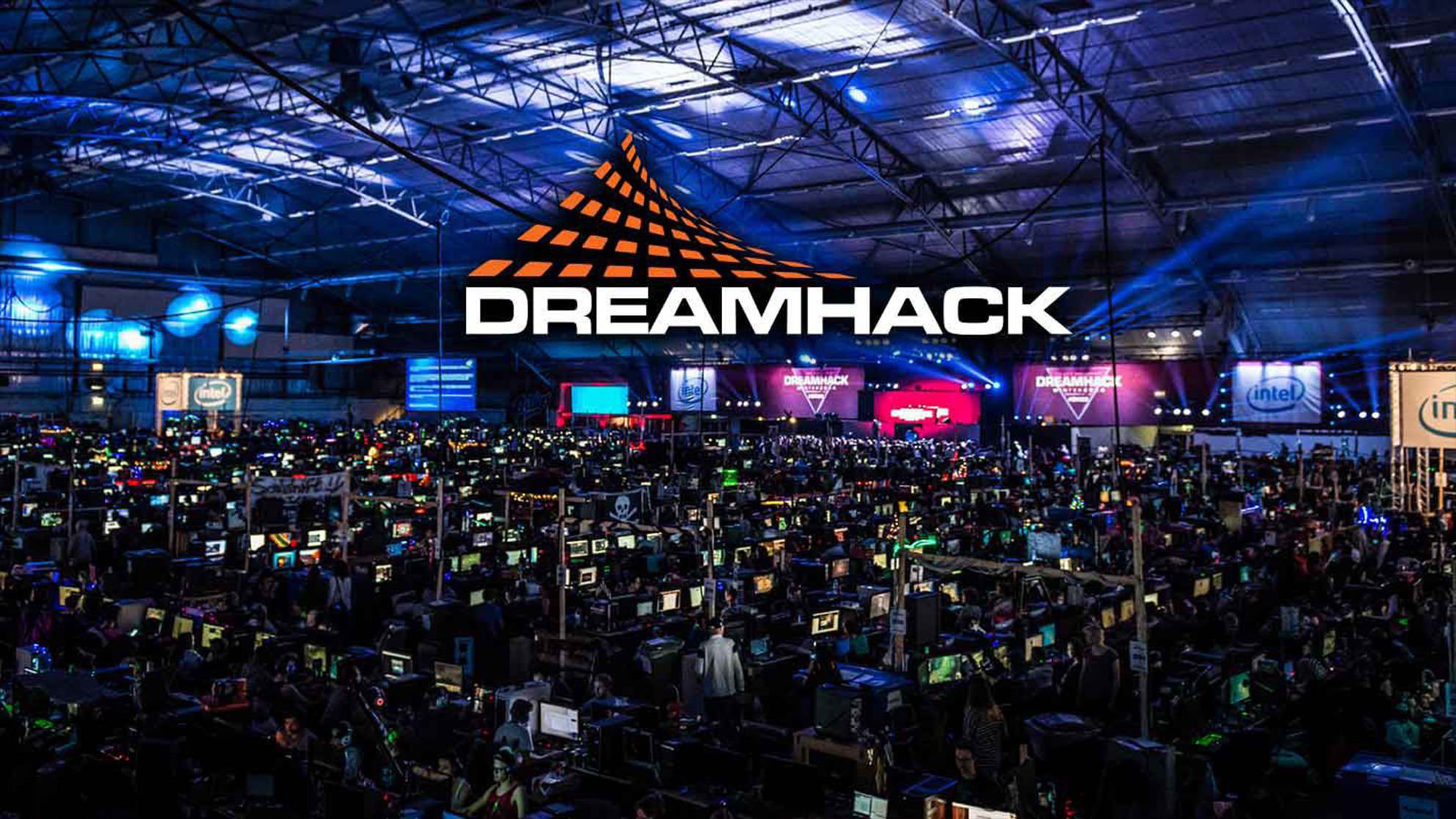 Reading Time:
< 1
minute
DreamHack, an international gaming and entertainment festival put on by ESL FACEIT Group, today announced the return of the popular DreamHack Open Featuring Fortnite tournament series. DreamHack San Diego (April 7-9), DreamHack Dallas (June 2-4) and DreamHack Summer (June 16-19) will all feature a $250,000 DreamHack Open Featuring Fortnite Zero Build Duos competition, with the winner of each stop bringing home $30,000 of the pot. The competitions are open to BYOC (LAN) ticket holders and will qualify the top ten Duos from each DreamHack Open tournament to this year's Gamers8 Featuring Fortnite event.
With the return of Gamers8 Featuring Fortnite, held in Riyadh, Saudi Arabia on July 6-9, 50 Duos compete for the $2,000,000 prize pool for the final Zero Build tournament in Riyadh this summer. Next to the 30 teams coming from DreamHack Open events we will see the best Duos from the MENA region and some of the world's largest Fortnite influencers participating. More details will be announced at a later point.
"We had an incredible experience hosting the DreamHack Open Featuring Fortnite both online and  in-person events in the past. Thus, we are very excited to announce another year of Fortnite events for our community, especially now that the focus is on Zero Build and teams have a chance to qualify for a massive Gamers8 event" said Brian Krämer, Sr. Director Game Ecosystems – Growth Titles. "To strengthen our connection and involvement in the Fortnite competitive ecosystem is a tremendous opportunity and one that fits perfectly with DreamHack's focus on bringing the gaming community to life." 
Find out more about DreamHack Open Featuring Fortnite at its official website and on the festival website for DreamHack San Diego, and follow DreamHack on Twitter to get the latest updates. The latest updates on Gamers8 can be found on the official website, on Twitter, and Facebook.
IndiGG Web 3 Championship kicksoff with a prize pool of 200k USD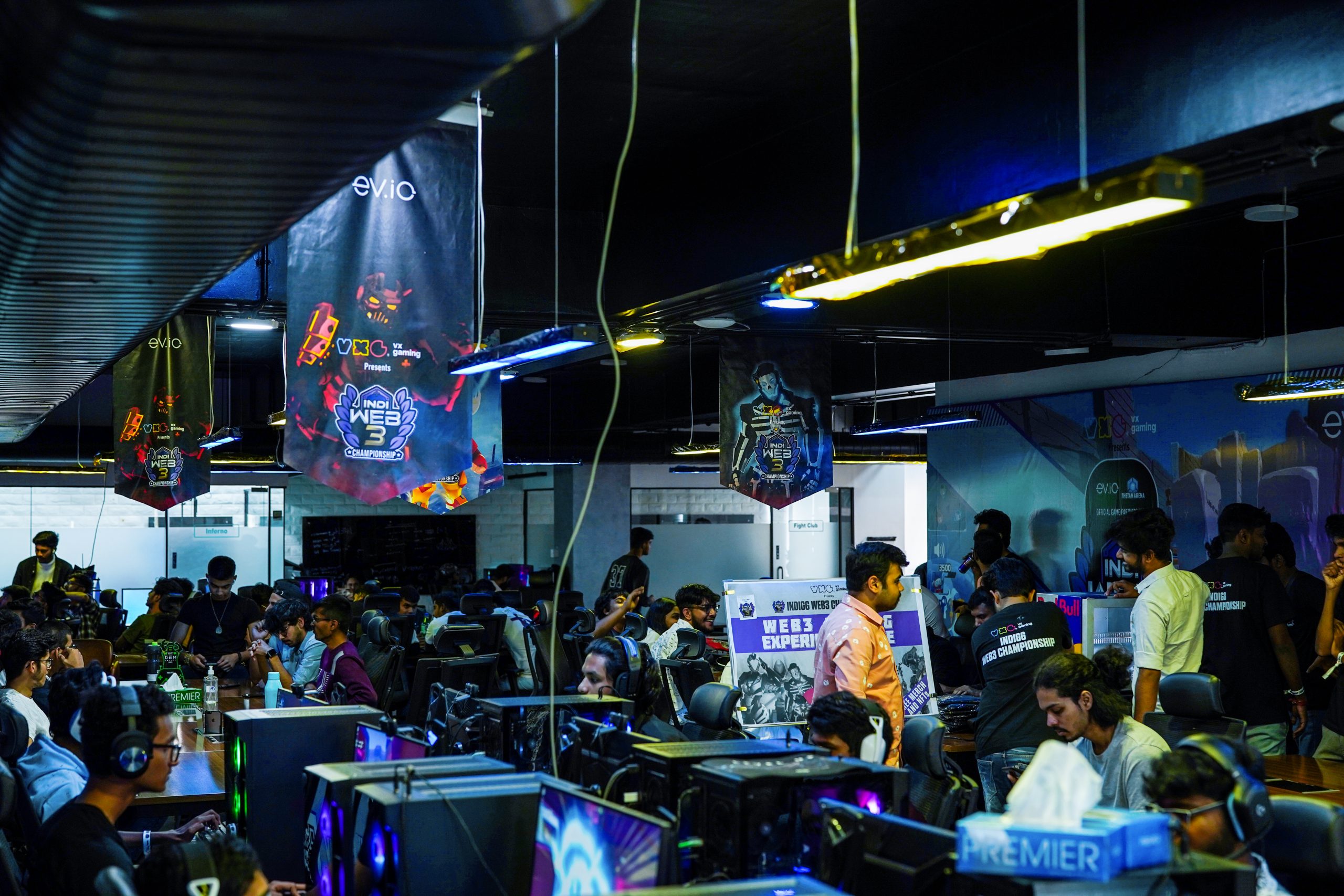 Reading Time:
2
minutes
IndiGG, a leading Web3 Gaming DAO today announced the 'IndiGG Web3 Championship' and launched the world's first eSports athlete reputation program alongside. The championship commenced in Bengaluru and will cover cities including Kolkata, Pune, Chennai, NCR, Dhaka, with the finals to be held at Hyderabad in November 2023. The total prize pool will be of USD 200k across all legs.
The championship was hosted and managed by the community itself with the IndiGG clan chiefs managing the entire execution end to end. Games 'EV.io' and 'Thetan Arena' were the games chosen by the community for the championship with 'Venture X Gaming' as the title sponsor for the event.
The first leg of the championship saw intra-college tournaments in 64 colleges for each of the games. The top 64 teams for each game then engaged in a journey to top 8, followed by quarterfinals, semifinals and the grand finals. The championship was capped off with an exhibition match amongst the top gaming influencers in the country.
All the main matches were broadcasted live on Youtube. With over 10,000+ gamers watching the best of the teams slugging it out in person, the championship garnered over 1 million plus views. The championship was capped off with an exhibition match amongst the top gaming influencers in the country.Apart from the tournament, IndiGG also commenced the reputation program which will help build a public record of an athlete's performance. The data will help the evaluation of an athlete's reliability and sportsmanship in the esports space. The records will also establish credibility and trustworthiness around esports athletes that can be leveraged by teams, coaches and sponsors while onboarding an athlete.
During the championship, the members had an opportunity to build their on-chain reputation as they were awarded badges. The badges are  digital tokens that recognize and reward an individual's involvement and contribution towards an online community. The participating gamers were rewarded with 'Proof-of-Participation' badges, similarly, the winners received 'Proof-of-Victory' badges and the first time viewers were able to mint a 'Proof-of-Watch' badge during the livestream of the event.
Penta Esports announces second edition of "Penta Challenge" featuring New State Mobile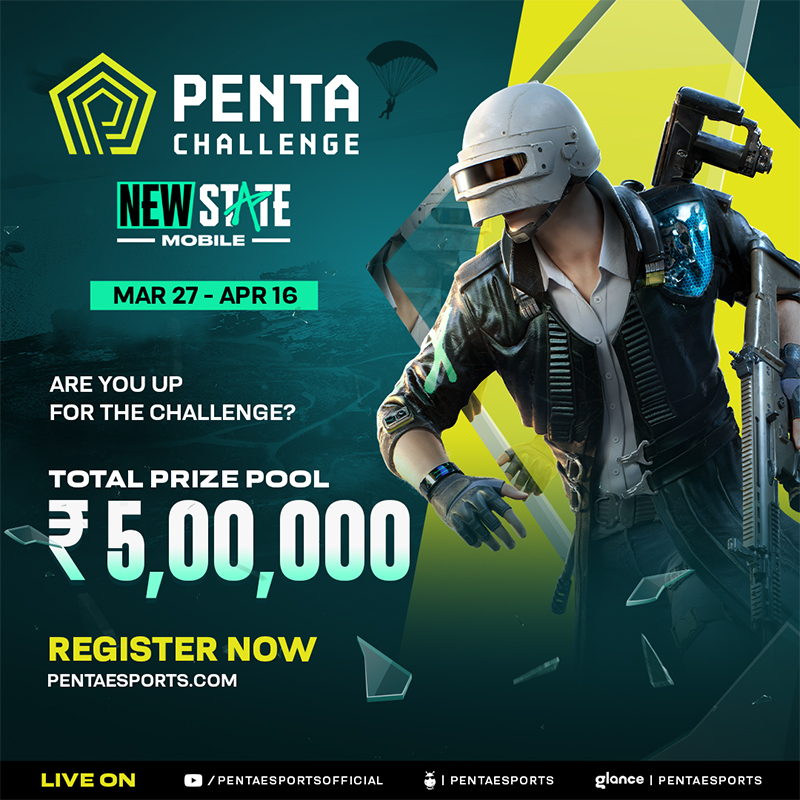 Reading Time:
< 1
minute
Gaming and esports company, Penta Esports has announced the second edition of its IP, Penta Challenge, featuring New State Mobile. Taking place from 27th March to 16th April, the tournament has a prize pool of INR 5,00,000 and will have 2 open qualifiers from 27th March to 2nd April and 7th to 9th April, followed by a grand finale where 8 qualified teams, 4 from each qualifier, will play alongside 8 invited teams from 14th to 16th April.
The registrations for the tournament started on 18th March and will go on till 24th March on Penta Esports' platform. Qualifier matches will be broadcast semi finals onward, while all matches from the Finale will be broadcast. The matches will be broadcast live on Penta Esports channels on YouTube, Glance and Loco.
Said Penta Esports Head of Esports, Kiran Noojibail, "We're very excited to bring about the second edition of the Penta Challenge with New State Mobile. With this, we want to provide players an opportunity to prove their mettle in the qualifiers and challenge professional teams for the title."
The first edition of Penta Challenge took place in October, 2021 and featured Valorant.
Penta Esports is the esports brand of Newgen Gaming which recently received a strategic investment of $1 million from nCore Games.