PAGCOR INAUGURATES ANOTHER EVACUATION FACILITY IN ALBAY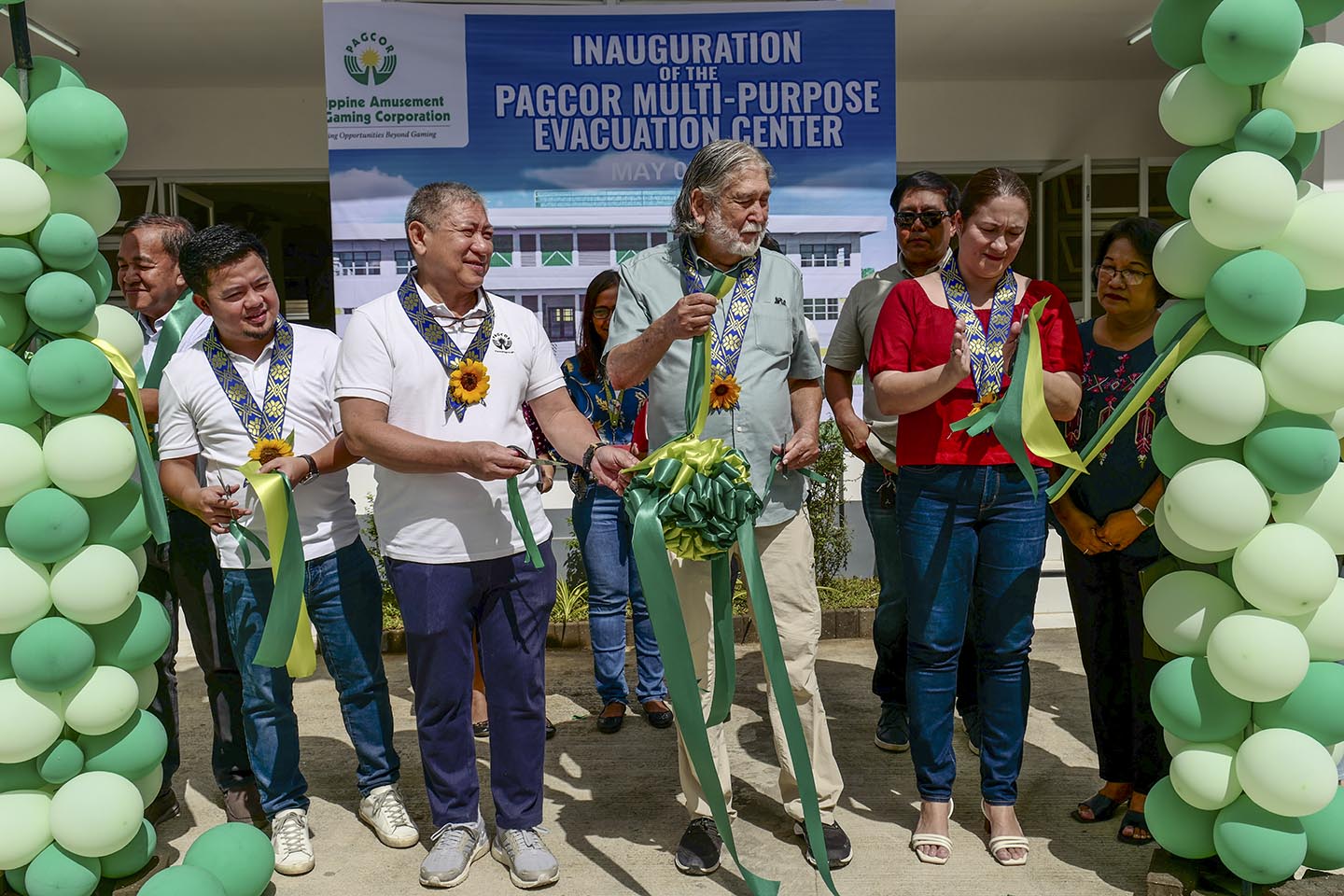 Reading Time:
2
minutes
The calamity-prone Bicol region has again raised the bar for disaster preparedness with the completion of a two-storey Multi-Purpose Evacuation Center (MPEC) facility here.
With a funding of P50 million from the Philippine Amusement and Gaming Corporation (PAGCOR), the modern structure built in Ligao City's Brgy. Tomolin, was inaugurated on May 5, 2023.
The state-of-the-art facility is the seventh completed PAGCOR-funded MPEC in the Bicol region and the second to be built in the province of Albay. Legazpi City was the first project recipient in Albay to complete the construction of a two-storey evacuation facility.
During the inauguration rites, Ligao City Mayor Fernando Gonzalez shared that due to Bicol region's location near the Pacific Ocean and Ligao City's proximity to the Mayon Volcano, locals are highly vulnerable to the impact of various natural disasters.
"From monsoons, tropical depression and typhoons that often form in the Pacific Ocean to volcanic eruptions, flooding and earthquakes – Ligao is in an eternal state of alert and experiences various types of calamities," he said.
But while the city government often implements preemptive evacuation during disaster situations, its resources are not enough to provide everyone with a safe, temporary shelter.
"Previously, we did have difficulties in housing evacuees as most of our evacuation facilities are schools. Unfortunately, classrooms are not equipped as evacuation centers because they are designed for learning. Hence, those who are temporarily seeking shelter experience so much inconvenience there."
With the completion of the two-storey evacuation facility from PAGCOR, the city government of Ligao is confident that they can respond better to the needs of their locals during emergency situations. "PAGCOR's evacuation facility addresses the all the possible needs of evacuees including requirements for sanitation, space, storage, ventilation, among others," Gonzalez said.
While designed as a multi-purpose facility, each MPEC worth P50 million has provision for kitchen, toilet and shower rooms for male and female, lactating rooms for nursing mothers, and a spacious badminton-court type area that may be used for sports events, trainings and other purposes.
PAGCOR's Vice President for Corporate Social Responsibility Group Ramon Stephen Villaflor said the state-run gaming firm has stayed true to its commitment to nation-building by giving support to areas or sectors that need it most.
"PAGCOR knows that the Bicol Region is the gateway of various natural calamities. Unfortunately, reality dictates that global warming is set to make typhoons stronger, hence the need to protect vulnerable communities. This newly constructed evacuation facility in Ligao is one of our ways to help alleviate the harsh impact of climate change. This is also a testament to the close coordination between local government units and national government agencies," Villaflor furthered.
Currently, a total of 28 MPECs have been completed and unveiled nationwide, while 50 are still undergoing construction.
Game Development World Championship 2023 Summer Season Winners Announced!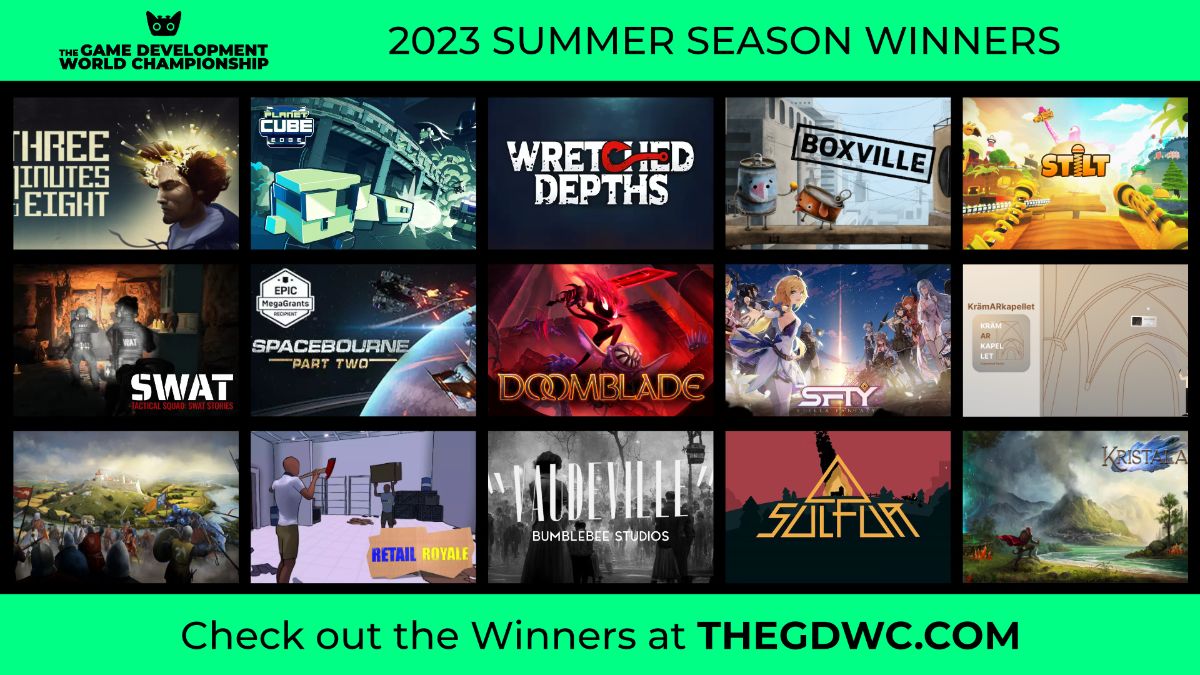 Reading Time:
< 1
minutes
The Game Development World Championship (GDWC) celebrated the 2023 Summer Season with an Awards Stream on Thursday, September 21st. At the event, GDWC announced winners in 11 categories for the Summer Season.
Watch the Award Stream recording on the GDWC youtube channel.
Indie Award Winner: Three Minutes To Eight by Chaosmonger Studio.
Studio Award Winner: Planet Cube: Edge by Sunna Entertainment
Hobby Award Winner: Wretched Depths by Wretched Devs
Mobile Award Winner: Boxville by Triomatica Games
Best Web3 Game Award Winner: Stella Fantasy by Ring Games
AR & VR Award Winner: Stilt by Rekt Games
Immersal SDK Award Winner: KramARkapellet by darteq
Made-with-Houdini Award Winner: Kristala by Astral Clocktower Studios
Procedural Award Winner: SULFUR by Perfect Random
Action Award Winners:
1st Place: Tactical Squad: SWAT Stories by Red Mountain Games
2nd Place: SpaceBourne2 by Dbk Games
3rd Place: DOOMBLADE by Muro Studios
Gcore Cloud Award Winners:
1st Place: Feudums by Kalamona Studios
2nd Place: Vaudeville by Bumblebee Studios
3rd Place: Retail Royale by DarxDev
All the Winning games of the Season can be found on the GDWC website, here: https://thegdwc.com/awards/
GDWC sends congratulations to all the winners and huge thanks to all developers who participated in the championship, and to all the sponsors and partners that made the GDWC 2023 Summer Season possible.
The GDWC 2023 Winter Season is currently open for submissions with the biggest prize pool in GDWC history, totalling over $660,000 in value. Prizes are spread across 12 award categories and range from swag & software licences to cash prizes, publishing deals and marketing & User Acquisition funding.
GDWC is free to participate and open to everyone from hobbyist & student developers to professional studios from all over the world. Games on all digital platforms – PC, Consoles, Mobile, VR & AR, Web & Browsers, are accepted. Developers can participate with a game they are currently working on, or with a game they have released, as long as it was released after August 1st 2022.
Opera GX, the Browser for Gamers, Surpasses 25 Million Monthly Active Users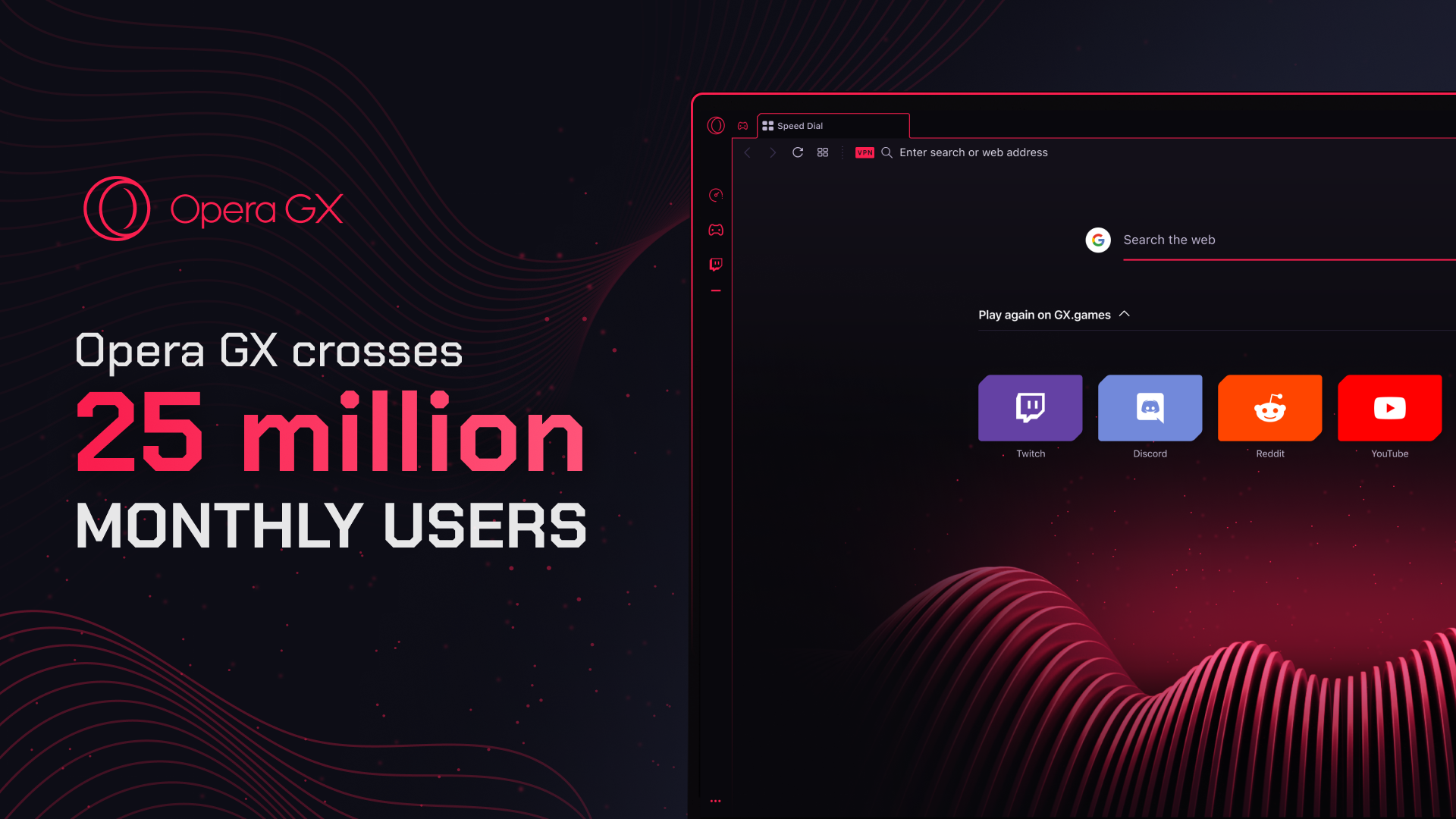 Reading Time:
< 1
minutes
Opera GX, the browser for gamers, today announced that its number of monthly active users (MAU) has surpassed 25 million across desktop and mobile devices. This milestone highlights Opera GX's increasing adoption within the gaming community and its integral position within gaming culture.
"We are thrilled to announce this remarkable achievement of 25 million monthly active users, as Opera GX continues to prove its commitment to enhancing the browsing experience for gamers worldwide. With a passion for innovation and dedication to the gaming community, we look forward to sharing what the future holds," said Krystian Kolondra, Executive Vice President of Browsers and Gaming at Opera.
Since 2019, Opera GX has been dedicated to delivering a distinct browsing experience for gamers. Its aim was to address the challenge posed by resource-intensive browsers during gaming sessions while simultaneously offering a unique aesthetic and enhanced customizability that aligns perfectly with gamers' preferences. Today, Opera GX is at the forefront of innovative browsers, providing dynamic features like Aria, a free, cutting-edge generative AI service, solidifying it as a staple in the gaming environment.
Seizing the moment, Opera GX has taken advantage of its strong technology and platform capabilities to provide gamers with useful and entertaining tools, uniting a global community of passionate gamers and giving users a new and exciting way to browse the internet.
BetConstruct introduces a New Application – iGaming Bot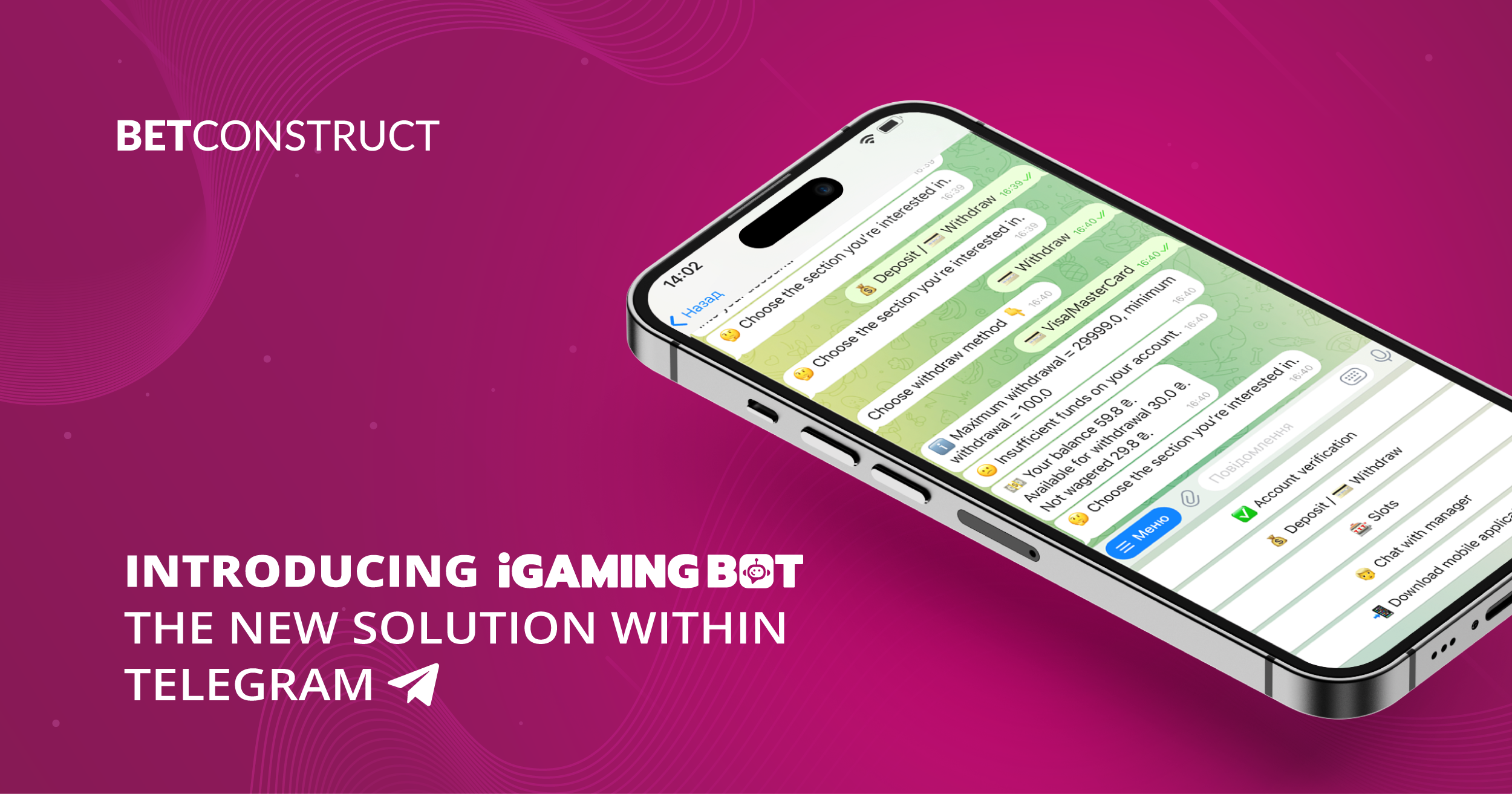 Reading Time:
< 1
minutes
BetConstruct, a leading technology and service provider, launches its new product, iGaming Bot, an application tailored to operate within Telegram.
With iGaming Bot, BetConstruct partners and operators can integrate popular iGaming functions directly into Telegram, providing a streamlined and accessible gaming experience that complements traditional website and mobile application offerings.
The new product includes a diverse range of exciting features and services directly through the Telegram app, opening access to a vast selection of thrilling slot games in a single platform. Additionally, iGaming Bot offers a hassle-free experience, with seamless deposits and withdrawals, account and payment method verification, as well as 24/7 live support.
This is a unique opportunity for iGaming businesses to stay ahead of the competition, combining convenience and entertainment in a single platform.