Play'n GO in-line for success at Women in Gaming Awards
Reading Time:
2
minutes
Slots supplier follows 2017 Diversity Award with seven 2018 nominations
13th April 2018 – Omni-channel slots specialist Play'n GO has been recognised for its commitment to diversity and championing of its female staff with seven nominations at the 2018 Women in Gaming Awards.
The supplier has been shortlisted for company-wide awards, as well as numerous individual categories, which will be held at the Savoy Hotel, London on the 11th May.
Following recent commitments to diversify its workforce and moving to a brand new, state-of-the-art offices in Malta, Play'n GO will look to win the Company of the Year and Best Place to Work.
In terms of individual nominations, Liana Mifsud is in a strong field for the Employee of the Year category, Irina Tyberg has been recognised for Hidden Talent of the Year (Operator) and Maria Nilsson will look to bring home the Industry Achiever gong.
Two Play'n GO employees will also be up against one another, with Ebba Arnred and Lena Yasir both in the running for Leader of the Year (iGaming).
Having won the Diversity Award at last year's ceremony, Play'n GO will be looking to add to its collection, cementing its position as one of the most forward-thinking and enjoyable companies in the gaming industry.
Johan Törnqvist, CEO at Play'n GO, said: "I'd like to congratulate not just the many individuals who've been nominated for a 2018 Women in Gaming award, but also all of those within our organisation who continue to shape our culture for the better and go above and beyond.
"At Play'n GO, we want to make sure we build a culture that is suited to both men and women, and although a large proportion of our workforce is female, there's more we can do to ensure diversity and inclusivity is entrenched in every level of our hierarchy."
About Play'n GO:
Play'n GO is an award-winning supplier of high quality gaming content to many of the world's leading casino brands.  Their genuine omni-channel solution can be tailored to suit the needs of individual online and land-based partners, regardless of geographical, regulatory, or market-specific requirements. Their games are developed in HTML5 to provide an enhanced user experience on all devices and operating systems. They are complemented by superior back-office administration tools which provide expansive reporting and marketing capabilities, ensuring operators are equipped to provide the ultimate gaming experience. The supplier has been recognised with the IGA Slot Provider of the Year 2017 and 2018 titles. For more information about Play'n GO, who have offices in Sweden, Malta, Hungary, and the UK, please visit http://www.playngo.com.
BtoBet Amongst Finalists For IGA's "In-Play Betting" Award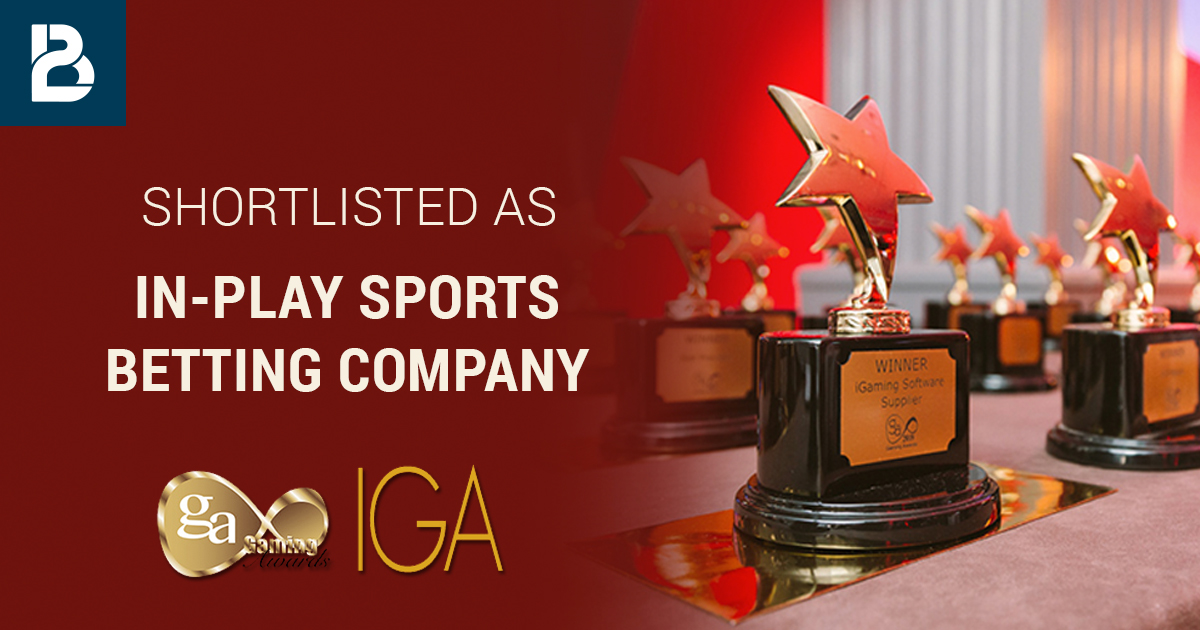 Reading Time:
1
minute
BtoBet has been shortlisted amongst the finalists for next February's esteemed International Gaming Awards. The company is up for the "In-Play Sports Betting Company Award", where it will have to face stiff competition from other industry leaders during the ceremony night that will be held at the luxurious Savoy Hotel.
Sabrina Solda, BtoBet's Chief Marketing Officer stated that being considered amongst the industry's pinnacle platform providers for this award is a remarkable recognition for the company, and surely a great way to approach the end of the year. "Throughout the year BtoBet has made significant improvements to the functionalities of its Neuron Sports platform, and we are delighted that this has been recognised by the judges at the International Gaming Awards," stated Solda.
She further added that throughout this year, the company has significantly strengthened its team in order to provide the most holistic betting experience to the players.
The "In-Play Sports Betting Company Award" will be attributed to the company that has shown that their product has a high degree of commercial success whilst at the same time featuring an excellent interface and user experience. All this whilst proving to have at its core the scope and offerings to excite and engage customers in all areas related to in-play betting.
Sands China Recognises Exceptional Suppliers at Sixth Annual Sands Supplier Excellence Awards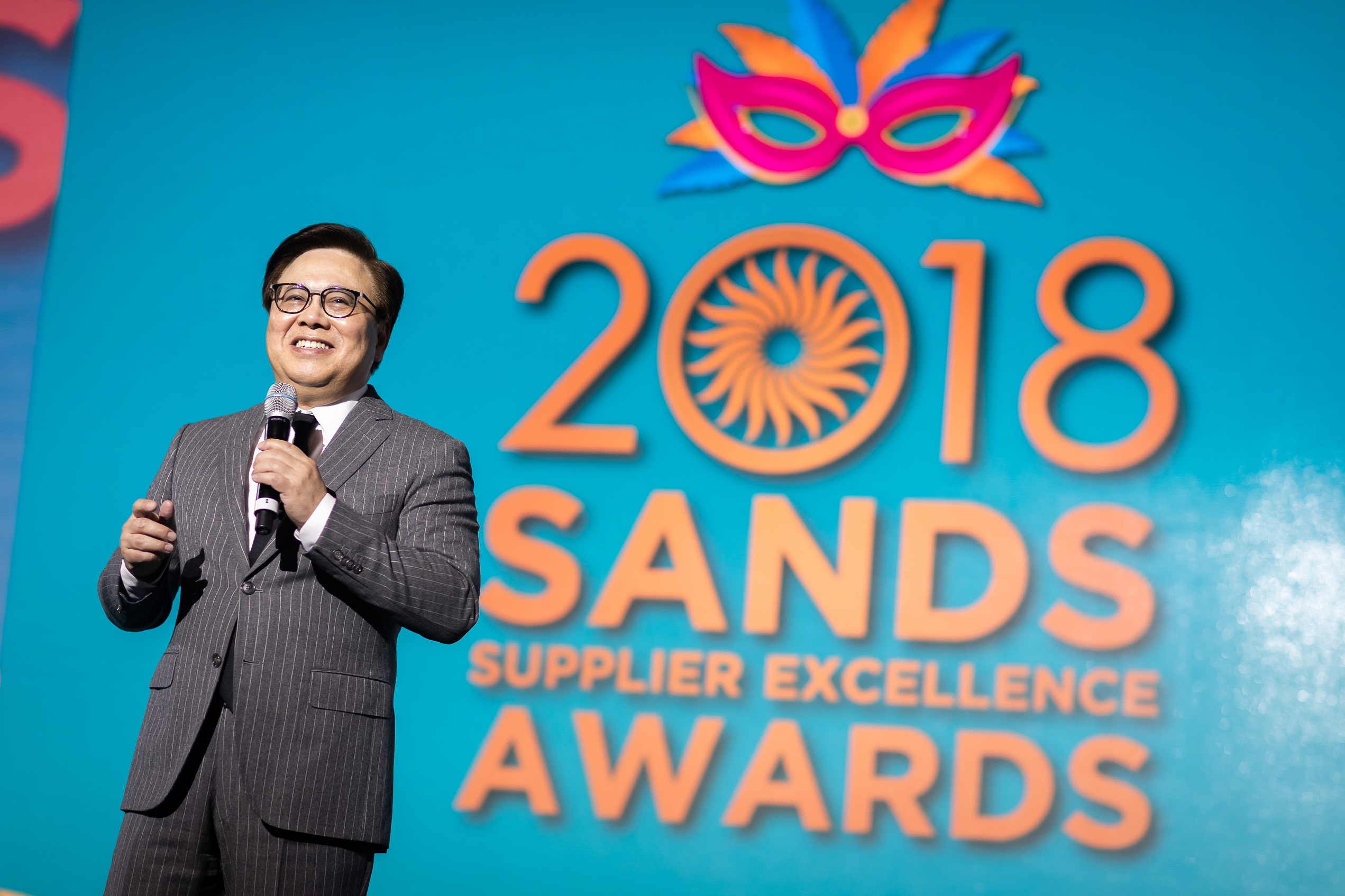 Reading Time:
3
minutes
Sands China Ltd. honoured several of its outstanding suppliers Wednesday at The Venetian® Macao, at the 2018 Sands Supplier Excellence Awards. A global initiative of Sands China's parent company, Las Vegas Sands Corp., the annual event recognises the cooperation and services of some of the company's most noteworthy suppliers worldwide.
"The services of Sands China's suppliers are essential for our business, creating a partnership of mutual success," said Dr. Wilfred Wong, president of Sands China Ltd. "From micro-enterprises and SMEs to large corporations, each company plays a role in helping us deliver world-class experiences to guests and visitors of our integrated resorts. Sands China is pleased to acknowledge outstanding examples of their excellence through these awards each year."
Various Sands China business units and their employees nominated a total of 30 companies in this year's awards. Nominees are chosen from a pool of thousands of service providers and suppliers that do business with Sands China. The range of year's nominated companies includes industries such as food and beverage; marketing; construction; furniture, fixtures and equipment; and operating supplies and equipment, among others.
Awards were given to distinguished suppliers in seven categories: small- and medium-sized enterprise (SME); innovation; quality management; project management; corporate culture and sustainability, service excellence; and cost management.
Winners include local SMEs — a testament to their growth and to Sands China's continuous support to local enterprises.
Over 400 guests attended Wednesday's awards ceremony, including nearly 300 representing about 150 suppliers, mostly from Macao, Hong Kong and mainland China. The event featured carnival-themed entertainment and an appreciation dinner, with each guest receiving a gift of two eco-friendly stainless steel water bottles — provided by one of Sands China's local SME suppliers.
Award winners are selected each year by a judging committee composed of Sands China executive management. Judges consider several criteria, including suppliers' leadership, vision and strategy; product consistency and process capability; and creative partnership opportunities.
The winners of 2018 Sands Supplier Excellence Awards are:
CATEGORY

WINNER

Small- and Medium-Sized Enterprise (SME)

Kin Nam Hong Co. Ltd.   

– Supplier of fresh and cut vegetables for Sands China since 2004; local SME has grown from six employees to 32, plus eight cold trucks for delivery

– Annual spend with Sands China has increased by a factor of 50 since 2004, from MOP 360K to 18 million; 60% of its business is with Sands China

– Provides competitive pricing, prompt response and excellent delivery service, even during emergencies

Innovation

SG Gaming Asia Limited

– Sands China's gaming/technology business partner since pre-opening of Sands Macao (2004)

– Provides Sands China with slot technology systems, slot cabinets, table game utility products, slot utilities and spare parts

– Innovative and interactive slot machines have made waves in the industry

Quality Management

Yearfull Contracting (Macau) Limited

– Construction partner with Sands China since 2003

– Has successfully completed various important projects on time and within budget

– Has continued to diversify its capacity to suit Sands China's growing business needs, while demonstrating ability to undertake increasingly complex work with undiminished enthusiasm and quality

Project Management

LDF International Ltd.

– Supplier of sophisticated, handcrafted furniture for Sands China since 2014

– On-time delivery with high quality

– Experts on Sands China's project management procedures and requirements

Corporate Culture and Sustainability

Diversey Hong Kong Limited – Macau Branch

– Sands China's supplier of housekeeping chemicals since 2008

– All chemicals are 100% biodegradable

– Chemical production plants are certified ISO 14001 or higher

Service Excellence

CMGRP Ltd. (Jack Morton)

– Event management company working with Sands China since 2016 on VIP events, overseas roadshows, and other events

– Positive feedback from all Sands China departments having worked with the company

– Excellent service, strong in design; event proposals are consistently on-brand

Cost Management

Elecon International Limited

– Local micro-enterprise providing energy-savings LED lighting and solutions

– Has worked with Sands China on sustainability lighting projects since 2013

– Best competitiveness in local market with efficient cost management for high quality services
About Sands China Ltd.
Sands China Ltd. (HKEx: 1928, Sands China or the Company) is a Cayman Islands registered company and is listed on The Stock Exchange of Hong Kong Limited. Sands China is the largest operator of integrated resorts in Macao. The Company's Cotai Strip portfolio is comprised of The Venetian® Macao, The Plaza® Macao, Sands® Cotai Central and The Parisian Macao. The Company also owns and operates Sands® Macao on the Macao peninsula. The Company's integrated resorts contain a diversified mix of leisure and business attractions and transportation operations, including large meeting and convention facilities; a wide range of restaurants; shopping malls; world-class entertainment at the Cotai Arena, The Venetian Theatre, The Parisian Theatre and the Sands Cotai Theatre; and a high-speed Cotai Water Jet ferry service between Hong Kong and Macao. The Company's Cotai Strip portfolio has the goal of contributing to Macao's transformation into a world centre of tourism and leisure. Sands China is a subsidiary of global resort developer Las Vegas Sands Corp. (NYSE: LVS).
For more information, please visit www.sandschinaltd.com.
Gaming Innovation Group Signs Sportsbook Contract With Hard Rock International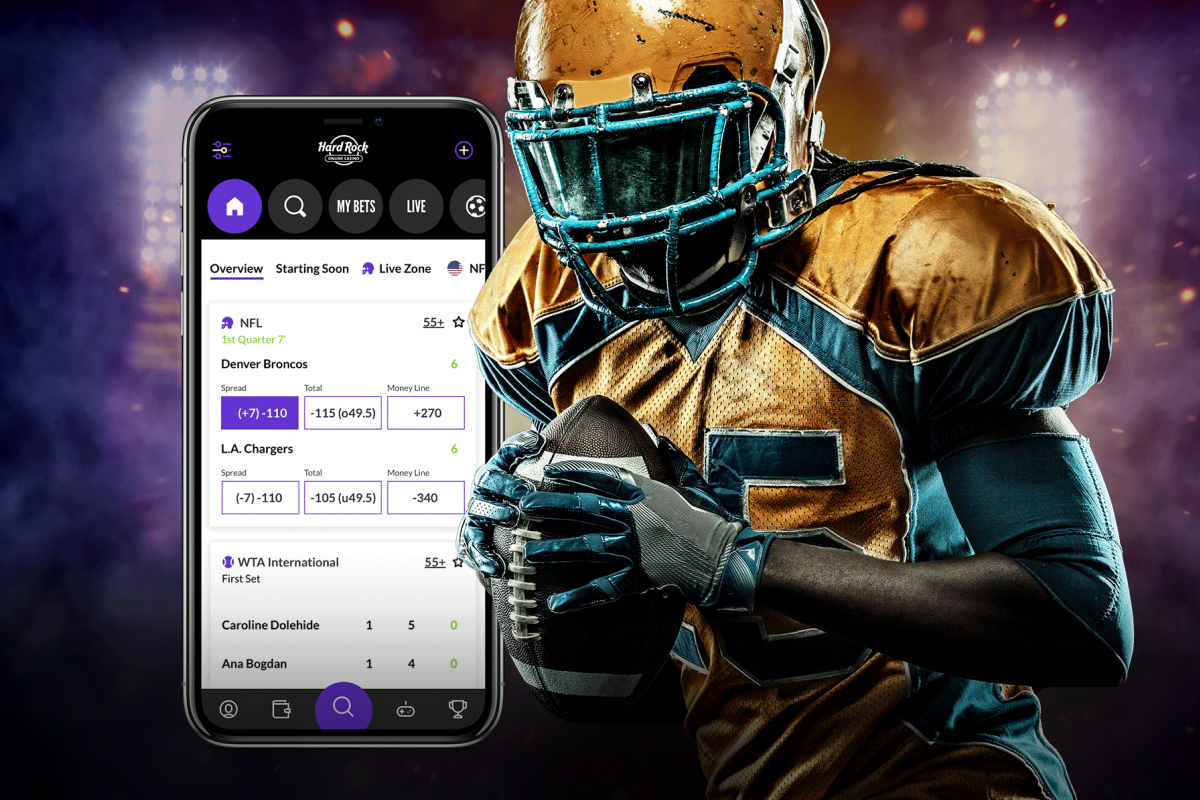 Reading Time:
4
minutes
Gaming Innovation Group Inc. (GiG) has signed a contract with Hard Rock International (Hard Rock) for the provision of its omni-channel Sportsbook solution in the newly opened US market of New Jersey. Launch date is estimated for Q1 2019. This agreement follows a Letter of Intent signed between GiG and Hard Rock on 12 October 2018.
This is a milestone agreement for GiG who, after nearly two years of development of its recently launched sports betting platform, has won a highly sought-after tender in competition with world-leading Sportsbook providers.
Hard Rock has chosen the full suite of GiG's sports betting services including GiG Sports Connect, GiG Trader and GiG Goal. The offering is supplied as a full omni-channel solution with Over the Counter (OTC) wagering and Self Service Betting Terminals (SSBT) available in the Hard Rock Hotel & Casino Atlantic City as well as online via desktop and mobile. There is potential to expand the partnership further in the future in other US states.
The supreme court in the US recently revoked the federal ban on US sports betting opening up for state-by-state regulation. More than 20 states with a total addressable market of around half of the US population are expected to open up by the end of 2023. The total middle market range is estimated at $6bn split 50/50 offline and online, where online will be dominated by mobile (source H2GC).
The recent update of the National Football League's policy on commercial gaming lifted the restriction on Hard Rock's future sportsbook operation in Atlantic City. Operators of casinos and sport books can now be naming rights partners of NFL venues, subject to certain conditions. Hard Rock International became Miami Dolphins stadium naming partner in 2016 with an 18 year agreement.
Hard Rock is an existing partner of GiG. To date this year GiG has provided Hard Rock with its flexible, robust and scalable technical platform service and its best-in-class front end website service GiG Magic, supporting Hard Rock to go live with its casino offering in New Jersey, US on 3 July 2018.
Kresimir Spajic, SVP Online Gaming at Hard Rock International, says: "The forthcoming launch of the Hard Rock Sportsbook in New Jersey will mark another step towards becoming a significant player in the national and international Sports Betting and Online Gaming industry. In the past few months GiG has proven to be an innovative, capable, flexible and trustworthy partner. Such qualities together with vanguard Sportsbook technology and services enabled GiG to win our New Jersey Sportsbook RFP. We are positive that the extension of our partnership with GiG together with "skin" partnerships with leading international operators will enable Hard Rock Hotel & Casino Atlantic City to reach its ultimate goal of becoming New Jersey's Sports Betting and Online Gaming market leader."
Robin Reed, CEO of GiG, says: "I am proud and delighted to have signed this agreement with our partner Hard Rock, our first inroad to sports betting in the exciting US market. It also headlines our continually strengthening partnership with Hard Rock across our iGaming ecosystem. It was a highly competitive pitch against the best Sportsbooks in the world, all vying to open up the US market. Hard Rock choosing GiG to power its Sportsbook, is a clear statement as to the quality of our cutting-edge sports betting services at this very early stage of their roll-out. Hard Rock is a strong brand with scale, wide reach and with the same high ambitions as us. We look forward, with excitement, to continuing to support Hard Rock's expansion and geographical growth.
GiG is expecting the Sportsbook agreement to start contributing to revenues in Q1 2019 and to increase from Q2 2019 onwards.
About Gaming Innovation Group (GiG):
Gaming Innovation Group Inc. is a technology company providing products and services throughout the entire value chain in the iGaming industry. Founded in 2012, Gaming Innovation Group's vision is 'To open up iGaming and make it fair and fun for all'. Through the ecosystem of products and services, GiG is connecting operators, suppliers and users, to create the best iGaming experiences in the world. Gaming Innovation Group operates out of Malta and is listed on the Oslo Stock Exchange under the ticker symbol GIG.
For more information about GiG and our services also see: www.gig.com
About Hard Rock International:
With venues in 74 countries, including 185 cafes, 27 hotels and 12 casinos, Hard Rock International (HRI) is one of the most globally recognized companies. Beginning with an Eric Clapton guitar, Hard Rock owns the world's most valuable collection of music memorabilia, which is displayed at its locations around the globe. Hard Rock is also known for its collectible fashion and music-related merchandise, Hard Rock Live performance venues and an award-winning website. HRI owns the global trademark for all Hard Rock brands. The company owns, operates and franchises Cafes in iconic cities including London, New York, San Francisco, Sydney and Dubai. HRI also owns, licenses and/or manages hotel/casino properties worldwide. Destinations include the company's two most successful Hotel and Casino properties in Tampa and Hollywood, FL., both owned and operated by HRI parent company The Seminole Tribe of Florida, as well as other exciting locations including Atlantic City, Bali, Cancun, Daytona Beach, Ibiza, Orlando, Shenzhen and San Diego. Upcoming new Hard Rock Cafe locations include, Maldives, Manila, Malaga, Georgetown, Fortaleza, Rosario and Chengdu. New Hard Rock Hotel, Casino or Hotel & Casino projects include Berlin, Budapest, Dublin, London, Los Cabos, Maldives, New York City, Ottawa, Sacramento, Dalian and Haikou in China. In 2018, Hard Rock International was recognized as a Forbes Magazine Top Employer for Women.
Source: Gaming Innovation Group