Play'n GO in-line for success at Women in Gaming Awards
Reading Time:
2
minutes
Slots supplier follows 2017 Diversity Award with seven 2018 nominations
13th April 2018 – Omni-channel slots specialist Play'n GO has been recognised for its commitment to diversity and championing of its female staff with seven nominations at the 2018 Women in Gaming Awards.
The supplier has been shortlisted for company-wide awards, as well as numerous individual categories, which will be held at the Savoy Hotel, London on the 11th May.
Following recent commitments to diversify its workforce and moving to a brand new, state-of-the-art offices in Malta, Play'n GO will look to win the Company of the Year and Best Place to Work.
In terms of individual nominations, Liana Mifsud is in a strong field for the Employee of the Year category, Irina Tyberg has been recognised for Hidden Talent of the Year (Operator) and Maria Nilsson will look to bring home the Industry Achiever gong.
Two Play'n GO employees will also be up against one another, with Ebba Arnred and Lena Yasir both in the running for Leader of the Year (iGaming).
Having won the Diversity Award at last year's ceremony, Play'n GO will be looking to add to its collection, cementing its position as one of the most forward-thinking and enjoyable companies in the gaming industry.
Johan Törnqvist, CEO at Play'n GO, said: "I'd like to congratulate not just the many individuals who've been nominated for a 2018 Women in Gaming award, but also all of those within our organisation who continue to shape our culture for the better and go above and beyond.
"At Play'n GO, we want to make sure we build a culture that is suited to both men and women, and although a large proportion of our workforce is female, there's more we can do to ensure diversity and inclusivity is entrenched in every level of our hierarchy."
About Play'n GO:
Play'n GO is an award-winning supplier of high quality gaming content to many of the world's leading casino brands.  Their genuine omni-channel solution can be tailored to suit the needs of individual online and land-based partners, regardless of geographical, regulatory, or market-specific requirements. Their games are developed in HTML5 to provide an enhanced user experience on all devices and operating systems. They are complemented by superior back-office administration tools which provide expansive reporting and marketing capabilities, ensuring operators are equipped to provide the ultimate gaming experience. The supplier has been recognised with the IGA Slot Provider of the Year 2017 and 2018 titles. For more information about Play'n GO, who have offices in Sweden, Malta, Hungary, and the UK, please visit http://www.playngo.com.
Videoslots lead the way with eight Women in Gaming Award nominations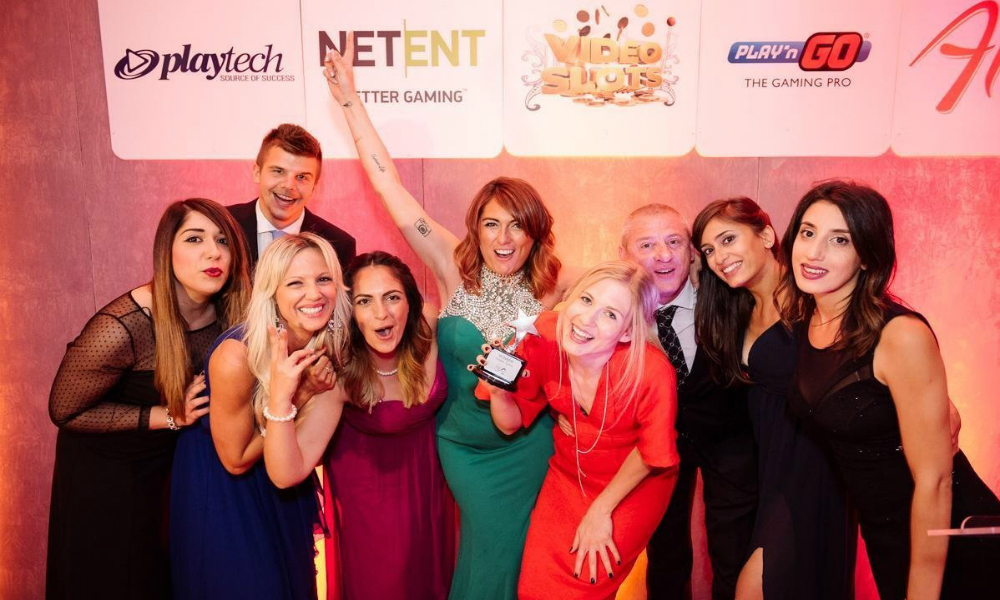 Reading Time:
2
minutes
Categories include Employee of the Year and Innovator of the Year
19th April 2018 – Leading online casino operator Videoslots.com has further enhanced its reputation as an equal opportunity employer after receiving eight nominations for the Women in Gaming Awards.
Nominations for the awards bash, which takes place at the stunning Savoy Hotel London, include Employee of the Year (Dunya Siala) and Innovator of the Year (Lorraine Sammut).
Both will be aiming to follow in the footsteps of fellow employee Sini Rantala, who was crowned Hidden Talent of the Year in 2017, as will Excellence in Customer Service nominee Essa Frantsi.
Videoslots is also represented by Angel Jane Agius (Industry Achiever), Megan Easey (Inspiration of the Year), Alison Brincat (Leader of the Year iGaming), Laura Zarb Cousin (Young Leader of the Year) and Naomi Pottinger (Hidden Talent of the Year).
CEO at Videoslots.com, Alexander Stevendahl, said: "We are always looking to build on the quality and diversity of our workforce and I think these nominations are a reward for all our efforts.
"Last year we were proud to see Sini Rantala recognised for all of her hard work and dedication and I am confident we can add to our collection on what is going to be a great night for the industry."
About Videoslots.com:
Founded in 2011, Videoslots.com is an award-winning online casino with the widest variety of games in the industry.
With an unparalleled range of more than 2,100 slots and table games from trusted providers, Videoslots.com offers a premium gaming platform to customers, enhanced by innovative new promotional concepts including Casino Races and Battle of Slots. It aims to create a unique entertainment product via technical excellence, exceptional customer service and the latest game play innovation.
Videoslots.com also provides market-leading customer protection with its industry-first Max Bet Protection, allowing players to select their maximum bet limit per spin, and robust compliance procedures. It won the 2016, 2017 and 2018 Slots Operator award at the IGAs and was winner of Best Casino at the 2015, 2016 and 2017 Casinomeister Awards.
Videoslots.com is owned by Malta-based parent company Videoslots Ltd, and holds licences in Malta, the UK and Curacao.
EGT received the prize "True Leader"
Reading Time:
2
minutes
EGT received the prize "True Leader" for a second time in the fifth annual edition of the eponymous competition.
Euro Games Technology received the prize "True Leader" for a second time in the fifth annual edition of the eponymous competition. The company ranked ninth among the best 300 enterprises in Bulgaria. The accolade is for its financial results in 2016 when EGT recorded a growth of almost 80 percent in its EBIDTA in comparison to the previous year and so became one of the top ten most successful businesses in the country of all industries, being already a leader in its category "Electrical equipment and components production" and outpacing the second contestant in the sector with three times higher EBIDTA.
The awards ceremony took place on December 12 in Rainbow Plaza, Sofia, followed by a gala dinner. "Тhis accolade is a true honour to us, moreover we receive it in the year when we celebrate our 15th anniversary," commented Stanislav Stanev, marketing & sales director of EGT.
"For this time frame our company has established itself not only as one of the leading manufacturers in the Bulgarian economy as a whole, but reached over 80 countries globally with its products and gaming content, developing a highly efficient network of 20 foreign offices. We achieved this thanks to our team and firm belief that the only path to success is to give more to our customers, exceeding their expectations. I am confident that we have further to go on our upward path keeping, or even improving, the achieved so far impressive results."
The competition "True Leader" is organized by ICAP Bulgaria, part of ICAP Group – the largest business information and consulting group in Southeastern Europe and one of the few companies recognized as "Credit Rating Agency" by the European Securities and Markets Authority in the region.
The winners are determined on the basis of several measurable and objective indices, taking into consideration officially published information only, without including subjective jury assessment or results of public surveys. The participating companies must meet criteria such as being among the most profitable enterprises according to EBITDA for the relevant year, increasing the number of their staff and achieving a high credit rating.
Double awarding for Casino Technology's team in Romania
Reading Time:
1
minute
At the threshold of the new year the Casino Technology's team in Romania was honored with two awards. Their fruitful work was acknowledged and was signified with a Special Award of the industry and the Best Product Award 2017.
"We thank you on behalf of the entire Romanian gaming industry for your good job", the organizers from Casino Inside said when giving the Special Award to the Performance analyst at the Romanian office of Casino Technology Cristian Munteanu.
Following was the special ceremony of the Romanian Gaming Celebration that took place in the Ambasad'or Events where the company received the Best Product Award 2017. The event was organized by Life & Business Magazine.
The accolade was given for the TOWER™slant top slot machine that was launched recently on the market. The machine with 43" monitor and 4K resolution already has been installed in multiple locations and has excellent feedback from operators.
Valentina Dobre, Regional Director for Romania at Casino Technology commented: "We highly appreciate the honors we were dignified with. As the passing year was very productive for Casino Technology, we are looking forward for the coming 2018 expecting it to be even more prosperous".