German gambling market grows by 300 million euros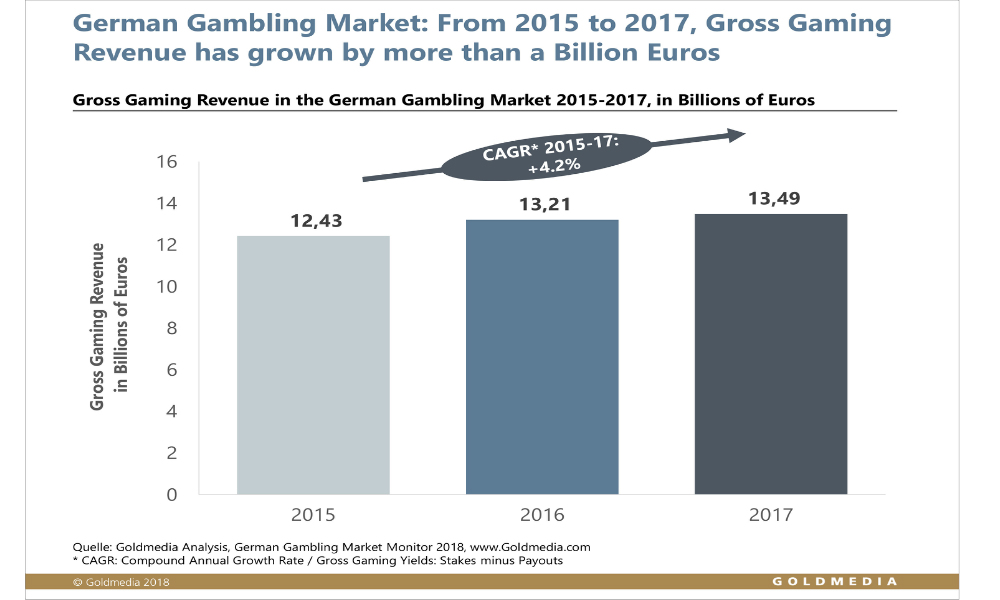 Reading Time:
2
minutes
German gambling market grows by 300 million euros
New Goldmedia report analyses current developments in the German betting and gambling market
Record growth in the betting market generates a 33 per cent increase in gross betting revenue from 2015 to 2017
German lotteries face aggressive competition from unregulated EU competitors
Berlin, May 8, 2018 – The German gambling market is continuing to grow. In 2017, the German gambling market (lotteries, bets, gaming machines and casinos) generated a gross gaming revenue of 13.5 billion euros which is an increase of 300 million euros compared with 2016. This equates to additional biennial earnings of 1 billion euros compared with 2015. Most of the gambling segments benefited from the overall positive economic development in Germany, however, this varied from segment to segment.
These findings are part of the new report German Gambling Market Monitor 2018 published by Goldmedia Strategy Consulting.
Record growth in the betting segment, however, lotteries are under pressure
In 2017, betting notched up the strongest level of growth of all the gambling segments with a 17 per cent plus in gross gaming revenue (wagers minus payouts) compared with 2016. In comparison with 2015, the market has grown by 33 per cent in total. This positive trend is expected to continue. The upcoming 2018 FIFA World Cup in Russia will stimulate additional revenue growth for the 90+ sports betting operators who are active in the German market. Furthermore, the dysfunctional regulatory policies which are still in effect in Germany are continuing to provide favourable operating conditions which are supporting further growth.
However, the German lottery segment remains static and gross gaming revenue has fallen by 3 per cent, primarily due to declining ticket sales in the highest grossing 6aus49 lottery game. In addition, the state-owned lotteries are experiencing aggressive competition from online lotteries operating from Malta without a German licence.
Changes in the gaming machines segment
Gaming machines achieved yet another very profitable year, generating a gross gaming revenue of over 7 billion euros in 2017. However, significant structural changes in the market are imminent following the introduction of new regulations. Stricter rules governing the total number of gaming halls and the minimum distance allowed between them may lead to a considerable reduction in the number of gaming venues in the medium term. Even though the gaming machine operators have initiated more than 1,000 legal proceedings to stall the implementation of these policies, the strong market growth that has been seen in recent years has now come to a halt.
Chart: German Gambling Market, Gross Gaming Revenue 2015-2017
Source: German Gambling Market Monitor 2018
The Goldmedia report German Gambling Market Monitor 2018 examines the development of the German gambling market through a segment-by-segment analysis of the lottery, casino, betting and gaming machines markets. In addition to presenting an analysis of the years 2015 to 2017, the report also provides gross gaming revenue forecasts for 2018.
Goldmedia:
Goldmedia is a research and management consulting group with a focus on media, entertainment and telecommunications. Goldmedia has been helping national and international clients to face challenges relating to digital transformation since 1998. Business activities include consultancy services, research, political analysis and advising staff. Goldmedia has offices in Berlin and Munich. For further information, please visit our website www.Goldmedia.com.
Betway becomes official global betting partner of the Mzansi Super League T20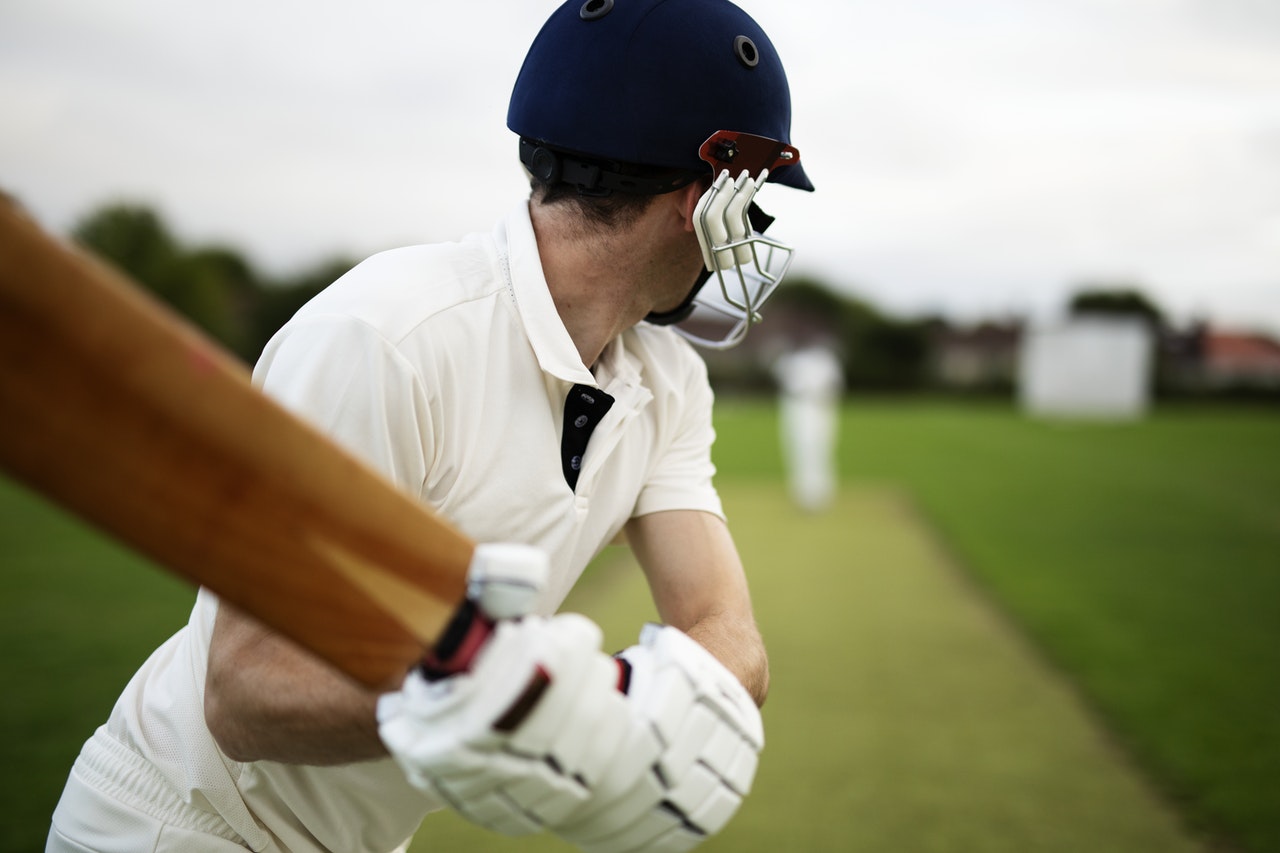 Reading Time:
1
minute
Betway has agreed a three-year-deal to become the official betting partner of the Mzansi Super League T20 – further adding to its cricket sponsorship portfolio.
The tournament, which takes place in Johannesburg, Tshwane, Durban, Nelson Mandela Bay, Cape Town and Paarl, is broadcast live in the UK and the first fixtures have already provided some great action.
Former South African international AB de Villiers impressed the locals as he hit fifty in vain as Tshwane Spartans were beaten by Cape Town Blitz, while Nelson Mandela Bay Giants beat the Jozi Stars.
Betway's latest seven-figure-deal comes just months after it was confirmed as the official betting partner of both the men's and women's Cricket West Indies (CWI) sides.
Betway's Anthony Werkman, said: "We are really pleased to be on board at the start of this new look T20 tournament.
"Being involved as a global partner shows the ambition Betway has to become a recognised worldwide supporter of elite professional sport, and the names appearing in this tournament certainly fit that bill.
"I am sure that the crowds will enjoy the games and we look forward to delivering an exciting experience for our customers too over the next three years."
Cricket South Africa CEO, Thabang Moroe, added: "We are thrilled to have sports betting brand, Betway, on board to join our roster of sponsors, all whom have committed to helping us take Mzansi T20 to the world through the game of cricket."
Praesepe put faith in Project pokers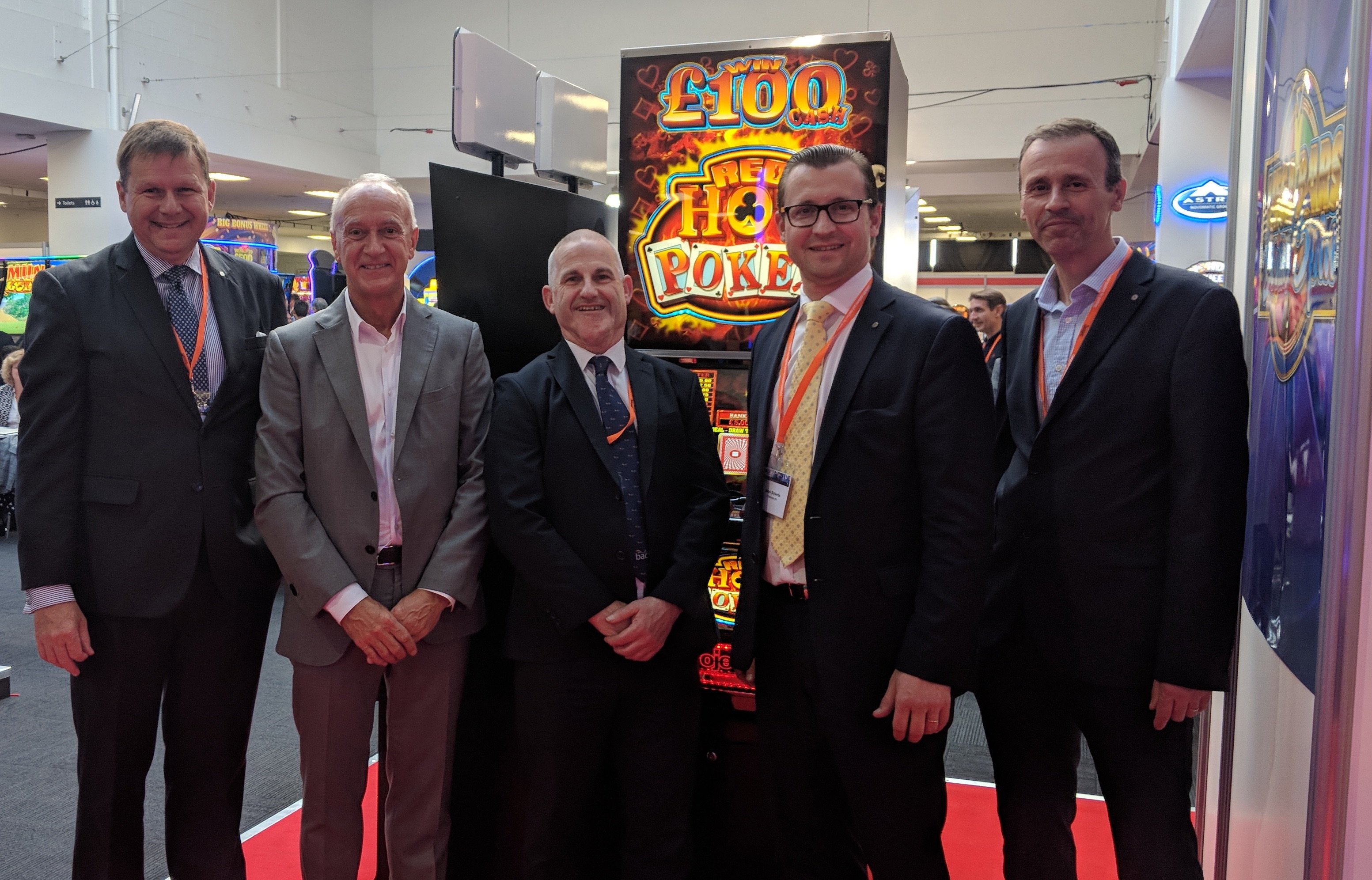 Reading Time:
1
minute
Project has received what it is describing as a 'substantial order' from Praesepe, part of the Gauselmann group of companies, for its specialist poker themed games comprising Red Hot Poker, Jacks or Better and the Cat C lite, Hi Lo Poker.
Confirming the order, Praesepe's Head of Gaming Machines, Nigel Davis, said: "We have a long and successful history of working with Project, one of the industry's leading independent machine innovators. Project was the first to fully understand poker and over the last decade has mastered the art of translating the dynamics of the game into an array of stylish B4, Cat C and Cat C lite machines. We've found that poker attracts a different segment of the player base into our venues. They don't perceive themselves as being slots players but poker players, which means that as an operator we are not simply cannibalising spend from one machine to another. Attracting new income is the lifeblood of any business and poker themed games bring new customers into our venues. I am confident the Project pokers that we have ordered will further enhance the fantastic Cashino customer experience."
Project Managing Director, Tony Boulton stated: "We are delighted at the faith shown by Praesepe in our products. We have spent a lot of time understanding the psyche of the poker player and working hard to deliver new and enhanced experiences for poker aficionados. Poker doesn't go out of fashion, it works across machine categories and it can be deployed either as a stand alone machine or, as we've demonstrated in 5 Star Games, as part of a mixed game style compendium. Key to its success and its longevity is the fact that it generates differentiated income courtesy of its' distinct player base."
Continent 8 Named "International Business of the Year" at the Isle of Man Newspapers Awards for Excellence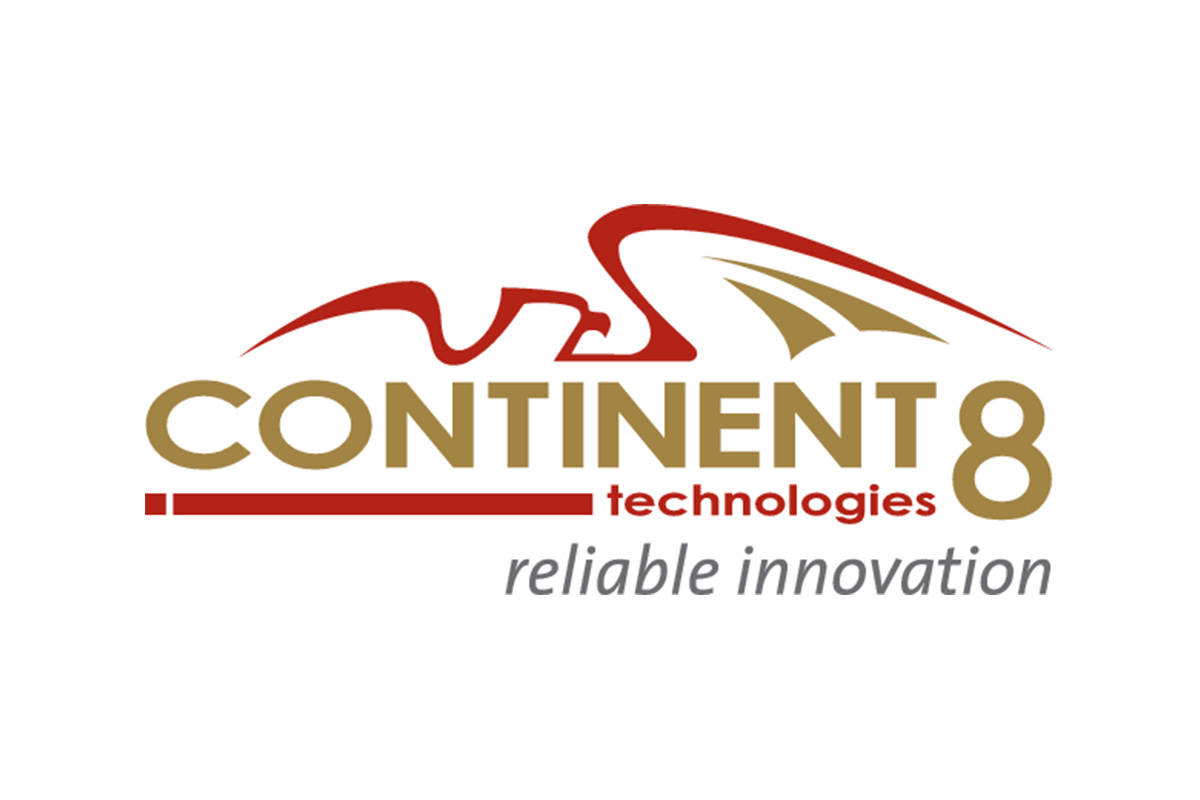 Reading Time:
2
minutes
Continent 8 Technologies, the award-winning, multi-jurisdictional global data solutions provider, has been named the 2018 "International Business of the Year" at the prestigious Isle of Man Newspapers Awards for Excellence held last night at the Villa Marina, Isle of Man.
This year, Continent 8 was shortlisted in the "International Business of the Year category" – one of the most sought after awards of the night. Now in its 13th year, the Awards for Excellence has recognised more than 300 local companies since the awards started, creating a unique opportunity to recognise success for companies, individuals, the public sector, and the charitable sector.
This is the second time Continent 8 has been recognised for success and innovation. In 2014, Continent 8 was honoured as the "Company of the Year". At that time, the judges remarked that Continent 8 demonstrated a clear strategy, as well as innovative ways of sourcing and delivering service on and off island. They recognised that Continent 8 had a firmly established local and international profile and has served as a strong ambassador on behalf of the Island.
Continent 8's CEO Michael Tobin stated about this year's award, "We are truly honoured to be recognised as this year's International Business of the Year. Our success and growth are directly attributed to our global team of experts, our ability to develop long-term partnerships, and by offering the most sophisticated, innovative, and reliable services to our customers." Mr. Tobin, described the award as a "Humbling recognition of our relentless pursuit of service and innovation on a global scale and our commitment to the growth of the Isle of Man."
In accepting the award on behalf of Continent 8 David Black thanked the organisers, judges, shareholders, the global team and led a touching tribute following the recent tragic loss of colleague, Paul Steer.
Continent 8 is an award-winning, multi-jurisdictional global network solutions provider that connects, manages, and secures the world's most valuable information. Its advanced data centers and high-quality networks support critical online operations in both private and public-sector organisations in over 30 locations across Europe, the United States and Asia. For more information visit www.continent8.com.