German gambling market grows by 300 million euros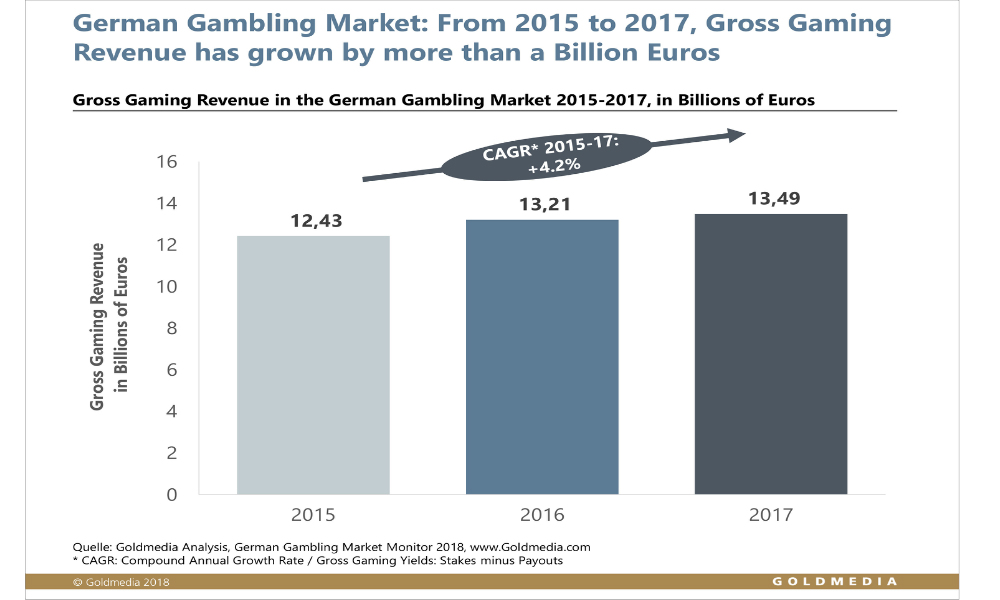 Reading Time:
2
minutes
German gambling market grows by 300 million euros
New Goldmedia report analyses current developments in the German betting and gambling market
Record growth in the betting market generates a 33 per cent increase in gross betting revenue from 2015 to 2017
German lotteries face aggressive competition from unregulated EU competitors
Berlin, May 8, 2018 – The German gambling market is continuing to grow. In 2017, the German gambling market (lotteries, bets, gaming machines and casinos) generated a gross gaming revenue of 13.5 billion euros which is an increase of 300 million euros compared with 2016. This equates to additional biennial earnings of 1 billion euros compared with 2015. Most of the gambling segments benefited from the overall positive economic development in Germany, however, this varied from segment to segment.
These findings are part of the new report German Gambling Market Monitor 2018 published by Goldmedia Strategy Consulting.
Record growth in the betting segment, however, lotteries are under pressure
In 2017, betting notched up the strongest level of growth of all the gambling segments with a 17 per cent plus in gross gaming revenue (wagers minus payouts) compared with 2016. In comparison with 2015, the market has grown by 33 per cent in total. This positive trend is expected to continue. The upcoming 2018 FIFA World Cup in Russia will stimulate additional revenue growth for the 90+ sports betting operators who are active in the German market. Furthermore, the dysfunctional regulatory policies which are still in effect in Germany are continuing to provide favourable operating conditions which are supporting further growth.
However, the German lottery segment remains static and gross gaming revenue has fallen by 3 per cent, primarily due to declining ticket sales in the highest grossing 6aus49 lottery game. In addition, the state-owned lotteries are experiencing aggressive competition from online lotteries operating from Malta without a German licence.
Changes in the gaming machines segment
Gaming machines achieved yet another very profitable year, generating a gross gaming revenue of over 7 billion euros in 2017. However, significant structural changes in the market are imminent following the introduction of new regulations. Stricter rules governing the total number of gaming halls and the minimum distance allowed between them may lead to a considerable reduction in the number of gaming venues in the medium term. Even though the gaming machine operators have initiated more than 1,000 legal proceedings to stall the implementation of these policies, the strong market growth that has been seen in recent years has now come to a halt.
Chart: German Gambling Market, Gross Gaming Revenue 2015-2017
Source: German Gambling Market Monitor 2018
The Goldmedia report German Gambling Market Monitor 2018 examines the development of the German gambling market through a segment-by-segment analysis of the lottery, casino, betting and gaming machines markets. In addition to presenting an analysis of the years 2015 to 2017, the report also provides gross gaming revenue forecasts for 2018.
Goldmedia:
Goldmedia is a research and management consulting group with a focus on media, entertainment and telecommunications. Goldmedia has been helping national and international clients to face challenges relating to digital transformation since 1998. Business activities include consultancy services, research, political analysis and advising staff. Goldmedia has offices in Berlin and Munich. For further information, please visit our website www.Goldmedia.com.

Williams duo Russell and Latifi are first Formula 1 drivers confirmed as Virtual Grands Prix return for charity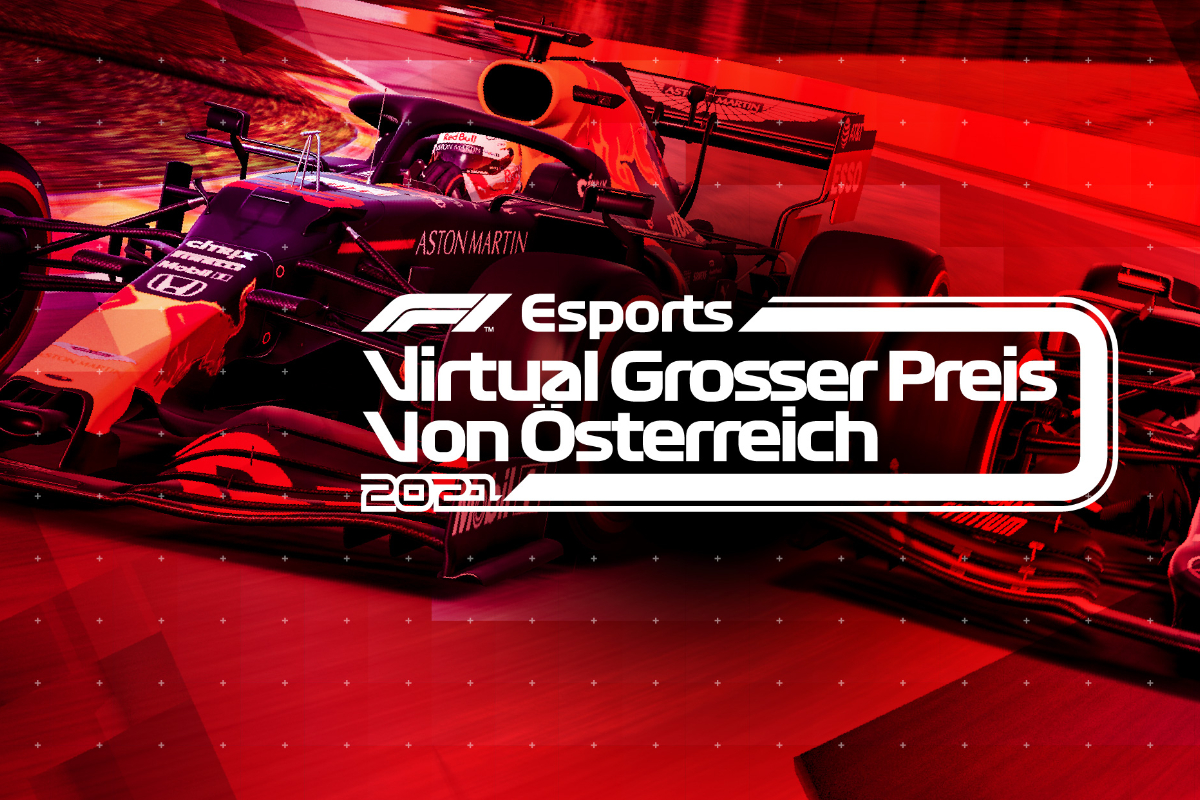 Reading Time:
2
minutes
Williams Racing's George Russell and Nicholas Latifi are the first Formula 1 drivers to confirm their spots as F1 Esports' hugely-popular Virtual Grands Prix return this weekend. The Virtual Austrian Grand Prix takes place on Sunday 31 January, kicking off a trio of special live events as team's battle it out for a share of a charity prize pot that they will donate to a cause of their choosing.
Russell is no stranger to the Virtual Grands Prix after winning last year's series, following a number of impressive performances, as the online racing action took the place of real-life competition when the pandemic first struck. Russell and Latifi will be representing the current crop of F1 drivers in the first event, alongside some former stars of the sport and future prospects, but the Williams Racing duo will be joined by fellow drivers from the 2021 grid in upcoming events.
Alex Albon, Red Bull Racing Test and Reserve Driver and Wings for Life ambassador, was a firm favourite in last year's Virtual Grands Prix and returns alongside Jeffrey Herlings, Red Bull KTM Factory rider and MXGP World Champion. Pietro Fittipaldi made his Haas F1 debut last season in Bahrain and will represent the American team in this week's race, alongside his brother Enzo, whilst former F1 drivers Stoffel Vandoorne and Tonio Luizzi will represent Mercedes and AlphaTauri respectively. Renault academy drivers Christian Lundgaard and reigning FIA F3 champion Oscar Piastri will drive for Alpine, whilst Virtual Grand Prix regular and Belgium goalkeeper Thibaut Courtois returns this year for Alfa Romeo. The full line-up will be announced across the official F1 social media channels over the coming days.
While the return of Virtual Grands Prix will give fans around the world excitement ahead of the Formula 1 season starting in Bahrain, the primary focus of this year's three-race competition is to donate money to charities chosen by the teams. Each nominated charity will receive a significant donation from the overall prize fund, regardless of whether the team finishes first or last in the standings after the three events.
This year's Virtual Grand Prix events will begin with a sprint-race, featuring the team's talented F1 Esports Pro Series drivers, to decide the starting grid, before the teams' pairings, made up of motorsport stars, sporting heroes and celebrities, will take to the track and get ready to race. Silverstone and Interlagos will also play host to upcoming virtual races on Sunday 7 February and Sunday 14 February respectively.
The Virtual Austrian Grand Prix will be broadcast from 18:00 GMT on Sunday 31 January on the official Formula 1 YouTube, Facebook, Twitch, Huya (China) and Weibo (China) channels, as well as broadcast by international television partners including Sky Sports, ESPN, FOX Sports and Ziggo.
Julian Tan, Head of Digital Business Initiatives & Esports at Formula 1 said:
"We are thrilled to be bringing the Virtual Grands Prix back to keep fans entertained during the off-season as we look forward to the year of racing ahead. Last year's virtual events were a huge success for F1 Esports and we can't wait to see the F1 drivers and famous faces back in action once again, and this time all in the name of charity!"
Over $100k worth of free support to problem gamblers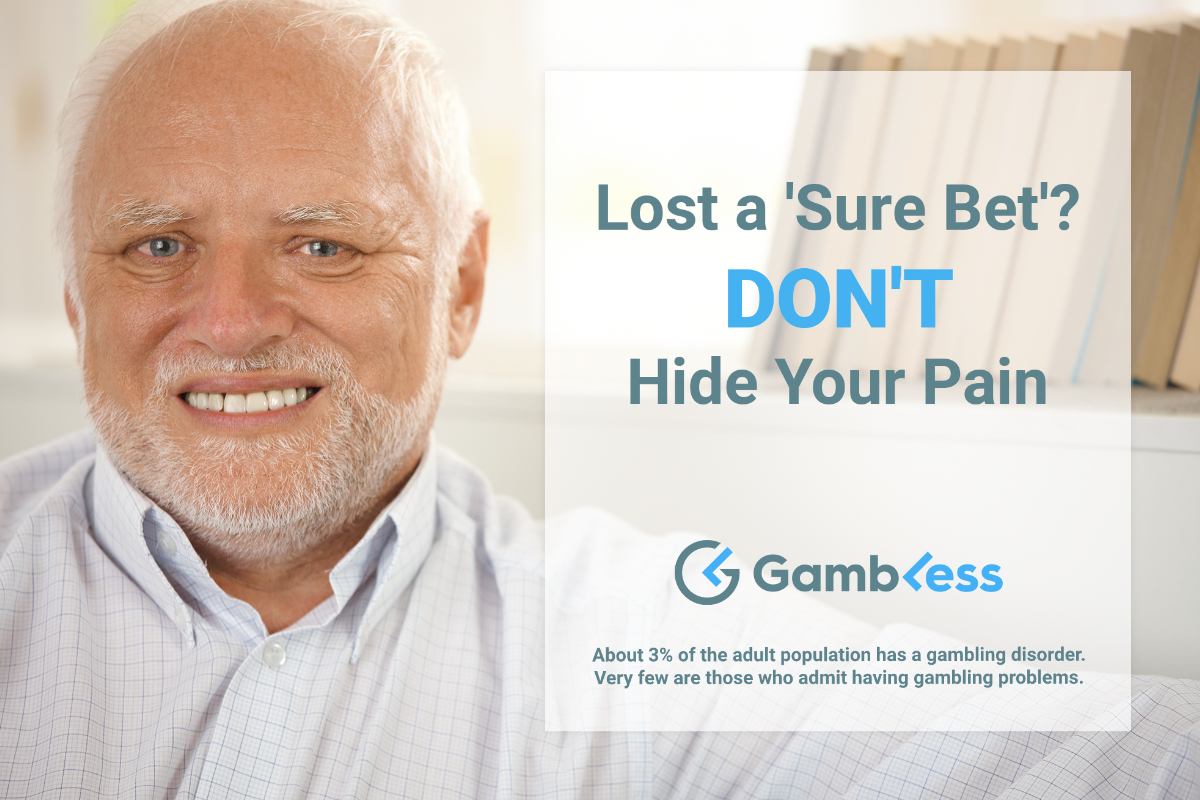 Reading Time:
2
minutes
Gambless first big milestone offers a glimpse into where its users come from and confirms the importance of mhealth support
The release of Gambless, a new mobile app tackling gambling addiction, was announced last September. The app, which is accessible on both iOS and Android devices, offers resources to problem gamblers, including informative articles, a self-care diary, coping-skills exercises, diagnostic tests and an emergency chatbot.
Today, less than 5 months later, Gambless announces to have already given away several hundred free codes, allowing access its psycho-educational resources, amounting to over $120.000.
GEOGRAPHIC DISTRIBUTION
After the initial months of organic growth, at the beginning of December, Gambless decided to start surveying its users about their location and their most frequented gambling operators.
These data was gathered anonymously, and now it gives a better understanding of its userbase: in the past 8 weeks, 27% of registered users came from the United Kingdom and Ireland, 24% from the USA, 12% are Australians, 10% Italians and 5% Canadians. And while there are people registering from all over the world (30+ countries), a handful of countries account for more than 3/4 of its users.
The pie doesn't aim to give a global picture of the gambling addiction issue, considering that at the moment Gambless is available in just 3 languages (EN, IT and RU). But it offers an interesting vantage point.
THE IMPORTANCE OF MENTAL HEALTH AND MHEALTH
Gambless has been created and developed by the same team of psychologist who designed Mindspa, another mobile app targeting a broader audience on mental health topics. Combined, the two apps count over 250,000 registered users in less than a year, with 000s of positive reviews.
Studies show that problem gambling often overlaps with other issues. 43% of problem gamblers have also alcohol issues, 25% struggle with drugs, 60% have comorbidity with anxiety and depression, and the list goes on. And from its conception, Gambless mission has been to provide prevention and support to problem gamblers, with a holistic approach on mental health.
Gambless aims to address first and foremost the mental health of vulnerable individuals, offering programs covering emotional intelligence, loneliness, stress, jealousy, and features a collection of hundreds of coping skill exercises on feelings like anger, anxiety, resentment, self-distrust, frustration, sadness, guilt, apathy, fear, and so on.
In this context, it is also extremely important that the role of mhealth (mobile health) support.
Smartphones nowadays have a penetration of over 80% in many countries. Thus, thanks to mhealth, treatment and other resources can be accessed more easily, regardless of socio-demographic aspects. Furthermore, support via mobile phone gives that sense of privacy that often prevents problem gamblers from getting the help they need.
GAMBLESS PLEDGE
It is a known fact that only between 1 and 3 percent of problem gamblers get support each year. With the help of technology, there is the opportunity to both increase awareness and create a diverse and more accessible landscape of support options. And Gambless vows to take its active part to this change.
GAMZIX – The Lion – New Game Release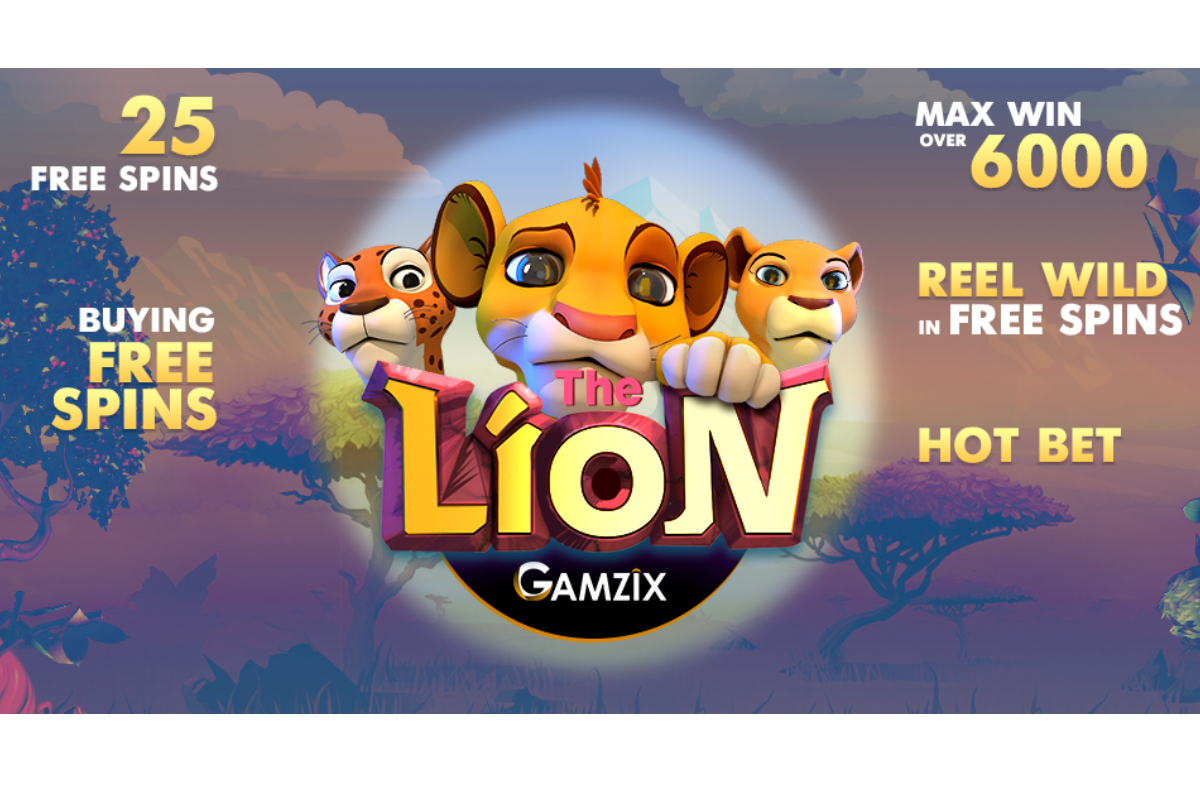 Reading Time:
< 1
minute
New African-themed online slot from Gamzix you must play. The combination of perfect sound and graphics will certainly give you the emotions while playing. The well-known animated characters from the childhood are guiding you trough exciting adventure.
With 20 paylines, 4 types of jackpot and some awesome bonus features The Lion slot gives african safari spirit and a pleasant game will certainly give a lot of joyful moments.
Play with your mobile and laptop absolutely everywhere!
Wild substitutes for all symbols except for Scatter. Can randomly become X2 on the 2,3,4th reel and X3 on the third reel so total can be X12. 3 or more Scatter Symbols on any reel activate 25 free spins which can't be retriggered.
Buying free spins in quantity of 10, 25, 50 gives a chance to win more.
When Hot Bet feature is on by the player he activates the alternative set of reels where more stack symbols are added and the opportunity to get free spins becomes much higher.