Bacta hold latest Parliamentary Lunch for Welsh based MPs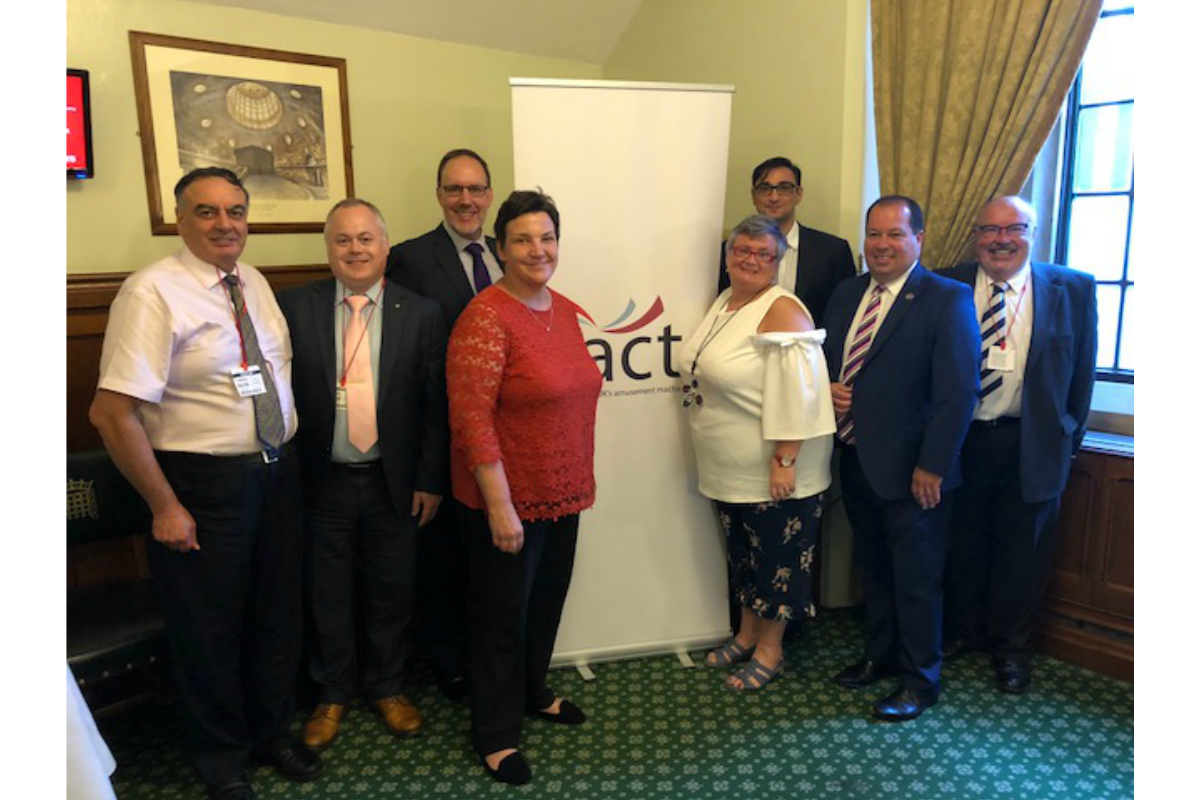 Reading Time:
2
minutes
Concerns surrounding the impact of Brexit on the manufacturing sector, the delay in implementing the £2 maximum FOBT stake and the need for infrastructure investment in coastal resorts were among the topics discussed at the recent Parliamentary Luncheon organised by Bacta and attended by members with businesses in Wales and their constituency MPs. The first Bacta Parliamentary luncheon of 2018 saw National President, Gabi Stergides, Chief Executive John White, Chairman of the South Wales region, John Bollom and Division 4 members, John Stergides (Electrocoin) and Phil Burke (Astra Games), host five Members of Parliament comprising Carolyn Harris (Labour: Swansea East), Gerald Jones (Labour: Merthyr Tydfil and Rhymney), Chris Davies (Conservative: Brecon and Radnorshire), Madeline Moon (Labour: Bridgend) and Tonia Antoniazzi (Labour: Gower).
Explaining the role and importance of the Parliamentary Luncheons, John White said: "There's a lot of political lobbying that Bacta undertakes in partnership with its advisers to drive home the key arguments of the day and their macro impact on the industry. A case in point is the FOBT campaign that we ran and which was supported with such vigour by Carolyn Harris MP and parliamentary colleagues Iain Duncan Smith and Sir Peter Bottomley.
"In tandem with these activities it's also really important for MPs to be able to sit down alongside their constituents to hear about the issues they have to deal with on a daily basis and which impact their ability to run successful businesses employing local people. The issue of poverty in Wales was an important discussion point that everyone could contribute to. As well as the specifics relating to the outrageous and immoral delay in implementing the £2 stake and in particular the practical insight provided by Bacta members, we were also able to debate the next steps in trying to differentiate an industry whose currency is fun from the toxic reputation that's been generated by FOBTs on the high street. Bacta's Parliamentary Luncheons are a hugely worthwhile initiative and one which MPs appreciate greatly."
About bacta:
Bacta represents the amusement and gaming machine industry in the UK, encompassing high-tech and creative manufacturers, machine suppliers for pubs, clubs and bingo halls, as well as operators of Family Entertainment Centres and over 18s Gaming Centres. Bacta members include the whole of the amusement machine supply chain in the UK, which has a collective turnover of nearly £2bn across more than 500 companies, operating in excess of 310,000 machines.
Scout Gaming launching record €100,000 Fantasy tournament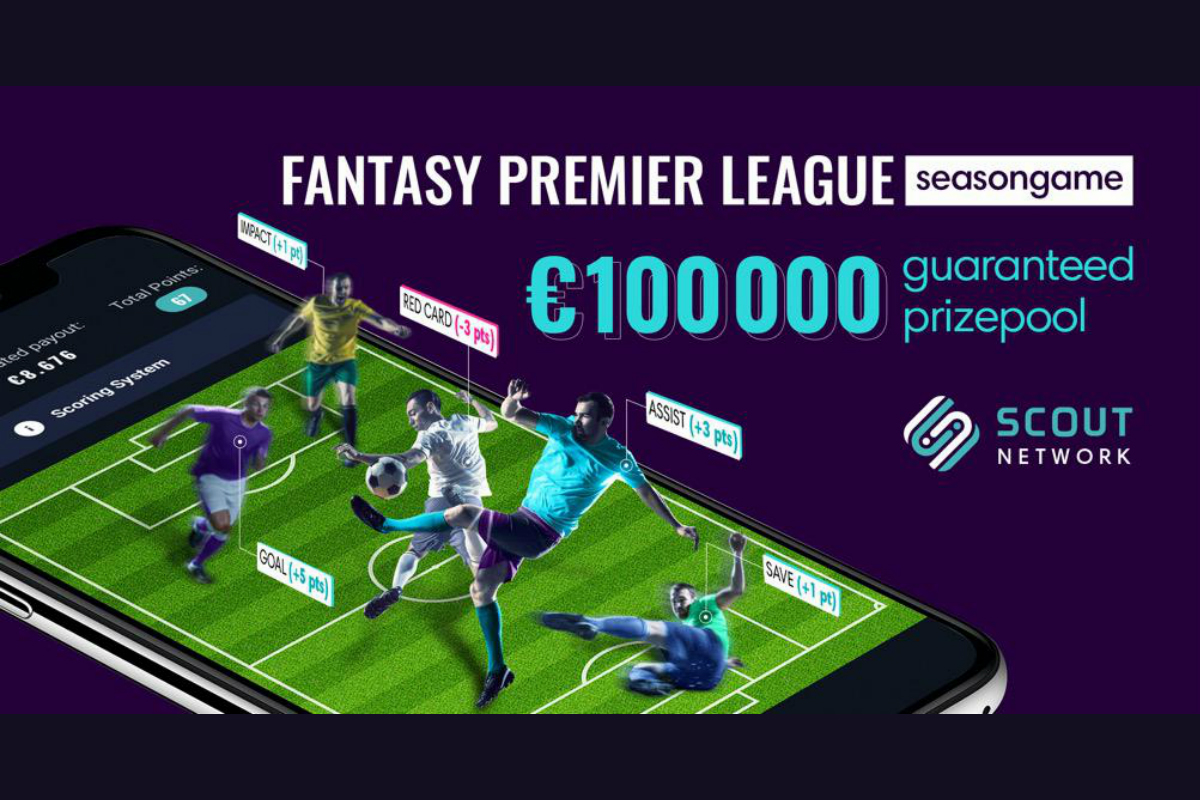 Reading Time:
2
minutes
Scout Gaming has for the upcoming English Premier League launched a fantasy tournament with a minimum guaranteed prize pool of €100,000. The tournament is available via partners on the Scout Gaming Network and is the highest ever prize pool on European Fantasy Football. It's the first time participants will be able to win as much as 1000 times their entry fee, with one lucky winner being able to take home €20,000.
"We are offering our partners an opportunity to be the first in the world to offer six digit prize pots on Fantasy Premier League. Increased interest in our product as well as upcoming clients launches has made this a possibility", comments Product Operations Officer, Bjorn Fjellby of Scout Gaming
In connection to World Cup, Scout Gaming offered a 30,000 prize on the season game, a record at the time. Increased momentum and client activity during the World Cup has generated the possibility to increase the prize pots.
"Bethard has high hopes for our new Fantasy Sports Product from Scout. For sport fans, it is a great way of proving your knowledge about the game that excites you. We are very happy to be included in the record breaking guaranteed tournament going on for the entire 18/19 Premier League season" comments Frederik Iversen, Product Manager of Bethard".
About Scout Gaming Group:
Scout Gaming Group is a licensed and regulated provider of B2B Daily Fantasy Sports and pool betting. The company offers a flexible and customizable network based Fantasy Sports solution with support for most sports and leagues through an in-house StatCenter which also provides real-time information to players. Local sports can be provided on request. The Group has approximately 60 staff and is headquartered in Stockholm, Sweden with development and operations in Bergen, Norway and Lviv, Ukraine. Sales, support and product management is handled from the office in Malta.
ASTRI and Cyberport partnership seeks to facilitate unleash great potential for AI and Blockchain start-ups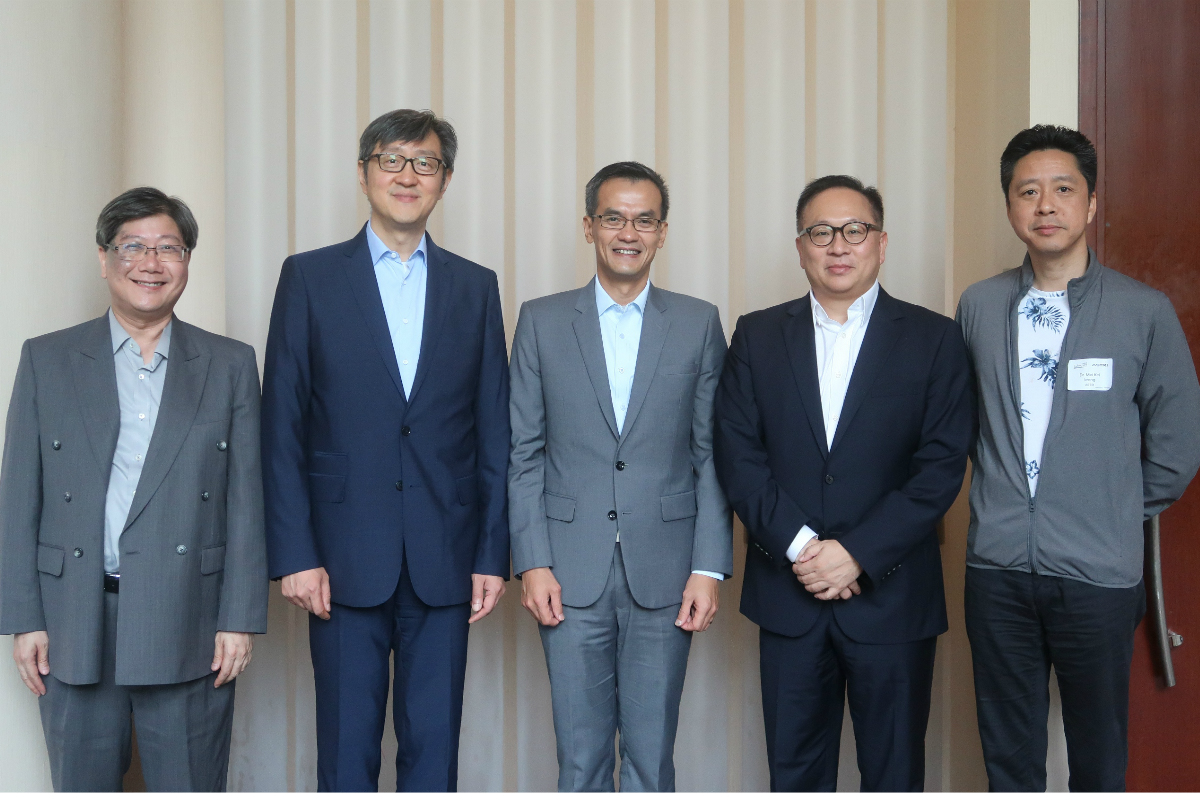 Reading Time:
3
minutes
HONG KONG, July 17, 2018 – Hong Kong Applied Science and Technology Research Institute (ASTRI) and Cyberport, the digital tech community comprising over 1,000 technology companies, partnered for the 'ASTRI Technovation Day' — aiming to introduce ASTRI to the Cyberport tenant companies, particularly the technology start-ups in FinTech, Blockchain, HealthTech and Artificial Intelligence (AI). Through events like this, ASTRI hopes to develop the connection with the technology start-up community and provide necessary support to them. Held yesterday at Cyberport, the ASTRI Technovation Day had a clear mission of fostering collaborations, boosting technological capabilities, sharing useful information about funding resources, and updating participants on ASTRI's technology partnership models. Over 40 start-ups took part in the event which also included insightful sessions on Blockchain Applications, Artificial Intelligence (AI) and Data Analytics, along with a facilitated business matching session for AI and Blockchain stream start-ups.
Mr Hugh Chow — ASTRI's Chief Executive Officer and Mr Peter Yan — Chief Executive Officer of Cyberport talked about the common goal shared by their respective organisations — enabling Blockchain and AI stream start-ups to unleash a world of potential. Commenting on the initiative, Mr Chow said, "Through this event, ASTRI seeks to provide a platform for innovation catalysts to connect with innovation drivers — helping the ecosystem to collectively maximise the impact of our endeavours." Conscious that it is unusual for an R&D institution to disseminate to other technology developers, Mr Chow added that "ASTRI aims to act as a Technovation facilitator. As we all know, together we always achieve more."
"I am glad that Cyberport is working closely with ASTRI on this event that aligns with Cyberport's key cluster focus of AI, blockchain and big data. This will be highly beneficial to Cyberport's tech community in gaining inspiration to enhance their product development. With a community of over 1,000 digital tech companies, Cyberport is keen to work with partners like ASTRI to accelerate their growth and development to create impact on our society. I look forward to more collaboration with ASTRI in the coming future," expressed Mr Yan, CEO of Cyberport.
ASTRI remains committed to its mission of enhancing Hong Kong's global competitiveness with the power of technology, working as an important facilitator of Hong Kong's I&T development. Technology start-ups play a vital role in Hong Kong's role in its global I&T aspirations. Hong Kong not only boasts one of the most vibrant start-up ecosystems in the world, but also consistently ranks at the top league of global innovation and business competitiveness rankings. ASTRI recognises its responsibility to better understand what rising technology entrepreneurs need, and to share technological and funding related information that they might find useful.
The focus of various sessions during the ASTRI Technovation Day was on Blockchain, Artificial Intelligence, Data Analytics, Healthcare Technologies and Cybersecurity. The event has been a collective effort from ASTRI and Cyberport as part of their common goal to cultivate talents to help turn Hong Kong's information technology aspirations into reality, and to help build a thriving, innovation-led economy.
About ASTRI:
Hong Kong Applied Science and Technology Research Institute Company Limited (ASTRI) was founded by the Government of the Hong Kong Special Administrative Region in 2000 with the mission of enhancing Hong Kong's competitiveness in technology-based industries through applied research. ASTRI's core R&D competencies in various areas are organised under seven Technology Divisions, namely Communications Technologies, Electronics Components, Mixed Signal Systems IC, Advanced Digital Systems, Optoelectronics, Security and Data Sciences, and Intelligent Software and Systems. Five areas of applications including financial technologies, intelligent manufacturing, next generation network, health technologies, and smart city are identified for major pursuit. For further information about ASTRI, please visit www.astri.org.
Source: Hong Kong Applied Science and Technology Research Institute (ASTRI)
Smarkets smashes records during World Cup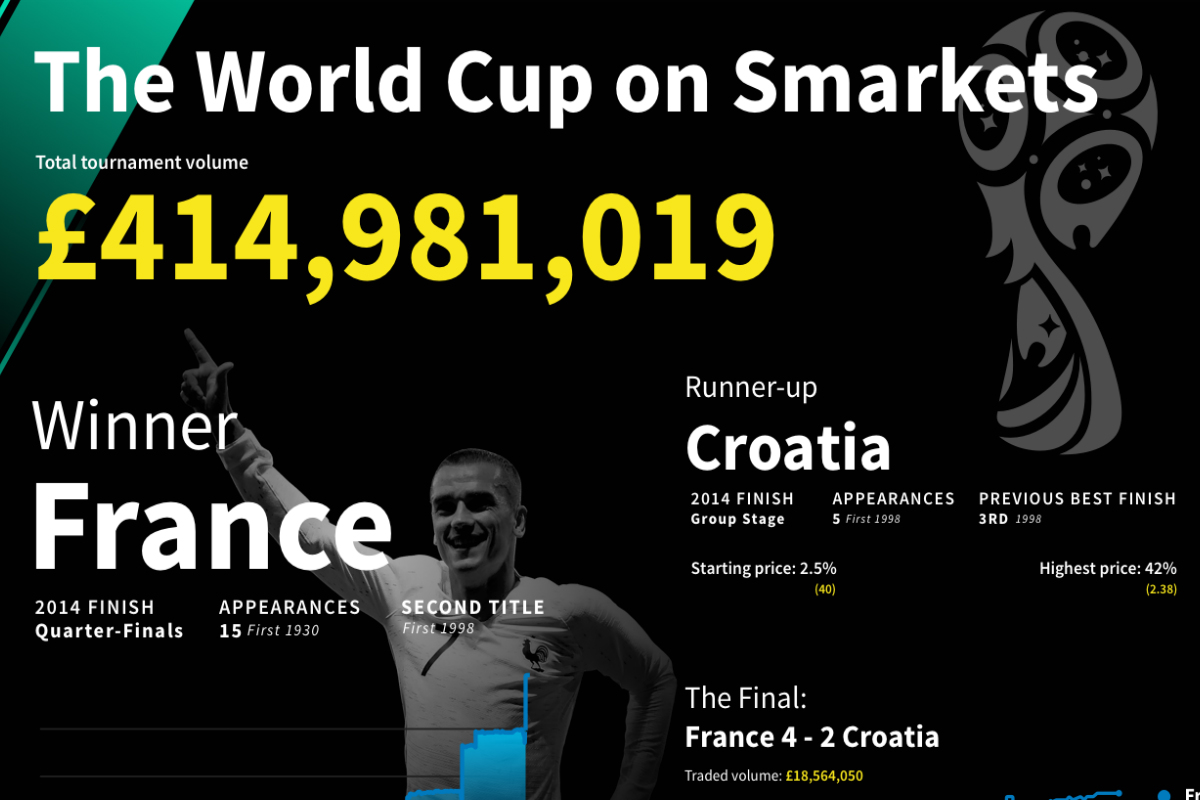 Reading Time:
2
minutes
World Cup market trading of over £400m on the Smarkets exchange 
A record £652m site-wide transaction volume in a month period (June 14 – July 15)

£19.6m placed on England v Sweden – now our highest-ever traded football match

The 2018 FIFA World Cup spectacularly
broke new records
for trading on the Smarkets exchange.
Four years ago, Brazil 2014 proved to be a major turning point for the company and Russia 2018 has the potential to be the same.
The £415m traded on the World Cup equalled 64% of volume across the site, as a record £652m was dealt during the month period of June 14 through to July 15.
England's quarter-final tie with Sweden became our most-traded football game ever with £19.6m in volume across our different match markets, going ahead of the Champions League final between Real Madrid and Liverpool two months ago (£18.1m). The final between France and Croatia would've also pipped the previous record as it saw £18.6m placed on the match.
Smarkets CEO Jason Trost said: "The last World Cup in 2014 proved to be a real turning point for the company and we've come so far in that time. To see record volumes and the platform perform seamlessly was a very proud moment for me as CEO.
"Our investment in a combination of out-of-home advertising and creative customer offers had a real impact and bodes well for an exciting second half of the year, especially with club football returning in less than a month's time."
About Smarkets
Launched in 2010, Smarkets is one of the world's leading betting exchanges that makes trading on events secure, efficient and exciting. Headquartered in London, the company was founded by a team of finance and software engineering professionals and is backed by Passion Capital and Deutsche Telekom. The Smarkets exchange has processed over £5 billion worth of transactions for customers across the company's licensed and regulated markets. The Smarkets group comprises of Smarkets Limited, a software development company, Smarkets Malta, operator of the Smarkets betting exchange, and Hanson Applied Sciences, a liquidity provider. For more information, visit 
http://www.smarkets.com