Tomas Draksas (Edgeless) to join the Innovation Talks – Evolution of technology vs Gambling Regulators panel discussion at CEEGC2018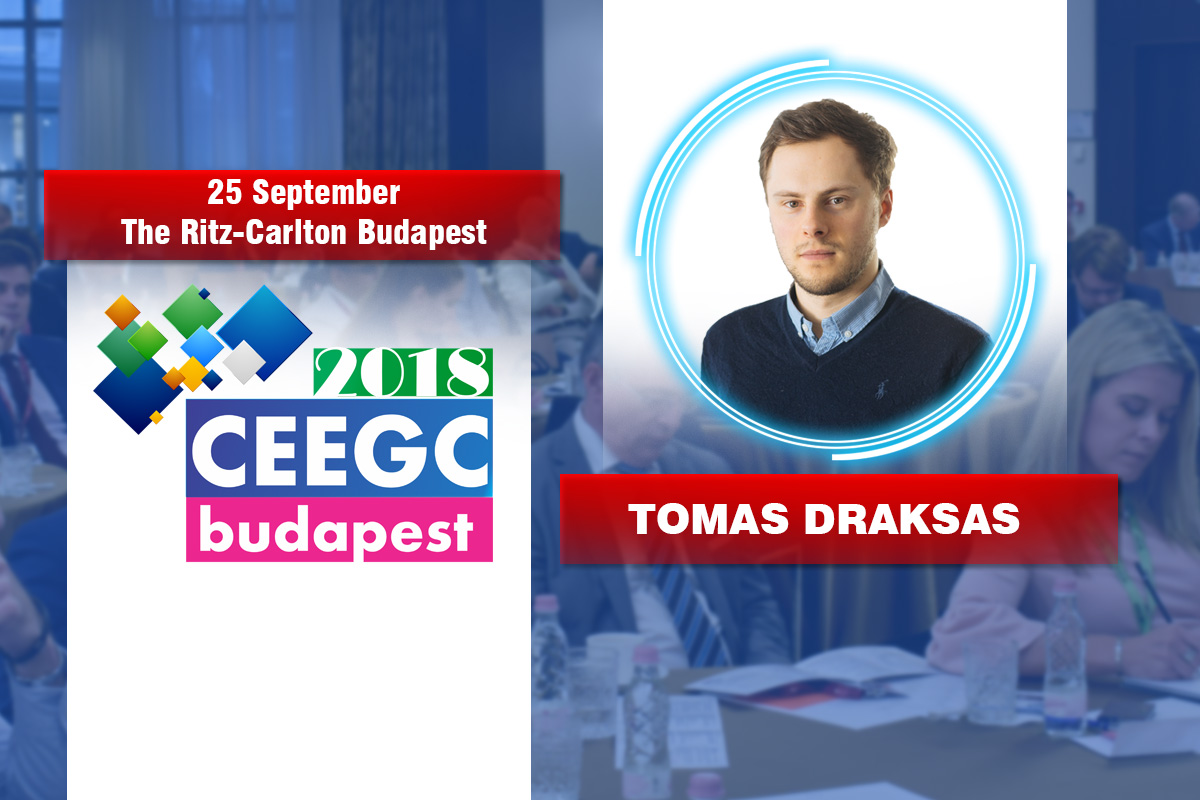 Reading Time:
3
minutes
Budapest – 21 August 2018 – Over the last twelve months or so, the whole world has woken up to the phenomenon of cryptocurrency. Bitcoin's sudden and dramatic increases or decreases in value have been in the headlines everywhere, but we must not forget that the blockchain technology behind it is the most interesting aspect for many.
As often quoted, blockchain would seem to be a perfect solution for the gambling industry in general and online gambling in particular. Especially since many millions of transactions carried out between players and gambling sites each day – both in terms of stakes being laid down and winnings being collected. If these can be made quickly and directly without the need for an intermediary such as a bank or a credit card company being involved, it would be good for both parties.
If we take a look at the player, the anonymity of the exchange, not to mention the speed, are both very appealing features. Plus, the low (and sometimes non-existent) fee is obviously good news for the online casino, which may be paying up to 5% to carry out some transactions, allowing it to plough more money into marketing, new games, or better jackpots.
We must also mention that the blockchain is such a secure method of payment is obviously very important at a time when data breaches and other security issues are very much on the increase. Due to its decentralised attributes, it makes it virtually impossible to alter any data – offering a protection against online fraud.
But where does this leave the regulator, who has to ensure the protection of the player and also contribute to the state's budgets when it comes to a regulated market. Based on our data, nowhere. The regulators and legislators can't keep up with it and this leaves a serious gap in the regulation of certain market when it comes to crypto gambling.
Cryptocurrency only appeals to a select few gambling operators. At the moment, the potential consequences of flouting money laundering regulations vastly outweigh the nice-to-have benefits of greater efficiency and security.
We are honored to announce Tomas Draksas is the Co-founder of Edgeless, as the latest speaker who will join the "Innovation Talks – Evolution of technology vs Gambling Regulators" panel discussion and share the insights of this new way of gambling.
Tomas Draksas is the Co-founder of Edgeless, Professional Poker Player & Gambler, who has been recently making waves in the crypto gambling industry. He will join Joakim Renman (Scout Gaming Group), Adriaan Brink (BetterBetting) and Domenico Mazzola (Altenar) in the panel discussion moderated by Dr. Joseph Borg (WH Partners)
About Tomas Draksas
In 2008 – 2013, online poker was on the rise and a lot of new players were jumping into the game. At that time, Tomas decided to study the math of probability and poker. Later on, his direction changed to investing, cryptocurrency and digital marketing. He is the CEO of a conversion rate design company (Convi Design) which provides solutions to start-ups in the field of conversion rates and sales funnels. Additionally, he is investing into other start-ups. Right now Tomas is a Co-founder of Edgeless.io first fully transparent decentralised Ethereum casino.
Make sure you grab your seat in time and attend the most prestigious boutique style gaming event which gathers C-level executives yearly in one of Europe's most visited city. Register here!
You can browse the full agenda and already confirmed speaker list on the following link.
Quotes about CEEGC Budapest from attending delegates
Rafal Nowak – iGaming Sales Director at Mobiyo
"A week after the Budapest Gaming CEE conferences, I'm still discussing the topics brought up there with fellow delegates. Thank you Zoltan Tundik for organizing an informative an well shaped event on this, often underestimated iGaming territory and good luck with the next one!"
Roy Pedersen – CEO & Chief Editor at All In Translations
"For All-in Translations' 10 Year Anniversary Tour we decided to attend more smaller conferences. Zoltan and Betty are much of the reason for this. They have a unique way of giving a personal touch to the events they organise while at the same time keeping them highly relevant. CEEGC Budapest was another great example where we felt truly welcome, and at the same time it was great for business."

GrooveGaming hit the crypto-jackpot with FortuneJack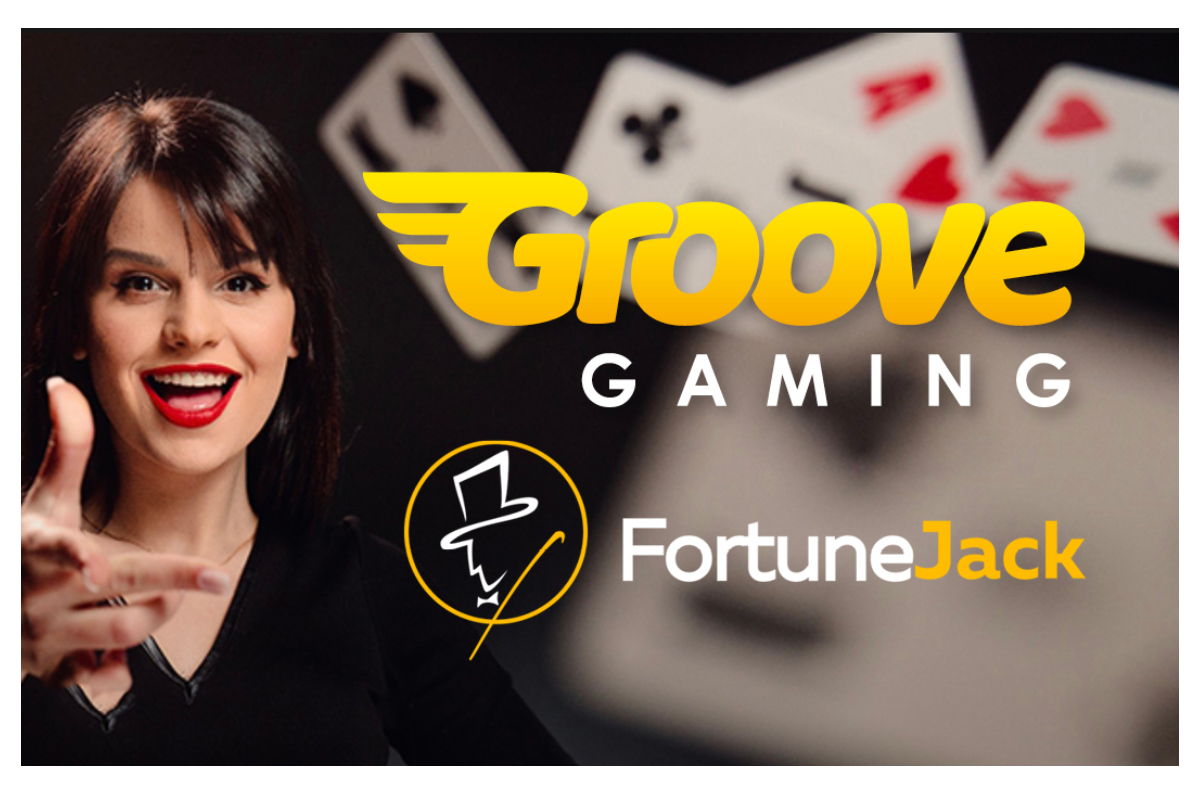 Reading Time:
2
minutes
Aggregator GrooveGaming, the market-leading content and technology supplier to gaming operators across the globe, has signed a content deal with Bitcoin-specialist operator FortuneJack.
GrooveGaming's powerful platform includes over 5000 casino games as well as a wealth of aggregated content ranging from slots, online casino and live casino, to poker and table games, that operators can access via easy integration to drive player engagement and revenue.
GrooveGaming continues to expand rapidly on the back of some of the most robust technology in the iGaming industry. GrooveGaming has been recognised as one of the '10 Best Innovative Technology Solution Providers of 2020′ by IndustryEra, demonstrating that the aggregator's technology development is being acknowledged not only in the iGaming industry, but also from outside it.
Some of the makers of the world-class games in GrooveGaming's burgeoning portfolio include Microgaming, BetConstruct, NetEnt, Genesis, Leap Games Studios, Iron Dog, Play'nGo, Betsoft, Playson, Extreme Live Gaming, Merkur, Spinomenal, Habanero and GettaGaming, amongst others, with the company committed to adding new providers every month to the platform thereby driving choice for players and bringing the latest content to partners.
At the heart of Groove Gaming's expertise is selecting the highest-quality content to differentiate their offering and to drive player engagement for clients. The Groove Gaming team are constantly curating a portfolio of high-profile games, which is then made available to clients as a prebuilt library from which they choose the right regionally-compliant titles for their players.
A major reason why GrooveGaming is becoming the aggregator of choice around the world is that GrooveGaming is powered by technology innovation which provides operators with the ability to activate a range of features that enhance customer experience and engagement, improve retention, encourage extended play and produce a higher yield.
FortuneJack is one of the largest Bitcoin online gambling sites in the world, offering players slots, table games, and live dealer products from a raft of suppliers from around the world. The Bitcoin gambling industry has seen the rapid growth of FortuneJack in recent years, with the brand establishing itself as a robust, community-driven service, offering deposits and withdrawals on major cryptocurrencies including Bitcoin, Litecoin, Dashcoin, Ethereum, Zcash, Dogecoin, BitcoinCash and Monero, amongst others.
Boris Kiknadze, CEO of fortunejack.com said: "Today, FortuneJack is one of the biggest crypto-casinos in the world, and it was natural that we would partner with someone that has robust technology and an established track-record of innovation. We are delighted to sign with GrooveGaming and look forward to a very interesting future together."
Yahale Meltzer, COO at GrooveGaming said: "We work hard to provide the B2B channel with an intelligent single integration solution to make accessing our content library easy and at margins that make sense. We are delighted to join a fellow pioneer in the industry in the form of FortuneJack and we look forward to being of service to the global bitcoin community together with them."
US Election: Win 33 BTC at FreeBitco.in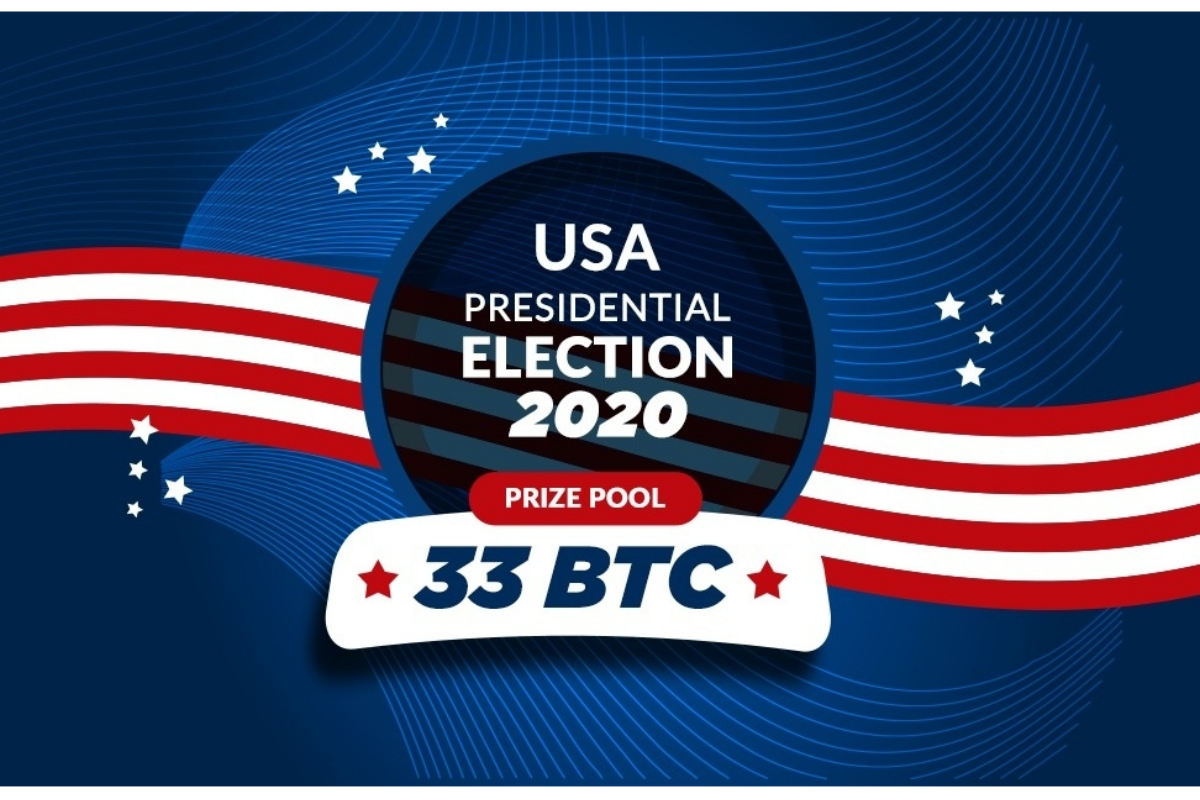 Reading Time:
2
minutes
After 18 months of campaigning, rallying, and debating, we're finally there.
The world will watch with bated breath as the US Presidential Election takes place on November 3. Current President Trump goes up against veteran politician and former Vice President Joe Biden in what promises to be a historical election.
While the American people vote for their future, you can bet on it and win a share of a 33 BTC Prize Pool!
Intrigued? Read on to find out more…
The Biggest US Election Bet in Crypto
FreeBitco.in has hosted the US Election bet ever since candidates started campaigning in 2019. Over time, the prize pool ballooned to 33 BTC. And it's still rising!
With less than 24 hours to go, you can still win a share of that massive prize. Here's what you have to do:
Create an account on

FreeBitco.in

.

Collect Free BTC or deposit BTC into FreeBitco.in wallet.

Visit the Betting page.

Locate the bet labeled "USA – PRESIDENTIAL ELECTION 2020 – NEXT PRESIDENT."

Wager BTC on one of "Joe Biden" or "Donald Trump."

If you predict right, you'll get your winnings straight into your FreeBitco.in wallet.

Withdraw anytime you like,

no strings attached!
Since the new President can only be one of two candidates, you have a 50/50 chance of winning. At the time of writing, Joe Biden will earn you returns of 1.96X while Trump will earn you returns of 1.77X.
There's no time to be lost. Betting ends at 05:00 UTC on 3rd November. Head over to FreeBitco.in now.
They need no introduction: FreeBitco.in has been an integral part of the crypto-community since 2013. The website was launched with a singular objective: to spread the word about Bitcoin and to facilitate the worldwide adoption of the coin.
With over 37 million registered users and 203,000 bitcoins distributed since its launch, FreeBitco.in is the world's oldest existing bitcoin faucet and the world's premier bitcoin gaming platform.
Are Bitcoin Casinos The Future Of Online Betting?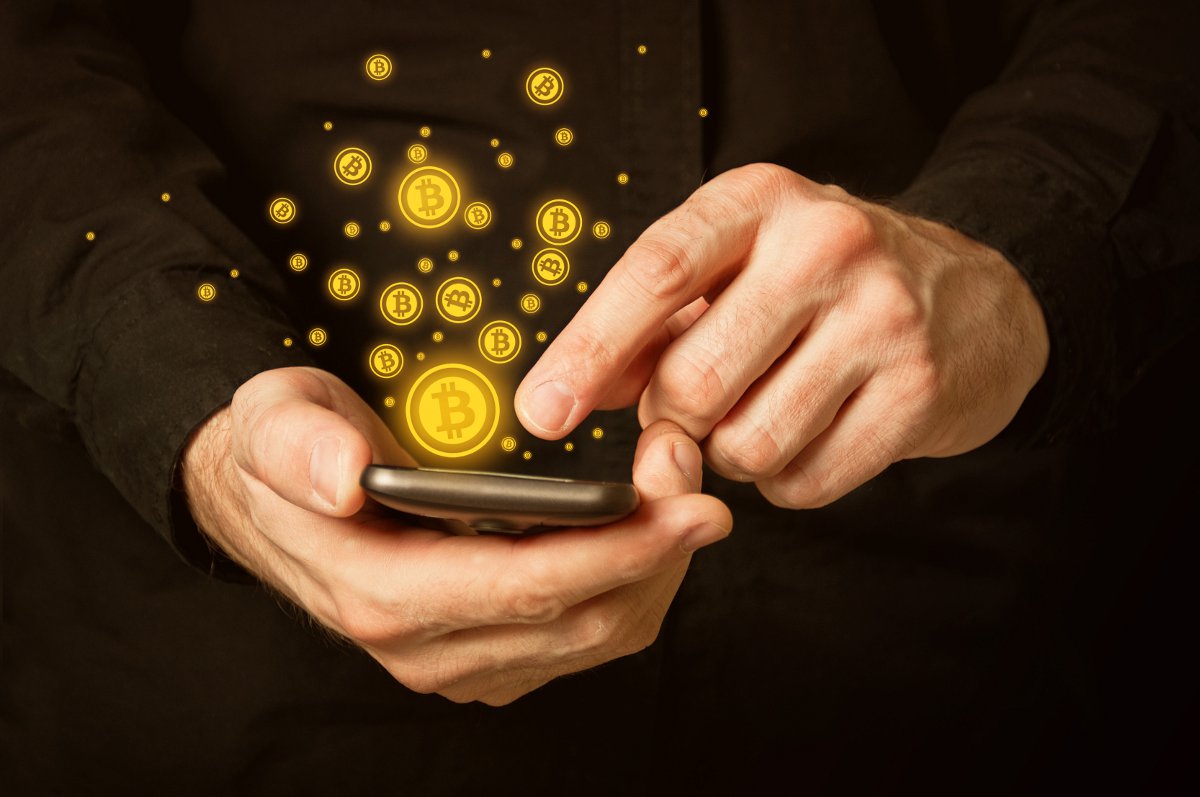 Reading Time:
2
minutes
Bitcoin has been here for more than ten years now. When it was first "invented" way back in 2009, it was more of an underground "currency" rather than formal digital money. Back then, only a few enthusiasts are playing with it, and it barely even had any value. One Bitcoin user back in 2011 even put out 10,000 pieces of BTC for auction for only $60–but no one bought it. The first real-world Bitcoin purchase was for a pizza in exchange for 10,000 BTC.
Now, Bitcoin is widely used by a lot of people, and it is even considered by a lot as this age's "digital gold." From being an ignored form of digital currency, it is now widely used in a lot of things: online shopping, trading, and investment, in online gambling through Bitcoin casinos, and a lot of other things.
How does BTC work when it comes to gambling? What are Bitcoin casinos, and how does it work? Is it any different from how existing online casinos right now work? Here are the things that you need to know.
How do Bitcoin casinos work?
A Bitcoin casino is no different from the traditional online casino that you may probably know. It offers mostly a similar set of games that you can find in every online casino. The only difference is that this type of casinos accepts Bitcoin as the ONLY form of payment.
Here are some of the most popular Bitcoin casinos right now:
Satoshidice
Switch Poker
StrikeSapphire
Bitzino
Bc-casino.com
Satoshibet
BtcSpiortsBet
BitLotto
What makes it very appealing to gamblers?
There are a lot of reasons why a lot of gamblers are opting to go to an online casino that is operating only through BTC. From security to convenience concerns, here are some of the reasons.
Anonymity
A lot of people give so much importance to their online security and privacy, including online gamblers. This is why some people even fall into the terrible mistake of using fake details in signing up for an account, only to end up being suspended if not banned from the site.
One of the security protocols for online betting sites is for its customers to provide verification information. Sometimes, this will be asked right at the start, although some would only require identity verification before the first withdrawal of the customer.
A Bitcoin casino removes all of these. Since all you need is a Bitcoin wallet ID, which is not tied to any personal information about you, you can technically play, deposit, and withdraw without disclosing any personal or financial information.
No transaction fees
Regardless of what payment method you are using–a bank account, a debit or credit card, or an e-money wallet–
What you should know
Although owning Bitcoin is technically recognized as a legal thing for most of the world, it is yet to be recognized as a real currency or legal tender. Most countries, while they consider Bitcoin and other forms of cryptocurrency legal, only see it as property but not legal tender.
When it comes to online betting using Bitcoin, no clear or definitive law outlaws it or even recognizes it as legal. Technically, since Bitcoin is not recognized as legal tender, there may be complications about its legality. However, that matter can be a confusing and complicated one. If you are looking to play in a Bitcoin casino, the best thing to do is to do thorough research on how using cryptocurrency for gambling works and the possible risks that come with it.