The Cordish Companies' Live! Casino & Hotel And The Anne Arundel County Local Development Council Award $19 Million In Local Impact And Community Grants For FY2019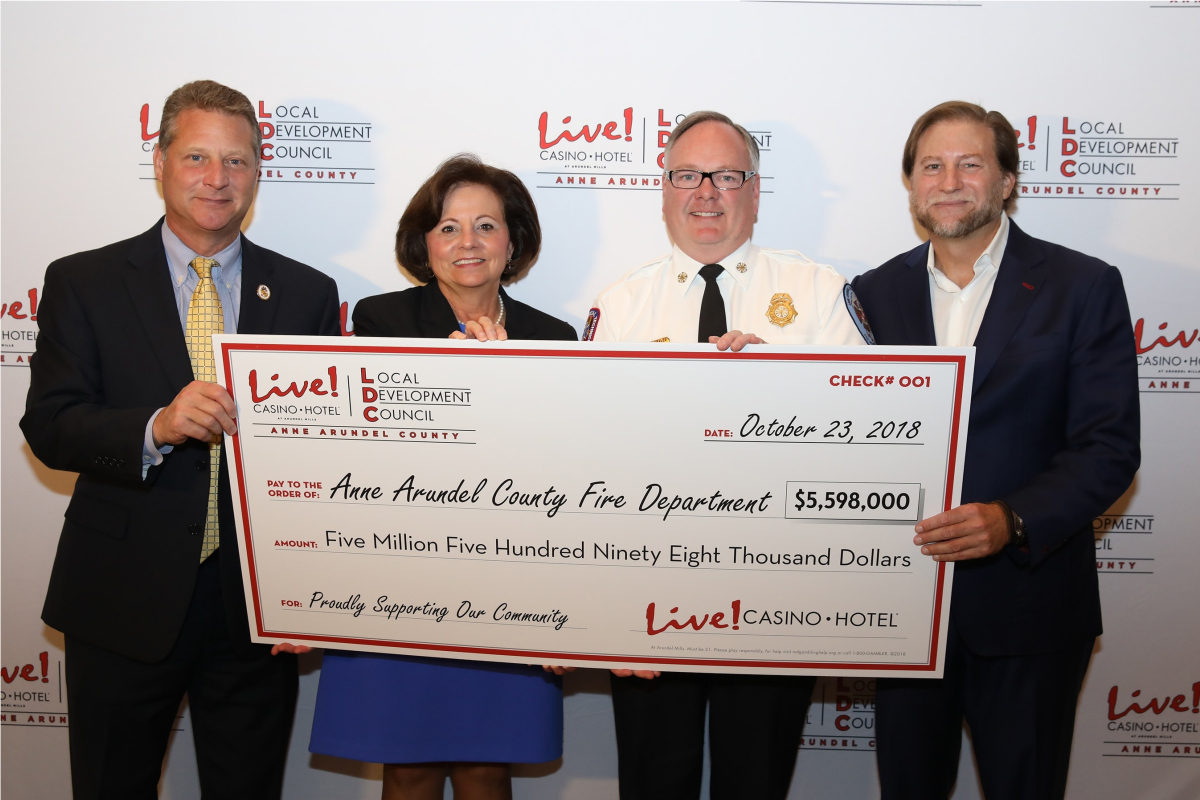 Reading Time:
5
minutes
Total Funds Disseminated by the LDC in Six Years Approaches $130 Million in Support of Anne Arundel County Schools, Public Safety, Operational and Capital Programs, Non-Profit Organizations and Community Associations
The Cordish Companies' Live! Casino & Hotel and the Anne Arundel County Local Development Council (LDC) awarded $19 Million in local impact and community grants to organizations in Anne Arundel County for Fiscal Year 2019. The grant and funding recipients were officially announced at a press conference and ceremony, held at the new Event Center at Live! Casino & Hotel.
This year's grants bring the total funds in support of Anne Arundel County organizations to nearly $130 Million since Live! Casino opened in June 2012.
Joe Weinberg, Managing Partner of The Cordish Companies, joined Anne Arundel County Executive Steven Schuh, Delegate Pam Beidle, Anne Arundel County Councilman Pete Smith, and members of the Local Development Council (LDC) in presenting the grants to recipients ranging across county operational and capital programs, education, health and human services and community associations. The grant allocations were recommended by the LDC, which helps to manage the distribution of the county's gaming tax revenue to local organizations.
"Live! Casino & Hotel and The Cordish Companies feel a deep commitment to improving the quality of life for all those who live and work in the Region," said Weinberg. "The opening of Live! Hotel and the Event Center that will house County school graduations and other community events only increases our support of local programs which promote schools, public safety, diversity, community development and an excellent overall standard of living."
Attending local officials and business leaders who presented and accepted grants on behalf of several organizations included Anne Arundel County Police Chief Tim Altomare, Anne Arundel County Fire Chief Allan Graves, and Rebecca Paesch, Vice President of Strategy and Business Development for the Baltimore Washington Medical Center.
"Live! Casino & Hotel and The Cordish Companies have played a tremendous role in helping our community prosper, with their unwavering support of organizations and programs that serve the citizens of Anne Arundel County," said County Executive Schuh. "From the fire and police departments to nonprofits that protect our most vulnerable population, we see great value in this partnership that gives back year after year."
"Live! Casino & Hotel remains a valuable partner in helping us address the needs and priorities of the county," said Karen McJunkin, LDC Chairperson. "We look forward to maintaining this beneficial partnership that supports county development. We are also thankful for the indirect impact from visitors to Maryland's number one tourist destination. Their entertainment and gaming dollars have had a tremendous impact in fostering growth for county organizations."
The Local Impact Grant Recipients for Fiscal Year 2019 include:
Anne Arundel County Fire Department

$5,598,000

Anne Arundel County Police Department

$3,459,200

Anne Arundel County Office of Public Works /
Dept. of Planning & Zoning

$2,900,000

Anne Arundel Community College

$1,700,000

BWI Partnership

$1,059,000

Anne Arundel County Library System

$1,010,000

Anne Arundel County Recreations & Parks

$900,000

ARC of the Chesapeake

$600,000

Fort Meade Alliance Foundation

$500,000

Community Grants

$350,000

Spring Meadows Homeowners Association

$300,000

Anne Arundel Workforce Development

$270,000

United Way of Central Maryland

$200,000

Administrative Support

$100,000

Baltimore Washington Medical Center

$40,000

Partners In Care

$40,000

Boys & Girls Clubs of Annapolis & AA County

$40,000

FY 2019 TOTAL:

$19,066,200
Recipients of the $350,000 in community support grants include the following:
STAIR
$8,500 to develop an early reading intervention program at Severn Elementary.
MacArthur Middle School
$39,303 to add classroom projectors
Meade High School
$29,819 to give Chromebooks to students
Annapolis Maritime Museum
$13,072 to implement an Oyster/Bay Education program for Meade Middle School
Junior Achievement
$15,000 for a mentoring program at various county schools
Frank Hebron-Harman Elementary
$23,500 to give Chromebooks to students
Jessup Improvement Association
$30,625 to build a new roof for the community hall
Ridgewood Estates
$25,732 to build a new community sign
Wesley Grove
$25,000 to replace the stove and renovate the kitchen
Ridge Forest
$20,000 for tree placement
Ridge Commons
$16,500 to purchase playground equipment and a tot lot.
Christians Assistance Program
$12,689 to purchase a food pantry
Sarah's House
$25,000 to benefit childcare for homeless families
Rebuilding Together
$39,500 for Stillmeadows spruce ups
HOPE for All
$15,760 to buy furniture for former homeless households
i5 Serve
$10,000 to buy a mobile food pantry
LDC impact
The Local Development Council was established in Anne Arundel County after the opening of Live! Casino & Hotel on June 6, 2012. Appointed by the County Executive, the Local Development Council consists of 15 members to serve and advise the County on recommendations for the distribution and expenditure of revenues raised at Live! Casino & Hotel through local impact grants.
Since its formation in 2012, the LDC has awarded nearly $130 Million in grants towards schools, public safety, county operational and capital programs, and community grants.
Community based organizations and nonprofit groups located generally within a three-mile radius of Live! Casino & Hotel are eligible to apply for a local impact grant.
About Live! Casino & Hotel
Live! Casino & Hotel is one of the largest commercial casinos in the country, located in the Washington DC/Baltimore corridor, just off I-95, Route 100 and the B/W Parkway at Arundel Mills. Open 24/7/365, the property features more than 200 live action table games, including a Poker Room; approximately 4,000 slot machines; two High Limit rooms; and the Orchid Gaming & Smoking Patio. Guests can enjoy five-star accommodations, including 310 luxury guest rooms; the Live! Spa; world-class dining, featuring the Zagat-rated #1 steakhouse The Prime Rib®; David's, a 24-hour café; Bobby's Burger Palace, from celebrated chef Bobby Flay; The Cheesecake Factory®; Luk Fu and 8 at Luk Fu, serving authentic sushi and Asian cuisine; Morty's Deli; Latin cuisine at En Vivo; Phillips® Seafood Express; and Luckies, offering Starbucks coffee, pastries, and Italian gelato; and a sizzling nightlife, including nightly entertainment at Live! Center Stage; the R Bar; and The Lobby Bar at David's. A 4,000-seat Event Center, opening in two phases, featuring 40,000-square-feet of meeting and banquet space, and a performance venue with a regular lineup of headline entertainment completes the Live! experience. Enjoy secure covered parking with valet service and a free self-park garage with Park Assist® and direct elevator access to the casino floor. The newly-renovated Live! Lofts boutique hotel, located just minutes from the Casino, features 250 guest rooms and suites, and approximately 3,400-square-feet of meeting and banquet space. For reservations, call 443-445-2929, or book online at LiveCasinoHotel.com. Live! Casino & Hotel and Live! Lofts are owned and operated by a company that is affiliated with The Cordish Companies. Call 855-5MD-LIVE (855-563-5483); or visit LiveCasinoHotel.com or LiveCasino.social.
About The Cordish Companies
The Cordish Companies' origins date back to 1910 and encompass four generations of privately-held, family ownership. During the past ten decades, The Cordish Companies has grown into a global leader in Commercial Real Estate; Entertainment Districts; Sports-Anchored Developments; Gaming; Hotels; Residential Properties; Restaurants; International Development; Coworking Spaces; and Private Equity. One of the largest and most respected developers in the world, The Cordish Companies has been awarded an unprecedented seven Urban Land Institute Awards for Excellence for public-private developments that are of unique significance to the cities in which they are located. The Cordish Companies has developed and operates highly acclaimed dining, entertainment and hospitality destinations throughout the United States, many falling under The Cordish Companies' Live! Brand, highly regarded as one of the premier entertainment brands in the country. Welcoming over 50 million visitors per year, these developments are among the highest profile dining, entertainment, gaming, hotel and sports-anchored destinations in the country. Over the generations, The Cordish Companies has remained true to the family's core values of quality, entrepreneurial spirit, long-term personal relationships and integrity. As a testimony to the long-term vision of its family leadership, The Cordish Companies still owns and manages virtually every business it has created.
"The Cordish Companies," "The Cordish Company" and "Cordish" are trademarks used under license by independent corporations, legal liability companies and partnerships ("Cordish Entities"). Each Cordish Entity is a separate, single-purpose legal entity that is solely responsible for its obligations and liabilities. No common operations or financial interdependency, and no intermingling of assets or liabilities of the Cordish Entities exists, or should be deemed to exist, as a result of the potential common reference to multiple independent entities operating under the names "Cordish," "The Cordish Companies" or "The Cordish Company" here or elsewhere.
Source: The Cordish Companies

Gaming Americas Weekly Roundup – June 13-19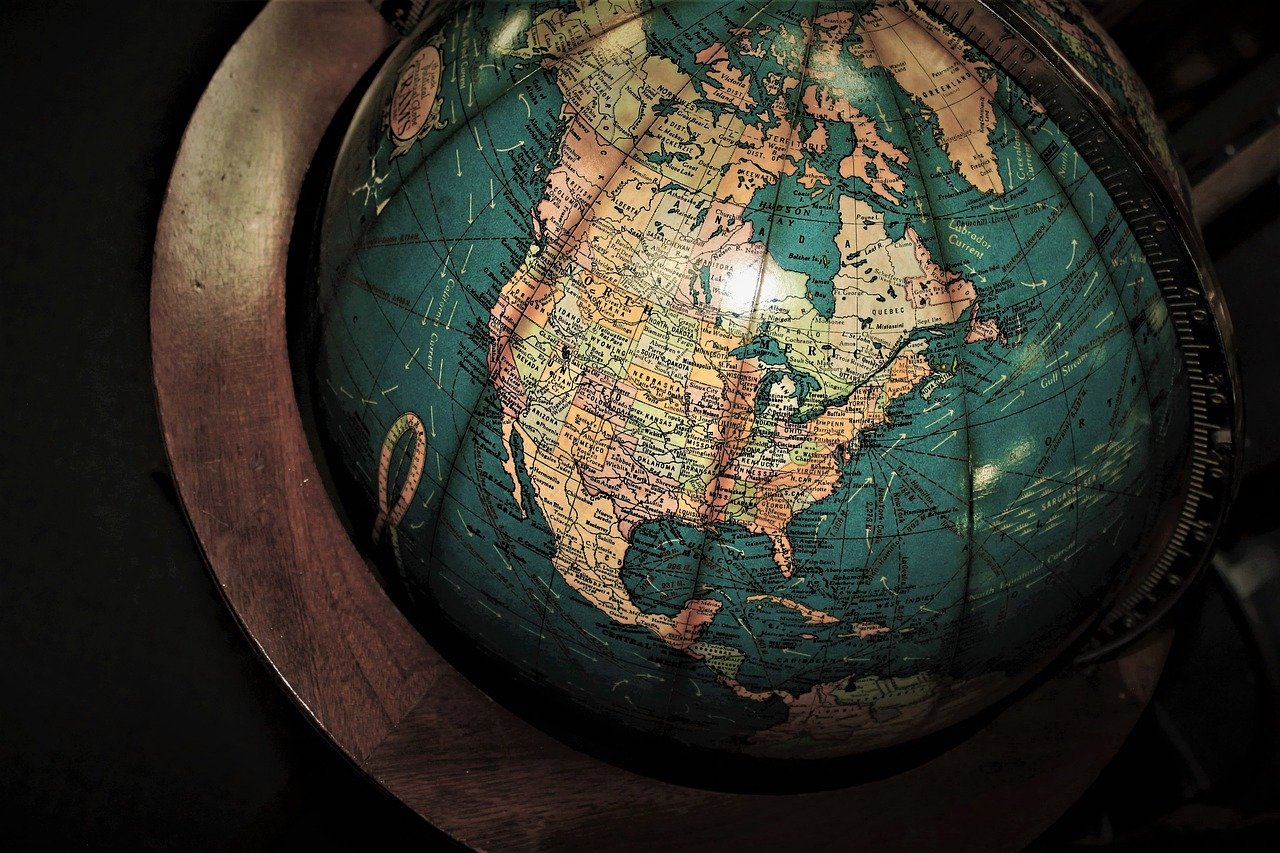 Reading Time:
2
minutes
Welcome to our weekly roundup of American gambling news again! Here, we are going through the weekly highlights of the American gambling industry which include the latest news, new appointments and new partnerships. Read on and get updated.
Latest News
Paysafe, a leading specialised payments platform, announced that Income Access, its marketing technology and services provider, won in the "Affiliate Tracking Software of the Year" category at the 2022 SiGMA Americas Awards.
GameSquare Esports will present at the Collision 2022 Conference, in Toronto, Ontario held between June 20 and 23. Justin Kenna, CEO of GameSquare, will be joined on stage by Leonard Fournette, running back for the Tampa Bay Buccaneers and a Complexity Stars Team Member, and Marissa Roberto, host of Digital SportsCentre at TSN Sports.
EBET, a leading global provider of advanced wagering products and technology, has received two prizes at the SiGMA Americas Awards. Its online casino and sportsbook brand Karamba won Online Casino of the Year, and EBET was named Esport Product of the Year.
Cherokee Nation Entertainment Gaming Holdings, a subsidiary of Cherokee Nation Businesses, has announced that it has signed an agreement with MGM Resorts International to purchase the operations of Gold Strike Tunica for $450 million in cash, subject to customary adjustments.
Elys Game Technology has announced the closing of the previously announced registered direct offering with a single institutional investor for the purchase and sale of 3,166,227 shares of the Company's common stock (or common stock equivalents) at a purchase price of $0.9475 per share of common stock (or common stock equivalent) in a registered direct offering.
End 2 End authorities have confirmed the company's participation in the next edition of the Brazilian iGaming Summit (BiS), an event that will take place on June 28-29 at the Espaço Boulevard JK in the city of São Paulo, Brazil.
Partnerships
BetMGM, a leading sports betting and iGaming operator, announced an agreement with PokerGO, the world's largest poker content company, to host the BetMGM Poker Championship final table and a $25K freeroll tournament in the PokerGO Studio at ARIA Resort & Casino in Las Vegas.
San Diego Loyal Soccer Club has announced a strategic partnership with Sycuan Casino Resort, San Diego's premier luxury hotel and world-class gaming destination. As per the deal, Sycuan is now the entitlement sponsor of the newly renamed "Sycuan Endline Suites" at Torero Stadium.
PointsBet Canada has entered into a partnership with ClubLink, Canada's largest owner and operator of golf clubs. The multi-year partnership will see PointsBet Canada become the Official Sports Betting Partner of ClubLink which hosts over 1,000,000 rounds of golf annually at its clubs in Ontario.
UFC and DraftKings announced plans to launch a new iteration of DraftKings' "Reignmakers" gamified digital collectibles franchise focused on UFC. Reignmakers UFC will allow fans to build collections of their favorite UFC fighters and utilise them in games to compete for prizes.
Appointments
Jamul Casino has appointed Ram Patrachari as its new Chief Information Officer. With more than two decades of IT and casino experience, Ram is a sought-after gaming technology industry expert, speaker and award-winning executive.
Gaming Laboratories International (GLI) has again expanded its Client Solutions and Client Services teams with the additions of Steve May as Client Solutions Executive and Samuel Grunther as Account Executive.
Bojoko doubles down in the US and Canada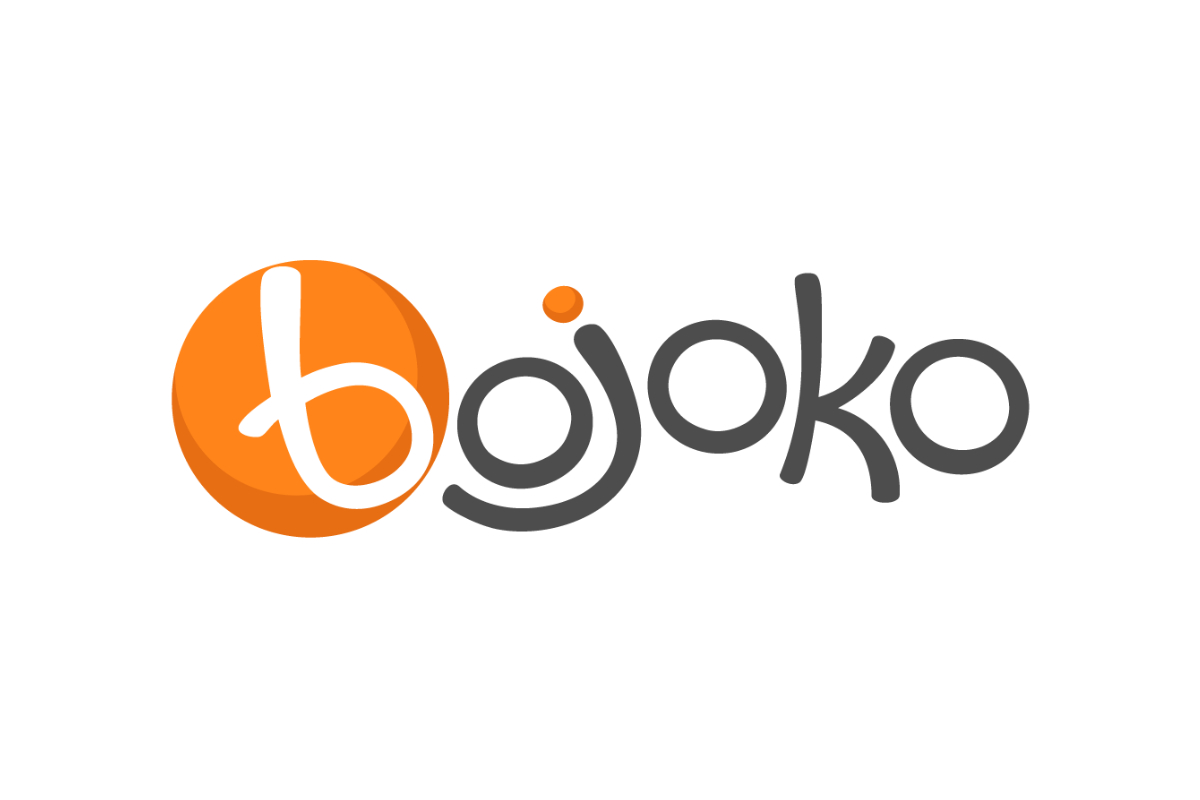 Reading Time:
2
minutes
Award-winning gambling affiliate launches dedicated .us and .ca domains as part of efforts to deliver a truly localised user experience
Bojoko, the award-winning online gambling affiliate brand, has launched dedicated sites for players in the US and Canada under .us and .ca domains as it continues to work towards its goal of becoming the leading affiliate in North America.
Bojoko.us and Bojoko.ca have been completely redeveloped under the hood so that they provide players with accurate and up to date information about each of the online casino brands available to them in specific states and provinces across the US and Canada.
This allows Bojoko to offer a truly localised product to players across both markets. This includes expertly written content that covers everything players need to know about online casino in the US and Canada, as well as a selection of powerful filtering tools to help them find the best brands.
Bojoko has also rolled out its "double layer" testing and review process for all of the casinos listed in the US and Canada. Each brand is put through its paces by Bojoko's team of independent testers who sign up, deposit and play at each casino before leaving feedback on the experience they receive.
This is combined with player reviews and ratings so that Bojoko members know exactly what to expect before they sign up and play at any of the casinos it lists.
Joonas Karhu from Bojoko, said: "Canada and the US are two of the largest online casino markets in the world and we wanted to offer players a truly localised version of Bojoko to help them learn more about online casino and find the brands that meet their preferences the most.
"We realised the only way to do this was to launch dedicated domains for the US and Canada. This was a significant undertaking, and certainly from a technical perspective, but our team has overcome all challenges faced and we now offer a superior user experience as a result.
"We have already gained great traction in both the US and Canada and now look forward to driving even more growth with our dedicated domains."
Gaming Americas Weekly Roundup – June 6-12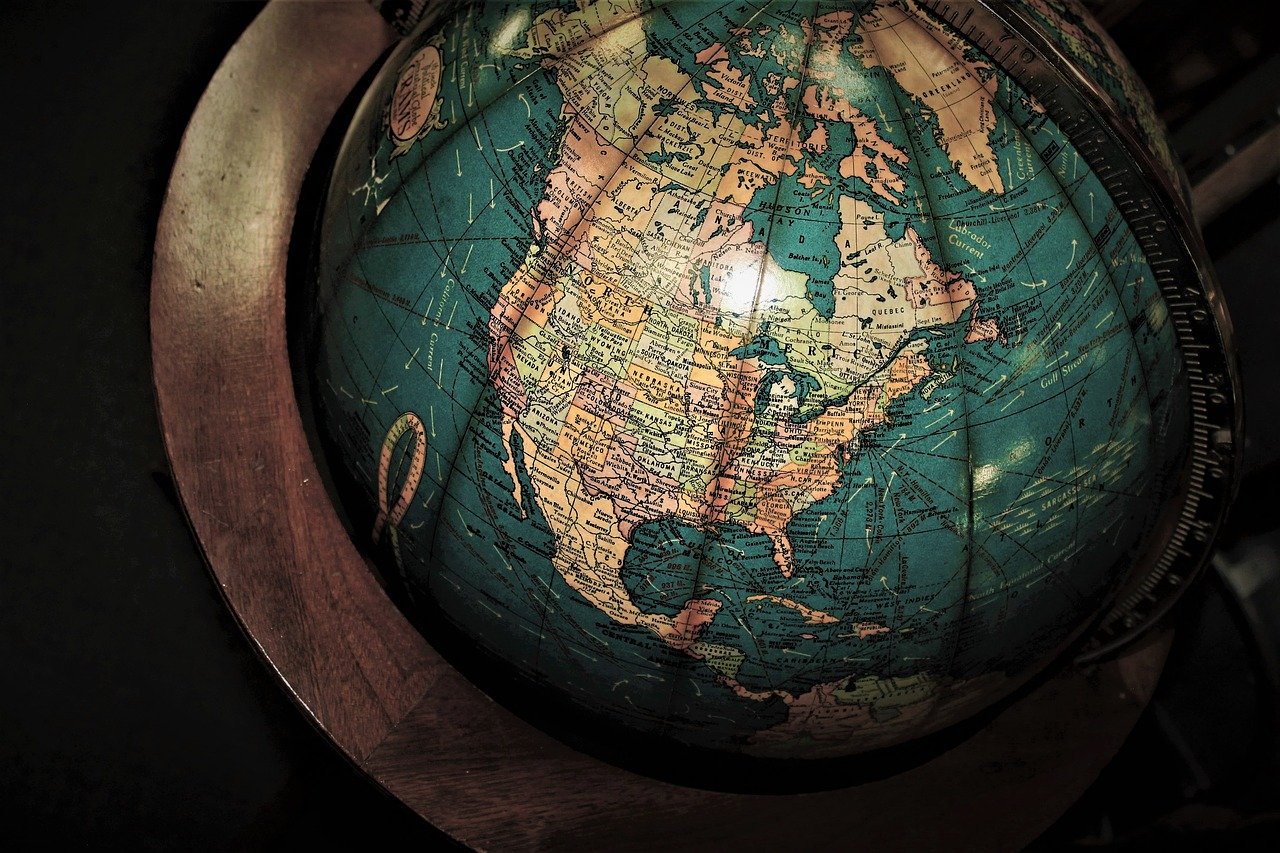 Reading Time:
2
minutes
Welcome to our weekly roundup of American gambling news again! Here, we are going through the weekly highlights of the American gambling industry which include the latest news and new partnerships. Read on and get updated.
Latest News
Accel Entertainment announced the completion of its previously announced transaction to acquire Century Gaming, one of the leading distributed gaming operators in the Western US, for $164.2 million in cash and stock, including Century's working capital.
Video King Gaming Systems and Parlay Games announced the certification by Gaming Laboratories International (GLI) of their national, tribally linked, flagship Class II bingo product: Bingo Treasures. With the completion of GLI'S certification and filing of a patent application with the USPTO, Video King has commenced licensing this suite of Class II linked iGaming products to Tribal customers throughout the US.
HeadsUp Entertainment International has launched "multiple revenue platforms" in six US states and Ontario. This comes alongside a partnership with fellow Canadian brand Enteractive Media, which will see both companies collaborate on the first of a number of content production initiatives "to produce daily content for sports betting customer acquisition".
Rush Street Interactive has announced that it is adding its industry-leading online sportsbook to its existing online casino at BetRivers in West Virginia. Now sports fans across the Mountain State, aged 21 and over, can join gaming enthusiasts to place bets quickly and securely from the integrated BetRivers iOS and Android apps and website.
Playtech has announced that it has launched its multichannel technology with NorthStar Bets, an Ontario-based brand that provides players with a uniquely local, premier user experience on their casino and sportsbook gaming platform.
Win Systems has announced the installation of its award-winning WIGOS casino management system at the Ocean Gaming Casino in Hampton, New Hampshire.
Paramount Commerce has launched its Instant Bank Transfer payment solution in Canada for iGaming and sports betting operators. The product, proven in the North American online gaming and sports betting markets, delivers industry-leading conversion, ubiquitous bank coverage and state-of-the-art risk management.
New Appointments
Churchill Downs Incorporated announced that Katherine Armstrong has been named SVP of Human Resources for the Company. Armstrong assumes the role from Chuck Kenyon who announced his retirement after 18 years of leading CDI's HR department.
Tracy Bradford has been promoted to the position of President of Seminole Hard Rock Support Services. In her new role, she will be responsible for all management and operations of Support Services, Customer Care and Aviation.
Hard Rock Hotel & Casino Atlantic City has appointed Alicia Magee as VP of Finance. In her new role, Magee will oversee overall responsibility for finance-related areas.
Mohegan has announced the appointment of Heather Menzano as VP, Web Communications to oversee corporate and casino branded website and app development in North America.
Rush Street Gaming has promoted Bill Keena and Marc Arndt as COO and CFO, respectively.
New Partnerships
Vanta has partnered with Association for Middle Level Education to become the new official esports platform and partner of AMLE. With this partnership, AMLE's membership of 35,000 educators will now be able to bring esports to their students via a safe, COPPA compliant platform.
Jackpocket has become the official digital lottery partner of Colorado Rockies. The partnership is Jackpocket's third with a Major League Baseball team.