New Study Shows Gamers & Game Developers Eager for a Free Market Virtual Item Economy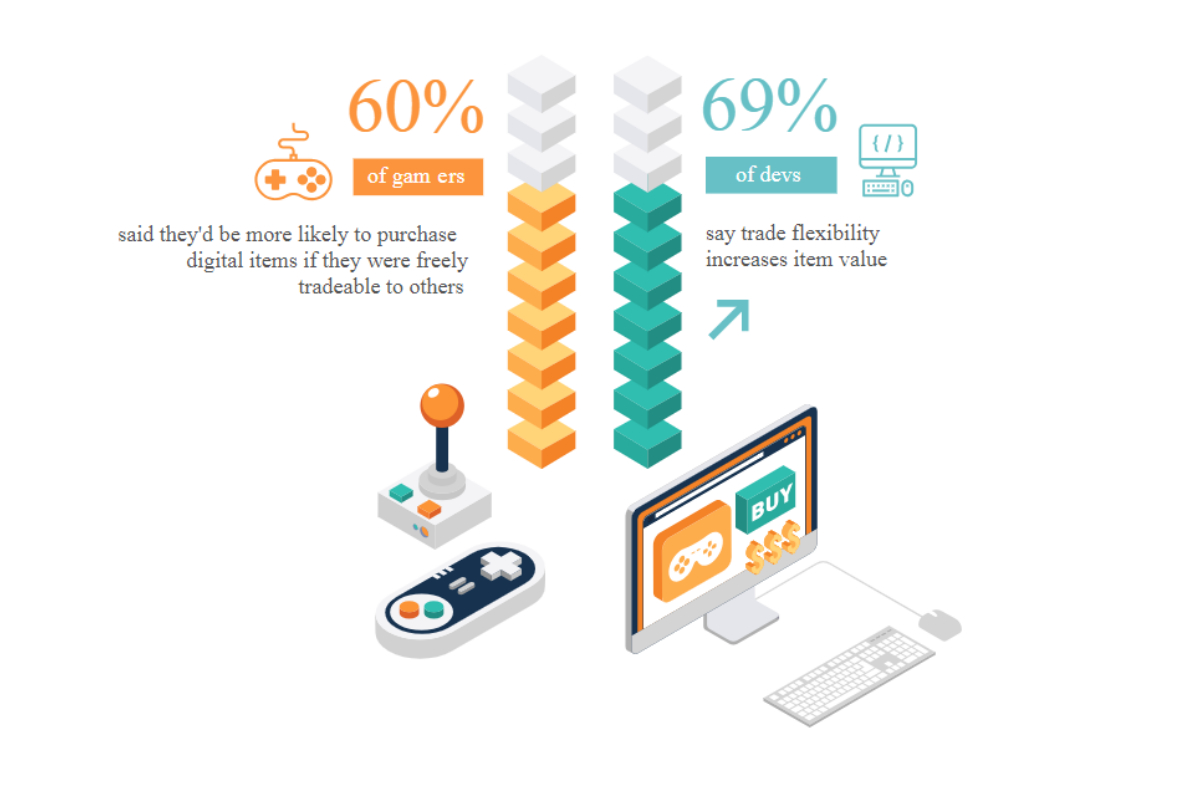 Reading Time:
4
minutes
86% of Game Developers Believe Tradeable Virtual Items Will Be Even More Important in Future Games
Video gaming has become much more than a hobby for players worldwide. From professional eSports teams to lucrative streaming careers, the gaming industry has evolved tremendously over the past decade. Today, there are roughly 2 billion global gamers who spend over $100 billion on gaming every year, and the majority of this revenue stems from the purchase of in-game items. For example, Fortnite has generated $1 billion in revenue entirely from in-game purchases. While the amount of money players spend on these digital items is staggering, in most cases, the game creators retain ultimate control over what players can and cannot do with the items they purchase. For example, many prohibit the transfer of item ownership and restrict item's use to a certain game or platform. They can also revoke or ban access to the gamer's items at their discretion – regardless of how much money the player spent on them. In the end, gamers do not truly own the content that they purchase.
True Ownership – A Future that Appeals to Both Players and Game Creators
To examine this ecosystem in-depth, Worldwide Asset eXchange™ (WAX) commissioned a study of 500 game developers and 1,000 video gamers in the United States. WAX's study found that the video gaming community wants more freedom and flexibility over their in-game virtual items, a concept known as true ownership of in-game items. Interestingly, it is not just gamers – game developers want this future too.
True ownership of in-game items – defined as allowing players to buy, sell, trade and use their items with no restrictions from third parties – enables a free-moving virtual items market.
Blockchain Technology Makes True Ownership Possible – and Billions of Dollars' Worth of Items Even More Valuable
Thankfully, the inception of blockchain technology is radically changing the status quo of video gaming and outdated ownership protocols. And the WAX Blockchain is purpose-built to make true ownership of in-game items a reality. WAX's study found that game creators are currently missing out on a valuable market segment by failing to enable true ownership of digital items.
For example, 68% of gamers said that they feel players deserve to truly own the items they purchase. Combine that with the 66% of game developers who said virtual items are a pivotal component of their game's monetization strategy and item value is being suppressed by publisher or developer control. While in-game items currently play a key role for game developers, 86% believe tradeable virtual items will be even more important in future games than they are today.
Gamers and game developers alike see the benefits of allowing players to freely buy, sell and trade their virtual items. According to the survey, 69% of game developers believe when items are freely tradeable, it increases the value of those items, and 62% of gamers feel having the flexibility to transfer virtual items from game-to-game would make spending money on those items more worth it.
And, nearly three-fourths of gamers said they would purchase virtual items if they could use them in multiple games – which is made possible by true ownership. Of game developers surveyed, 84% would create cross-compatible in-game items if the technology allowed them to do so.
"True ownership of digital items is the future of video games. Players and game developers are both eager for a free-moving virtual item market, and the community's interest will shift towards games that offer this," said William Quigley, CEO of WAX. "By enabling cross-compatibility, which is made possible by true ownership, game developers can stand out from the millions of free-to-play games created every month and attract the most valuable segment of players to try out their game."
The Future of True Ownership
WAX found that over half of game developers cited marketing as the highest unforeseen expense in game development. Developers are starting to see true ownership of items for what they could be in the future – the perfect customer acquisition tool. Developers of free-to-play games that enable cross-compatibility of items will attract players who are already proven to purchase in-game items. Since they're proven to be purchasers of in-game items, they have a much higher propensity to buy more from a new game than players who never spend money on in-game items.
Moving forward, as companies search for new ways to keep their community engaged, it is clear their adoption of blockchain technology and true ownership will play a key role in their success. WAX's study shows that the emerging market for true ownership of digital items is too important to ignore and the video game community is looking for platforms that offer these opportunities. With WAX's purpose-built blockchain technology, this future is finally becoming a reality.
About WAX (Worldwide Asset eXchange)
WAX is the world's first blockchain built for global e-commerce. WAX's patent-pending blockchain e-commerce platform is the safest and most convenient way to create, buy, sell, and trade virtual items – to anyone, anywhere in the world. The world of digital ownership today is defined by its restrictions. WAX is building a future to where it will be redefined by its freedom. WAX is creating a full suite of blockchain-based tools that allows anyone to trade digital or even physical items instantly and securely, to anyone, anywhere. Participants of the Worldwide Asset eXchange gain access to a global community of collectors and traders, buyers and sellers, creators and gamers, merchants and game developers.
Worldwide Asset eXchange™, WAX are trademarks and the sole property of Worldwide Asset eXchange. All other registered or unregistered trademarks are the sole property of their respective owners.
Source: WAX
Chief Information Security Officer Joins Continent 8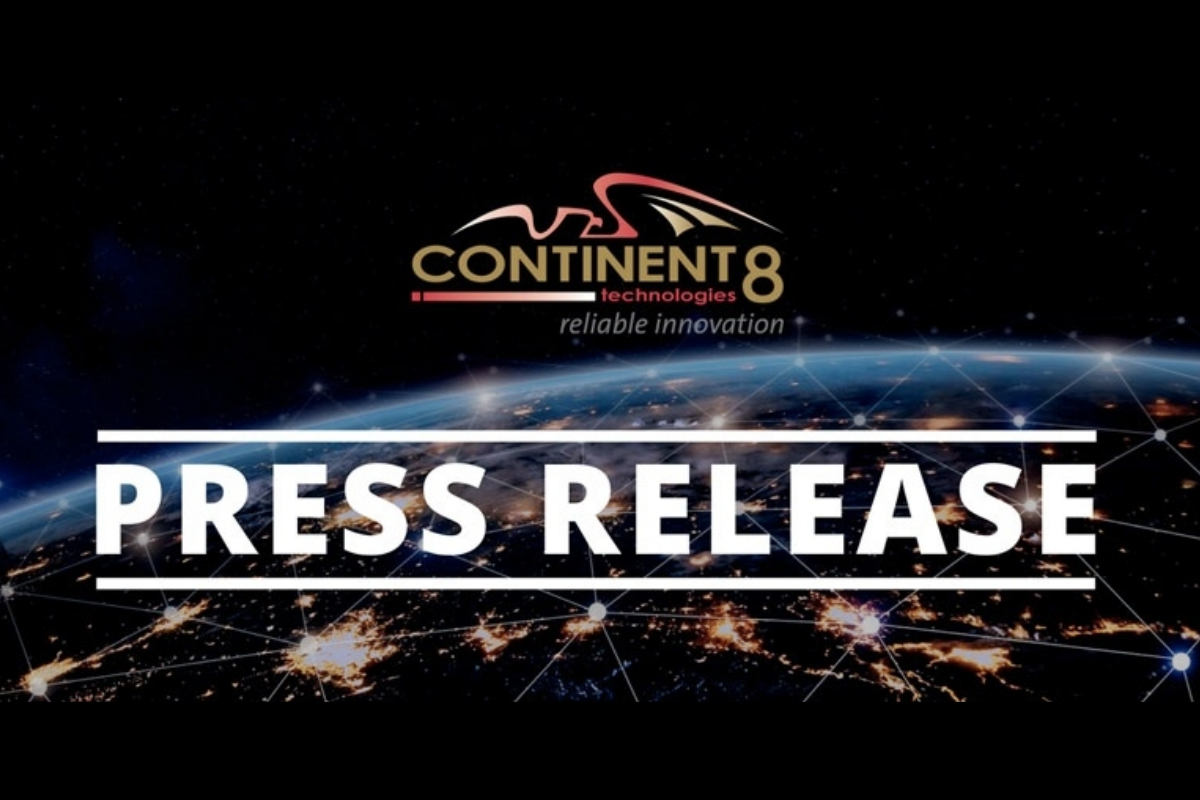 Reading Time:
2
minutes
Continent 8 Technologies, the award-winning, multi-jurisdictional global network and cloud infrastructure solutions provider, today announced that Brian Borysewich has joined Continent 8 as Chief Information Security Officer (CISO). Brian will bring four decades of experience in the industry to Continent 8's Cyber security, network operations, and compliance teams.
Brian is a seasoned cyber security professional and has served in many roles from systems security administrator to the C-level suite. He has empowered Fortune 50 companies to secure their environments, has held leadership roles at both eBay and PayPal at their respective headquarters in Silicon Valley USA, as the principal cybersecurity architect.
Brian's experience includes over 15 years within the United States government intelligence agencies. He is a former Black Hat and Anonymous hacker who has since used his experience to provide companies, governments, and educational institutions with methods and techniques to protect valuable assets and data. He has been a keynote speaker and mentor at various security conferences and panels.
"As a global leader that protects some of the world's most valuable information, we take data security seriously," said Michael Tobin, CEO of Continent 8. "Brian has been globally recognized as a cyber security practice leader. His accomplishments and leadership have helped companies and governments around the world protect both brand and financial resources. I look forward to working with him in these challenging, but exciting times, as businesses and nations enter ever increasing Cyber security attacks in size and velocity."
Additionally, Brian has extensive expertise in iGaming, which will assist Continent 8 in serving its wide range of clients in that industry. A pioneer in early online gaming, he provided gaming site technology as early as 1995, when the first customers bet before the flurry of regulation. He served for four years as IGT's Global Operations Solutions Delivery Architect and Manager.
Brian's arrival supports the company-wide dedication to security that strives to keep client data safe, secure, and private across the global network and public cloud infrastructure on a regional, national, and global level.
Continent 8 is an award-winning, multi-jurisdictional global Cloud infrastructure solutions provider that connects, manages, and secures the world's most valuable information. Its advanced data centers and high-quality networks support critical online operations in both private and public-sector organizations in over 50 locations across Europe, Asia, and the Americas.
Greece to Raise Tax Rates on Online Gambling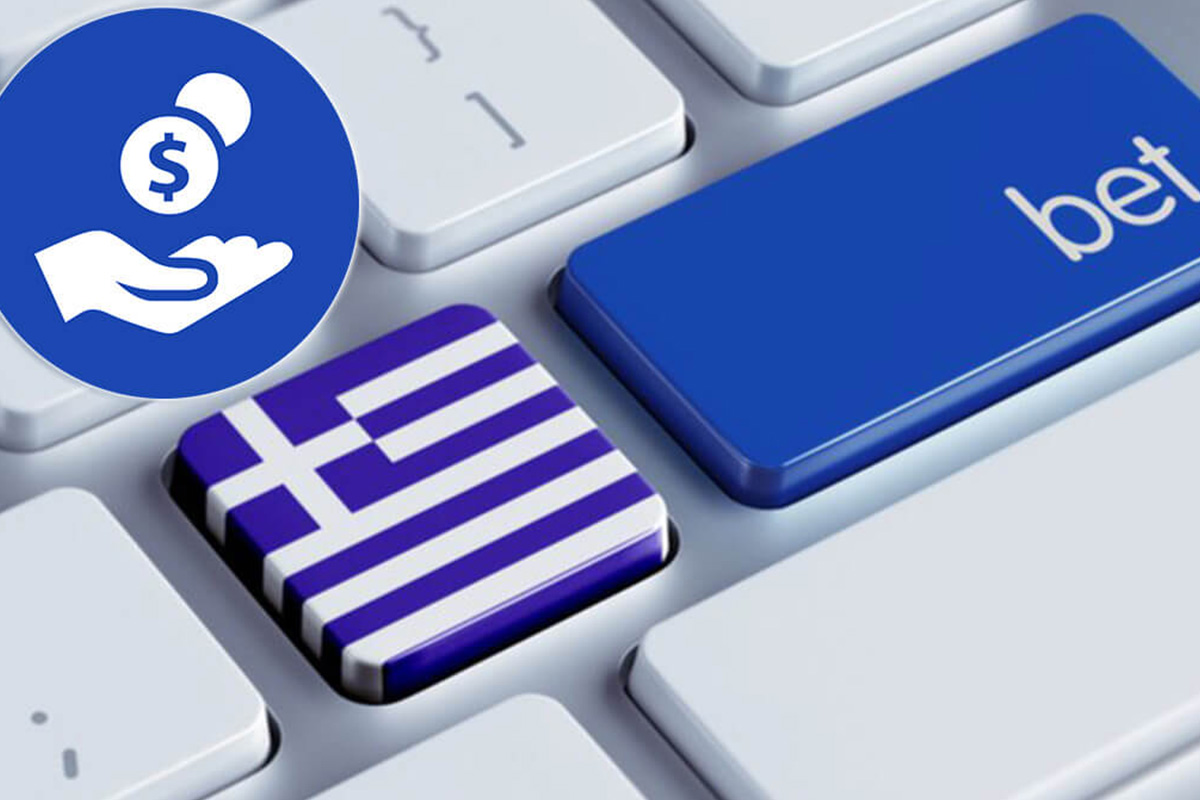 Reading Time:
1
minute
The Ministry of Development in Greece has introduced a new proposal, which raises the costs for online gambling operations.
Permits for iGaming operations will cost €3 million (sports betting) or €2 million (online casino and poker). Greece demands online gambling licensees to pay a 35% tax on their gross gaming revenue.
Greece is soon to feature a casino resort. Two operators have already bid for the construction and operation of the facility.
GeoComply Launches IDComply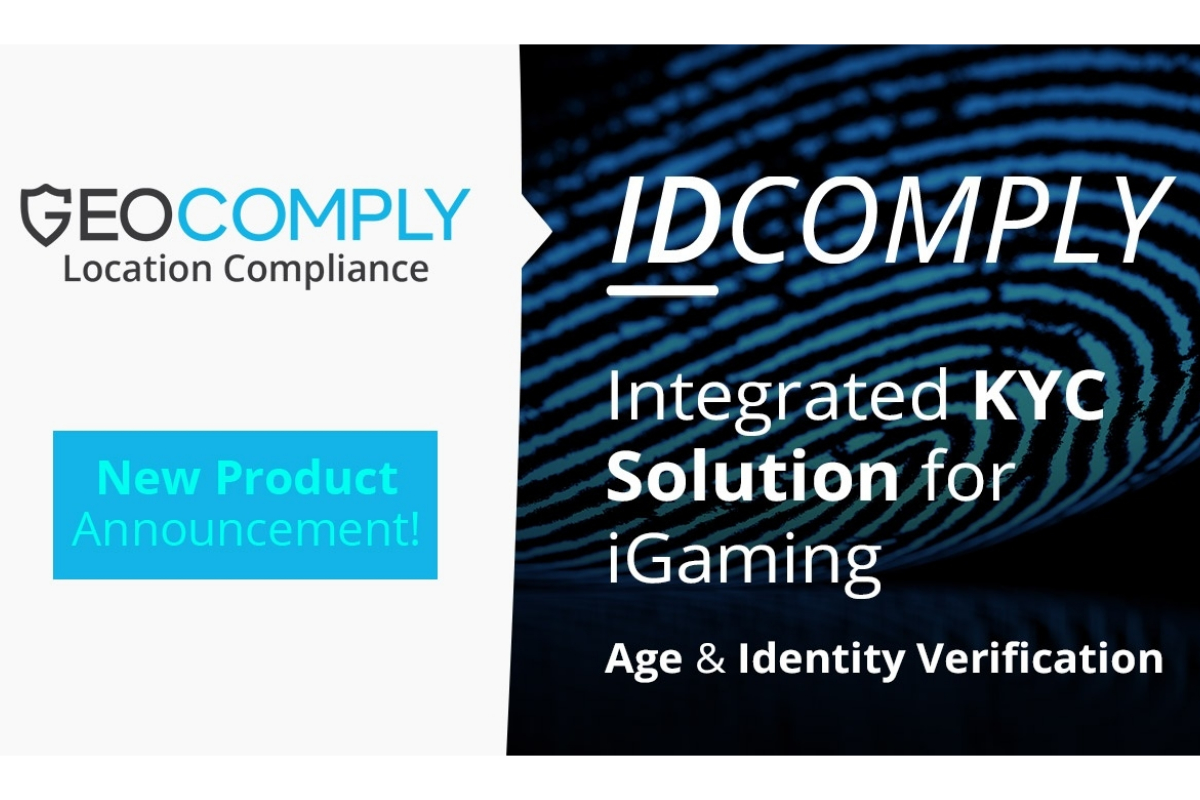 Reading Time:
1
minute
GeoComply has launched IDComply, the company's new Know Your Client (KYC) solution for the iGaming industry. IDComply is fully integrated with the company's existing geolocation compliance solution and offers age and identity verification.
"KYC is an extremely important part of iGaming and we're really excited to expand our product offerings with a way for our customers to handle more of their compliance needs. IDComply enables iGaming operators to streamline customer acquisition, deter fraud, and quickly enter new markets, using an integrated solution from a compliance vendor they already know and trust," David Briggs, Founder and CEO of GeoComply said.