A cure is in the cards: Play a royal flush and win in the fight against pulmonary fibrosis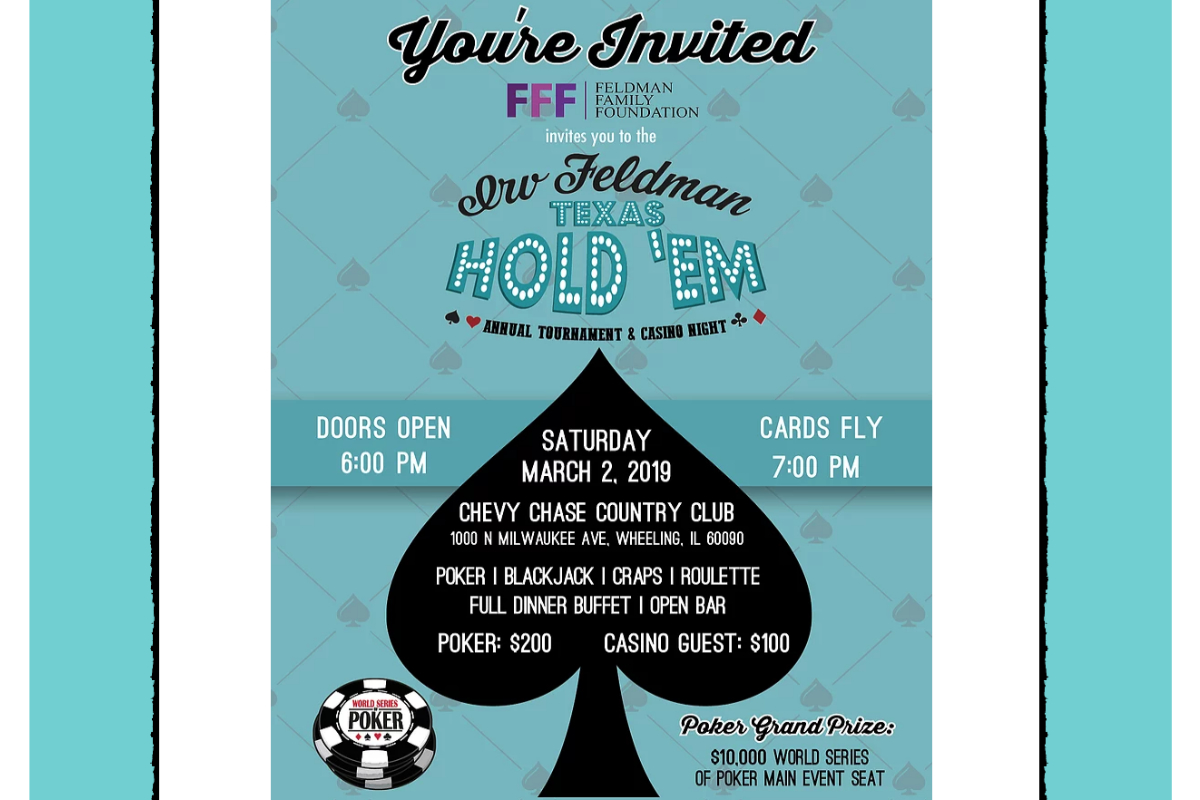 Reading Time:
2
minutes
The 6th Annual Irv Feldman Texas Hold `Em Tournament and Casino Night helps support pulmonary fibrosis patient education, disease awareness and clinical research
The Feldman Family Foundation will celebrate its 6th Annual Texas Hold 'Em Tournament to support the fight against pulmonary fibrosis on Saturday, March 2, 2019, in the grand ballroom of the Chevy Chase Country Club in Wheeling, Illinois. This year's poker tournament will feature a buffet dinner, premium sponsored open bar, charitable casino gaming and a charitable poker tournament with more than $30,000 in prizes. Participants of the poker tournament will also have the opportunity to win the grand prize—a $10,000 seat at the World Series Of Poker in Las Vegas.
The Irv Feldman Texas Hold 'Em and Casino Night was founded by the Feldman family in 2013 in memory of their father who had succumbed to idiopathic pulmonary fibrosis (IPF), a fatal, incurable lung disease. In honor of Irv, the family hosts poker and casino night to raise money to help end pulmonary fibrosis. Playing poker is a passionate Feldman family pastime and one of the few times Irv Feldman could forget his fight against pulmonary fibrosis and enjoy his family. Poker got Irv and the Feldman family through eight long and difficult years.
The 6th Annual Irv Feldman Poker Tournament and Casino Night is a night filled of fun, poker, great food, specialty cocktails and interactive casino fun! It is a night that is not to be missed, and the auction packages are as memorable as the event.
The Feldman Family Foundation's mission is to raise awareness and improve the quality of life for families impacted by pulmonary fibrosis. The Irv Feldman Texas Hold 'Em Tournament and Casino Night is hosted in collaboration with local community partners, such as CHEST Foundation and Northwestern Memorial. All proceeds benefit the fight against pulmonary fibrosis. The Feldman Family Foundation is proud to partner with the top organizations in the lung health arena and make an impact in the fight against pulmonary fibrosis and significant contributions of over $600,000 in support.
Player tickets are $150, and attendee tickets are $100. Sponsorship opportunities are also available. For more information or to purchase tickets, go to www.irvholdem.com, or contact Angela Perillo at [email protected].
About the CHEST Foundation:

The CHEST Foundation, the charitable foundation of the American College of Chest Physicians, champions lung health by supporting clinical research, community service and patient education. Through CHEST Foundation-supported programs, CHEST's 19,000+ members engage in advancing the lung health of millions of patients in local communities around the world. More than 95 cents of every dollar raised goes toward advancing the foundation's mission-based programming. Since its inception, the foundation has provided more than $10 million in funding for clinical research and community service, with a reach that spans more than 60 countries. For more information about the CHEST Foundation, visit chestfoundation.org.
About the Irv Feldman Family Foundation:

The Feldman Family Foundation is founded by Irv Feldman's sons, Mitch and Laury Feldman, in partnership with Mara Fox. Pulmonary fibrosis, a fatal lung disease for which there is no cure, devastated the Feldman Family. The mission of the Feldman Family Foundation is to raise awareness and improve the quality of life for families living with pulmonary fibrosis.
Source: CHEST Foundation
IGT PlaySports Technology Enables Sports Betting at Akwesasne Mohawk Casino Resort in New York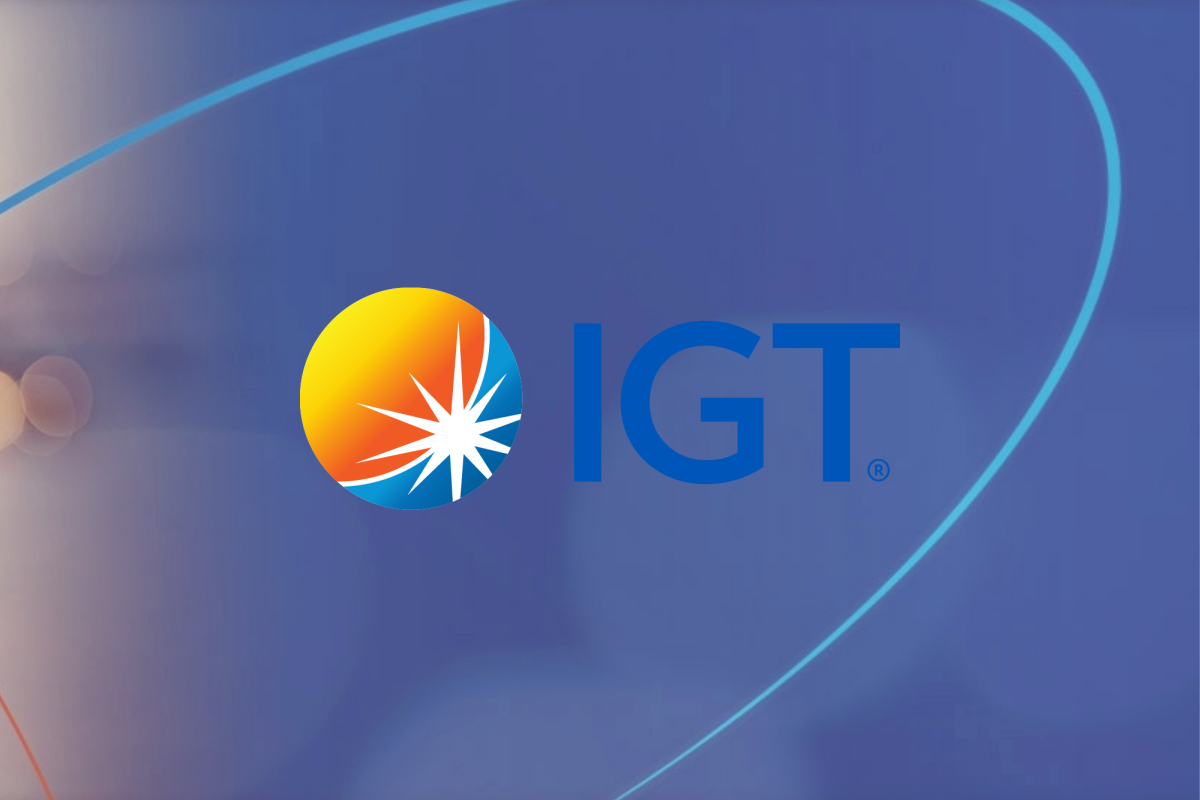 Reading Time:
2
minutes
Go-live extends IGT's sports betting footprint in the State to three casinos
International Game Technology announced that its PlaySports sports betting technology is now powering retail sports betting at Akwesasne Mohawk Casino Resort in Akwesasne, N.Y., as part of The Stars Group's betting and gaming market access agreement with the Saint Regis Mohawk Tribe. Through IGT's technology, patrons can now place a range of sports wagers over the counter or via IGT PlaySports kiosks at the casino.
"With the addition of IGT's PlaySports technology, we can now offer our guests a world-class sports betting experience in addition to the slot, table, bingo, and poker games that our patrons already enjoy at Akwesasne Mohawk Casino," said Todd Papineau, Akwesasne Mohawk Casino Resort General Manager. "We're excited to work with IGT and benefit from the Company's expertise and innovation."
"Powering sports betting technology at Akwesasne Mohawk Casino Resort expands our PlaySports footprint in New York to three casinos," said Enrico Drago, IGT PlayDigital Senior Vice President. "IGT PlaySports is a proven B2B technology solution already deployed in 11 states. We congratulate the Akwesasne Mohawk Casino Resort on being the latest casino to open an outstanding sportsbook featuring IGT's technology, elevating the entertainment experience for sports fans in New York."
IGT PlaySports is currently powering sports betting in 11 U.S. states: Oregon, Arkansas, Indiana, Iowa, New York, Pennsylvania, Mississippi, West Virginia, Rhode Island, New Jersey, and Nevada.
To learn why winners choose IGT PlaySports visit IGT.com.
About IGT:
IGT (NYSE:IGT) is the global leader in gaming. We enable players to experience their favorite games across all channels and regulated segments, from Gaming Machines and Lotteries to Digital and Social Gaming. Leveraging a wealth of premium content, substantial investment in innovation, in-depth customer intelligence, operational expertise and leading-edge technology, our gaming solutions anticipate the demands of consumers wherever they decide to play. We have a well-established local presence and relationships with governments and regulators in more than 100 countries around the world, and create value by adhering to the highest standards of service, integrity, and responsibility. IGT has over 12,000 employees. For more information, please visit www.igt.com.
Source: IGT
Mohegan Gaming & Entertainment (MGE) Announces Promotions as Brand Continues Strategic Growth Trajectory in Connecticut and Beyond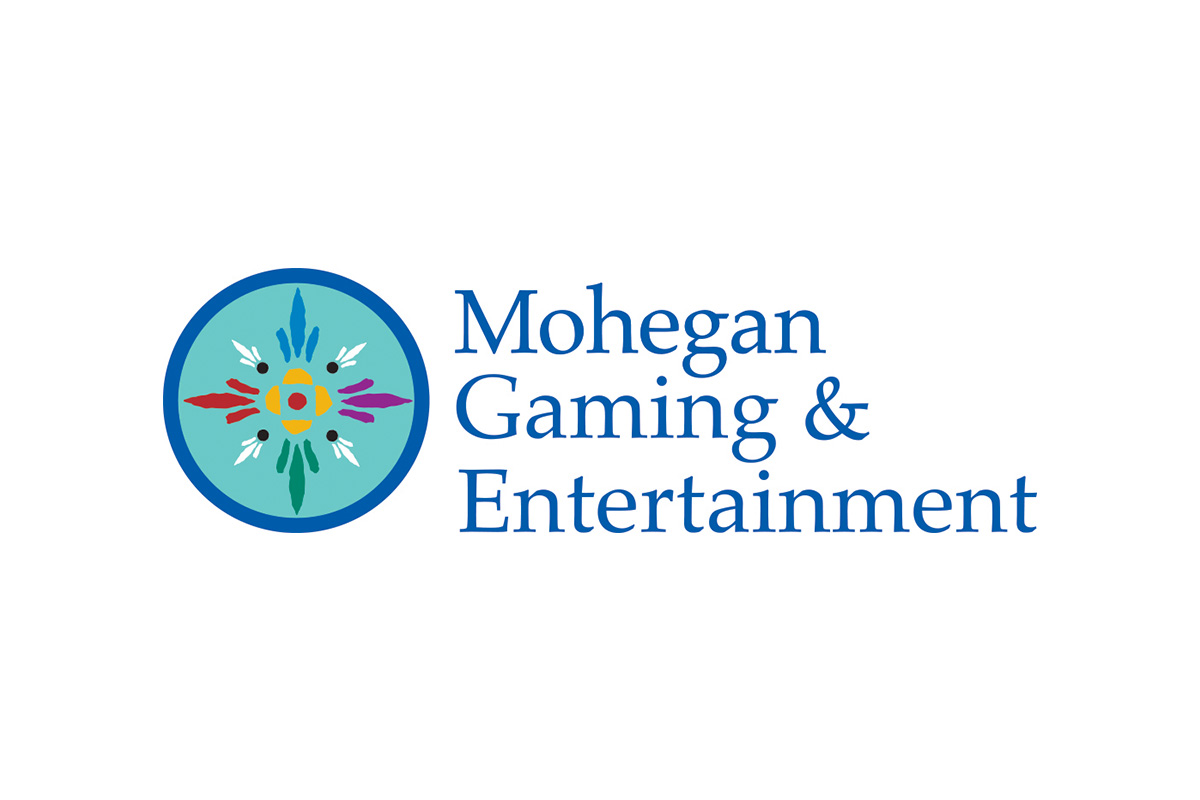 Reading Time:
2
minutes
MGE Appoints Ray Pineault Regional President; Jeffrey Hamilton Assumes Role of President and General Manager of Mohegan Sun Connecticut
Mohegan Gaming & Entertainment (MGE), master developer of awe-inspiring integrated entertainment resorts (IER) worldwide today announces two important promotions to further sustain and promote the company's growth and development as part of its strategic growth plan for Connecticut and beyond. After more than 15 years of service to the Tribe, Ray Pineault has been appointed to Regional President for MGE, while Jeffrey Hamilton has been promoted to President and General Manager at the flagship property, Mohegan Sun Connecticut.
"As a company in the midst of unprecedented growth, it is a priority for us as an enterprise to build the best team of senior executive leaders to support and oversee the continued development of MGE both domestically and internationally," said Mario Kontomerkos, Chief Executive Officer of Mohegan Gaming & Entertainment. "With more than 30 years of combined Mohegan experience between them, we are confident that Ray will be instrumental in driving results within the growing fleet of MGE properties and couldn't be more pleased to have Jeffrey Hamilton take the reins of our flagship resort and continue raising the standards of excellence at home."
Ray Pineault brings many years of legal and business experience to his new position as Regional President of MGE. Ray will be responsible for ensuring that Mohegan Sun Connecticut, Mohegan Sun Pocono and Paragon Casino Resort meet or exceed operational, employee engagement, guest service, cultural, strategic and fiscal plans, while maintaining the highest standards of regulatory compliance. As former President and General Manager as well as Executive Vice President and Chief Operating Officer of Mohegan Sun Connecticut, Ray has safeguarded and promoted the legal and commercial interests of the Tribe since 2001 and brings tremendous experience to this new position. Ray joins Chris Block, Regional President, who oversees four of MGE's nine properties in Canada, South Korea, and Las Vegas. Both Pineault and Block report to MGE's Senior Vice President & Chief Operating Officer, Michael Silberling.
Assisting in the day-to-day operations of Mohegan Sun Connecticut under the guidance of Ray Pineault and senior leadership for four years as Assistant General Manager, Jeff Hamilton is poised to take the helm as President and General Manager of the property with more than 15 years of Mohegan experience. In his new role, Jeff will be responsible for achieving overall business objectives and the strategic planning and operational results of Mohegan Sun and will also drive and oversee the development and implementation of capital and operating budgets, marketing business plans, technology, the guest experience, human capital development, and operational business plans.
Effective immediately, Mohegan Gaming & Entertainment will be conducting a global search to fill the role of Assistant General Manager of Mohegan Sun Connecticut.
ABOUT MOHEGAN GAMING & ENTERTAINMENT 

Mohegan Gaming & Entertainment (MGE) is a master developer and operator of premier global integrated entertainment resorts, including Mohegan Sun in Uncasville, Connecticut, Inspire in Incheon, South Korea, and Niagara Casinos in Niagara, Canada. MGE is owner, developer, and/or manager of integrated entertainment resorts throughout the United States, including Connecticut, New Jersey, Washington, Pennsylvania, Louisiana, Northern Asia, Niagara Falls, Canada, and coming soon pending regulatory approval, Las Vegas, Nevada. MGE is owner and operator of Connecticut Sun, a professional basketball team in the WNBA and New England Black Wolves, a professional lacrosse team in the National Lacrosse League. For more information on MGE and our properties, visit www.mohegangaming.com.
SOURCE Mohegan Gaming & Entertainment
Penn National Gaming Reorganises its Executive Management Team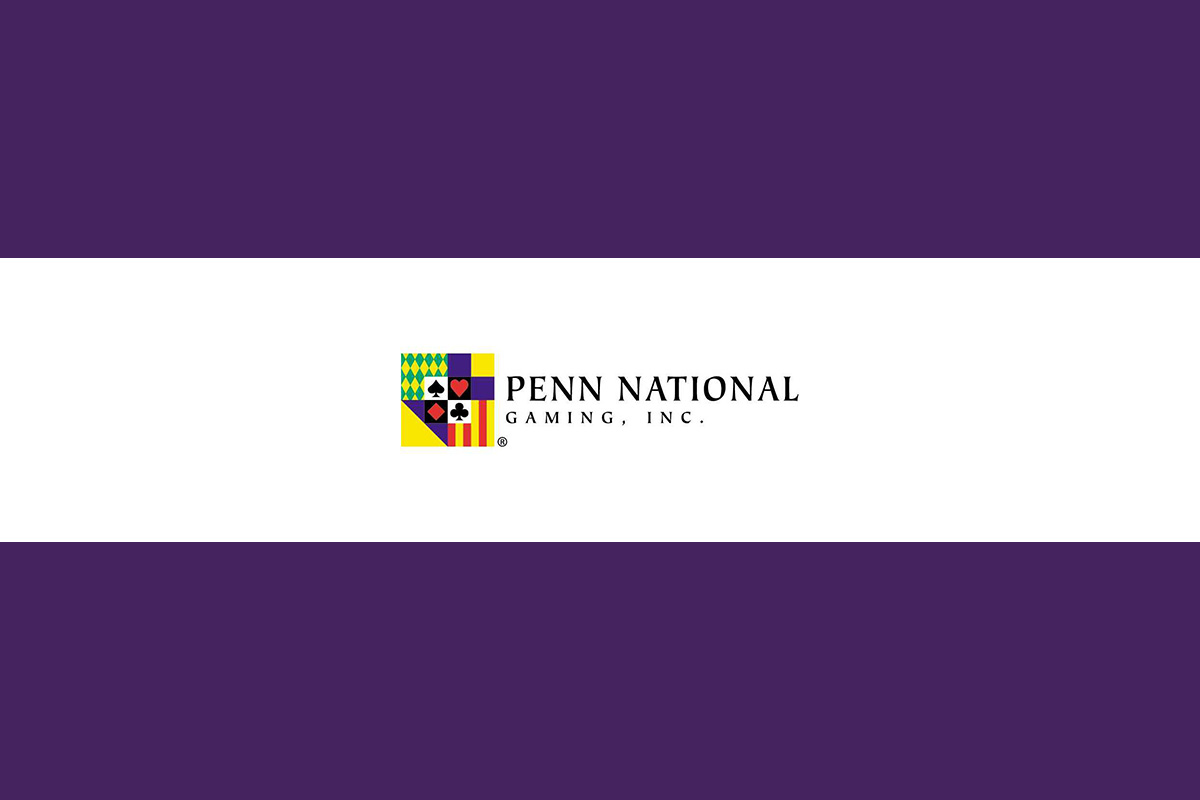 Reading Time:
< 1
minute
Penn National Gaming has reorganised its executive management team to coincide with the transition of Jay Snowden to the role of chief executive next month. Snowden will take up his new position on January 1, following the retirement of PNG's current CEO Timothy Wilmott.
In preparation for the move, Penn National has promoted Todd George to executive VP for operations and also changed Chris Rogers' job title to senior VP, chief strategy officer.
George has been with the operator since October 2012, first serving as vice president and general manager of Hollywood Casino in Lawrenceburg, Indiana. In 2017, George was promoted to his current position as senior vice president of regional operations, overseeing nine properties in Penn National's Midwest region.
In his new role, George will be responsible for the operator's four senior vice presidents of regional operations, as well as marketing and information technology.
Rogers joined Penn National in August 2013 as VP, deputy general counsel, serving in the role until February of this year when he was promoted to senior VP, corporate development.
Moving into the newly created role of senior VP, chief strategy officer, Rogers will lead the team in developing and pursuing strategic growth initiatives.
"Both Todd and Chris have quickly risen the management ranks at Penn National and their new roles reflect the trust and confidence I have in them serving as integral members of my newly restructured executive management team," Snowden said.
Penn National is also still seeking a new executive vice president and chief financial officer after it was recently confirmed that BJ Fair will step down from the role in March 2020.