Pollard Banknote's Licensed Games Portfolio Gets a Leg Up on the Holidays with A Christmas Story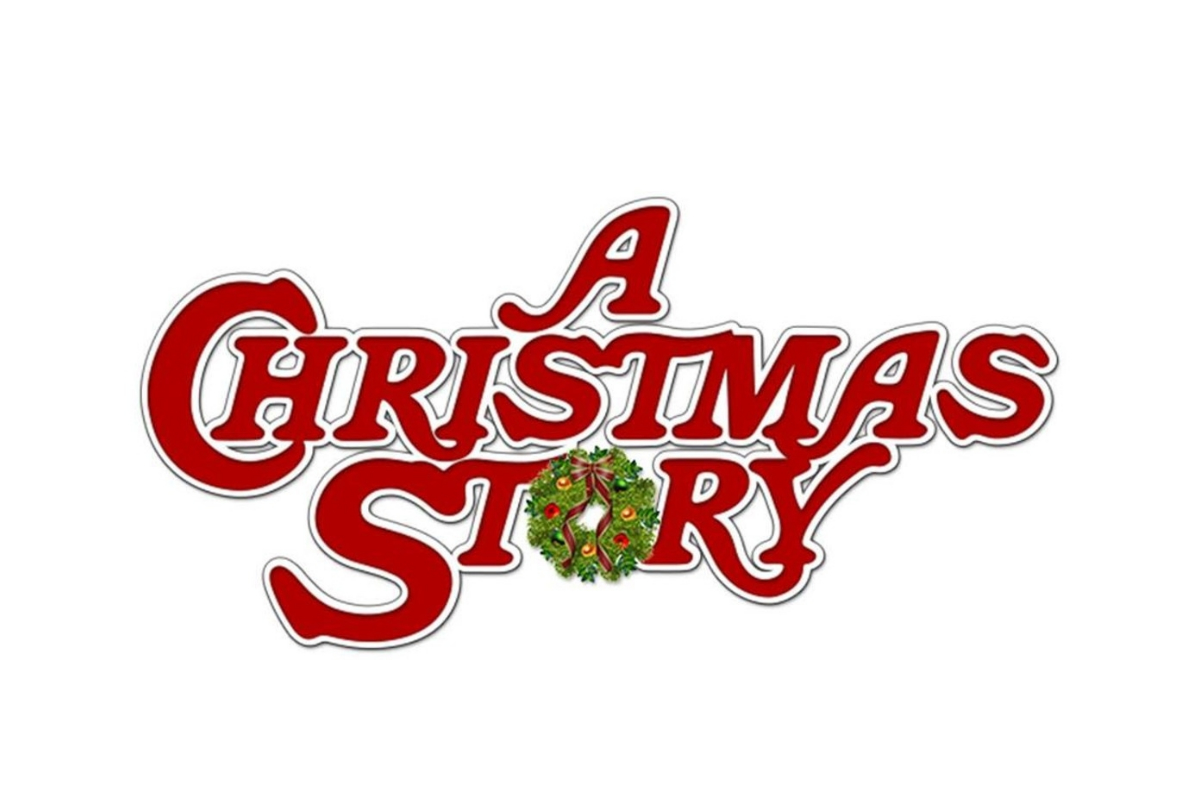 Reading Time:
2
minutes
Pollard Banknote Limited, a leading lottery partner that provides instant tickets, interactive programs, retail solutions, and full marketing support, in partnership with Warner Bros. Consumer Products, is excited to announce the addition of the renowned classic holiday film, A Christmas Story, to its expansive portfolio of licensed brand offerings.
First premiering in 1983, the film remains an integral part of holiday festivities to this day. Heralded as "maybe the best Christmas movie ever" by The New York Times, A Christmas Story, a nostalgic view of Christmastime in Indiana during the 1940s, stars Peter Billingsley as Ralphie, a nine-year-old who has only one thing on his Christmas list: a Red Ryder Carbine-Action 200-Shot Air Rifle. With his parents unwilling to buy him the present, Ralphie decides to mount a full-scale, hint-dropping, Santa-begging campaign.
With its memorable cast of characters and iconic imagery, A Christmas Story presents many exciting creative options for lotteries. Pollard Banknote's Licensed Products team will offer a full turnkey program that includes the design, programming, and printing of themed tickets, as well as various options such as second chance draws, a POS program, and broadcast and digital marketing.
About Warner Bros. Consumer Products:
Warner Bros. Consumer Products (WBCP), a Warner Bros. Entertainment Company, extends the Studio's powerful portfolio of entertainment brands and franchises into the lives of fans around the world.  WBCP partners with best-in-class licensees globally on an award-winning range of toys, fashion, home décor, and publishing inspired by franchises and properties such as DC, Wizarding World, Looney Tunes and Hanna-Barbera. The division's successful global themed entertainment business includes groundbreaking experiences such as The Wizarding World of Harry Potter and Warner Bros. World Abu Dhabi. With innovative global licensing and merchandising programs, retail initiatives, promotional partnerships and themed experiences, WBCP is one of the leading licensing and retail merchandising organizations in the world.
A CHRISTMAS STORY and all related characters and elements © & ™ Turner Entertainment Co. (s19)
About Pollard Banknote:
Pollard Banknote is a leading lottery partner to more than 60 lotteries worldwide, providing high quality instant ticket products, licensed games, Schafer Systems retail merchandising solutions, and a full suite of digital offerings, ranging from game apps to comprehensive player engagement and iLottery solutions, including strategic marketing and management services. The company is a proven innovator and has decades of experience helping lotteries to maximize player engagement, sales, and proceeds for good causes. Pollard Banknote also provides pull-tab tickets, bingo paper, and its Diamond Game and Oasis-branded electronic ticket machines to charitable and other gaming markets in North America.  Established in 1907, Pollard Banknote is owned approximately 67.5% by the Pollard family and 32.5% by public shareholders, and is publicly traded on the TSX (PBL). For more information, please visit our website at www.pollardbanknote.com.
AC Milan Extends its Partnership with StarCasinò.sport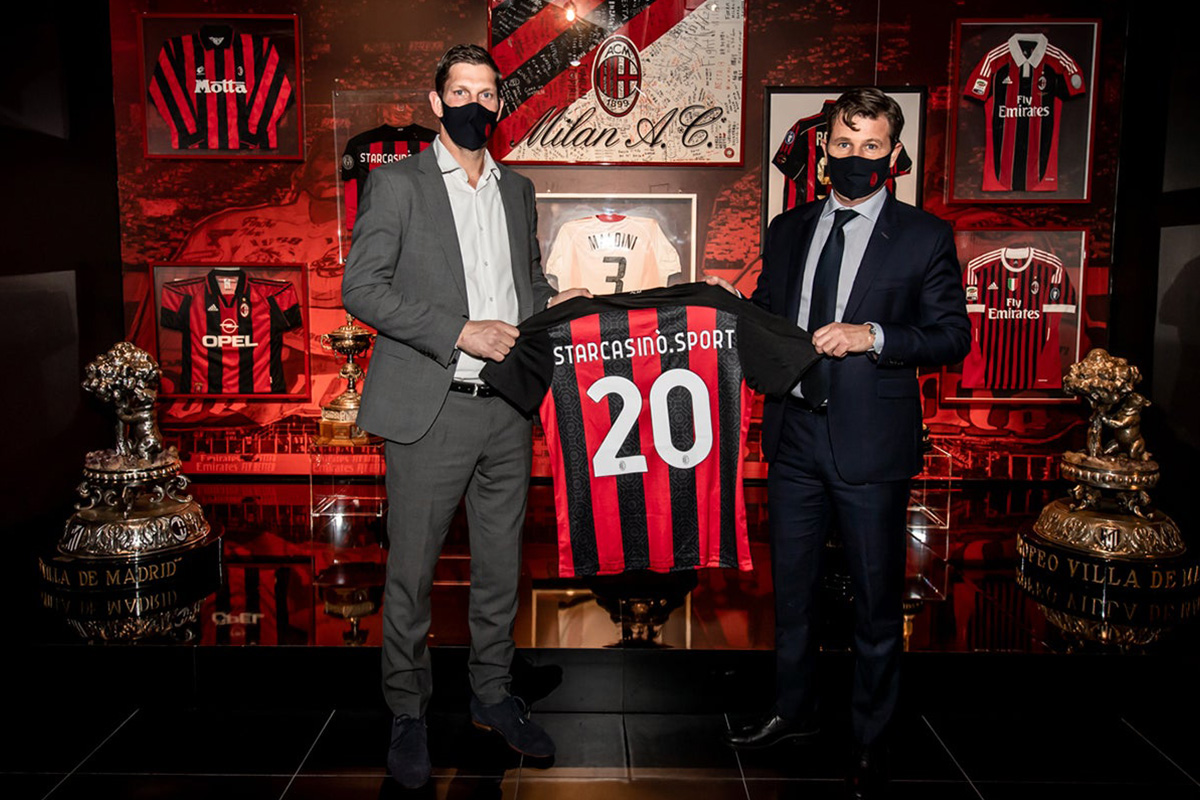 Reading Time:
< 1
minute
AC Milan football club has extended its partnership with StarCasinò.sport. The sports entertainment platform, part of the Betsson Group, will continue to be an AC Milan Official Partner for the next three years, until the end of the 2023 season.
"The aim of Betsson Group is to create engaging, amazing and safe experiences for all users and, through our brand StarCasinò.sport, we propose an innovative and exciting storytelling of sports. The renewal of the partnership with AC Milan, a top-class Club, is very important for us in terms of broadening our image and it allows us to create high-quality entertainment for the Rossoneri fans as well as for all football fans," Ronni Hartvig, Chief Commercial Officer of Betsson Group, said.
"We are delighted to announce the renewal of our partnership with StarCasinò.sport. In recent months we jointly created exciting and innovative special content dedicated to our fans and we are both very pleased with the results we have achieved. We want to keep surprising AC Milan's fans and we are ready to engage them in many new Rossonero initiatives," Casper Stylsvig, Chief Revenue Officer at AC Milan, said.
MMO game Street Mobster leaking data of 1.9 million users due to critical vulnerability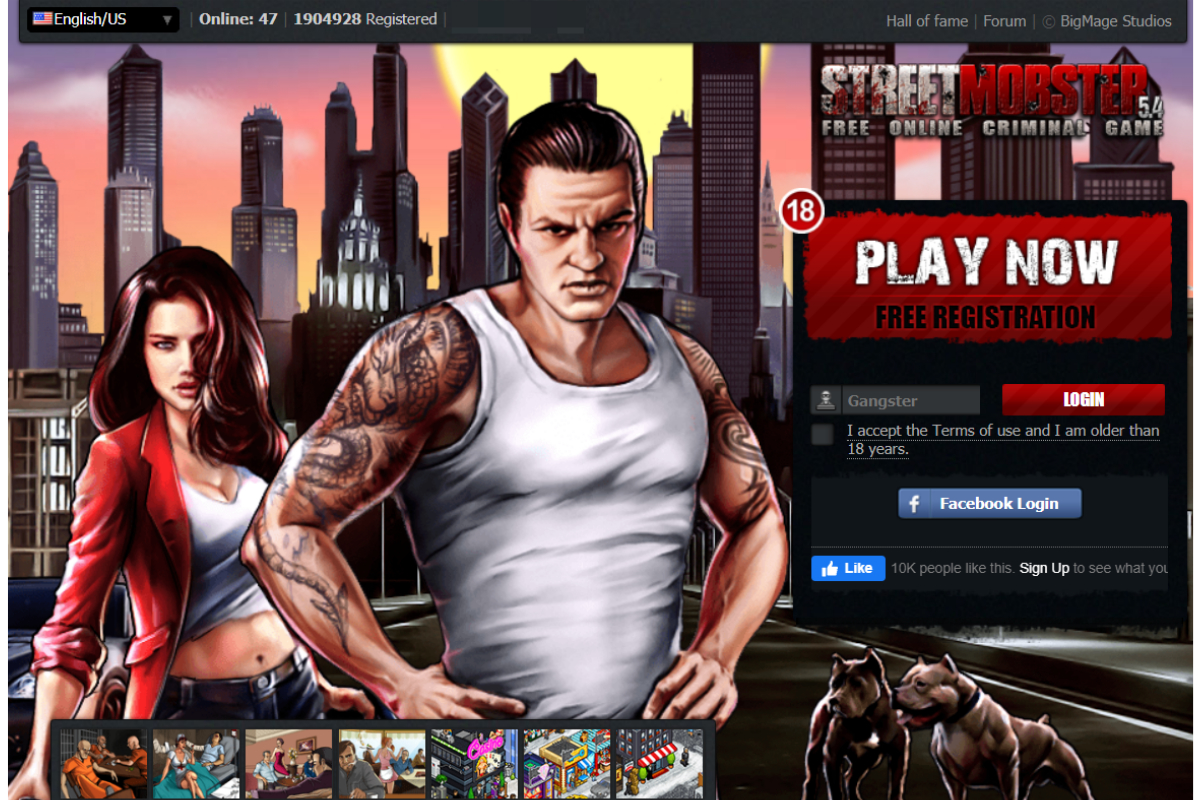 Reading Time:
3
minutes
Attackers could exploit the SQL Injection flaw to compromise the game's database and steal user data.
The CyberNews.com Investigation team discovered a critical vulnerability in Street Mobster, a browser-based massively multiplayer online game created by Bulgarian development company BigMage Studios.
Street Mobster is a free to play, browser-based online game in the mafia empire genre where players manage a fictional criminal enterprise. The game boasts a 1.9+ million player base and stores a user record database that can be accessed by threat actors by committing an SQL Injection (SQLi) attack on the game's website.
Other games created by BigMage Studios are also potentially vulnerable to the same type of attack, which means that there is a possibility that even more users might be at risk.
The records that can be compromised by exploiting the SQLi vulnerability in Street Mobster potentially include the players' usernames, email addresses, and passwords, as well as other game-related data that is stored on the database.
Fortunately, after we reported the vulnerability to BigMage Studios, CERT Bulgaria, and the Bulgarian data protection authority, the issue has been fixed by the developers and the user database is no longer accessible to potential attackers.
What is SQL Injection?
First found back in 1998, SQLi is deemed by the Open Web Application Security Project (OWASP) as the number one web application security risk.
Even though this vulnerability is relatively easy to fix, researchers found that 8% of websites and web applications are still vulnerable to SQLi attacks in 2020. Which, from a security perspective, is inexcusable. So much so, in fact, that UK internet service provider TalkTalk was hit with a record £400,000 fine over succumbing to a cyberattack that involved SQLi.
The vulnerability works by injecting an unexpected payload (a piece of code) into the input box on the website or in its URL address. Instead of reading the text as part of the URL, the website's server reads the attacker's payload as code and then proceeds to execute the attacker's command or output data that would otherwise be inaccessible to unauthorized parties. Attackers can exploit SQLi even further by uploading pieces of code or even malware to the vulnerable server.
The fact that Street Mobster is susceptible to SQLi attacks clearly shows the disappointing and dangerous neglect of basic security practices on the part of the developers at BigMage Studios.
How we found this vulnerability
Our security team identified an SQL Injection vulnerability on the Street Mobster website and were able to confirm the vulnerability by performing a simple command injection test on the website URL. The CyberNews team did not extract any data from the vulnerable Street Mobster database.
What's the impact of the vulnerability?
The data in the vulnerable Street Mobster database can be used in a variety of ways against the players whose information was exposed:
By injecting malicious payloads on Street Mobster's server, attackers can potentially gain access to said server, where they can install malware on the game's website and cause harm to the visitors – from using the players' devices to mine cryptocurrency to redirecting them to other malicious websites, installing malware, and more.
The 1.9 million user credentials stored on the database can net the attackers user email addresses and passwords, which they can potentially use for credential stuffing attacks to hack the players' accounts on other gaming platforms like Steam or other online services.
Because Street Mobster is a free-to-play game that incorporates microtransactions, bad actors could also make a lot of money from selling hacked player accounts on gray market websites.
What to do if you've been affected?
If you have a Street Mobster account, make sure to change your password immediately and make it as complex as possible. If you've been using your Street Mobster password on any other websites or services, change that password as well. This will prevent potential attackers from accessing your accounts on these websites in case they try to reuse your password for credential stuffing attacks.
However, it's ultimately up to BigMage Studios to completely secure your Street Mobster account against attacks like SQLi.
Disclosure and lack of communication from BigMage Studios
Following our vulnerability disclosure guidelines, we notified the BigMage Studios about the leak on August 31, 2020. However, we received no reply. Our follow-up emails were left unanswered as well.
We then reached out to CERT Bulgaria on September 11 in order to help secure the website. CERT contacted the BigMage Studios and informed the company about the misconfiguration.
Throughout the disclosure process, BigMage Studios stayed radio silent and refused to get in touch with CyberNews.com. Due to this reason, we also notified the Bulgarian data protection agency about the incident on October 9 in the hopes that the agency would be able to pressure the company into fixing the issue.
Eventually, however, BigMage Studios appear to have fixed the SLQi vulnerability on streetmobster.com, without informing either CyberNews.com or CERT Bulgaria about that fact.
Spelinspektionen Signs MoU with Kansspelautoriteit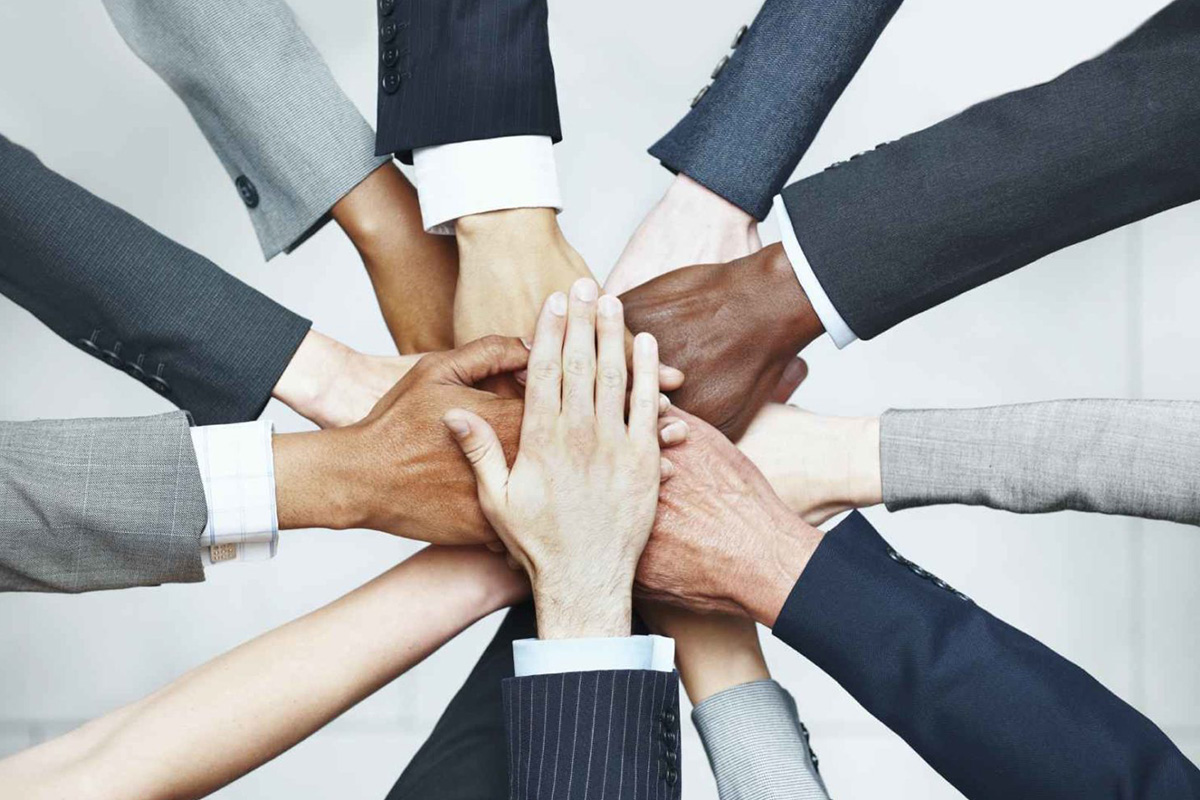 Reading Time:
< 1
minute
Swedish Gambling Authority Spelinspektionen has signed a memorandum of understanding with Kansspelautoriteit. The strengthened partnership has been designed to facilitate the ongoing exchange of information and streamline supervision between the two European regulators.
René Jansen, chairman of Kansspelautoriteit, stated that he is "delighted that agreements with international regulators are formalised and captured in memorandums of understanding."
He added: "On the one hand because of the solid basis they provide for cooperation and on the other hand because of the clear signal that will be given towards the gambling and gaming industry."
"By opening the communication channels between the authorities we become stronger in our supervisory activities. This is the fourth MoU we sign with European gambling authorities since the new Swedish regulation came into force in 2019," Camilla Rosenberg, director-general of Spelinspektionen, said.