Dushan Spalevich (Founder & CEO at iBlock TV) will moderate the Blockchain – related panel discussion at TECH Conference Europe 2019 Prague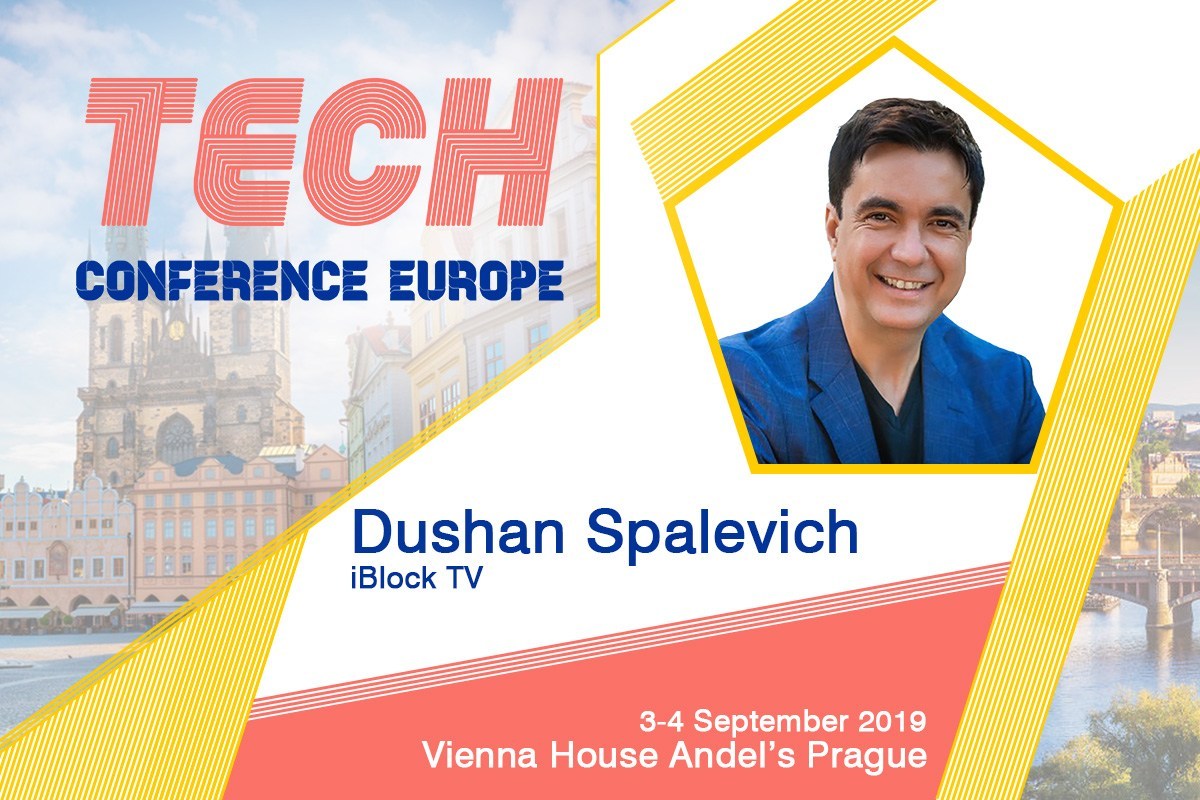 Reading Time:
2
minutes
Leading Serial Entrepreneur, Angel Investor, Startup Advisor, Founder of Global Fundraising And Advisory Network, and Founder & Host of iBlock TV – YouTube, specialized in covering tech startups ecosystem to moderate Blockchain-related panel discussion at PICANTE TECH Conference Europe 2019.
PICANTE TECH Conference Europe is surely setting a trend for boutique-style tech events and is bringing together the large names of several industries in Prague for a full day of learning and networking.
The inaugural PICANTE TECH Conference Europe (TCE2019), will take place in Prague on the 3rd of September at Vienna House Andel's Prague. You can REGISTER HERE!
As announced earlier by the organizers (PICANTE Media and Events) the conference will host several panel discussion with leading experts of industries such as Blockchain, Fintech, Artificial Intelligence, Quantum Technology, Cybersecurity, Cryptocurrency, Virtual Reality, Augmented Reality, and more.
The Blockchain-related panel discussion will reveal some of the most vital information around the industry and is strategically titled "The Growing Use of Blockchain by Start-ups and SMEs".
The confirmed experts that will join the panel discussion are Alexandra Karpova (Co-Founder & CEO at Millennium Communications), Capt.L.C. Arrigo GARIPOLI (Founder at BlueQbit), Dean Rakic (Blockchain expert and advisor) and last but not least Tomáš Žilavý (Solution Sales Representative at IBM Global Markets).
With such an expert lineup, the discussion deserves the best moderator when it comes to discussing Blockchain related matters and that moderator comes in the shape of Dushan Spalevich, Founder & CEO at iBlock TV.
Dushan Spalevich is a Serial Entrepreneur, Angel Investor, and Startup Advisor.
At only 25 years, Dushan became the youngest manager responsible for a country business operation of an FMCG multinational company SC Johnson, managing Slovenian market.
Dushan co-founded a self-funded startup project in Russia and managed it as a CEO to become the biggest segment company with more than 250 employees.
Today, he is a founder of iBlock Capital – Global Fundraising And Advisory Network, and Founder & Host of iBlock TV – YouTube, specialized in covering tech startups ecosystem.
Dushan graduated at Natural Science and Mathematics High School and holds a bachelor's degree of Faculty of Economics, University of Ljubljana, Slovenia. Dushan lived and worked in several countries and can communicate in 7 different languages.
PICANTE Tech Conference Europe is designed to bring both people and knowledge together and provides the excellent ecosystem of networking and learning opportunities without interruptions with emphasis on comfort and communication. After learning from genuine world-class experts and wayseers, meeting achievers shaping the B2B ecosystem, all attendees will get the chance to grab a drink and relax while networking at the evening social gathering.
REGISTER HERE or BROWSE THE AGENDA/PROGRAM!
About PICANTE Media and Events:
PICANTE.today is a news publishing website which digests/hand picks the latest news about technology, entertainment, lifestyle, finance and politics and serves them to their readers and subscribers daily.
As a responsible learning source, the team at PICANTE Media and Events are committed to 3 main principles:
Trusted and Reliable Reporting & Publishing
The articles and press releases on their website are all published from verified sources.
NO Psychological and Emotional Manipulation
The editorial team and marketing team do not aim to produce emotional manipulation and always stay away from news, press release and articles that produce fear, anxiety, racism or show any sort of cruelty towards animals and humankind.
NO Fake News
PICANTE.today ensures readers will never find any "directed" lies on the news portal as the team has taken an anti-fake news standing point from their inception.
For more details, visit www.picante.today
Bethereum awarded the highest rating ever in prestigious review!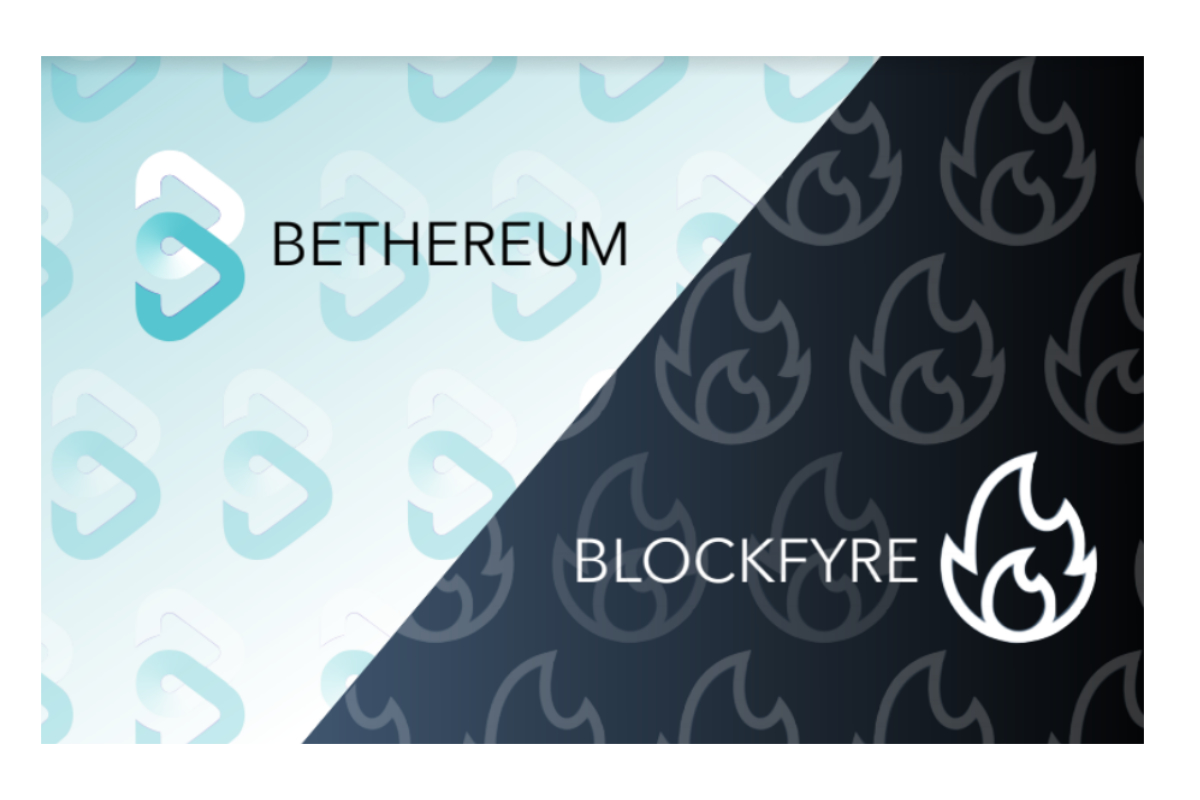 Reading Time:
< 1
minute
In an extensive report, prominent research house Blockfyre just awarded Bethereum with the highest rating they've ever assigned to any of the 60+ projects they reviewed (relative to maximum points).
Blockfyre is one of the leading analytic researchers providing valuable investment insights into Blockchain and cryptocurrency assets.
Their report on Bethereum highlighted how the innovative peer-to-peer betting platform provides a real solution to key industry challenges. In particular, their analysts appreciated how Bethereum aims at bringing fun and social into betting by implementing industry-first gamification and social elements. They were also impressed by Bethereum's large and active community as well as the solid team and advisors. Check out the report here.
Blockfyre gave very warm support to the project, stating: "As the market matures, the only projects that will survive are the ones with market-fit products and a good revenue model. Bethereum has a very interesting idea that can potentially disrupt the online betting market, combined with a small market cap and a working product, which makes it a project to keep an eye on. The Bethereum team has a very strong presence at conferences and pitch contests, which brings a lot of awareness and networking and with the amount of awards and pitches they managed to win show the potential of the project and the recognition of the idea."
Giacomo Tognoni, CEO at Bethereum, said after the report release: "I was very impressed with the professionalism of the Blockfyre team. Their analysts asked us very meaningful questions and were capable to derive powerful insights. The report is succinct, well written, and captures the essence of our vision and current standing. We are truly honoured for being evaluated as their highest-rated project to date, and we will keep doing our best to deserve this kind of recognition."
Spanish and German football giants join Sorare blockchain game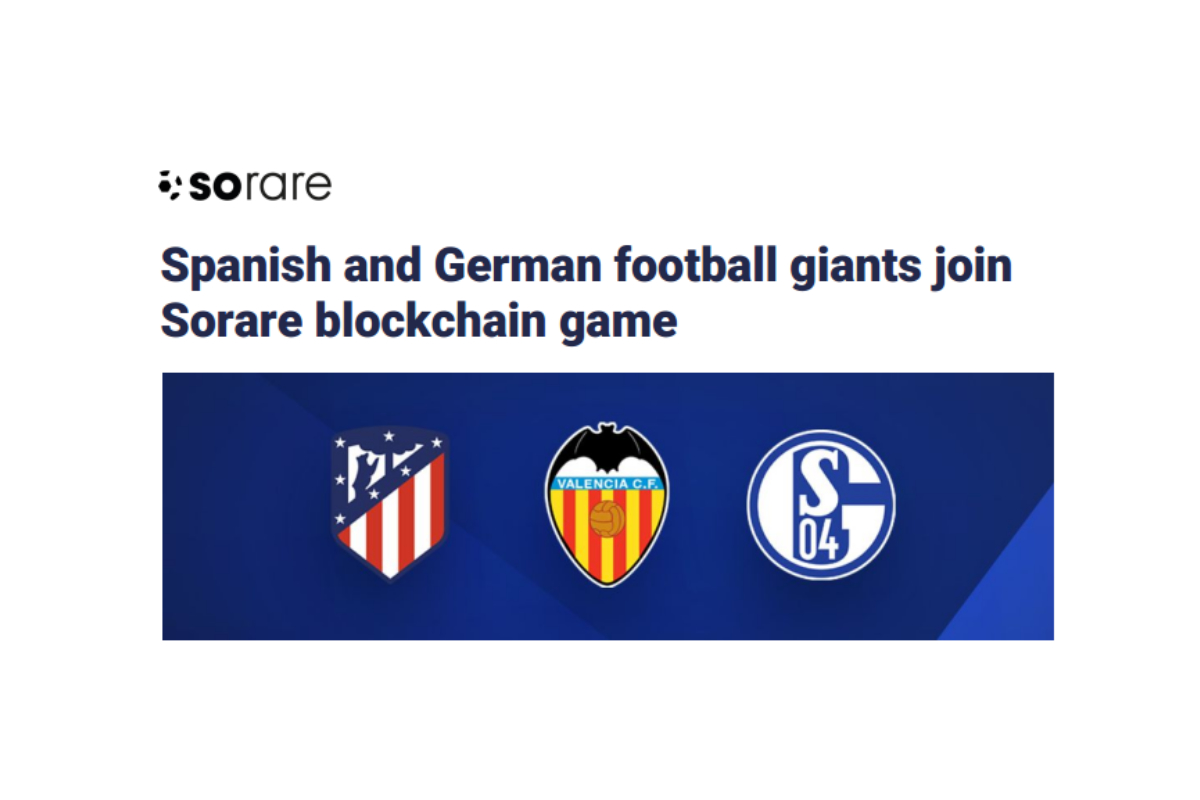 Reading Time:
2
minutes
Sorare, a fantasy football game where fans can trade official blockchain cards, and Spanish and German giants Atlético Madrid, Valencia CF and Schalke 04 have signed a landmark agreement to bring the benefits of blockchain gaming to football fans.
For decades, Football fans have traditionally collected and played with physical player cards but, when it comes to the digital world, this has never been possible.
Current digital games provide items that are neither scarce nor actually owned by the millions of gamers that play them.
Introducing Sorare Blockchain Cards
Sorare's blockchain player cards are limited edition digital collectibles that gamers can own, freely trade and use in a global fantasy game.
Sorare is already officially licensed by 30 football clubs with dozens of other major clubs lined up and ready to be announced throughout the remainder of the season.
In Sorare, managers compose teams of 5 blockchain cards to compete in Fantasy Football Leagues to earn prizes and unlock achievements.
Managers get ranked based on the performance of their players on the pitch, and bonus points related to the power of their blockchain cards.
For more information on Sorare, please visit sorare​.com
Nicolas Julia, Sorare Co-founder and CEO, said:
"We are very proud to have signed these agreements with Spanish and German heavyweights, and we thank them for their trust in Sorare. We see this as a game-changing announcement for the blockchain gaming and the football industry. Today's announcement marks a new step in our vision to create a global open gaming ecosystem."
Susana Martínez, Atlético Madrid Head of Licensing, said:
"Sorare's innovation and expertise make them a perfect partner to introduce this ground-breaking game and what we believe will become coveted digital collectibles for Atlético Madrid fans around the world. With already 30 football clubs officially licensed, Sorare is clearly leading the way in this new market."
Guillaume Henric-Coll, Valencia CF Licensing Manager, said:
"Sorare is a radical new way for fans to connect with Valencia CF players. We believe blockchain technology creates a truly unique product that fans can collect, manage and engage within a fun game, and we are excited to partner with Sorare to introduce these digital collectibles to the Valencia CF community."
CasinoCoin strikes Omnia Casino token deal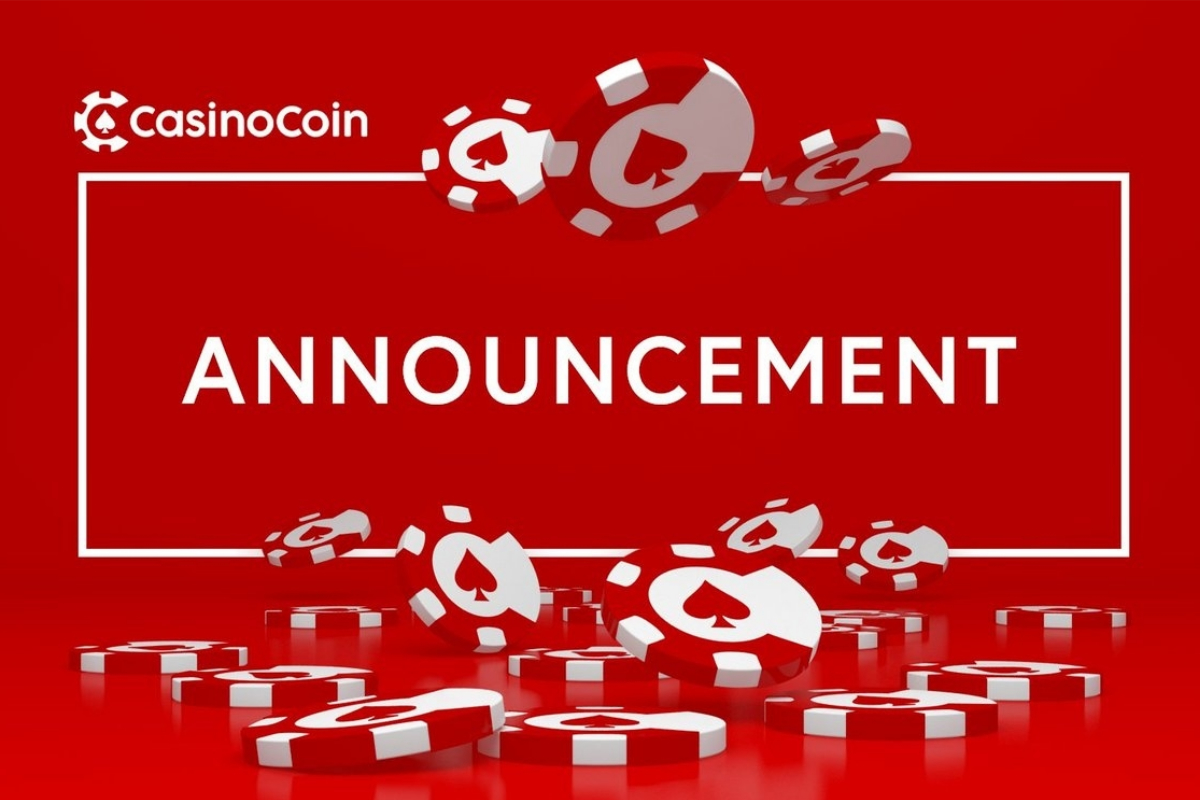 Reading Time:
2
minutes
CasinoCoin, the blockchain for gaming, has agreed a deal with leading operator Omnia Casino to launch a custom token that will power the casino's new loyalty and rewards programme.
Players will earn tokens as part of a new loyalty scheme, and will be able to spend them in a dedicated store in exchange for free spins, bonuses or branded items of the operator's choosing.
The token, a digital asset which sits upon the CasinoCoin blockchain, will be fully branded and controlled by Omnia Casino.
By leveraging the power of the CasinoCoin blockchain, which facilitates nearly instantaneous transactions at super low fees, the new Omnia Casino rewards programme will benefit from greater automation, security and engagement.
Sam Hobcraft, founder of Omnia Group, said: "Innovation is at the heart of Omnia Casino, so we are delighted to be the first major operator to move its rewards programme onto the blockchain.
"We selected CasinoCoin to power our new token because its technology is faster, more secure and more scalable than alternatives that we reviewed as part of the selection process. As the blockchain for gaming, and with a team that understands this space, they are the perfect partner and we look forward to building a long-lasting relationship."
John Caldwell, director of advocacy at the CasinoCoin Foundation, said: "Since we launched custom tokens earlier this year, we have seen forward-thinking gaming companies use the technology for very different purposes.
"Omnia Casino is the latest to find an innovative way to use our blockchain to deliver tangible, real-world benefits to its operation. By placing a custom token at the heart of its rewards programme we are able to help Omnia improve key metrics across the board, including security, automation and engagement.
"Adding a leading operator in Omnia to our network further underlines CasinoCoin's position as the blockchain for gaming."
Running a loyalty and rewards programme on the CasinoCoin blockchain confers several major benefits for operators. It reduces costs by increasing automation, eliminating the need for manual logging and combatting fraud.
With customers more likely to engage when they can choose their reward, tokenising loyalty makes it easier to offer players the opportunity to spend their points at multiple vendors, or even exchange them with friends.
Over the past few months, a number of gaming companies have struck deals to launch custom tokens on the CasinoCoin blockchain, including leading roulette manufacturer Cammegh and eGamingFund, a one-stop, licensing and distribution platform for games developers.