Fairplay Blockchain Casino Shortlisted for EGR Operator Awards 2019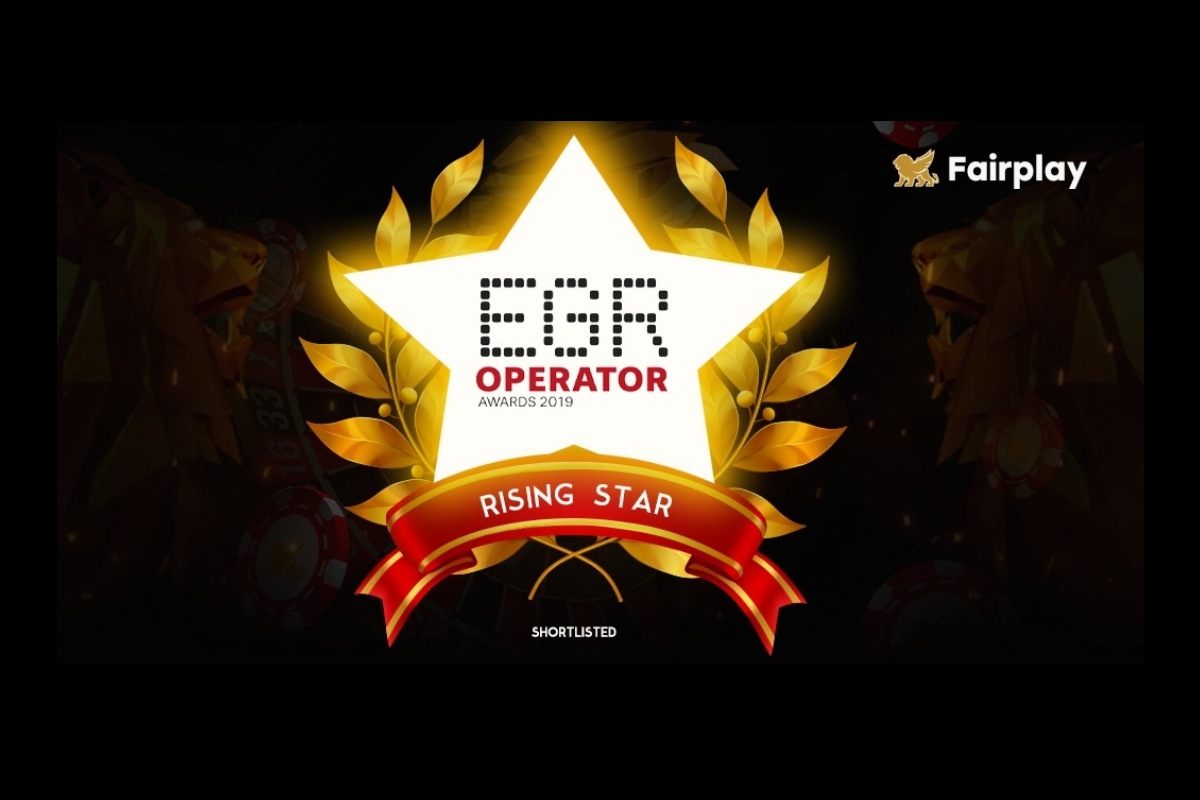 Reading Time:
2
minutes
The Fairplay blockchain casino is nominated for the Rising Star trophy by EGR Global.
The EGR Operator Awards is an annual award ceremony held by EGR Global, the online gaming industry's leading information and membership networking group.
EGR Global is the world's leading B2B publisher and membership networking group for the online gaming and gambling industry, featuring consistent exclusive news, interviews and expert comment from the most influential people in the sector. First held in 2004, the ceremony is now regarded as one of the most prestigious in the industry. It rewards B2C operators for "setting the standard in eGaming excellence" across a number of categories such as Operator of the Year, Affiliate of the Year, Socially Responsible Operator and more.
The Fairplay casino has been nominated for the EGR Operator Awards 2019 in the Rising Star category. This confirms that Fairplay's effort to bring transparency and trust to iGaming didn't go unnoticed by the industry's experts. The Fairplay team is excited about the nomination: "It is thrilling to be recognized by the most influential organizations in the industry. We are honored and determined to keep up with our beliefs and bring transparency to the iGaming community."
Being a young online blockchain casino, Fairplay stands out among similar projects due to its blockchain-powered Honesty Control. The casino's transaction data is stored on blockchain enabling players to track the data and be confident about its security. Fairplay's game stats are also displayed on the casino website.
In less than a year since the casino's launch, Fairplay users won about 25,000 ETH (nearly $4.5M as of today), with each bet secured by blockchain. The casino has recently introduced a VIP club to reward loyal players with increased bonuses and special offers.
The EGR Operator Awards 2019 will take place on October 24, 2019, at Grosvenor House in London. More than 100 companies will compete in over 30 categories including Affiliate programme, Game of the year, and Socially responsible operator.
FC Barcelona & Chiliz Join Forces In A New Global Blockchain Alliance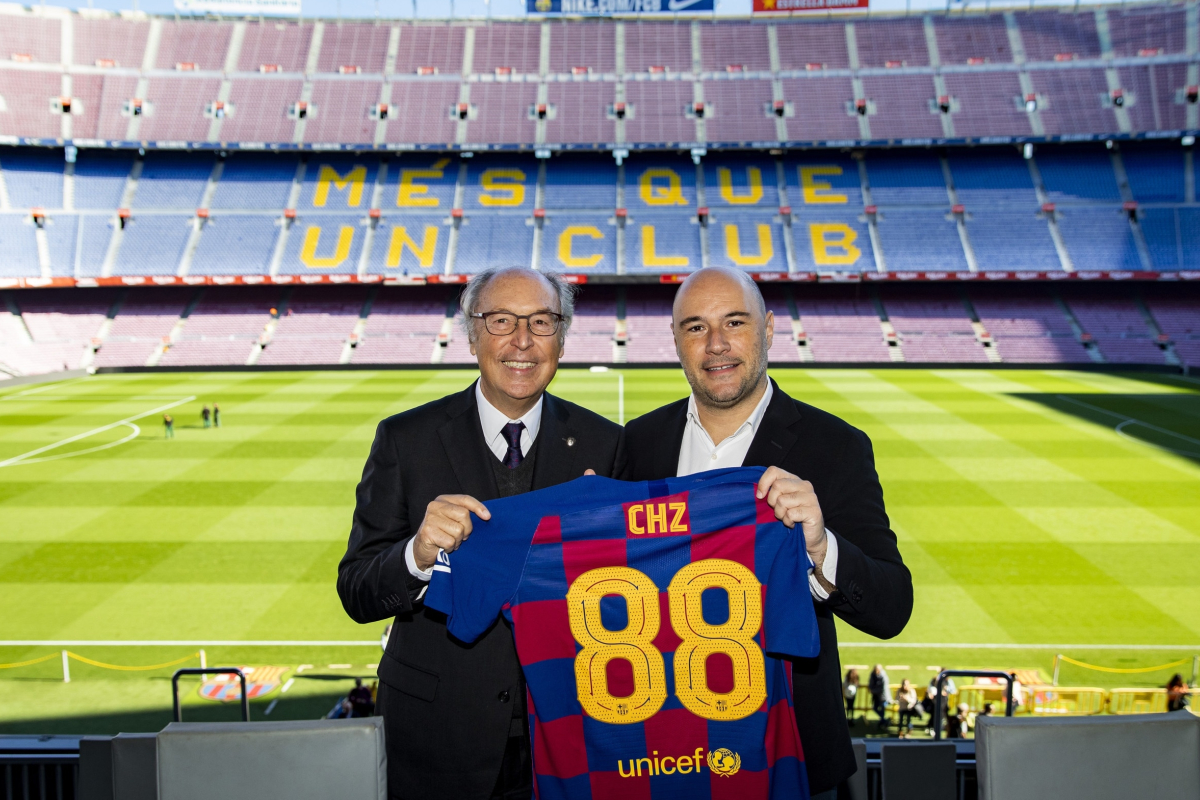 Reading Time:
2
minutes
The Partnership Will Increase Engagement Between the Club & Its Global Fanbase Through Barça Fan Tokens ($BAR) on Chiliz Fan Voting & Rewards Mobile App Socios.com
FC Barcelona has signed a new global partnership agreement with world leading blockchain-based fan engagement platform for sports & entertainment Chiliz. The agreement, which is part of Barça's new digital and commercial strategy, will help the Club stay closer to its global fanbase through Barça Fan Tokens ($BAR), digital assets that allow supporters to take part in polls and surveys on Chiliz fan voting & rewards mobile app Socios.com.
Barça fans all over the world will be rewarded for every action taken on Socios.com, climbing up leaderboards and receiving reward points which can be exchanged for exclusive merchandise and unique once-in-a-lifetime experiences. $BAR Fan Token holders can also look forward to other features on Socios.com, including Chat, Fan Token trading, games and community challenges.
The agreement is the first blockchain partnership to be signed by the club, and is part of FC Barcelona's global expansion strategy. The new partnership boosts the Club's commitment to looking to new digital channels and formats for connecting and generating engagement with their global audience.
Statement by Josep Pont, FC Barcelona Board Member and Head of Commercial Area
"We are proud to welcome Chiliz to the Barça family as a new global partner. This agreement will give us the chance to set up innovative marketing and partnership activations with a clear focus on the digital realm to take the Club closer to our fans around the world. This agreement also forms part of FC Barcelona's goal to become associated with leading brands that can help us consolidate our new commercial and digital strategy, with the development of new streams for the generation of resources helping to make us a benchmark both on and off the field."
Statement by Alexandre Drefyus, CEO & Founder of Socios.com & Chiliz
"We are very excited to welcome FC Barcelona to Socios.com, and even more excited to start engaging with their massive fan base around the world. With over 300 million fans worldwide, Barça's fandom spans countries as well as cultures. The Club is without a doubt the most renowned and the most supported football club in the world and we can't wait to see their fans start to influence Club decisions. Adding FC Barcelona fans to the Socios.com global community takes us one step closer to our goal of mainstream adoption of blockchain. Every time a fan downloads the app, we are furthering education, and every time a fan buys a Fan Tokens, we are strengthening the use cases of this innovative technology."
Barça Fan Tokens will be available in Q2 2020. 40 million will be made available, with each $BAR costing €2 at the initial point of sale.
Fans will be able to purchase Barça Fan Tokens when the FC Barcelona Fan Token Offering (FTO™) opens. In order to buy Barça Fan Tokens, fans must use Chiliz ($CHZ), the digital currency of Socios.com. Fans can buy $CHZ on the Socios.com app, or they can transfer from a digital wallet. Fan Tokens can also be purchased on Chiliz.net – the world's first crypto exchange for sports & entertainment. $CHZ is listed on many of the world's largest cryptocurrency exchanges.
Fans will also be able to accumulate free $CHZ and $BAR Fan Tokens periodically through Token Hunt, Socios.com's in-app Augmented Reality (AR) feature.
Harmen Brenninkmeijer appointed as Quanta CEO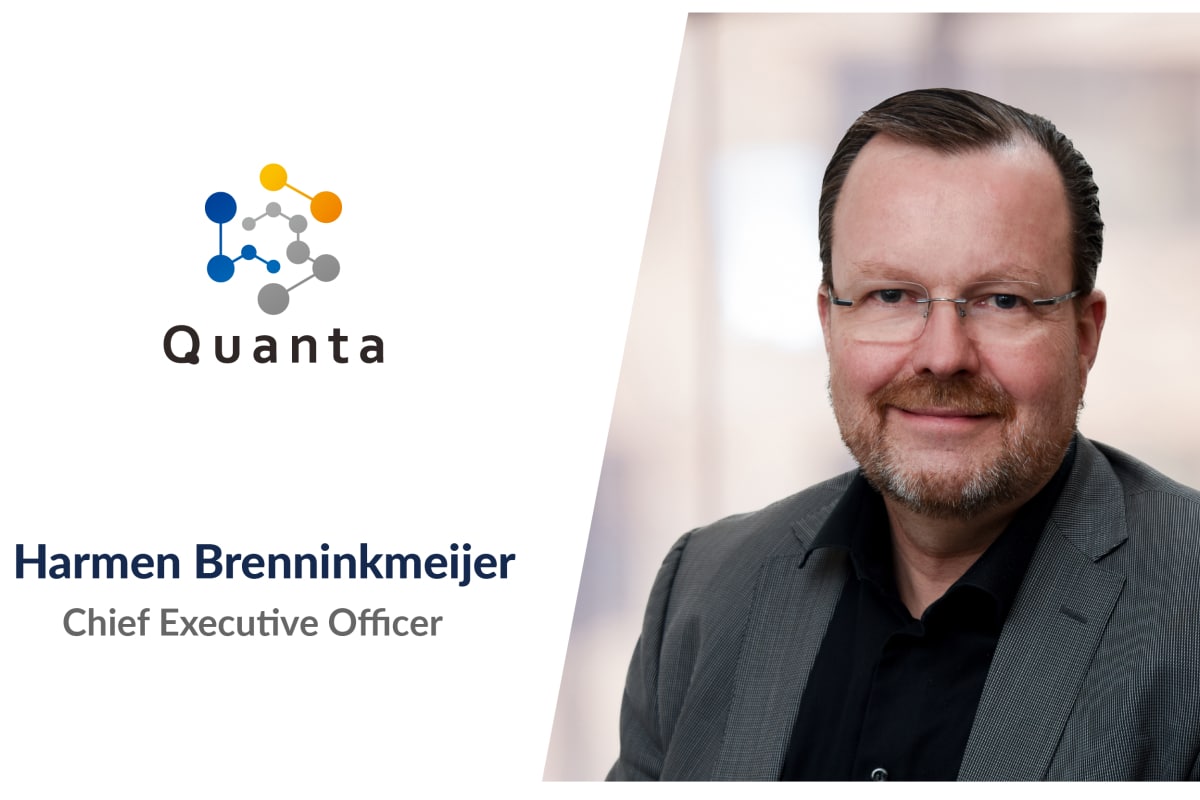 Reading Time:
3
minutes
Quanta's board of directors is today pleased to announce the appointment, with immediate effect, of Harmen Brenninkmeijer as the company's new Chief Executive Officer.
Following the strategic review conducted by Dynamic Partners, the board were impressed with Harmen's vision for Quanta's future and subsequently made it their priority to secure Harmen's commitment to lead Quanta through this period of change and onward through the company's next period of evolution as a leader in the design and utilisation of blockchain to create gaming solutions that enhance potential whilst lessening barriers to entry.
Quanta stated, "Harmen is the ideal person to lead Quanta. He has significant experience in gaming as an operator and as a supplier and has a unique understanding of the challenges of all parts of the gaming business. He has worked in many countries and his network will help Quanta to expand its reach and establish new customers and partnerships in high growth markets. Harmen led the strategic review undertaken by Dynamic Partners and has made, and will implement, the recommendations resulting from the review. Harmen will focus on the stabilisation of the company, resetting the vision and the implementation of best practice across business development, product development, operations and management."
"You can see from my track record that I have always had a great interest in emerging technologies in the gaming space. My feeling is that Quanta is the leading proponent in the development, operation and support of regulated gaming solutions that utilise blockchain. Our vision is to be the leader in this new space and to develop solutions that are low cost and so suit both highly competitive as well as emerging markets; are tech and currency agnostic to provide as broad coverage as possible; are decentralised where feasible to deliver transparency to the user and the regulator; and that are flexible enough to enable the discovery of new business models. I am hugely positive and excited about Quanta's future," said Harmen Brenninkmeijer.
About Harmen Brenninkmeijer:
Harmen has a long-standing track record in regulated gaming sectors across emerging markets with a reputation for innovation, introducing unique products and adopting new technologies. He has worked in over 70 countries actively supplying gaming equipment, advising and developing the gaming industry.
Before taking the CEO position at Quanta, Harmen formed the Global Chain in 2016, as a vehicle to establish equity projects. Whilst working with carefully selected partners, the Global Chain has established Dynamic Partners, an Asia-based consultancy providing core services to Global Chain's equity projects and selected third parties including various blockchain-based ventures like D-Tech: a Hong Kong‑based game studio building games for Asian players, Woke: an innovative blockchain‑based gaming project, Digitote: a Sports Betting systems solutions company and another game aggregation team.
Prior to Global Chain, Harmen founded the Gaming Incubator which sourced and brought to market gaming products and platform innovations. He has also served as the SVP Strategic Markets for Inspired Gaming Group after he previously founded Octavian Global Technologies and turned that into a $90m public company within five years. Harmen also developed and managed several land-based casinos around the world. Other notable achievements include: the establishment of Avalon Casino Management, the company that set up the Playboy Casino in Rhodes. During 1991-1997, he established Mikohn's gaming divisions in Europe, Africa and Japan (covering Asia) into a changemaker. From 1993 to 1997 he was also the founding and inaugural Chairman of the European Gaming Organization elected unanimously for 4 years.
Quanta is a pioneer in the development of blockchain solutions for gaming. In 2017, the company launched the first licensed blockchain lottery, fully utilising blockchain together with its NMI-certified random number generator, Randao, which is entirely built and operated on blockchain. Quanta's utility token, QNTU trades on six renowned cryptocurrency exchanges including HitBTC and Bit-Z.
DappRadar partners with EverdreamSoft to launch first blockchain game 'Spells of Genesis' on Ethereum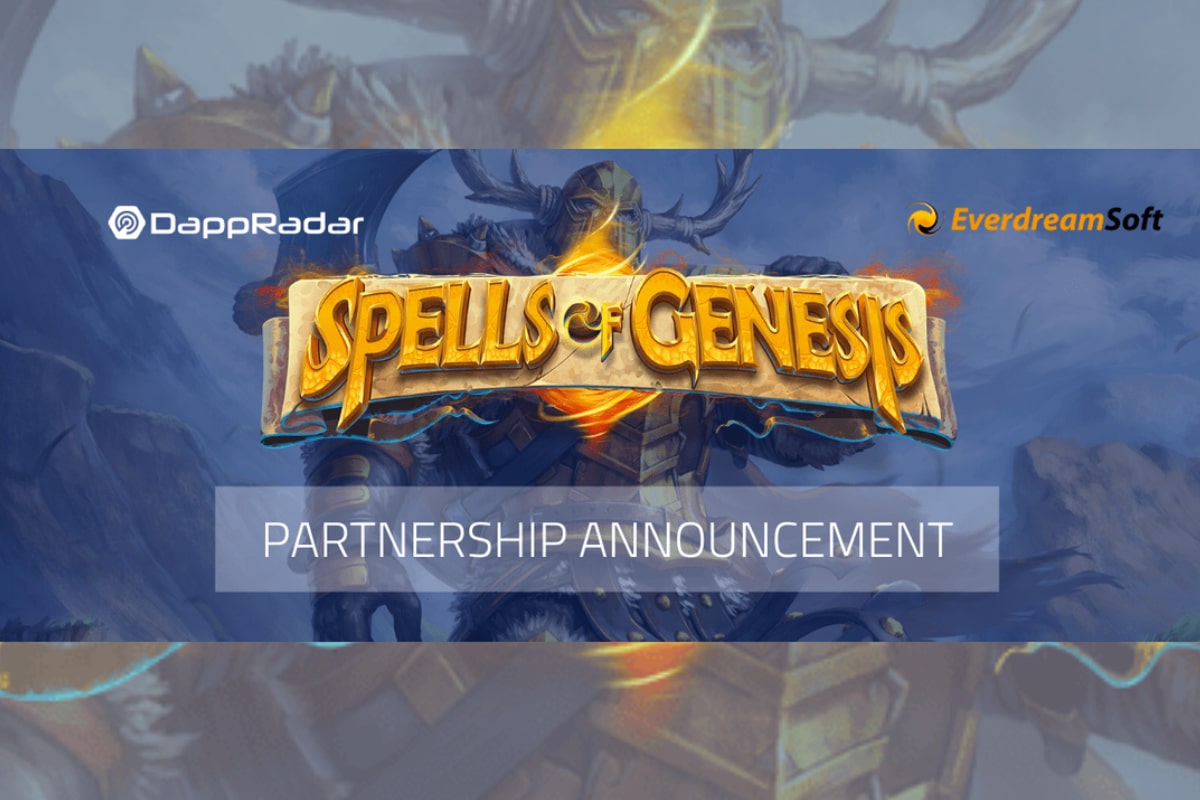 Reading Time:
2
minutes
Helping to drive adoption of blockchain gaming and NFT collectibles.
Geneva-based EverdreamSoft, pioneers in the use of blockchain technology in gaming since 2014 today announced their plan to integrate the Ethereum blockchain into their flagship game "Spells of Genesis".
In 2017 Spells of Genesis allowed users to convert in-game cards into blockchain-based digital assets and export them into their own digital wallets.
EverdreamSoft was the first gaming studio to offer such features and Spells of Genesis is currently playable on iOS and Android with around 1.3k active monthly users.
Ethereum-based games and associated collectibles have generated strong communities that eagerly await new and innovative projects and in 2019 the Ethereum games and marketplaces categories accounted for 50% of overall daily active users, showing total growth of 195%.
Crystal Spark
Thanks to a collection of open-source software – Crystal Spark – EverdreamSoft can easily gather data from different blockchains and present them to the players in a unified and simplified way, no matter the chain. EDS believes that this approach will help the NFT community grow and bring new, less tech-savvy users into blockchain gaming.
Why is Spells of Genesis important?
As the first blockchain-based game ever made, Spells of Genesis combines trading card game (TCG) functionalities with the point-and-shoot aspects of arcade games and has arguably inspired other decentralized TCGs that have seen great success with Ethereum game projects.
Collect, trade and combine to build the strongest decks
Players have to collect and combine cards to create the strongest deck in order to fight their enemies in a series of battles with two types of card used: in-game cards and blockchain cards.
Players who have fused four cards together and leveled up the fused card to its maximum power will be able to export it from the game into their own digital wallets.
Spells of Genesis will release the first round of exclusive NFT collectibles in mid-February and have plans to launch on Ethereum in mid-2020. For now, the game can be played on iOS and Android devices.