Bringing blockchain gaming to the masses, FunFair launches card payments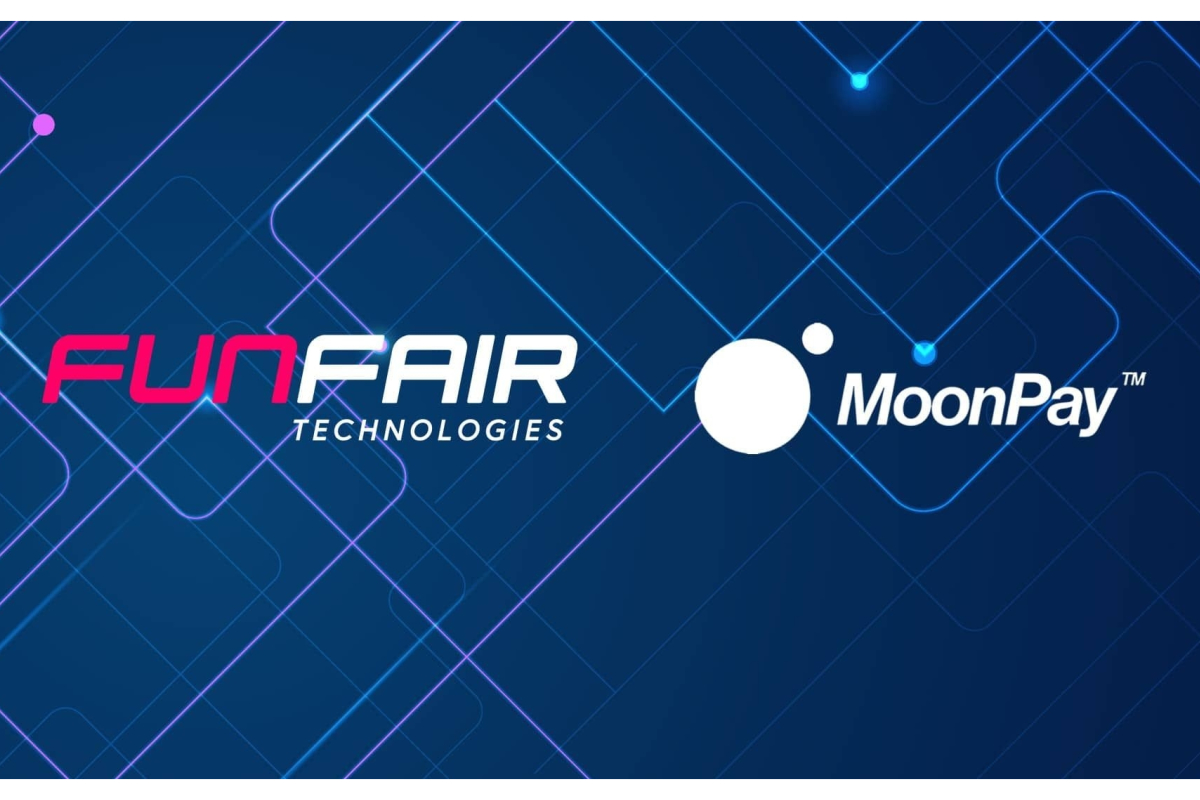 Reading Time:
2
minutes
FunFair Technologies, the leading Isle of Man-licensed blockchain gaming platform, has launched card payments on their platform through one of the world's leading cryptocurrency payment processors, MoonPay.
True to the promise of bringing blockchain gaming technology to the masses, FunFair is opening up a new audience and driving further adoption with this significant new feature.
In their latest Q2 update FunFair outlined their unwavering focus on payments and marketing as the key areas to drive adoption of their blockchain technology. Both of these are critical in their objective to bring Guaranteed Fair Ⓡ gaming to all parties in their ecosystem, be that players, operators, affiliates or game developers.
In the process of launching FIAT currency payments FunFair have also removed another significant obstacle for players who want to take advantage of the benefits their blockchain technology brings. This is the removal of blockchain network fees, or GAS, for players.  Players can now play on the platform using only, FUN, FunFair's cryptocurrency, and do not need to have ETH to play. This significantly simplifies the onboarding and gameplay process, reducing friction and complexity.
Fred Kessler, CPO at FunFair Technologies Europe Ltd, said: "Adding card payments is a major milestone for FunFair in our mission to bring blockchain gaming to the masses. We're focusing all our efforts on payments and marketing to improve the customer journey and adoption to our blockchain gaming platform.
We've been looking into this for quite some time and are really glad we decided to integrate MoonPay, they're one of the largest and fastest-growing payment services providers in the crypto space. FunFair and our partners look forward to sharing some of that success"
Ivan Soto-Wright, co-founder and CEO at MoonPay, said: "I think provably-fair games built on blockchain have a lot of potential to promote cryptocurrency adoption. FunFair are leaders and pioneers in this area and we're excited to launch our services on their platform. Retail demand for cryptocurrencies has been growing at a remarkable rate and this is another key partner in the industry we're proud to work with."
Payment processing is now available through FunFair's platform on all partners sites. CasinoFair, CryptoCasino and Kingtiger.io

Michael Owen Announced as Brand Ambassador for Punt Casino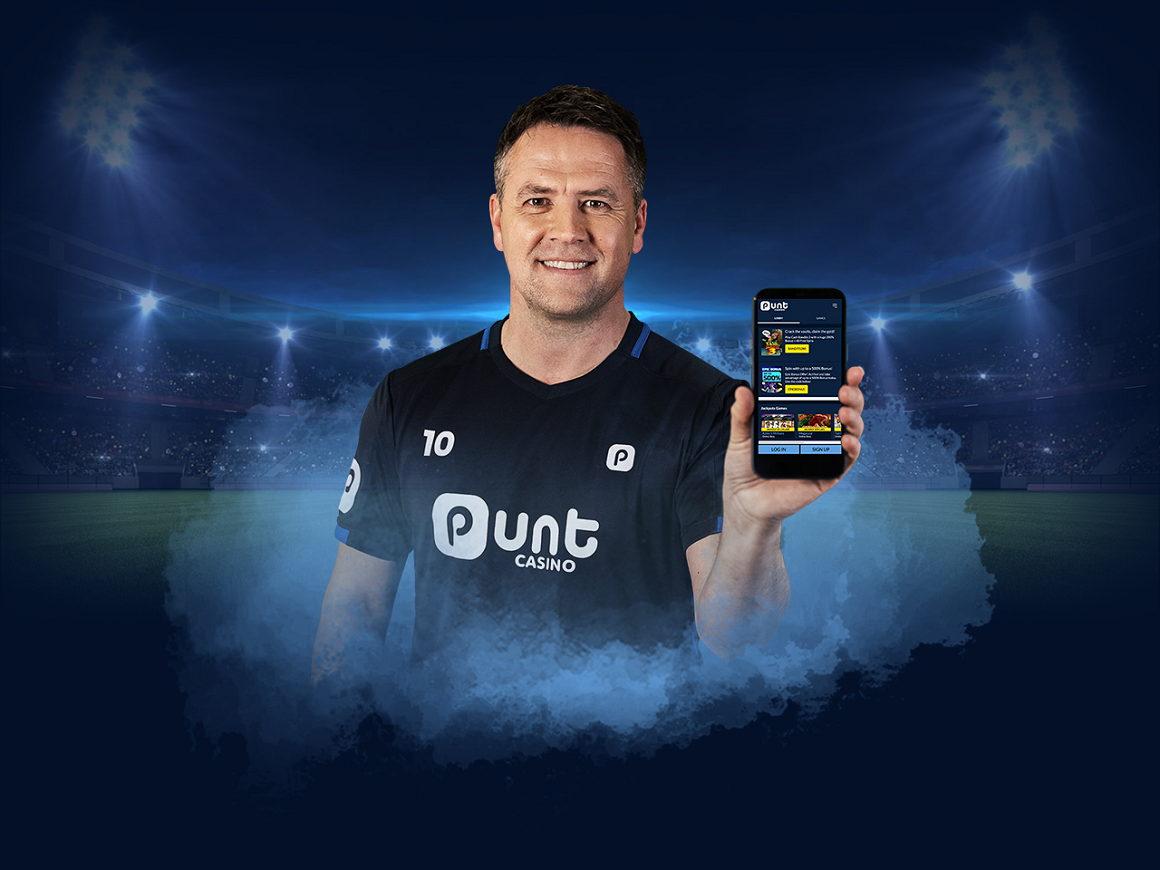 Reading Time:
2
minutes
English football icon and BT Sports pundit Michael Owen has officially joined the Punt Casino team as its new Brand Ambassador.
Michael Owen started a professional career in football with his Premier League debut in 1997 as a striker for Liverpool FC. Known as one of the "greatest living footballers" in Pelé's FIFA 100, Owen is one of only 10 players to have scored 150 goals or more in his Premier League career.
Michael Owen has also received the most prestigious award in football, having claimed the Ballon d'Or trophy in 2001. He has played in three FIFA World Cups and even captained the England national team.
With this partnership in the bag and a true football icon on their side, Punt Casino is making 2022 a year to remember with the hottest action the industry has ever seen.
Hitting the back of the net
As a strong advocate for crypto and blockchain in general, Michael, along with his influential media presence and 3.7 million Twitter followers, will see Punt Casino secure its position as the fastest-growing crypto casino in the industry.
"Online casinos are more exciting than ever these days, but with its crypto focus, Punt Casino is doing something different – they really are changing the game," said Owen, who has been involved with numerous crypto projects in the past.
He went on by saying "I'm a strong believer in the power of crypto, so teaming up with an innovative platform like Punt Casino feels like a natural fit."
As a world-famous football commentator, respected businessman, and active media personality, Owen is the perfect representative to stand behind such an innovative crypto project. Digital currencies need every ounce of positive publicity they can get, and an endorsement from such a reputable name stands for a lot.
Michael Owen's stamp of approval
The announcement comes with exciting news for crypto gaming enthusiasts, as Punt plans to take the industry by storm with huge prize-packed competitions.
With the 2022 FIFA World Cup fast approaching, Punt players can expect unique Michael Owen merchandise and football-related giveaways throughout the year in the build-up to the tournament.
Speaking on the announcement, Alexander Bowring, Head of Marketing at Punt Casino, said: "Michael Owen is a football icon in every sense of the word, so to have him come on board as our brand ambassador is a major moment for us. Since launching last year, Punt Casino has been changing the game, delivering exciting crypto casino action that our rivals just can't match. Expect big things from Punt Casino in 2022 and beyond."
Punt Casino is revolutionizing crypto gaming
Punt Casino has quickly become a strong player in the crypto casino scene with its super-powered giveaways and outstanding online casino platform. Players also get to take advantage of 24/7 customer support available instantly from the site to answer any questions or queries.
With a next-level gaming experience delivered by over 200 crypto-friendly (and handpicked!) casino games, Punt offers its players the advantage of using leading cryptocurrencies to deposit, withdraw, and play.
As crypto enthusiasts know, this allows for faster, safer, and totally anonymous transactions, which is yet another reason why Punt has become such a prominent online casino destination.
#OWEN10 has arrived at Punt Casino
Kinguin Launches NFT Marketplace in Partnership with Immutable X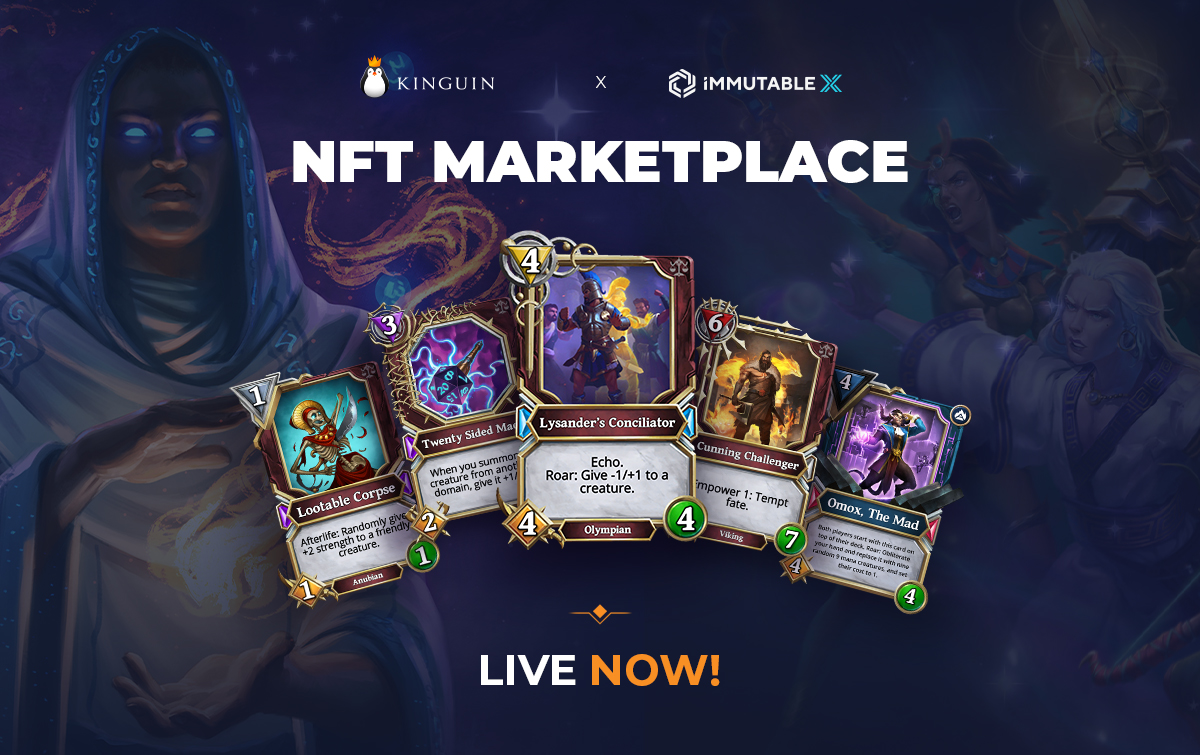 Reading Time:
2
minutes
Kinguin is launching its NFT marketplace, in partnership with Immutable X. Featuring 40+ collections and over 200,000 unique NFTs, it will give gaming and esports customers access to a vast array of exclusive NFT offerings.
The marketplace, built on top of the Immutable X protocol, is mixing the familiarity and practicality of web2 with the freedom and potential of web3. Kinguin offers its users the stability and security of an established digital goods marketplace. Some top NFT games like Gods Unchained, Guild of Guardians, PlanetQuest and Habbo Hotel will all offer NFTs on the marketplace, with more to be announced in the coming months.
But there's more than just the high-quality content that will appeal to Kinguin's vast community. Immutable X, created by Immutable and Starkware, is the technologically leading layer 2 scaling solution for NFTs on Ethereum. The combination of Immutable's deep knowledge of blockchain technology with Starkware's cutting-edge ZK-rollup technology, means the Kinguin NFT Marketplace will be lightning fast (at 9,000 TPS) and carbon-neutral, without compromising on security.
The partnership presents mass adoption opportunities for both developers and end-users. By combining Kinguin's 13 million registered users with Immutable X's scaling solution, you don't have to compromise your assets' security, transaction speed, gas fees and negative impact when diving deeper into NFT, making it easier to scale the game and NFT industries together.
Other features include a dedicated search option, making it easy for everyone to buy and sell NFTs. Users can also connect their MetaMask crypto wallet with the Kinguin NFT marketplace, a free hot wallet service available as a smartphone app or web browser extension. With that, every user can buy NFTs or deposit Ethereum for purchase purposes and also check their NFT balance.
Robert Kalbarczyk, Chief Operating Officer & Acting CEO at Kinguin said "We remain focused on our community's interests and passions. With Play and Earn on the rise, this felt like the natural next step for us. We're thankful to have partners that share our vision and we're looking forward to working with Immutable X to offer our customers a range of exclusive NFT gaming assets."
"We're thrilled to welcome Kinguin's 13 million users to Immutable's open order book, and help power the next generation of mainstream gamers to truly own their in-game items," said Robbie Ferguson, Co-Founder at Immutable. "This is an incredibly significant move — one of the powerhouses of digital goods trading from web2 is expanding their offering to NFTs, and they've chosen layer-2 Ethereum as the way to do it. We look forward to helping Kinguin scale this marketplace across hundreds of games and millions of players."
The NFT marketplace may still be in early stages but long term plans are being considered to ensure its continuous evolution. As well as collaborations with big marketplaces, Kinguin also hopes, in time, to develop its own NFT games.
Global Esports Federation Convenes Knowledge Leaders to Shape the Metaverse Council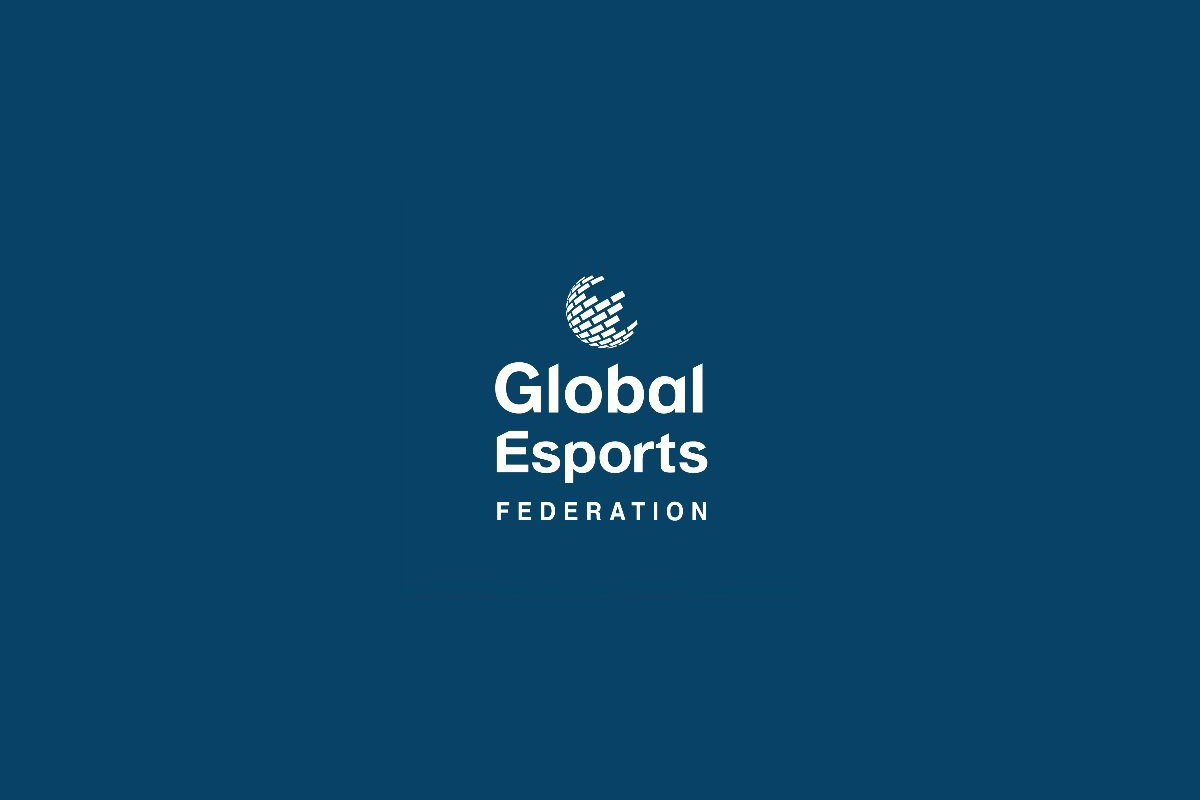 Reading Time:
< 1
minute
The Board of the Global Esports Federation has established the GEF Metaverse Council, aimed at convening thought leaders and creators around the Web3 space. In addition, the Metaverse Council will focus on shaping tangible metaverse development initiatives for our global community, blockchain technologies, NFTs and more.
"We've established the GEF Metaverse Council to cultivate ideas, voice, and shape to our metaverse reality; and to access the limitless opportunities for our entire #worldconnected community," Paul J. Foster, CEO of the GEF, said.
The Metaverse Council will be Chaired by Hugo Philion, CEO and Founder of Flare – GEF's Global Partner for Blockchain Ecosystems. Melvin Kuek, Senior Advisor of the GEF, has been appointed Vice-Chair.
The GEF Metaverse Council is powered by a collective hive mind comprising global subject specialists including crypto and NFT project developers, creative directors, domain experts, and social influencers within the space.
Some of the members of the newly established council are Oxskellymode, NFT influencer and co-founder of Enigma Ventures; Sabertooth, director of Tiger Vision Global Pty Ltd and founder of NFT project Attack Tigers!; Melty Tanti, founder and creative director of Play & Earn (P&E) metaverse project Jambo Mambo; and MingWeiRocks, one of Asia's top TikTok creators with over 22 million followers.