IMG ARENA partners with Golden Park to launch full virtuals offering in Spain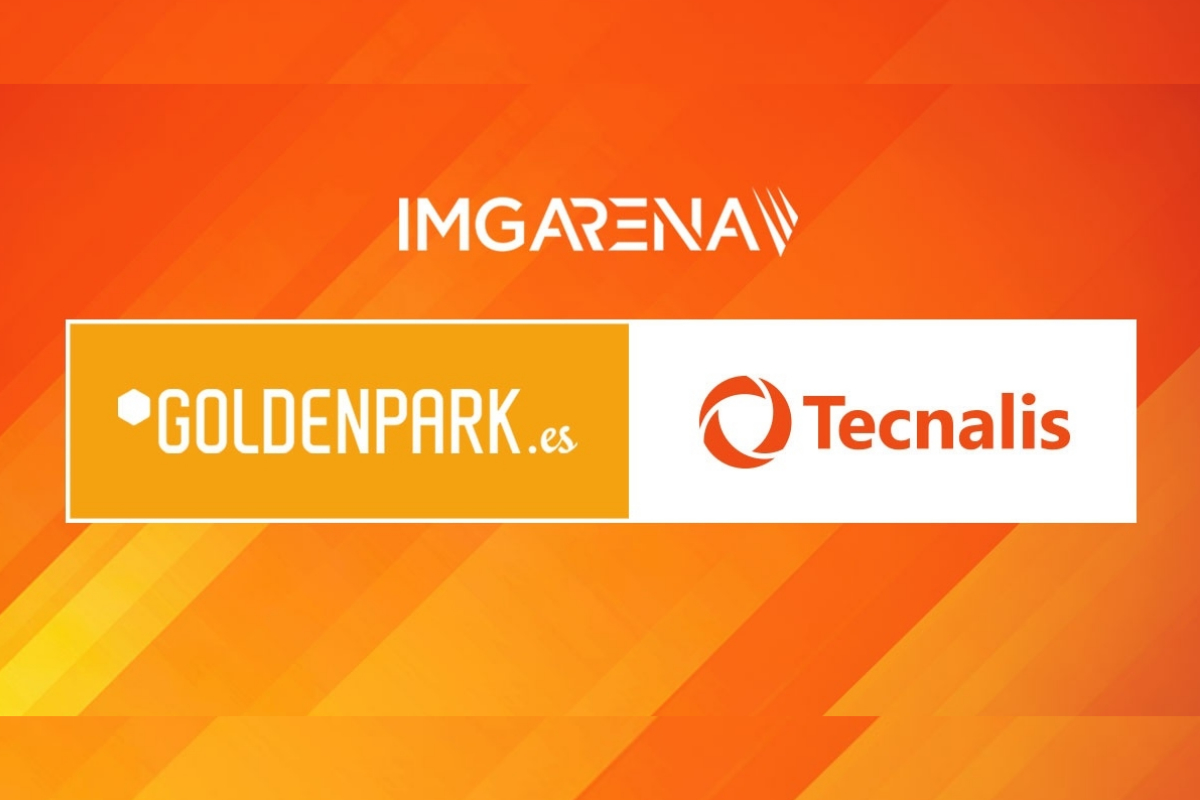 Reading Time:
2
minutes
The full suite has been integrated via Tecnalis' Alira gaming platform
IMG ARENA, a leading sports betting service and content hub, has secured a new partnership with Spanish betting operator Golden Park to launch its virtuals offering with the group's online gaming brand GoldenPark.es.
The full suite of on-demand and scheduled virtual sports, which includes instant football, horse racing, tennis, trotting, speedway, cycling and greyhounds, has been integrated via Tecnalis' Alira gaming platform for Spain and LATAM.
Víctor Sánchez, Golden Park's manager, said: "With IMG ARENA, we are excited to launch the best virtuals products available on the market in Spain. Our players can look forward to a brand new gaming proposition that will take the Golden Park experience to the next level."
IMG ARENA's virtual sports portfolio, which harnesses cutting-edge, 3D motion technology to capture and recreate ultra-realistic versions of some of the world's most popular sports, is now delivered to more than 50 operators worldwide.
Max Wright, SVP Commercial at IMG ARENA, said: "Golden Park has invested significantly in bringing innovation to their players, and has chosen the perfect way to boost engagement using our virtuals products.
"This deal marks an important stage in the growth of our virtuals business, securing IMG ARENA a market-leading position in the Spanish market. Furthermore, the integration with Tecnalis, the leading gaming platform in the Spanish market and positioning itself as one of the leaders in LATAM markets, facilitates a simple and effective route to integrating our content for a wider pool of operators across Spain and Latin America."
Alejandro Serrano Zaera, Tecnalis, said: "Adding IMG ARENA's thrilling virtuals product to Alira is a great addition to our existing offering. We are certain it is a development that will prove popular with a wide selection of our partners and their players."
Headquartered in London, IMG ARENA works with more than 460 leading sportsbook operators worldwide, providing always-on services including 24/7 live streaming and on-demand virtual sports products designed to evolve and inspire engagement by placing fans at the heart of the action. In 2019, more than 175 million hours of IMG ARENA content was watched by 56 million unique viewers around the globe. IMG ARENA's clients include the ATP, UFC, the European and PGA Golf Tours, the FA Cup and Serie A.
Smartphones remain the most popular gaming platform among Germans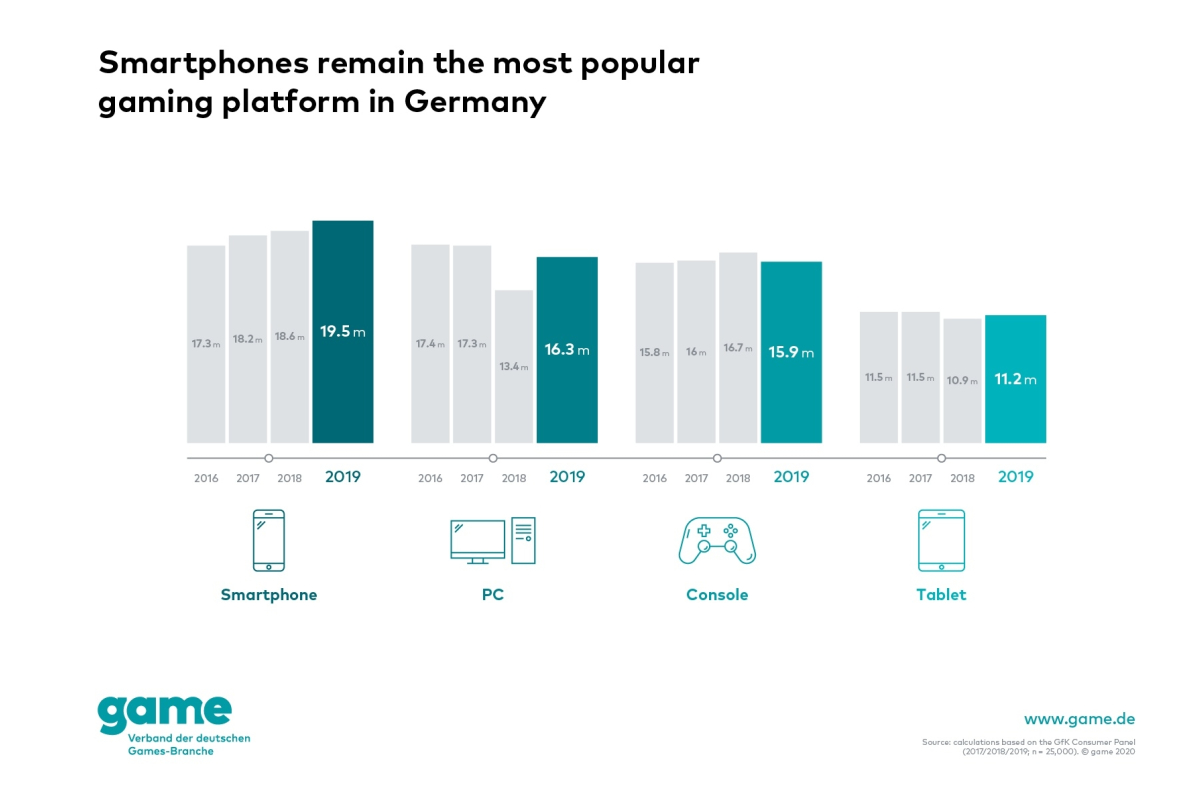 Reading Time:
3
minutes
• 19.5 million Germans play games on smartphones
• PCs back in second place
• German games industry tops the 6-billion-euro mark
Smartphones remain the most popular gaming platform among Germans. Puzzles, brain-teasers or building games: 19.5 million people in Germany use smartphones to play games. That's 900,000 more gamers than in 2018. These are the figures released today by game – the German Games Industry Association, based on data collected by the market research company GfK. This means smartphones are now Germany's most popular gaming platform by an even wider margin; they hit the top spot for the first time in 2018. The number of PC users increased as well: in 2019, around 16.3 million people played on computers, which is an increase of 2.9 million gamers compared to 2018. Reasons for this growth include the release of hotly anticipated games such as city-building strategy game 'Anno 1800' or the western epic 'Red Dead Redemption 2', as well as the launch of new subscription services such as the Xbox Game Pass for PC or Ubisoft's Uplay+.
By contrast, fewer people used consoles such as the Nintendo Switch, the Sony PlayStation, or the Microsoft Xbox to dive into the digital world in 2019. Approximately 15.9 million people played console games in 2019 – around 800,000 fewer gamers than in the previous year. However, the planned launches of the follow-up consoles to Sony's PlayStation 4 and Microsoft's Xbox One at the end of the year are expected to breathe new life into the console sector. As game announced in March, one third of Germans are greatly looking forward to the release of the coming generation of consoles. Tablets, on the other hand, gained approximately 300,000 additional users in 2019, amounting to a total of 11.3 million gamers. Overall, more than 34 million Germans play computer and video games. The average age is 37.5 years.
Felix Falk, Managing Director of game, says: 'At home or on the go, alone or with friends: Germans play games all the time and everywhere. At times like these, in particular, we can see why so many people in Germany love games: they're fun, they bring people together, and they allow us to escape for a little while, even when we're sitting at home.'
German games market grows by 6 per cent
As already reported by game, the German games market grew by 6 per cent in 2019, to around 6.2 billion euros. Sales of games hardware, including consoles, gaming PCs and accessories, dropped by 2 per cent from the previous year, to 2.4 billion euros. In contrast, the market for games software showed a gain of 11 per cent: in 2019, a total of about 3.9 billion euros was spent on computer and video games and the charges for the respective online services.
About the market data
The current data take into account further dedicated games hardware like gaming PCs and the corresponding accessories, resulting in a larger market size than previously reported. This is true also of the adjusted data for 2018, which accordingly differs from that reported last year.
The market data is based on statistics compiled by the GfK Consumer Panel and App Annie. The methods used by GfK to collect data on Germany's digital games market are unique in terms of both their quality and their global use. They include an ongoing survey of 25,000 consumers who are representative of the German population as a whole regarding their digital game purchasing and usage habits, as well as a retail panel. The data collection methods provide a unique insight into the German market for computer and video games.
game – the German Games Industry Association:
We are the association of the German games industry. Our members include developers, publishers and many other games industry actors such as esports event organisers, educational establishments and service providers. As a joint organiser of gamescom, we are responsible for the world's biggest event for computer and video games. We are an expert partner for media and for political and social institutions, and answer questions relating to market development, games culture and media literacy. Our mission is to make Germany the best games location.
Sisal opt for MGA Games to increase its presence in the Spanish market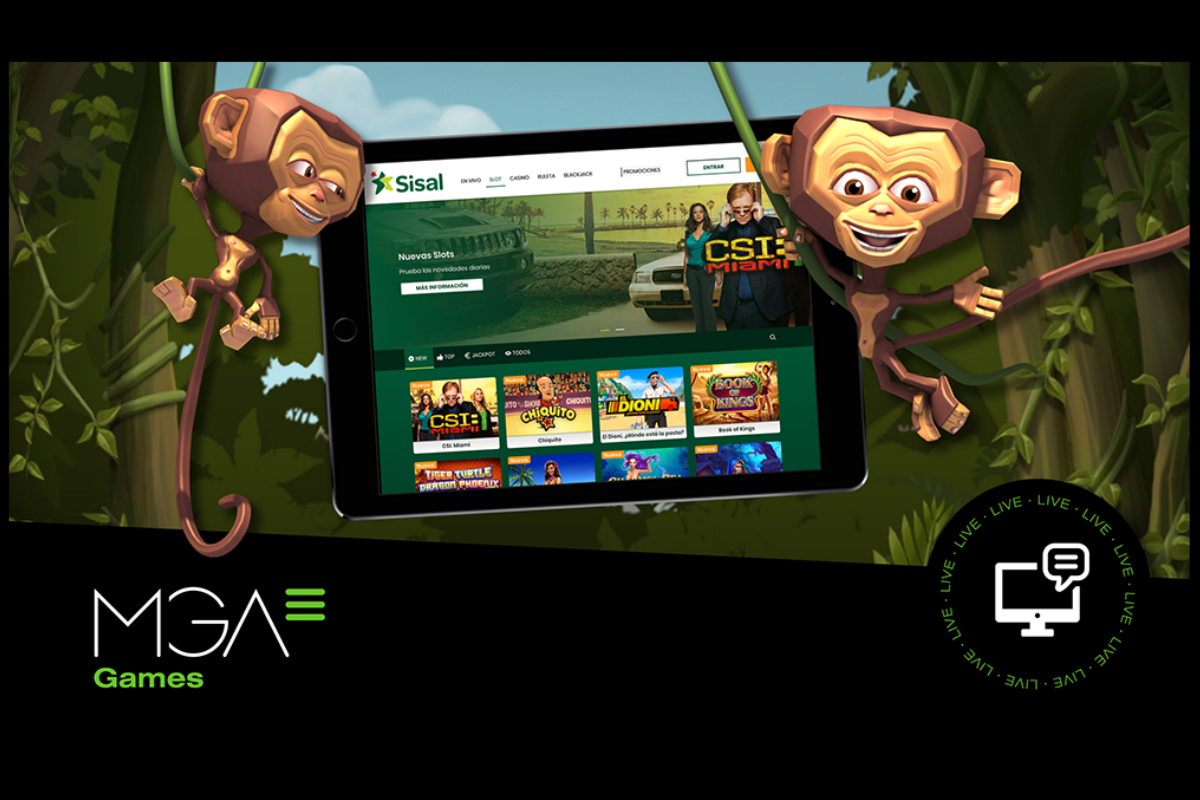 Reading Time:
< 1
minute
Sisal, one of Italy's largest operators, now have the latest entertainment by renowned developer MGA Games on its online casino platform. Their aim is to continue consolidating their position in the Spanish market and to bolster their presence in the country.
MGA Games' new and highly competitive slot and video bingo games range includes well-known offerings such as El Dioni, Maria la Piedra and Chiquito, from the Spanish Celebrities series, as well as state-of-the-art video bingos, such as Calaca, boasting a Triple Vista mobile system which puts them at the forefront of innovation, and thrills gamers.
In 1946, Sisal became the first company to operate in the gaming sector as an Italian state concessionaire, and it has also had a presence in Spain since 2019, thanks to being granted a license to operate in the online gaming market by the Directorate General for the Regulation of Gambling (DGOJ).
His counterpart at MGA Games Joan Sanahuja has these words to offer on the matter: "Sisal are one of the best-known operators in Italy and we are convinced that they will be just as prestigious and popular in Spain. We are very pleased to be able to accompany Sisal in their expansion in the Spanish market, a fundamental one at that. We are convinced that our productions will be a great addition to them, and bring numerous benefits to their gaming portfolio," he concludes.
From Sisal, they comment: "By adding MGA Games' products to our website it will allow us to offer our operators some of the best and most innovative games on the market. We are very pleased to be able to collaborate with a company like MGA Games, who have a long and impressive track record in developing online slots and video bingos."
Booming Games is now live on the E-Play24 brands in Italy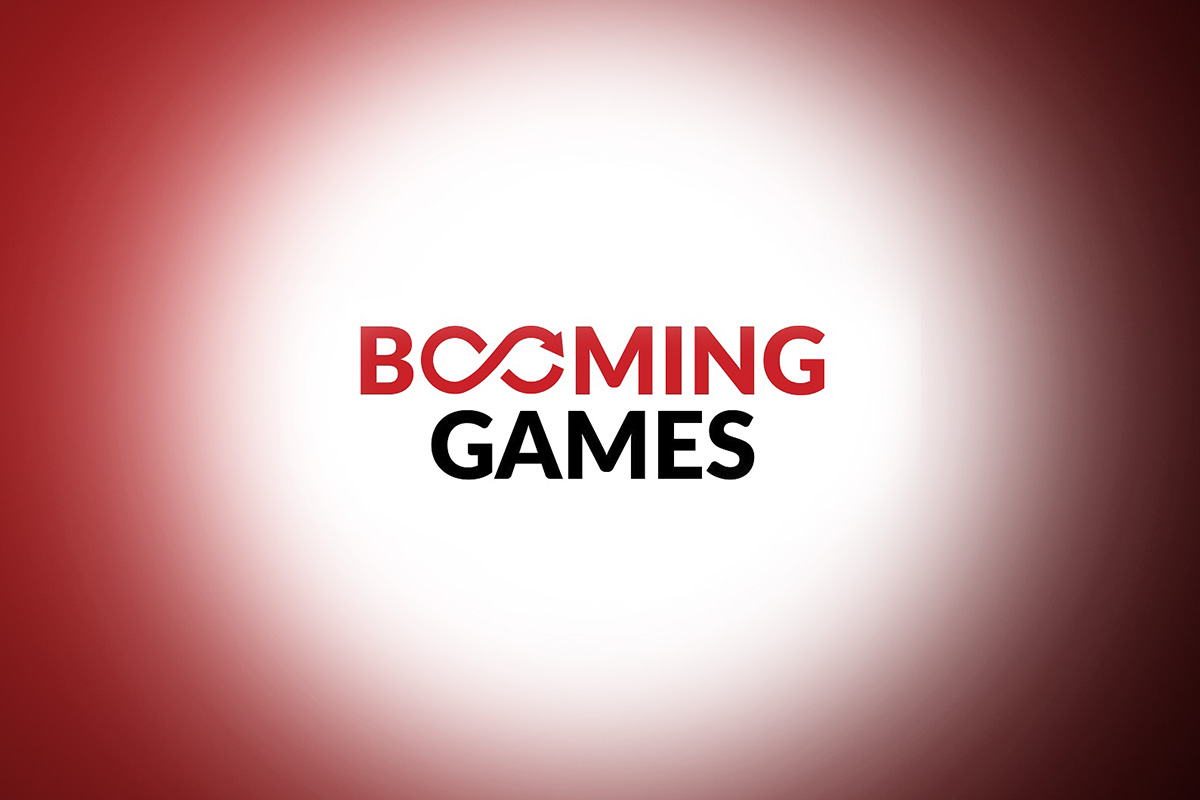 Reading Time:
< 1
minute
Booming Games is now live with E-Play24, one of the most popular online gaming operators with the largest number of commercial brands in Italy. Thanks to this new partnership, the Vegas section of E-Play24 platform will benefit from Booming complete gaming content portfolio with more than 60 HTML5 slot games including popular titles like Booming Seven Deluxe, VIP Filthy Riches, Gold Vein and latest release Show Master. Booming Games release up to two new games per month that will be available to all brands. Soon to be released are Burning Classics, Howling Wolves and Tiki Wins.
"The launch of Booming Games, the sixteenth casino brand available in our game platform, gives us the opportunity to keep our players surprised and happy by offering an ever-growing array of games like their new exiting portfolio", stated Antonio Tressanti CEO of E-Play24.
"We are excited to launch our games across the E-Play24 brands to further strengthen our presence in the Italian market" said Frederik Niehusen, Chief Commercial Officer at Booming Games. "E-Play24 is the next strong addition to our Italian client portfolio and we are looking forward to working with them", he added.
Booming Games have just recently announced a successful start to 2020 after being recognised as Rising Star of the Year at the International Gaming Awards and launching their slot portfolio with Microgame, Leo Vegas and many more.