Gamescale to offer gaming content via EveryMatrix
Reading Time:
2
minutes
EveryMatrix is very pleased to announce the signing of an agreement with Gamescale, a full business to business service and game provider for a group of highly successful casino brands.
Under the agreement, EveryMatrix will deliver its CasinoEngine, the largest casino aggregator available today, via a specially designed API. This will allow Gamescale to integrate their existing platform with CasinoEngine. Gamescale players will have access to a legion of quality games from the wide range of providers integrated into the CasinoEngine system. These include top providers, such as Netent, Scientific Games, NextGen, Microgaming, Play'n'Go, Evolution and many more. The ultra-flexible API solution will significantly increase Gamescale's game offering in one single integration.
Gamescale was founded in 2010 by a dynamic group of industry veterans for the purpose of creating a new gambling concept offering players a complete gaming experience within a stable platform.
Gamescale provides a wide variety of software packages to meet the specific needs of online casino owners and operators from a comprehensive white label turnkey solution to a modular custom service. Client flexibility is the ultimate goal.
According to Diklah Arkat, chief of development at GameScale: "Diversity, speed of delivery, user friendliness and –of course quality of the gaming experience– are the main focal points of our efforts. Teaming with EveryMatrix will bring our products and services to unprecedented new levels. All of us at Gamescale are excited and honored to join forces with EveryMatrix, a prominent leader in the field."
EveryMatrix is dedicated to supporting gaming brands and delivering customized solutions to operators. The company is committed to enhance their partners' platforms with new exciting content.
"We firmly believe that Gamescale's decision to choose our company's casino product will sustain their future growth. We are keen to fulfill their high expectations. Our CasinoEngine solution will enable them offer an all-inclusive selection of mobile and desktop games." commented Ebbe Groes, EveryMatrix CEO.
CasinoEngine is the largest casino aggregator on the market today integrating more than 50 gaming vendors and delivering close to 4,000 games. All these games can be plugged remotely into external wallets via a single API, or directly though the EveryMatrix standard platform service.
About EveryMatrix
EveryMatrix is a multi-award winning iGaming software provider, delivering a comprehensive product suite. This includes a fully managed sports-book, the largest casino content aggregator on the market, a complete gaming and payment processing platform, and a stand-alone affiliate/agent management system.
For more information, please contact them at [email protected] .
EveryMatrix & iGaming Business launch global slot player behaviour data partnership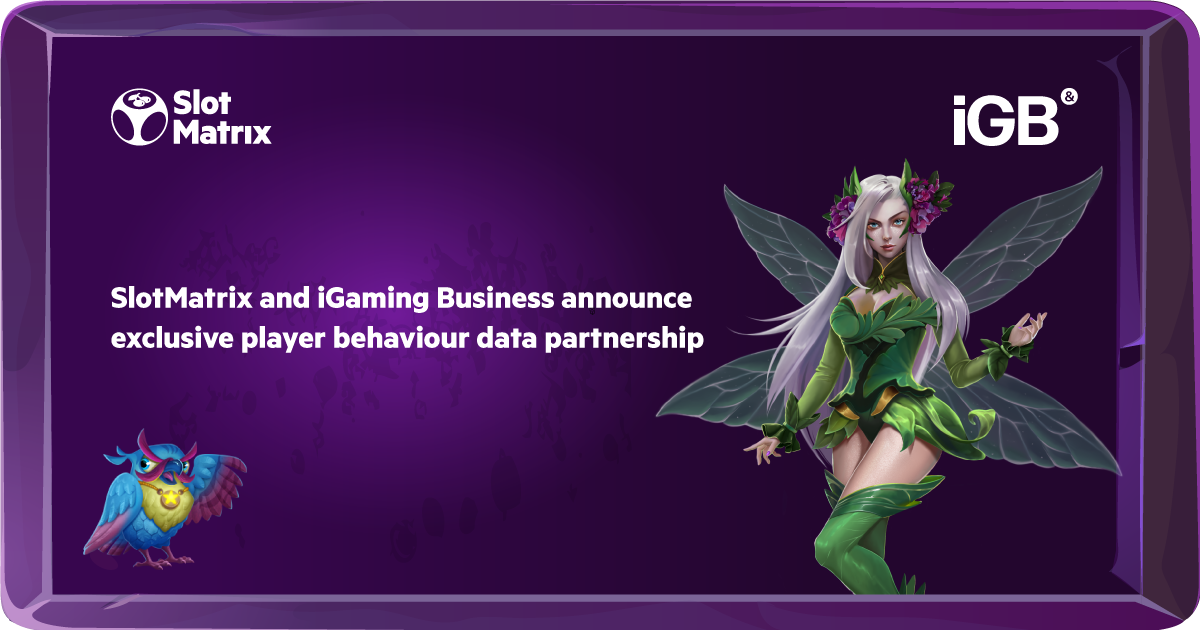 Reading Time:
2
minutes
SlotMatrix, EveryMatrix's aggregation division, and iGaming Business, part of Clarion Gaming, have launched 'Slot Trumps 2023/24', a co-branded online casino data project providing operators with never-before-seen insights on key player behaviour data from the world's most talked about markets.
The focal point of this must-read series is a shareable SlotMatrix Slot Trump card featuring topline findings. This leads into a comprehensive interactive data dashboard on the iGaming Business website providing casino directors and managers with exclusive data from the world's hottest online casino markets as seen through the eyes of players.
Each dashboard is complemented by extensive content including news, analysis, thought leadership, video interviews and webinars as well as digital and social media content.
In every report operators gain access to vital market intelligence that will shape their strategies prior to either launching or aiming to grow market share in each territory, including data on the country's most popular games, themes, volatility, mechanics, features, and providers alongside a detailed breakdown of wagering behaviours.
In the first SlotMatrix Slot Trumps report, launched today Stian Enger Pettersen, Head of Casino at EveryMatrix, presents a deep dive into what characterises the Brazilian market, key player behaviour trends and the optimum strategies to boost player loyalty and drive casino revenues in a newly regulating market that contains infinite potential.
Each report is sourced from SlotMatrix's internal network of games and games providers and based on data from a 90-day period.
Stian Enger Pettersen, Head of Casino, EveryMatrix, said: "This year marks EveryMatrix's 15th year anniversary so to celebrate we're sharing all our experience, analysis and exclusive data for the first time. The Slot Trumps series is the ultimate set of behavioural data for online casino professionals to gain the edge in fast growing or soon-to-be regulating markets such as Brazil.
"The U.S has been the talk of the industry since 2018 but Brazil and the wider LatAm region is the true sleeping giant. We've been powering high-profile local brands there for several years, have four of our own games in the top 10 most popular titles in Brazil, while overall activity is accelerating faster than anyone could have imagined, therefore no one should wait or they will miss out.
"If you want to make an impact in Brazil and the other markets we'll be shining light on then the only place to go for meaningful insights is the SlotMatrix-iGB Slot Trumps reports."
Robin Harrison, Global Content Director B2B, Clarion Gaming, said: "We loved this concept from the get-go, especially as it was inspired by Top Trumps, a game many of us played when we were younger.
"EveryMatrix is one of our longest standing clients and we're delighted to co-brand and collaborate on this project to provide the industry with in-depth analysis and insights that we know will make a huge difference to operators in territories where the opportunities for growth are unlimited."
EveryMatrix first iGaming provider to achieve WLA Safer Gambling certification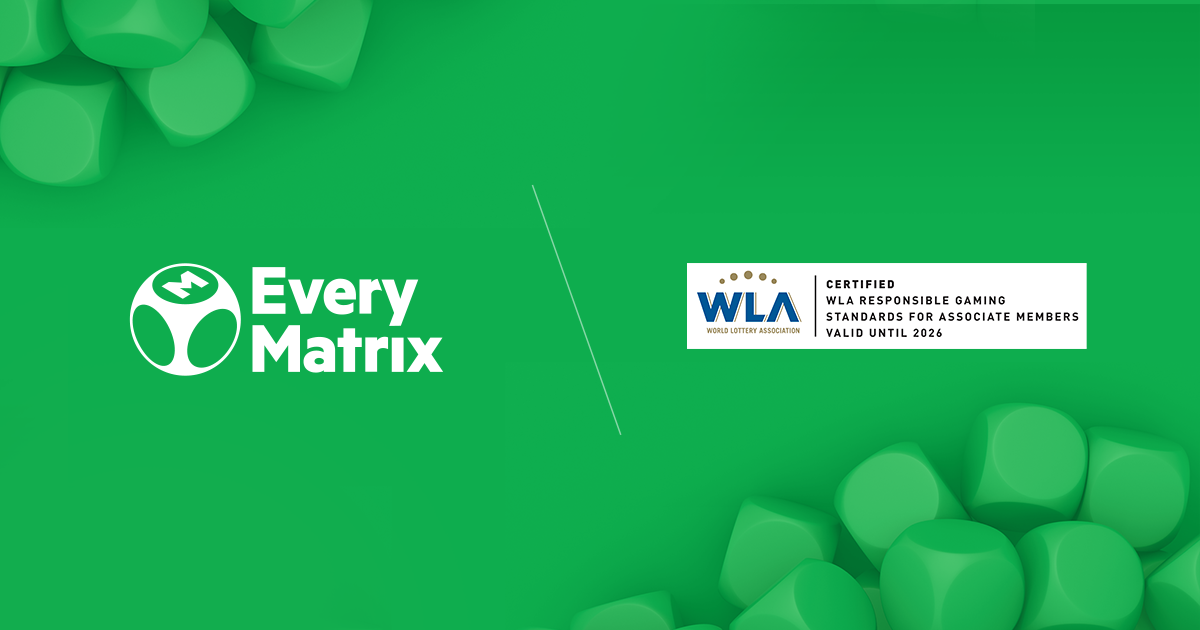 Reading Time:
2
minutes
EveryMatrix has become the first iGaming supplier to be awarded World Lottery Association (WLA) Safer Gambling certification following a rigorous company-wide audit process.
EveryMatrix, the industry's fastest growing betting and gaming technology provider, joins an exclusive list of iLottery suppliers to have achieved this status.
The WLA has recognised the company's existing high standards and ongoing and future commitments to go above and beyond its requirements to become a leader in Safer Gambling best practice.
The business underwent a stringent audit process to achieve certification. This included providing evidence that both showcased and pledges to abide by and continually implement the WLA's guiding principles aimed at protecting players.
EveryMatrix's Environmental, Social and Governance (ESG) policy includes a strengthened Safer Gambling strategy to ensure all its employees across its 12 global offices and all its clients have the necessary tools available to them and are fully informed of the latest research to operate in a responsible and ethical way.
Ebbe Groes, CEO, EveryMatrix, said: "The WLA are pioneers in safer gambling certification and we're delighted they have recognised our work, commitments and pledges to both uphold and drive forward safer gambling best practice across everything we do.
"We entered this process because we firmly believe that to create and maintain a sustainable and successful industry we must ensure that all players are protected and given the right options to play safely and responsibly, and all our customers are informed of any risks and the actions needed to mitigate those risks.
"I'm personally committed to this, believe this is the way forward for both iLottery and iGaming and hope many others join us."
Naomi Koops, Senior Compliance Counsel & Safer Gambling Co-ordinator, EveryMatrix, said: "This is the beginning of a company-wide commitment to follow the WLA principles, not just for the lotteries we partner with, but also for all our clients. Ensuring our products and services are developed with the very latest academic research, with player protection in mind, is a key priority for the business.
"We are building a safer gambling culture at EveryMatrix and are committed to becoming industry leaders in this space in the years to come."
Melissa Azam, CSR Senior Manager, WLA, said: "The WLA is pleased to officially recognise EveryMatrix's adherence to the WLA Responsible Gaming Guidelines for suppliers highlighting their commitment to ensuring player protection and safer gambling is at the core of both their own and their customers' operations."
EveryMatrix has a dedicated Global Sustainability section for its customers and their players to access.
EveryMatrix agrees CasinoEngine deal with UK tier-1 brand Matchbook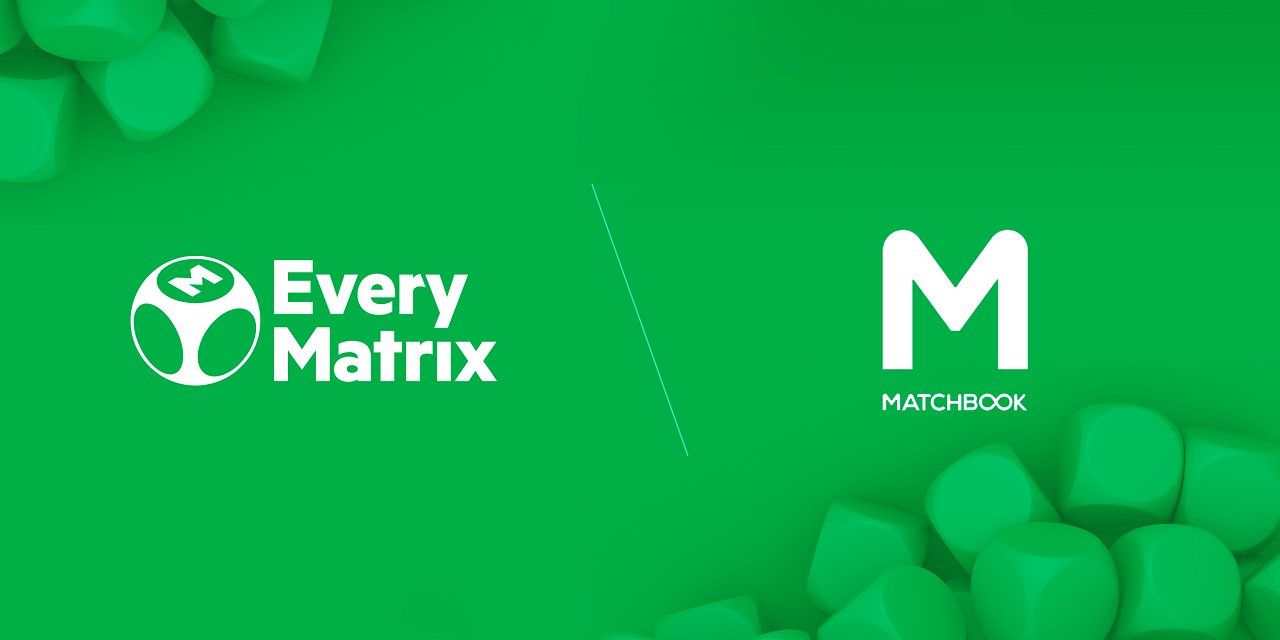 Reading Time:
2
minutes
EveryMatrix has agreed a multi-year partnership with UK tier-1 operator Matchbook to supply its CasinoEngine platform and cross-product BonusEngine technology with the aim to transform the brand's casino business.
CasinoEngine, the industry's leading integration and productivity platform, will power Matchbook's entire casino operation, alongside BonusEngine that will further fuel the brand's growth with cross-product bonusing tools proven to increase reactivation, acquisition and retention and generate outstanding results.
Founded in 2004 Matchbook is a well-known online UK betting exchange that has developed a significant sports betting player base in its home territory through its low margin sports markets and innovative product offering.
CasinoEngine will aim to significantly grow Matchbook's complementary casino offering into a world-class, multi vertical, digital entertainment experience with access to an ever-growing portfolio of thousands of best performing games.
EveryMatrix has a proven track record of generating Year-on-Year (YoY) record results for tier-1 casino customers. In 2022 Gross Gaming Revenue (GGR) casino performance for EveryMatrix operator partners generated more than €1 billion, with further record quarters in Q1 and Q2 2023 of €374m and €432m, up 77% and 86% YoY compared to Q1 and Q2 2022 respectively.
Matchbook will also integrate JackpotEngine and BonusEngine to further boost its gaming division through flexible and configurable jackpot customisation and a variety of industry-leading player reward and bonus management features.
Stian Enger Pettersen, Head of CasinoEngine, EveryMatrix, said: "We've long admired Matchbook as one of the standout brands in the UK, so we're delighted to be working with them to accelerate their casino business and take it to new heights through the power and possibilities of CasinoEngine and BonusEngine.
"We've shown time and again that our technologies, products and services combine like no other to create the ultimate casino productivity platform that drives both instant results and creates sustainable long-term growth for brands, no matter what market they are in."
Malcolm Graham, CEO, Matchbook, said: "Our sports product is well recognised as best-in-class and, with our new partnership with EveryMatrix, we fully intend to replicate that success in casino creating the ultimate 21st century player experience with the latest personalised content, bonuses and rewards.
"I'm delighted to have EveryMatrix on board and we're all looking forward to the journey ahead."