Riga Gaming Congress: speaker interview with Eman Pulis
Reading Time:
5
minutes
Eman Pulis is an expert with fifteen years of experience in organizing exhibitions, summits and conferences. His projects include the largest international gambling forum SiGMA in Malta. The first SiGMA gathered several thousands of participants; with every year, their number increases. At Riga Gaming Congress, Eman Pulis will tell how the work on such a large-scale event is conducted, present the SiGMA-2017 announce and take part in the discussion session concerning gambling legal aspects. We asked the expert to answer some questions about his personality and activity.
– You often refer to yourself as a "startup-romantic". What does it mean for you and how does it describe your business approach?
EP: I have been a start-up all my life, trying new things, often failing because I didn't know better and also because I could have used a little more support and mentoring. I still consider my projects to be at the start-up level, but with a very solid proof of concept. The business, be it events (SiGMA, Affiliate Grand Slam), software development (SMSwarriors) or affiliation (BonusVikings), is growing healthily.
As a result, thanks to the SiGMA platform, I'm using this show as a launchpad for other start-ups to network, get the necessary mentoring and support, not only from us (our knowledge is limited), but especially from dedicated mentors and investors, who are attending the show for this purpose. We launched the SiGMA startup pitch last year and feedback this year is phenomenal with over 80 startups having applied already and some of the best gaming venture capitalists worldwide attending. We are giving startups around 20,000 Eur worth of goodies, from a booth at SiGMA to free office space in our Gaming Hub in Malta and much more. All of this is free!
– Tell us briefly about the results of the last SiGMA summit. How many participants, speakers, and presentations have been involved? What about the feedback? What was implemented for the first time?
EP: SiGMA is literally doubling in size every year for the past four years. What started as a humble show with 1,300 delegates is this year anticipating 250 sponsors and exhibitors, 150 speakers and 6-7,000 delegates – including affiliates, operators, vendors, startups, investors and regulators. The floor plan is sold out six months before the show – which is unprecedented in this industry.
– You are known as a founder and organizer of SiGMA, but you also have other gambling projects. Could you say a few words about them?
EP: I actually made it clear to myself that I would never do business in gambling outside SiGMA. I have been unofficially blessed with the privilege of putting the spotlight on Malta thanks to this event called SiGMA and I want to carry this project with no conflicting interests.
Imagine me, as the CEO of SiGMA, trying to sell a sponsorship to a games developer if I have vested interests in another games development company? Or trying to sell an operator a booth whilst at the same time competing for traffic with that casino with my own casino brand. Would these companies trust their brands with me and with SiGMA? No.
As a result of this line of thinking I have respectfully declined offers for shares in a number of companies, even when I saw that the profits were lucrative. I take the time to explain that my neutrality in the show is what made them approach me in the first place and, in all cases, they have their mind at rest that I would never have vested interests in any other gaming company.
This, I must say, is an intangible asset that I hold very dear.
– What could be considered as the most challenging in preparation to the event of such scale?
EP: Oh my! So many challenges! Thankfully I'm a bit of an OCD (ha!) so I strive for perfection in every little step we make as a team – be it content writing, manning of stands, customer service – the biggest challenge is managing a team of around 200 employees on the two days of the show – from securities, ticketing staff, cleaning, speakers, booth builders – it needs to run as smooth as an orchestra.
Thankfully, I've been in the business of organising events for fifteen long years – be it parties, concerts, conferences or expos.
The bigger the show gets the more I realize on the need to delegate and resist micro-managing everything. To this extent, surrounding yourself with the best talent is paramount.
– Who is involved in the team of SiGMA organizers? How many people are necessary to get the massive event ready in one year?
EP: WE are only around five people in total, working full time all year round. Closer to the show we beef up those numbers obviously.
– What is planned for SiGMA-2017 participants? Something special for the fourth congress?
EP: After three years, we felt the time was right to shift to a bigger venue that meets the needs of a growing show. This year SiGMA will be situated a stone-throw away from the old charming city of Mdina. The focus by day will be at the Malta Fairs and Convention Centre (MFCC), then once the sun sets down, the focus will shift back to the official hotel, Corinthia San Gorg, and the surrounding restaurants in the city that seldom sleeps, St. Julian's.
This year there's something new, quite literally, for everyone:
IMGL are officially endorsing this show for the very first time with two regulatory panel discussions;
The GPI European Poker Conference shifted to Malta within SiGMA;
Gaming Malta partnered with SiGMA to launch the very first DFS conference;
A new, dedicated conference on Blockchain and Cryptocurrencies;
A new, dedicated conference on Bingo;
A new top-tier SEO masterclass for the very advanced;
KPMG strengthened their partnership with their e-Summits;
New world-class investors have joined last year's lot, including Mark Blandfort, Simon Collins, Walker Parker, Julie Meyer and many more;
The line-up of start-ups shot up from a humble eight last year to over fifty this year;
The number of delegates shot up from 3,800 to a staggering 7,000 delegates;
The number of affiliates shot up from 1,200 to a staggering 2,600 (check graphs so I tally);
The foot print of our expo as well as the number of exhibitors tripled;
World class brands are gracing our floor plan for the first time – Bet365, William Hill, Ladbrokes, PokerStars, Processing.com, Kindred, iGaming Platform, NetRefer, MyAffiliates, Twin, Casino Cruise, White Hat Gaming, Ikibu, Viarsys, Authentic Gaming, Blexr, Booming Games, Gambling Affiliation, Af2Af and many more first time exhibitors;
The Malta Gaming Awards have been upgraded to recognise emerging trends in the industry;
Our careers convention will welcome over 1,000 recruits, all hoping to land the career of a lifetime;
We kept in close contact with all stakeholders throughout the year with a series of lavish dinners called iGatherings;
We launched Affiliate Grand Slam; Tallinn in April, then Bucharest in September, flying a whopping 200 affiliates to each destination on an all-inclusive treat, saving no shillings along the way;
Our publications grew bigger, slicker and reached more corners around the world;
We persuaded the industry to ditch the vodka red bull; and started a new whiskey & cigar culture!
1,000 top level delegates benefited from our VIP Program.
– Are you aiming to expand the event geography and organize it in Europe, Asia, America? Or perhaps Malta and SiGMA are together forever?
EP: Only time will tell whether we expand the show further – for the time being SiGMA belongs in Malta and there is little scope for us to relocate elsewhere. Malta has been very kind to us and we feel right at home with the show in this charming Mediterranean state.
Regulated Central and Eastern European jurisdictions with Andrius Gabnys (Gabnys Law Firm) at CEEGC2019 Budapest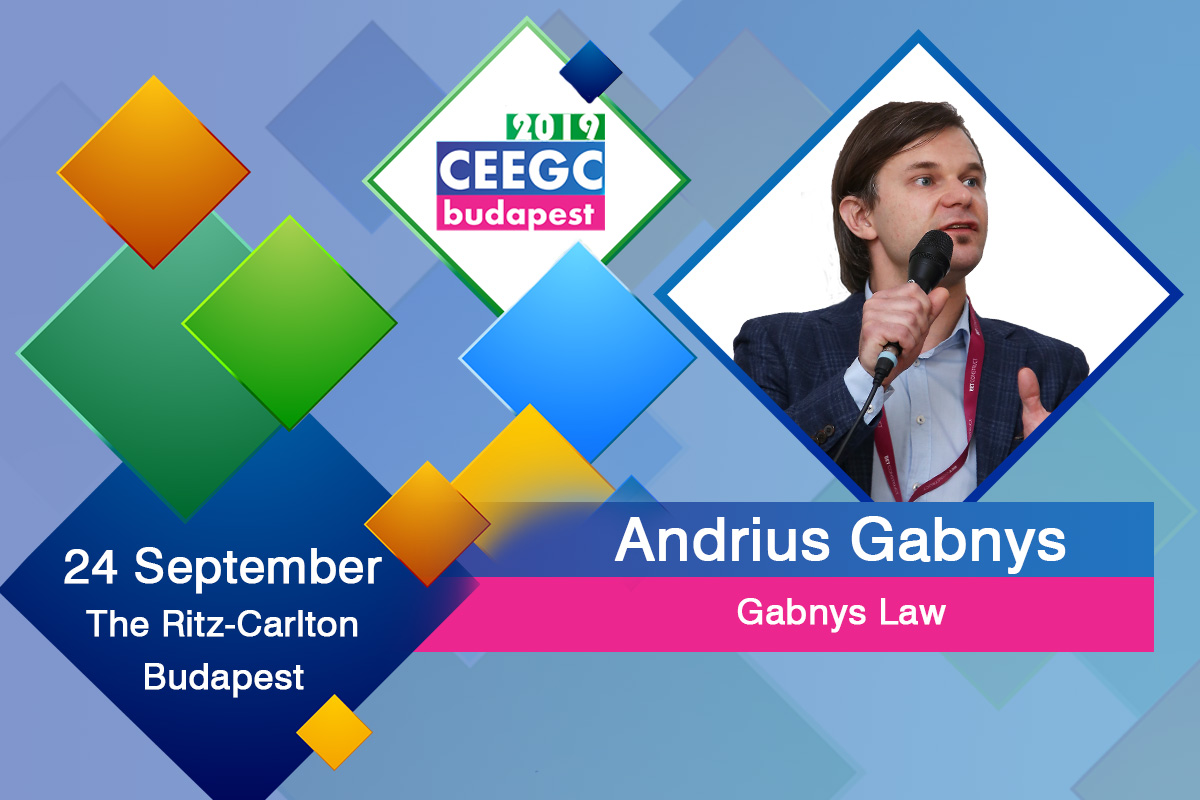 Reading Time:
2
minutes
Gambling Industry Expert and MARE BALTICUM Gaming Summit Ambassador, Andrius Gabnys (Attorney At Law – Gabnys Law Firm) to moderate compliance-related panel discussion involving regulated markets of Central and Eastern Europe at CEEGC2019 Budapest.
The evolution of the online gambling industry in the CEE region has seen its ups and downs, however, when dealing with regulation updates sometimes based on the political climate, it is like that.
When we are mentioning the regulated markets of the CEE region, we are referring to jurisdictions in which the online gambling licensing scheme is already in force for a couple of years and is already considered an "almost mature" industry.
Among these countries, we find Romania, Bulgaria, Czech Republic, Croatia, and Slovenia. Jurisdictions that have transparent licensing schemes which allow remote operators to apply for a license and start accepting players in the country. Nevertheless, when it comes to taxing the industry and profit, it is a totally different discussion.
At the 4th edition of the yearly Central and Eastern European Gaming Conference, which will take place on the 24th of September at the Ritz-Carlton Budapest, we are putting together a very interesting panel discussion for both operators and service providers which will be moderated by Andrius Gabnys (Attorney At Law – Gabnys Law Firm) and will be joined by Dan Iliovici (Vice President at Rombet), Georgi Dimitrov (Legal Counsel / Compliance at EGT Interactive), Jan Řehola (Director at IFGR and Partner at PS Legal) and Jaka Repanšek (Media and Gaming Expert).
About Andrius Gabnys
Andrius Gabnys is an attorney-at-law and a managing partner at Gabnys Law Firm, a legal boutique based in Vilnius, Lithuania, and Tallinn, Estonia. The Firm specializes in entertainment (gambling, media, arts) and technology (IT, cybersecurity) legal aspects. Andrius Gabnys has been working in the online gambling sector for over 10 years and focuses on the multijurisdictional licensing, IP and related matters. He has extensive experience dealing with the gambling authorities in Europe, CIS countries, Africa and South America.
Make sure that you are among the delegates of CEEGC Budapest this year for a new and engaging format that is going to increase the engagement and interaction of the attending delegates.
Register here or View the Agenda!
Browse the official event website for more details: www.ceegc.eu
Nominations are open for the 2019 edition of Southern European Gaming Awards (SEG Awards)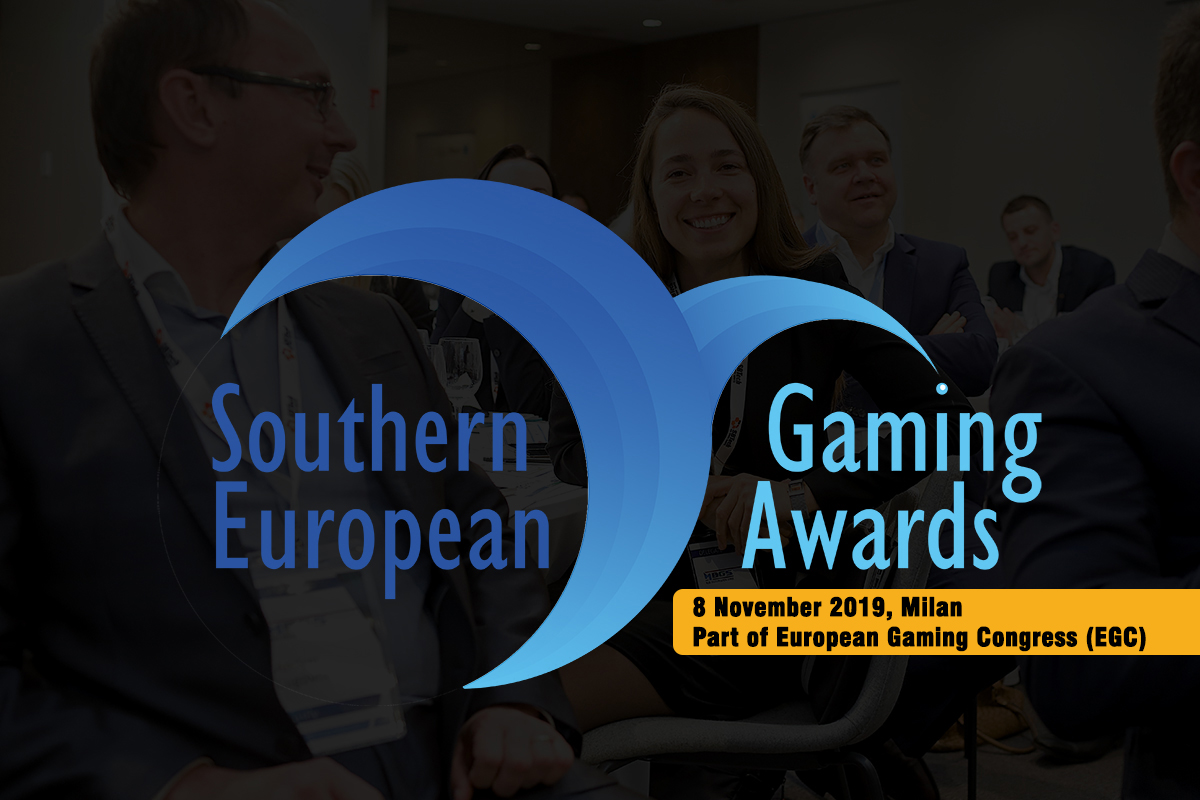 Reading Time:
2
minutes
The SEG Awards is part of European Gaming Congress and rewards both B2C operators and B2B providers for their commitment in Southern Europe, with categories ranging from customer service to social responsibility, future thinking, and development in all verticals of the industry.
We are happy to announce that the nominations for the newly launched awards ceremony is in full swing and you may consider this article as an open invitation to nominate your company for the SEG Awards, which is part of European Gaming Congress (EGC), and will take place in Milan (Italy) on the 8th of November at Radisson Blu Hotel Milan.
The SEG Awards is a new award in the European Gaming Media and Events portfolio and will follow the same transparent process as for CEEG Awards and BSG Awards. 
The award will be given to the top gaming companies (affiliates, B2C operators and B2B providers) that are active in Southern Europe, also known as Mediterranean Europe and are active in any of the following countries: Italy, Malta, Greece, Croatia, Bosnia and Herzegovina, Montenegro, Albania, Slovenia, Spain, Cyprus and Portugal.
The categories in 2019 are the following:
(Affiliates): Best Bingo Affiliate
(Affiliates): Best Casino Affiliate
(Affiliates): Best Sports Betting Affiliate
(Operators): Best Bingo Operator
(Operators): Best Lottery Operator
(Operators): Best Casino Operator
(Operators): Best Sports Betting Operator
(Operators): Best Customer Support in Casino
(Operators): Best Customer Support in Sports Betting
(B2B – sports ): Best Sports Betting Innovation
(B2B – sports): Rising Star in Sports Betting Technology
(B2B – sports): Best Overall Sports Betting Provider
(B2B – sports): Best Mobile Betting Provider
(B2B – sports): Best Overall eSports Service Provider
(B2B – sports): Best Overall Virtual Sports / Fantasy Sports Provider
(B2B – sports): Rising Star in the Virtual Sports / Fantasy Sports
(B2B – casino): Online Casino Innovator
(B2B – casino): Rising Star in Online Casino Technology
(B2B – casino): Best Online Casino Provider
(B2B – casino): Best Slots Provider
(B2B – casino): Best Live Casino Provider
(B2B – casino): Best Mobile Casino Provider
(Connected): Best Overall Payment Service Provider
(Connected): Best iGaming Service Provider (Translation and Localization, Hosting Services, Consultancy, Marketing)
(Connected): Best Testing Laboratory
(Connected): Best Support for Responsible Gambling
Nominate your company here | Register now | View the Provisional Agenda/Program
The European Gaming Congress (EGC) is specially designed to bring together industry experts, regulators, operators and service providers from all across Europe in order to discuss burning issues some of the markets are facing when dealing with compliance in licensing, operation and marketing.
The congress is organized yearly in autumn, gathers +125 C-level executives and gives the opportunity to discuss collaboration opportunities, learn about compliance updates and harvest the tech & marketing-related information which is presented by industry leaders from the ever-evolving international gambling industry community.
The second edition of the yearly must-attend conference of the gambling industry will focus on bringing new content and a different angle of view from the already established and emerging market.
The discussions include compliance and investment opportunities in regulated jurisdictions such as Italy, Malta, Spain, Portugal, France, Belgium, Netherlands, Luxembourg, Austria, Germany, Switzerland, Liechtenstein, and the United Kingdom.
Besides the regional focus, the agenda includes an exclusive IMGL MasterClass™ will also shed light on hot topics such as Marketing for Operators in Regulated Market, Big Data, AI and payments.
You can register here or view the provisional agenda here!
More info: www.europeangamingcongress.com
CEEGC2019 Speaker Profile (Poland Briefing): Ewa Lejman (Head of Polish Desk at WH Partners)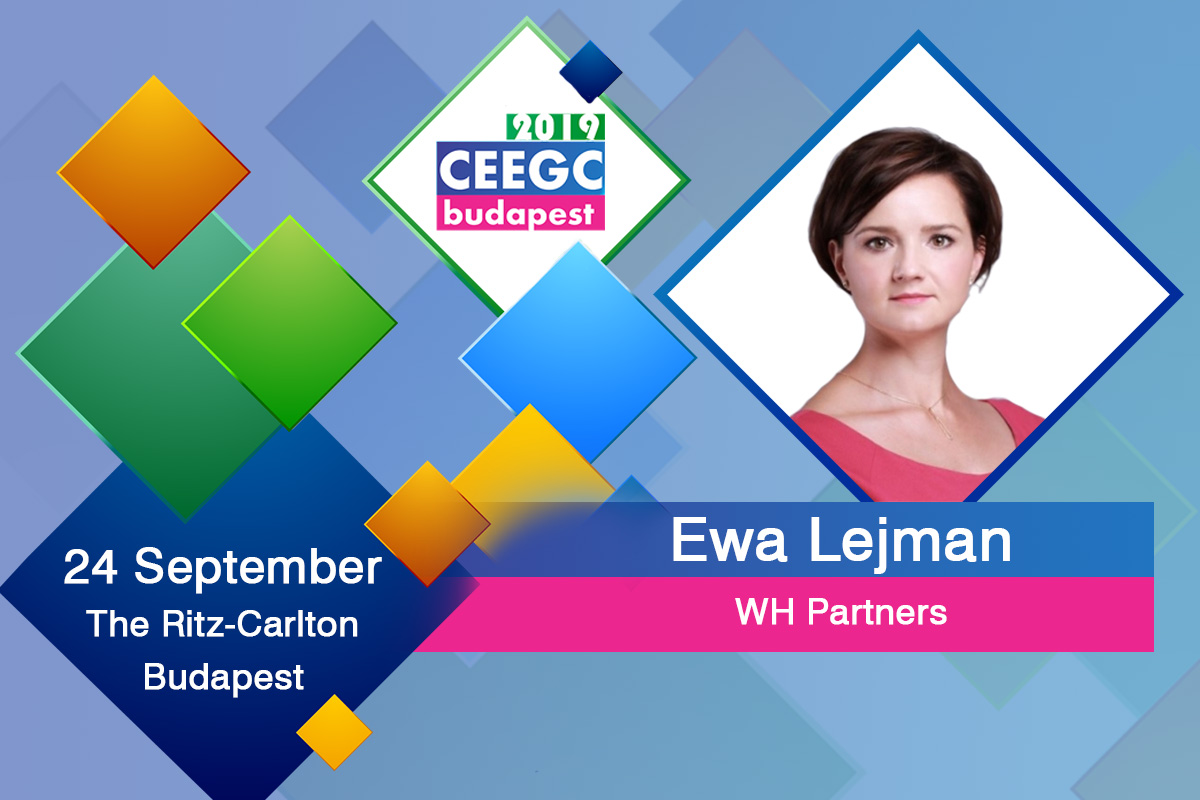 Reading Time:
2
minutes
Polish business lawyer with over 12 years of experience of assisting clients on matters related to gaming and gambling, contract law, M&A and IT service market law to share gambling industry insights of the Polish jurisdiction at CEEGC 2019 Budapest.
As announced earlier, the Polish gambling industry briefing will be part of the "Emerging CEE jurisdictions" compliance panel discussion at CEEGC2019 and will be joined by leading experts of the industry.
The briefing about the jurisdiction will be presented by Ewa Lejman, Head of Polish Desk at WH Partners, who will bring valuable insights she has on how the Polish gambling industry is performing after the new legislation came into force. The panel discussion is important for operators and service providers who can have a direct impact on the market or harvest from their investments.
The 4th edition of the yearly Central and Eastern European Gaming Conference will take place on the 24th of September at the Ritz-Carlton Budapest, and provides a unique opportunity of learning and networking with the gambling industry in the CEE and Balkans region via the CEEGC platform which is committed to bringing together industry shareholders and government officials from the region on a yearly base.
Register here or View the Agenda!
About Ewa Lejman
Ewa is heading the Polish Desk of WH Partners as part of the strategic partnership under the WH Partners brand with Izabella Żyglicka and Partners, a very well reputed full-service law firm in Poland and a member of Ally Law.
Ewa is a business lawyer with over 12 years of experience. She assists clients on matters related to gaming and gambling, contract law, M&A and IT service market law.
Ewa has gained extensive experience in the following fields:
Gaming and gambling – She handles Polish and foreign economic operators running their businesses on the market; the services provided are connected, in particular, with handling of the process of obtaining licences, establishment and registration of companies related with Polish entities, preparation of documents, such as policies, internal procedures, agreements, terms and conditions, as well as advisory services in cases regarding intellectual property, personal data protection and dealing with litigation;
IT and IP law – she handles day-to-day legal and tax services of Polish and foreign companies in this field, including start-ups;
International contracts law – she constantly advises and analyses contracts of foreign companies operating on the Polish market, particularly in terms of production, distribution of machines and sales of services involving the IoT;
Tax law – she effectively represents clients before tax authorities and administrative courts; she advises alternative investment funds (Alternative Investment Companies – ASI, Alternative Investment Management Companies – ZASI); she has authored publications in this field of law;
M&A – she performs multimillion M&A transactions.
Ewa Lejman is a laureate of the Rising Stars Lawyers – the Leaders of Tomorrow 2015 competition. She was ranked 4th in Poland.
http://whpartners.eu/our-team/ewa-lejman
Browse the official event website for more details: www.ceegc.eu