Report: 32 US states could offer sports betting in 5 years
Reading Time:
2
minutes
Legal sports betting could be offered in 32 states within five years if the U.S. Supreme Court rules in favor of New Jersey's quest to offer such gambling, according to a new report.
Eilers & Krejcik Gaming, LLC, which tracks state-by-state gambling legislation, says a new market would be worth more than $6 billion. If all 50 states got on board, legal sports betting could be worth $7.1 to $15.8 billion, they estimate.
Americans are already betting up to $60 billion annually using offshore sites and bookies, said Chris Grove, managing director for the firm. It's an industry that generates some $3 billion in revenue each year from U.S. customers.
"We estimate that a properly regulated market could be worth nearly five times that amount, resulting in a financial windfall for sports betting operators, sports leagues and media and state governments alike," Grove said.
His estimate of the illegal market does not include office pools and "social" or "casual" bets among friends that are included in some other estimates of illegal gambling that peg the market two or three times higher.
Grove said the exact size of the opportunity hinges on how many states decide to offer sports betting, and how willing they are to offer a product that can compete with the sizeable, well-established black market for sports betting.
Responding to the report, David Schwartz, director of the Center for Gaming Research at the University of Nevada Las Vegas, estimated a smaller potential market of about $1.4 billion, assuming each state that currently has casino gambling opts to offer sports betting as well. He also said he does not see all 50 states offering sports betting, at least anytime soon due to entrenched opposition to gambling in a handful of states.
Assuming the high court rules in New Jersey's favor, Grove's firm predicted 14 states would offer sports betting within two years: Colorado; Connecticut; Delaware; Indiana; Massachusetts; Michigan; Mississippi; Montana; New Jersey; Ohio; Nevada; Pennsylvania; Virginia; and West Virginia.
Within five years, it predicted 18 more would join: Arizona; California; Idaho; Illinois; Iowa; Kansas; Kentucky; Louisiana; Maine; Maryland; Missouri; New York; North Carolina; North Dakota; Oklahoma; Vermont; Washington and Wyoming.
And within seven years, another dozen could offer it as well: Alabama; Arkansas; Florida; Georgia; Minnesota; Nebraska; New Hampshire; New Mexico; Oregon; Rhode Island; South Dakota and Wisconsin. The remaining states might never offer sports betting, the Eilers & Krejcik Gaming report predicted.
The company's estimates of when particular states might offer sports betting were determined by weighing questions including whether a state already has pending legislation, if there are Constitutional obstacles to expanding gambling; whether their gambling industry is united or divided; the general legislative attitude toward gambling as it exists now in a particular state, and how badly a state needs extra money.
Major professional and collegiate sports leagues oppose New Jersey's effort to legalize sports betting, saying it would threaten the perceived integrity of the games.
New Jersey is taking aim at a law called the Professional and Amateur Sports Protection Act of 1992 that forbids state-authorized sports gambling in all but four states that met a 1991 deadline to legalize it: Delaware, Montana, Nevada and Oregon. Nevada is the only state to allow single-game wagering.

Hipther Agency partners with All-in Global for Live Interpreting at Gaming Americas Quarterly Meetups in 2021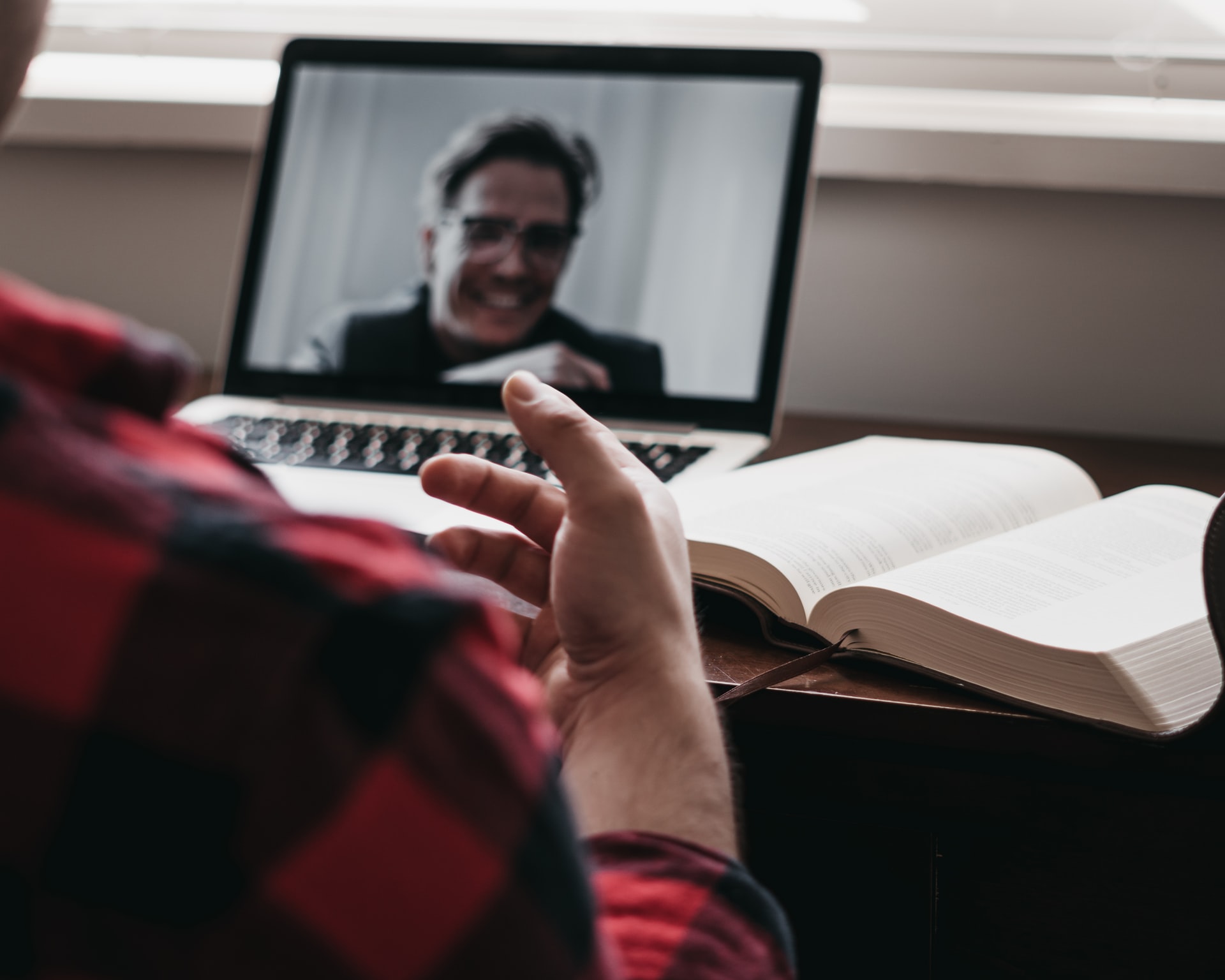 Reading Time:
3
minutes
We are delighted to announce a new partnership with All-in Global, an awarded language solution provider dedicated to the iGaming, sports betting, Fintech, sports and eSports industry.
Through the new partnership, our company will benefit from All-in Global's professional services during the Gaming Americas Quarterly Meetups, specifically during the Latin American panel discussion that will offer the option for delegates to listen to the original content in Spanish or opt for the English Live Interpreted version.
All-in Global is an awarded language solution provider dedicated to the iGaming, sports betting, fintech, sports and esports industry. Their line-up of services includes localization, content creation, SEO and audiovisual solutions in over 80 languages so their clients can maximize on their offerings globally. They are currently working with approximately 300 companies, including game developers, operators, platform providers and affiliates. Everything they do is rooted in a passion for gaming and multilingual communication and driven by a genuine desire to make the industry more accessible and highly entertaining.
Tiago Aprigio, CEO at All-in Global, commented on the partnership: "The All-in Global partnership with the Hipther team will make sure that absolutely nothing gets lost in translation during the virtual Gaming Americas Quarterly meetups.
Our language professionals will do live interpreting in English and Spanish throughout the event. With over 400 qualified native interpreters, translators, and writers, all sharing a proven knowledge of and love for gaming, we are THE language solution you can bet on! Looking forward to being part of the action."
Zoltán Tűndik, Co-Founder and Head of Business at Hipther Agency, also commented on the partnership: "In our attempt of hosting our first-ever bilingual panel discussions, we could not think of a better partner than the team at All-in Global. We take pride in the quality of our content and being able to bring quality information to those interested in entering the Latin American markets in two languages, means the world to us! Not to mention, all this happening in cyberspace at our first virtual meetup of the year."
During the Gaming Americas Q1 Meetup, which will take place on the 28th of January delegates have the opportunity to access information from a wide range of markets such as North and Latin America, and a special focus on the Caribbean. See more details here | Register for free
As mentioned above, the Latin American and Caribbean-related panel discussions will be hosted in Spanish and participants will have the option to access the content in English as well.
The panel discussions dedicated to the LATAM region are the following:
Latin America – Regulation updates: Colombia experience, Panama, Argentina, Brazil
Emerging Latin American markets – Argentina (Province of Buenos Aires, Province of Mendoza) and Chile
Focus on the Caribbean region
Debate: Is Latin America learning from the European mistakes?
The discussions will be joined and moderated by some of the most well-known names of the industry in the region and beyond:
SEBASTIAN VIVOT – Head of Modernisation and Information Technology, Loter'a de la Ciudad de Buenos Aires
FERNANDO SAFFORES – Founder & Director at Focus Gaming News
OMAR GALDURRALDE – President of the Lottery of the Province of Buenos Aires and ALEA (Association of Argentinean State Lotteries)
IDA LÓPEZ – President, Provincial Institute of Games and Casinos of Mendoza, Argentina
VIVIEN VILLAGRÁN ACUÑA – Superintendent of Casinos, Chile
MARIA EMILIA CORRAL – Legal Advisor to the Board of Directors at the Lottery of the Province of Mendoza, Argentina
KAREN MARCELA SIERRA-HUGHES – Vice President, Latin America and Caribbean Government Relations and Business Development at Gaming Laboratories International (GLI®)
ALEX PARENTE – Corporate Senior Vice President Casino Operations at Hard Rock International
DAVID MONIZ – Country CFO at Cirsa Dominicana, President ADCJ, GM, MBA, MDMGC & CPC
ORLANDO RIVERA CARRIÓN – Executive Director at Puerto Rico Gaming Commission
JOSÉ CARLOS FIGUEROA-TROCHE – Caribbean Government Relations and Business Development Representative Gaming Laboratories International, LLC (GLI®)
FERNANDO GARITA – Gaming Consultant | Head of Business Development at Betcris
FRANCESCO RODANO – Chief Policy Officer at Playtech
ANGELO ALBERONI – Country Manager at Betmotion Brazil
To view the full schedule and times of the panel, visit the conference Program on the following link: https://gamingamericas.com/meetups/schedule-q1-meetup/
For further sponsorship/speaking and marketing inquiries, make sure to reach out to Andrada Marginean (B2B Sales Executive at Hipther Agency).
For media-related inquiries, please contact Alexandru Marginean (Marketing Specialist at Hipther Agency).
To receive constant updates, subscribe here: http://eepurl.com/hfyZxf
Blockbuster line-up for Gaming Americas Q1 Meetup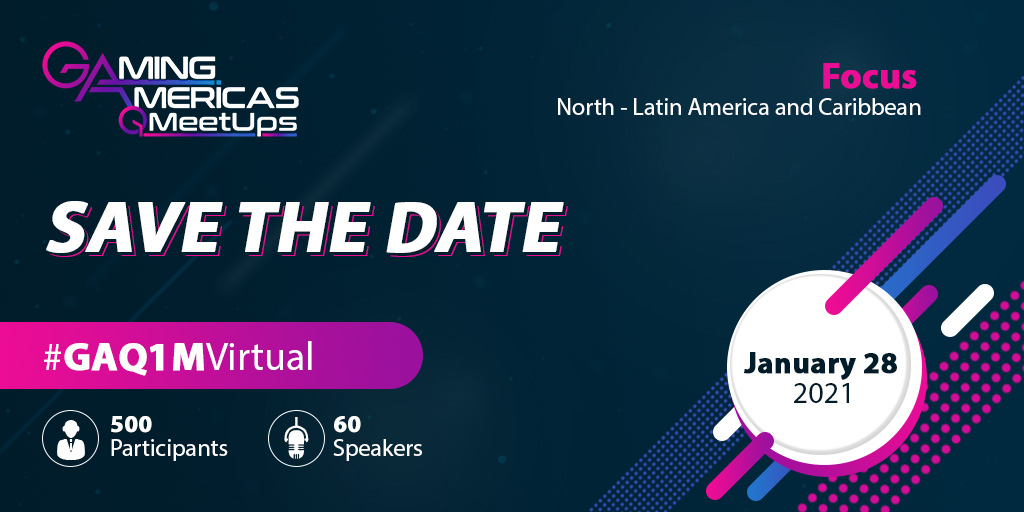 Reading Time:
2
minutes
2021's first Pan-American virtual conference set for 28th January
Cutting-edge betting and gaming media platform GamingAmericas.com has announced its speaker list and sponsors ahead of its bitesize virtual conference, Gaming Americas Q1 Meetup.
Over 800 participants have already registered for the 28th January event, which features a host of leading industry figures from both sides of the Americas, spanning the casino, sports betting, lottery, data and regulatory industries.
Altenar and Play'n Go have been confirmed as the leading sponsors for the event, which takes place from 12-19.45pm EST. Panel discussions will cover the latest developments from both continents, with networking opportunities available through specially designed break-out sessions.
The assembled line-up is set to include Francesco Rodano, Chief Policy Officer at Playtech; Dr Laila Mintas, CEO of PlayUp US; Ernando Garita, Head of Business Development at Betcris; and Tim Dieonno, Casino & Gaming Lead at KPMG.
Key topics on the agenda will focus on the latest in the US, the Canada gaming scene, the Caribbean and Central America, as well as a combination of Spanish and English panels covering all developments across Colombia, Panama, Argentina and Chile.
Zoltan Tuendik, Co-Founder of Gaming Americas, believes that the insights on offer at the bitesize conference will prove highly valuable:
"The number of sign-ups is testament to the high level of interest from the industry in a wide range of territories that we consider to offer some of the world's biggest growth opportunities.
"This event may be slimmed-down, but there is certainly no shortage of quality within the line-up of speakers. With key regulatory updates from North America and a deep dive into Latin and Central America, anyone who is looking to gain traction in these markets cannot afford to miss out."
Founded in March 2020 as an all-encompassing hub for the gambling and gaming sectors, GamingAmericas.com's industry conferences have been chiefly developed by the publication's advisory board.
Its collective leadership includes the former Deputy President of Sportradar US, Counsel to the Governor of New Jersey, and an ex-senior strategist for the Presidential campaigns of Bill Clinton, Al Gore, John Kerry, Hillary Clinton, and Barack Obama.
For more information on the event, as well as topics to be discussed and details on how to sign up, please visit the event's official website.
Gaming Americas Weekly Roundup – January 11-17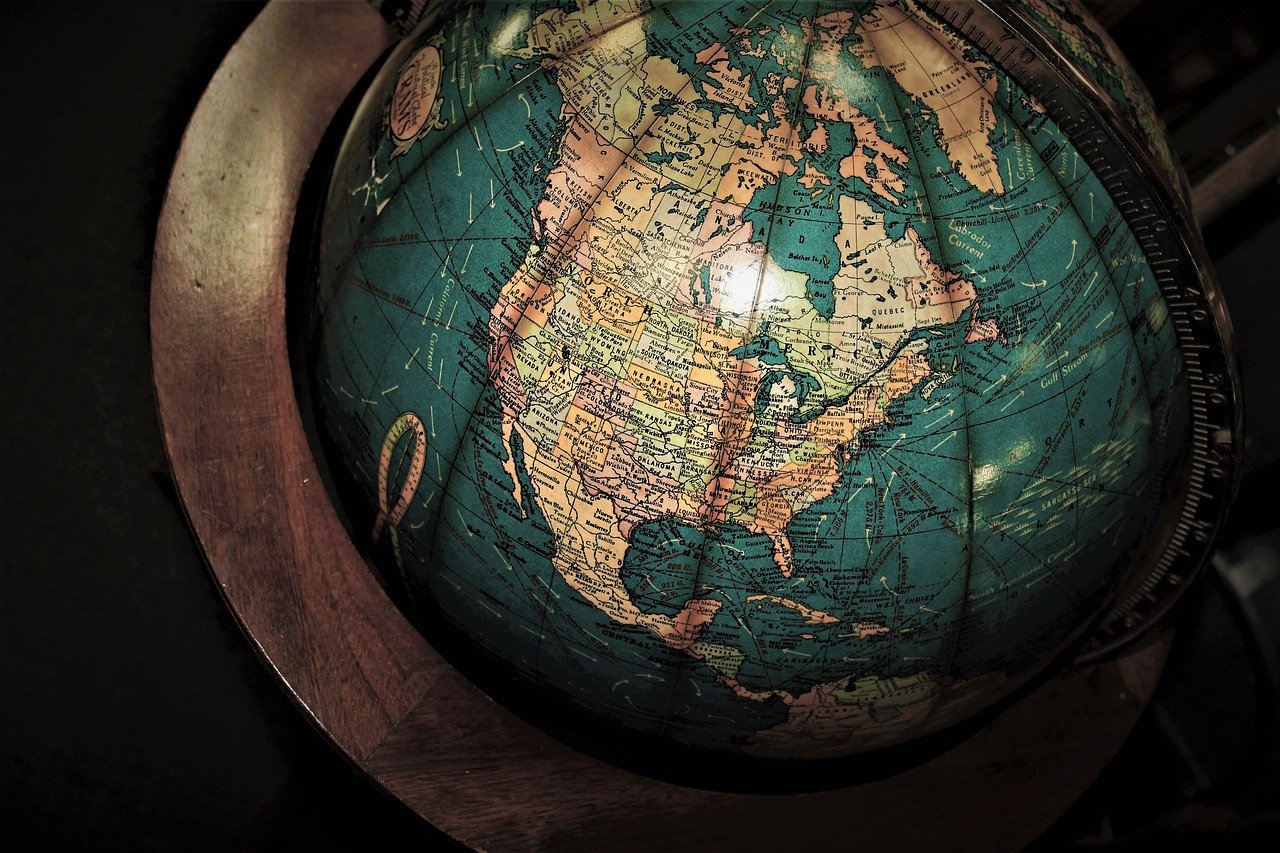 Reading Time:
3
minutes
Welcome to our weekly roundup of American gambling news again! It was again an eventful week in the USA, despite the still-active virus attack.
Here, we are going through the weekly highlights of the American gambling industry which include the latest news, new partnerships and new appointments. Read on and get updated.
Latest News
Online casino content provider Pragmatic Play has expanded its presence in Latin America through the launch of its slots and live casino products with Boldt's Bplay brands in Argentina and Paraguay. Players registered at Bplay.com.ar and Bplay.com.py, are now able to enjoy leading slot titles such as Wolf Gold and Sweet Bonanza, as well as all Live Casino offering including its latest Game Show release – Mega Wheel.
Boyd Gaming Corporation has announced that it awarded more than $145,000 to non-profit organisations across the country in the Company's annual holiday competition "Wreaths of Hope." More than 135 non-profit organisations participated in the 2020 competition, decorating wreaths that were displayed online and at Boyd Gaming properties nationwide. Winners were decided directly by Boyd Gaming customers, who were invited to vote for their favourite charities online and in-person at select participating properties.
Partnerships
Shift4 Payments and Sightline Payments have entered into a strategic partnership to power online gaming and sports betting for casinos and sports venues. This partnership between the two leading fintech companies will deliver a seamless payment experience for patrons of hospitality, online/mobile gaming, on-premise gaming and sports betting venues. Sightline's online/mobile gaming and betting solutions complement Shift4's end-to-end payments offering to deliver an all-inclusive payment ecosystem for casinos, sports venues and other hospitality businesses.
BetRivers.com has entered into an exclusive content deal with former NBA coach George Karl. The new partnership makes George Karl an exclusive sports betting endorser of the BetRivers brand. Coach Karl will serve as the company's brand ambassador and spokesperson and will be engaged in great upcoming promotions and events on BetRivers platforms.
Global esports organisation Gen.G has partnered with McDonald's Southern California franchisees to organise a series of esports initiatives focused around Los Angeles, San Diego and Palm Springs. Specific events will include a multi-week play-in tournament for employees only and a three-day NBA 2K21 All-Star tournament to determine the best young players in Southern California.
Scientific Games Corporation has extended its existing seven-year instant games and hybrid lottery games contracts with Loto-Québec through 31 January 2022. Scientific Games is a trusted supplier to Loto-Québec for more than five decades, recently celebrating the Lottery's 50th Anniversary and employing generations of workers from the east Montreal area of Québec. Scientific Games, creates and produces games for Loto-Québec and four Canadian provincial lotteries from its Montreal, Quebec manufacturing facility.
Appointment
Gaming and Leisure Properties Inc. has promoted Steven Ladany to the role of senior vice president and chief development officer. In his new role, Steven will lead the Company's ongoing merger, acquisition and development efforts. Steven joined GLPI in September 2014 as Vice President, Finance and served in that role until March 2019, when he was promoted to Senior Vice President, Finance.
Compliance
Churchill Downs has secured approval for sports betting in Tennessee. Churchill Downs drew approval from the Tennessee Lottery's Sports Wagering Committee, joining FanDuel, BetMGM, DraftKings and Tennessee Action 24/7. Churchill Downs' sportsbook, BetAmerica, is rebranding as TwinSpires. BetAmerica is live in New Jersey, Pennsylvania and Indiana.
Australian operator PlayUp has expanded its footprint across the US by acquiring a sports betting license in New Jersey. This is the second market access agreement that PlayUp has announced after the recent acquisition of their Colorado license. To gain the license, PlayUp entered into a multi-year deal with FR Park Racing (FRP) which is the sports wagering certificate holder and operator of the Freehold Racetrack. FRP is owned by Pennwood Racing, and the ultimate 50/50 partners of Pennwood are Greenwood Racing, Penn National Gaming, and Parx Casino.