Prague Gaming Summit 2018 is set to become a platform designed for regional regulatory updates, innovations talks and social responsibility
Reading Time:
3
minutes
The second edition of Prague Gaming Summit is set to become a leading platform which will highlight the Slovakian, Czech and Polish market, while also focusing on the latest innovations which are trending at this moment and help increase the social awareness of the industry.
Regulatory updates from Slovakia, Czech Republic and Poland
As is typical, legislation has lagged behind innovation in the industry in Europe and we're just starting to see more nations undertake the balancing act between ensuring they generate sufficient tax revenue, and providing a safe environment for their bettors. This process is made particularly difficult since levying too much tax will discourage investment in localities, as well as promote a move to less regulated, altogether dodgier iGaming venues from the punters themselves. Despite the divides between legislators, there are still good offers for specific counties across Europe. The Czech, Slovak and Polish market are not among them. This is why we are reaching out to the industry to encourage this effort of bringing together the key stakeholders of the industry to discuss potential amendments.
The special regulatory briefings will be held by top names of the industry who are well known in the region for their contributions to the online and land based gambling market and here are some of the already experts that will speak during the regulatory update panels:
Dr. Robert Skalina(WH Partners), Jakub Kolomicenko (Endorphina), Jan Rehola (PS Legal), Vojtech Chloupek (Bird&Bird), Piotr Dynowski (Bird&Bird), Tal Zamstein (Fortuna Group), Bogdan Coman (Rombet)
Social Responsibility, Anti-Money Laundering and Gambling Licensing Procedures
Social responsibility is all about protecting players from gambling-related harm and the organizers encourage the fact that crime should be kept out of gambling. The industry is facing a period in which more and more regulated markets are adopting licence conditions and codes of practice which revolve around responsible gambling. However, these programs should be implemented in a manner that it does not block the industry totally.
When speaking about the implementation of the EU AMLD we must mention the fact that there are rumors about a 5th AMLD which will focus on the following 5 main requirements: Extending the Directive Scope to include Virtual Currencies, Addressing the Issue of Anonymity in Relation to Prepaid Cards, Beneficial Ownership Registers, Enhancing cooperation and information sharing among EU financial intelligence units and Developing a Consistent EU Approach Toward High-Risk Third Countries.
The already confirmed speakers of the discussion are: Pieter Remmers(Assissa), Alex Henderson (The Ritz Hotel Casino London), Dan Iliovici (Romanian National Office for Gambling), Martin Arendts (ARENDTS ANWÄLTE)
Innovation Talks, Retention and Marketing
There is no doubt that talks around crypto is going to be among the highlights of many industry related news, thus we are once again putting together a panel where the experts of the crypto industry will share their wisdom and talk innovations.
For the first time in our portfolio, we are implementing a panel style workshop which will revolve around Conversion and Retention which will help attending delegates to gain access to information that will help increase their profit.
The already confirmed experts of the panels are: Tal Itzhak Ron (Tal Ron, Drihem and Co. Law Firm), Quirino Mancini (Tonucci & Partners), Max Krupyshev(Cubits), Robert Dowling (EveryMatrix), Joseph Borg (WH Partners)
With such an incredible lineup of expert speakers, the event is expected to surpass the inaugural edition in numbers and networking opportunities as we are already receiving a high number of registrations.
Delegate pass price breakdown:
•Early Bird Rate (60% Off): 199 EUR – Sales end on December 31, 2017
•Combo – Early Bird Rate + 2 nights accommodation (60% Off): 379 EUR – Sales end on December 31, 2017
•Advance Rate (40% Off): 299 EUR – Sales end on March 22, 2018
•Combo – Advance Rate + 2 nights accommodation (40% Off): 479 EUR – Sales end on March 22, 2018
•Regular Rate (no discount): 499 EUR – Sales end on March 29, 2018
Tickets can be registered via the special new registration gateway created by EEGEvents where you can opt for fiat and cryptocurrency payments.
Register here: http://bit.ly/Prague18
We are looking forward to welcoming you in Prague as well as your contributions to the topics!
Save the date for the inaugural European Gaming Congress in Ljubljana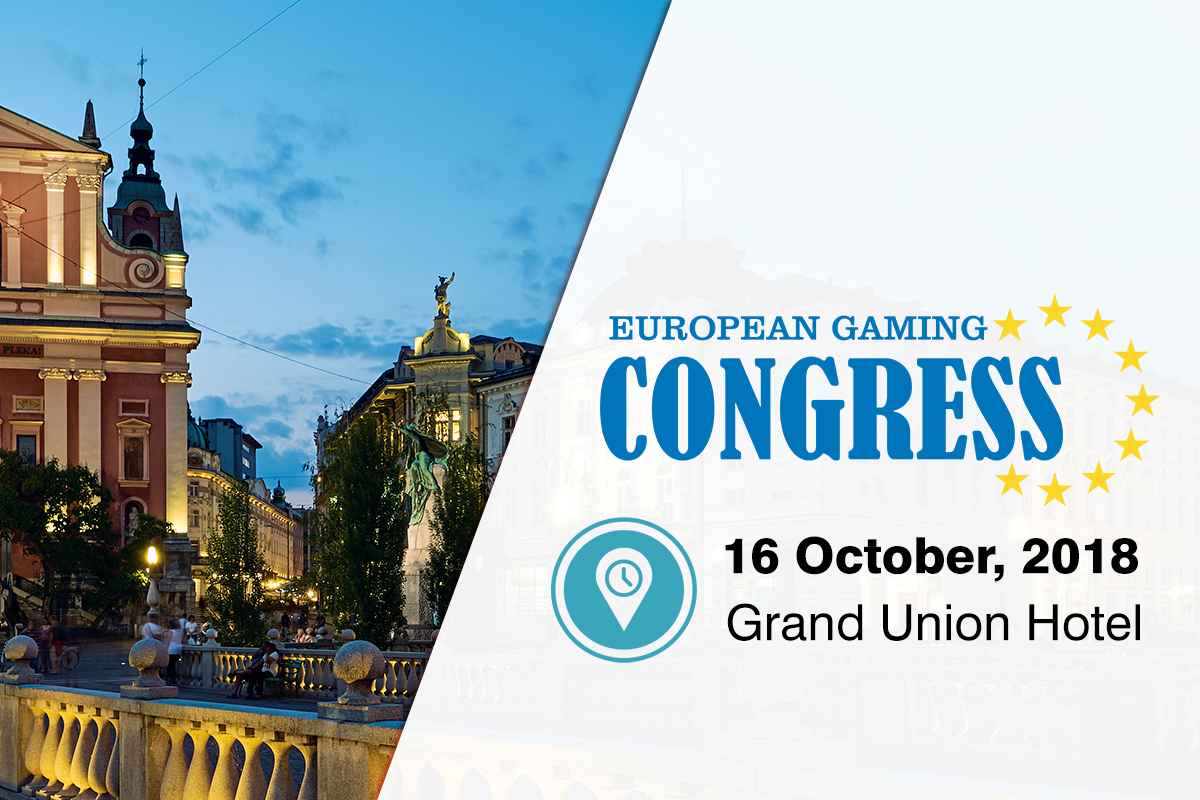 Reading Time:
1
minute
Ljubljana – 22 May 2018 – We are honored to announce our latest event in our portfolio of boutique gaming events. The inaugural European Gaming Congress will be held on the 16th of October at the Grand Union Hotel in Ljubljana and has the aim of highlighting the market regulations and updates from several countries within the EU and some outside of its borders.
The main focus of the event is education and networking with operators, service providers and regulators from all around Europe.
Top level delegates are expected to attend the event to gain access to information which will be shared by top experts of the industry.
The key topics on the agenda are the recent industry movements which have been recorded in Slovenia, Croatia, Serbia, Montenegro, Greece, Spain, Portugal, France, Italy, Malta and Austria.
A special IMGL MasterClass™ is also announced to be part of the program and the organizers are promising a unique event which will set a milestone for the industry in the European Union.
The information will be delivered by regulators, operators and well know industry service providers who are active in the above mentioned regions.
The preliminary agenda includes the following panel discussions:
Focus on Slovenia, Austria and Croatia
Highlighting the Balkans and Southeast Europe
Market updates from Mediterranean Europe
Already known effects of GDPR – Reports updates and possible amendments
IMGL MasterClass™
You can view the full agenda on the following link.
Full detail about the event can be found on the official website of the event: https://europeangamingcongress.com/
Make sure you grab your seat as the seats are limited to 100 registrants!
EGT Interactive @ Beograd Future Gaming Expo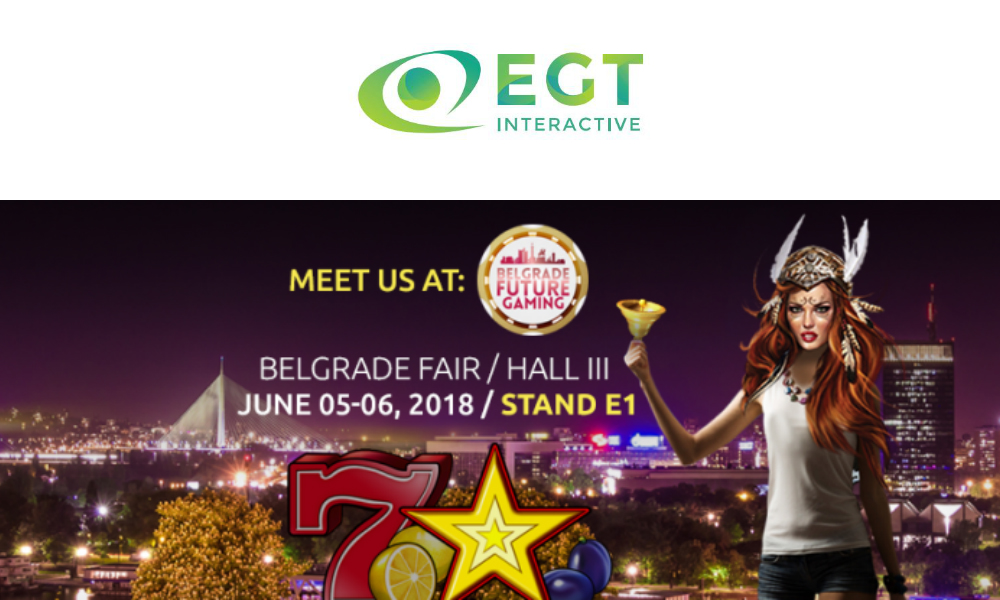 Reading Time:
1
minute
We are happy to announce that this year EGT Interactive will also be presenting as a show exhibitor on the 11th annual exhibition Future Gaming in Belgrade. Once again, we will be together on one stand with Euro Games Technology.
We'll be glad to meet you at Hall III, stand E1 at the Belgrade Fair from 5th to 6th of June, where we will be showcasing the latest titles from the EGT Interactive's portfolio of online casino games.
Our representatives are ready to meet and present to every willing visitor the opportunities EGT Interactive offers to start-up or active online casinos. From the rich portfolio with more than 150 smooth classic online casino games to final, complete software solutions and support in that growing business.
Our portfolio includes some of the most emblematic titles in the online casino gaming such as: 40 Super Hot, Burning Hot, Flaming Hot, Burning Heart, Amazons' Battle, 81 Wins, 40 Lucky King, European roulette and many more. Pass by for a talk with our representatives and see how you can achieve rapid growth in the Southeastern European market.
#WeMakePeoplePlay #slots #iGaming
Book a meeting at: sales@egt-interactive.com
CEEG Awards 2018 Nomination Phase is open, submit your company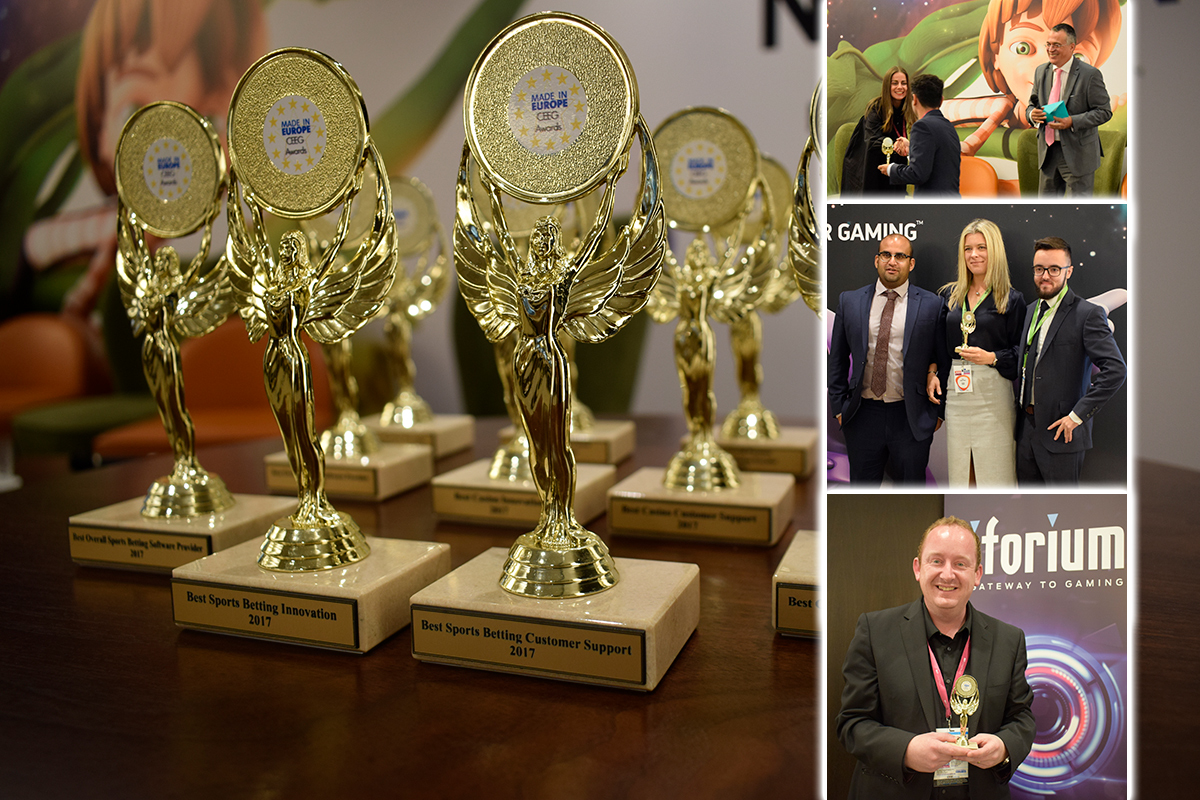 Reading Time:
2
minutes
Budapest – 16 May 2018 – We are excited to announce that the Nomination Phase for the third edition of the CEEG Awards is open. Companies operating in Europe are asked to nominate their brands for the 15 categories that are available in 2018.
CEEG Awards* 2018
CEEG Awards 2016 and CEEG Awards 2017 were a huge success, bringing a large wave of Post Event linking and mentions of the winners published on major portal such as Yahoo Finance, Bloomberg, PRNewWire, GlobalLiveNews, local media, TV adverts and many more.
The awards in 2018 will be given to 15 categories (introducing eSports, Daily Fantasy Sports and Law Services) as the CEEG Awards has managed to create an independent, fair and representative awards event that recognizes significant achievements within the Central and Eastern European gaming industry.
The Awards celebrate gaming software suppliers, operators and service providers for their outstanding contributions to the online sector of industry in their respective fields.
The process in divided in 5 phases:
Nominations period: 02.05.2018 – 15.07.2018
Online voting period: 01.08.2018 – 31.08.2018
Shortlist announcement (top 5): 05.09.2018
1 minutes live pitch in front of the attending audience of CEEGC Budapest for shortlisted companies: 25.09.2018
Envelope style voting by the attending delegates of CEEGC Budapest: 25.09.2018
The winners will be announced on the final session of the day during CEEGC Budapest. You can book your seat on the following link.
*CEEG Awards stands for Central and Eastern European Gaming Awards
Below are the the 15 categories for which you can apply until 15.07.2018:
Best Sports Betting Innovation
Best Sports Betting Customer Support
Best Overall Sports Betting Provider
Best Casino Innovation
Best Casino Customer Support
Best Casino Provider
Best Financial Software provider
Best Overall Casino operator
Best Overall Online Sports Betting operator
Best iGaming Press in the region
Best iGaming Service Provider(Testing Laboratories, Hosting Services, Consultancy)
Best Testing Laboratory
Best eSports Provider
Best Daily Fantasy Sports Provider
Best Legal Services Provider
You can nominate your company on the following link.
As in earlier years, the conference is limited to 125 delegates and will host special networking session for delegates to meet and greet with an emphasis of getting to know each other's area of business.
You can view the full agenda on the following link.
Make sure you grab your seat in time and attend the most prestigious boutique style gaming event which gather C-level executives yearly in one of Europe's most visited city.