Prague Gaming Summit 2018 is set to become a platform designed for regional regulatory updates, innovations talks and social responsibility
Reading Time:
3
minutes
The second edition of Prague Gaming Summit is set to become a leading platform which will highlight the Slovakian, Czech and Polish market, while also focusing on the latest innovations which are trending at this moment and help increase the social awareness of the industry.
Regulatory updates from Slovakia, Czech Republic and Poland
As is typical, legislation has lagged behind innovation in the industry in Europe and we're just starting to see more nations undertake the balancing act between ensuring they generate sufficient tax revenue, and providing a safe environment for their bettors. This process is made particularly difficult since levying too much tax will discourage investment in localities, as well as promote a move to less regulated, altogether dodgier iGaming venues from the punters themselves. Despite the divides between legislators, there are still good offers for specific counties across Europe. The Czech, Slovak and Polish market are not among them. This is why we are reaching out to the industry to encourage this effort of bringing together the key stakeholders of the industry to discuss potential amendments.
The special regulatory briefings will be held by top names of the industry who are well known in the region for their contributions to the online and land based gambling market and here are some of the already experts that will speak during the regulatory update panels:
Dr. Robert Skalina(WH Partners), Jakub Kolomicenko (Endorphina), Jan Rehola (PS Legal), Vojtech Chloupek (Bird&Bird), Piotr Dynowski (Bird&Bird), Tal Zamstein (Fortuna Group), Bogdan Coman (Rombet)
Social Responsibility, Anti-Money Laundering and Gambling Licensing Procedures
Social responsibility is all about protecting players from gambling-related harm and the organizers encourage the fact that crime should be kept out of gambling. The industry is facing a period in which more and more regulated markets are adopting licence conditions and codes of practice which revolve around responsible gambling. However, these programs should be implemented in a manner that it does not block the industry totally.
When speaking about the implementation of the EU AMLD we must mention the fact that there are rumors about a 5th AMLD which will focus on the following 5 main requirements: Extending the Directive Scope to include Virtual Currencies, Addressing the Issue of Anonymity in Relation to Prepaid Cards, Beneficial Ownership Registers, Enhancing cooperation and information sharing among EU financial intelligence units and Developing a Consistent EU Approach Toward High-Risk Third Countries.
The already confirmed speakers of the discussion are: Pieter Remmers(Assissa), Alex Henderson (The Ritz Hotel Casino London), Dan Iliovici (Romanian National Office for Gambling), Martin Arendts (ARENDTS ANWÄLTE)
Innovation Talks, Retention and Marketing
There is no doubt that talks around crypto is going to be among the highlights of many industry related news, thus we are once again putting together a panel where the experts of the crypto industry will share their wisdom and talk innovations.
For the first time in our portfolio, we are implementing a panel style workshop which will revolve around Conversion and Retention which will help attending delegates to gain access to information that will help increase their profit.
The already confirmed experts of the panels are: Tal Itzhak Ron (Tal Ron, Drihem and Co. Law Firm), Quirino Mancini (Tonucci & Partners), Max Krupyshev(Cubits), Robert Dowling (EveryMatrix), Joseph Borg (WH Partners)
With such an incredible lineup of expert speakers, the event is expected to surpass the inaugural edition in numbers and networking opportunities as we are already receiving a high number of registrations.
Delegate pass price breakdown:
•Early Bird Rate (60% Off): 199 EUR – Sales end on December 31, 2017
•Combo – Early Bird Rate + 2 nights accommodation (60% Off): 379 EUR – Sales end on December 31, 2017
•Advance Rate (40% Off): 299 EUR – Sales end on March 22, 2018
•Combo – Advance Rate + 2 nights accommodation (40% Off): 479 EUR – Sales end on March 22, 2018
•Regular Rate (no discount): 499 EUR – Sales end on March 29, 2018
Tickets can be registered via the special new registration gateway created by EEGEvents where you can opt for fiat and cryptocurrency payments.
Register here: http://bit.ly/Prague18
We are looking forward to welcoming you in Prague as well as your contributions to the topics!
SEG Awards: Three Nominations for NSoft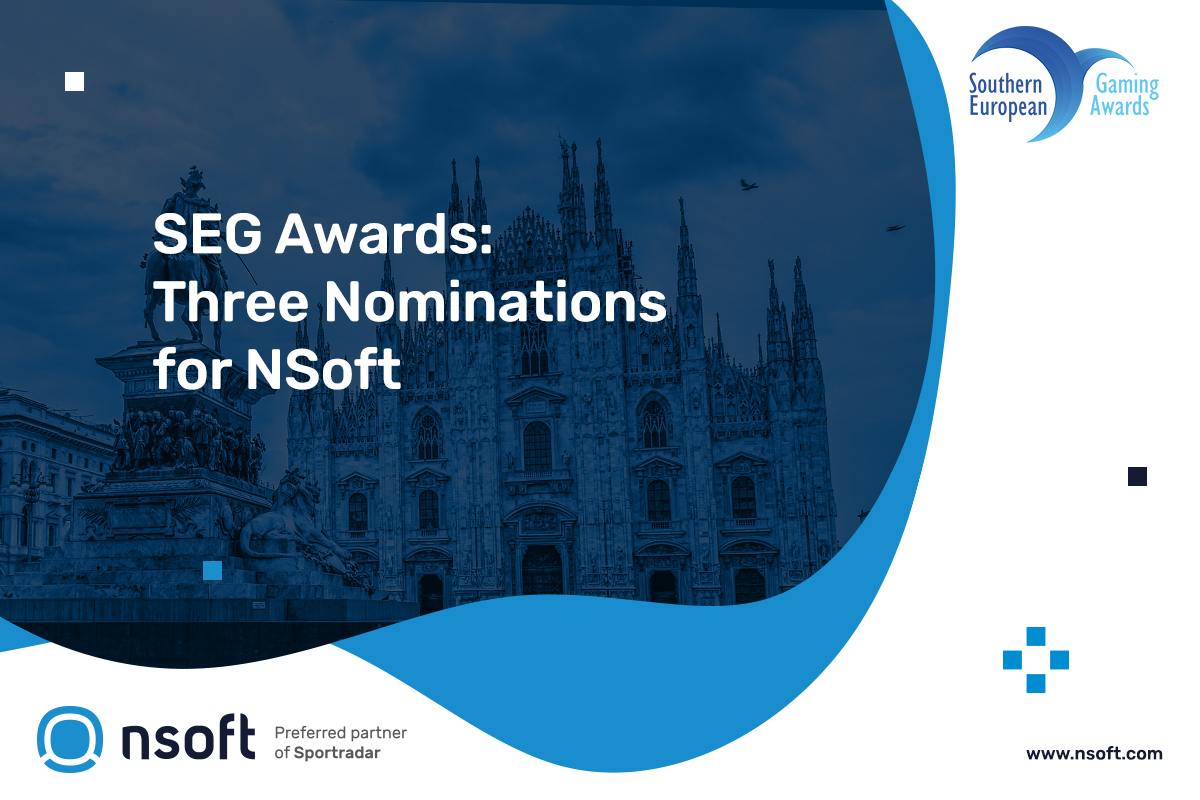 Reading Time:
1
minute
After the online public voting stage for this year's SEG Awards to be presented in Milan at the upcoming European Gaming Congress, the official list of the nominees has been announced. The SEG Awarding ceremony will acknowledge the business excellence in 26 categories.
NSoft has been shortlisted in three categories: Best Sports Betting Innovation, Rising Star in the Virtual Sports/Fantasy Sports as well as Best Overall Virtual Sports/Fantasy Sports Provider in 2019.
"2019 is surely the year where the expert community recognized and wanted to praise our innovations as well as results we have accomplished in the category of virtual sports. We are really proud to be recognized in several occasions as a trustworthy partner who nurtures innovation and always strives for excellence in business. The latest nomination for the SEG Awards proves that we are right on track", said Dario Jurčić, Chief Business Officer of NSoft.
The European Gaming Congress is scheduled for November 8, 2019, at Radisson Blu Hotel Milan, Italy. The SEG Awards 2019 ceremony will follow the promising panel discussion where industry professionals from different fields of expertise will tackle current topics. NSoft representative, Mr. Zlatan Omerspahic, will participate at the panel discussion: Marketing for Operators in Regulated Markets.
Donáta Szabó (GamblingCompliance) to moderate the Benelux Market Update at EGC2019 Milan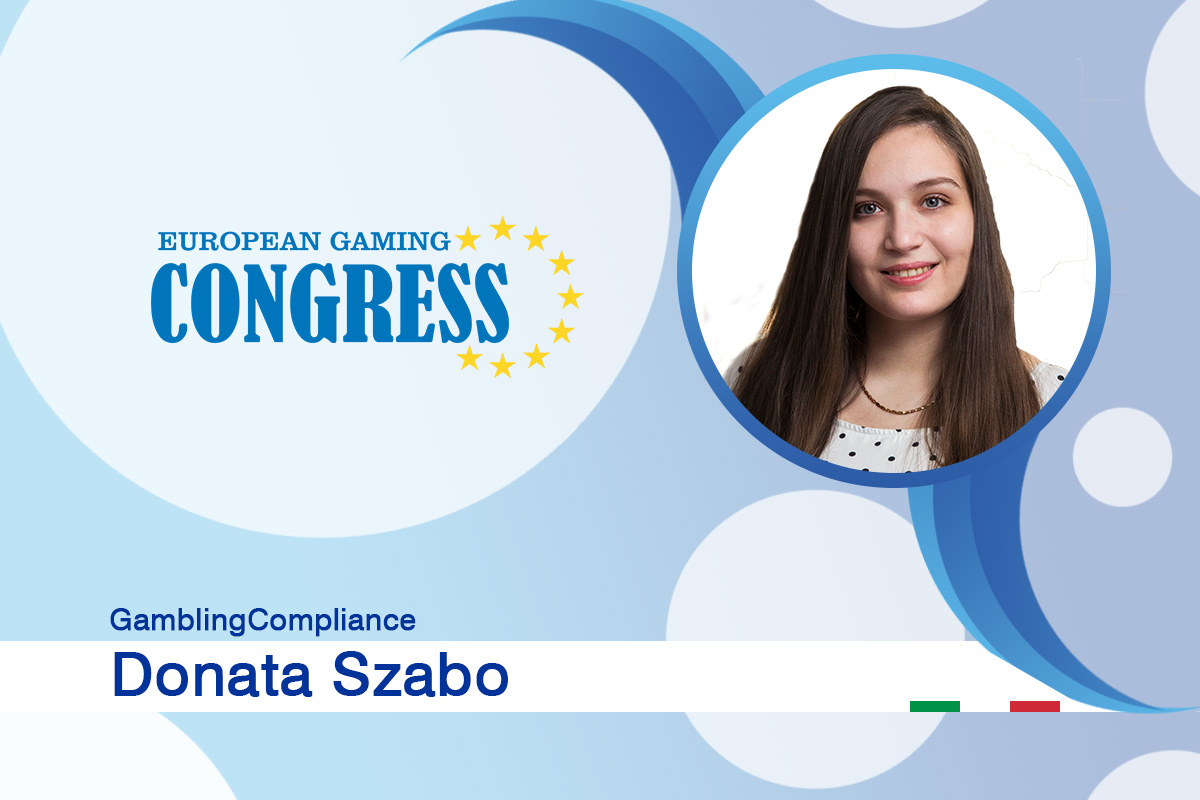 Reading Time:
2
minutes
Legal analyst for GamblingCompliance who specializes in legal and regulatory developments across Europe and Israel to moderate the Benelux Market Update at EGC Milan 2019!
Without any doubt, the second edition of European Gaming Congress (EGC) is shaping up to becoming the key conference in the European region this November with some of the biggest names of the gambling industry making their way to the speakers' list.
The compliance and marketing related updates from +14 jurisdiction will be shared by operators, software providers, lawyers and last but not least the most influent regulators of the gambling industry.
As you may already know the conference will take place on the 8th of November at Radisson Blu Hotel Milan, and delegates will have the opportunity to once again take part in engaging discussion and several networking sessions.
You can register here or view the agenda here!
The Benelux Market Update is new in the European Gaming Congress's agenda and will focus on bringing a wealth of information about the gambling industry in Luxembourg, Netherlands and Belgium.
The already confirmed speakers of the panel discussion are Willem van Oort (Founder of Gaming in Holland / Gaming in Spain) and Marko Jankovic (Head Of Business Development at G-Core Labs S.A.) and as mentioned above, the panel discussion will be moderated by Donáta Szabó (Junior Legal and Research Manager at GamblingCompliance), who has a unique style of bringing out some of the vital information from the panelists.
Donata is a legal analyst for GamblingCompliance and specializes in legal and regulatory developments across Europe and Israel. She also currently manages the Responsible Gambling Portal. She graduated first in her year from the LLB and holds an LLM from the University of Cambridge. She also completed the Bar Professional Training Course (BPTC) and was called to the Bar in July 2016. Donata has previous experience in human rights and international law. She previously worked at the European Parliament, the University of Cambridge and Israeli NGO Movement for Quality Government.
Make sure you take advantage of this unique opportunity of learning and networking with the gambling industry in Europe via the EGC platform every year.
Browse the official event website here:  www.europeangamingcongress.com
André Wilsenach (BMM Testlabs) is the guest of the Fireside Chat at EGC Milan 2019 moderated by Dr. Simon Planzer (PLANZER LAW)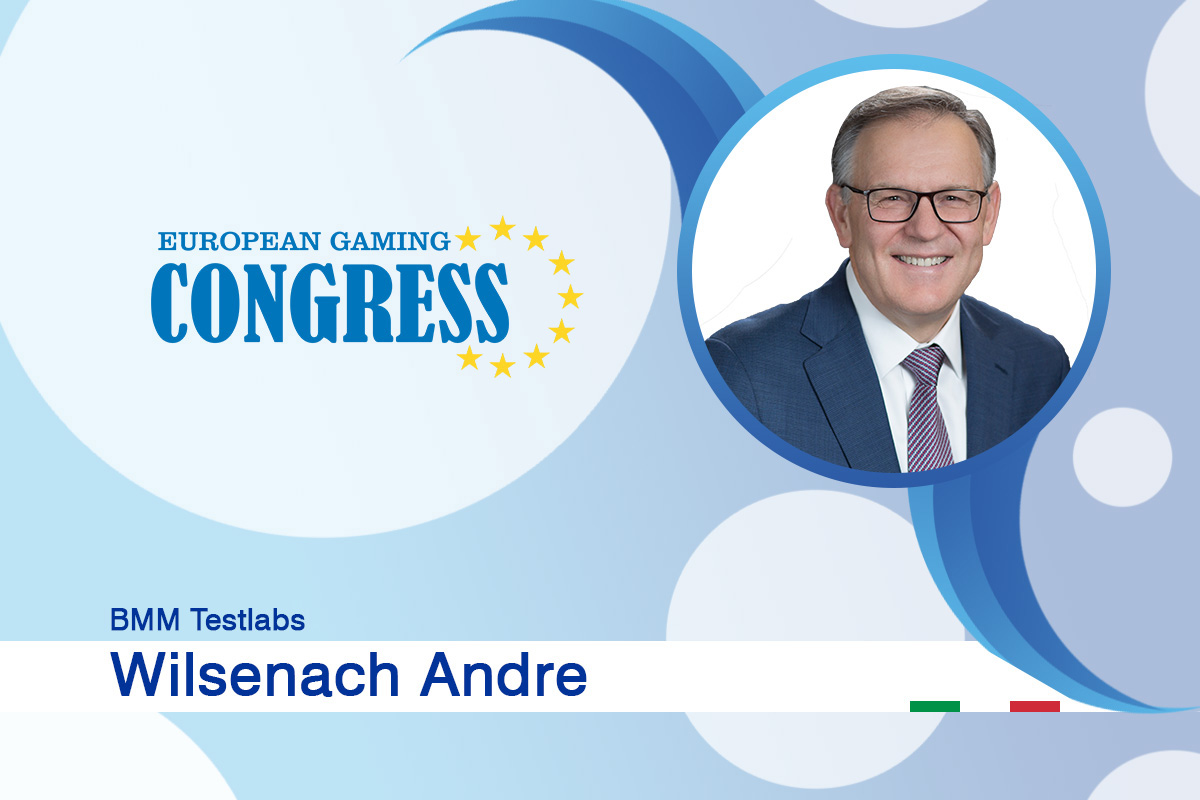 Reading Time:
3
minutes
Senior Vice-President and Government Relations Manager of BMM International will be the guest at EGC Milan 2019 Fireside Chat!
We are happy to announce that the final Fireside Chat of the year will have a special guest, which comes in the form of André Wilsenach, Senior Vice President and in charge of Government Relations at BMM Testlabs.
With this news, we are excited to announce that the series of fireside chats will also continue in 2020 as well at Prague, Tallinn, and Budapest.
In the early 1930s, Franklin D. Roosevelt introduced the world to the "fireside chat" when he directly addressed the nation via the radio 30 different times. To achieve his goal — assuaging the fears of the American people as they navigated the Great Depression and World War II — he invoked a casual tone.
Contrary to what their name suggests, these fireside chats did not feature Roosevelt warming his toes by a flickering fire as he spoke. Harry Butcher, a CBS reporter, coined this term because he believed "it perfectly evoked the comforting intent behind Roosevelt's words."
Today, fireside chats are used more and more often, from conferences and low-key meet-and-greets to television interviews.
They're quite a bit different than they were over 80 years ago. Today, they're conducted in-person (or via video) and typically include a moderator and at least one guest. But the intent is the same — to put everyone at ease and leave the audience with more information and knowledge than before.
The fireside chats were introduced to the European Gaming Media and Events series in 2018 and have continued to reach new heights and success among the delegates.
On the 8th of November at Radisson Blu Hotel Milan, delegates will have the opportunity to once again take part in a fireside chat during the second edition of European Gaming Congress (EGC).
You can register here or view the agenda here!
As mentioned above, the guest of the fireside chat in Milan is André Wilsenach, who holds the position of Senior Vice-President, Government Relations at BMM International, a private independent gaming testing laboratory.
He is a graduate of the University of Pretoria, South Africa and amongst others worked for the Africa Institute of South Africa, the Development Bank of Southern Africa, Ernst & Young as well as the South African Government prior to a longstanding career in gaming regulation.
André's career in gaming goes back to 1995 when he was appointed to the South African Lotteries and Gambling Board which was set up to advise the South African government on the legalization of gambling in South Africa. Following the adoption of this report, he was appointed as Executive Officer of the Mpumalanga Gaming Board and a member of the National Gambling Board. In 2001 he was appointed as the first Executive Officer of Zonke Monitoring Systems, a private company established to render electronic monitoring services to the National Gambling Board of South Africa. In 2002 he was appointed Executive Director of the Alderney Gambling Control Commission which regulated online gambling. In 2016 he was appointed as Executive Director of the International Center for Gaming Regulation at the University of Nevada Las Vegas, a position he held until the end of 2018.
André is a former President of the International Association of Gaming Regulators and an active member of the International Masters of Gaming Law and the International Association of Gaming Advisors.
Make sure you take advantage of this unique opportunity of learning and networking with the gambling industry in Europe via the EGC platform every year.
Browse the official event website here:  www.europeangamingcongress.com