Fried reveals the secrets of Neuron Gaming platform, soon to be showcased at ICE – Interview with Alessandro Fried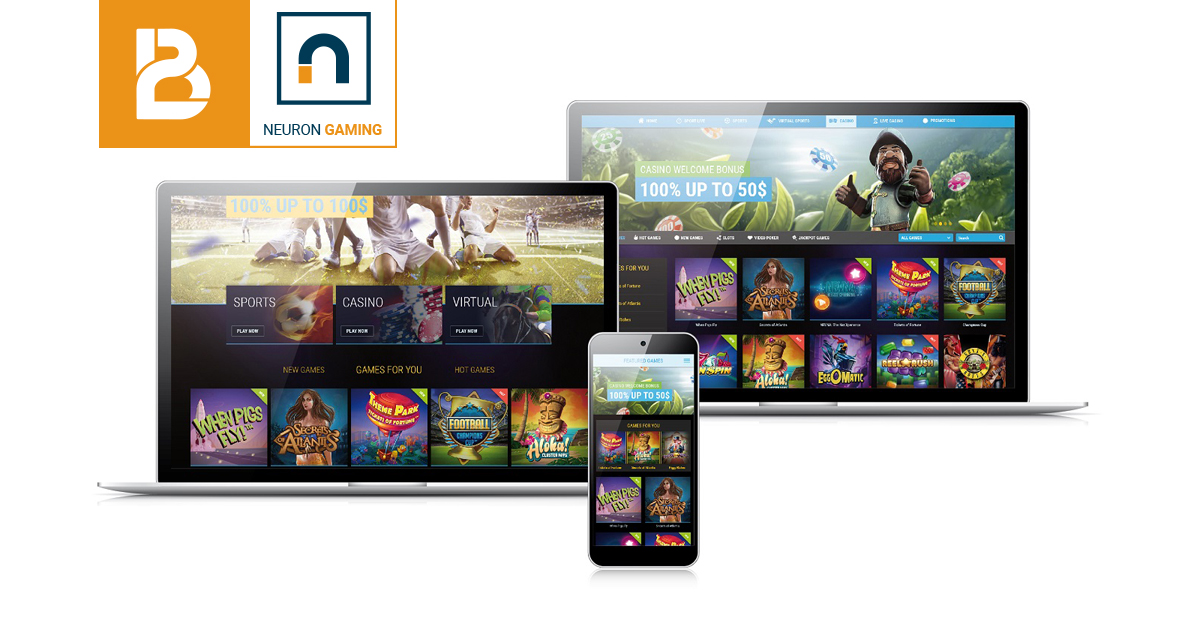 Reading Time:
4
minutes
Today, competition in iGaming is fiercer and customers are becoming far more tech and online savvy, aware and critical of bad products, HOW CAN AN OPERATOR DIFFERENTIATE HIS OFFER FROM THE COMPETITION?
Malta, 1st February 2018 – Alessandro Fried: It is vital for licensees to ensure the strength and recognizability of their brand and – at the same time – of their brand's offers and differentiation from the crowd. To do this, a 'quality jump' towards flexibility and technology is the only way to go. Consequently, from the myriad of platforms on the market, it is essential to discern the one that best suits operator's needs.
To confirm a strong and brilliant brand identity and exclusivity of offers, operators need a stable, open, advanced, flexible, scalable platform, tailored for Gaming, proposing scalable solutions for any channel, any jurisdiction and any business model. 
YOU HAVE MORE THAN 3,000 games proposed by over 40 top game providers IN YOUR PLATFORM, HOW CAN YOU DRIVE THE PLAYERS TOWARDS THE BEST EXPERIENCE AND THE BEST OFFERS IN THE DIFFERENT MARKETS?
AF: The Neuron Gaming platform is built from the ground up with the operator in mind. It allows a high level of customization in terms of user experience, content and configuration amongst other aspects. These are all elements that enable the operator to build the front-end strategically for his target market, whilst at the same time giving him the opportunity to integrate third party content and configuring all aspects aimed at enhancing the user experience.
Thanks to its sophisticated algorithm, the Omnichannel platform Neuron Gaming allows easy management of operations, ensuring automatic tailored offers to players, at any moment, online, mobile and retail.
Additionally, the advanced Gaming aggregator enables operators to maximize the effort of delivering the perfect offer for an unforgettable experience for the players, proposing the largest offer of games on the market.
YOU STATED BEFORE THAT A STRONG IDENTITY AND DIFFERENTIATION ARE CRUCIAL, HOW IS NEURON GAMING TECHNICALLY FACING THIS? 
AF: Our Neuron Gaming platform allows gaming operators to have full management of their operations, of their own front-end, enabling the personalization of their web, mobile, or app presence.
Additionally, it allows the integration of any content related to Games and Betting and also whatever payment method or affiliation system needed for specific target markets. Moreover, it allows the configuration of every single element of the licensee's system in a very detailed way, or alternatively, enables the licensee to teach his system to act according to the roles that he decides for the management of his own business and the offer of services to his clients. It is an ongoing updating product, always staying open to allow limitless personalization possibilities. 
AFTER THE LAUNCH OF HIS IGAMING BUSINESS, HOW CAN A LICENSEE BE SURE THE TECHNOLOGY OF HIS SOFTWARE WILL BE LONG-LASTING WITH THE PASSING OF TIME?
The current options on the market are software providers proposing software and not a product. That is to say that the majority of today's providers don't have the necessary organisation and knowledge of how to build scalable products for the needs of each operator, and due to the lack of deep experience in the industry they can provide a short-term answer to licensee's needs, without the required capability to keep the product updated with the passing of time.
In fact, long-lasting software technology needs specific requirements and for this reason Neuron Gaming has been conceived to be not just a technological platform but includes a structured process where our top tech team are further developing the software at the same time as it is deployed in the field, and where constant R&D anticipates future trends and consumer demand.
Our specialized Gaming division's team maintain and update the technology of Neuron Gaming while also servicing the client needs in real-time. Neuron Gaming can be installed on the client's server or as a SAAS (Software as a service), in both cases we update the platform every 3 months with a new release. 
EUROPEAN LEGISLATION IS GOING TO STRENGHTEN THE SECURITY CONCERNS IN THE IGAMING SECTOR, HOW IS BTOBET MOVING IN THIS REGARD?
The application of security is a basis in iGaming and we are compliant also with those markets which are aware of the potential of the industry and strengthening their gaming regulations.
BtoBet is very diligent and careful to ensure data integrity and data protection for all clients and operators. Being an EU based company, we are making sure that the Neuron Gaming platform follows the regulations for data protection and are preparing the compliance with the new GDPR law that kicks in at the end of May 2018.
Working with a lot of providers, it is mandatory for our Gaming platform to prevent any exposure of our Operator's data and this is why we work only with providers who are ISO 27000 certified; the Information Security Management Systems standard which enables organizations to ensure security in delivery and data protection.
BtoBet will showcase its advanced Neuron Gaming platform at ICE Totally Gaming, booth S1-320 from the 6th to the 8th February.
About BtoBet
BtoBet is a multinational company and is part of a group with 20 years of experience in software development in IT, finance, telecommunication, e-commerce and banking, strongly committed to technology and widely investing in technology research and development. The experience gained in these advanced environments, allows BtoBet to be visionary in the iGaming and Sports betting industry with a deep understanding of the requirements of the market, catching changing trends and anticipating bookmakers' and operators' needs. BtoBet is a true partner in technology, offering a standalone platform and services for the iGaming and Sports Betting industry. It counts on a very talented, continuously trained development team and day to day management support to clients. BtoBet allows licensees to be unique in the market, by giving them the opportunity to completely personalise their offers for Sports betting and iGaming business, online mobile and retail. BtoBet has technical branches with large ever-growing teams of developers in Skopje, Ohrid, Bitola, Belgrade, Nish, Tirana, and Rome. Malta hosts the commercial and marketing centre. Visit our site on: www.btobet.com
EUROPE FOCUSED SPORTS BETTING REPORT HIGHLIGHTS STRONG ONLINE GROWTH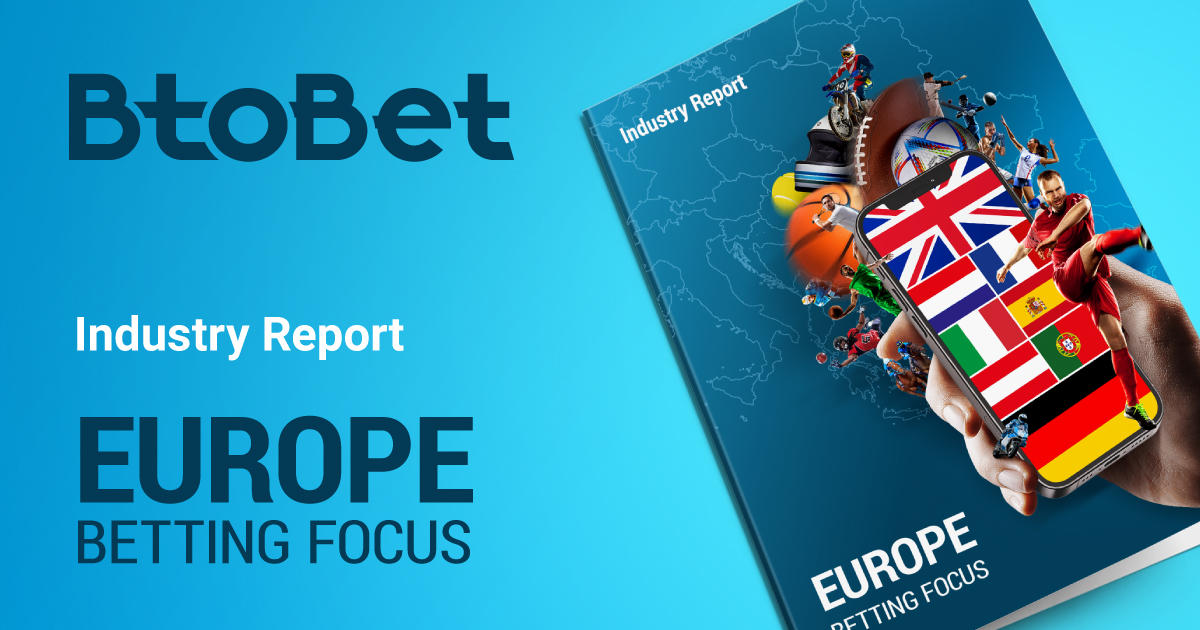 Reading Time:
< 1
minute
Leading sportsbook supplier BtoBet has published its latest Industry Report in the betting focus series, with the latest edition focusing on the highly mature European market.
The Industry Report analyses the strong shift towards local regulatory frameworks that has characterised the European betting and gambling market as governments sought to regulate the online marker and leverage tax revenue from an increasingly booming industry.
With operators continuing to face increasing burdens in relation to duties and taxes as more grey markets adopt local regulatory frameworks and tax increases in more established markets show no sign of slowing down, the report delves into the data of the more established continental markets, and analyses the growth of the online channel.
The report focuses particularly on the betting data of:
The United Kingdom
Denmark
France
Italy
The Netherlands
Portugal
Poland, and
Spain
BTOBET TAPS MALTE HEGELER TO LEAD AS VP OF PRODUCT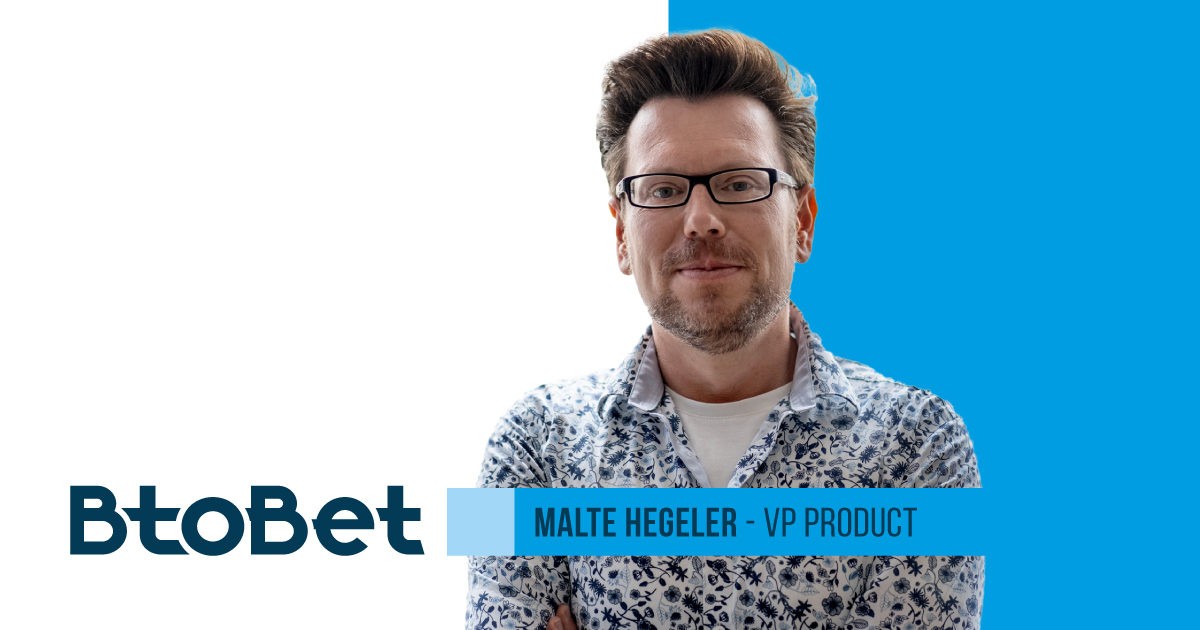 Reading Time:
< 1
minute
NeoGames S.A subsidiary Btobet, a leading sports betting supplier, continues to grow and diversify its senior management team appointing Malte Hegeler as Vice President of Product. Hegeler, a consummate professional with over 15 years of experience in the sports betting industry, joins BtoBet from EveryMatrix, where he served until recently as Interim Chief Executive Officer and Head of Product Development for the company's sports data platform OddsMatrix, contributing significantly to the growth of their sportsbook solutions. His appointment has been made public days after the appointment of Freddie Bowring as VP of Sales having joined BtoBet from IMG Arena.
In his new role, Hegeler will be leading the Product team, where he will be overseeing the product strategy, roadmap and development in order to drive BtoBet's delivery of world-class sportsbook solution and service offerings to leading bookmakers.
Dima Reiderman, BtoBet's Managing Director said: "We are thrilled to add Malte to our senior management team. As we continue to evolve and deliver our superior sportsbook product to even more global partners, it's important that we have strong product vision and leadership. His expertise and proven ability to evolve sportsbook products will be invaluable as we continue establishing ourselves at the forefront of the sportsbook industry."
Malte Hegeler, Vice President of Product, added: "BtoBet has been meeting the requests of very demanding partners in the sports betting industry with its unique ability to create market-leading solutions. Coupled with BtoBet's commitment to deliver flexible and superior sportsbook solutions and services, I'm thrilled to join this talented team and build on their momentum."
BTOBET STRENGTHENS SENIOR TEAM WITH NEW VP OF SALES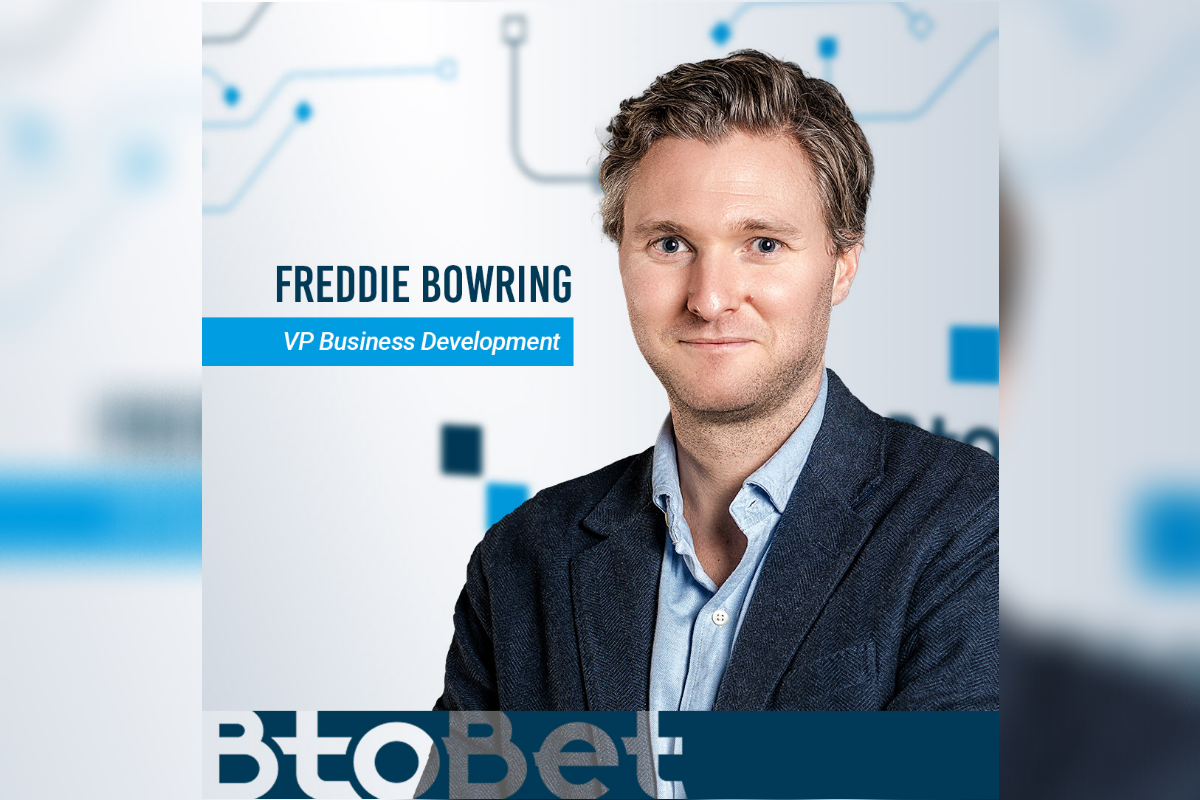 Reading Time:
< 1
minute
NeoGames S.A subsidiary BtoBet, a leading sports betting supplier, has strengthened its senior team having appointed Freddie Bowring, an experienced professional in the sports betting industry, as Vice President of Sales.
In his new leadership role Bowring will be responsible for driving BtoBet's core sales, and building strategic partnerships with prospective customers.
As part of his role, Bowring will further complement the company's rapid growth, which has seen it sign and renew partnerships with some of the industry's biggest brands and operators, including William Hill, Betfair, Intralot, PremierBet and Santa Casa Global. He brings over a wealth of experience joining BtoBet from IMG Arena, where he has occupied various senior leadership positions.
Dima Reiderman, Managing Director at BtoBet, said: "I am thrilled to have Freddie on board. His experience, knowledge of the sports betting landscape and deep understanding of its challenges and opportunities will help us increase our presence on a global level. We are fully confident that he will be able to help the largest global brands capitalize on our technology. Freddie's appointment also indicates that BtoBet intends to continue boosting its leadership team by hiring the best talent available across the betting vertical."
Freddie Bowring, VP of Sales, added: "I'm extremely grateful for the opportunity and excited to join such a strong team. BtoBet's sportsbook platform is renowned for its flexibility and cutting-edge technology which make it one of the market's leading solutions. I am eager to build on the solid foundation that has been developed over the last years, and to support the company's strategy to maintain its leadership role in its core markets whilst expanding into new market opportunities. I look forward to the new challenges and milestones to reach together."