Kent State close to launching varsity esports video gaming program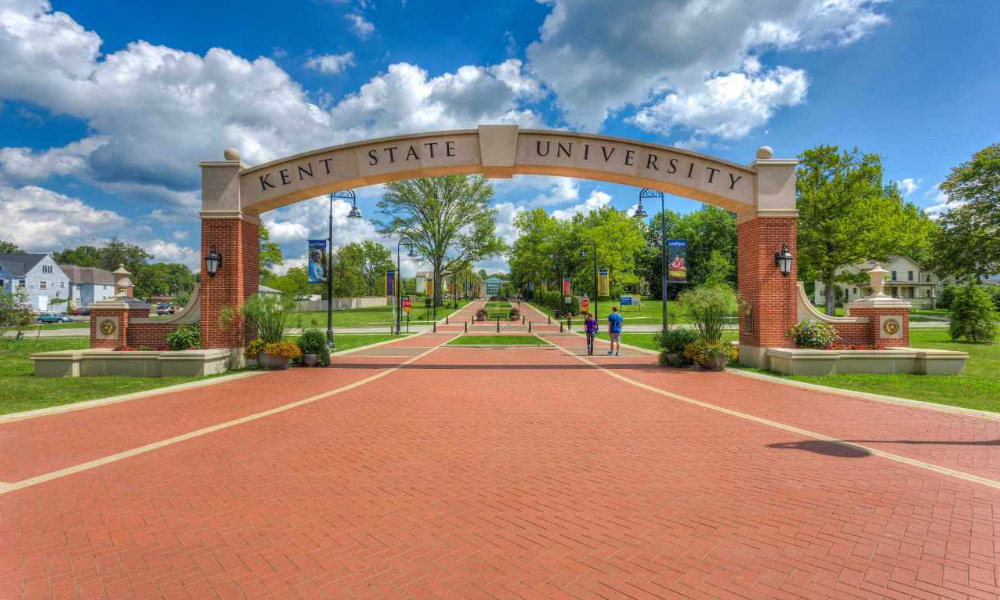 Reading Time:
2
minutes
CLEVELAND, Ohio – Kent State University is looking to join MAC rivals Akron and Miami in launching a varsity esports program.
The specifics of the program haven't been announced yet, but university officials say they're close to making their plans known.
"The interest level in this is pretty high," Steven Toepfer, a faculty member who oversees a group of student gamers at Kent's Salem campus, said. "We're behind this significantly."
Varsity esports programs have sprouted up at more than 50 colleges across the country in recent years. Teams of student gamers compete with other colleges and at tournaments in popular games such as League of Legends, Overwatch and Hearthstone. Many of the schools like Akron and Ashland offer scholarships to students to play video games.
Kent will too, although the number and amounts are still being discussed. The Salem campus is already recruiting players for scholarships in Hearthstone and Overwatch.
"We're going to have six players in the Salem campus coming into the university in the fall," Toepfer said. "Most of the regional campuses are going to field at least one team as well. So, that's seven locations (in addition to the main campus). We're talking about a sizable program."
In addition to the varsity-level program, the school is planning to field club teams as well. 
There are currently more than two dozen student organizations at Kent involved in competitive video gaming. The university hopes to lure them and prospective students to a school-wide tournament on April 6-7. The goal: to gauge interest, recruit players and educate the rest of the university about esports.
"We're going to see how competitive we can be in a couple of different games. We're also going to find out what games we want to dive into in year one," Tim Pagliari, project manager of KSU's esports initiative, said.
As far as possible future matchups against their arch nemesis Akron Zips, university officials say that's part of the goal.
"The MAC doesn't have a current stance on esports, although they're getting there," Pagliari said. "We certainly hope to have both friendly competitions and to see them in regional and national tournaments."
While the scope and timeline for an esports program is still being finalized, organizers say the process of selling the merits of gaming to the university as a whole is ongoing.
"We show them some of the numbers in terms of what the industry is doing ($1.5 billion in revenue globally last year) and how much these [pros] are making and it really drives home the point," Toepfer said. "But we also try to sell this as a community building endeavor.
"We really think [an esports program] is going to help our students feel attached to the university in a similar way that athletics help athletes feel like their part of the university. … These kids are so excited to be representing the university, so it has a lot to do with attachment to place and feeling proud of Kent State."
For more information, go to kent.edu/esports.
NBA 2K League Announces Tencent As League's First Distribution Partner In China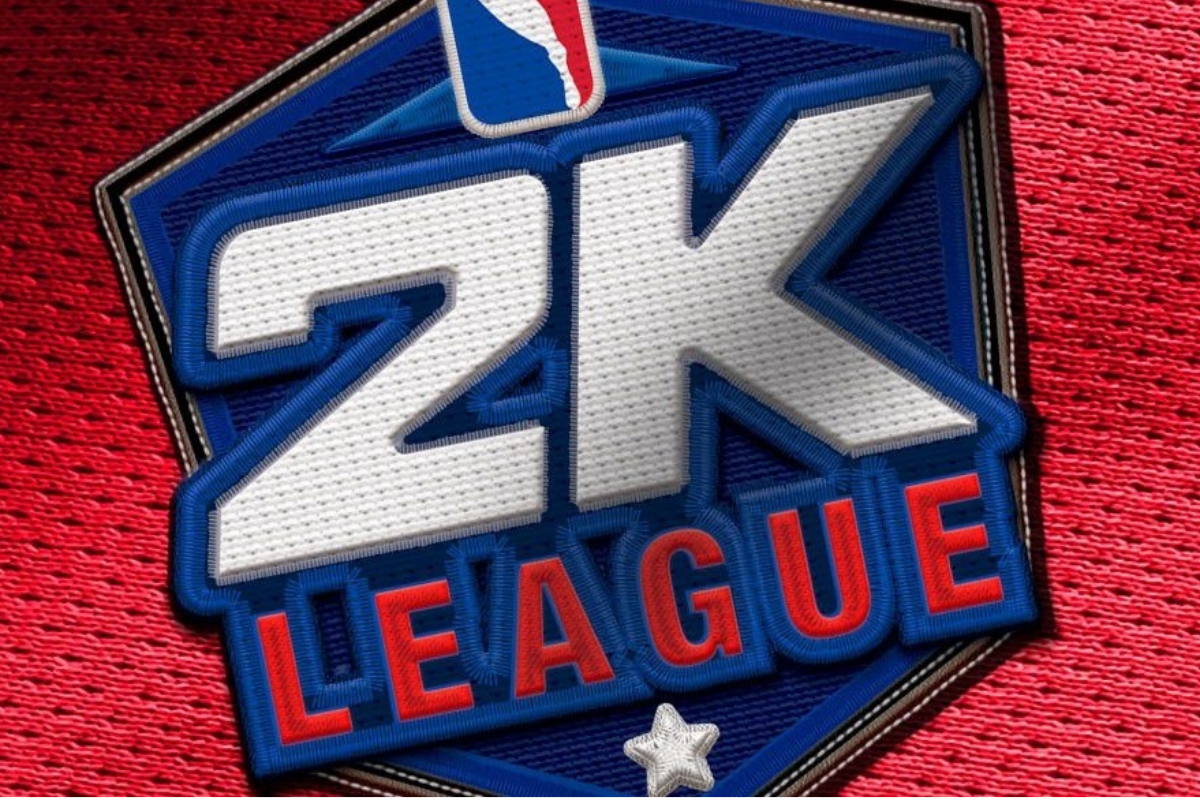 Reading Time:
3
minutes
The NBA 2K League today announced Tencent Holdings Limited as the league's first distribution partner in China.  Tencent, a leading provider of comprehensive Internet services in China, will stream condensed 2019 NBA 2K League Playoff and Finals games to its hundreds of millions of daily users across Tencent Sports, Tencent Video and Tencent News.
Tencent's coverage will include select, condensed 2019 NBA 2K League Playoff games and all 2019 NBA 2K League Finals games.  The 2019 NBA 2K League Playoffs will tip off Wednesday, July 24, with the best-of-three quarterfinals and semifinals taking place over three days of gameplay.  The playoffs will culminate with the best-of-five 2019 NBA 2K League Finals on Saturday, August 3.
"Today is another incredible step forward in the NBA 2K League continuing to grow as a global league," said NBA 2K League Managing Director Brendan Donohue.  "Tencent is the ideal partner to distribute our games and bring the excitement of the NBA 2K League to fans in China, and this partnership illustrates the popularity of esports and interest in the NBA 2K League among its hundreds of millions of daily users."
"The NBA 2K League is a world-famous professional esports league," said Tencent Sports General Manager Ewell Zhao.  "Tencent Sports hopes the NBA 2K League will provide a new way to bring the charm of basketball and sports to more people."
The seven NBA 2K League teams with the best regular-season records and the winner of THE TICKET powered by AT&T – Warriors Gaming Squad – are guaranteed playoff spots.  All regular-season and playoff games take place at the NBA 2K League Studio Powered by Intel in Long Island City, New York.
In April, the NBA 2K League announced that throughout the 2019 season, YouTube is simulcasting all NBA 2K League games livestreamed on the league's Twitch Channel, and distributing highlights and additional video-on-demand content on the official NBA 2K League YouTube Channel.
About the NBA 2K League:
The NBA 2K League, a professional esports league co-founded by the NBA and Take-Two Interactive Software, Inc. (NASDAQ:TTWO), launched in 2018 and features the best NBA 2K players in the world.  Each of the league's 21 teams features six players who compete as unique characters in 5-on-5 play against the other teams in a mix of regular-season games, tournaments and playoffs.  Knicks Gaming won the first-ever NBA 2K League Finals on Saturday, Aug. 25, 2018.  The league's second season takes place from April-August 2019.  NBA 2K League partners include AT&T, Champion Athleticwear, Dell, Facebook, HyperX, Intel, New Era, Raynor Gaming, SCUF Gaming, Snickers and Stance.  All NBA 2K League games are livestreamed on the league's Twitch and YouTube Channels.  For more information about the NBA 2K League, visit NBA2KLeague.com.
About Tencent:
Headquartered in Shenzhen, China, and founded in 1998, Tencent is an internet-based technology and cultural enterprise. Tencent's mission is to "improve the quality of life through internet value-added services". Guided by its "user oriented" business philosophy, Tencent achieves its mission via the delivery of integrated internet solutions to over 1 billion netizens.
An industry leader and global pioneer of innovative, digital-based technology solutions, Tencent aims to provide platforms and services that connect everything. Through the company's two principal business operations, "social platforms" and "digital content", Tencent develops and delivers game-changing products, such as social communication platforms "Weixin/WeChat" and "QQ", that connect people with services, foster closer relationships and create new business opportunities. From comics, videos, games and animation to music, literature, films and news, Tencent offers an incredible array of first-class digital content and multi-media services, providing entertainment and cultural enrichment to over 1 billion users across the globe. Tencent also provides cutting-edge financial technology and seamless mobile payment solutions that are helping support the development of smart cities, smart transport and smart retail.
Esports betting platform Luckbox adds eight new games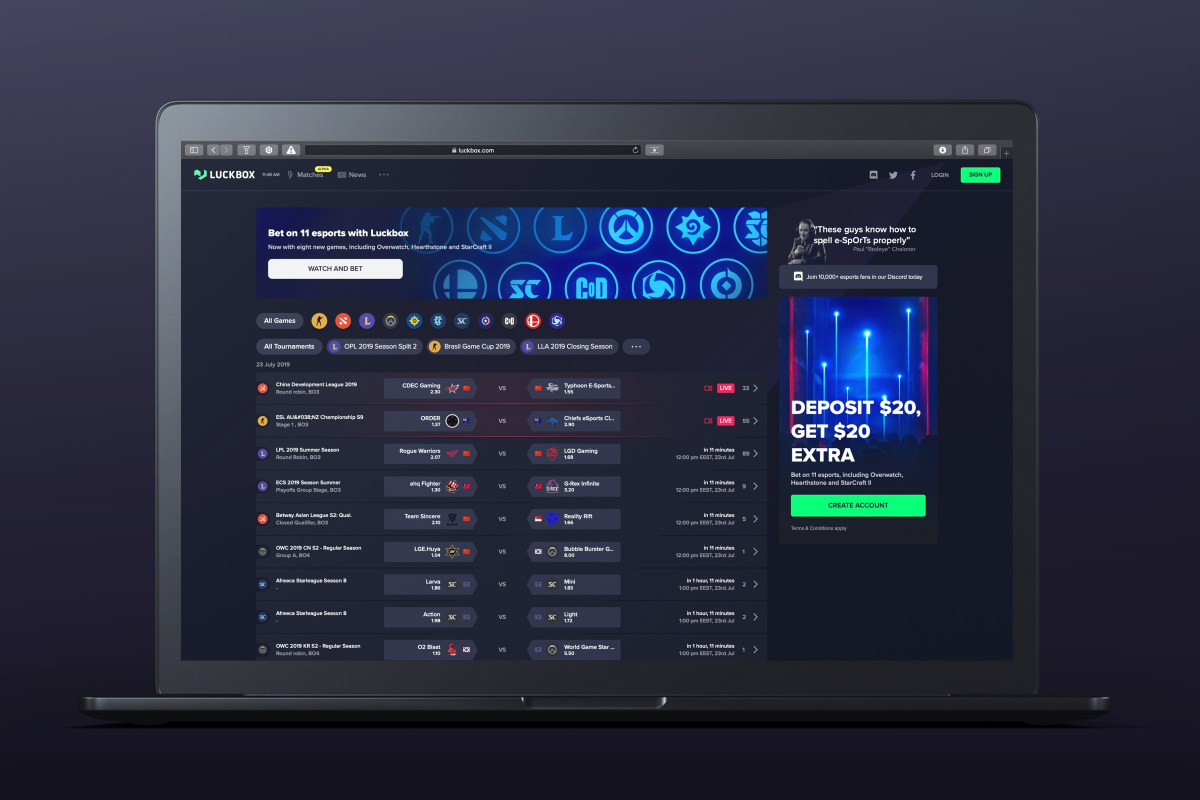 Reading Time:
2
minutes
Esports betting platform Luckbox has today announced the addition of eight new games.
Esports fans can now enjoy betting on 11 different games via the Luckbox esportsbook.
Overwatch, Hearthstone, StarCraft, StarCraft II, Smash, Call of Duty, King of Glory and Heroes of the Storm have been added to the existing trio of CSGO, Dota 2 and League of Legends.
Luckbox's Director of Esports Sujoy Roy said: "Our ambition is to offer the most comprehensive betting options for fans, both in terms of depth in each game but also breadth across a wide selection of esports.
"We know there is a huge demand for some of the new games we've added, so we hope fans will enjoy watching and betting on some of their favourite events with us.
"We're continually improving and adding new features to Luckbox and the addition of eight new games is another important step for us as we prepare for full launch."
To celebrate the addition of the new games, Luckbox launched its new bonus for players, who can get $20 free when they deposit $20.
Luckbox is in the final stage of beta and already accepting real-money bets from esports fans in more than 100 countries.
The company is aiming to combine an esports-dedicated product with the integrity and player safety measures that major traditional bookies offer.
The company holds a top-tier gambling licence in the Isle Of Man, which guarantees player funds are segregated from business funds, offering players the highest levels of protection.
Luckbox is also a member of the Esports Integrity Coalition (ESIC), which works to maintain standards in esports.
About Luckbox:
Luckbox was founded by former PokerStars colleagues Lars Lien and Mike Stevens. Luckbox was built by a team combining vast experience in the igaming industry and a passion for esports to offer players unique and highly social platform to bet on CSGO, Dota 2, League of Legends, Overwatch, Hearthstone, Starcraft, StarCraft II, Smash, Call of Duty, King of Glory and
Heroes of the Storm. Real Time Games Holding Limited – the company behind the Luckbox brand – holds a full licence under the Online Gambling Regulation Act (OGRA), issued by the Gaming Supervision Commission. Luckbox is a proud member of ESIC and is committed to supporting responsible gambling.
WinZO Announces $1.5 Million Fund to Support Game Developers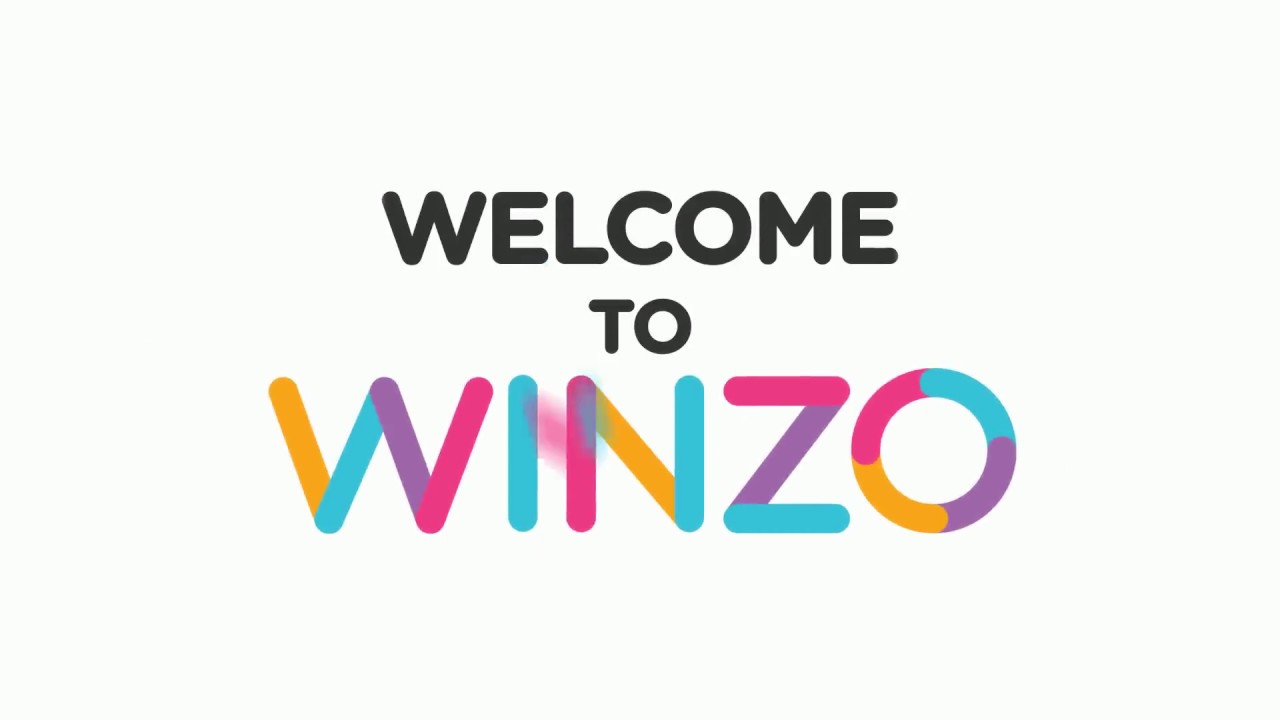 Reading Time:
1
minute
The e-sports gaming platform WinZO has announced a $1.5 million fund to support game developers and acquire content for the platform.
"Through this fund, we are looking to partner with Gaming Studios as well as independent game developers by offering them an infrastructure to develop top quality content and a powerful platform to monetize their games from day one. A sector gets disrupted when the best brains of the world work actively towards unlocking its potential. Through this initiative, we look forward to interacting with highly enthusiastic and top-notch talent, keen at creating a dent in the global gaming ecosystem," Paavan Nanda, Co-founder, WinZO said.
WinZO, which is backed by Kaalari Capital, offers more than 25 games on its app-based platform in ten languages. It aims to develop real-time multi-player mobile gaming experience that is social, inclusive and accessible for the first-time smartphone users in Tier 2 and Tier 3 markets.
WinZO would use the funds, set aside to develop localised content for the platform in partnership with cherry-picked game developers in India and around the world.
"WinZO's social multi-player skill gaming platform clocked 100 million gaming minutes every day and has been able to successfully monetize this engagement. The company is growing 50 per cent month on month. On one hand, large OTTs platforms are struggling to monetize in India, but WinZO is facilitating the first-ever M&E transactions from the tier 2 or tier 3 audiences," Paavan Nanda added.