Xether Announces the Launch of Eponymous Gambling Ecosystem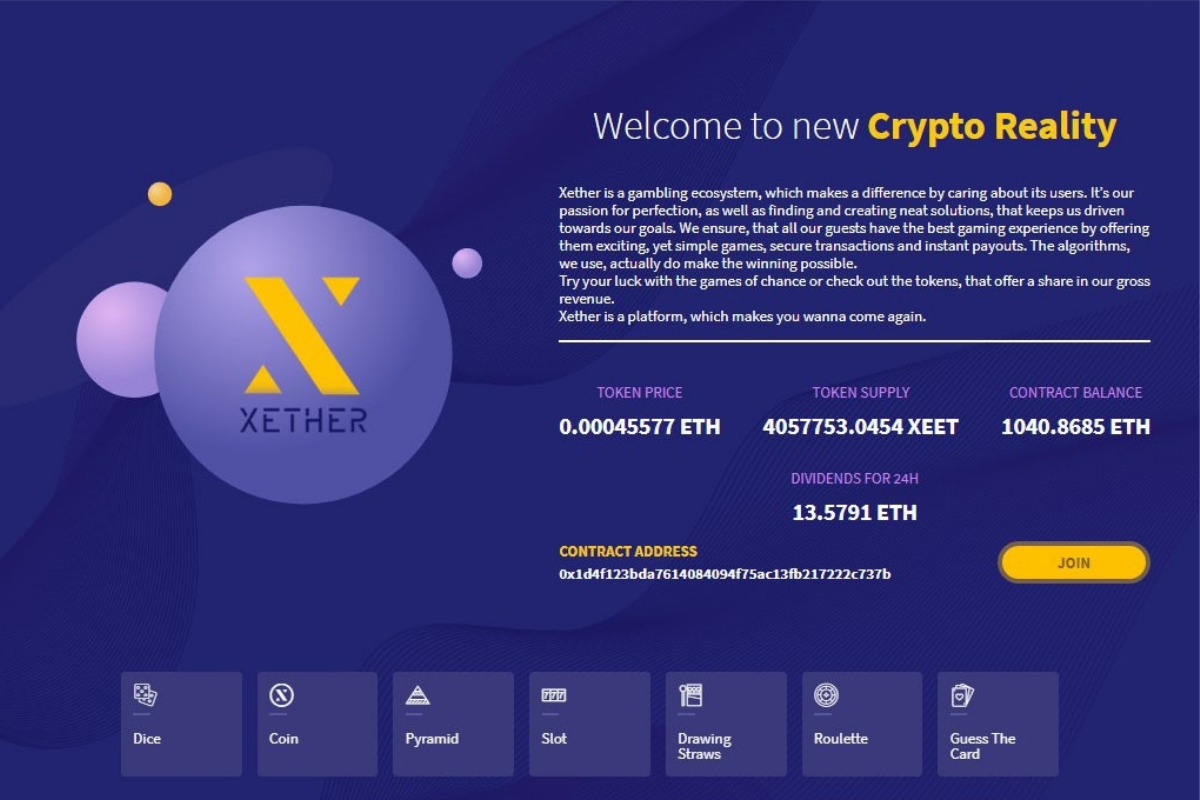 Reading Time:
< 1
minute
Xether has announced the launch of an eponymous gambling ecosystem enabling one to play for ETH without signing up while obtaining steady income.
In order to play, a user only has to have some ETH on their wallet. For now, the casino offers games like pyramid, coin toss, dice, roulette, and slot simulator. The developers say that they plan to add poker and sports betting in the future as well.
Xether also allows one to purchase casino tokens granting their owner a passive income. It comes from dividends on the token turnover and the casino fee applied to wins. Once a certain amount of fees is accumulated, the game's smart contract sends them to the core smart contract that distributes them between token holders proportionally to their share. The tokens are generated upon purchase and destroyed upon sale.
"For a long while, we've been searching for the meeting point between modern technology, financial systems, and good old gambling. There are numerous great solutions in each of those areas but they don't interact much. That is why we decided to bring the best in all those worlds together in a single product. Having smart contracts underpinning our ecosystem, we guarantee transparence, provable fairness, and full independence. With tokens and a dividend system in place, we get a powerful decentralized financial system that generates profits," Xether CEO Alexei Mischenko says.
"We also have plans to engage with other smart contract platforms. The main thing is that they have to share our principles of transparency and openness," Mr. Mischenko says.
Trump vs Biden I: Cloudbet Markets Give it to Not-So-Sleepy Joe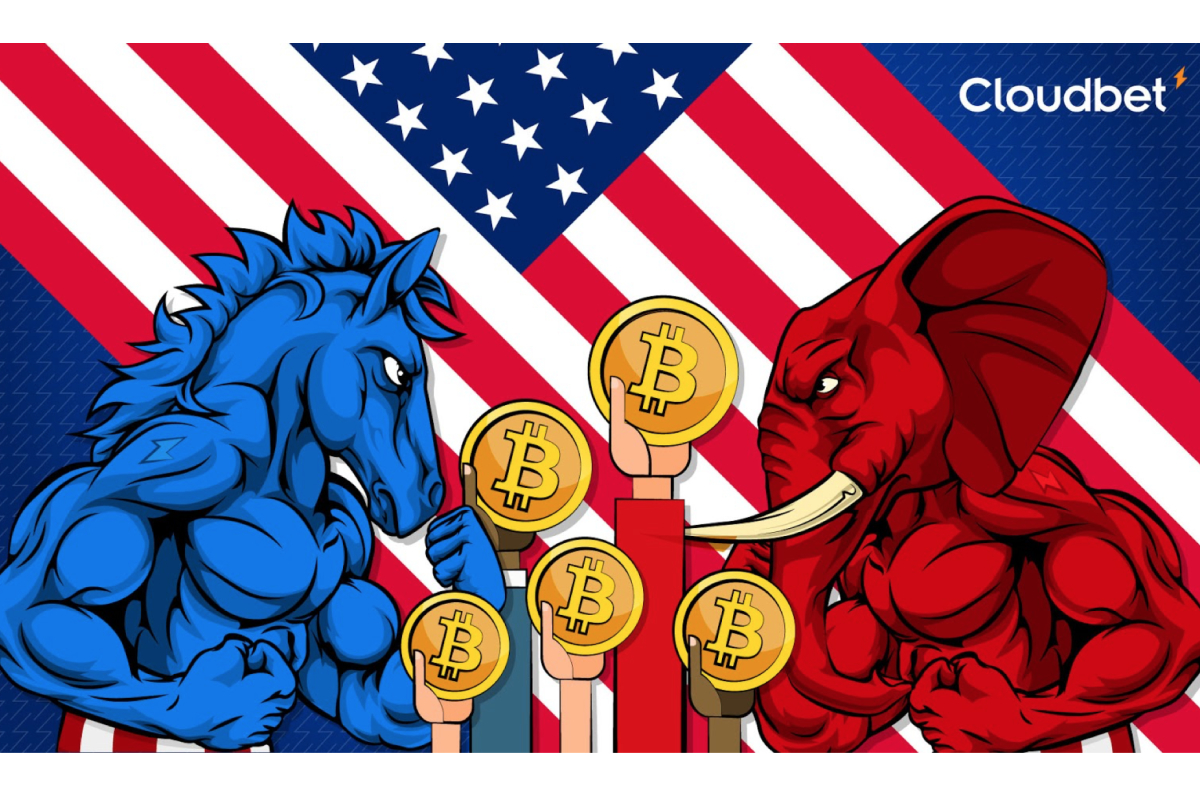 Reading Time:
2
minutes
Joe Biden, the Democratic candidate for the U.S. presidency, won support from the betting public as he withstood a hail of bluster and interjection from President Donald Trump during a combative and fiery first presidential debate.
Odds on a Biden win shortened to 1.65, meaning betting markets give him a 61% chance of being elected, according to prices compiled by crypto sportsbook Cloudbet. That compares to 1.73 (58%) just before the debate. Trump's odds drifted to 2.28 from 2.16, amid indications that bettors had taken significant positions on the president ahead of the debate.
Biden had managed to mostly fend off Trump's constant interruptions and aggression, as part of his campaign's ongoing attack on the Democrat's mental acuity and cognitive abilities, commentators on both sides of the political spectrum said after the debate. Others said the chaos of the encounter blurred any attempt at messaging on key issues, and did little to sway undecided voters who are crucial for victory in key swing states.
Cloudbet is tracking the two candidates' price movements closely as part of its comprehensive politics offering that allows customers to bet on the election winner as well as on state-by-state outcomes. The operator's politics page features a superbly designed electoral college map integration that gives users an instant opinion on which party is likely to win the election, based on real-time odds presented for each state.
Cloudbet saw a significant pick-up in betting activity ahead of the debate: About 10% of the value of all bets on the U.S. election were placed in the 24 hours leading up to the event, a spokesperson for the crypto operator said. Bets on Trump accounted for 90% of the new positions.
"Some people thought that Biden's weaknesses were going to get clearly exposed in the debate," the spokesperson said.
The election map significantly amplifies what's on offer at Cloudbet for players seeking the best odds for bitcoin politics betting from the comfort of their homes or on the go. Since it relaunched its website in April, the operator has unveiled a swathe of bold new features to attract a more diverse audience, including esports, USDT betting, and easy credit-card coin purchases.
Founded in 2013, Cloudbet is one of the world's longest established bitcoin operators. The site also accepts ethereum and bitcoin cash.
The operator grabbed the attention of industry observers in June with an ambitious English Premier League campaign, under which its sportsbook charged no margin on pre-match bets for all games left in the season. That allowed customers to access the fairest prices — and therefore the highest returns — in the market.
The campaign was an extension of Cloudbet's long-standing "best odds" campaigns on sports including soccer, basketball and tennis.
"Operators demand access to new markets and new player bases": Exclusive crypto gambling interview with Glen Bullen from DAOGroup.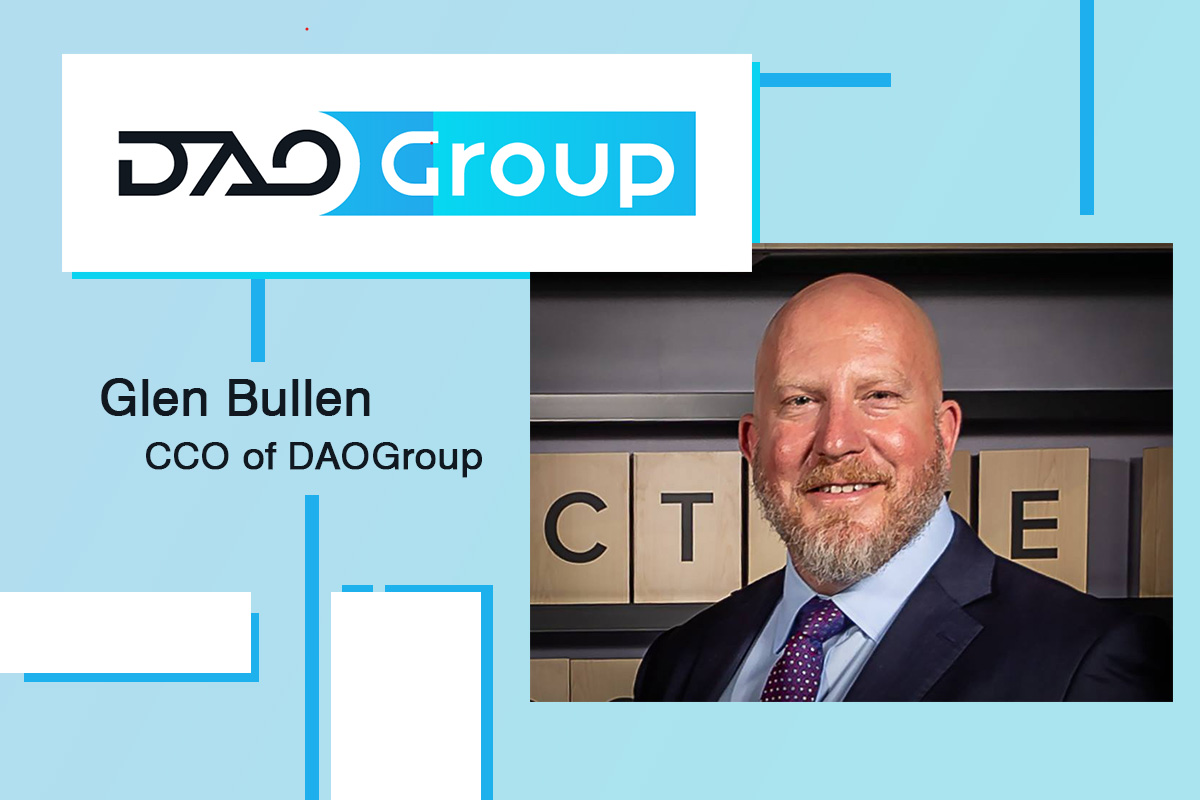 Reading Time:
4
minutes
While this year may have been a turbulent time for some, we caught up with Glen Bullen, CCO of DAOGroup to talk through the launch of DAOWallet, its cryptocurrency-fiat payments partner, as well as the opportunity to use crypto payments as a key way to engage new players.
What is it that DAOWallet can offer partners and end users that other payment service providers cannot?
DAOWallet may be new to market, but our team has incorporated many crypto payment learnings into the product to make it a slick, client-driven solution for operators looking to engage new demographics and markets.
In essence, DAOWallet offers a simple, clean solution for partners wanting to integrate crypto payments into their casino brands. We do all the heavy lifting and compliance work at our end, so operators can work hands-off on the payments side and focus on driving acquisition to a new audience of crypto users.
Perhaps DAOWallet's biggest innovation is its ability to track fund provenance, both to mitigate AML risks, but also to improve VIP management. Any player who deposits crypto via DAOWallet will have their pseudo-anonymous source of funds tracked, ensuring both VIP and AML managers alike will know if this is a player prime for big stakes play, or alternatively whether they've been associated with red flag transactions in the past.
How can those with little crypto knowledge use DAOWallet to join the crypto gambling revolution?
The key purpose of DAOWallet is to allow deposits and withdrawals to and from a players crypto account to be as simple and seamless as possible. With that, we feel we offer a solution that requires only a minimum of crypto knowledge.
However, the wallet's role is not necessarily to entice new players to crypto – though it can – but instead to deliver a functionable, painless means to support the millions out there who already hold and use crypto; and, most importantly, want to gamble with it at the best casinos around.
Do you see DAOWallet appealing to a certain demographic or region?
Without pigeon-holing an ever-expanding crypto base, industry research shows the main European demographic as being between 25 and 45 years of age and with above-average disposable income. This audience sees digital assets as more than a speculative asset, and want to find functional day-to-day uses for them, with gaming arguably the most tangible use case for them at this moment.
Saying that, DAOWallet easily supports varied requirements across any global market, such as Latin America, where concerns regarding banking infrastructure warrant the use of alternatives to fiat; or Africa, where barriers to credit card uptake mean many are keen to explore alternative online payment methods.
No matter the geography or demographic, our igaming clients can be confident DAOWallet will be covering all KYC and AML procedures in the backend on sign-up, ensuring a clean transition to the casino, which receives only whitelisted players. This is a major benefit of our solution over others on the market.
How do you see the current state of the payments sector in the gambling industry?
We hear so often that gambling as an industry is an early adopter for new technology. All the while however, there's untold examples of cautious decision-making and sluggish, suspicious adoption of tech that could have major benefits to the whole ecosystem.
There is no doubt that the payments sector is impacted by this paradox, and the utilisation of crypto is a key example. Operators demand access to new markets and new player bases, and there is a crypto market hiding in plain sight, waiting to be serviced. They must take advantage of this opportunity, or they will fall back against their more forward-thinking competitors.
Do you see wider crypto adoption as attainable right now, or do other industry movements need to happen to facilitate wider crypto payments?
Yes, it is attainable, but various ways of thinking need to be reset for crypto adoption to reach its potential. It's likely not a gambling industry-specific mentality, but too many look back at setbacks in the space and cling onto them as proof that crypto doesn't have its place in today's world.
This is naïve when you consider the various success stories that crypto has in engaging those who cannot access credit cards, those who may not trust the status quo and those who just want to be a little more progressive. I would like those doubters to take a deep breath and revisit what crypto adoption can do for the gambling industry.
As a deposit method, using the likes of bitcoin and Ether is a no-brainer for supporting bigger audiences in more markets. Those operators who don't embrace it soon will likely find they have lost this lucrative audience and will struggle to win them back.
We have seen DAOWallet recently sign a major partnership with MoneyMatrix. Do you have any other partnerships on the horizon that you could hint at?
MoneyMatrix was a major deal for us and shows the strength of partner that we are looking at. In terms of what is coming next, we're optimistic about various, progressed conversations with further platforms and a number of tier one operators in a variety of regions. Without naming names, there is a desire amongst potential partners to complement their existing payment partners to attract a new kind of customer, and that's what we're here for.
We're well set to make some big announcements in Q4 in terms of new clients and operators, so keep an eye out for that.
What product improvements can we expect from DAOWallet in the coming months?
Our most recent launch was stablecoin integration, and this will go live with partners to great effect very soon. Not only are we opening more crypto avenues (Tether/TrueUSD) for those looking outside of the bitcoin and Ether hegemony, but it also makes our platform more adaptable to local banking regulation.
Significantly, this was driven by client feedback and demand, and we delivered it back to those same partners quickly and successfully, further proving our credentials as a customer-first partner. We know the size of the crypto gambling space and we want to help fiat-based operators leverage it for their own growth, and it's through these collaborative projects that we can best do this.
Cloudbet rides zero margin, cashback into Paris for French Open fan engagement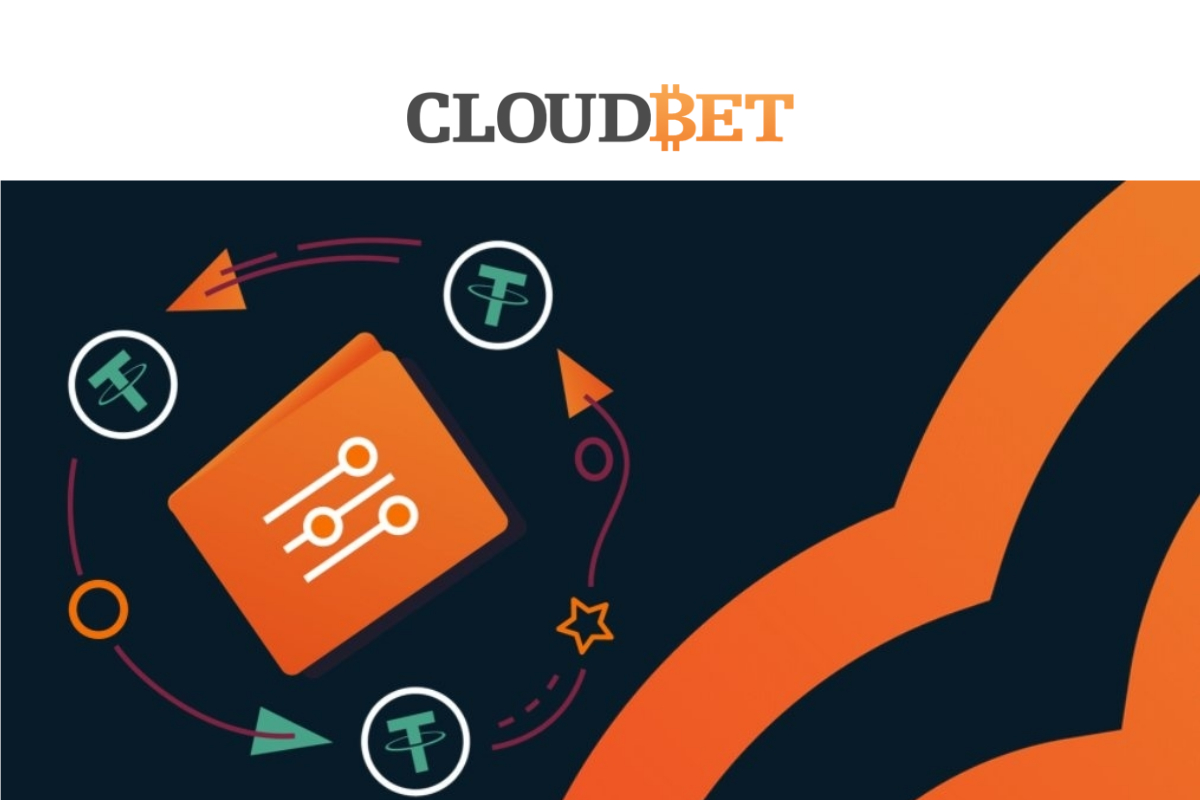 Reading Time:
2
minutes
Cloudbet, the leading crypto sportsbook and casino operator, has extended its popular zero-margin odds campaign for the forthcoming French Open tennis which gets underway this weekend at Roland Garros, Paris, where Rafael Nadal and Simona Halep start as firm favourites.
With tennis tournaments being played behind closed doors, or in front of sparse socially-distanced crowds, fan engagement has seldom been more important in connecting tennis fans to the live action they love, above all in-play. To which end, Cloudbet is upping the ante with its No Love Lost cashback offer, which returns players' stakes up to $200 per customer on single pre-match winner bets, if any losing selection drops a set 6-0 in defeat.
Moreover, Cloudbet's state-of-the-art blockchain technology will continue to deliver commission-free prices to customers on selected men's and women's matches throughout the French Open fortnight. Zero commission will apply to Match Winner, Game Handicap and Total Games markets – available both pre-match and in-play – thereby ensuring industry-leading prices for customers looking to maximise their winnings on this year's final Grand Slam. These designated margin-free matches offer the best bitcoin odds to every Cloudbet customer up to a maximum $1,000 win.
It's just the latest key differentiator from Cloudbet, which continues to leverage its unparalleled crypto credentials to now deliver the best French Open odds in the sportsbook world. This authentic and provable advantage generated sizeable spikes in turnover at the recent US Open and represents a welcome break from a progressively homogenised marketplace, dominated by token offers or misleading low-liquidity odds boosts that have created a race to the bottom for global operators.
Instead, Cloudbet's sportsbook is leveraging the blockchain technology that drives its operations, creating substantial savings by sidestepping the impediments faced by fiat operators around payment-processing fees, charge-backs and slower transaction times. Cloudbet then shares these savings with its burgeoning crypto community by reducing or removing the margin it normally charges on sports events.
Cloudbet customers will also benefit from high-definition streaming on featured French Open matches, including live data from all games that provides more entertaining content and statistics for enhanced fan engagement. These low-latency streams ensure that live pictures keep pace with the live scoring data, so that the viewing and betting experience remain seamless across every match.
This promotion around French Open bitcoin betting is an organic extension of the operator's ongoing "best odds" campaign which typically features margins as low as 2% across a wide range of sports. Away from cornerstone sports, like soccer and basketball, Cloudbet is preparing to see a spike in in-play tennis this week. Here, low-latency data feeds (from a combination of the best industry suppliers) ensure accurate pricing and minimal market suspensions, providing an effortless user experience from the best bitcoin sportsbook.
A Cloudbet spokesperson said: "After some impressive turnover and retention figures at the US Open earlier this month, the benefits of our zero-margin campaigns across marquee events are now as predictable as they are palpable. However, this is no time to rest on our laurels or simply repeat the feat. Which is why, at Cloudbet, we're extending the offer in tandem with an attainable money-back offer that tracks tennis players' potential for losing sets to love on the stamina-sapping clay, where breaking serve and momentum swings are commonplace.
"It's all part of our wider community-driven ethos at Cloudbet. We want to foster an engaged group of customers, who are having fun not only with betting, but also benefiting from credible customised offers, engaging statistical data and streaming services that elevate their overall experience."