Paysafe Gears Up for an exciting 2018 Verizon IndyCar Series Season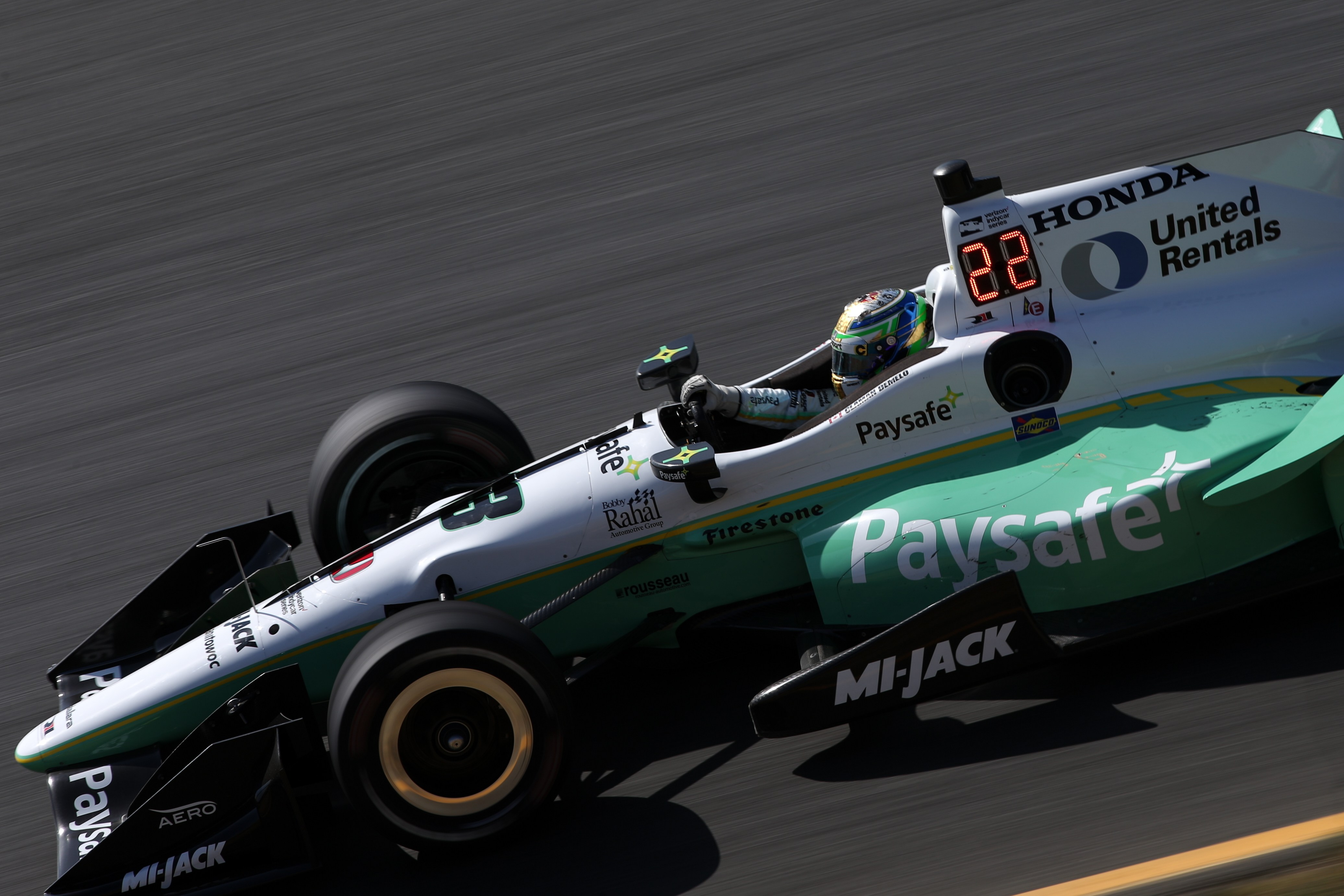 Reading Time:
6
minutes
Montreal, 7 March 2018 – Paysafe, a leading global payments provider, will be cheering on the No. 19 Dale Coyne Racing Paysafe Honda as it speeds through the streets of St. Petersburg this weekend. The Firestone Grand Prix of St. Petersburg event marks the first race of the season in the 2018 Verizon IndyCar Series for which Paysafe recently announced its sponsorship. In 2017, Paysafe sponsored a single race in the series, the Go Pro Grand Prix of Sonoma, and the new deal marks its commitment to both Indy car motor sports and the growth of its brand in North America.
Having driven innovation in payments since 1996, with a focus on keeping the payments process safe, secure and frictionless, Paysafe knows success is predicated on agility in fast paced environments, and the ability to leverage the latest technologies. This exciting sponsorship, which is a manifestation of these values and beliefs, is designed to heighten Paysafe's brand awareness in North America where it has identified significant growth opportunities.
As part of its sponsorship with Dale Coyne Racing, two up and coming drivers will also be representing the Paysafe brand on the track: young Canadian driver, Zach Claman De Melo (19) and Brazilian teammate, Pietro Fittipaldi (21), grandson of former motor racing legend, Emerson Fittipaldi.
"Paysafe is proud to partner with Dale Coyne Racing and sponsor up and coming star drivers, Zach Claman De Melo and Pietro Fittipaldi," said Oscar Nieboer, Chief Marketing Officer, Paysafe. "The entire team at Paysafe will be rooting for them as they take turns to pilot the No. 19 Paysafe Honda in what is probably one of the most exciting motor sports events in the world. Special good wishes go to Zach who will be taking the wheel this weekend."
"The opportunity to drive throughout the entire series is an amazing opportunity and I'm truly grateful to my patron, Paysafe, for making my dream come true," said Zach Claman De Melo, Indy car driver for Dale Coyne Racing. "I couldn't have done it without them and I am extremely proud to have the Paysafe logo on my uniform and car. I look forward to bringing them the success they deserve."
"I can't wait to get behind the wheel of the No. 19 Paysafe car and take a few checkered flags for Dale Coyne Racing and my fans this season," said Pietro Fittipaldi, Indy car driver for Dale Coyne Racing.
The 2018 Verizon IndyCar Series features 17 races, including the legendary Indianapolis 500 on May 29 and ending with the GoPro Grand Prix of Sonoma in California. The two drivers will take turns piloting the Paysafe car throughout the season:
March 11: Firestone Grand Prix of St. Petersburg – Zach Claman De Melo
April 7: Phoenix International Raceway – Pietro Fittipaldi
April 15: Grand Prix of Long Beach – Zach Claman De Melo
April 22: Honda Indy Grand Prix of Alabama – Zach Claman De Melo
May 12: INDYCAR Grand Prix – Pietro Fittipaldi
May 27: Indianapolis 500 – Pietro Fittipaldi
June 2: Chevrolet Indy Dual in Detroit Race 1 – Zach Claman De Melo
June 3: Chevrolet Indy Dual in Detroit Race 2 – Zach Claman De Melo
June 9: Texas Motor Speedway – Pietro Fittipaldi
June 24: Road America – Zach Claman De Melo
July 8: Iowa Corn 300 – Zach Claman De Melo
July 15: Honda Indy Toronto – Zach Claman De Melo
July 29: Honda Indy 200 at Mid-Ohio – Pietro Fittipaldi
Aug. 19: ABC Supply 500 – Zach Claman De Melo
Aug. 25: Gateway Motorsports Park – Zach Claman De Melo
Sept. 2: Portland International Raceway – Pietro Fittipaldi
Sept. 16: Go Pro Grand Prix of Sonoma – Pietro Fittipaldi
The Firestone Grand Prix of St. Petersburg will be televised live on ABC starting at 12:30 PM ET on March 11.
About Paysafe
Paysafe is a leading global provider of end-to-end payment solutions. Our core purpose is to enable businesses and consumers to connect and transact seamlessly through our industry-leading capabilities in payment processing, digital wallets and online cash solutions. Delivered through an integrated platform, our solutions are geared towards mobile-initiated transactions, real-time analytics and the convergence between bricks-and-mortar and online payments. With over 20 years of online payment experience, a combined transactional volume of US$48 billion in 2016 and over 2,600 staff located in 12 global locations, Paysafe connects businesses and consumers across 200 payment types in over 40 currencies around the world. For more information, visit: www.paysafe.com.
Follow Paysafe on Twitter / LinkedIn / Google + / stories.paysafe.com
About Dale Coyne Racing
Dale Coyne Racing (DCR) is a Verizon IndyCar Series team based in Plainfield, IL, about 40 miles southwest of downtown Chicago. The team has participated in every season of the INDYCAR/Champ Car World Series since 1984. DCR earned its fifth IndyCar win with a victory at the season opening race in St. Petersburg, FL in 2017 with driver Sebastien Bourdais and also obtained its best Indianapolis 500 finish in 2017 with a third place by top finishing rookie, Ed Jones. Team Owner Dale Coyne is a true racer with a long history in racing. As an Indy car driver for five years, and a team owner since 1984, he has more than 30 years of experience in open-wheel racing and is known for taking on young drivers and mentoring them in the early stages of their careers. Coyne is a Midwestern entrepreneur who designed and built Route 66 Raceway in Joliet, IL. He and Tony George, along with International Speedway Corporation (ISC), expanded the facility by forming a partnership and building Chicagoland Speedway. Coyne served as president of the facility through its construction and opening season, and served on its management committee until its eventual buyout by ISC in 2007. Coyne has several other investments, including being the largest Sonny's BBQ franchisee in the country.
About Zachary Claman De Melo
Zach began his campaign to reach the highest tiers of motorsports in 2006 (aged 8), when he was discovered by a group of professional drivers at the local go-karting track, and at age 12, Zach seized his first Canadian National Karting Championship. By 2015 (aged 16), Zach claimed two additional Canadian National Championships and made the jump to open-wheel racing in Europe's Formula 3 MSV Cup, where he posted an undefeated record while only competing part-time. In 2016 (aged 17), Zach landed his first full-time open-wheel drive in the Verizon IndyCar Series' official feeder series, called Indy Lights, with the 2015 defending champions, Juncos Racing.
In 2017, Zach's results drew the attention of Carlin Motorsports, the 2016 defending champions. Upon signing with Carlin for his sophomore season in Indy Lights, Zach earned his first Indy Lights race win, set 3 fastest laps, and delivered seven top 5 and thirteen top 10 finishes, and in just his second year in open-wheel racing, Zach exceeded the pace of his Indy Lights competitors with up to triple his experience.
In 2017, with Paysafe's backing, Zach made his debut in Indy car racing by competing in the Sonoma race in September.  At 19, he is one of the youngest drivers ever to have competed in the series.
About Pietro Fittipaldi
Grandson of the two-time Formula 1 World Champion and double Indy 500 winner, Emerson Fittipaldi, the Miami-born Brazilian quickly rose through the American karting ranks to become one of the brightest talents in junior racing. His driving skills soon took him to stock car racing, and at just 15 years old he became the first Latin American NASCAR champion in the Limited Late Model category.
The lure of continuing the Fittipaldi legacy in open-wheel racing inevitably took him to the UK in 2013 – an intensely competitive arena for honing a driver's skills and a tried and tested route into Formula 1. Promising debut stints in the single-seater 2013 Formula Renault BARC and BRDC F4 Championships – including podiums and a race win – were made more impressive given the seamless transition from racing stock cars since 2010.
In 2014, Pietro Fittipaldi dominated the British Formula Renault Protyre championship and was named 2014 champion with the Silverstone final race still to go. Pietro also raced in the Formula Renault 2.0 Eurocup and tested in Formula Renault World Series 3.5.
In 2015, Pietro competed in the FIA European Formula 3, where he secured three rookie podiums, and raced in the MRF Challenge from October 2015 to January 2016, where he claimed the championship with one race to spare.
In 2017, Pietro won the World Series 3.5 V8 Championship, as well as broke the World Series Championship record for most pole positions with 10, a record that was previously tied between Daniel Ricciardo (Red Bull F1) and Kevin Magnussen (Haas F1) who both scored 8 poles in one season.
For further information and/or to set up an interview with Oscar Nieboer, please contact:
Kate Aldridge, VP, Corporate Communications – Global
+44(0) 203 934 9197/ [email protected]
Amy Gregus, Head of Corporate Communications – North America
+1 514-294-0247 / [email protected]
To set up an interview with Dale Coyne, Zach Claman De Melo and/or Pietro Fittipaldi, please contact:
Karina Redmond, Director Communications – Dale Coyne Racing
+1 317-956-9910 / [email protected]
IESF Concludes World Esports Summit and Unites the World Esports Family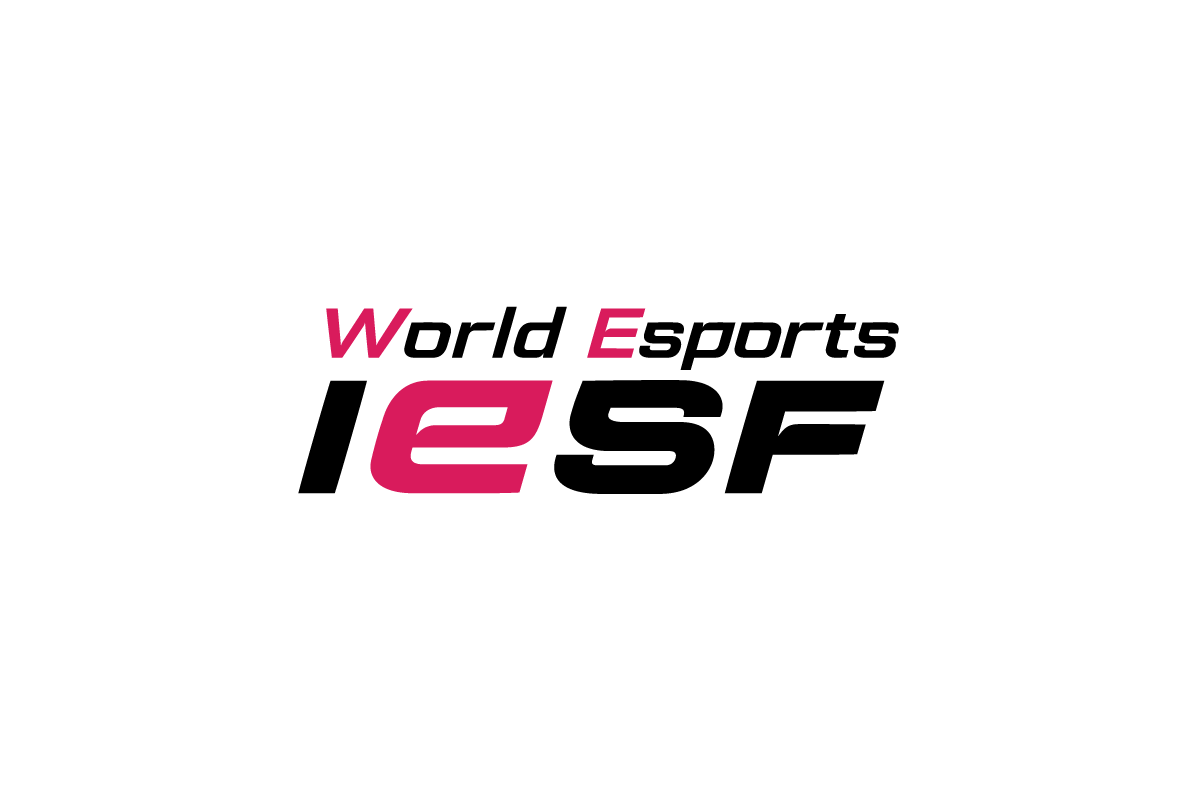 Reading Time:
2
minutes
Over 40 esports industry experts gathered in Busan to discuss the current state and future development of esports
The International Esports Federation (IESF) 2022 World Esports Summit wrapped up after two days and eight insightful panel discussions with key stakeholders in the World Esports Family and the wider esports ecosystem, including IESF President Vlad Marinescu and International Olympic Committee (IOC) Head of Virtual Sports Vincent Pereira. The 2022 edition of the WE Summit took place at the Busan Esports Arena in Busan, South Korea, as well as virtually online with support from the Ministry of Culture, Sports and Tourism, Busan Metropolitan City, and Busan IT Industry Promotion Agency.
This year was the seventh installment of the WE Summit, which debuted a refreshed branding and visual identity. Panelists included industry executives, global brands, government officials, and other esports leaders.
During the first day of the event, EA Sports Senior Program Manager Byungho Kang, KRAFTON Esports Lead Paul Kim, Nielsen Sports Commercial Leader Pelle Karlsso, IESF Athletes' Committee Chairperson Tiffany Lim, Advance Learning Partnership Consultant Nesli Kolasinli and more shared their insights and determined the key esports factors of success such as unity, close collaboration, recognition, education, and strong leadership.
IESF President Vlad Marinescu said: "We had a spectacular two days of the World Esports Summit that shined a spotlight on the World Esports Family. IESF would like to thank all of our passionate panelists, moderators, and esports fans who joined us here in Busan and virtually from around the world, and everyone who helped make the summit possible. We are so proud to host this annual event to provide a platform for esports leaders and stakeholders from member federations to discuss key issues in esports and the future of responsible esports worldwide."
To close out the final day of the WE Summit, IESF Secretary General Boban Totovski moderated a panel entitled "The Dynamic Roles of Esports Organizations," which featured Marinescu and Pereira as well as World Esports Consortium President Daniel Cossi, Asian Electronic Sports Federation COO Steve Tae Hyung Kim and ESL FACEIT Group SVP Public Affairs David Neichel.
During the panel, when asked about the Olympic vision for the future of esports, Pereira said: "The Olympic Esports Week in 2023, which we announced last week, will be a physical event that will include competition in virtual sports, hybrid games that will engage in physical activity, but also mobile games, console games and PC games. We'll also have exhibitions to showcase the best of esports aligned with the Olympic values and the Olympic spirit."
In addition to eight discussion panels, the first day of the WE Summit closed with the Referee Summit, moderated by Nesli Kolasinli, where three panelists came together to learn and develop the highest standards of referee training for IESF's 129 member federations to be used at events such as the annual World Esports Championships.
Day two of the WE Summit opened with the WE Academia Seminar. The winning research paper on this year's Academia Competition subject, "Health Wellness and Well-being in Esports," was presented. The submission entitled "Diversification of Esports Events for the Guarantee of Right for the Disabled" earned a grand prize of 4,000,000 KRW and a certificate from President Marinescu.
BETSSON GROUP SHORTLISTED FOR 6 AWARDS AT EGR ITALY AWARDS 2022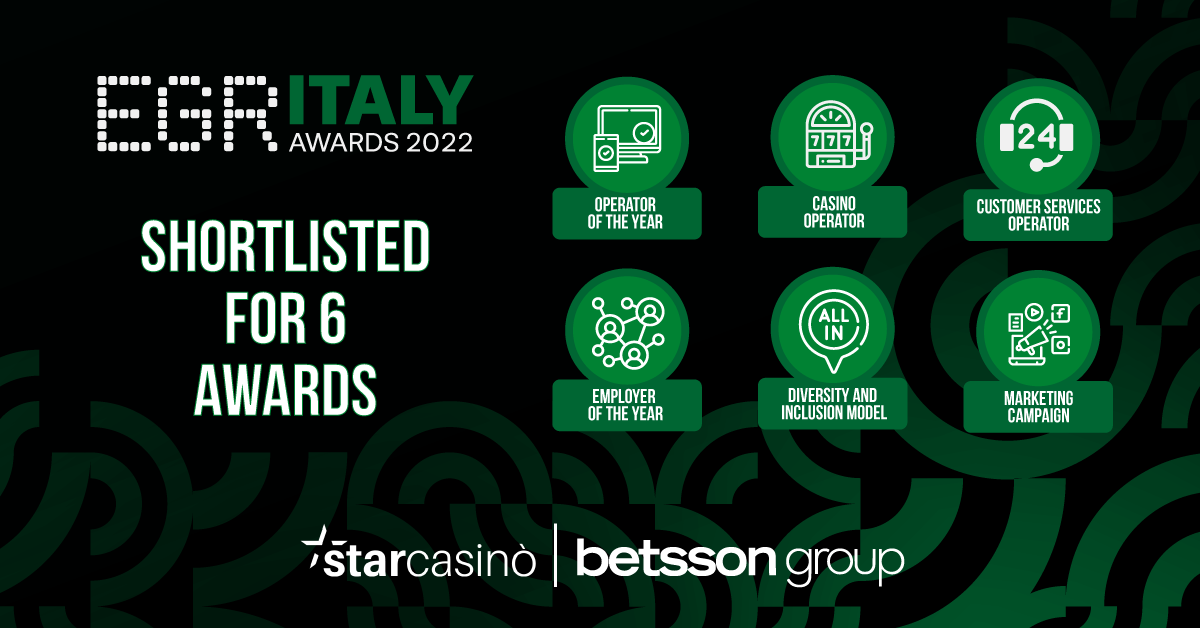 Reading Time:
< 1
minute
The EGR Italy Awards celebrate online gaming operators, affiliates, and service providers across the sector, shining a light on the incredible work carried out by organisations over the past 12 months. The Awards are designed to showcase the breadth and depth of the market across 20+ categories. The adjudication by a third party continues to be a part of EGR's pledge to make the judging process the most stringent in the industry. This ensures that the judging process is completely transparent, and the winners will clearly demonstrate the innovation and commercial success required to be rewarded with this honour.
The organisers of the event, eGaming Review (EGR) have said that "the calibre of entries received this year was incredibly high."
🏆 Operator of the year – StarCasinò
🏆 Casino Operator – StarCasinò
🏆 Customer services operator – Betsson Group
🏆 Employer of the Year – Betsson Group
🏆 Diversity & inclusion model – Betsson Group
🏆 Marketing campaign – StarCasinò Sport
The awards are taking place in Rome, Italy on 20th October
Lady Luck Games signs game distribution agreement with CYG Pte Ltd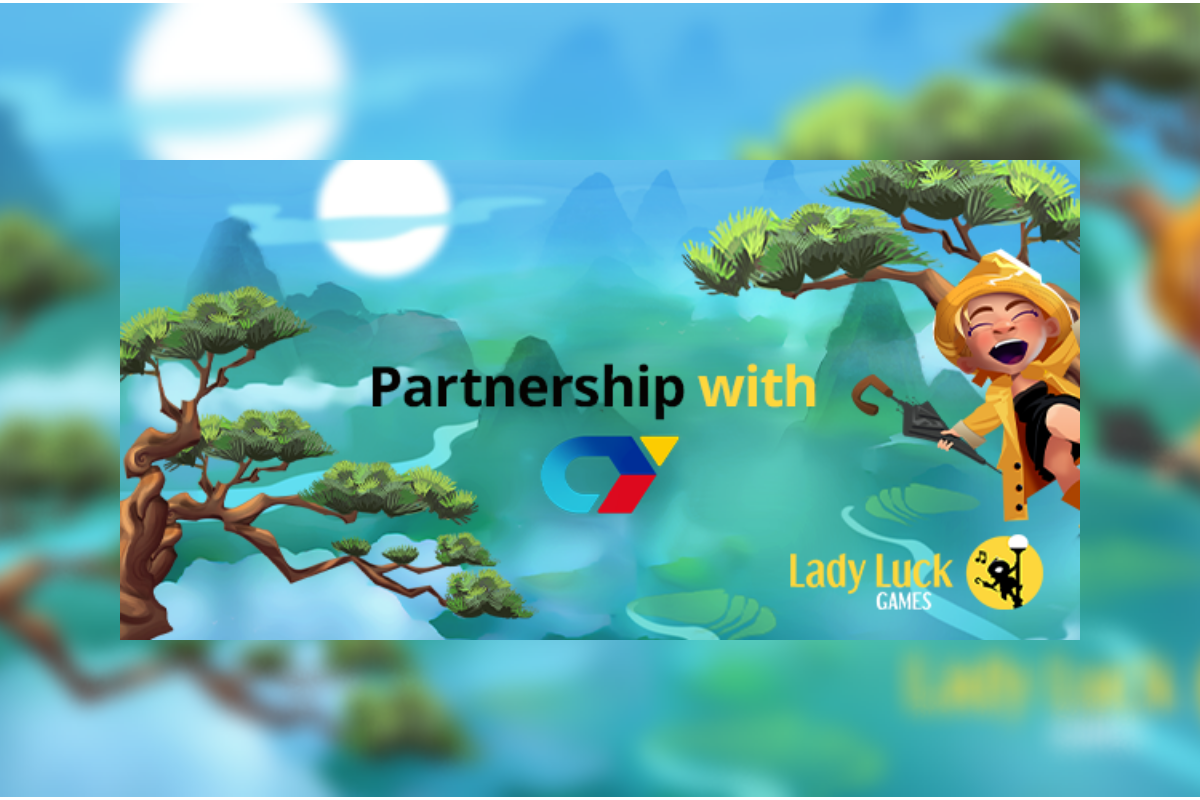 Reading Time:
< 1
minute
Lady Luck Games announced today that they have entered into an agreement with CYG Pte Ltd that allows its games distribution to regulated markets in Asia.
Mads Jørgensen, Co-Founder and Chief Executive Officer of LL Lucky Games AB said: "Only two weeks after announcing our prominent new strategic Asian investor in LL Lucky games AB, I am proud to announce a new partnership for regulated Asian markets that will have a massive impact on our business strategy.
"CYG Pte Ltd is a significant partner with many years of experience and knowledge in the Asian markets. This agreement is a milestone for Lady Luck Games and reinforces our ambition to become cash flow positive. The integration has already started and players will be able to enjoy more and more of our leading content in the coming months."
Michael Li, CEO of CYG Pte Ltd reiterated: "We are extremely proud and excited to announce our partnership with Lady Luck Games. As an already renowned provider of top-quality casino games in Europe, this partnership significantly enriches our content network. We strive to offer the best possible content and user experience, and believe with its carefully designed games and mechanics, Lady Luck Games is set to take the Asian regulated markets by storm."