LeoVegas AB: First quarter: 1 January-31 March 2018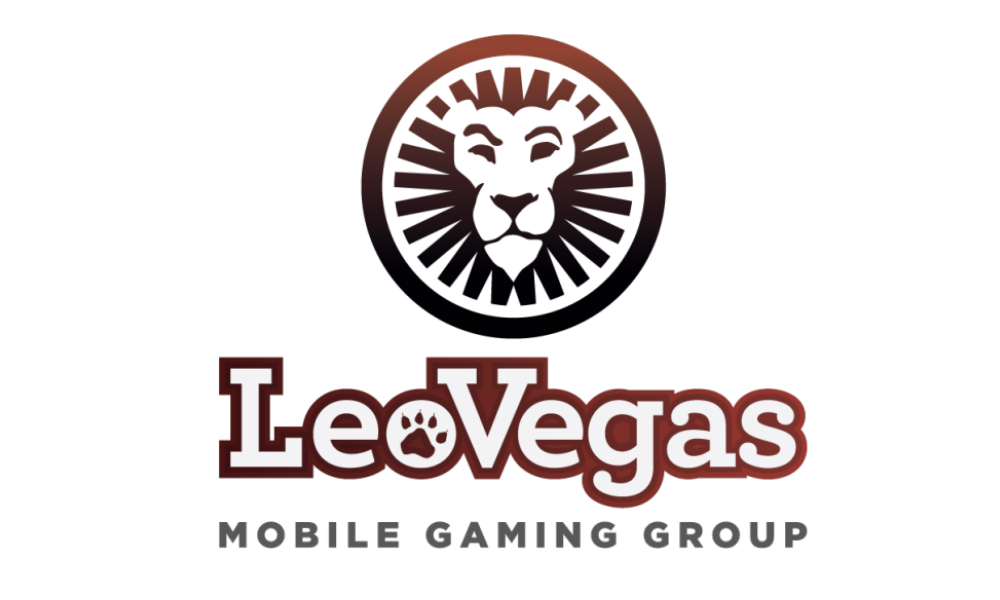 Reading Time:
8
minutes
" Yet another record quarter with greater transparency, acquisitions performing as planned, and new and clear financial targets" – Gustaf Hagman, CEO and co-founder
First quarter: 1 January-31 March 2018
Revenue increased by 76% to EUR 77.4 m (43.9).
Organic growth was 40%.
Organic growth excluding markets closed in 2017 was 61%.
EBITDA was EUR 9.5 m (6.0), corresponding to an EBITDA margin of 12.3% (13.7%).
Adjusted EBITDA totalled EUR 9.0 m (6.2), corresponding to an adjusted EBITDA margin of 11.6% (14.0%).
The number of depositing customers was 302,014 (172,338), an increase of 75%. The number of new depositing customers was 146,063 (75,017), an increase of 95%.
The number of returning depositing customers was 155,951 (97,321), an increase of 60%.
Gross Gaming Revenue from sports betting and live casino were 6.5% and 15.3%, respectively, of total GGR.
Net Gaming Revenue from Royal Panda and Rocket X accounted for 14.3% and 5.2%, respectively, of total NGR.
NGR from regulated markets was 35.4% (18.3%) of total.
Operating profit (EBIT) was EUR 3.8 m (5.5).
Adjusted EBIT was EUR 7.9 m (5.7), corresponding to an adjusted EBIT margin of 10.2% (12.9%).
Earnings per share before and after dilution were EUR 0.02 (0.05).
Adjusted earnings per share were EUR 0.07 (0.05).
Events during the quarter
LeoVegas acquired 51% of the shares in the company behind the streaming network CasinoGrounds.com for SEK 30 m (EUR 3.1 m), with a potential, maximum earn-out payment of SEK 15 m (EUR 1.5 m). LeoVegas completed the acquisition on 1 January 2018. See page 11 for further information.
LeoVegas acquired assets for GBP 65 m (EUR 73.6 m) from Intellectual Property & Software Limited along with related assets from another two companies that operate several brands including 21.co.uk, slotboss.com, Bet UK and UK Casino, which are now jointly referred to as "Rocket X". LeoVegas completed the acquisition on 1 March 2018. See page 10 for further information.
LeoVegas acquired World of Sportsbetting for EUR 2.6 m, which holds a sports betting licence and a casino licence in the German state of Schleswig-Holstein, and an approved application for a sports betting licence through the state of Hessen.
LeoVegas carried out a change in listing to Nasdaq Stockholm on 5 February.
LeoVegas is updating the amortisation rate for intangible assets related to the acquisition of customer databases in Royal Panda. The rate of amortisation of customer relationships in Royal Panda is being changed to harmonise it with the Group's other acquisitions, and to better represent the usage period.
LeoVegas has made a provision of EUR 0.5 m for fines from the UK Gambling Commission (UKGC) for alleged marketing violations in 2016. See page 9 for further information.
Events after the end of the quarter
New financial targets for the full year 2020 were communicated on 19 April. The new targets are to reach at least EUR 600 m in revenue and EBITDA of at least EUR 100 m. See page 9 for further information.
Net Gaming Revenue (NGR) in April amounted to EUR 29.3 m (16.5), representing growth of 77%.
In Norway it has been learned that new legislation is expected to pass during the year which aims to prevent Norwegian residents from accessing foreign gaming sites. Details on the proposed legislation have not yet emerged. Revenue from Norway accounted for 4.6% of the Group's total during March.
LeoVegas published its annual report for 2018 at www.leovegasgroup.com.
Comment from Gustaf Hagman – Group CEO and co-founder
High pace into the new year
"We got off to a flying start to the year with the acquisition of Rocket X, which has a strong footprint in the UK market with a local multibrand strategy and the market's most effective customer acquisition model. We followed this up with the acquisition of gambling licences in Germany, which will enable better local payment solutions and allow us to market sports betting throughout Germany.
In the autumn of 2017 we set the goal of changing our listing to Nasdaq's Main Market, and in early February we could once again ring the stock exchange's bell. The first day for trading on Nasdaq Stockholm was 5 February 2018, where we immediately moved into the Large Cap list.
We are continuing our hard work and are accelerating into 2018 on the momentum we built up last year."
First quarter
Our revenue during the first quarter amounted to EUR 77.4 m (43.9), representing growth of 76%. Our organic growth was 40%. Organic growth excluding markets that we closed in 2017 was 61%. EBITDA adjusted for items affecting comparability was EUR 9.0 m (6.2), corresponding to an adjusted EBITDA margin of 11.6% (14.0%).
KPIs and transparency
Transparency is important for LeoVegas. We have therefore decided to disclose additional Key Performance Indicators as a way to increase transparency and understanding for us as a group.
We have opted now for the first time to break down our revenue for the Sports book and Live Casino. Sport accounts for 6.5% of Gross Gaming Revenue (GGR), and Live Casino for 15.3%. We show these KPIs based on GGR due to calculations of bonuses, but the figure is basically identical to Net Gaming Revenue (NGR).
We have also opted to separately report on LeoVentures. LeoVentures today has an adjusted EBITDA of EUR -0.3 m, which is due to the fact that several of its companies are in the investment phase.
LeoSafePlay
Responsible gaming is one of LeoVegas' foundations since the start of 2011. Over the past year, LeoVegas has made a push in Responsible Gaming, which has resulted in more staff and improved tools based, among other things, on machine learning combined with the launch of the site www.LeoSafePlay.com. LeoSafePlay is a portal dedicated to identifying and managing unhealthy gaming behavior.
LeoSafePlay offers self-assessment tests, information for families and a free tool (GamBan) to block one's own access to all gaming sites.
With upcoming regulations in Europe, including in Sweden, there are a number of regulations on responsible gaming, and we at LeoVegas embrace these as an important part of sustainable gaming, and also as a long-term sustainable business. The fact that gaming companies take responsibility and work with responsible gaming is good for the industry, and LeoVegas has a stated ambition and strategy to be at the forefront. A proof of this is the launch of a new self-exclusion function in the UK, where customers now automatically will be excluded from all our brands when they exclude from one of them. Later in the year we will be able to customize offers and bonuses based on a customer's risk level.
Acquisitions
Rocket X
The integration work is moving forward very well. We have quickly been able to work together on a number of matters and are identifying synergies in our knowledge-sharing and ways of working.
In connection with the acquisition's closing, Rocket X was put on the same gambling licence as LeoVegas. This was an extensive process, and already there we saw proof that we work very well and effectively together between the teams. I think this is why it feels like Rocket X has been part of the Group for a longer time than just a few months.
During the quarter Rocket X contributed revenue for only one month. For the first quarter this entailed EUR 4.0 m in revenue and EBITDA of EUR 0.9 m, for an EBITDA margin of 22.5%.
Royal Panda
The work with Royal Panda is also progressing well and is on track. The period for payment of the earn-out expires in December 2018, and we see a great willingness for cooperation and interaction between the various teams.
During the first quarter Royal Panda was fully consolidated and contributed EUR 10.9 m in revenue, with an EBITDA margin of 7.8%. The low margin for Royal Panda is attributable to substantial marketing costs in February and March, which drove large gains in the number of new depositing customers and also NGR.
Company culture and kickoff
LeoVegas' company culture is a major reason why we today are Sweden's leading GameTech company. It is therefore imperative to promote this culture within the Group. We are sensitive to the fact that acquisitions require resources, time and commitment. It is for this reason that we invested further in our work with the company culture and gathered our entire Group of more than 700 people to a kickoff event. It was extremely successful and exceeded our high expectations, and we are already seeing positive effects from the event.
Markets
Sweden
Sweden had yet another record quarter for new and returning customers. This shows that we have a strong and loyal customer base in one of our core markets. What we can see, however, is that the value per customer has gone down slightly, which is explained in part by a higher share of sport customers and an unfavourable gaming margin for casino.
Norway
Norway has historically and periodically blocked payment solutions that are linked to gaming sites. Now there is also a proposal to introduce additional barriers to using game sites. There are still no details when and how this will be introduced. Norway currently has no local licensing system, and instead of banning, I hope Norway will move towards a local regulation similar to the developments we see in Sweden. The Group's revenues from Norway were 4.6% in March. Regardless of the outcome, development in Norway does not affect LeoVegas' financial targets. LeoVegas has long been very clear in welcoming gaming market regulation and the Group's strategy is to expand in regulated markets and markets that are developing against regulation.
Italy
It was roughly one year ago that we acquired Winga.it and its gambling licence for the Italian market. During the autumn of last year we switched out the Winga brand to LeoVegas. The next step in our expansion for LeoVegas is to migrate the technical platform in Italy to our proprietary platform, Rhino. This will take place during the second quarter, at which time we will be able to fully offer our award-winning mobile gaming experience. This, combined with a strengthening of our commercial team in Milan, gives us favourable conditions to invest on a large scale in Italy.
Canada
Canada is a market of great interest and is showing strong growth for LeoVegas. During the quarter we began using our ambassador, hockey legend Mats Sundin, in our market communication in Canada.
UK
Following our recent acquisitions, the UK is our largest market measured by revenue and accounted for 25.6% of NGR during the first quarter. The effectiveness of our marketing in the UK was also the best ever during the quarter.
LeoVegas has high ambitions for compliance with laws and regulations and we have continuously improved our procedures and processes. We have had discussions with the UK Gambling Commission, UKGC, on suspected cases of breaches of the British gaming rules. A clear majority of cases are attributable to affiliate marketing. Our assessment is that the UKGC will issue fines for these violations and we have made a provision for the full amount.
We have also improved our routines, which has led us to close off non-compliant affiliates. This means that I feel great assurance in the work we do, both in the short and long term, but also in the face of continued expansion into new regulated markets. It's good that UKGC puts increased demands on us in the gaming industry. It is an advantage for serious actors who both have the will and ambition to work in a regulated market.
New financial targets for 2020
In 2015 we set a target to reach EUR 300 m in revenue by 2018. Our new revenue target represents a doubling to EUR 600 m by 2020, not including any major acquisitions. Parallel with this we are aiming for EBITDA of at least EUR 100 m, which implies adjusted earnings per share of at least SEK 8 by 2020.
The new targets confirm our continued focus on strong growth combined with a sound view of profitability. The targets create transparency about where we are headed, both internally and externally.
LeoVegas' long-term dividend policy remains intact, which is to distribute at least 50% of profit, and the proposal to the Annual General Meeting on 29 May is to pay a dividend of SEK 1.20 per share.
Comments on the second quarter
April has begun strong with Net Gaming Revenue (NGR) of 29.3 MEUR (16.5), corresponding to a growth rate of 77 percent. Marketing in relation to revenue for the Group in the second quarter of 2018 will be higher than the average for 2017, which was 42.3%. Due to the marketing opportunities surrounding the World Cup, the total amount of marketing is more difficult than usual to anticipate in advance. LeoVegas will act opportunistically with marketing on the opportunities we see.
I am looking forward to the second quarter, in which Rocket X will be included for the entire quarter and an exciting summer of sport will get under way with the World Cup in June followed by the Swedish Open tennis tournament in Båstad, for which we are now a Principal Partner.
This information is information that LeoVegas AB (publ) is obliged to make public pursuant to the EU Market Abuse Regulation 596/2014. The information was submitted for publication, through the agency of the contact person set out below, at 2nd of May 2018 CET on 08:00.
Blackpool FC features Safer Gambling logos on team shirts in collaboration with LeoVegas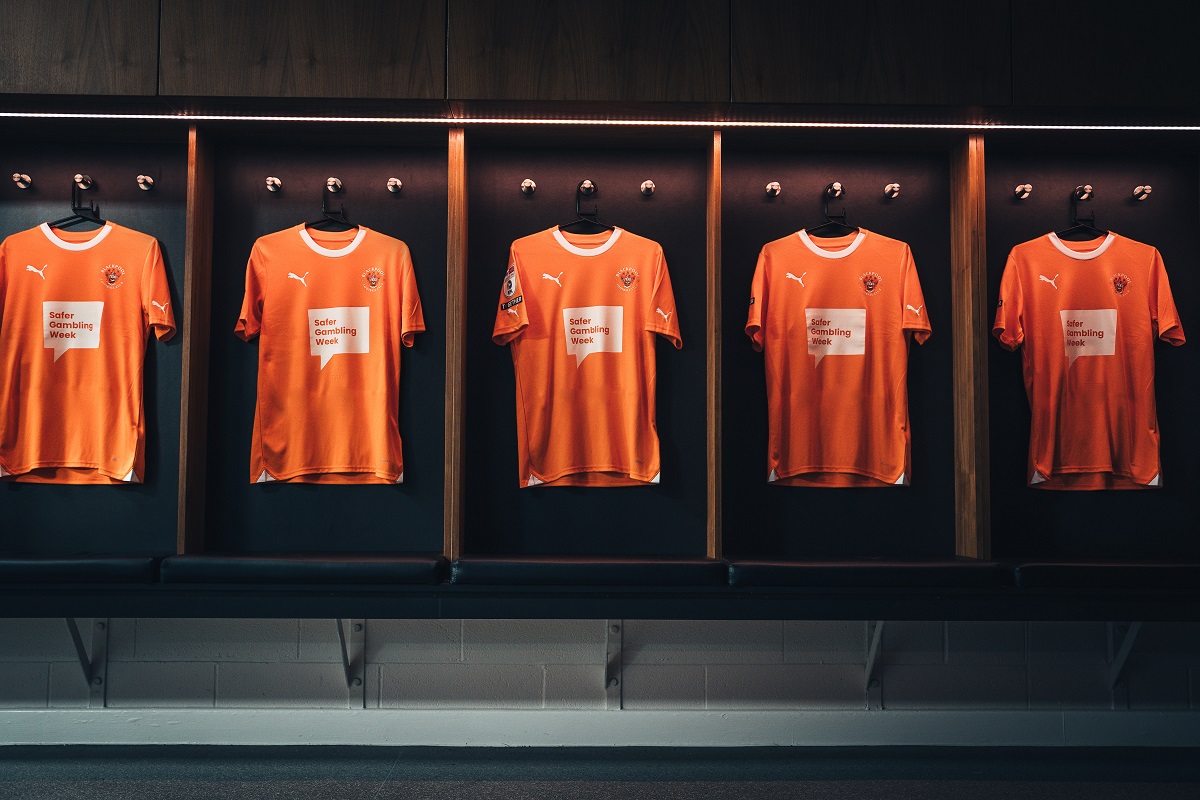 Reading Time:
2
minutes
During Saturday's Football League One match against Shrewsbury, Blackpool FC's regular front-of-shirt sponsorship will promote the nationwide 'Safer Gambling Week' campaign. Blackpool FC is the only club this weekend to feature this important message, thanks to the brand placement that has been donated by the club's principal partner, LeoVegas. This initiative aims to raise awareness and promote the importance of gambling responsibly. 

As the official principal partner of Blackpool FC, LeoVegas has been showcasing its brand on the front of the first-team adult shirt since July this year. The partnership offers an opportunity not only to promote the greatest igaming experience but also to emphasise the importance of gambling in a safer way. In support of the cross-industry initiative 'Safer Gambling Week' in the United Kingdom and Ireland, LeoVegas Group is replacing the shirt's ordinary branding with 'Safer Gambling' logos. Blackpool FC's first team will wear the special match kit at the Football League One match against Shrewsbury Town FC on Saturday, 18 November. Blackpool will be the only club that weekend to showcase these logos on their shirts, highlighting the commitment to the campaign.
Sam Behar, LeoVegas Group Director of UK and Ireland, said "Responsible gaming is at the heart of our offering at LeoVegas. We are incredibly proud to work with Blackpool and to make sure all fans understand the range of tools we have on offer to ensure our players keep their play safe. Safer Gambling Week is an important time of the year and, as such, ensuring that we replace our logo on the front of shirt to promote the week was crucial to us at LeoVegas. We thank Blackpool for their ongoing support for this week and for how we communicate our commitment to responsible gaming." 
Jonty Castle, Blackpool FC Chief Operating Officer, added, "Safer Gambling Week is an important nationwide initiative, which both ourselves at the football club and LeoVegas wanted to bring to the forefront of people's thinking this weekend."
 
"Raising awareness on the importance of safer gambling is vital, and Saturday's match will see us promote this in a unique way, with LeoVegas replacing their front of shirt sponsorship with the 'Safer Gambling' logos. Alongside crucial information, support and advice being spread across our website and social media platforms, the key messaging surrounding Safer Gambling Week is being circulated as far and wide as possible by both ourselves and our valued partners at LeoVegas."
 
"We thank LeoVegas for their ongoing support and for their kind donation of their front of shirt sponsorship to such a worthy cause this weekend."
---
Safer Gambling Week, 13-19 November, is an annual campaign to promote safer gambling across the UK and Ireland with the support of a wide range of partners. The objective is to stimulate nation-wide conversations about safer gambling, giving people the information they need to gamble more safely, as well as directing those who need further advice and support to the right point of contact. For more information, visit https://safergamblinguk.org/.
LeoVegas Group launches LeoVegas.nl in the Netherlands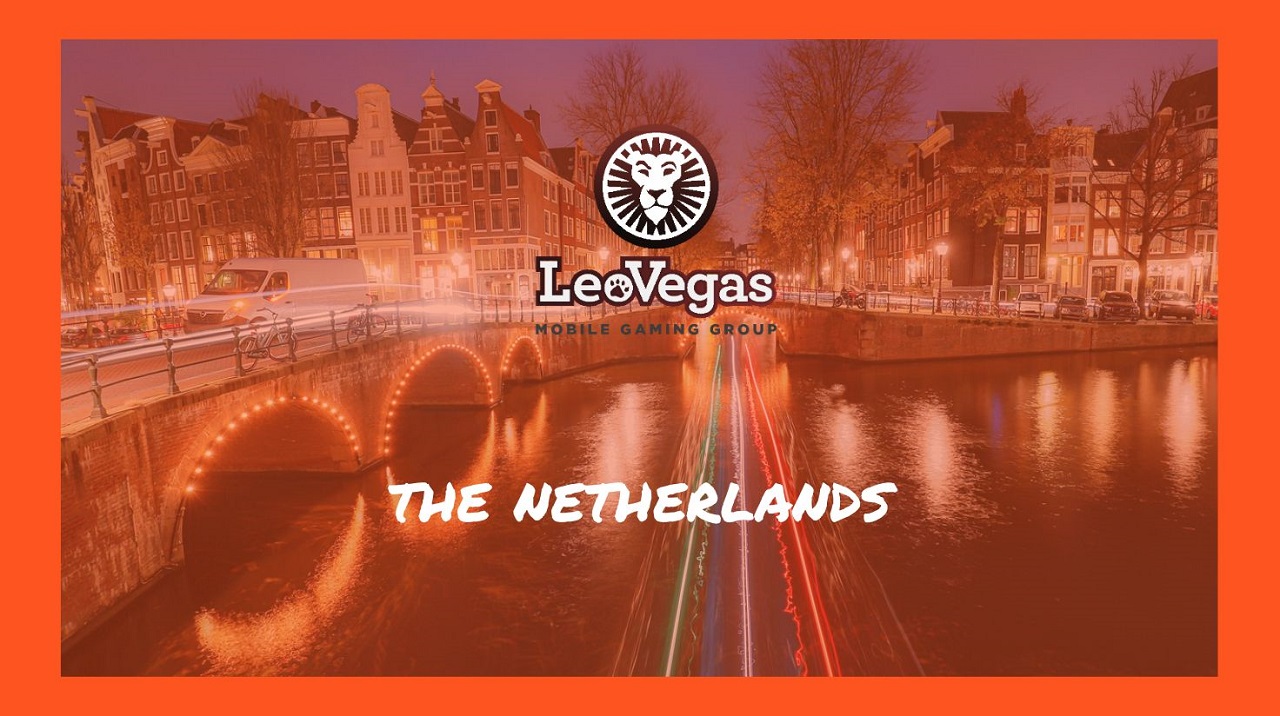 Reading Time:
2
minutes
LeoVegas Group has launched LeoVegas.nl in the Dutch market through LeoVegas Gaming PLC. The Group was granted a gaming license earlier this year by the Dutch regulatory authority KSA (Kansspelautoriteit), and the launch of LeoVegas.nl marks an important step in the Group's international growth strategy. Players in the Netherlands will be able to enjoy the greatest igaming experience on verticals such as casino, live casino, and sports betting. 

LeoVegas Group is pleased to announce that LeoVegas.nl has been launched in the strategically important Dutch market through LeoVegas Gaming PLC. The Group was recently granted a five-year gaming license for casino, live casino, and sports betting, allowing LeoVegas, "The King of Casino", to welcome Dutch players and gain market share as the Group's international growth journey continues. 

LeoVegas.nl will offer an ever-growing portfolio of entertaining slot games, Dutch-speaking live casino croupiers, and competitive sports betting odds to ensure the greatest igaming experience for players in the Netherlands.
Commenting on the announcement, Gustaf Hagman, CEO of LeoVegas Group, said, "The King of Casino is finally home in the orange kingdom! I am delighted that we are taking steps into the Dutch market. The combination of a well known brand, our platform, and cutting-edge content will make LeoVegas.nl a contender for the leader's jersey in the Dutch igaming market."
During 2023, LeoVegas Group has been deepening its commitment to the European igaming market by launching sports betting and igaming brands in Denmark (expekt.dk), Germany (LeoVegas.de) and the UK (BetMGM.co.uk). The Group has also entered into strategic partnerships with top European football clubs such as Champions League finalists Inter and treble winners Manchester City F.C., as well as Newcastle United F.C. These partnerships are increasing brand awareness and visibility in connection to sports, and expanding the Group's reach with audiences worldwide, supporting the ambition to launch LeoVegas Group as a global provider of the greatest igaming experience for both casino and sports betting.
LeoVegas Group launches "nye expekt" in Denmark, strengthening the sports betting offering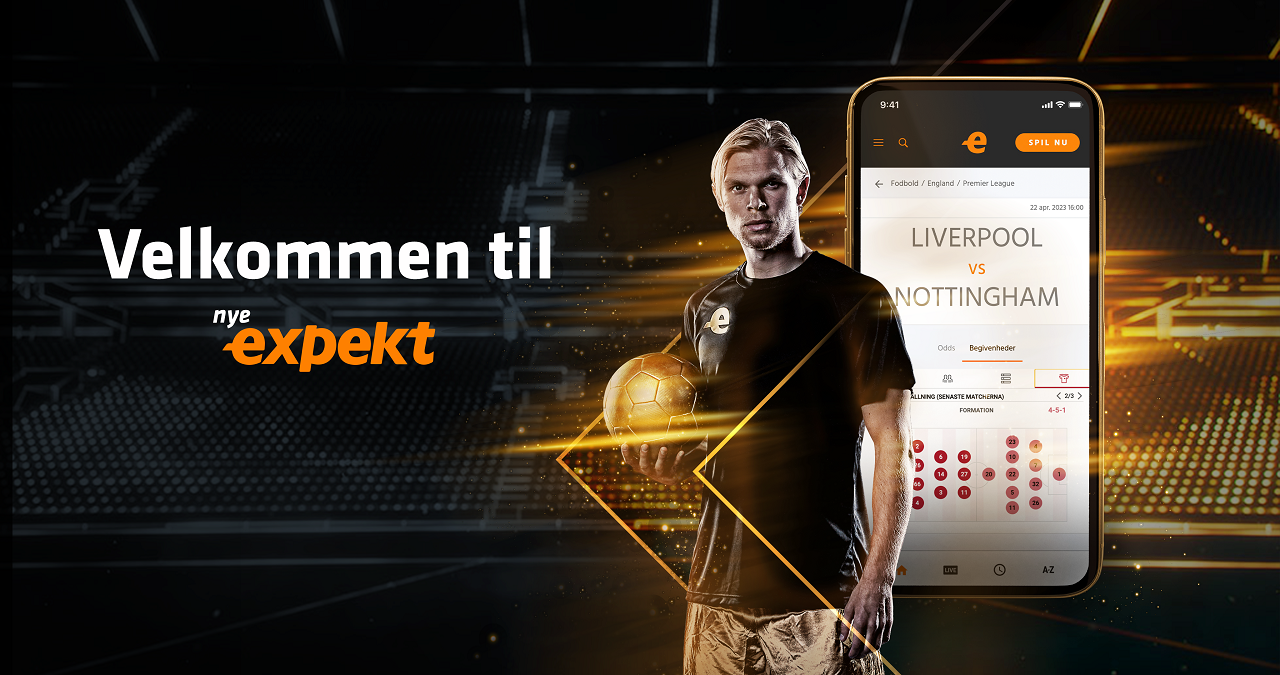 Reading Time:
< 1
minute
LeoVegas Group is launching its sports betting brand expekt in Denmark, as part of the Group's continuing international expansion. This follows expekt's successful launch in the Swedish market in 2021, where it has grown rapidly to become one of the leading sports betting brands. The launch of nye expekt – the new expekt – in Denmark will strengthen LeoVegas Group's sports betting offering to Danish customers and is part of the Group's strategy to launch its brands in new markets and grow in sports betting.
Expekt, one of the Nordics' oldest sports betting brands, was relaunched in Sweden in 2021 as "nya expekt", meaning the "new expekt". Following strong growth, the brand has re-established itself as a leader in sports betting in the Nordics. The brand is now relaunching in Denmark, after a 10-year absence, and Danish customers will benefit from a new smartphone app, competitive odds, and the greatest igaming experience.
Gustaf Hagman, CEO at LeoVegas Group, said "Expekt is one of the strongest brands in the Nordics, and we're thrilled to be relaunching nye expekt in Denmark with a modern app and competitive odds. We have a clear strategy to expand by increasing the number of brands and markets where we're present, and we see great potential for growth in sports betting."
The launch of "nye expekt" will strengthen LeoVegas Group's position in Denmark, and is part of the Group's strategy to increase its focus on sports betting. In the past year, the Group has also entered into strategic partnerships with top European football clubs Manchester City F.C and FC Internazionale Milano.