EGT Interactive New Games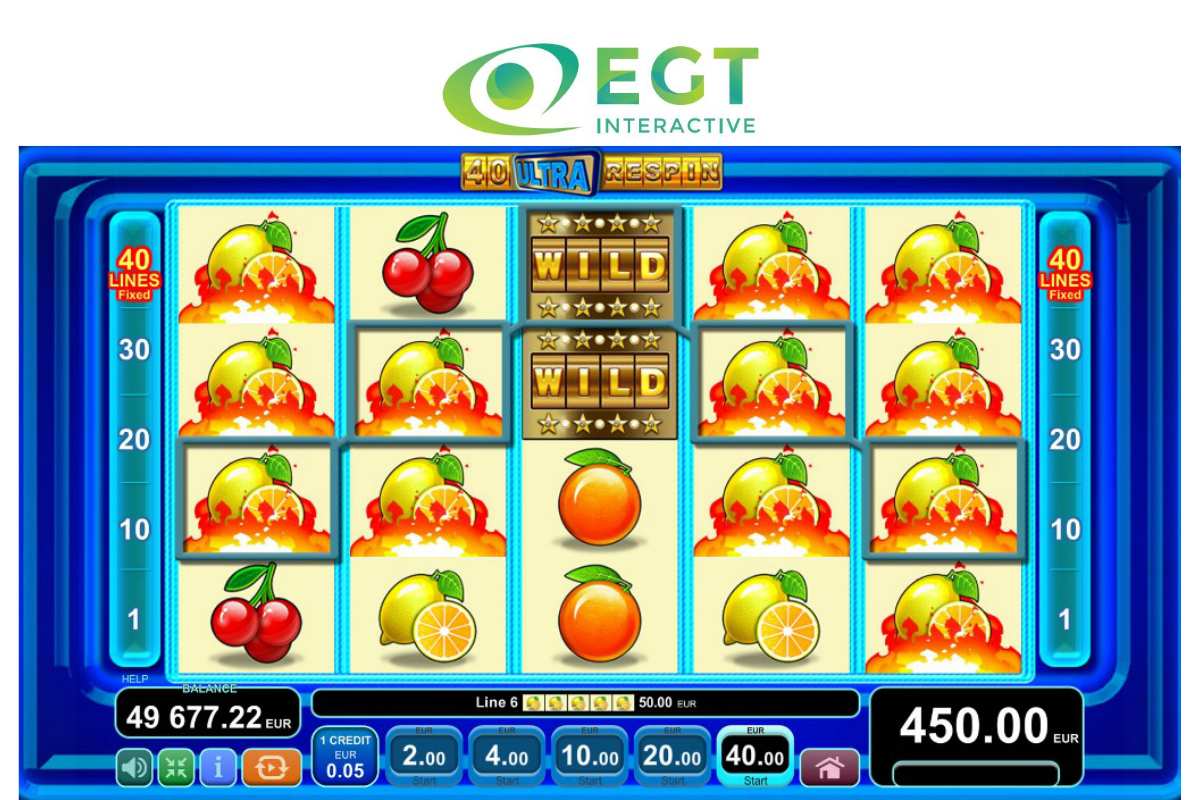 Reading Time:
< 1
minute
Finally, the summer is here. But, you can respin the hot days and get your lucky spins. Yes, you have everything that you need for that. 40 Ultra respin, the hot June game release from EGT Interactive is here to bring in some freshness for the players.
Just spin the reel.
40 Ultra Respin
A classical fruit theme, 5-reel, 40-line fixed video slot that is fulfilled with a lot of additional prizes and win symbols! The game consists of 10 cards – 1 of which is Wild, and 1 is Scatter. Respin and four level mystery Jackpot are featured too.
Available only on Desktop.
Find out more about the latest releases and play for free here.
40 Ultra Respin desktop is a 5-reel, 40 fixed paylines video slot game with a scatters, Wilds, Rspin and Jackpot Cards too.
The launch is for: 26th of June.

Azerion and Fortuna Sittard join forces to create the future of digital football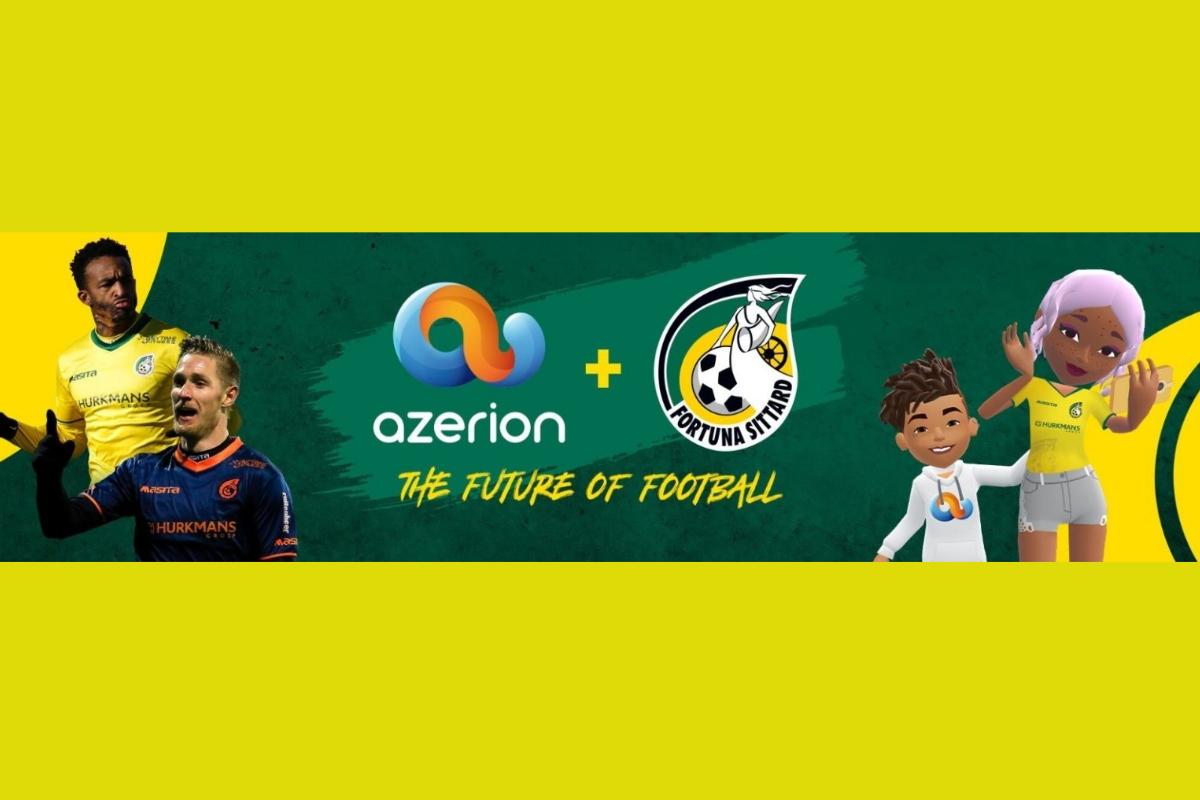 Reading Time:
2
minutes
Azerion will become minority shareholder from the club
This partnership will deliver a high-quality fan experience by integrating offline and online services
International gaming company Azerion and Dutch football club Fortuna Sittard are set to write the future of gaming together.
The Amsterdam-based internet company, specialising in online gaming and advertising technology, has become the co-owner of the Limburg Eredivision ist by acquiring a minority stake of 20 per cent.
This investment made by Azerion – a company best known to the general public for its flagship games Habbo Hotel, Governor of Poker and Hotel Hideaway – will give the Limburg popular club the means to meet its sporting and corporate ambitions.
The football club will also benefit from the deployment of Azerion's extensive digital and advertising capabilities to expand its strategic position. This partnership will help bring Fortuna Sittard fans together ever closer through the strategic use of digital, social, and interactive communication tools – exactly like when creating entertainment through games and exclusive content.
Joining forces with high expectations
"We are very happy and excited to join forces with Azerion," said Isitan Gün, chairman of Fortuna Sittard. "Azerion is a fast-growing company with global impact and unprecedented expertise in the field of gaming and advertising technology. After we started talking to each other, we quickly noticed that there were many similarities between the two parties and that we matched well in terms of organisational culture. We both have an out-of-the-box mentality and are dedicated to realising our ambitious and creative ideas. We see a very bright future with Azerion at our side."
Atilla Aytekin, founder and CEO of Azerion, agreed: "From the very first moment, the collaboration with Fortuna Sittard went incredibly well". "We were welcomed to the stadium with enormous warmth, which made us feel at home right away. We are football fans and see many similarities between this fantastic club and Azerion. Fortuna Sittard is – just like us – one big family and with games from our portfolio such as Habbo Hotel and Hotel Hideaway, we know that a strong and close relationship with the community is very important and valuable. It was therefore logical for us to invest in this beautiful club."
More than just capital
Azerion brings not only capital to Fortuna Sittard, but a wealth of valuable expertise. The successful Dutch gaming and advertising technology organisation wants to achieve a healthy and successful growth through the partnership with the Limburg professional football club in the organisational areas, commerce and fan base growth. The objective is to help Fortuna Sittard become a stable mid-table player in the Eredivisie. "Helping organisations grow is in our DNA," explained Azerion CEO Atilla Aytekin.  "Azerion has already invested in more than fifty organisations and helped them grow their business. We are determined to do the same for Fortuna Sittard. We know how we can achieve digital interaction with people and want to support Fortuna Sittard with this. We also want to strengthen the strong family relationship between the fans and the club by introducing new forms of exclusive and entertaining content, games and interactive means of communication to the club". Fortuna chairman Isitan Gün also sees the advantages of this: "In the football world, technology and innovative and interactive ways of communication are becoming increasingly important and I, therefore, believe that this collaboration is a good example of how these domains reinforce each other."
Real Luck Group Ltd's Luckbox shortlisted for two EGR Marketing & Innovation Awards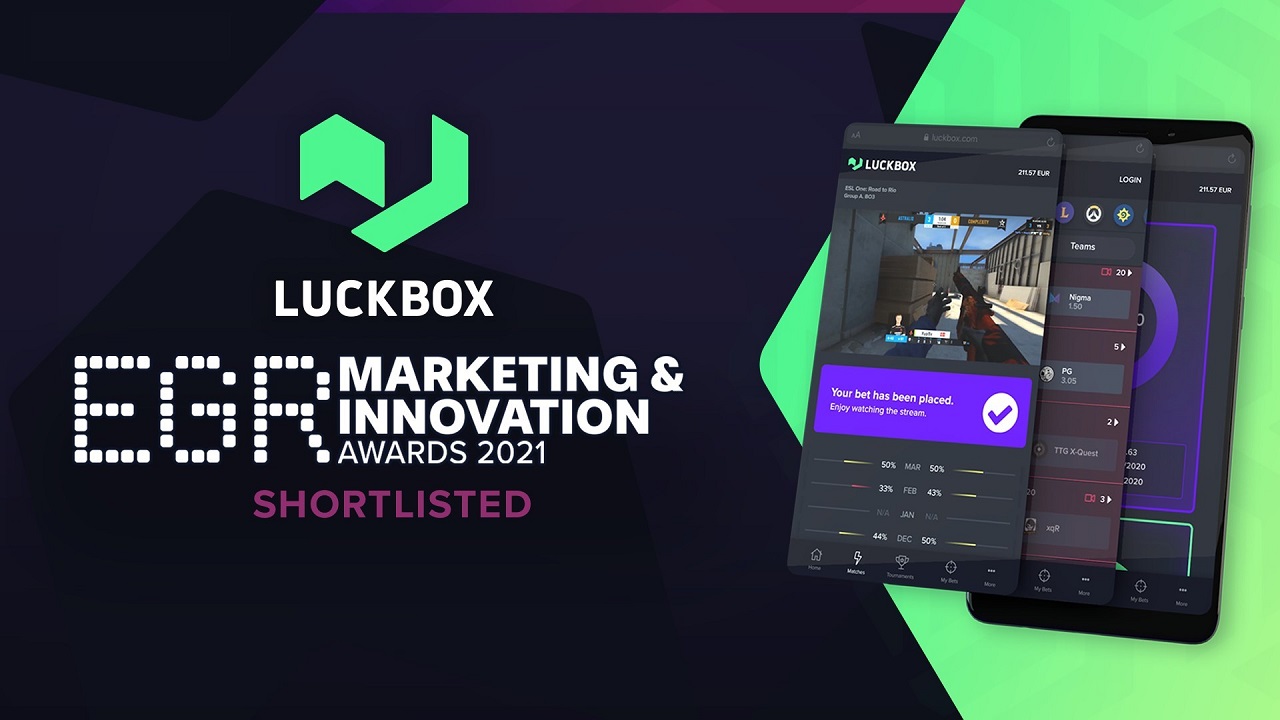 Reading Time:
< 1
minute
Real Luck Group Ltd. and its subsidiary companies doing business as "Luckbox" (the "Group"), a leading provider of licensed, real money esports betting, is pleased to announce it has been shortlisted in two categories at the EGR Marketing & Innovation Awards 2021.
The EGR Marketing & Innovation Awards reward the most innovative and creative operators and affiliates in the online gaming industry, recognizing those who have pushed themselves to bring something new to the industry in the last 12 months.
Luckbox has been shortlisted in the Innovative Start-up and Innovation In Esports categories, with winners due to be announced on June 30, 2021.
Luckbox was named Rising Star at the EGR Operator Awards in 2020.
Luckbox CEO Thomas Rosander said: "We are thrilled and honoured to be in the running for these awards, amongst the most prestigious marketing accolades in the igaming industry. Despite a limited marketing budget leading until Q2 2021, our team has shown tremendous creativity and innovation in both marketing and product development to be selected for this shortlist. This work has given us a solid foundation to build upon. Our recent financing, which was in high demand, means we are now capitalized to spend significantly on marketing for the first time, which enables us to scale up these initial successes."
Real Luck Group would like to wish all nominees the best of luck.
Annual insight report from WhichBingo suggests Bingo halls will continue to face a steady decline in numbers, as online popularity soars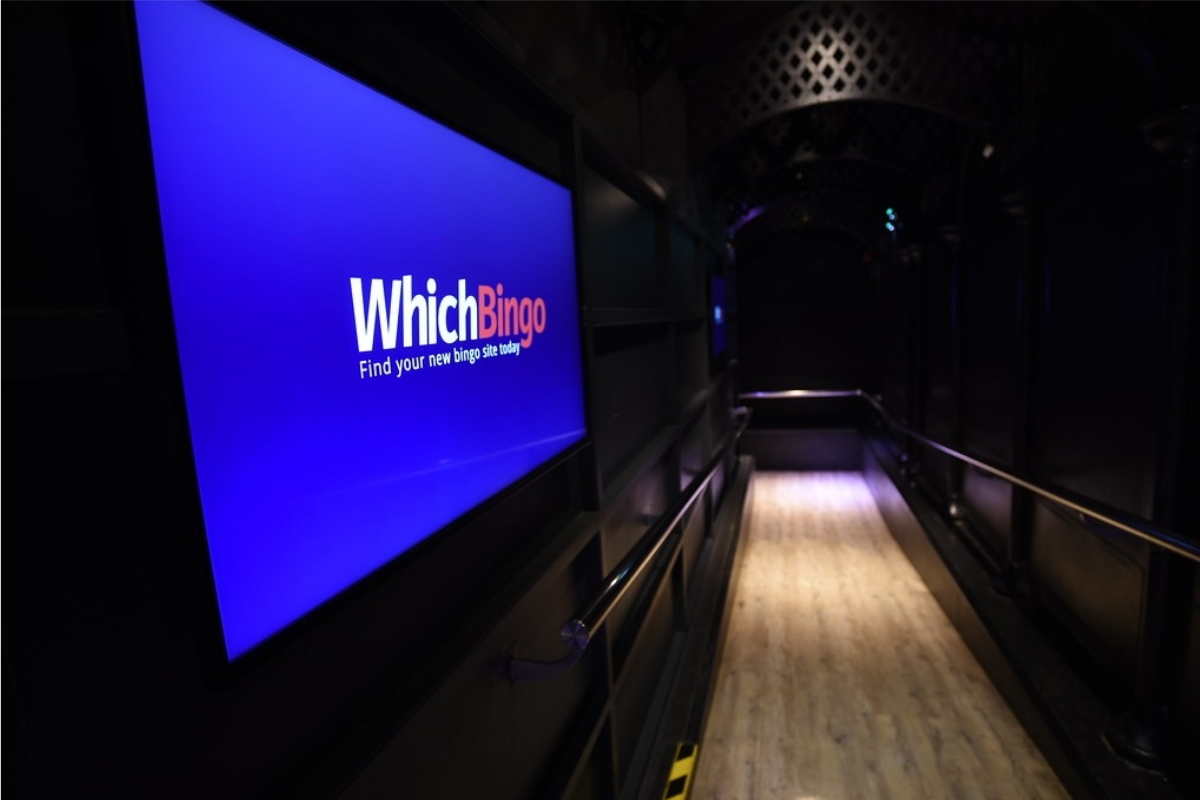 Reading Time:
3
minutes
The popularity of traditional Bingo halls is continuing to decline as audience demographics shift and the popularity of online bingo sites has soared in lockdown. The findings were part of the annual insight report by WhichBingo, the UK's number one, independent online bingo reviews site, owned and operated by XLMedia, which found a significant shift in the Bingo industry to younger online consumers during the COVID-19 pandemic.
The 2021 WhichBingo survey found that 45% of respondents said they prefer to play bingo online, while only 28% of the same respondents said they would prefer to play in a land-based hall. The report reveals player numbers at bingo halls are continuing to decline year on year since 2007, and the rise in popularity of online bingo has seen many players swap their weekly night out for time spent online.
Report researchers surveyed more than 800 adults who played online bingo in the UK between January 4th – 15th 2021, and results revealed that:
Facebook is the social media platform of choice for bingo community groups
Being part of an online bingo community is considered "very important" by 20% of players, according to the survey
The social aspect of land-based bingo halls is perhaps the most difficult element to recreate, and 41% chose "the atmosphere" as their favourite part of attending a hall.
Facebook is the most likely place to find online bingo players gathering on social media, with 40% of survey respondents saying that is where they would like the online bingo community to exist. Website forums (27%) remain more popular than channels like Twitter (21%), Twitch (16%) and Discord (14%), showing that the most up-to-date platforms are not necessarily the places bingo players want to gather.
The report revealed that changing demographics might be behind behaviour shifts. There has been a significant increase in younger men playing online bingo, but the report's findings show that it is still women between the ages of 25 – 54 that are the more likely grouping to play online bingo. The overall shift to a younger player demographic, with 25 to 54 now the most represented age range (83% of respondents), confirms an industry step-change and growing preference for online bingo.
The WhichBingo Report is an anticipated annual insight tool for the UK online bingo industry and a unique collective analysis of shifting consumer trends in online gaming business. The report studies and forecasts online gaming trends in the bingo, sports betting and casino industries.
Stuart Simms, CEO of XLMedia PLC Group: "Our reports have shown for several years now that the demographic playing bingo has been changing gradually and there has been a marked shift away from going down the bingo hall mid-week with friends to those playing online. Of course this has all been exacerbated by the pandemic and bingo halls being forced to shut by the government's regulations. It seems online bingo's appeal is now reaching people earlier in life, with those 25 to 54 now the most represented age range.
"It's obviously hugely encouraging to see so many younger people enjoying the game and that it's popularity is growing faster than ever. Of course, the questions on everyone's lips will be how many of these changes have been caused by the pandemic and how many people will return to old habits when bingo halls are reopened to the public on May 17th. We think it's important bingo retailers understand their new audiences and rethink how they communicate to them going forward."
The full 2021 WhichBingo Report can be found online at the dedicated microsite: https://www.whichbingo.co.uk/reports/2021/